This oven baked method produces perfect honey soy chicken thighs and legs with flavourful, crispy skin and a sticky glaze. No marinade necessary! Serve it with our Asian Noodle Salad for a delicious dinner.
If you like this flavour packed oven baked chicken, try our other Asian chicken recipe!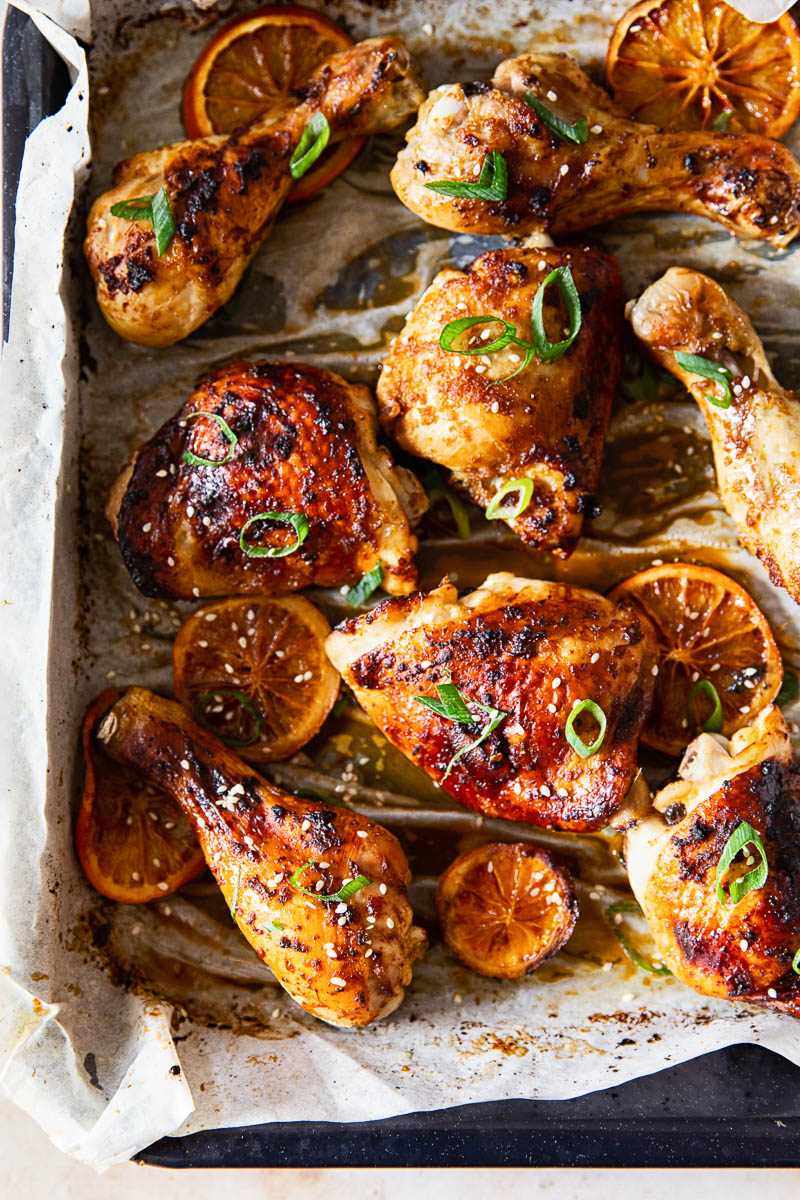 I couldn't wait to share this quick and tasty chicken recipe with you as soon as I sunk my teeth into a perfectly seasoned and baked chicken drumstick. Juicy, flavourful with an extremely satisfying crispy skin and a sticky glaze. Bliss.
It was an added bonus that this chicken thigh and drumstick recipe is done in under an hour. No marinating is required without any compromise to the flavour.
And I will show you exactly how I achieved that.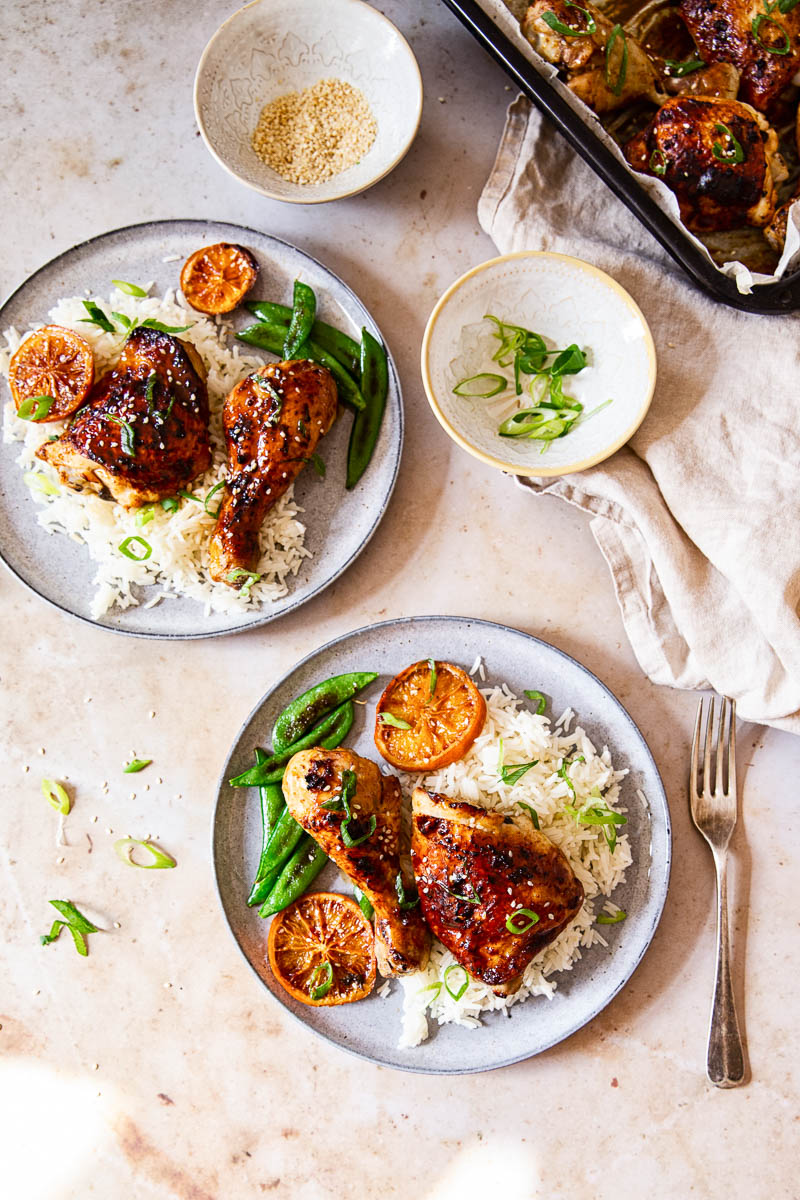 Bone-in Chicken vs Boneless
Let me tell you why bone-in chicken is better than boneless for oven baking.
I can pretty much always count on extra juicy flesh when I cook chicken thighs and legs in the oven. To avoid dry chicken I rely on bone-in chicken pieces, which produce tastier results every time for two simple reasons.
The bone marrow will leak into the pan during the cooking process and give chicken more flavour. The bone itself will keep chicken from drying it.
Keeping the oven temperature reasonably high at 190C/375F and cooking time low at 35- 40 minutes max will also ensure that the chicken doesn't lose moisture.
And lastly, basting the chicken in cooking juices halfway through also helps to keep the chicken from becoming rubbery.
My other reason for loving bone-in chicken thighs and drumsticks is frugality. They are simply cheaper than their boneless, skinless counterparts.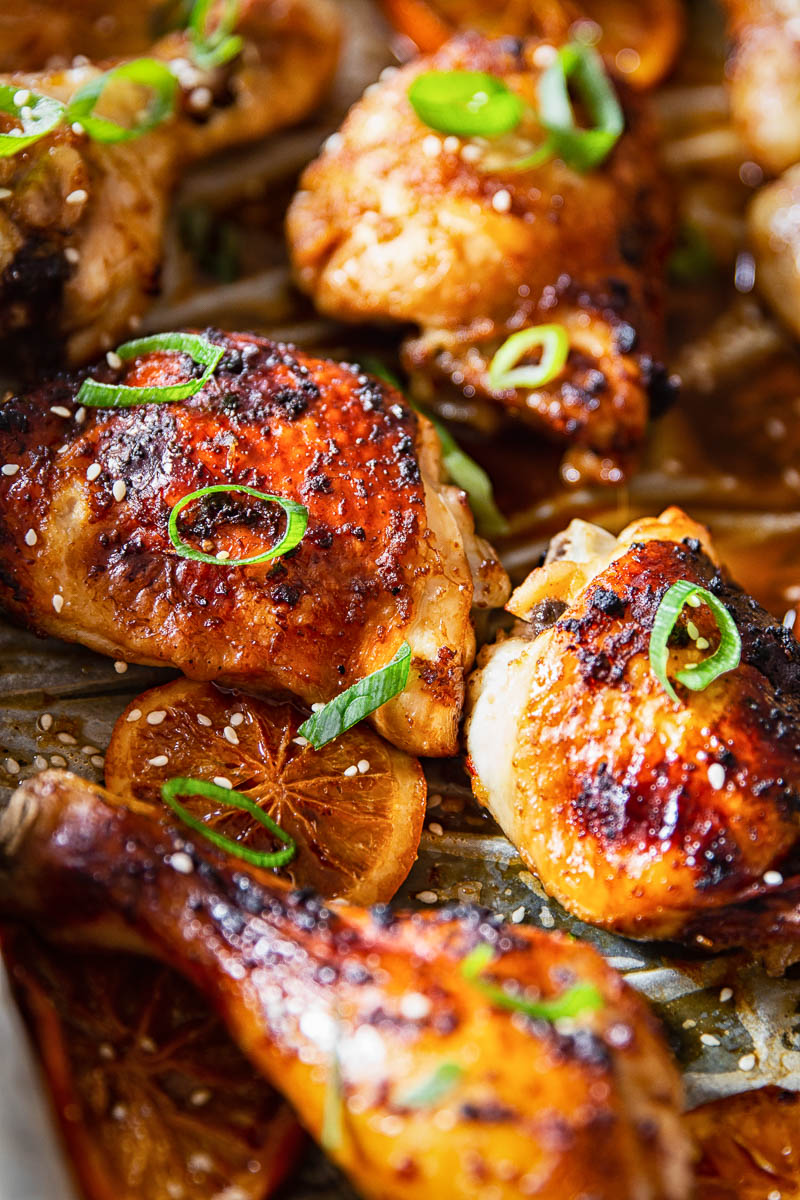 Skin on or off for baked chicken?
There is an argument about whether to keep skin on or off and each side has their valid reasons. Cooking chicken without the skin reduces the calories, so it is the way to go for people who try to limit their fat consumption.
On the other hand, there is nothing quite like crispy and deliciously glazed chicken skin. Take it off and you will lose half the flavour.
So if you don't follow a very strict diet, I would recommend keeping the chicken skin on but reducing your overall portions because flavour is king in my books.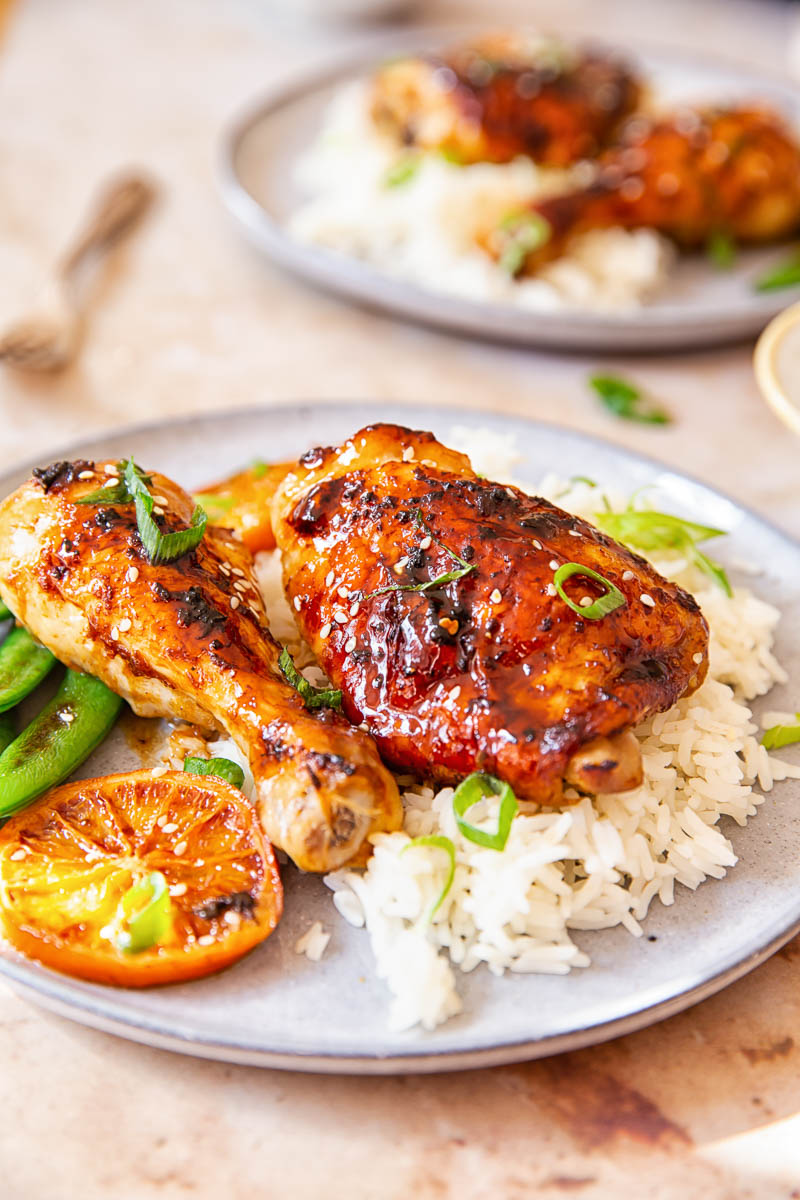 How to make sticky honey soy glazed chicken?
What makes this recipe so special is the combination of soy sauce, honey, freshly grated ginger, sesame oil and freshly squeezed orange juice, that the chicken is glazed with.
However, you won't get that sticky coating on your chicken thighs and legs simply by brushing the sauce on once. Don't get me wrong, it will still be a respectable dinner option but it won't wow you or your family.
First of all, line your shallow roasting pan with either parchment paper or foil to catch the juices. This will eliminate a tremendous amount of clean up and will help with the last stage of making the glaze.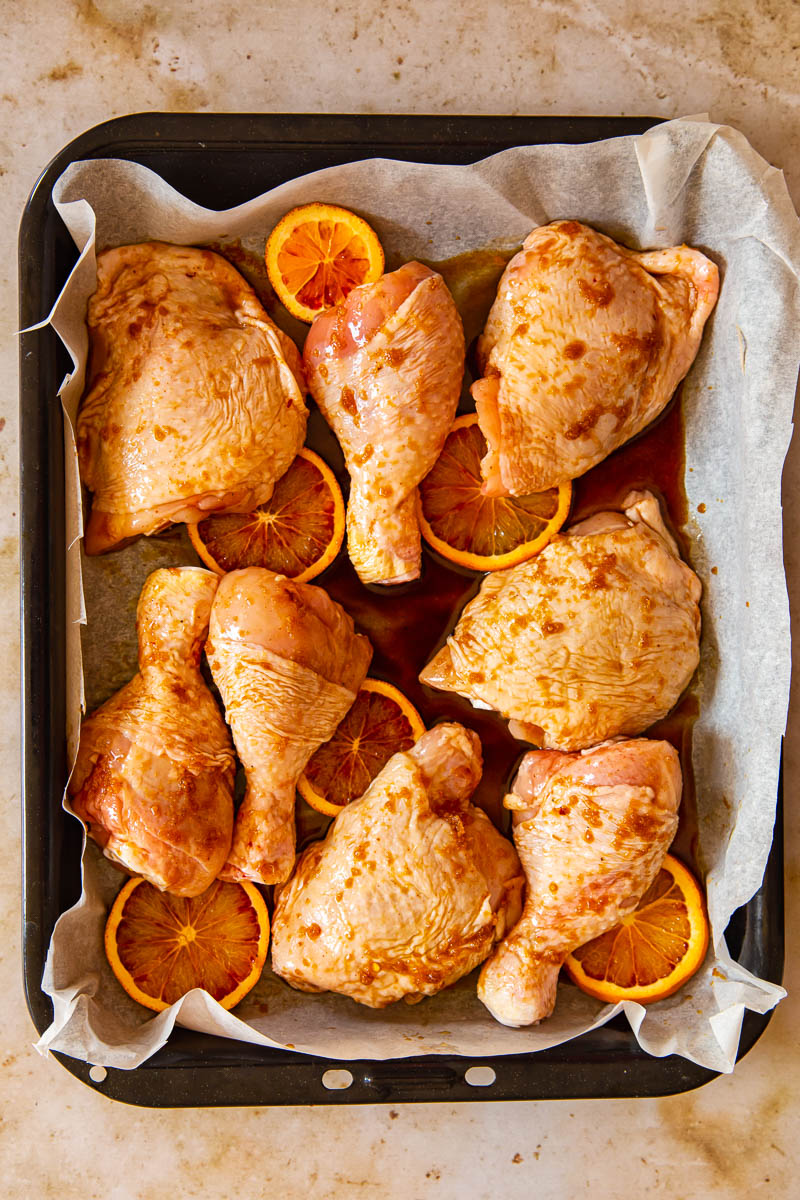 To achieve maximum flavour I applied the sauce on the chicken three times. First time, before it went in the oven and again halfway through the cooking.
Once the chicken thighs and legs were fully cooked I removed them from the roasting pan and poured the juices that collected into a small saucepan. Then I reduced them to a thick and sticky glaze and coated the chicken thighs and legs in it.
That's how you get sticky honey glazed chicken!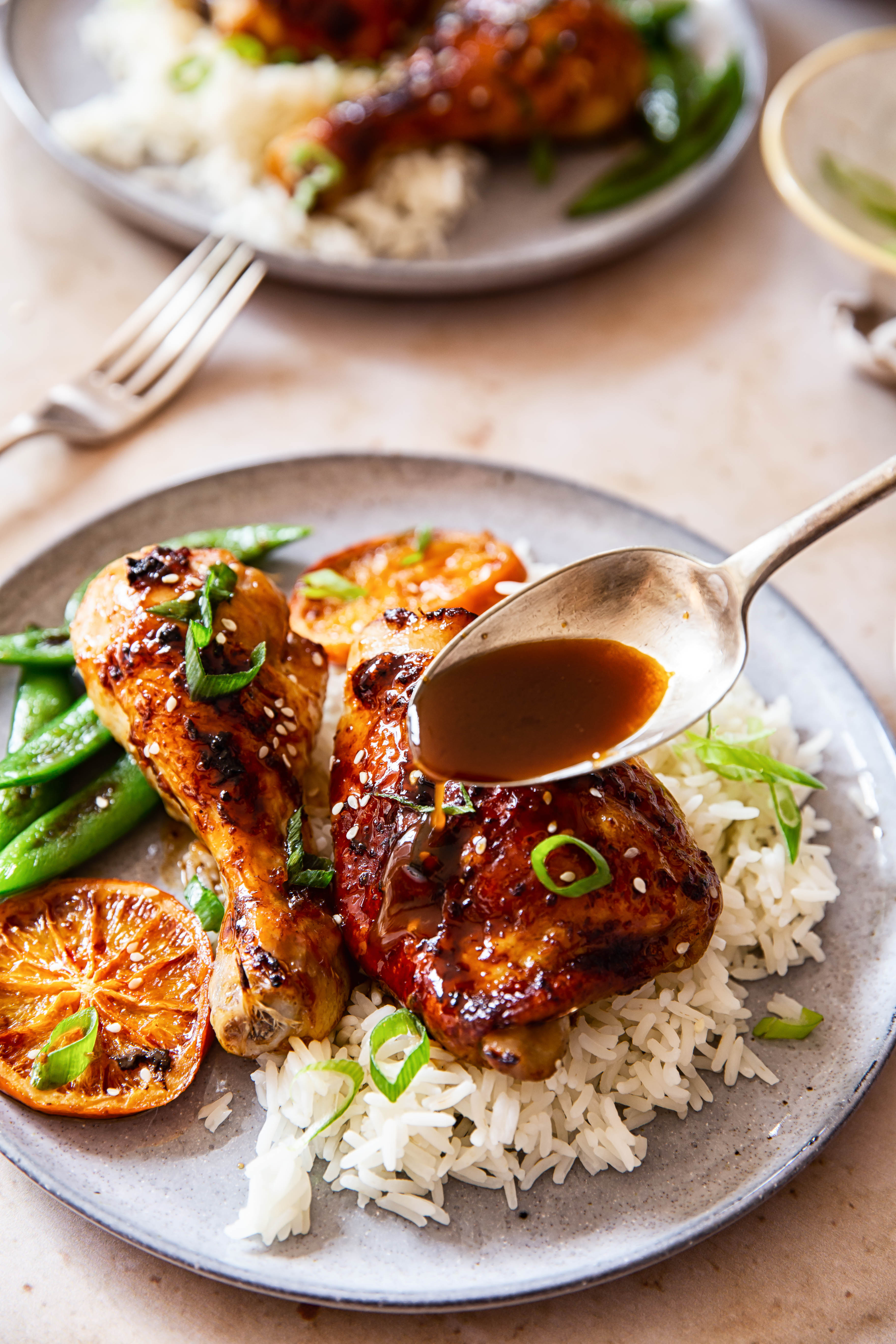 How long to bake chicken thighs and drumsticks in oven?
If you cook your chicken thighs and legs at 190C/375F, it will take between 35-40 minutes. If you are not sure whether the chicken thighs are done, check their internal temperature with a meat thermometer. It should read 165F/ 73C for dark meat and 160F/70C for white.
Meat thermometer is an essential tool in the kitchen. Using it will never leave you with dry, rubbery overcooked chicken.
Can I use skinless, boneless chicken thighs for this recipe?
Yes, follow this recipe but reduce the oven time by 10 minutes.
Serving suggestions
This oven baked chicken pairs well with rice and any vegetables you love. We found sugar snap peas to be an easy and nutritious side but you can use greens beans, broccoli, bok choy, etc.
More oven baked chicken recipes:
This recipe was originally published in 05/2019. Updated and republished in 07/2020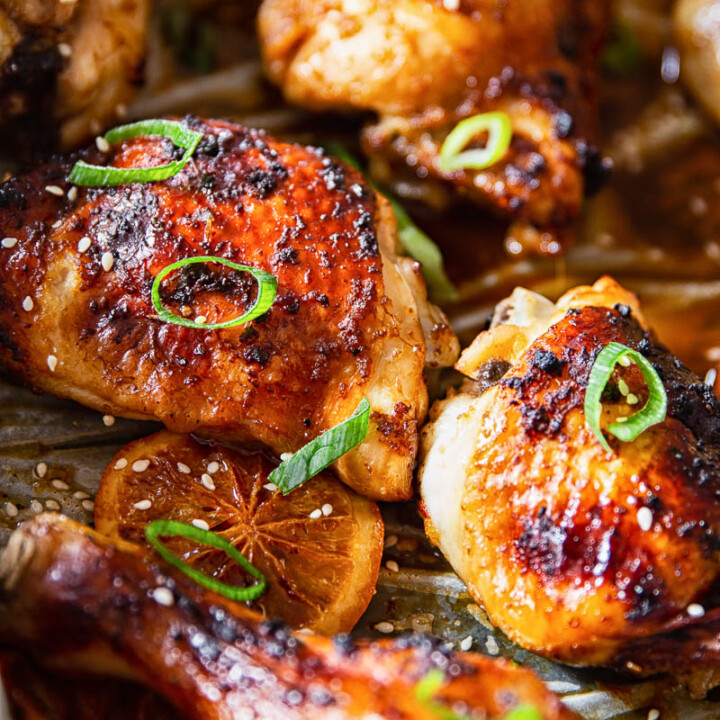 Oven Baked Honey Soy Chicken Thighs and Drumsticks
This oven baked method produces perfect honey soy chicken thighs and legs with flavourful, crispy skin and a sticky glaze. No marinade necessary!
Ingredients
4

tbsp

soy sauce

1

tbsp

grated fresh ginger

1

tbsp

sesame oil

3

tbsp

honey

1

tsp

Chinese 5 spice powder

2

oranges

8

chicken pieces (thighs and drumsticks)

2

green onions, sliced

optional

1

tsp

sesame seeds

optional
Instructions
Preheat the oven to 190C/375F. In a medium bowl combine the soy sauce, grated ginger, sesame oil, honey, Chinese 5 spice powder and the juice of 1 orange. Divide the sauce. Slice the other orange. Line a shallow roasting pan with parchment paper and arrange chicken pieces interspersed with orange slices on it, tucking orange slices under the chicken.

Brush the chicken thighs and drumsticks with half of the prepared honey soy sauce on both sides. Reserve the other half of the sauce for a later use. Bake in the oven for 20 minutes. Take out of the oven and baste the chicken pieces with the juices that collected at the bottom of the pan. Cook for additional 20 minutes until the chicken juices run clear if pierced and the skin is golden brown or the internal temperature registers at 73C/160F if tested with a meat thermometer.

Remove the chicken and orange slices to a platter and pour in the juices from the bottom of the pan into a saucepan together with the reserved honey soy sauce. Reduce on high heat until thick and syrupy for approximately 5-7 minutes. Watch carefully for the glaze not to burn. Brush the chicken thighs and legs with the honey soy glaze, then sprinkle with sliced green onions and sesame seeds.
Video
Nutrition
Calories:
418
kcal
Carbohydrates:
15
g
Protein:
30
g
Fat:
25
g
Saturated Fat:
7
g
Cholesterol:
115
mg
Sodium:
779
mg
Potassium:
416
mg
Fiber:
1
g
Sugar:
13
g
Vitamin A:
355
IU
Vitamin C:
26.6
mg
Calcium:
47
mg
Iron:
2.1
mg