Try my Spanish Chicken recipe and add a touch of Mediterranean flare to your dinners!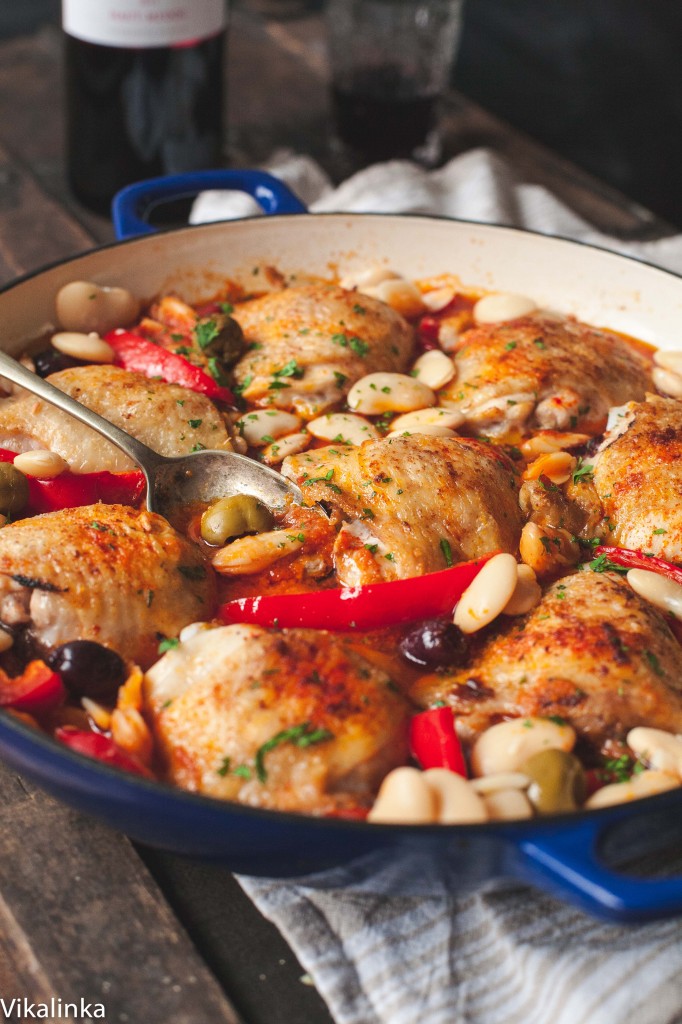 Last Friday as I was leaving work I looked out of my window and saw all kinds of well-dressed young people crowding around their favourite pubs to mark the end of a work week.
Friday night isn't the only night Londoners gather in pubs but it is by far the busiest, plus there is nothing like a night out with friends and a good English pint to start off the week-end.
I wished I was one of them but was quickly brought back to reality by these thoughts, " Dinner… what should we eat tonight…I am too tired to cook" and a minute later, "Brad and I really need a night out."
Sadly, I knew it was not going to happen in the near future. Busy work schedule and two adorable children were clearly in the way of that dream. Oh the life of a parent!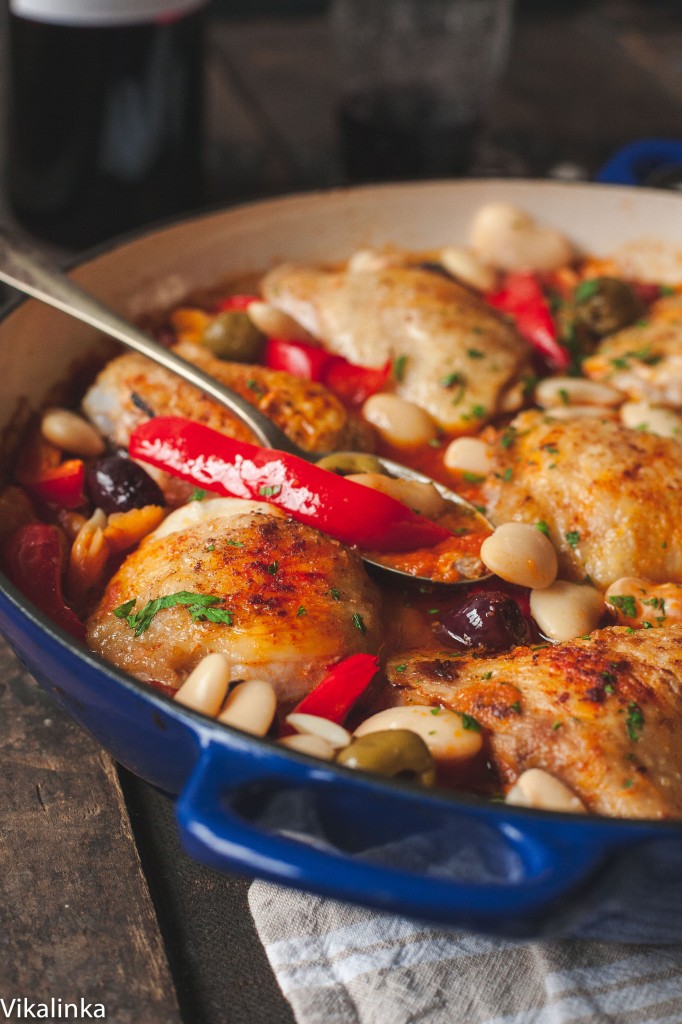 Luckily, Brad had a great plan B-pizza for kids and Spanish tapas for us after the kids are safely upstairs. A tapa night is one of my favourite date nights at home.
We cook together while sipping on wine and catch up on each other's day. The combination of tapas changes but one remains; Patatas Bravas. Crispy potatoes smothered in Bravas sauce.
What is bravas sauce and what country does it come from?
Bravas in Spanish means "fierce" which will immediately give you an idea of the nature of this sauce. Nothing shy or understated. At first glance Bravas sauce will remind you of its Italian cousin aka Marinara in North America.
As soon as you taste Bravas sauce you will instantly know they are NOTHING alike. I am utterly in love with it-tangy, salty, sweet, spicy-fierce.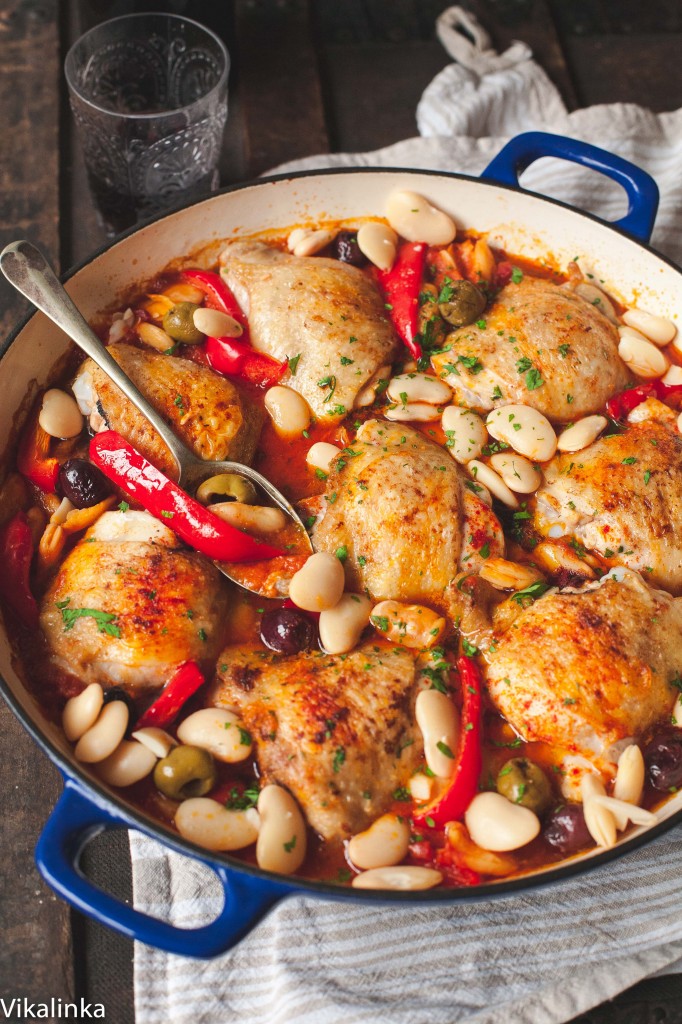 Back to our date. As I was cooking the Bravas sauce and tasting it for the balance of spices I thought, "I could eat it with anything…scratch that…I could eat it by the spoonful!" (I do it eat with anything, see for yourself here.)
And this is how this Spanish chicken recipe was born. It's not an authentic recipe, one I should really call Spanish-style chicken.
But it does incorporate tons of gorgeous ingredients used in Spain. Do they ever come together in a recipe like this…? I have no idea, but it's a real winner! We served it over rice and everyone including the kids loved it!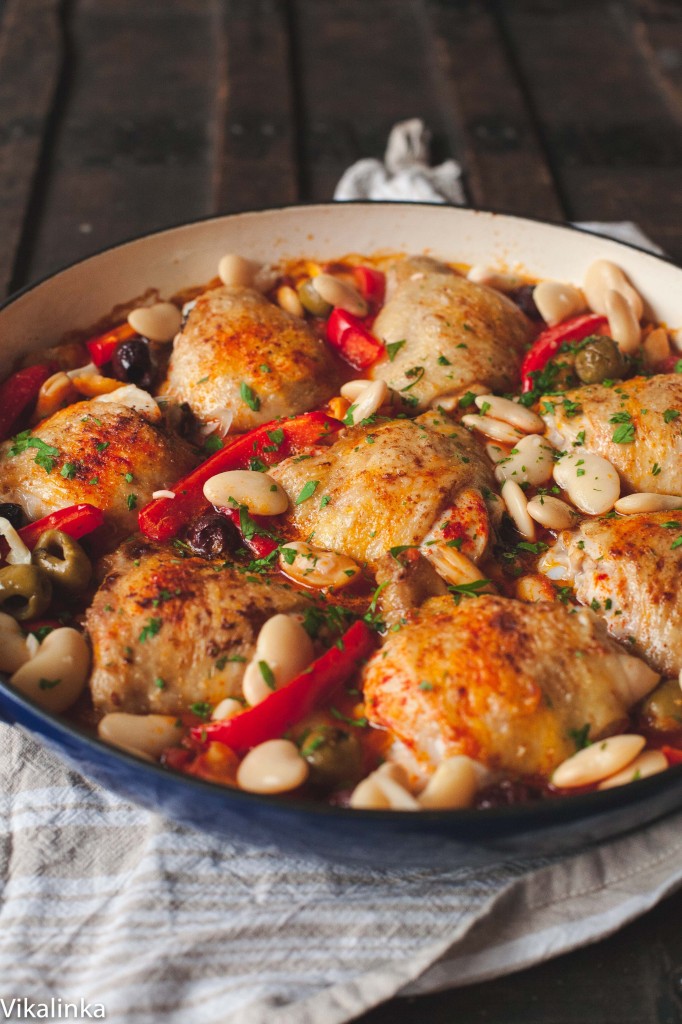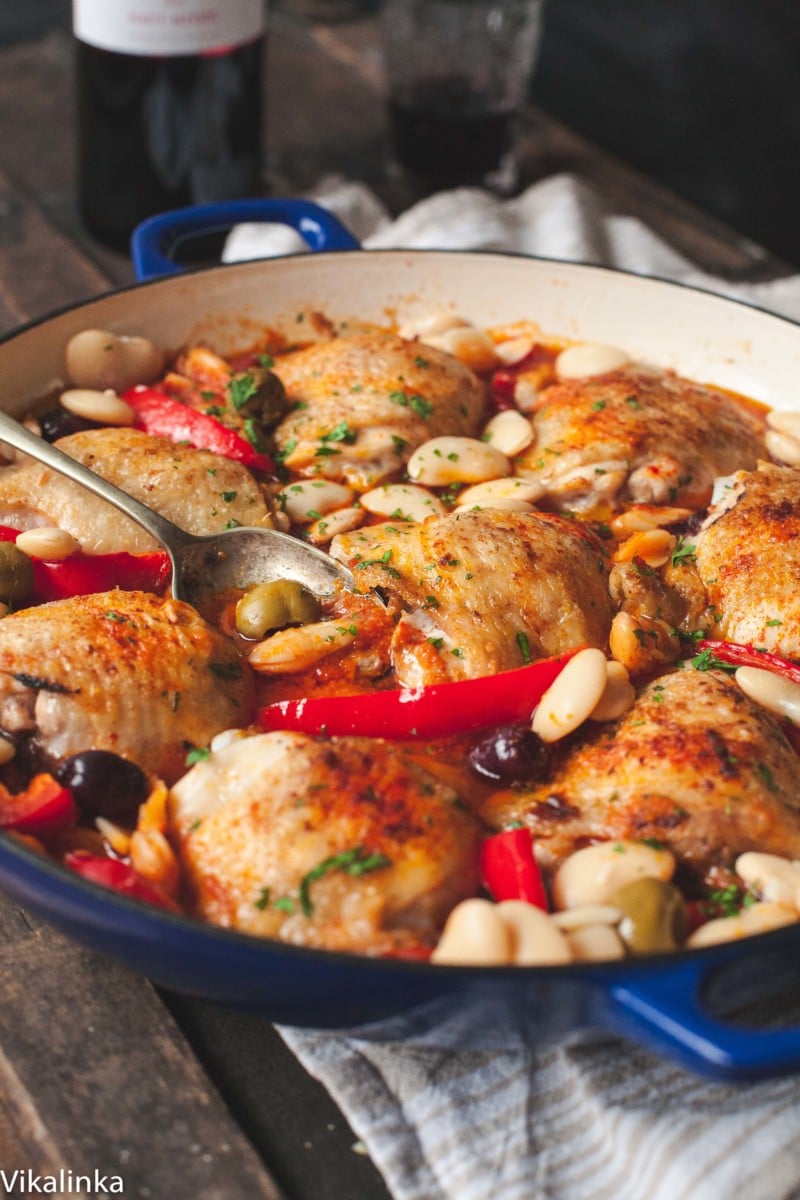 Total Time:
1
hour
20
minutes
Ingredients
For the bravas sauce
Olive Oil- 1 tbs.

Onion

chopped -1

Garlic – 4 cloves

sliced

Red Chilli- 1

minced

Carrot

diced- 1 medium

Fresh thyme- 2-3 sprigs

you can also use dried thyme

Chopped Tomatoes- 1 tin

400gr

Red Wine Vinegar- 1tbsp.

Salt and pepper to taste
For the chicken
olive oil-1 tbsp

chicken thighs

bone-in-8

Spanish smoked paprika-1 tsp

Red pepper

sliced-1/2

Butter beans or any other white beans

canned-1 1/2 cups

Green olives

any kind-1/2 cup

Flat leaf parsley

chopped- 2-3 sprigs

Salt and pepper
Instructions
Heat a tablespoon of olive oil in a saucepan and cook your chopped onion and sliced garlic over low heat for 5 minutes.

Add minced chilli, chopped carrot and thyme (leaves only) and cook for 5 minutes longer.

Pour in canned chopped tomatoes, vinegar and a pinch of salt and pepper, turn the heat up and bring to a boil, then turn the heat down and let the sauce simmer for 10 minutes until it's thick.

When you are satisfied with the thickness of the sauce take it off the heat, pour it in a food processor or a blender and blend until smooth and set aside.

Preheat oven to 350F/180C.

Sprinkle chicken thighs with Spanish paprika and salt on both sides and brown in a skillet until golden but not cooked all the way through. Cook in batches to avoid overcrowding. Set aside and drain fat from the skillet.

Add bravas sauce to the same skillet, put chicken on top and scatter butter beans, olives and sliced red pepper all over.

Bake uncovered in the preheated oven for 35-40 minutes.

Sprinkle with chopped parsley and serve over rice.