With the summer still just tantalisingly out of reach, scratch that holiday itch with this homemade patatas bravas recipe. A smoky and spicy sauce, coating or covering chunks of crunchy fried potato, they're a familiar flavour from Spain, and so easy to put together.
Bravas, cañas (a small glass of beer), and a board of cured ham are a pure laidback Spanish vibe. Compliment your patatas bravas with my Italian charcuterie platter for a super quick tapas table. OK, it's not strictly Spanish, but close enough for me!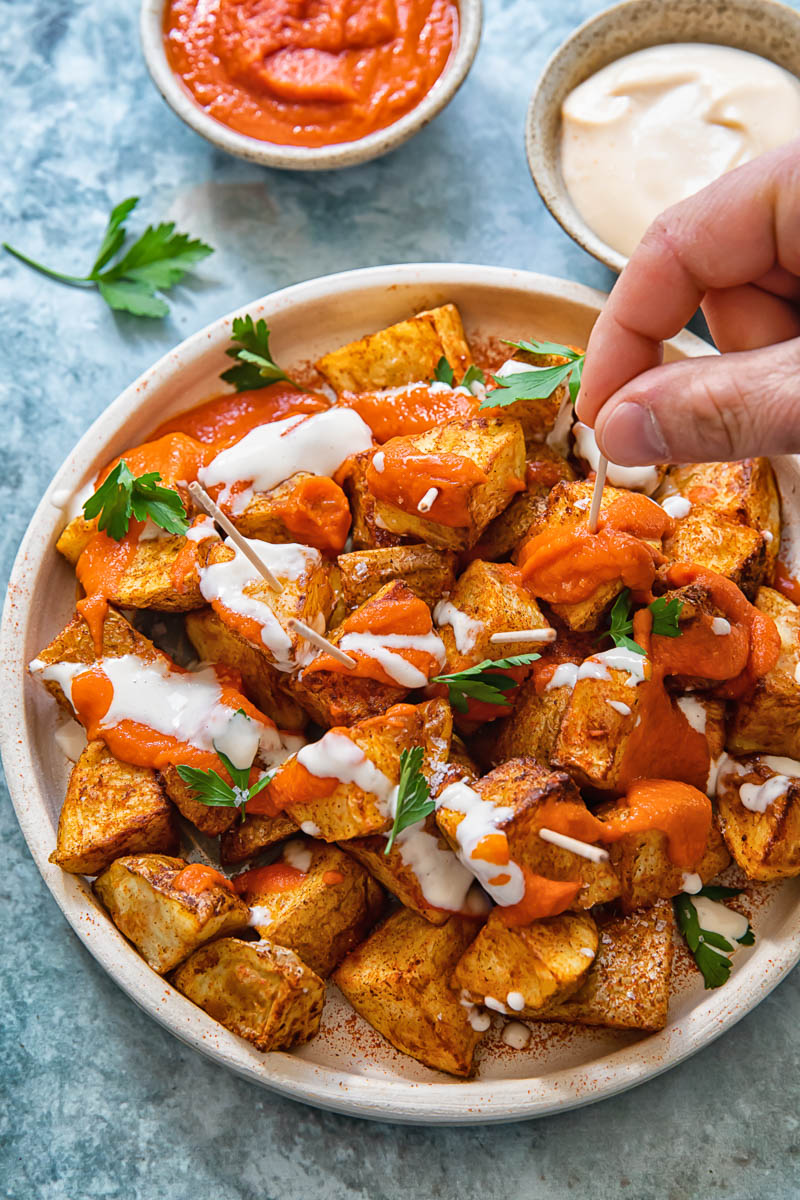 This post contains affiliate links. When you purchase through our links, we may earn a commission.
What are patatas bravas?
A Spanish tapas menu staple from Madrid, as popular abroad as they are in their homeland. They are irresistible bite-sized, rough cut chunks of crispy edged potatoes, either drizzled or drenched in a paprika-rich sauce.
Every establishment throughout the country will offer them and each will have its own recipe for the famous sauce. Being satisfyingly salty, they make a great sightseeing stop snack to enjoy with a refreshing drink when playing tourist.
But if you can't get away, my patatas bravas recipe will take you there.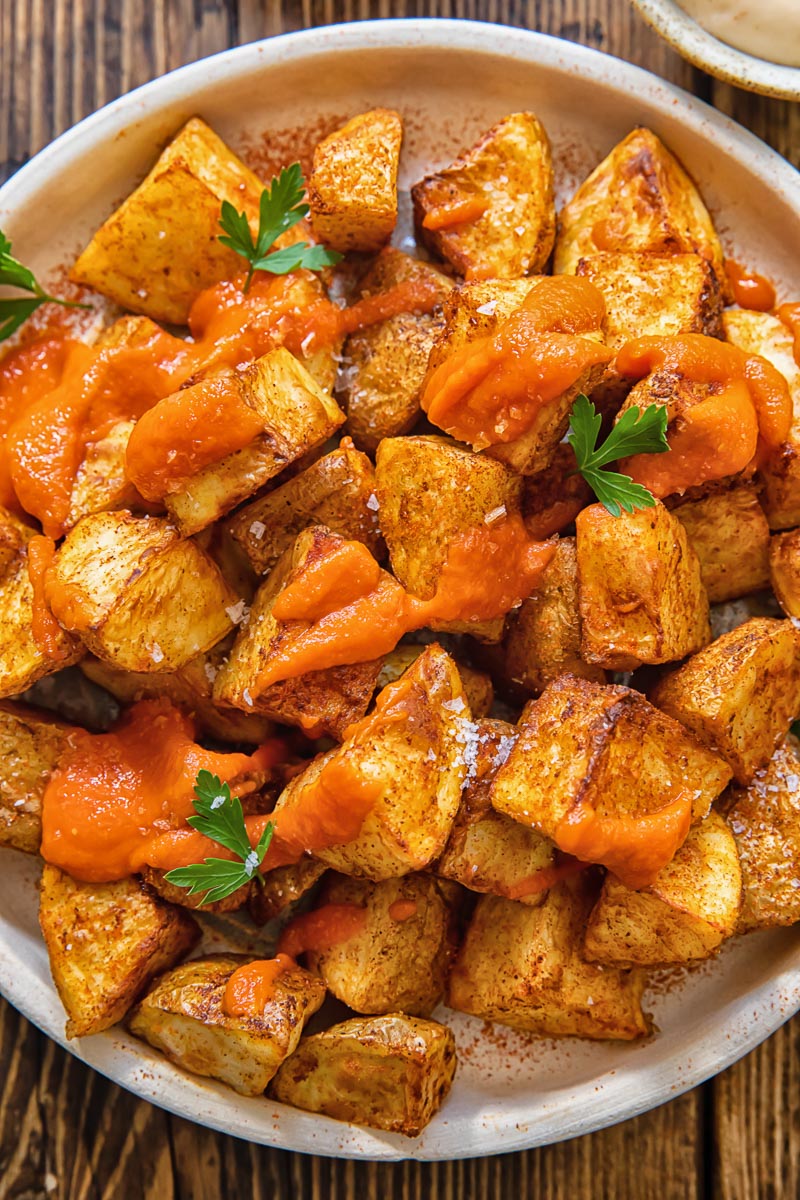 The sauce
There are both national level disputes and family feuds over the contents of a true bravas recipe. Paprika or cayenne? Tomatoes or no tomatoes? With alioli?! It's all a matter of taste.
For me, patatas bravas sauce should be tangy and smoky, the signature orange in colour, thick in consistency (think curry gravy) and come with alioli. Both sauces should lightly lace the pile of potatoes.
And what is alioli? Authentically, it is a sauce of garlic and olive oil, but you'll likely come across it as more of an industrial strength garlic mayo. And it is sublime! Soak your bravas in it. Slather your calamari. Drown your grilled prawns and fried whitebait. Dip your croquetas or just plain bread. It's an addiction that won't stop with Spanish fare. Chips, crab cakes, pizza crust… I could go on.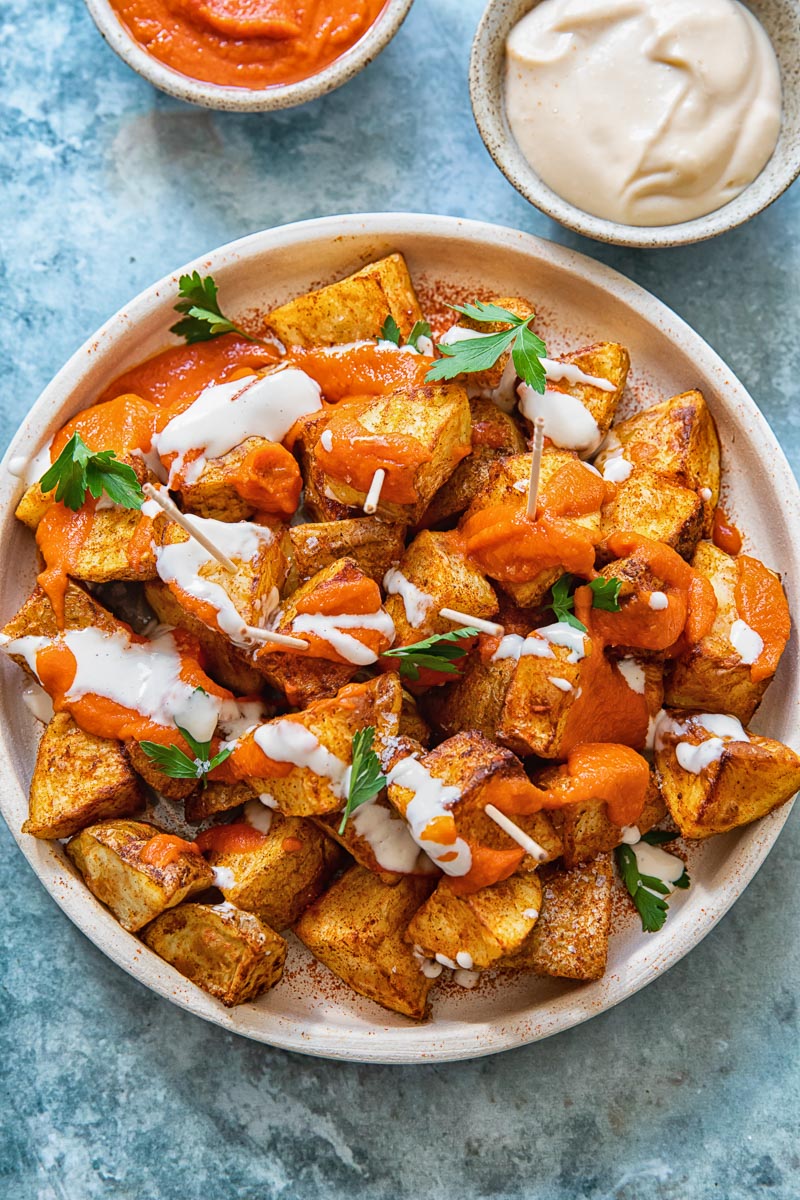 Spanish tapas
It's the perfect family feast as everyone is guaranteed to eat some of at least one thing they like. In my family, the four of us all look for something a little different in our tapas so when we order together we have a really well-balanced meal! Here are each of our top picks:
Padron peppers – it's like pepper roulette. Who will get a hot one? These blister-skinned green peppers always make up the vegetable component and are usually my go-to.
Chorizo in red wine – juicy Spanish sausage soaked in sticky red wine jus that is just burstingly flavoursome. My son cannot resist.
Grilled asparagus with romesco sauce and burrata – a crunchy asparagus spear is one of my, and my daughter's, favourite vegetables. If you've not had romesco sauce, it is a sweet blend of red peppers, tomato and almonds. Mouthwateringly good.
Paella (Spanish rice with chicken or shrimp) – because my husband will insist on some protein and carbs! Paella is often served in a massive paella pan for the whole table to share, but you can halve the ingredients to make a tapas-sized version.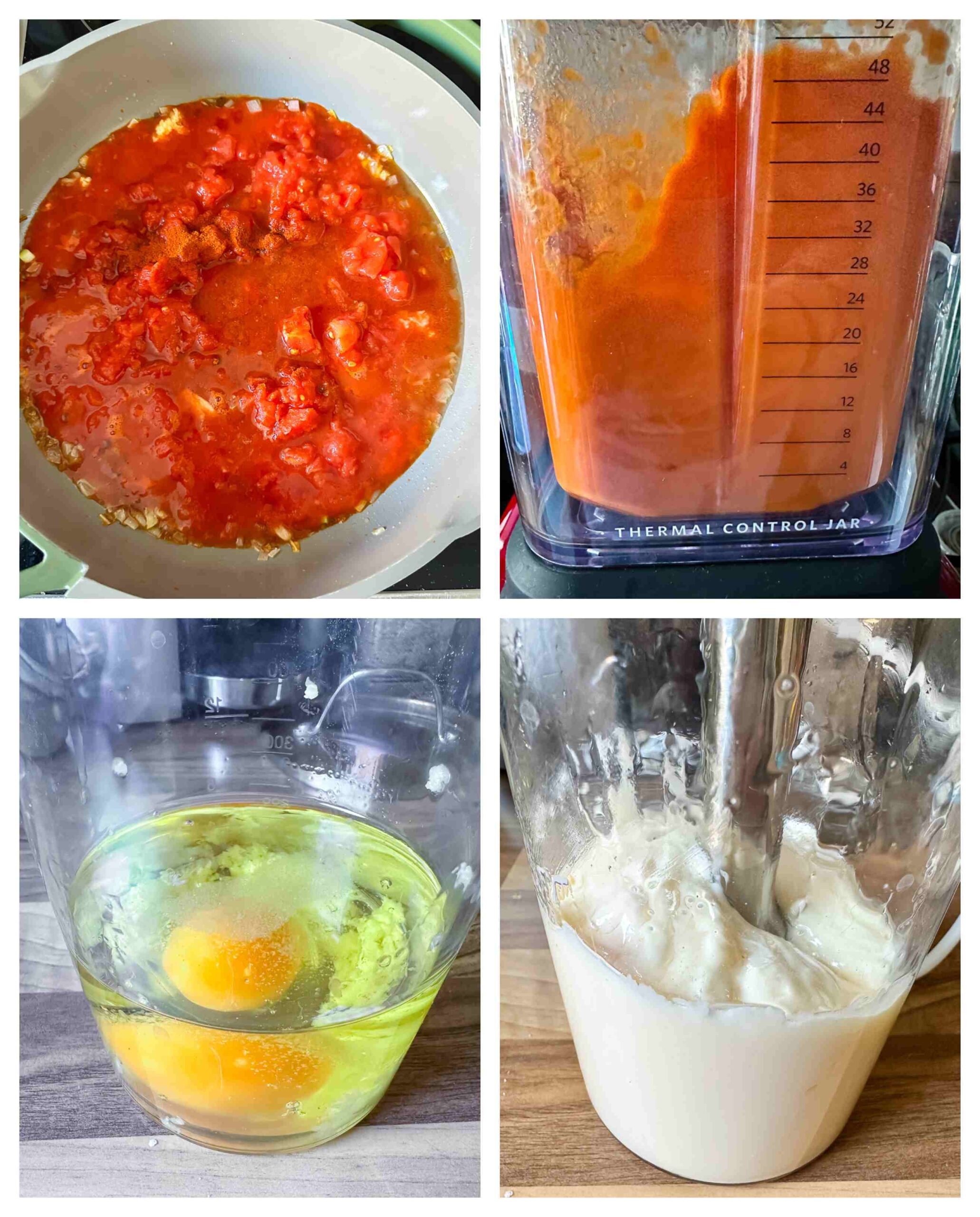 Recipe tips and notes
If I can get away without frying something, I will. If you have an air fryer, use it! No clingy oily smell and you can just set the timer and walk away. And honestly, I think the patatas bravas turn out better. Crispier and healthier? You just can't argue.

The secret to the crispiness is not to overload the air fryer. Give the potatoes space! Or they'll cook unevenly or turn out soggy.

Choose a starchy or floury type of potato. They tend to have a fluffier centre and a crunchier outside. The fried potato of dreams! Yukon Gold (US) and Maris Piper (UK) are my tried and tested faves. Avoid red-skinned potatoes, they don't have the same crispy potential.

Cut them into 2 inch chunks for a roasty-like potato.

A second, lesser known secret to a good air-fried potato is to wash them after cutting. Or better still, soak them in water for 10-20 minutes. This rinses away some of the starch and prevents them sticking together which ultimately, leads to that all important bronzy crunch.

For a smooth and authentic patatas bravas sauce, blend it.

There's no shame in a shortcut! If you don't have the time, or the inclination, to make the alioli from scratch, just mix mayonnaise with grated garlic and there it is!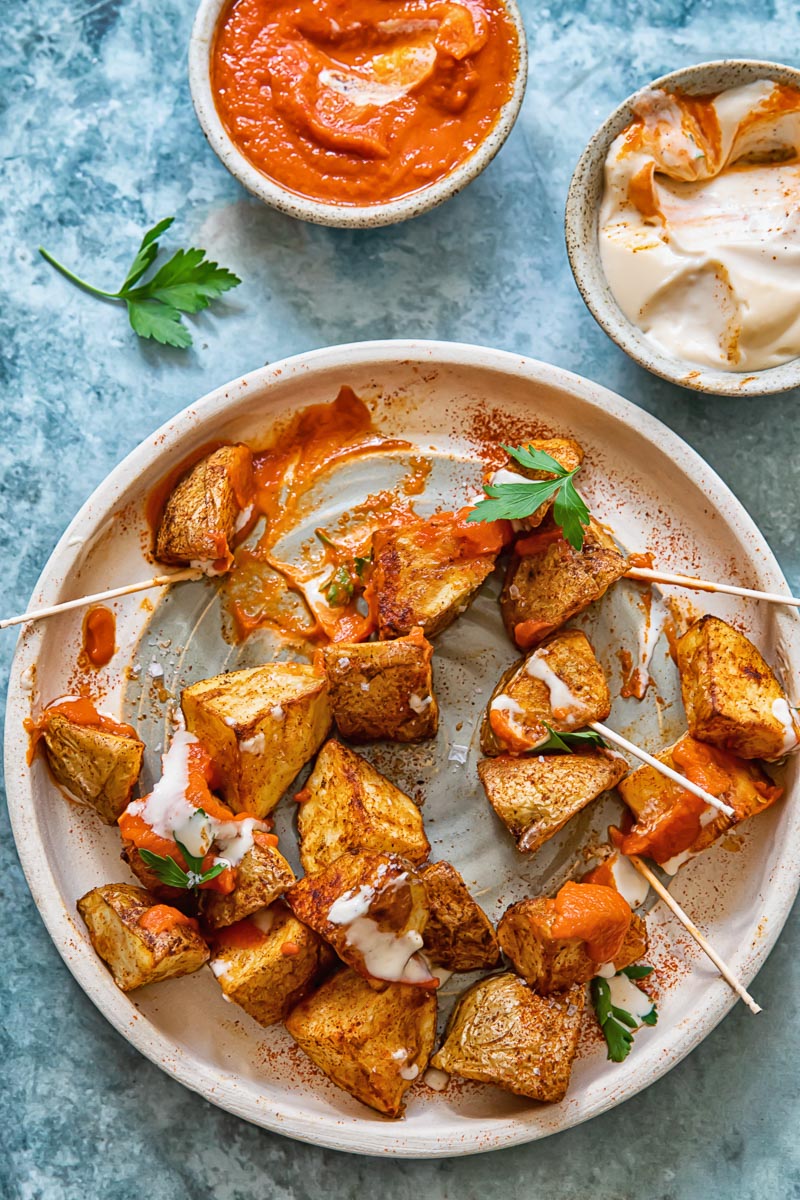 Storage and leftovers
Bravas sauce is good for way more than just potatoes, so I will often make up a batch. It can be stored in the fridge for up to a week, during which time the flavours ripen and intensify, and can be used for a number of saucy recipes. Try it with chicken or even for breakfast.
The same goes for the alioli. But maybe not for breakfast.
If you are planning a game night party, why not make my American version of patatas bravas. Loaded potato skins with chorizo, manchego cheese and bravas sauce will be the first ones to disappear.
Favourite Potato Recipes to Try: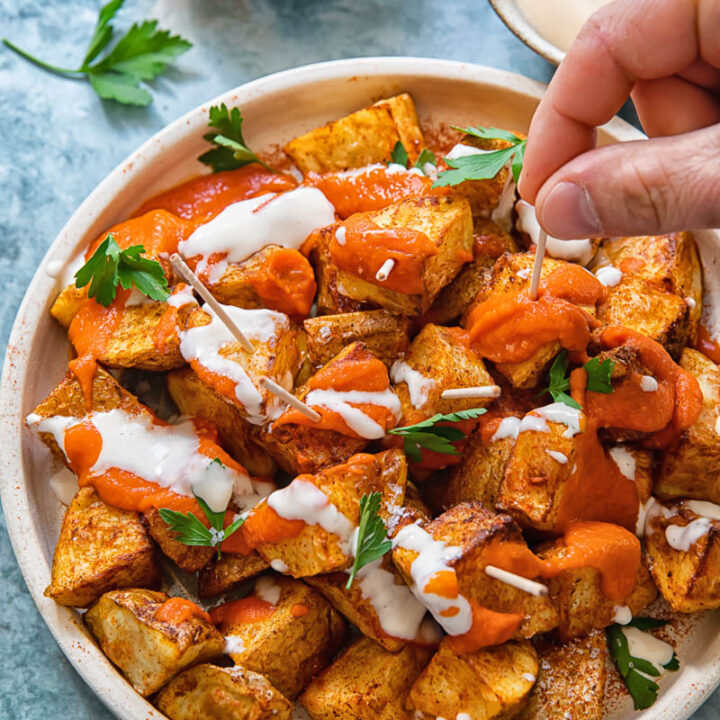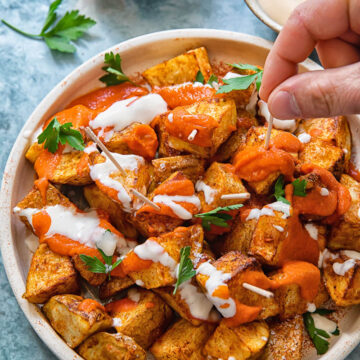 Patatas Bravas
A smoky and spicy sauce, coating or covering chunks of crunchy fried potato, patatas bravas are a familiar flavour from Spain.
Ingredients
5-6

medium potatoes

oil spray or 1 tbsp olive oil

1

tsp

salt

1

tsp

Spanish paprika
For the sauce
1

tbsp

olive oil

1

onion

chopped

4

cloves

garlic

sliced

1

tsp

smoked paprika

400g/14 oz

canned chopped tomatoes

1

tbsp

red wine vinegar

salt and black pepper to taste
For alioli
150ml/1/2 cup + 2 tbsp

vegetable oil or any other neutral tasting oil

1

egg

3

cloves

garlic

¼

tsp

salt
Instructions
Wash the potatoes and cut them unpeeled into approximately 2 inch chunks. Wash the cut potatoes again or better yet soak them in cold water for 10-20 minutes if time allows. Then drain and dry them thoroughly with a kitchen towel. There should be no moisture left on the surface of your potatoes.

Spray them with an oil spray all over, shake and spray again until evenly coated, then season with salt and Spanish paprika. Put your seasoned potatoes into the basket of an air fryer, select the Air Fry option and cook for 10 minutes at 205C/410F. Then take the basket out, shake the potatoes very well, spray again and cook for 8-10 minutes longer until the potatoes are golden on the outside and cooked all the way through.

While the potatoes are cooking, make the sauce. Heat a tablespoon of olive oil in a saucepan and cook chopped onions and sliced garlic over low heat for 5 minutes. Add smoked paprika and cook 30 seconds longer.

Pour in canned chopped tomatoes, vinegar and a pinch of salt and pepper, turn the heat up and bring to a boil, then turn the heat down and let the sauce simmer for 10 minutes until it's thick. When you are satisfied with the thickness of the sauce take it off the heat, pour it in a food processor or a blender and blend until smooth and set aside.

Now make the aioli. The easiest way to make it is using an immersion blender and a tall and narrow container. Combine the vegetable oil, an egg, salt and grated or pressed garlic cloves. Insert the immersion blender and process for a few seconds while moving the blender slightly until the ingredients turn into a thick mayonnaise. Alternatively, you can combine 1 cup of good quality mayonnaise with 2 cloves of garlic.

Serve the fried potatoes with the sauce drizzled on top and aioli on the side.
Nutrition
Calories:
449
kcal
Carbohydrates:
56
g
Protein:
6
g
Fat:
21
g
Saturated Fat:
3
g
Polyunsaturated Fat:
1
g
Monounsaturated Fat:
3
g
Cholesterol:
14
mg
Sodium:
1027
mg
Potassium:
1222
mg
Fiber:
7
g
Sugar:
4
g
Vitamin A:
405
IU
Vitamin C:
57
mg
Calcium:
49
mg
Iron:
3
mg