It's where our beloved potato skins and Spanish Patatas Bravas meet!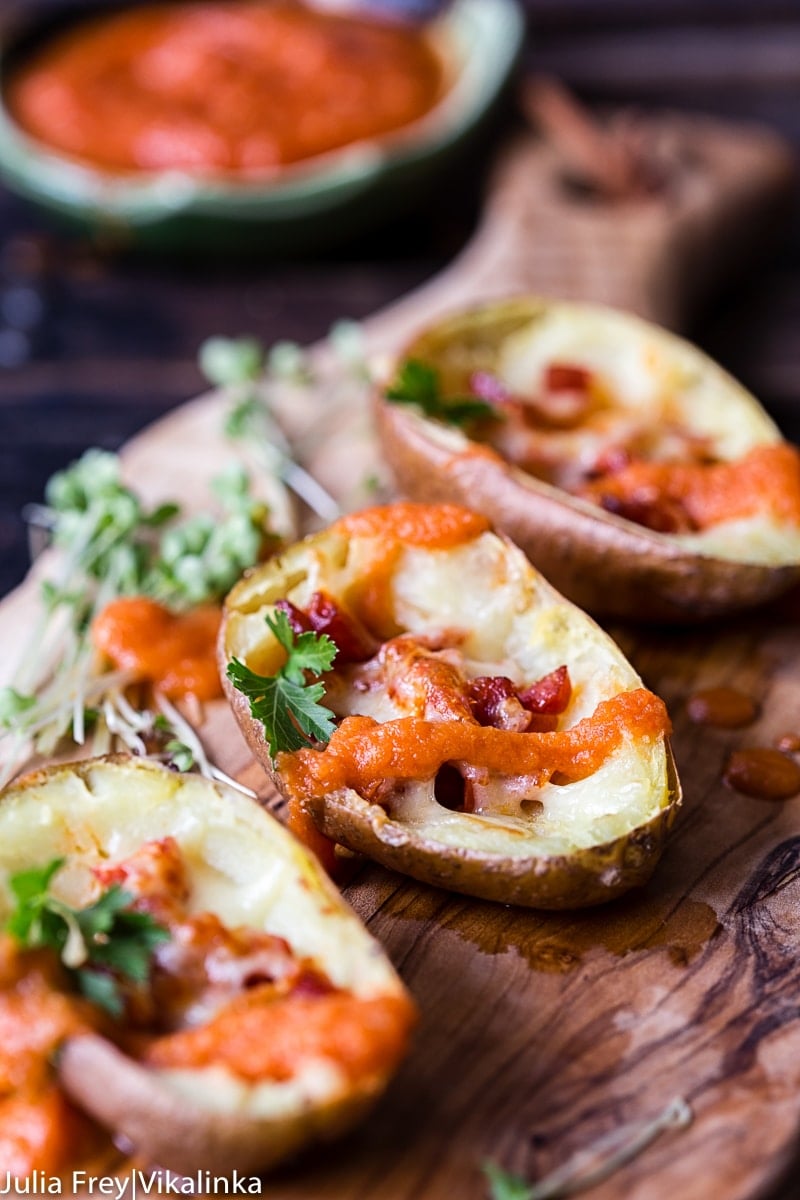 It probably won't come as a complete surprise to you, my friends, that I am a huge potato lover! Who isn't though?!? I love potatoes cooked in every way possible. Potatoes is what I missed and craved most during my year in a rice loving Philippines. That's where I discovered I can eat potatoes just boiled and salted and still enjoy them! In less extreme situations though, I prefer to eat my potatoes a bit more dressed up!
Every time we travel and I get a chance to see how they cook potatoes in that particular country, I bring a recipe home. Some of them get cooked once and forgotten but others become our favourites. Spanish Patatas Bravas is one of them, a firm staple among other Spanish tapas Brad and I enjoy for our date nights in. We cook together, chat about our days and drink red Spanish wine.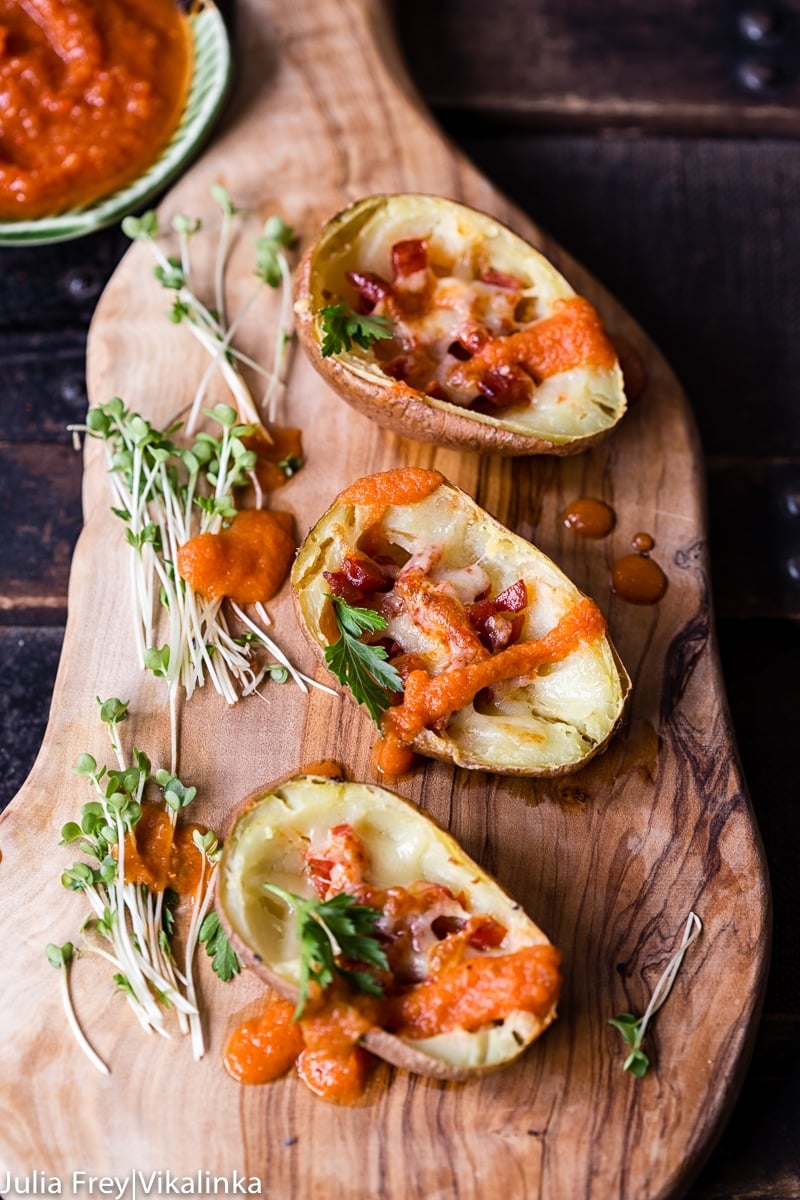 Now let's talk about potato skins. Yeah, yeah, they might be a bit 90s but I am a 90s girl! And if we are all honest, we'd agree that certain party foods like nachos and potato skins should never ever go out of style! Let's infuse them with new, fresher, more interesting flavours and keep eating them because they are AMAZING and always disappear first!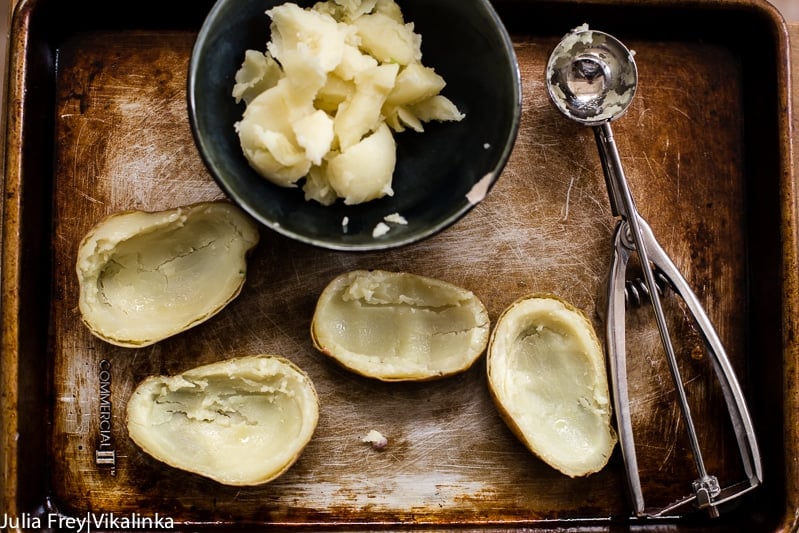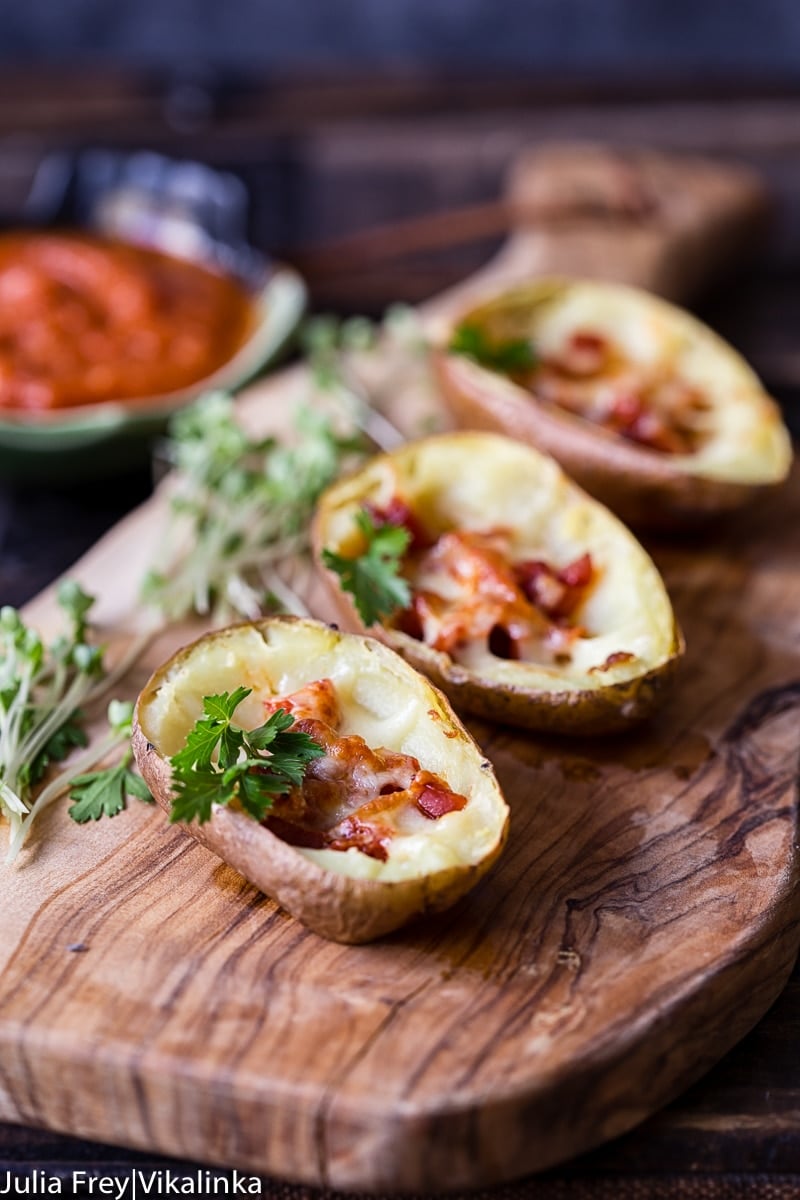 If you are not familiar with Bravas sauce, which by the way means "fierce" in Spanish, you absolutely need to get on it asap! The taste of it is like no other. It's sweet from ripe tomatoes and carrots, slightly tangy from red wine vinegar and spicy from chilies. Perfectly balanced and a lovely accompaniment for your vegetables, meat or even fish. If you need ideas on how to use up your leftover Bravas sauce you can check out this Spanish Chicken in Bravas Sauce or one of my favourite brunch creations Spanish Hash .
So throw a party and enjoy these loaded potato skins!!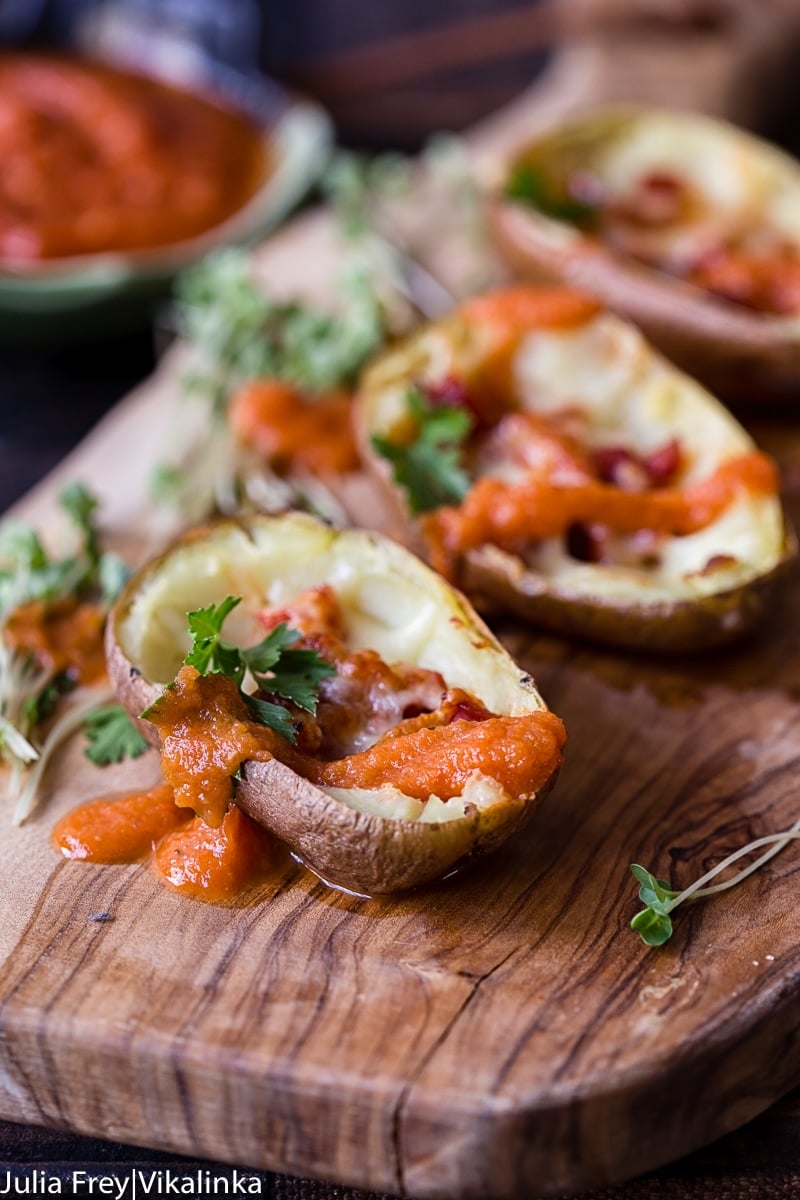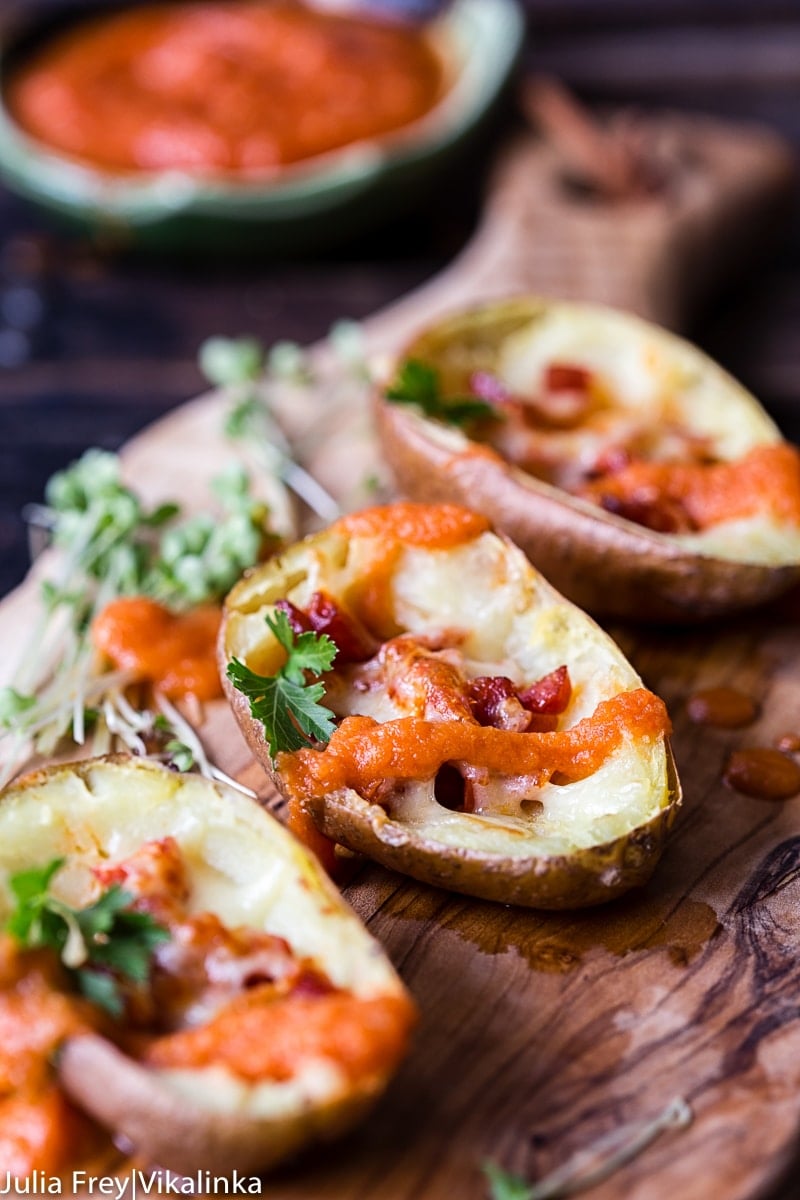 Ingredients
5

potatoes

10

chorizo slices

chopped

1

tbsp

olive oil

50

g

Manchego or Cheddar cheese

grated

micro herbs

optional

parsley
For the bravas sauce
Olive Oil- 1 tbs.

1

onion

chopped

4

cloves

garlic

sliced

1

red chilli

minced

1

medium carrot

diced

2-3

sprigs fresh thyme

you can also use dried thyme

1

X400gr/14oz can of chopped tomatoes

1

tbsp

red wine vinegar

Salt and pepper to taste
Instructions
Bake potatoes with skin on for 30 minutes at 180C.

While the potatoes are cooking make the Bravas sauce.

Heat a tablespoon of olive oil in a saucepan and cook your chopped onion and sliced garlic over low heat for 5 minutes.

Add minced chilli, chopped carrot and thyme (leaves only) and cook for 5 minutes longer.

Pour in canned chopped tomatoes, vinegar and a pinch of salt and pepper, turn the heat up and bring to a boil, then turn the heat down and let the sauce simmer for 10 minutes until it's thick.

When you are satisfied with the thickness of the sauce take it off the heat, pour it in a food processor or a blender and blend until smooth and set aside.

Once potatoes are cooled enough to handle cut them lengthwise and scoop out the flesh. Brush the skins with olive oil.

Fill the skins with the chopped chorizo equally divided among 10 potato skins and sprinkle with grated cheese. Put back in the oven and cook for 10 min at 200C until the cheese is golden and bubbly.

Serve sprinkled with parsley and micro herbs and bravas sauce for dipping.