These bacon wrapped jalapeño poppers are a must for your next party. Warning: they will fly off the plate within seconds!
Looking for more party treats? Find them all in our Christmas Party Recipe Collection!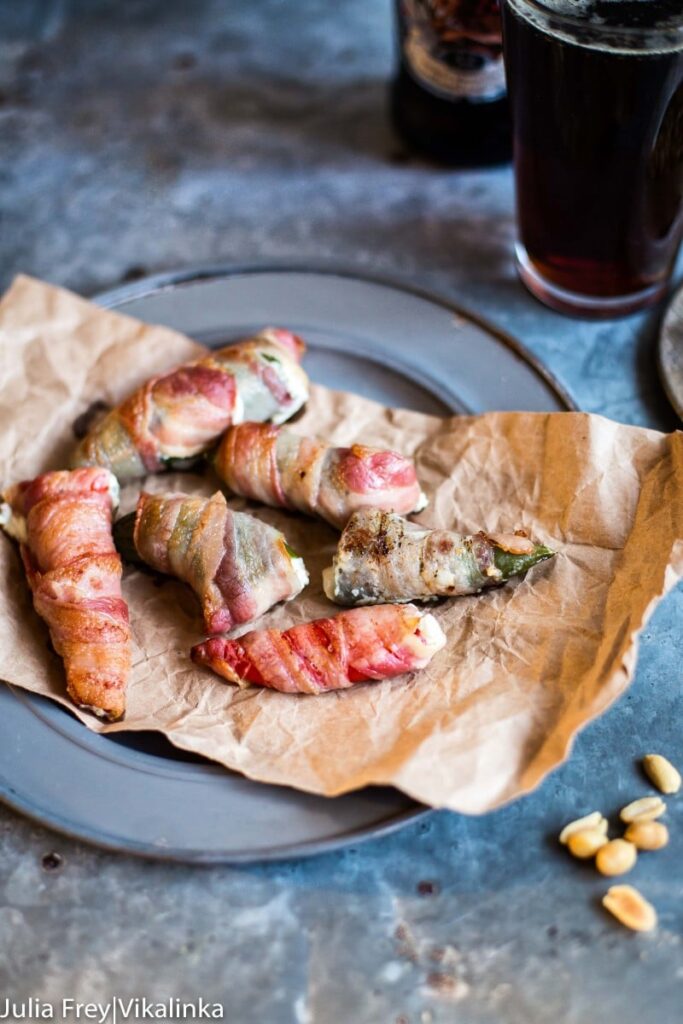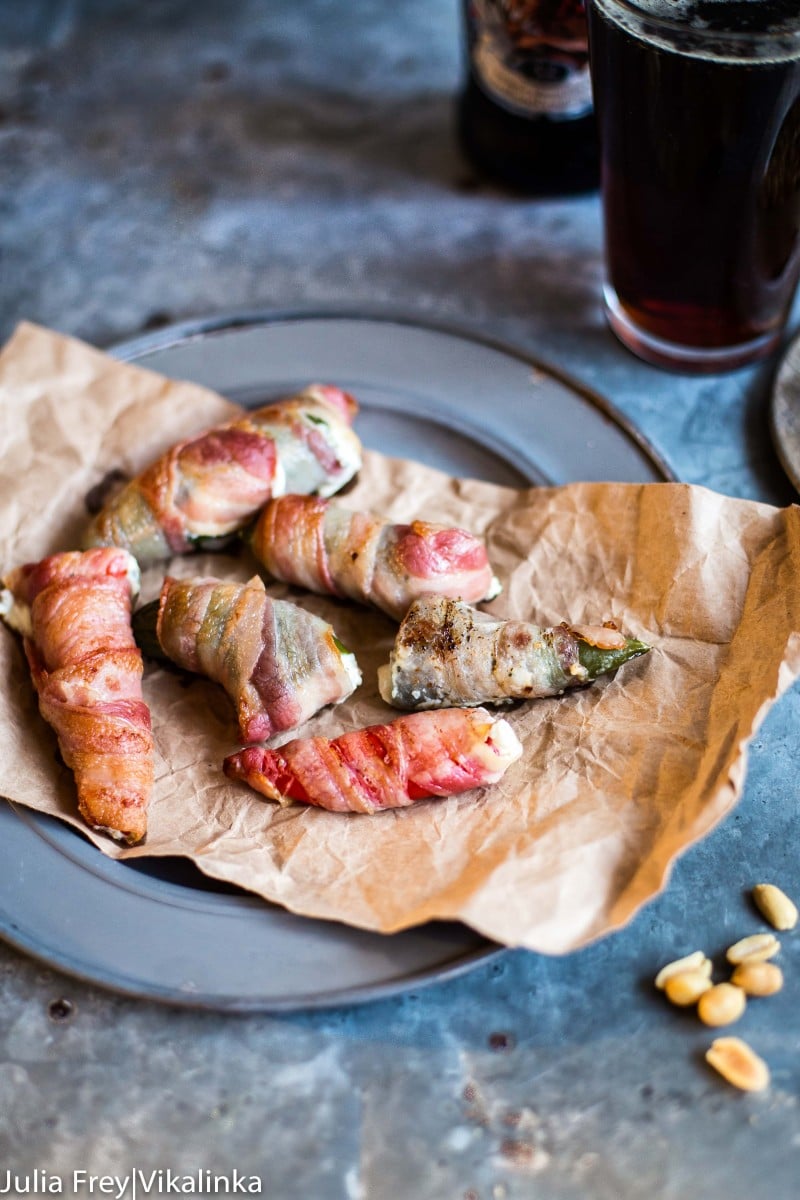 It took a long time before I became a fan of jalapeño poppers. I like everything that goes in them, but found them a bit too much when deep fried.
It wasn't until I took a risk and ordered them at a local pub that I found a version I could really get behind. The pub has sadly closed, but the recipe it inspired lives on and is now a must have when we host a get-together.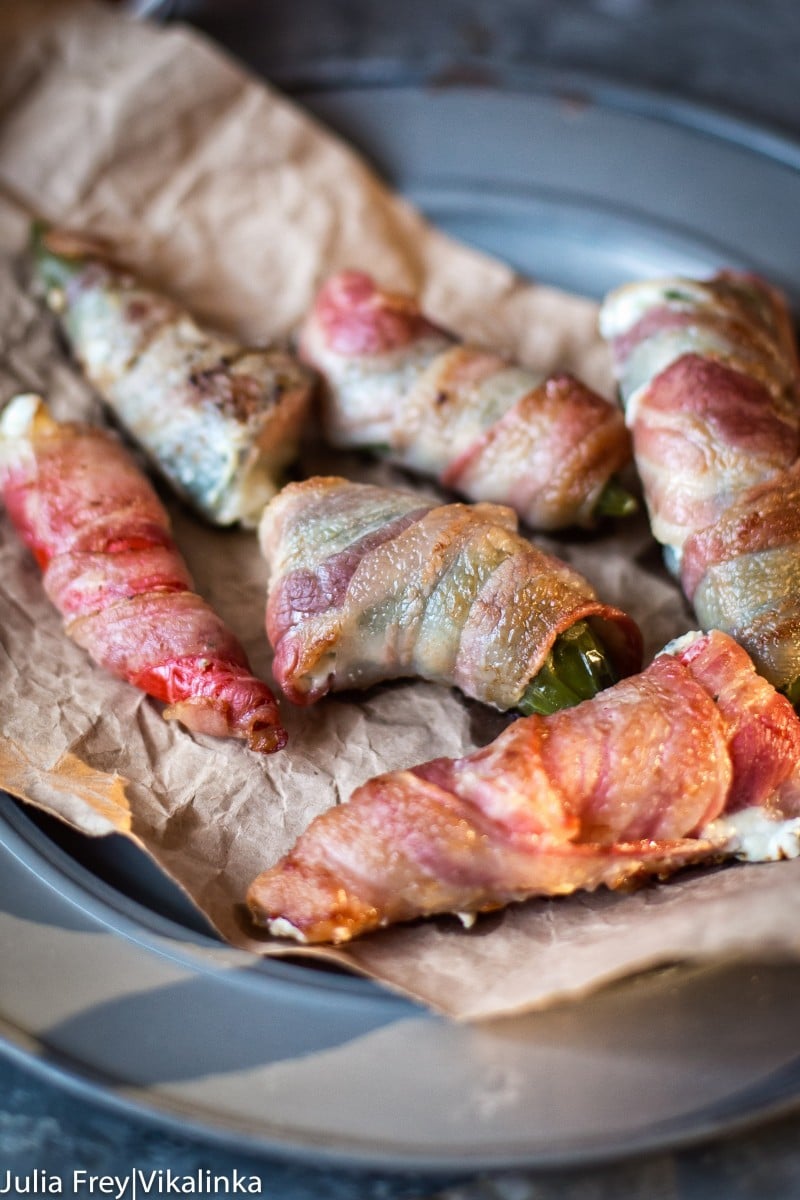 They are perfect for spending a few hours over with the ones you love without investing hours into planning and preparing. The look unassumingly plain and hearty but pack a surprise punch inside. I hope you will enjoy them as much as us and our friends!
I love the combination of flavours and textures in these jalapeño poppers. The bacon is smoky and crisp, the cheese is creamy, and the peppers bring the heat!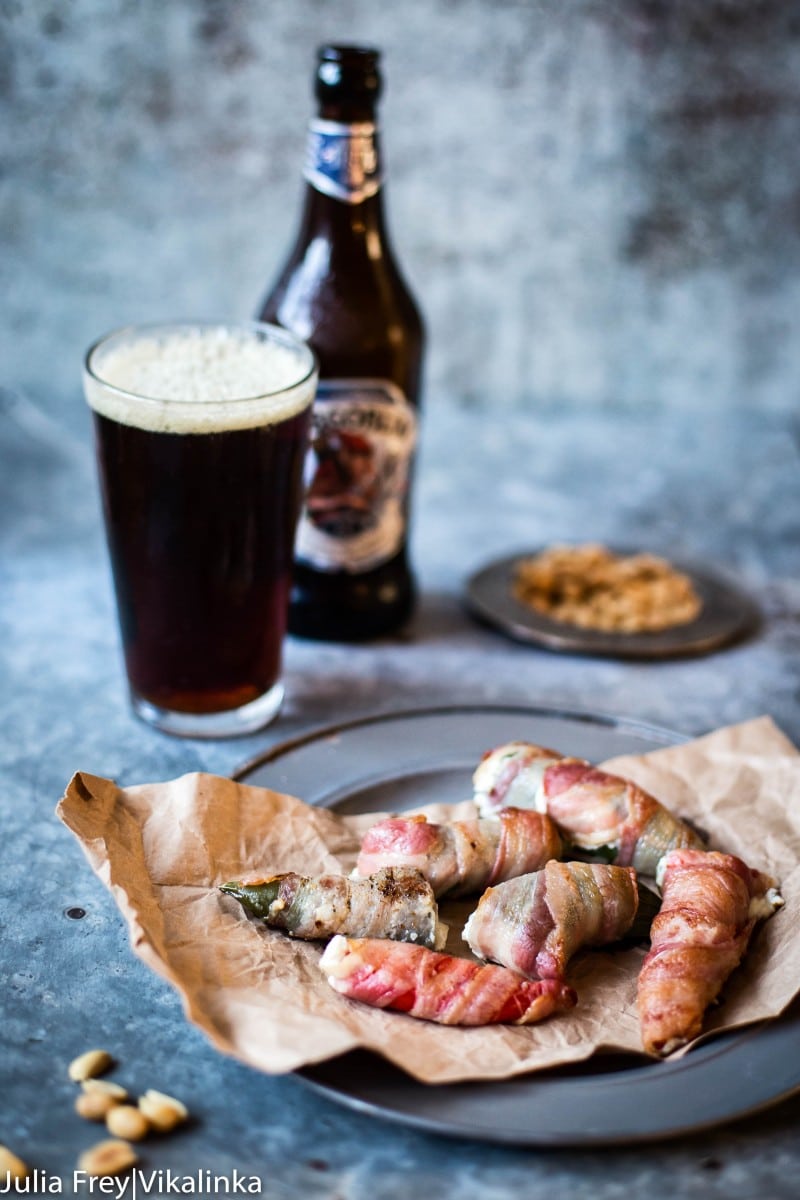 How to make jalapeño poppers
When you are preparing for guests, the last thing you want is to spend endless hours in the kitchen. What you need is a dish that looks good and tastes fantastic but isn't fussy.
Bacon stuffed jalapeño poppers look like they take a lot of effort, but are actually quite simple to make. They are meant to look slightly rustic so no need to stress over making them look pretty!
With your oven warming in the background, trim off the tops of the peppers and slice down one side. Gently open the pepper and scrape out the seeds.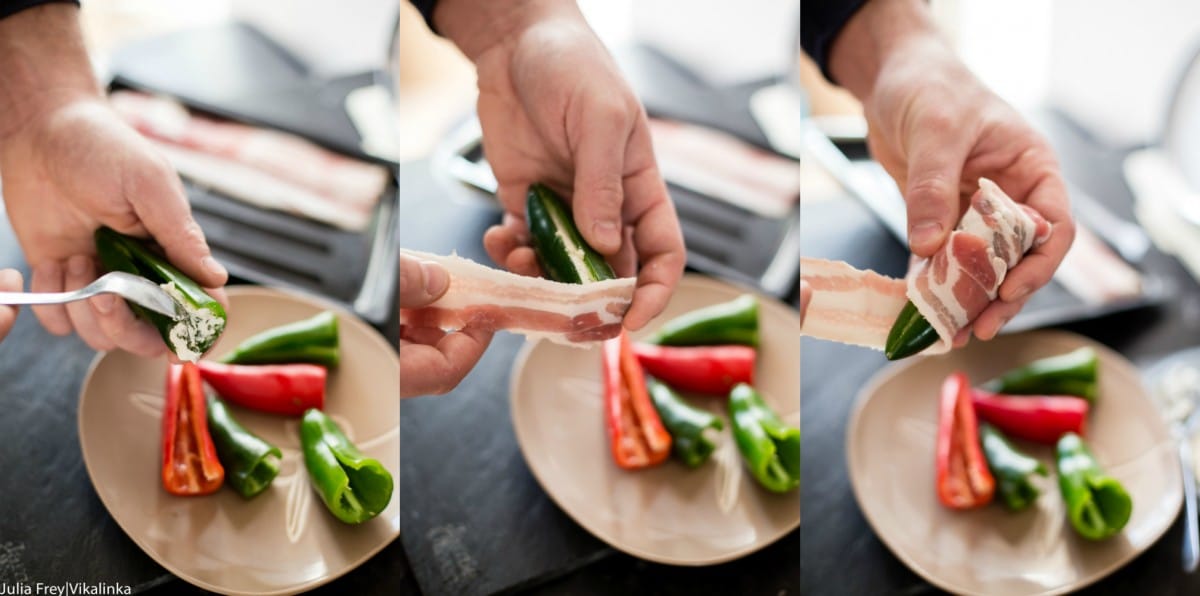 Add about a teaspoon of cheese to each pepper, getting it right down into the tip. The amount of cheese you'll need will vary depending on the size of the pepper.
Once the cheese is inside, wrap it all together with a piece of bacon. The bacon has the important role of keeping the cheese from oozing out as the popper cooks, so make sure that the slice and top of the pepper are well sealed. You can see how I did this in the photos above.
Now that everything is assembled it is time to place the bacon stuffed jalapeño poppers on a baking sheet and into the oven. They will be mostly done after 20 minutes, but will be even better after 3 minutes under the broiler or grill. Keep a close eye so they don't burn!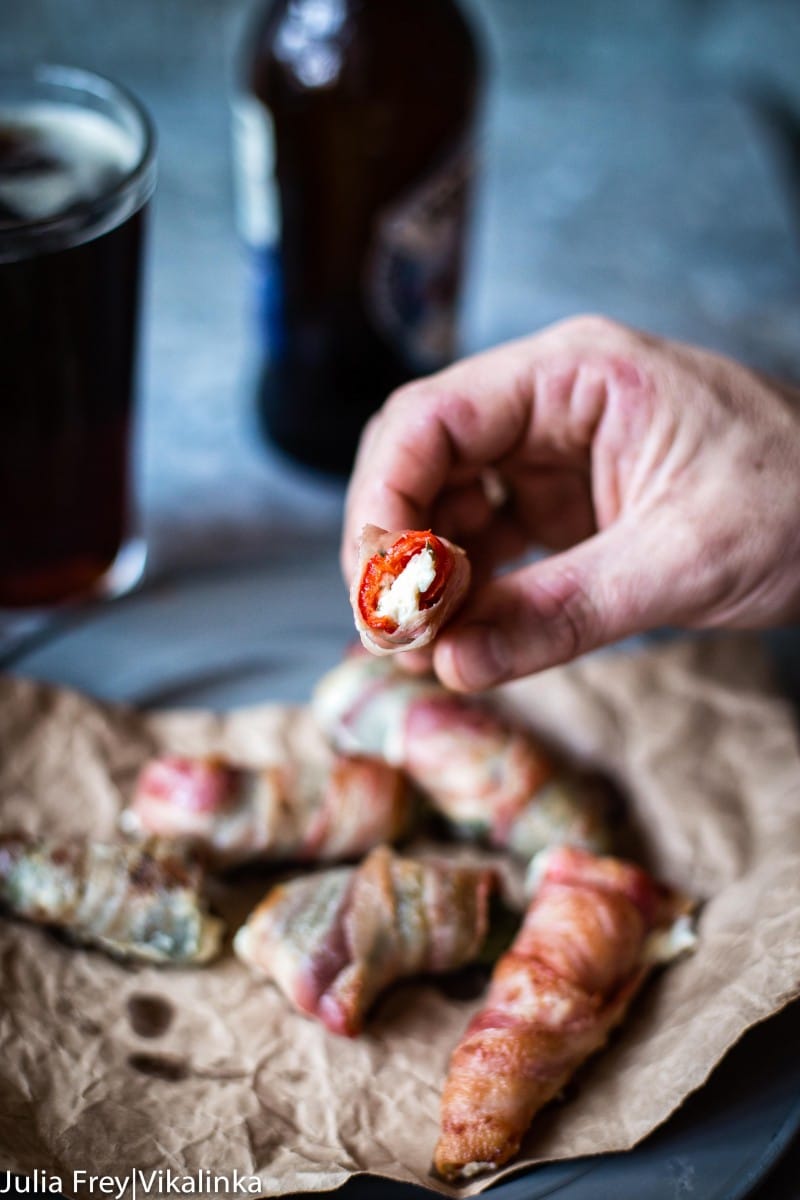 Recipe notes
If you have sensitive skin, wearing gloves may be advisable when preparing this recipe and handling jalapeño peppers. Make sure you wash the knife and cutting board well before using anything else.
Most soft cheeses will work well for this recipe. I used a soft French cows cheese called roule but goats cheese or cream cheese could be used as substitutes.
The cheese in the poppers will be extremely hot immediately after they are removed from the oven. Given them some time to cool down so they are more pleasant (and safer!) to eat.
More party recipes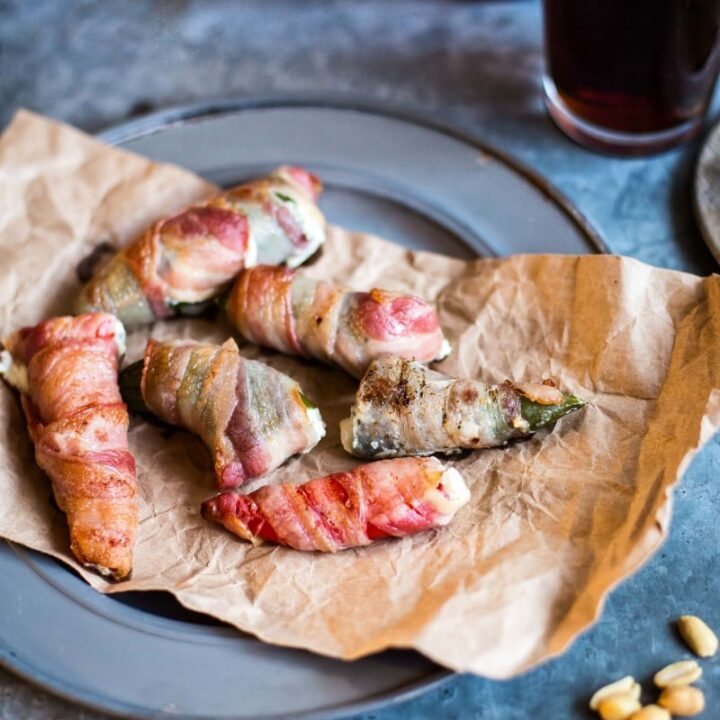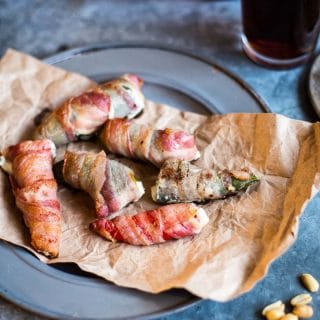 Bacon Wrapped Jalapeño Poppers
These bacon wrapped jalapeño poppers are a must for your next party.
Ingredients
10

jalapeños

125

g/1/2 cup French roule cheese

soft cheese with herbs and garlic, or cream cheese

10

strips of bacon/streaky bacon in the UK
Instructions
Preheat the oven to 350F/180C

Prepare the jalapeños by cutting the tops off, slitting one side with a sharp knife and scraping the seeds off. Wear gloves if you have sensitive skin and wash the knife and cutting board well afterwards.

Fill jalapeños with approximately 1tsp of soft cheese (depending on the size) and wrap with a strip of bacon starting from the top and making sure the top and seam are well covered to prevent cheese from leaking out.

Bake in the oven for 20 minutes, then turn the broiler/grill on and cook for additional 3 minutes until the bacon is crispy.
Nutrition
Calories:
143
kcal
Carbohydrates:
4
g
Protein:
6
g
Fat:
12
g
Saturated Fat:
5
g
Polyunsaturated Fat:
2
g
Monounsaturated Fat:
4
g
Trans Fat:
1
g
Cholesterol:
20
mg
Sodium:
196
mg
Potassium:
192
mg
Fiber:
1
g
Sugar:
2
g
Vitamin A:
566
IU
Vitamin C:
65
mg
Calcium:
25
mg
Iron:
1
mg