These stuffed mushrooms are perfect as a delicious appetiser or a main course if portobello mushrooms are used!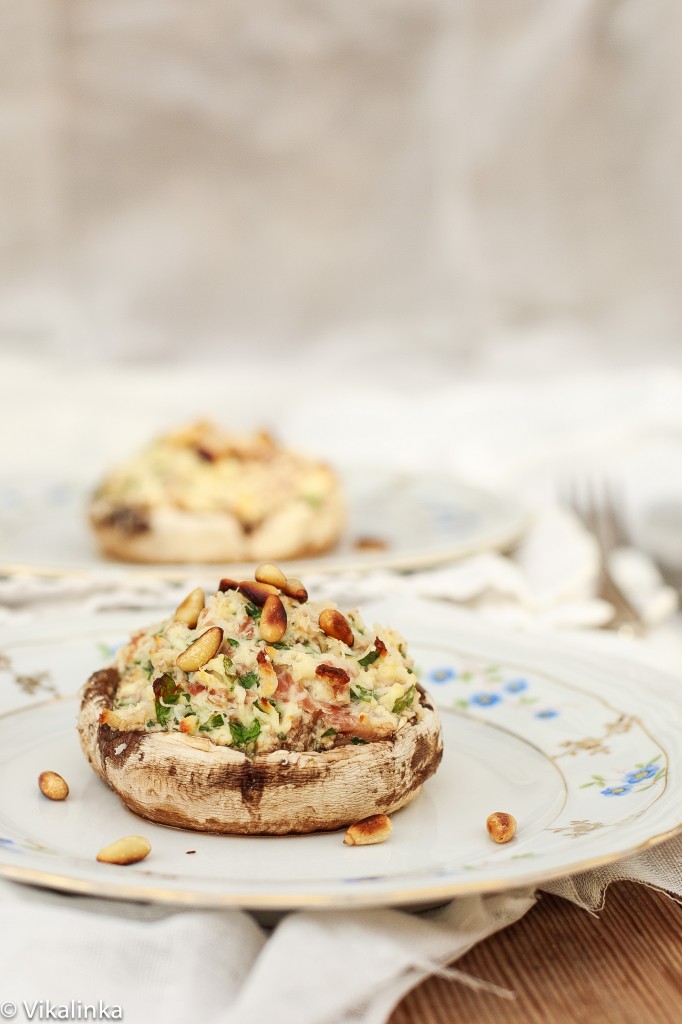 Who doesn't love a good stuffed mushroom? I know I do and I had a particular craving the other day but didn't have any crab to stuff them with.
All that was left kicking around my fridge was 4 of slices of prosciutto, some low-fat cream cheese and a few large field mushrooms.
Usually I like to serve stuffed mushrooms as mini bites at parties but something slightly different was brewing in my mind. Why not serve jumbo mushrooms as a beautiful starter to your meal?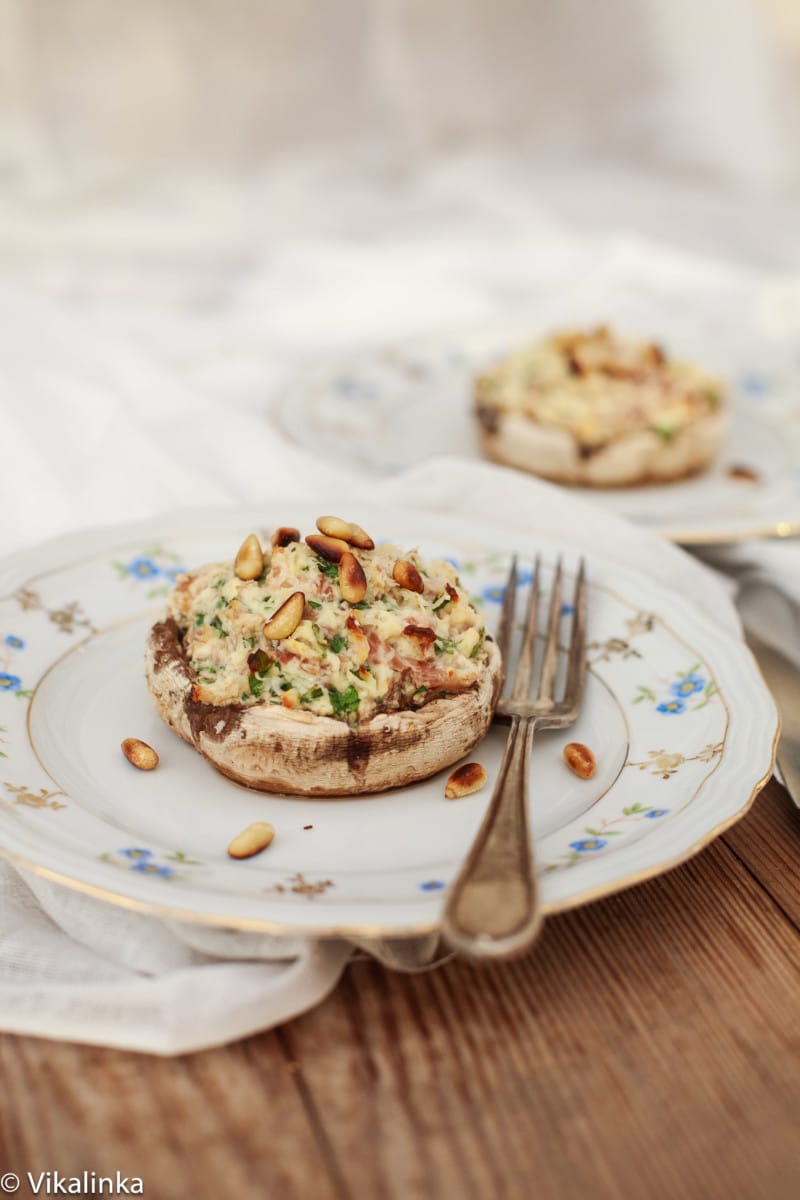 Or even better why not make them a centerpiece of your meal? The recipe could be easily adapted to button mushrooms, of course. These little bites will be welcome at any party this holiday season- flavourful mushrooms stuffed with creamy savoury filling and sprinkled with crunchy pine nuts.
Pine nuts are very Christmassy to me. Pine nuts and mandarin oranges bring such great childhood memories of winters in Russia.
When I was growing up my brother and I would always get pine nuts in pine cones brought from Siberia around Christmas time.
It was so much fun to dig them out, crack the shells and only then enjoy the tasty kernels. Now that I am a parent myself I understand why my parents did that. Hours of keeping a child occupied!
How do you make stuffed mushrooms?
As you can imagine these amazing appetizers are super easy to make and filling jumbo mushrooms cuts the prep time in half!
Just mix low fat cream-cheese, chopped prosciutto slices, grated parmesan cheese and chopped flat leaf parsley in a small bowl.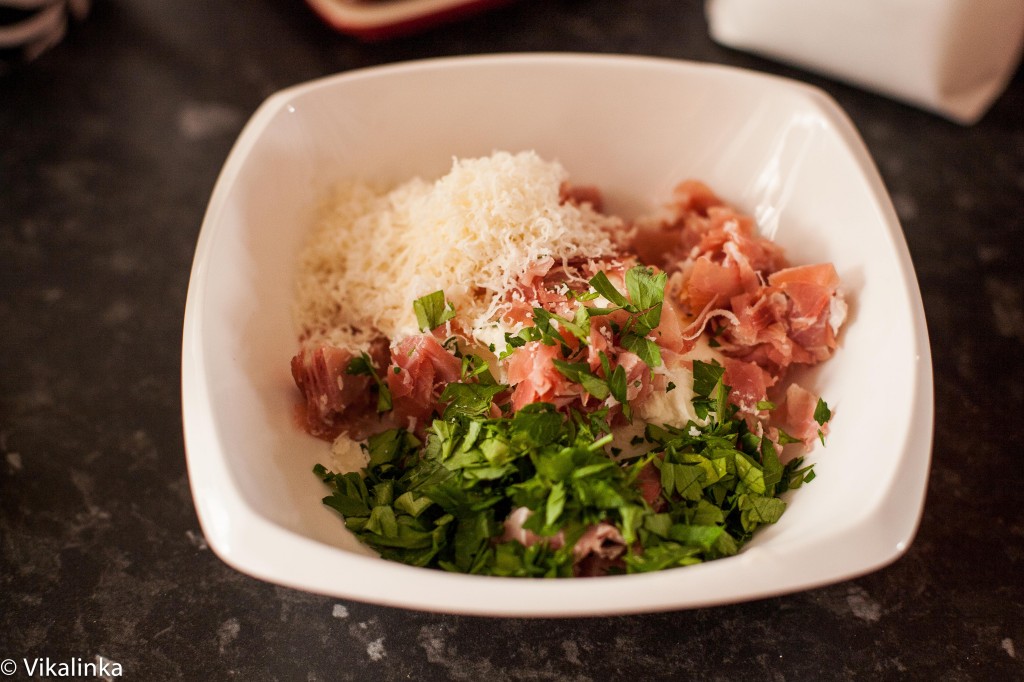 Then stuff your mushrooms with it! Don't worry about pulling out the stems, (unless you are stuffing button mushrooms) just pile the filling around them, the more mushroom the better.
Then sprinkle with additional grated parmesan cheese.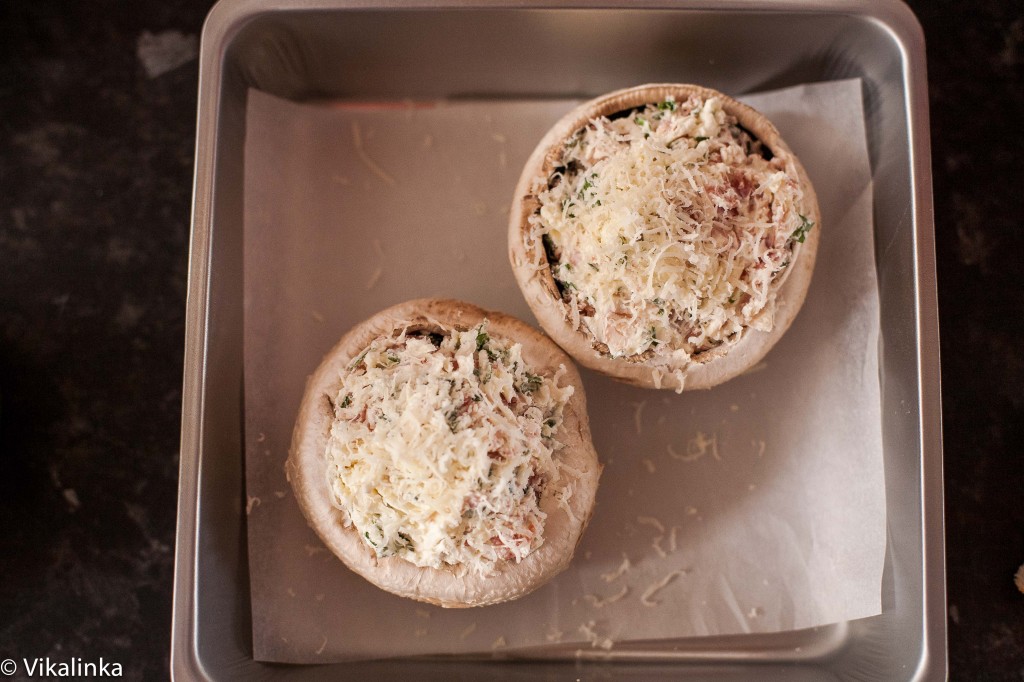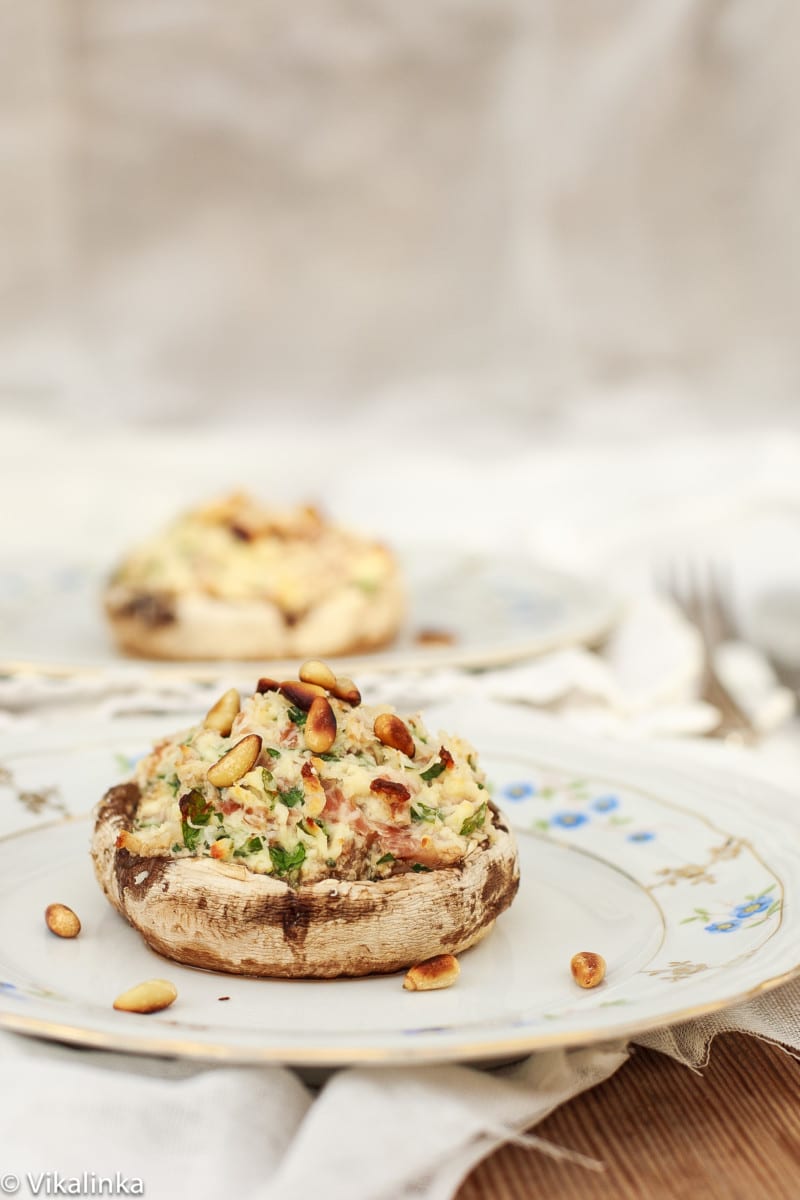 Ingredients
Pine Nuts- 2 tbsp.

Low-fat Cream cheese- 1/2 cup/125 gr

Prosciutto slices- 4/ 70 gr

Parmesan cheese

grated- 4 tbsp. plus extra for the tops

Flat leaf parsley

chopped- 3-4 sprigs

Jumbo Field or Portobello Mushrooms-4
Instructions
Preheat your oven to 350F/180C

Toast pine nuts in a dry pan over medium heat for 2 minutes until golden and fragrant. Set aside.

In a small bowl mix cream cheese, chopped prosciutto, fresh grated parmesan cheese and chopped parsley.

Stuff mushrooms (leave the stems in and just pile the filling around them) and sprinkle with additional grated parmesan cheese.

Bake in the oven for 20 minutes.

Sprinkle with toasted pine nuts.