These chicken wings, cooked in an air fryer, are coated in a sticky Asian sauce and boast crispy skin as well as sweet and tangy glaze with a touch of spice.
If you are as big of a fan of your air fryer as I am, take a look at our Air Fryer Chicken Katsu Curry. Crispy chicken and flavour packed curry are waiting for you.
Whenever I am out in a pub, I am always tempted to order chicken wings. Together with nachos they are my biggest weakness. I like them in any flavour. The biggest draw for me is the crispy skin!
I've attempted to make them at home many times but not always successfully. Many recipes require deep frying to achieve that restaurant taste, which I refuse to do.
You can definitely make good tasting chicken wings in an oven but they are not quite as crisp and succulent. I've tried to grill them as well. And while I adore the smoky charred taste, the texture is not there.
Enter the Air Fryer method!
Air Fryer Recipes
I've been devoted to my air fryer for a few years now. I will admit it took me a few months to figure out how to use it to its full potential.
I started out cooking potatoes because I love fries but not the calories they come with! Air fryer is perfect for delivering that "fried" taste without the copious amount of oil.
I finally discovered what my air fryer excels in. And that is delivering CRUNCH. It's ideal for making food crispy like Chicken Tenders for example.
Air fryers are also great for crisping up chicken skin even when no breading is involved. It can cook the juiciest whole chicken with the crispiest skin in half the time of the oven roasted chicken!
Learning all of the above made me realise that cooking chicken wings in my air fryer has got to be the best thing ever. Crispy skin, succulent taste and virtually no oil!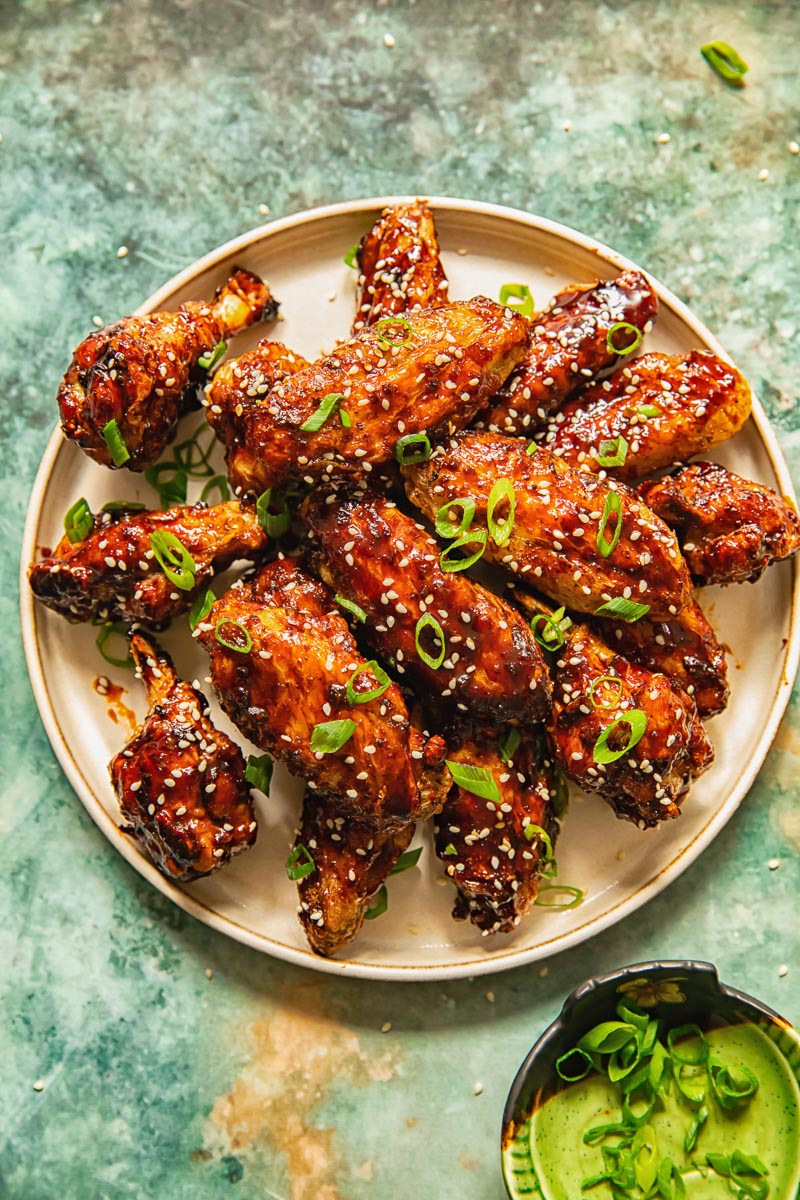 Recipe Tips and Notes
In the UK chicken wings are sold whole, which makes them a bit awkward to cook and eat. I like to cut a whole chicken wing in half, then remove the tip with a sharp knife. That is how you get an American style chicken wing; a wingette and a drummet. I discard the tips. If you don't like waste, you can use the tips to make a flavourful chicken stock.
Pre-mix the spices for the seasoning, then sprinkle the wings all over on both sides for the best flavour.
It's very important to air fry the wings in a single layer for that crispy finish. This means you might have to do several batches depending on the capacity of your air fryer. I use Ninja Air Fryer Max and 4 lbs of wings resulted in 3 batches. I promise they are worth it!!
These chicken wings are absolutely delicious on their own but the sticky glaze takes them to the next level. I encourage you to try them with and without the glaze and determine what you prefer.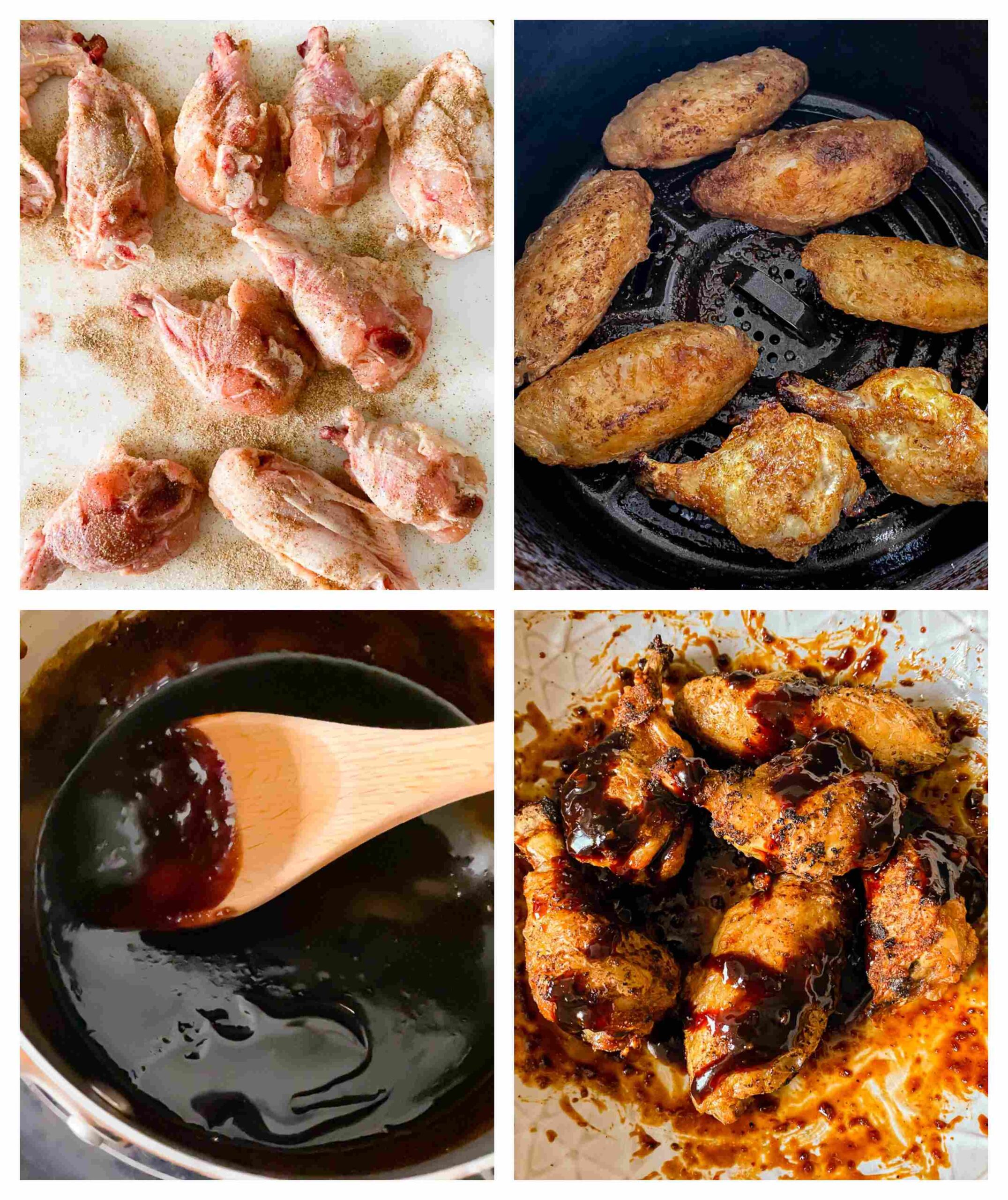 These chicken wings are going to become the hit of your next party. Whether it's a game night or birthday get-together, be ready for people to follow you around and beg for the recipe!
This kind of food is so fun and festive. If you are planning a casual party, take a look at our Starters/Appetizers Recipe Collection for ideas and inspiration.
Favourite Appetizers to Try: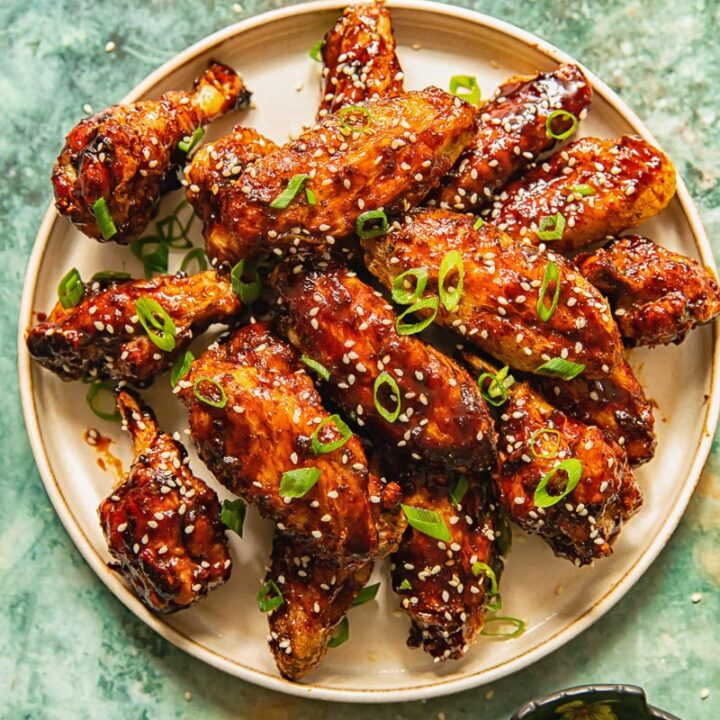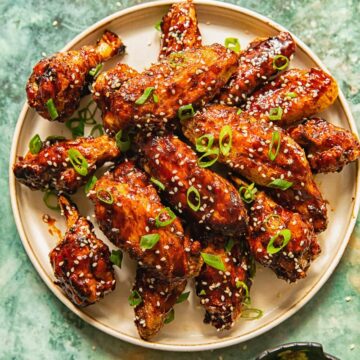 Asian Air Fryer Chicken Wings
These chicken wings cooked in an air fryer are coated in a sticky Asian sauce boast crispy skin and sweet and tangy glaze with a touch of spice
Ingredients
4

lbs

chicken wings

1

tsp

salt

½

tsp

white pepper

1

tsp

garlic powder

1

tsp

Chinese 5 spice

cooking spray

I used Fry Light
For the glaze
60ml/1/4 cup

light soy sauce

75ml/1/3 cup

honey

1

tbsp

grated ginger

1

tbsp

minced garlic or 3 cloves

1

tbsp

butter

1

tbsp

Gochujang paste or ½ tsp dried chilli flakes

1

tsp

sesame oil

1

tsp

sesame seeds for garnish

2

green onions for garnish
Instructions
Season the chicken wings with the mix of the white pepper, garlic powder, Chinese 5 spice and salt.

Arrange in an air fryer in a single layer, spray with a cooking spray and air fry for 10 minutes at 200C/400F, flip and cook for 8-10 minutes longer. You might have to do a couple of batches depending on your air fryer capacity.

While the wings are cooking, combine the soy sauce, honey, grated ginger, garlic, butter and the Gochujang paste in a small saucepan and bring to a boil, simmer while stirring until thick and syrupy.

Pour the sauce all over the wings and toss to coat. Alternatively you can brush the sauce on the wings. Serve sprinkled with sliced green onions and sesame seeds.
Nutrition
Calories:
462
kcal
Carbohydrates:
18
g
Protein:
32
g
Fat:
29
g
Saturated Fat:
9
g
Polyunsaturated Fat:
6
g
Monounsaturated Fat:
11
g
Trans Fat:
1
g
Cholesterol:
131
mg
Sodium:
1088
mg
Potassium:
345
mg
Fiber:
1
g
Sugar:
16
g
Vitamin A:
736
IU
Vitamin C:
2
mg
Calcium:
39
mg
Iron:
3
mg