Crispy on the outside and juicy on the inside this Chicken Katsu is so easy to make. Don't forget the creamy curry sauce and bring your favourite restaurant treat home.
Love Japanese flavours? Try our super easy Udon Noodle Soup.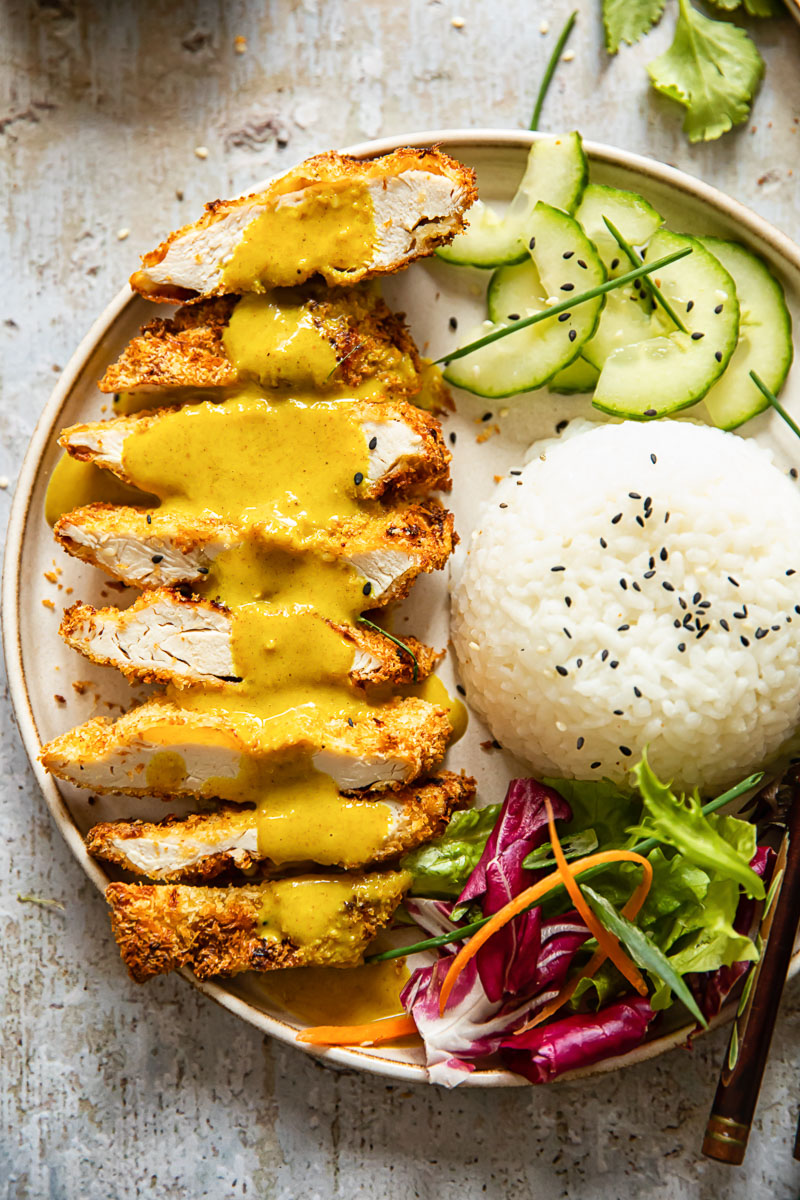 I can't even begin to describe how popular Chicken Katsu at our house. Whenever we order in chances are 3 out of 4 of us will have it as their first choice.
I am no stranger to adapting our takeout favourites to home cooking. This Butter Chicken is one of my successful creations. But the crispy, deep-fried exterior of the Chicken Katsu had me intimidated. I was afraid I wouldn't be able to replicate it at home and let's face it I hate deep frying.
That was my line of thinking until I realised that I could easily fake that in my Air Fryer! After a few tests I was in the possession of the recipe I was extremely proud of.
You honestly cannot tell this chicken is half the calories because of the air fryer cooking method. It tastes like the real deal fried and breaded chicken but it's so much healthier. Just look at this beauty!
My Chicken Tenders with Honey Mustard Sauce is another example where the air fryer delivers stellar results while keeping things low cal.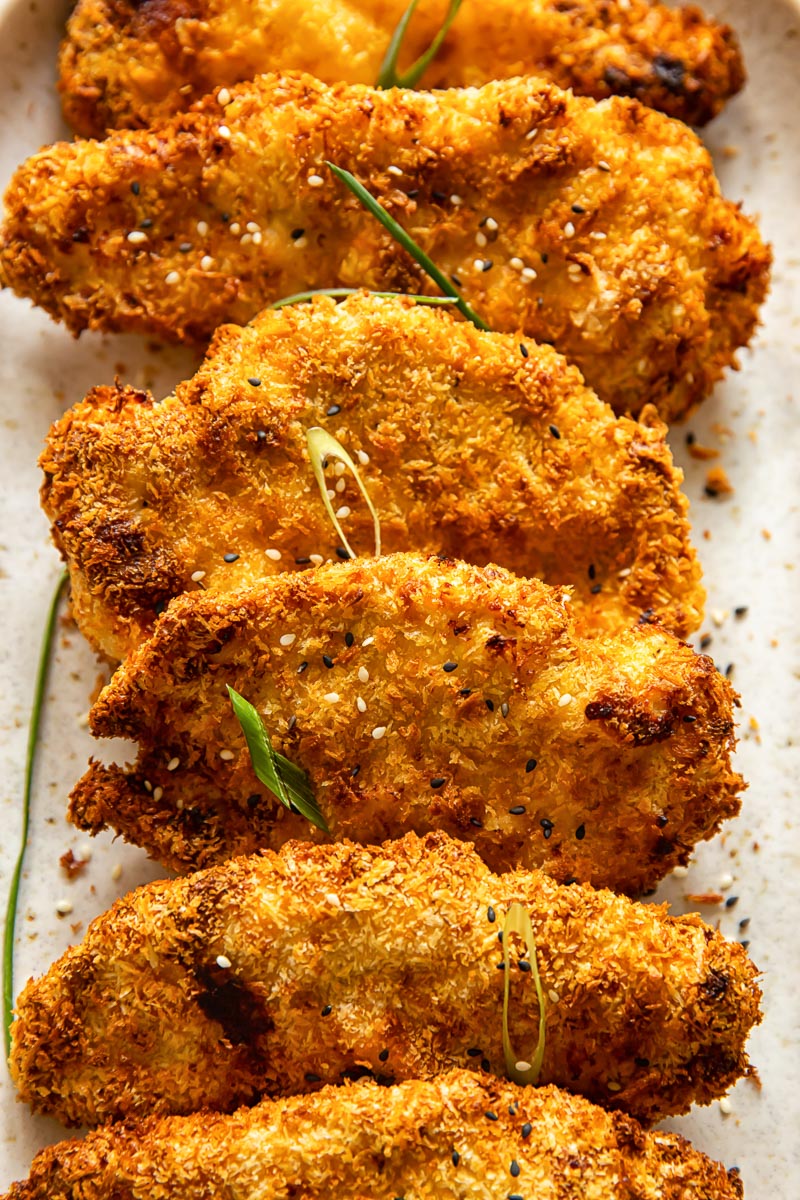 What is Chicken Katsu?
Katsu in Japanese means "cutlet", which immediately gives you an idea of what we are dealing with. Chicken breasts are cut into thin cutlets, then coated in well-seasoned, crispy Panko breadcrumbs and deep-fried. It is often served with a mild and fragrant curry sauce and rice.
If you are confused about the curry sauce and how it relates to the Japanese cuisine, you are not alone. Curries were brought into Japan via Britain via India.
Crazy journey if you ask me but the result gave birth to some incredible food pairing. And Chicken Katsu Curry is definitely one of them.
Recipe Tips
As I mentioned earlier, instead of deep frying we are air frying our chicken, so what breadcrumbs we use are very important to the success of this recipe. Panko breadcrumbs are absolutely number one choice if you want a crispy coating to your food because they have a drier and flakier texture. They also absorb less oil, which is another reason why they stay crispier.
Chicken cutlets are dunked in flour, beaten egg and lastly, in Panko breadcrumbs in the order listed and shown in the photo below.
Something to watch out for is the seasoning of the flour. I used salt and black pepper. Although doesn't seem like a big deal, they are essential to keeping this chicken far away from bland.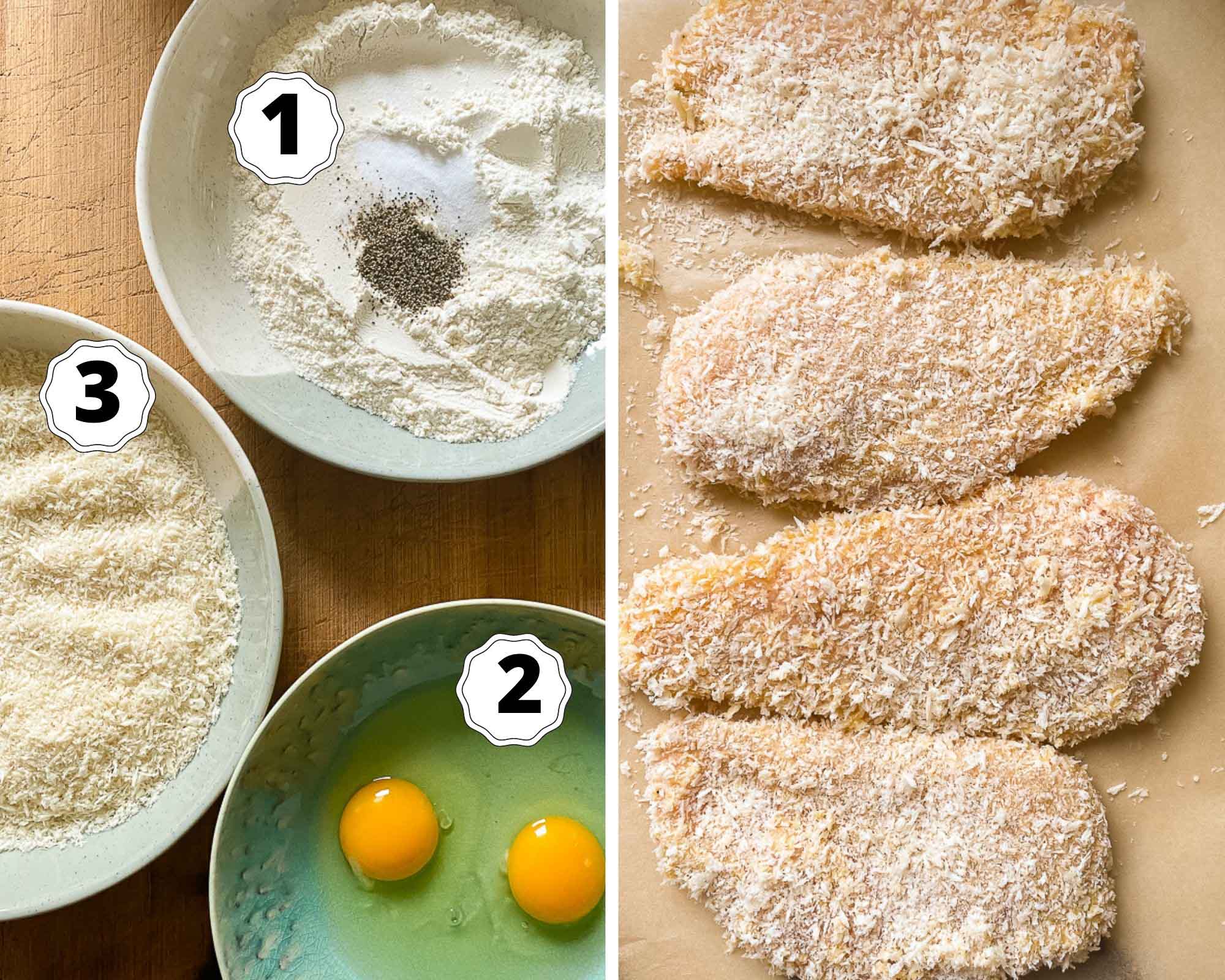 The Curry Sauce
First of all, please don't be intimidated by the curry. It is the simplest recipe I've ever shared and doesn't' require many ingredients.
You will need onion, garlic and ginger sauteed in oil as the savoury base. To thicken the curry we add flour and make a quick roux. Then simply add any mild curry powder and turmeric to create the flavours we need.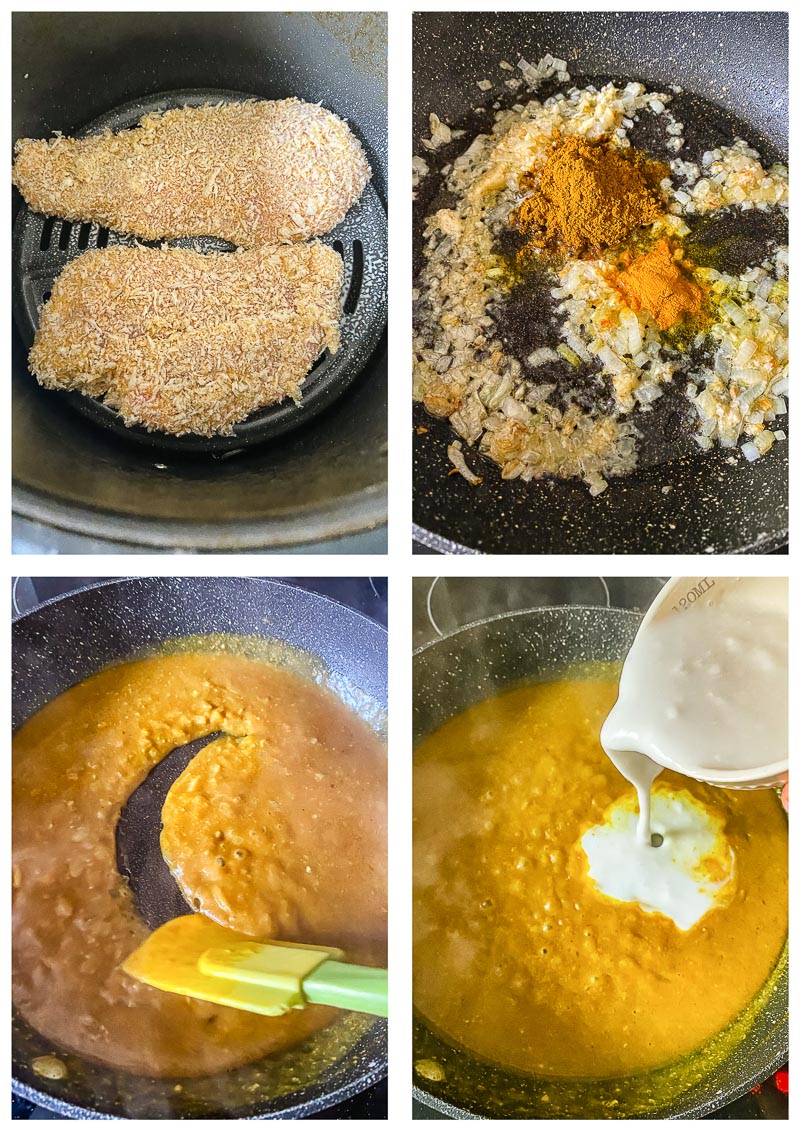 I've used a combination of chicken stock and creamy coconut milk for my liquid. You can skip the chicken stock altogether and increase the amount of coconut milk if you want a creamier, sweeter curry.
It wouldn't be a Japanese curry without a touch of soy sauce. The sauce will take you less than 10 minute to prepare.
I've processed my curry in a blender for a silky smooth texture we've come to expect from our restaurant Katsu Curry but it is not at all necessary.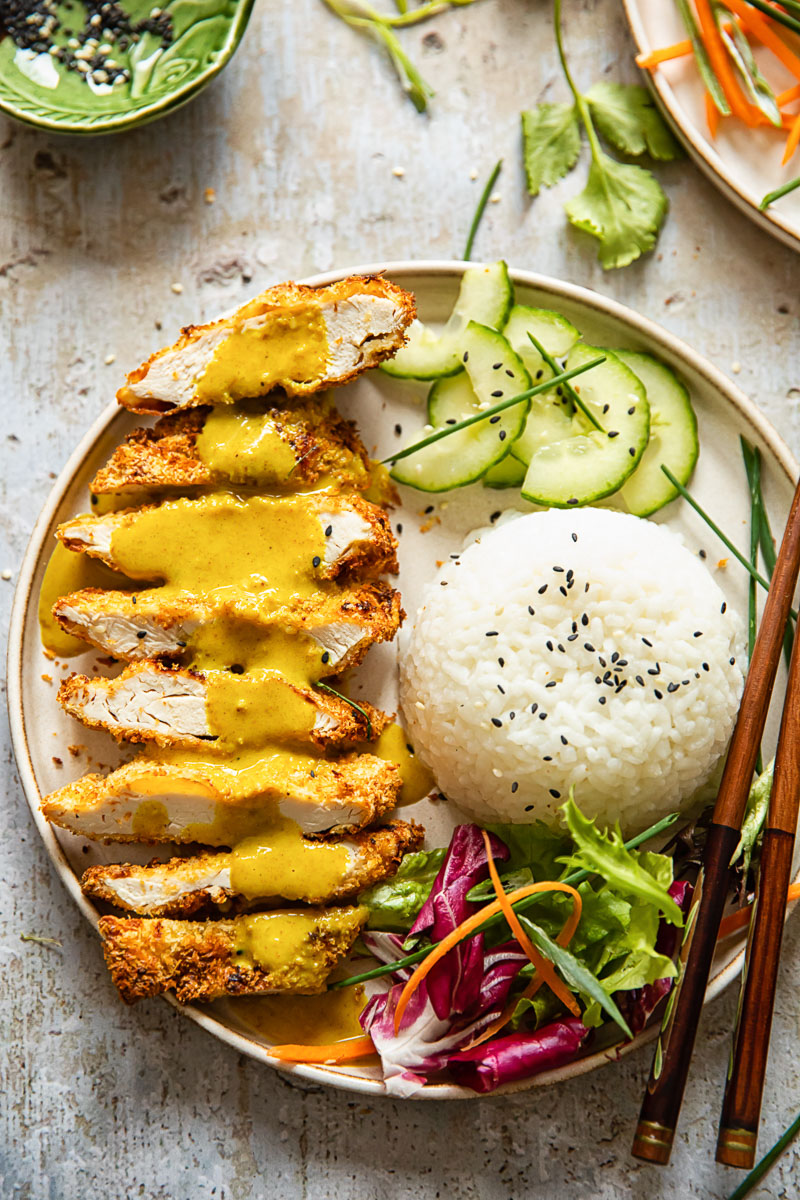 Serving Suggestions
I always serve chicken Katsu curry with plain rice and salad. Adding a sprinkling of black or white sesame seeds on top is definitely optional but highly recommended. Such a nice crunch and flavour.
More Japanese Inspired Recipes to Try: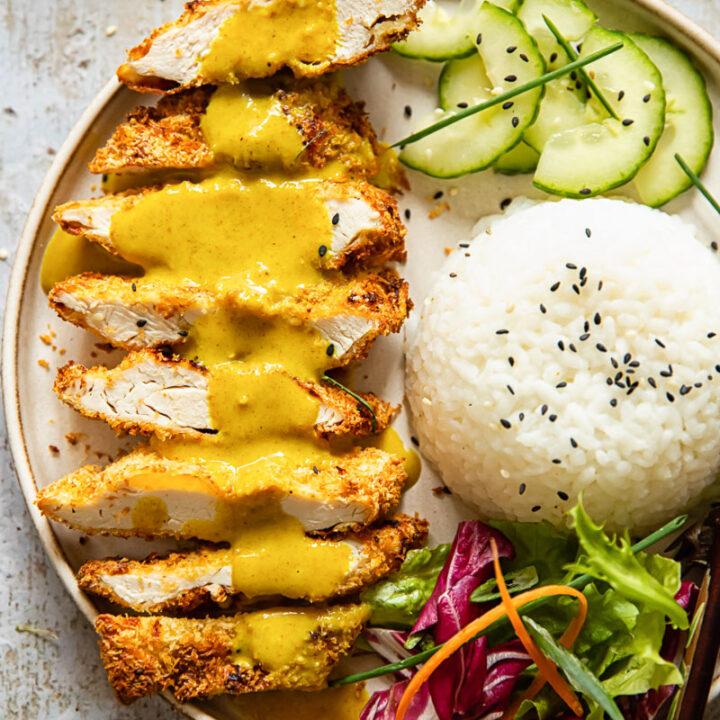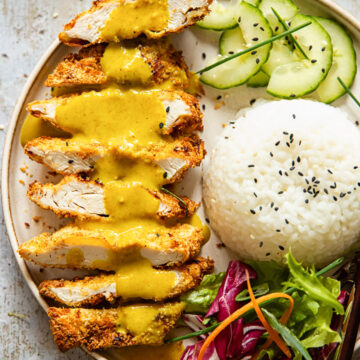 Chicken Katsu Curry
Crispy on the outside and juicy on the inside this Chicken Katsu is so easy to make. Don't forget the creamy curry sauce and bring your favourite restaurant treat home.
Ingredients
For the Curry
2

tbsp

vegetable oil

1

onion

chopped

2

cloves

garlic

minced

1

tbsp

grated ginger or ginger paste

1

tsp

turmeric

2

tbsp

curry powder

1

tbsp

flour

250ml/ 1 cup

chicken stock

125ml/1/2 cup

coconut milk

1

tsp

soy sauce

2

tsp

white sugar
For the Chicken Katsu
4

skinless, boneless chicken breasts

100g/3/4 cup

plain flour

3

tsp

salt

1 ½

tsp

black pepper

2

eggs

beaten

150g/1 ⅓ cup

Panko breadcrumbs

oil spray
Instructions
Heat the oil in a frying pan and sauté chopped onion over low heat until softened for about 7 minutes, then add the minced garlic and grated ginger and continue cooking for about a minute while stirring.

Add the turmeric, curry powder and flour and cook for 1 minute until the mixture is fragrant and looks like a paste. Gradually pour in the chicken stock and stir to combine, then add the coconut milk and soy sauce, simmer until the curry is thickened. Taste and add 1-2 teaspoons of sugar to your preference. Cool the curry slightly, then process in a blender until smooth or leave it as it is.

Slice the chicken breasts in half lengthwise. Add flour mixed with salt and pepper to a bowl, then panko breadcrumbs to another bowl and beaten eggs to a third bowl. Arrange them in front of you.

Dip each chicken cutlet first in flour, then in beaten egg, then coat it with breadcrumbs and place on a clean cutting board. Repeat with all chicken cutlets until you have 8 of them nicely coated in breadcrumbs.

Spray each chicken breast with an oil spray on both sides and place in your air fryer basket in a single layer. Air fry on one side for 8 minutes,then flip over, spray again and air fry for 7 minutes longer.

(My air fryer fits 2 chicken breasts at a time.) Keep the remaining raw chicken in the fridge until ready to air fry. Once the chicken is cooked, keep warm in a warm oven until ready to serve. Do not cover with foil or the breading will get soggy.

Warm up the curry sauce and serve with cooked chicken and plain rice.
Nutrition
Calories:
586
kcal
Carbohydrates:
59
g
Protein:
38
g
Fat:
22
g
Saturated Fat:
14
g
Trans Fat:
1
g
Cholesterol:
156
mg
Sodium:
2359
mg
Potassium:
808
mg
Fiber:
4
g
Sugar:
7
g
Vitamin A:
189
IU
Vitamin C:
5
mg
Calcium:
127
mg
Iron:
6
mg