Is there anything more satisfying than standing your chopsticks up in a pile of steaming noodles laced with crunchy vegetables and strips of juicy beef? Yes! Knocking it out the kitchen yourself in half the time of a takeout and for a fraction of the price. This Quick Beef Yakisoba is going to put your local Japanese restaurant out of business. (Sorry!)
Need more noodles? Singapore Noodles are a fiery alternative to their Japanese brothers or check out our Asian Recipe Collection for more inspiration.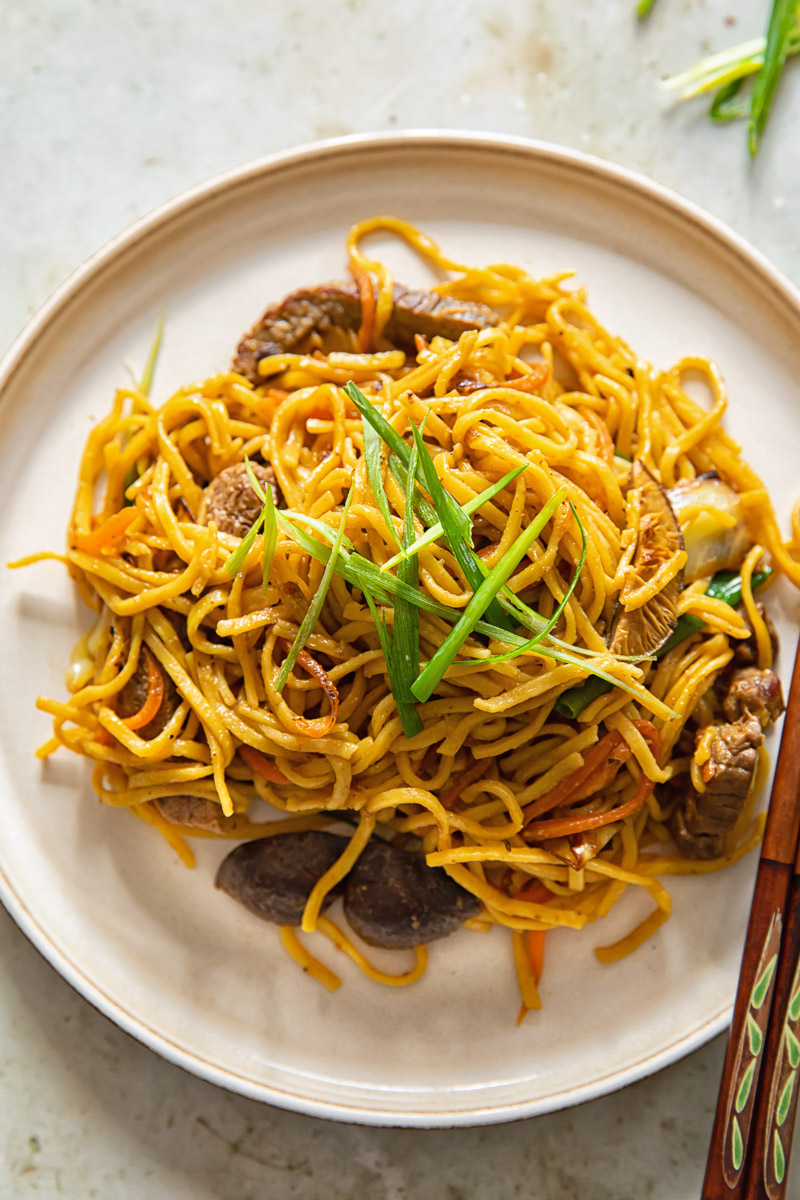 This post contains affiliate links. When you purchase through our links, we may earn a commission.
What is Yakisoba?
Yakisoba, or Yaki Soba (UK) is an iconic Japanese street food dish. As Japanese dishes go, it's fairly new to the world- less than 100 years old! This modern and versatile dish is made up of noodles, vegetables, meat (or vegetarian alternative), and sweet/sour yakisoba sauce.
Meaning 'stir-fried noodles', the key ingredient is obviously, noodles. Despite the word 'soba' which you may know to be buckwheat noodles, yakisoba noodles are actually just plain wheat. However, there's no harm in switching it up if you prefer another variety, i.e. egg noodles.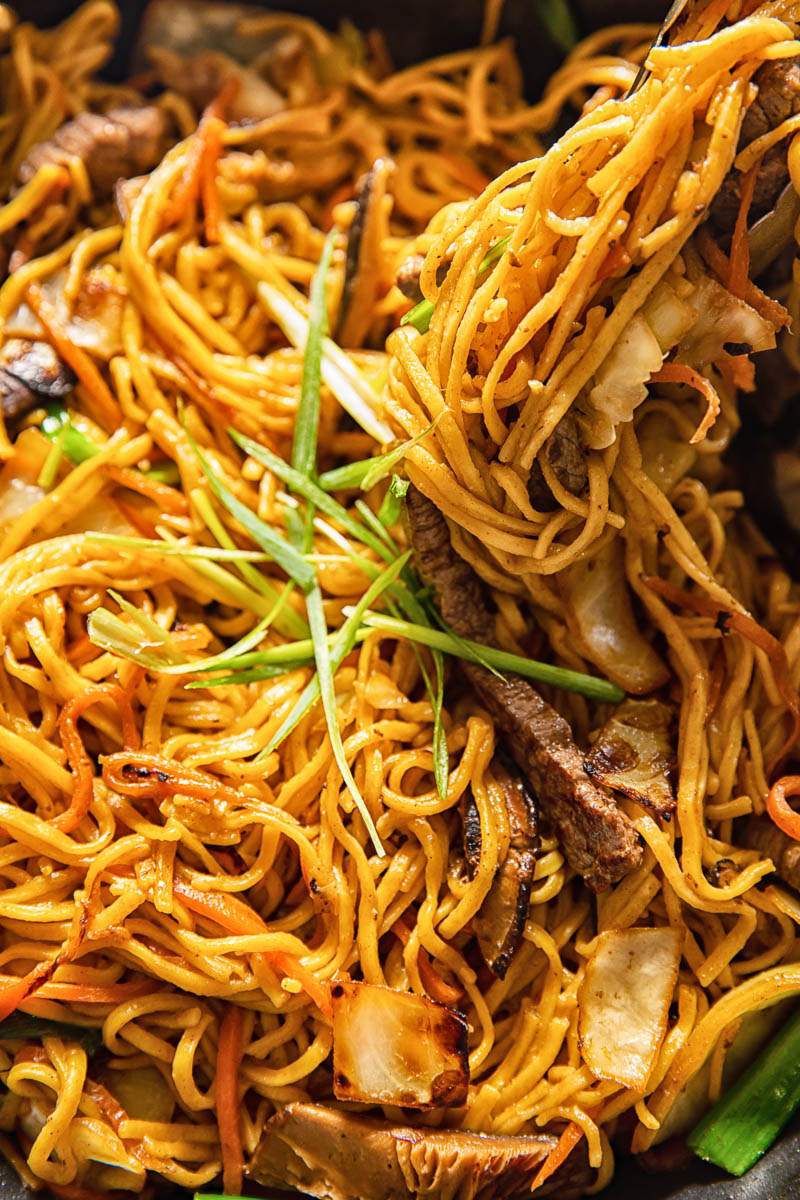 My recipe is for beef yakisoba, but this dish is so flexible you could use whatever you fancy. Common variations are chicken, pork, prawn. Or tofu. The same with your vegetables.
I usually go for crunchy carrot and cabbage, and a mushroom for texture. Peppers give good bite too if you have some to use up. Or keep it East Asian with bean sprouts and bok choy.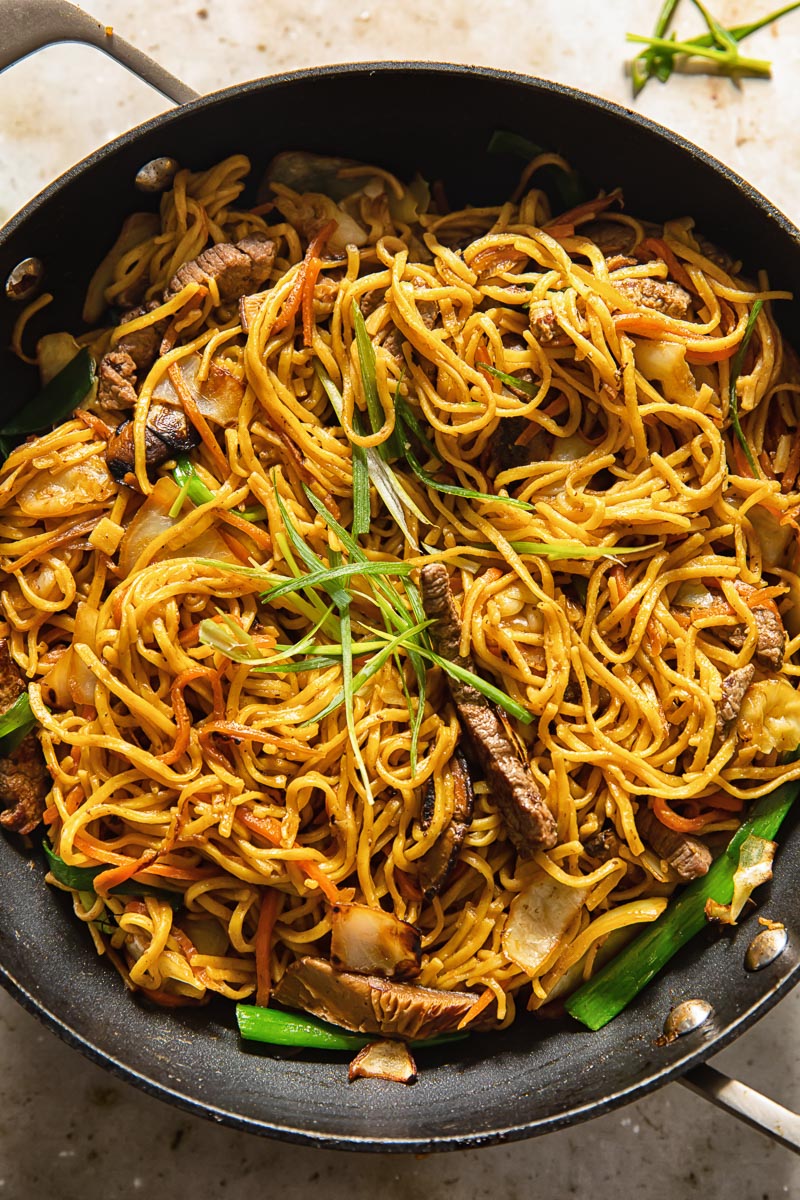 Yaki Soba vs Yaki Udon
It's really not a contest! At least, I could never choose a winner. The difference between the two is down to the noodle. The dish Yaki Udon has the same component parts as Yaki Soba, but is made with a thick, smooth and chewy noodle. It's a slurper.
Yakisoba sauce
I like a simple, authentic yakisoba sauce that is sweet and sour. So I use a Japanese threesome with the easy-to-remember ratio of 3:2:1.
Soy sauce (3) brings the salt. It's rich and intense, the cornerstone of East Asian dips, soups, sauces and marinades.
Mirin (2), a type of rice wine, is syrupy and sweet. It's an elegant seasoning that adds a shine to glazes and a delicious lustre to every dish.
Tsuyu (or dashi stock) (1) enlivens the sauce with its sea-flavoured essence. Made mostly from bonito (tuna) flakes and kelp (seaweed), it's a much needed slice through the richness of its saucy pals.
Yakisoba sauce recipes can vary according to taste. Some cooks will add tomato ketchup for increased tartness, some will use sriracha for a spicy kick. When you've got the hang of this trinity, then try playing with other flavours to achieve a balance that suits your palate.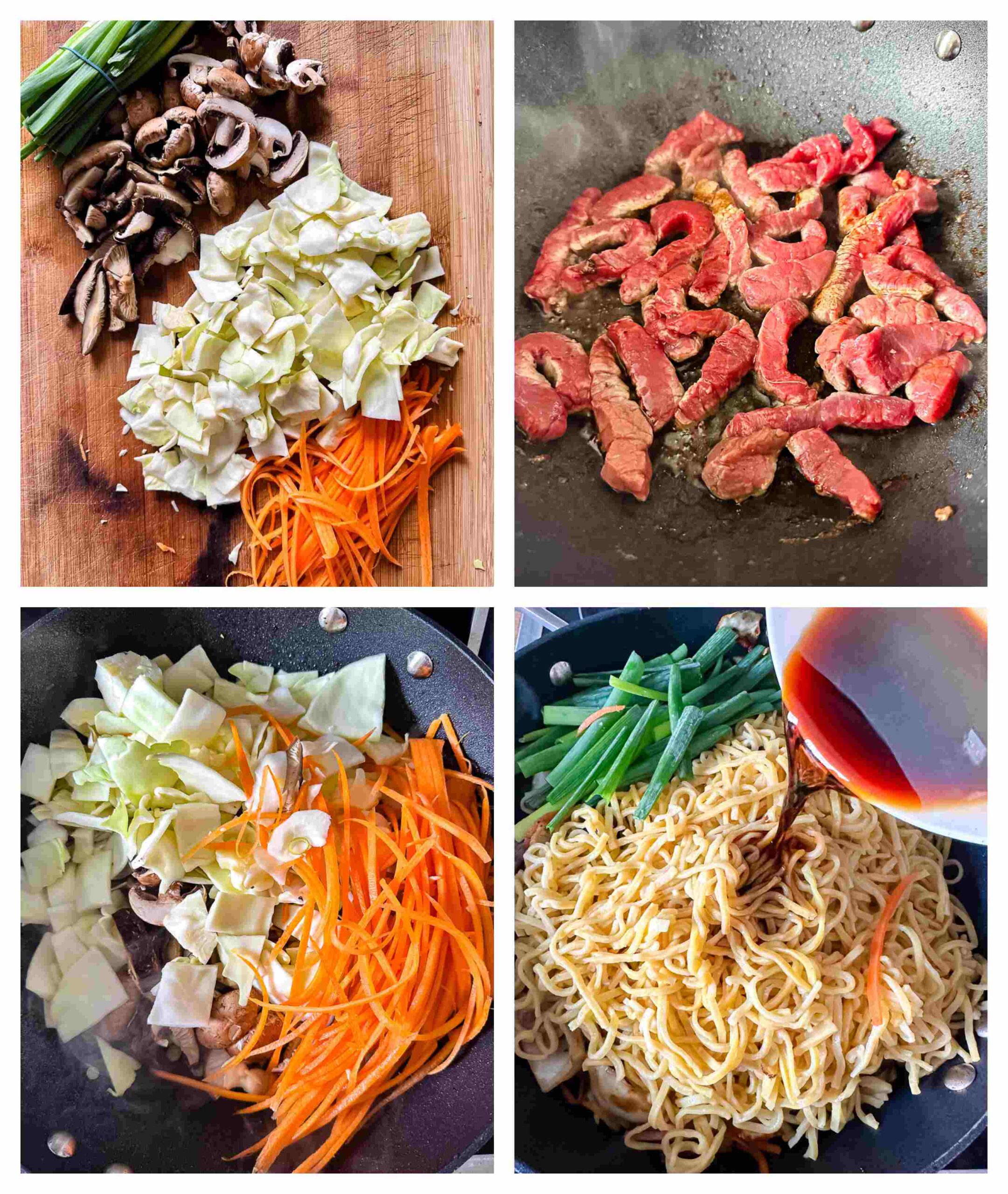 Recipe tips and notes
If you can't find tsuyu/ dashi stock in your local supermarket, it can be sourced online. If that isn't accessible, don't panic! Whip out your bottle of Worcestershire sauce as a substitute.

It is essential to have your steak and vegetables prepped and ready to throw in. This is a fast-paced recipe with no time to stop and chop.

If you're using fresh shiitake rather than button mushrooms, trim off the tough stem. Trust me.

For dried shiitakes, which are easier to find, rehydrate them in boiling water for 20-30 minutes, then continue as fresh.
Storage and leftovers
Leftover stir fry can be stored in an airtight container and kept in the fridge for 2-3 days. When you're ready for Round Two, add a little oil to a pan over a medium heat.
When hot just chuck it all in. After a few minutes, check your steak is hot hot hot. It'll be done quicker than you can say "quick beef yakisoba!".
More Noodle Recipes to Try: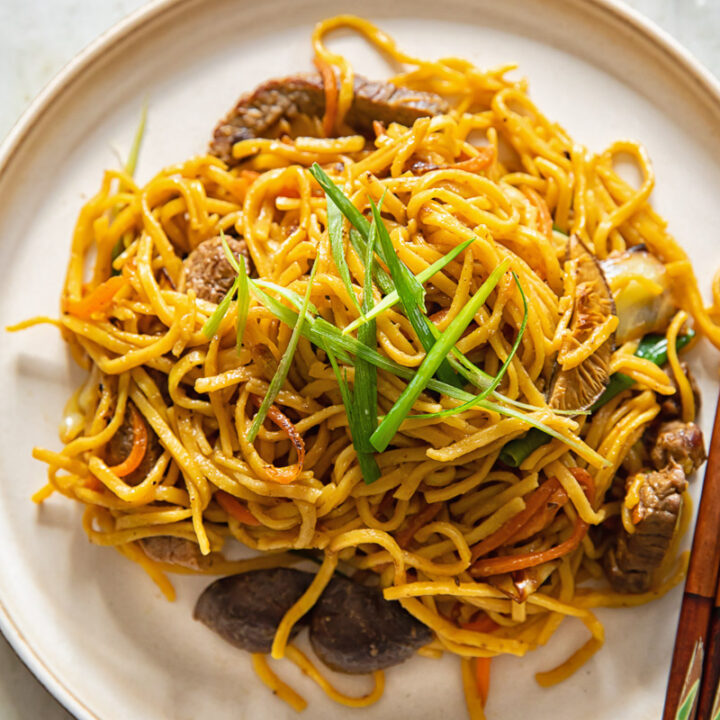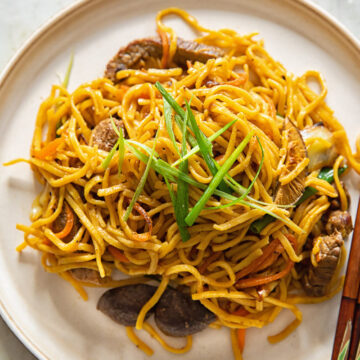 Quick Beef Yakisoba
This quick beef Yakisoba, loaded with crunchy vegetables, is going to put your local Japanese restaurant out of business.
Equipment
This is an affiliate link.

wok
Ingredients
250g/8 oz

dried medium egg noodles/Yakisoba noodles

1

tbsp

vegetable oil

salt

300g/10 oz

lean steak such as sirloin or rump

100g/1 cup

white cabbage

chopped into bite-sized pieces

100g/1 cup

shiitake mushrooms or button mushrooms

or a mix of both

1

carrot

julienned

4

green onions, green parts cut into 2 inch pieces, white parts chopped

3

tbsp

soy sauce

2

tbsp

mirin

or dry sherry

1

tbsp

tsuyu/dashi stock or Worcestershire sauce

1

tsp

sesame oil
Instructions
Prepare the vegetables by finely slicing the cabbage and cutting the carrot into thin matchsticks. Remove the stems from large shiitake mushrooms as they tend to get a bit woodsy and trim the stem for the small ones, then cut the mushrooms into bite-sized pieces or leave the small ones whole. Finally, cut the steak into thin into bite-sized pieces and season with salt.

Mix the soy sauce, mirin and dashi stock to make the sauce and set aside till needed.

Cook the noodles according to package instructions. Rinse after cooking.

Meanwhile in a wok or a large pan, heat the oil and cook the steak until sealed on the outside, then add the vegetables together with the sliced white parts of the green onions and continue stir frying for 5-7 minutes until cooked but still firm to the bite. The vegetables will reduce in volume by a half.

Add the noodles and the green onions to the pan, then add the prepared sauce, toss to combine and heat through for 2-3 minutes. Drizzle with sesame oil before serving.
Notes
You can use dried shiitake mushrooms, which are easier to source. Simply pour boiling water over them and let them rehydrate for 20-30 minutes, then use as fresh. Always remove the stems from dried mushrooms.
Nutrition
Calories:
372
kcal
Carbohydrates:
54
g
Protein:
25
g
Fat:
6
g
Saturated Fat:
1
g
Polyunsaturated Fat:
1
g
Monounsaturated Fat:
2
g
Cholesterol:
47
mg
Sodium:
1082
mg
Potassium:
488
mg
Fiber:
3
g
Sugar:
5
g
Vitamin A:
2692
IU
Vitamin C:
12
mg
Calcium:
42
mg
Iron:
2
mg