This Beef Chow Mein comes together in less than 30 minutes. A delicious and healthy homemade version of the Chinese classic dish.
If you are looking for an easy starter for this meal, take a look at our Salt and Pepper Shrimp.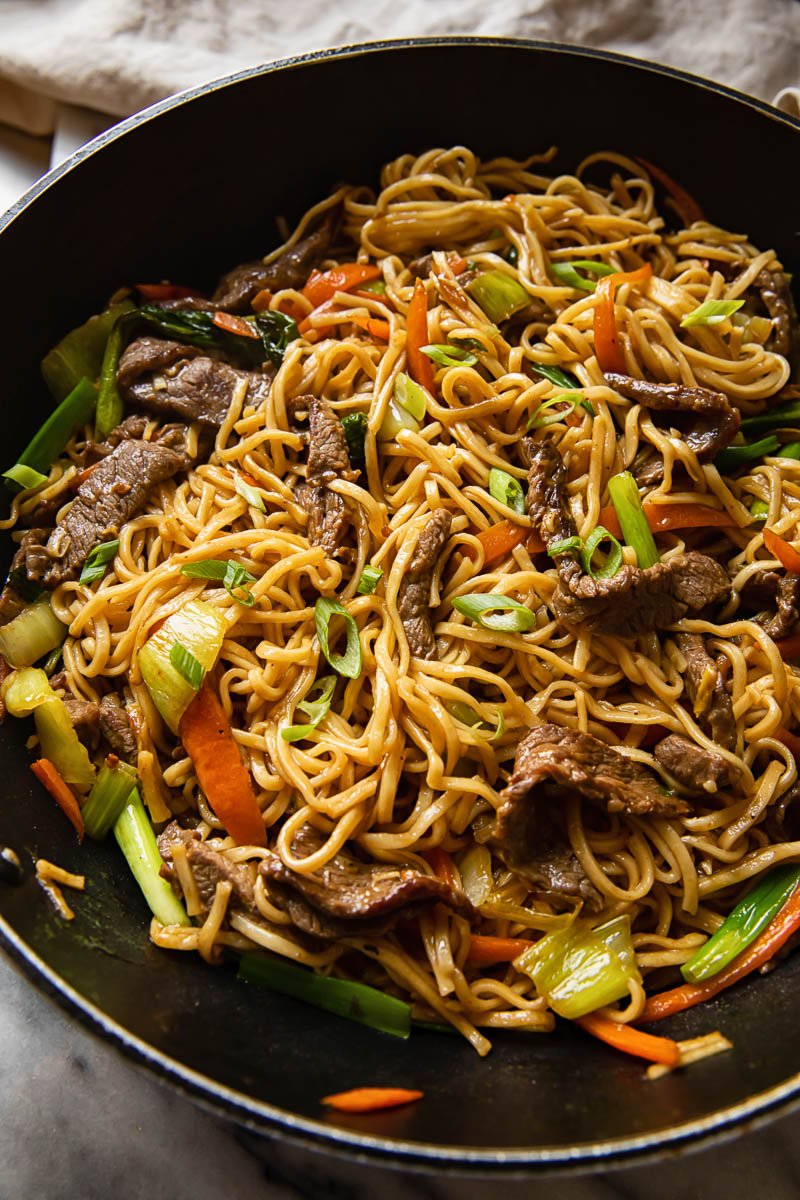 I used to be intimidated by cooking Asian food at home. After all I didn't grow up with this food! However, after spending some time in Asia, where I watched people cook, I realised it's not as hard!
Practice makes perfect as they say. But what is also helpful is understanding the cooking technique, which delivers perfect results.
One of the main differences between European and Asian style of cooking is the application of heat. Noodle dishes and stir fries demand very high heat.
The vegetables and meat are sliced thinly and cooked quickly. So when we take a bite we can still taste the firmness of the vegetables. So delicious!
Chow Mein Noodles
Chow Mein literally mean "fried noodles". This doesn't mean you need to add a lot of oil but it does mean you need to turn up your heat! I would avoid doubling this recipe. It's very difficult to achieve the same results in an overcrowded pan.
Apart from noodles chow mein is usually made with a variety of vegetables, and flavoured with a little bit of meat. You can use chicken, pork or beef like I did. If you are in the mood for something lighter, take a look at my Easy Shrimp Chow Mein.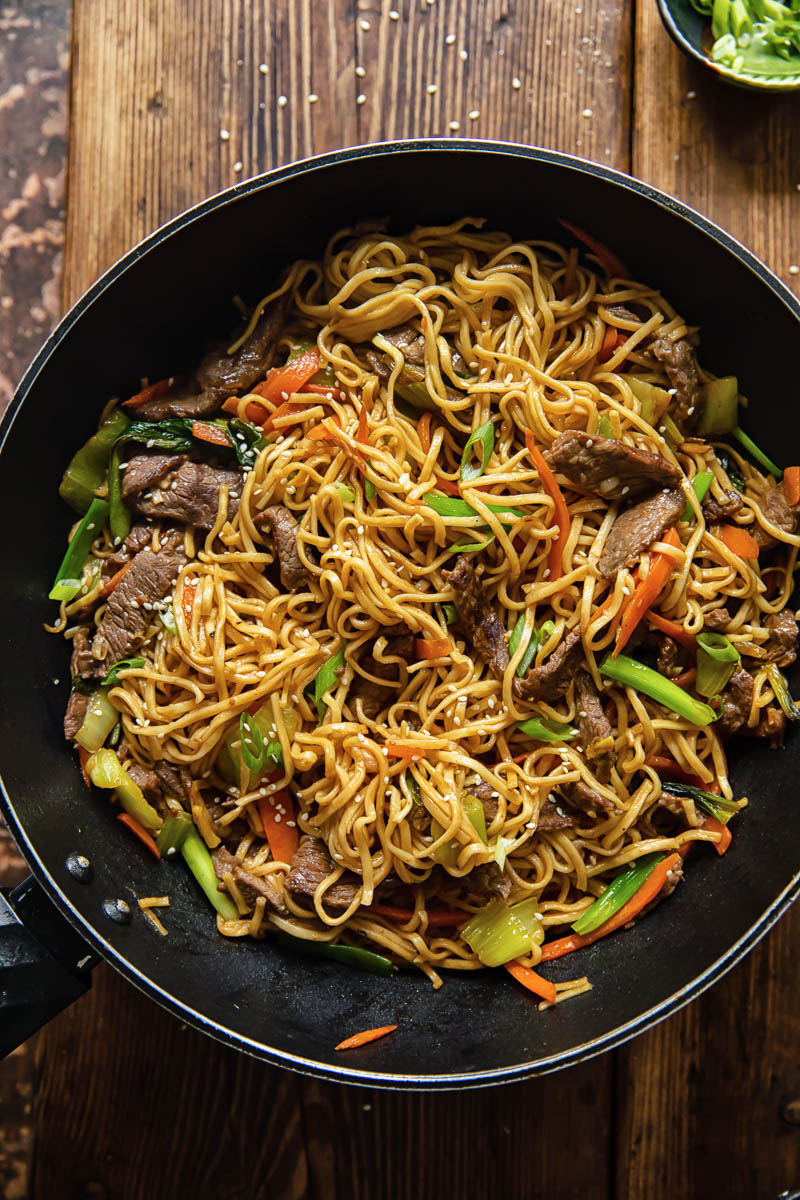 What Vegetables to Use
Any veg you love can be used in this recipe. I would start with the ones that cook quickly like bok choy, cabbage, snow peas, red and yellow peppers or thinly sliced carrots.
But it doesn't mean you can't use broccoli or cauliflower. Just make sure you blanch them first. The easiest thing to do is to cook them in the same pot with your noodles. They only need about 4 minutes to soften.
The Sauce
It's no secret that the sauce is what makes the dish what it is. It gives the noodles and vegetables the flavour we associate with chow mein.
Good news is all ingredients for the sauce are easy to find in your local supermarkets. Chances are most of them are already in your fridge or pantry. Oyster sauce, dark soy sauce (richer, more concentrated flavour then regular soy sauce), sugar or honey, white pepper, sesame oil.
If you want it to taste really authentic, splurge on Chinese Cooking Wine (Shaoxing Wine or Shaohsing Wine). It will last you ages and it adds something special.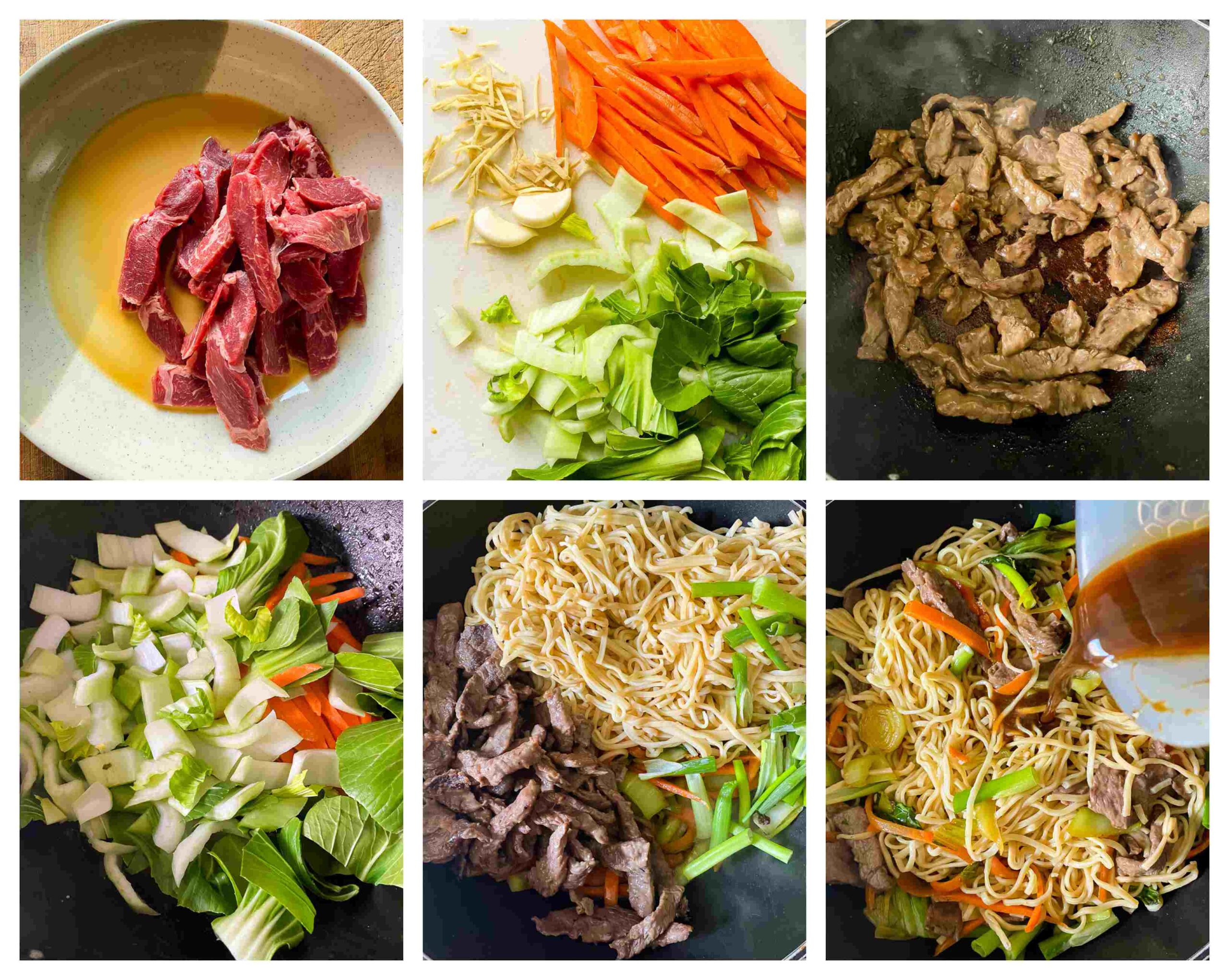 Recipe Tips and Notes
Apart from all ingredients I already mentioned above, any Chinese recipe relies on the aromatics like ginger, garlic and onions. I prefer using fresh stuff as it delivers the most flavour. But if you are short on time, you can purchase jarred garlic and ginger pastes. Those are amazing.
Chow mein is a very quick dish to make, the frying process takes barely any time at all. Things move fast once you start cooking. So make sure you prepare and cut all ingredients before you turn heat on.
It's important to cut vegetables into small bite-sized pieces and it's even more important to cut dense vegetables like carrots into thin pieces.
Meat is used very sparingly in the Chinese cooking, and is sliced very thinly. Freezing your steak for 30 minutes before cutting firms it up and makes it easier to slice into thin pieces.
Don't be tempted to cook vegetables longer or they will turn mushy and that's not suitable for chow mein. If they are cut into small pieces, as the recipe recommends, they don't need very long.
Favourite Asian Noodles Dishes: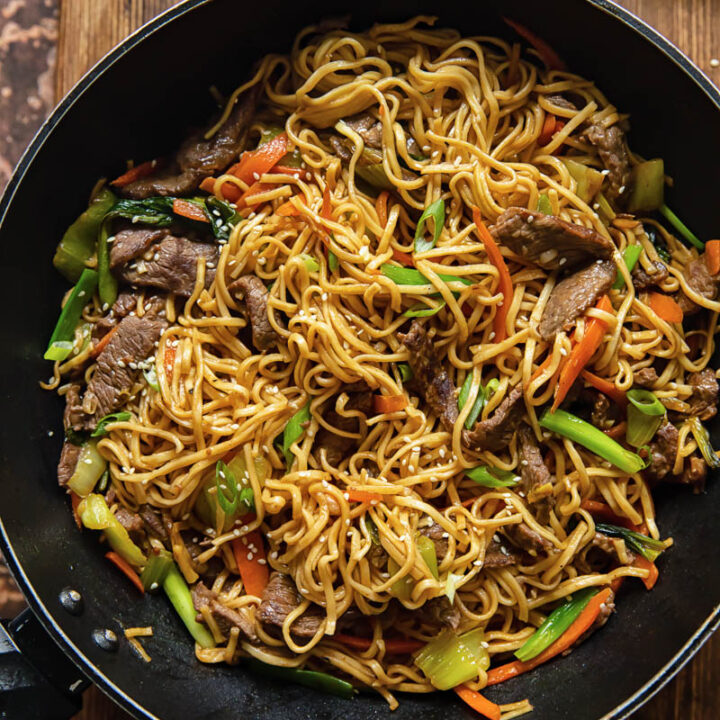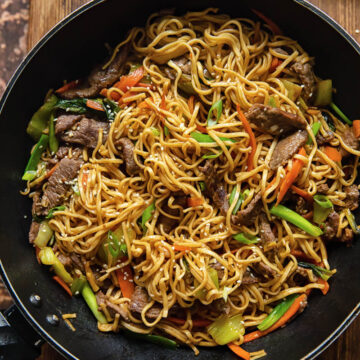 Beef Chow Mein
This Beef Chow Mein comes together in less than 30 minutes. A delicious and healthy homemade version of the Chinese classic dish.
Print
Pin
Rate
Ingredients
1

tbsp

cornstarch, heaping

2

tsp

soy sauce

2

tbsp

Shaoxing wine (Chinese cooking wine) or dry sherry

450g/1 lbs

rump/sirloin steak

sliced very thinly

340g/12 oz

Asian medium egg noodles

2

tbsp

vegetable oil

2-3

green onions

2

cloves

garlic

minced

1

inch

ginger root

sliced into thin matchsticks or grated

1

carrots

1

large bok choy or two baby bok choy

1

tsp

sesame seeds
For the sauce
1

tbsp

dark soy sauce

2

tbsp

oyster sauce

2

tsp

sugar

½

tsp

white pepper

1-2

tsp

sesame oil

salt to taste
Instructions
Mix the cornstarch, soy sauce and the Shaoxing wine. Then slice the beef steak into very thin slices. They shouldn't be thicker than ¼ inch. (If you freeze the steaks for 30 minutes before slicing, they are easier to handle as the beef stays firm when you cut it.) Marinate the steaks while you are preparing other ingredients.

Boil noodles according to package instruction, drain, rinse the noodles and set aside. (Dried egg noodles take approximately 3-4 minutes to cook.)

While the noodles are boiling prepare the vegetables. Cut the carrots into matchsticks, slice the bok choy and cut the green parts of the green onions in 3 inch pieces, then slice the white parts thinly.

Make the sauce by mixing together the oyster sauce, dark soy sauce, sugar, white pepper and sesame oil, set aside.

Preheat 1 tbsp of oil in a wok or a very large pan. Cook the beef strips on high heat until done for 5-7 minutes. Remove from the pan to a separate plate.

To the same pan add another tablespoon of oil, then add the chopped white part of the onions, garlic, and ginger, stir fry for about 30 seconds over medium heat. Then add the carrots and bok choy stir fry for 3-5 minutes over medium-high heat until the vegetables are cooked but still firm to the bite.

Bring the noodles to the pan together with the beef and green onions, toss to combine, then pour the sauce over it, stir until all ingredients are coated with the sauce and warmed through.Taste and add a pinch of salt if needed. Serve sprinkled with sesame seeds.
Nutrition
Calories:
526
kcal
|
Carbohydrates:
74
g
|
Protein:
37
g
|
Fat:
8
g
|
Saturated Fat:
2
g
|
Polyunsaturated Fat:
1
g
|
Monounsaturated Fat:
3
g
|
Cholesterol:
69
mg
|
Sodium:
1717
mg
|
Potassium:
1018
mg
|
Fiber:
4
g
|
Sugar:
6
g
|
Vitamin A:
11990
IU
|
Vitamin C:
97
mg
|
Calcium:
275
mg
|
Iron:
4
mg