Try making this Chinese takeout classic in your air fryer. The same flavour of the salt and pepper shrimp but much less oil!
Don't forget to check out our Shrimp Chow Mein if you are a seafood fan!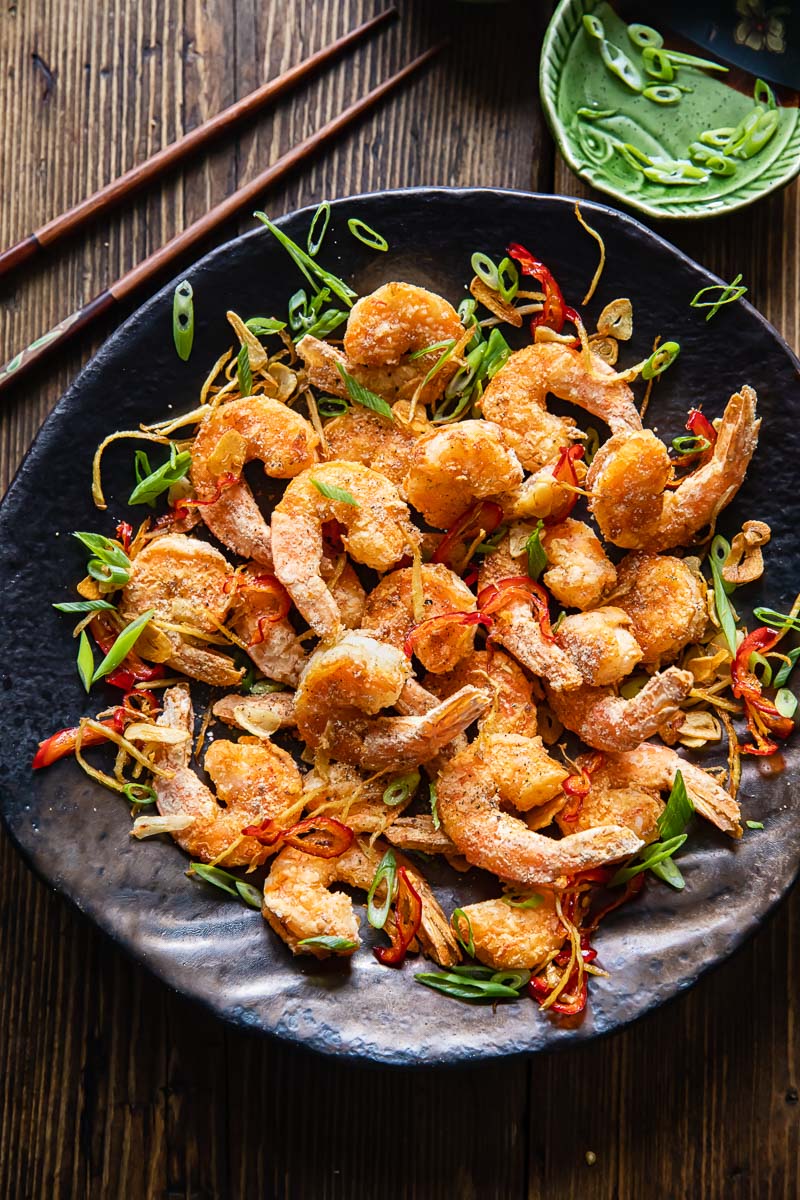 I often think that some Asian takeout favourites are better to leave to the professionals. But when I examine this feeling I realise it's only because I detest deep frying. I am willing to re-create any recipe at home as long as it doesn't involve vats of hot oil.
This classic Chinese American takeout recipe falls in that category. Delicious but deep fried. Well… great news is I am one of those air fryer fans. I believe you can make anything you want in it.
So I decided to make salt and pepper shrimp a bit healthier and easier. And it worked! Here is what I did.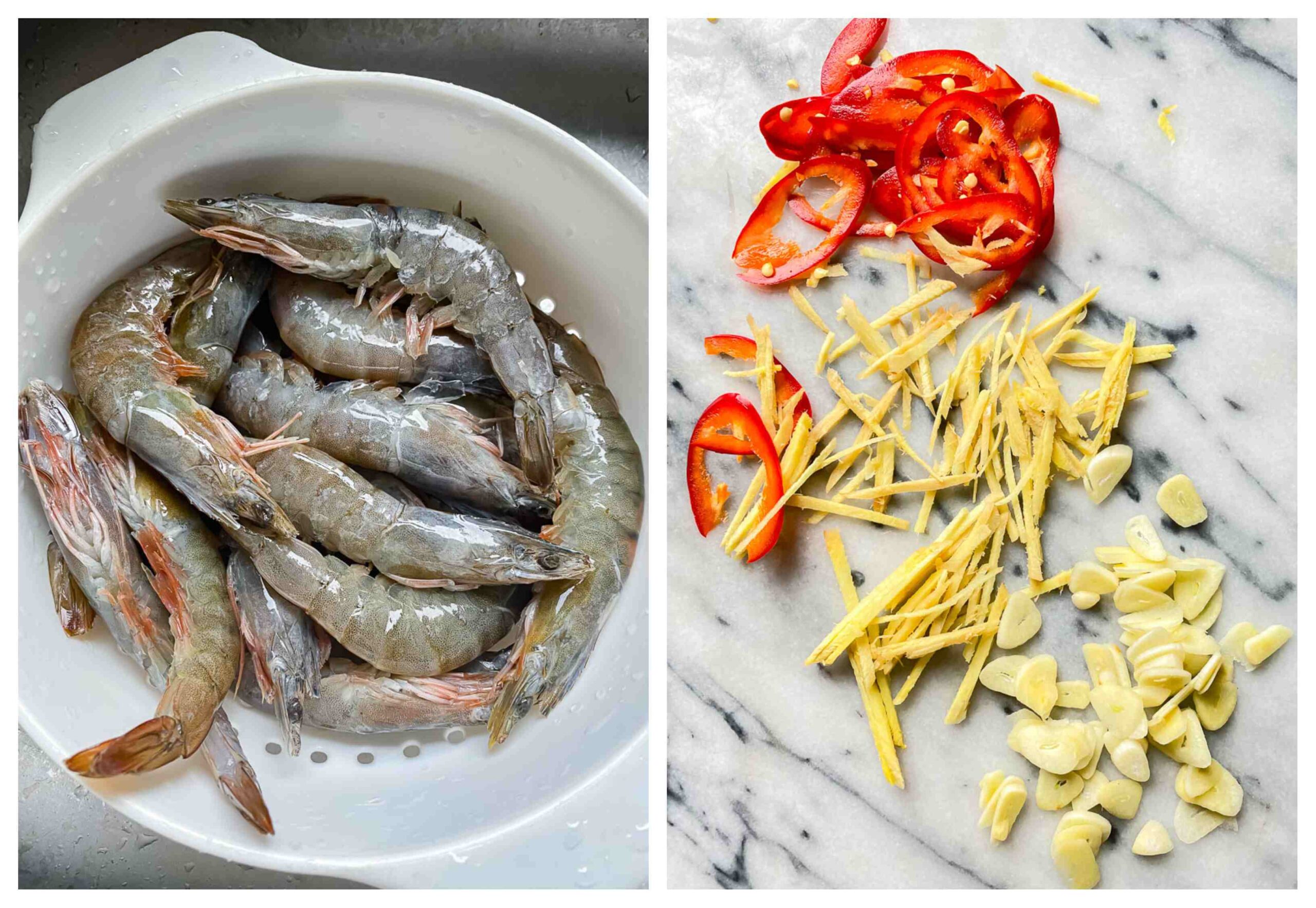 Air Fryer Salt and Pepper Shrimp (Prawns)
I can't be the only one slightly intimidated by the deep frying process. Don't get me wrong I can do it but I also feel terrified the whole time of the hot oil splashing on me. Or my kids randomly walking into the kitchen and getting burned.
That's why I've been avoiding any recipes, that involve deep frying. Well not anymore! Ever since I bought my first air fryer a few years ago, I've made countless dishes healthier! Scroll to the bottom to see my favourite ones.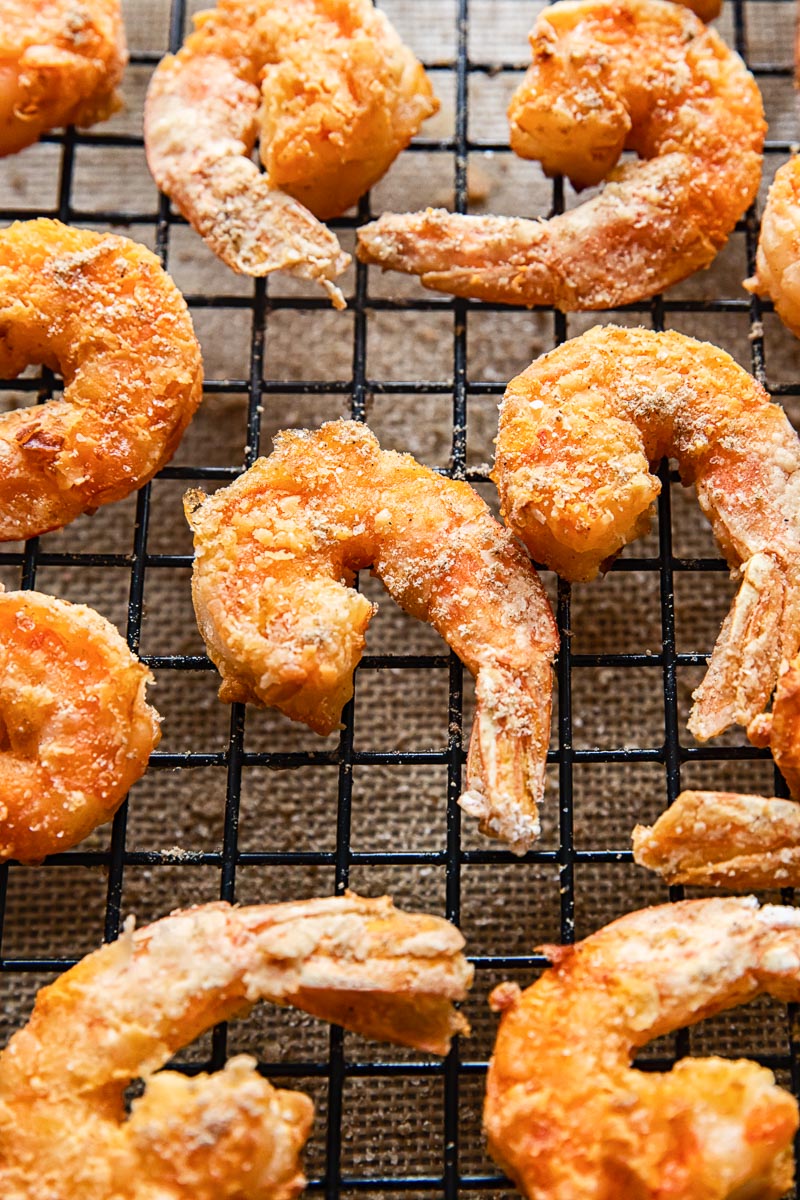 Salt and pepper shrimp is an extremely simple recipe, which could be enjoyed as a starter or a main dish. Shrimp is coated in a light layer of cornstarch, which gives the cooked shrimp a pleasant crispy exterior and juicy flesh.
After it's been fried, the shrimp is seasoned with salt and pepper. Yes, it is that simple. However, there are also various garnishes, which add loads of flavour to the star of the dish.
I decided to fry thinly sliced red chillies, garlic and fresh ginger, cut into small matchsticks. The mix of the aromatics plus sliced green onions made my garnish.
Although traditionally the fried shrimp is tossed in salt and pepper seasoning after it's been cooked, I incorporated salt and pepper into the coating. It works better when using an air fryer.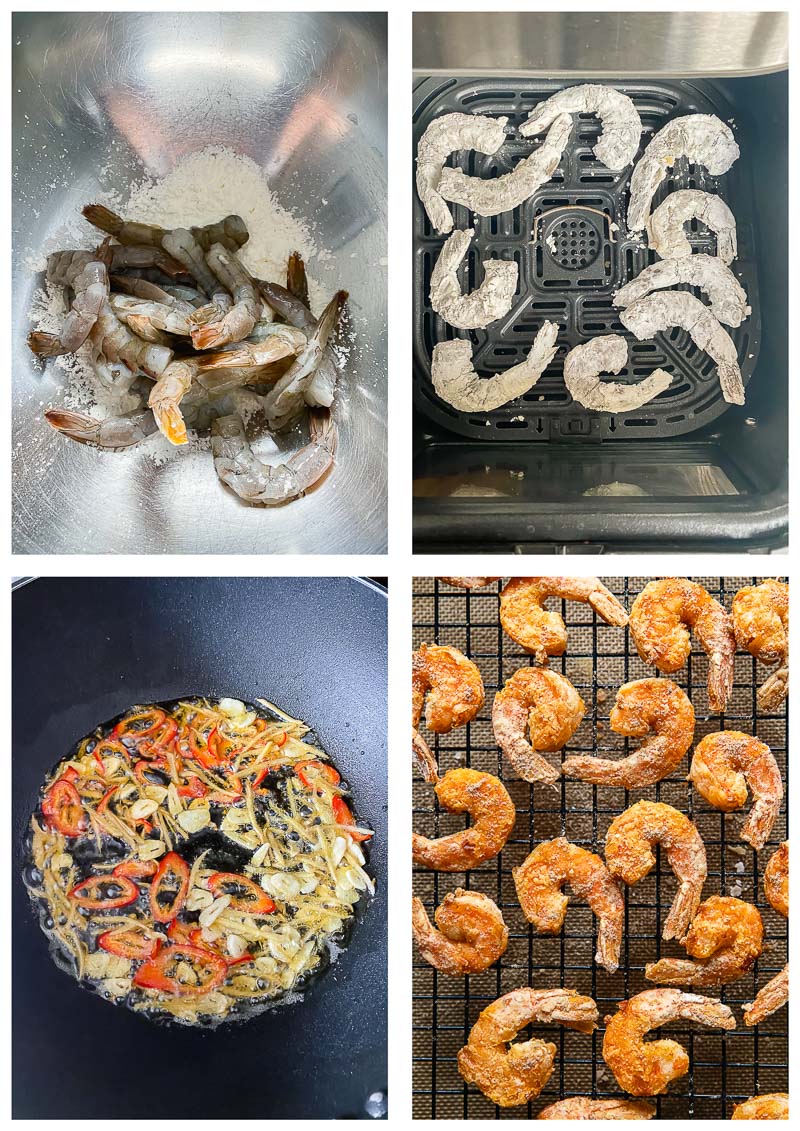 Recipes Tips and Notes
For starters, make sure you use the highest quality jumbo shrimp/prawns you can find. Since the recipe is so simple, the quality of your ingredients will make all the difference.
Traditionally, salt and pepper shrimp is fried in the shell. The deep frying makes the shell crispy and edible. However, I personally prefer my shrimp shell free and so do my kids. You can leave tails on, by which you can pick them up and pop in your mouth! Alternatively, you can take the entire shell off.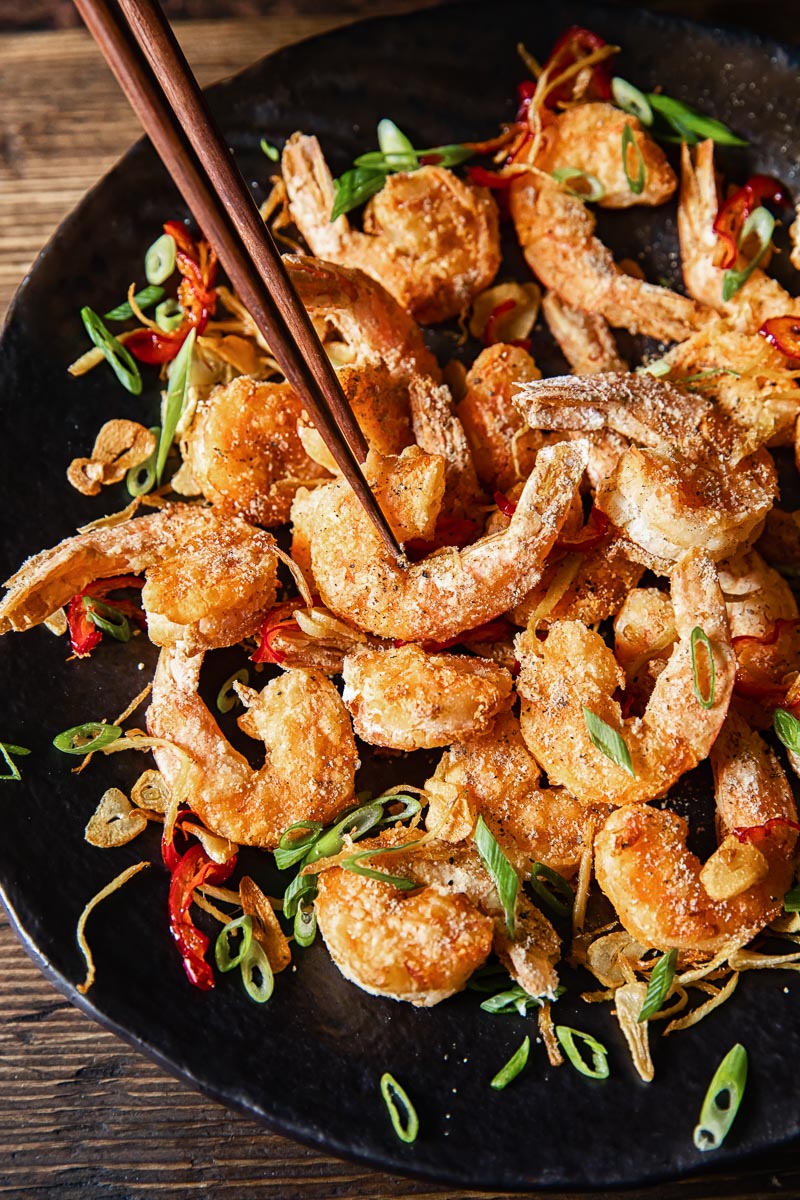 Cornstarch mixed with salt and pepper creates the coating. Because we are using an air fryer and only an oil spray I suggest to use little cornstarch to avoid chalky texture.
To achieve that, dip the shrimp in cornstarch, then shake lightly to avoid excess.
Make sure you spray the cornstarch coated shrimp until it's completely covered in spray and looks wet. Otherwise the cornstarch will remain powdery when cooked.
Cook for 7-8 minutes, flip half way through and spray with a cooking spray again for the best results.
Don't skip the garnish. It adds so much flavour. Without it, the shrimp might be a bit plain.
Favourite Air Fryer Recipes: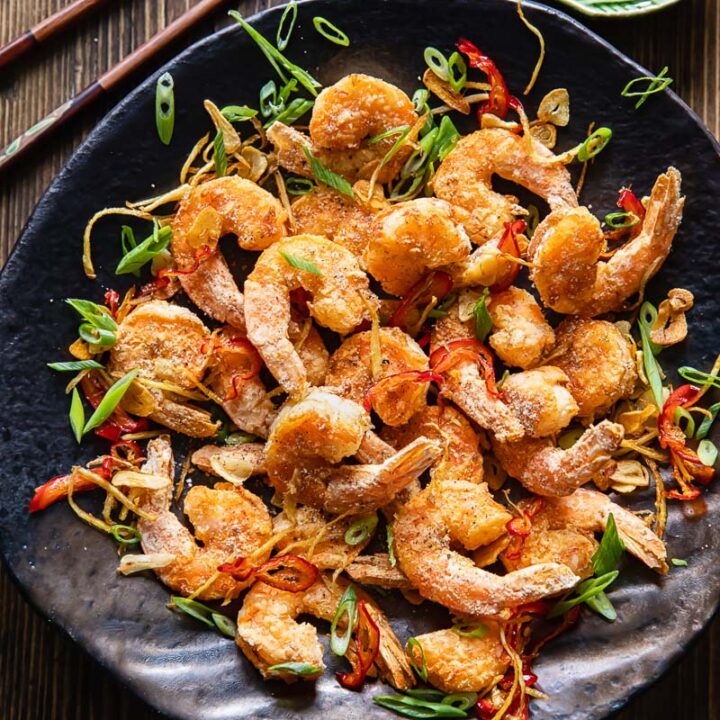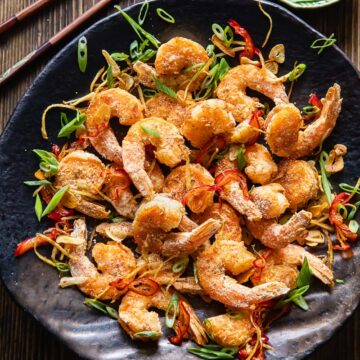 Salt and Pepper Shrimp
Try making this Chinese takeout classic in your air fryer. The same flavour of the salt and pepper shrimp but much less oil!
Print
Pin
Rate
Ingredients
450g/1 lbs

large shrimp/prawns

cleaned and deveined

3

tbsp

cornstarch/corn flour

1

tsp

salt

1

tsp

white pepper

cooking spray
For the garnish
3

cloves

garlic

sliced

½

red chilli

sliced

1

tbsp

ginger

cut into thin matchsticks

2

tbs

vegetable oil

2

green onions

sliced
Instructions
Clean and devein the shrimp. You can leave the tails on. Slice the garlic cloves and red chilli, cut the ginger into thin matchsticks, set aside till needed.

In a medium and shallow bowl combine the cornstarch, salt and white pepper. Toss the shrimp in the mixture. Then shake off the excess cornstarch and place in your air fryer in a single layer. Spray with cooking spray making sure the cornstarch coating is fully covered by the spray. Then flip the shrimp on the other side and spray again.

Air fry at 180C/350F for 4 minutes, then flip the shrimp on the other side, spray again and cook for 3-4 minutes longer. (If you are not able to set the temperature on your air fryer, choose "air fryer" setting.)

While the shrimp is cooking, preheat 2 tbsp of vegetable oil in a small pan or a saucepan and quickly fry the sliced red chilli, garlic and ginger. Watch carefully, once you see the red chilli starting to curl, immediately remove the aromatics from the oil with a slotted spoon and place on a paper towel lined plate to soak up excess oil. Serve the shrimp topped with the fried aromatics and sliced green onions.
Nutrition
Calories:
80
kcal
|
Carbohydrates:
6
g
|
Protein:
10
g
|
Fat:
1
g
|
Saturated Fat:
1
g
|
Polyunsaturated Fat:
1
g
|
Monounsaturated Fat:
1
g
|
Trans Fat:
1
g
|
Cholesterol:
95
mg
|
Sodium:
814
mg
|
Potassium:
114
mg
|
Fiber:
1
g
|
Sugar:
1
g
|
Vitamin A:
211
IU
|
Vitamin C:
7
mg
|
Calcium:
48
mg
|
Iron:
1
mg