This version of the Sichuan Dan Dan Noodles is speedy and incredibly delicious! Just 30 minutes of your time will get you a dish, that is better and healthier than takeout!
Can't get enough of Chinese noodles? Try our Shrimp Chow Mein!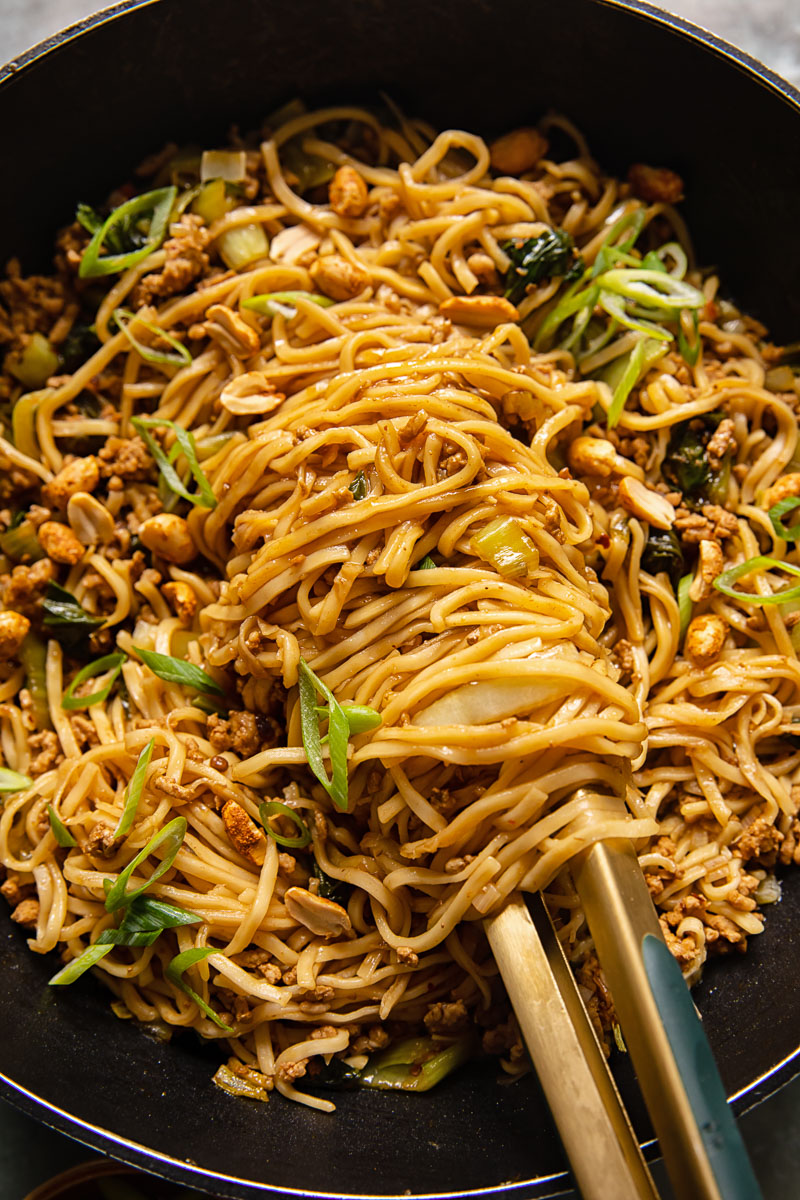 Friday takeout is a tradition in our family. We get amazing Indian curries in London. However, after trying most of the local Chinese options, we end up being slightly disappointed if I am honest.
Having tried authentic Chinese food in China years ago, it's easy to spot a Westernised version, which often uses too much oil and sugar. We absolutely loved food in China. It tasted delicious but never made us feel too heavy or sluggish afterwards. It was healthy!
That is why I always try to replicate our takeaway favourites at home. They are just so much better for us, not to mention miles cheaper!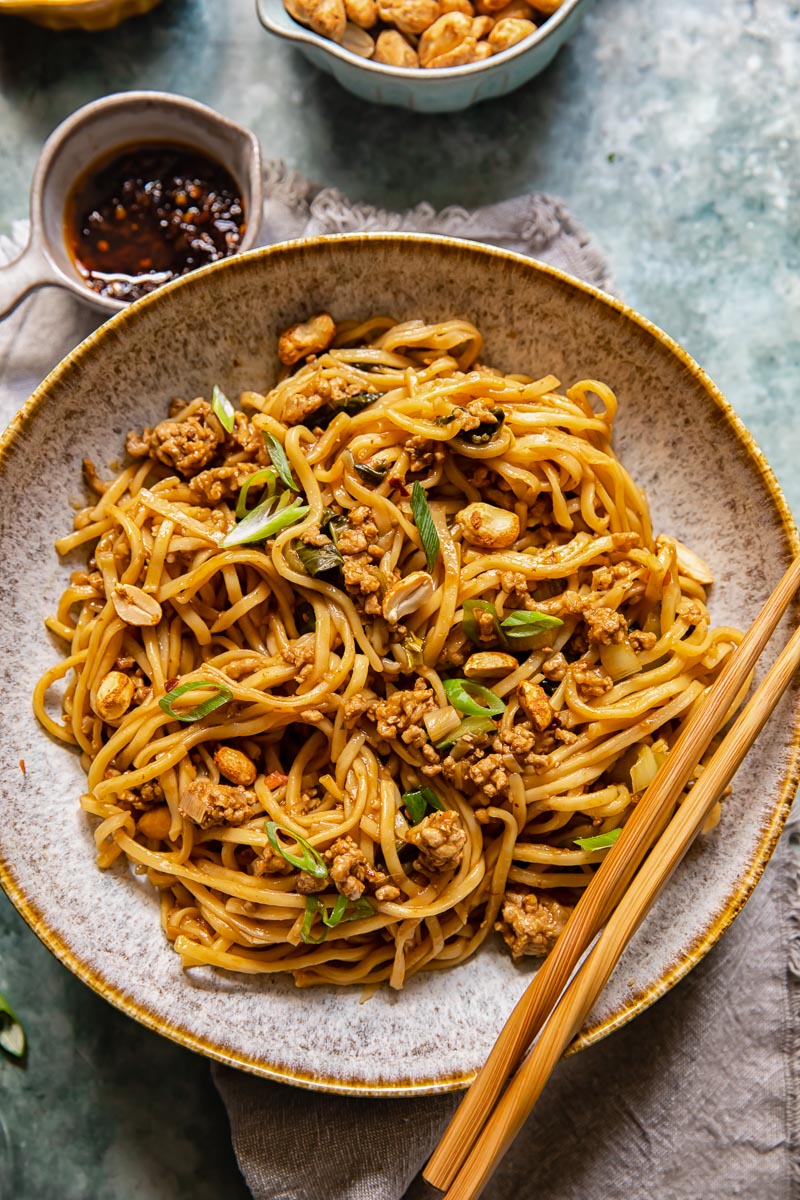 Sichuan Dan Dan Noodles
Dan Dan noodles are a fantastic everyday dish, flavoured with ground pork, aromatics like ginger, garlic and onions, in a savoury sauce. If you prefer to make these noodles meat free, take a look at Vegan Dan Dan Noodles from The Veg Connection.
They could be either soupy or saucy. The version I prefer is a more on the saucy side. You can easily add more broth to make yours more like a soup. These noodles are eaten topped with crunchy roasted peanuts and sliced green onions.
While Dan Dan noodles might sound like they are difficult to make, they are not. After all, they are a traditional street food. And what street vendor would fuss over a complicated recipe!
This tasty dish came from the Sichuan province of China, famous for its spicy cuisine. And these noodles are spicy!! The heat comes from the Sichuan peppercorns as well as the Chinese chilli oil.
If you are not familiar with Chinese chilli oil, it's worth tracking that incredible condiment down. Apart from this recipe, I love serving it with my fried rice. It adds so much flavour!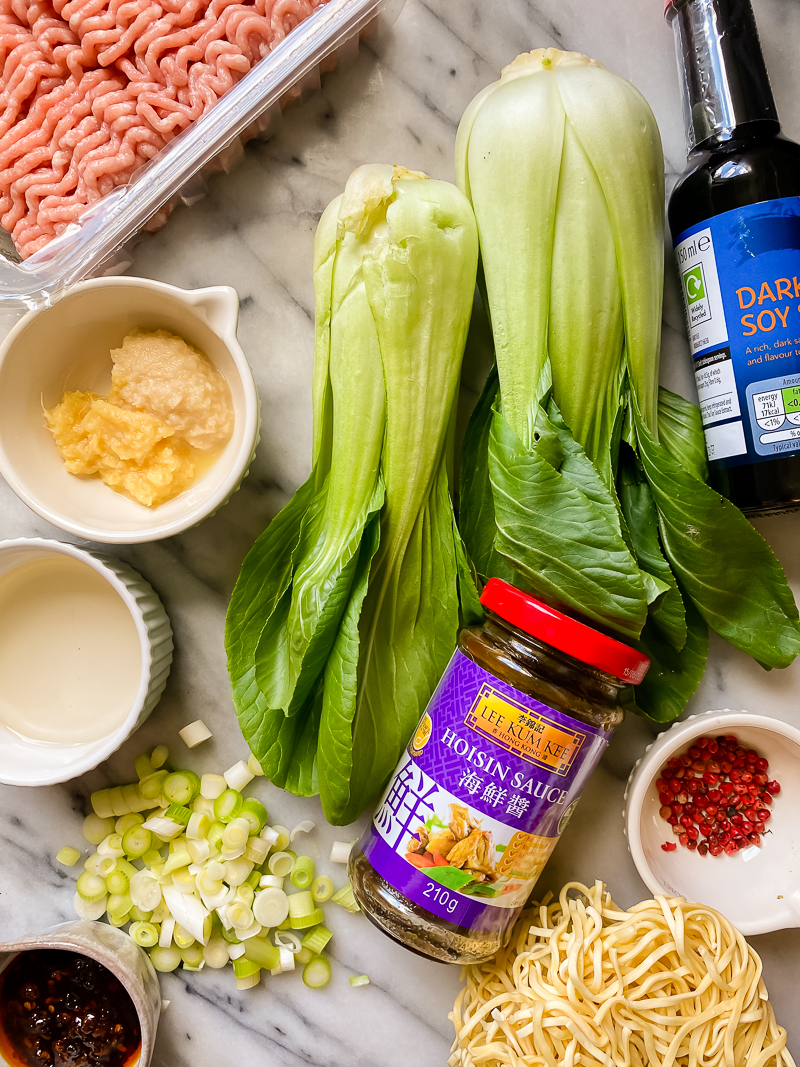 The Ingredients
The recipe might seem like it uses a lot of ingredients and yes, I admit it, it does. But…they are all easy to find ingredients, which are sold in your local supermarkets. Nothing obscure!
Minced or ground pork is traditionally used in this dish, which gets flavoured with the classic Chinese flavours of ginger, garlic and the white parts of green onions or spring onions as they are called in the UK.
To add the spice, the Sichuan food is famous for, fragrant Sichuan peppercorns are used. However, I didn't have any, so I substituted with pink crushed peppercorns. You can also use regular black peppercorns.
The sauce is what gives these noodles the famous flavour. You will need dark soy sauce, hoisin sauce, vinegar and Chinese chilli oil. Like I said, the Asian aisle in your local supermarket will carry them all!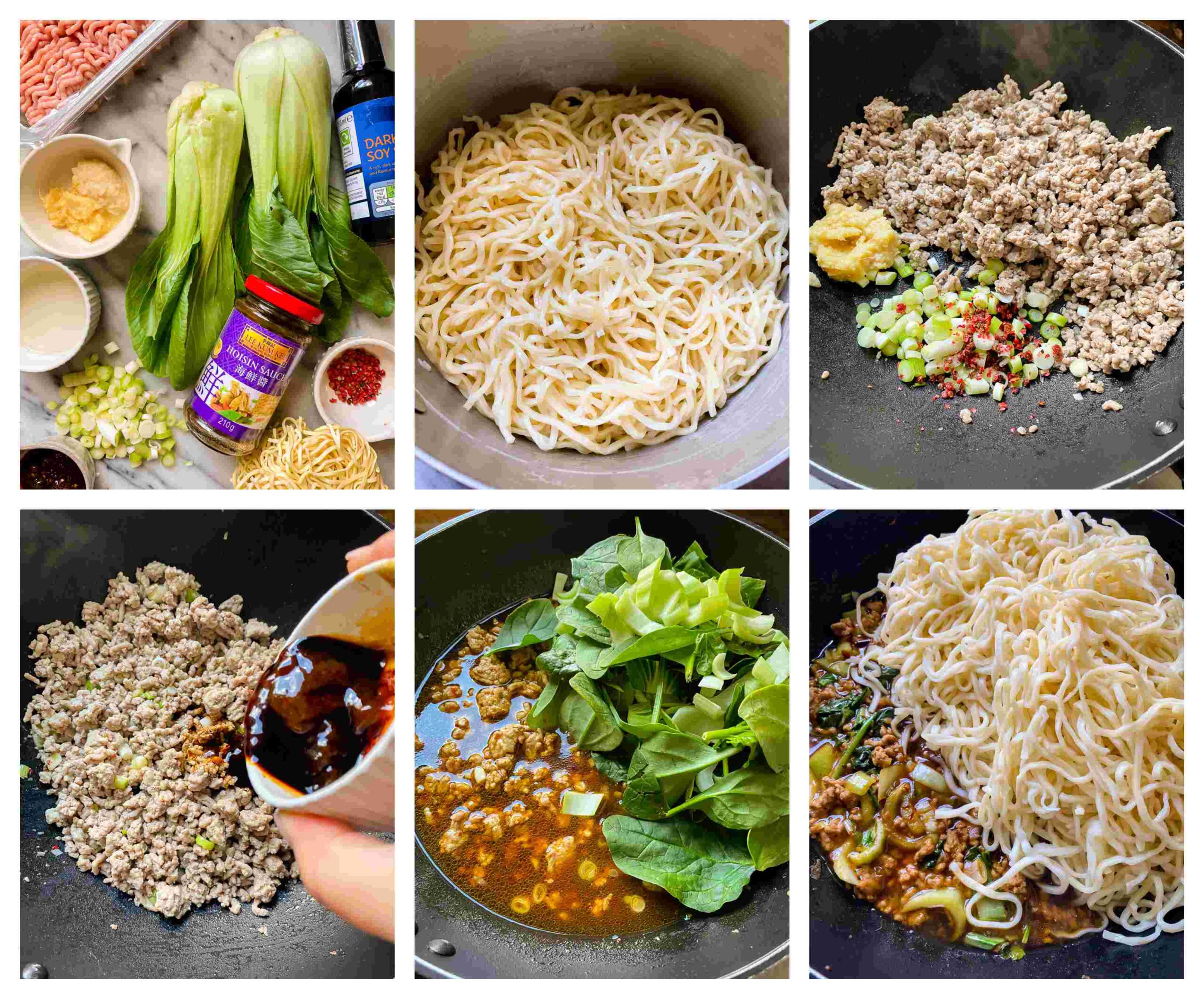 Recipe Tips and Notes
This recipe uses quite a few ingredients but only takes 15 minutes to prepare. So make sure you get everything ready and chopped before you start cooking as things move fast!
Cook the noodles according to package instructions. Chinese egg noodles usually only take about 4-5 minutes to cook. Rinse them after cooking to prevent sticking. Or substitute with spaghetti if you can't find the real thing.
Slice and chop all vegetables before you turn your heat on.
To streamline the process, measure out and mix the sauce components in a small bowl before your start cooking as well. Use dark soy sauce for more flavour!
I used both bok choy and fresh spinach but you can use one or the other.
Finally, don't forget to add roasted peanuts when serving. Delicious flavour and a lovely crunch!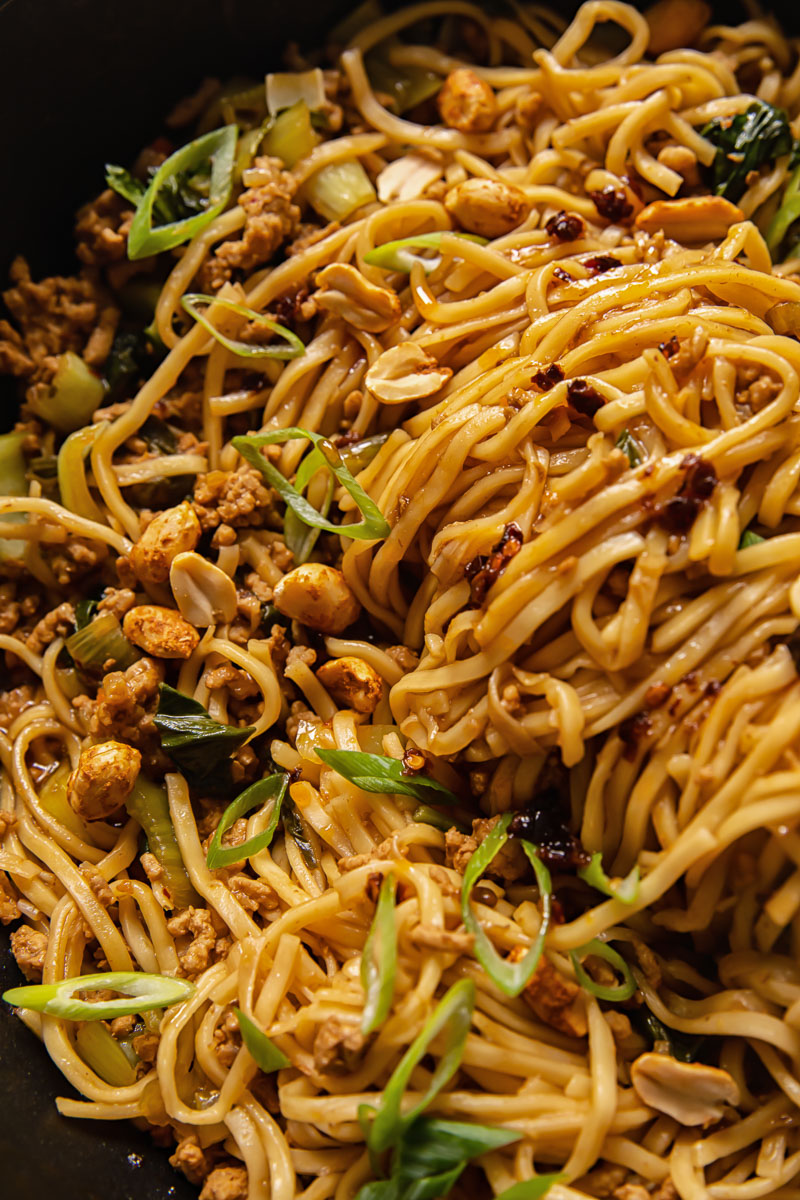 Favourite Asian Noodle Recipes to Try: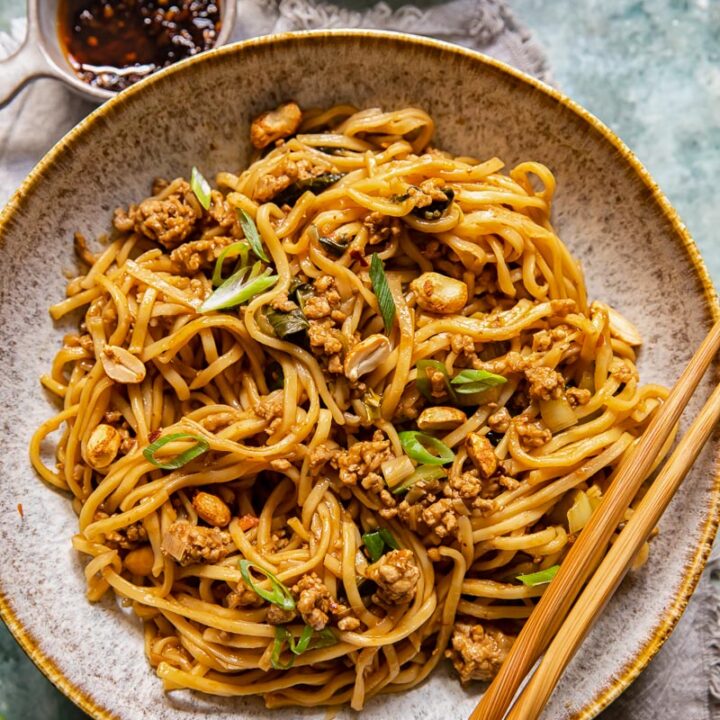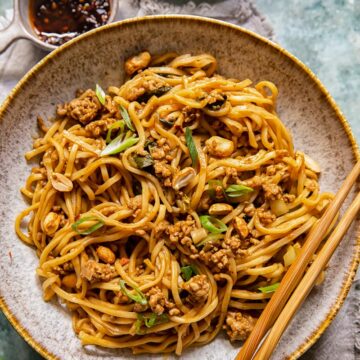 Easy Dan Dan Noodles
This version of the Szechuan Dan Dan Noodles is speedy and incredibly delicious! Just 30 minutes of your time will get you a dish that is better and healthier than takeout!
Ingredients
350g/2/3 lbs

medium Chinese egg noodles or spaghetti

dry

2

tbsp

sesame oil, divided

1

tbsp

vegetable oil

500g/ 1 lbs

ground pork

2

cloves

garlic

1

tbsp

grated ginger or ginger paste

4

green onions/spring onions

1

tsp

Sichuan peppercorns or black peppercorns

ground or crushed

375ml/1.5 cups

chicken stock

1

tbsp

Chinese chilli oil

2

tbsp

rice vinegar

3

tbsp

dark soy sauce

2

tbsp

hoisin sauce

2

bok choy

chopped

30g/1 cup

spinach

4

tbsp

roasted peanuts
Instructions
Cook the noodles according to the package instructions. Drain the noodles and rinse them under cold water, add sesame oil and toss to coat, set aside until needed.

In a wok or a large deep pan, heat the vegetable oil, then add the pork and brown until no longer pink, add the white parts of the onion, ginger, the crushed peppercorns and garlic, cook for 1-2 minutes.

Then add in the stock, chilli oil, vinegar, dark soy sauce and the hoisin sauce, bring to a boil and let the liquid reduce, then add chopped bok choy and spinach, cook for 2-3 minutes over medium heat. Now it's time to bring the noodles to the pan. Stir them in and let them heat through. Finish off with a drizzle of sesame oil.

Serve topped with sliced green onions, roasted peanuts and Chinese chilli oil on a side.
Nutrition
Calories:
657
kcal
Carbohydrates:
49
g
Protein:
41
g
Fat:
34
g
Saturated Fat:
11
g
Polyunsaturated Fat:
6
g
Monounsaturated Fat:
14
g
Trans Fat:
1
g
Cholesterol:
77
mg
Sodium:
1566
mg
Potassium:
1740
mg
Fiber:
8
g
Sugar:
10
g
Vitamin A:
19598
IU
Vitamin C:
194
mg
Calcium:
497
mg
Iron:
9
mg