I keep coming to this Chilli Salmon Mee Goreng whenever I am short on time. Rice noodles fried with an array of aromatic spices and flavoured with soy sauce and ketjap manis, then tossed with lovely vegetables. It's such an incredible time saver!
If you love this recipe, try my Indonesian Fried Rice Nasi Goreng.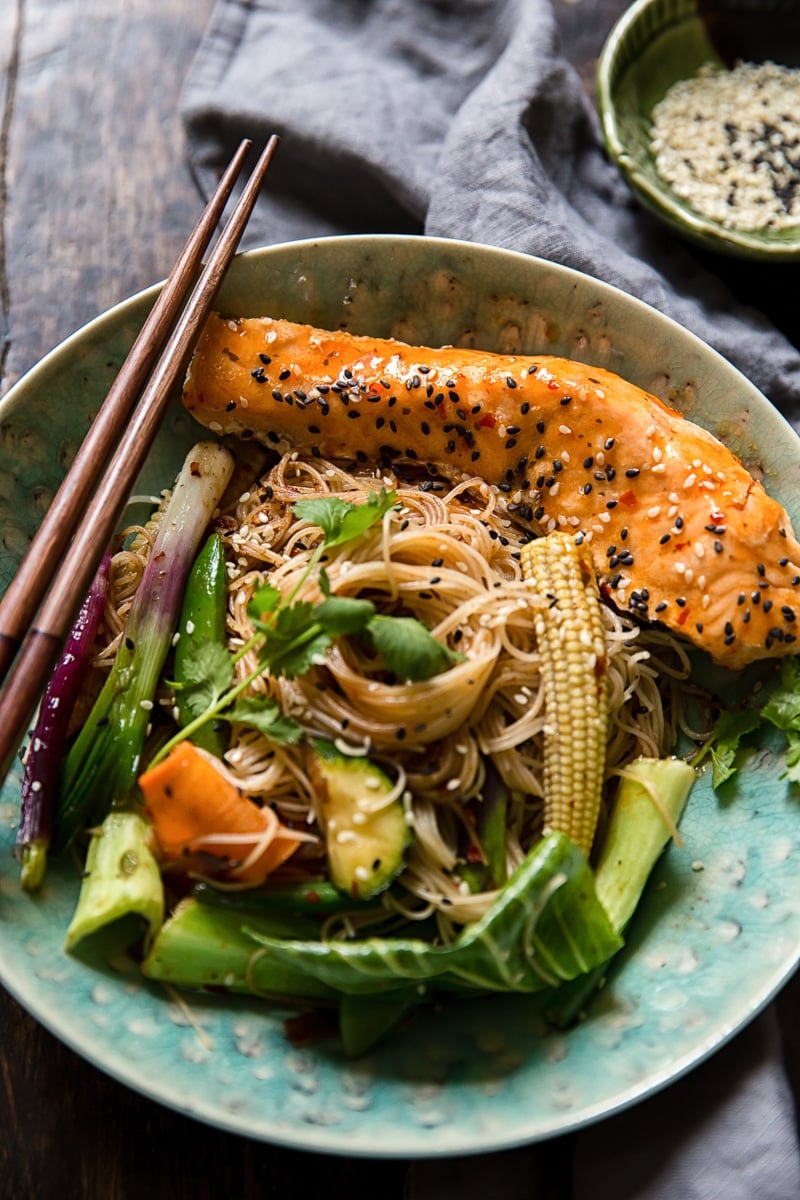 (Thank you The Saucy Fish Co for sponsoring this post and allowing the Vikalinka kitchen to keep cooking delicious meals!)
I was raised in a stoic home and I don't like to complain, especially publicly and especially on my blog, so it might seem like things are always breezy here. But it's not the reality, isn't it?
The truth is things have been pretty hectic in the last week and a half. My husband travels for work a lot. His job often takes him to places that are far away from here with limited Internet connection. I can usually handle a lot but when he goes away I feel under a lot of pressure.
So I've been single parenting for the last 10 days and let me tell you…things have been piling up.
And it's not just the cleaning and the laundry, it's mainly the sole emotional responsibility for the little humans that I am caring for! Throw in work in the mix and by the end of the day I am tuckered out.
Did I say 'by the end of the day'? I actually meant by 5pm! And that is exactly when I hear, "Mum, do you have dinner plans?" The question I dread on days like that!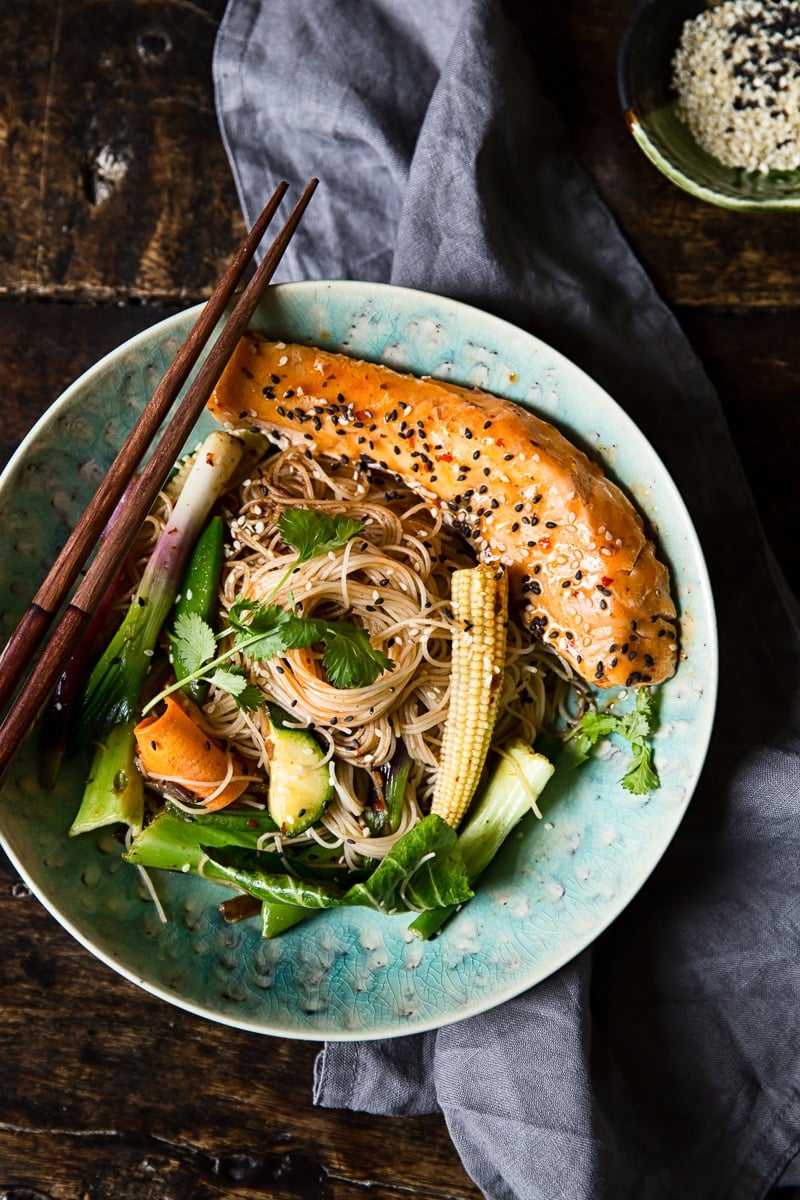 Don't get me wrong I love to cook and cooking healthy, nutritious dinners for my family is something I am very passionate about. I believe in developing healthy eating habits early on will set my kids up for life.
But what to do with the overwhelming busyness though? Some days a takeaway seems to be the only solution but I can't afford it every night when I am too busy to cook, nor do I want to!
It's expensive and full of fat. Also it takes at least an hour to arrive! I can make cheaper, healthier meal in half that time!
I've shared previously that I've been trying to add more fish to our diet with various success. However, the fish I've been most successful with is salmon! It's meaty and has all the healthy fats our bodies need. And my kids don't complain as much when they see salmon on their plates. It's a win.
So this recipe for Mee Goreng that I am sharing today is my attempt to replace that coveted takeaway. Unlike takeaway though it's healthy, very quick and has all the Asian flavours we crave!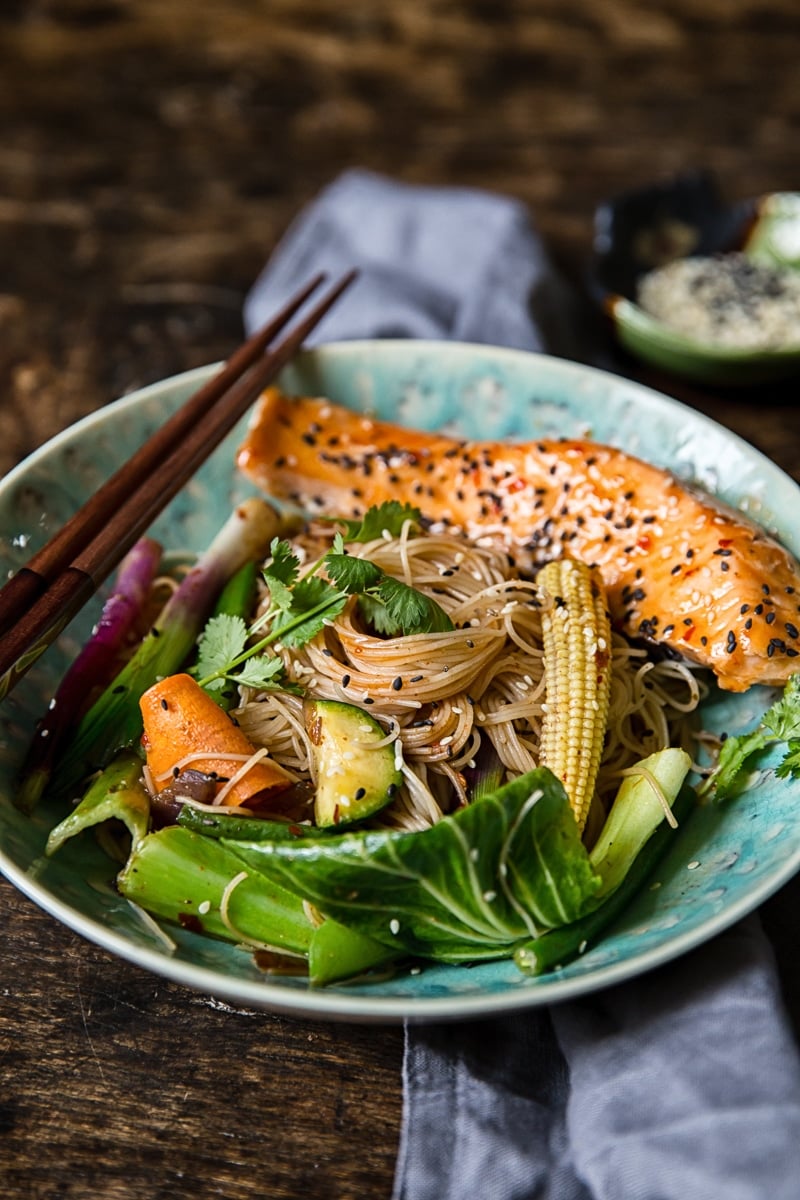 All I did was to throw veg and noodles together with some seasoning while the salmon was in the oven and all of sudden I felt like 'that pressure' was gone!
I got the dinner on the table in 28 minutes! Then I was able to sit down to this beautiful and delicious homemade Salmon Mee Goreng with my kids and listen to them chattering about school and friends without feeling overwhelmed!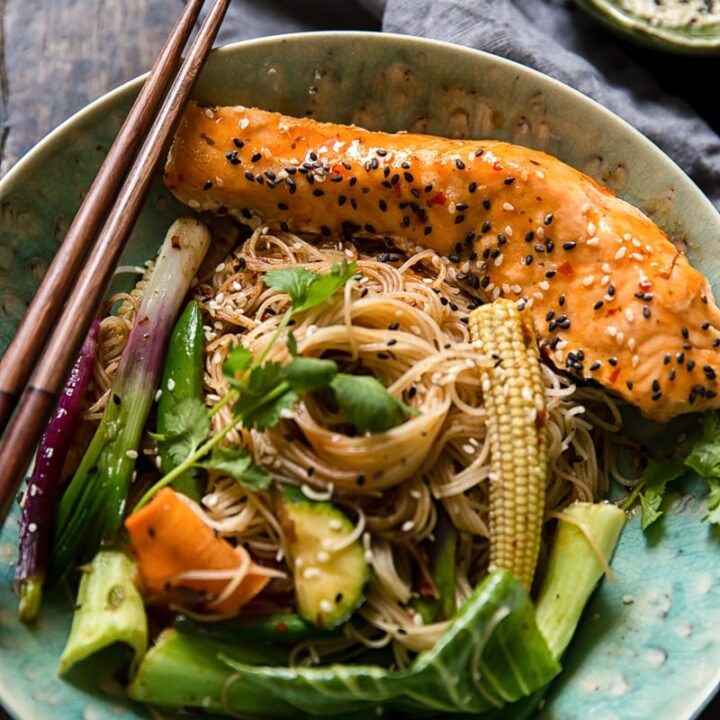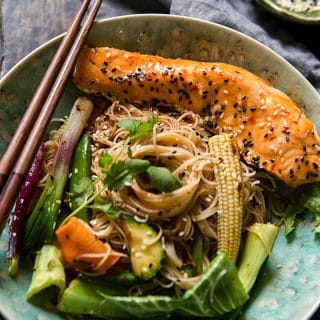 Chilli Salmon Mee Goreng (Fried Noodles)
Rice noodles fried with an array of aromatic spices and flavoured with soy sauce and ketjap manis, then tossed with lovely vegetables.
Print
Pin
Rate
Ingredients
4

fillets

1

tbsp

vegetable oil

1

small onion

chopped

2

cloves

garlic

minced

1

tbsp

chilli paste

250

g/2 cups mixed vegetables

baby corn, carrot ribbons, bok choy, zucchini, sugar snap peas, etc.

1/100

g

rice noodles

2

tsp

ground coriander

3

tbsp

soy sauce

3

tbsp

ketjap manis

sweet and thick soy sauce

2

spring onions

sliced

2-3

sprigs fresh coriander/cilantro

chopped

black and white sesame seeds

optional
Instructions
While the salmon is cooking prepare the fried noodles with vegetables. Boil a pot of water for noodles and make sure all vegetables are peeled and cut to proper size or use a pre-cut stir fry mix for convenience.

In a large pan or a wok heat the vegetable oil and add the onion and garlic and fry on medium heat until golden for approximately 1 minute, add chilli paste and fry for 10 seconds longer, stirring the entire time, add the vegetables and cook on high heat while stirring for 2 minutes.

Add cooked and rinsed rice noodles, then add ground coriander, soy sauce, ketjap manis and stir to combine, then spread the noodles over the pan and let them fry for a minute or so, taste and adjust the seasoning if needed.

Take the salmon out of the oven.

Serve the fried noodles topped with glazed salmon. Sprinkle with black and white sesame seeds and chopped coriander/cilantro and spring onions if desired.
Video
Nutrition
Calories:
404
kcal
|
Carbohydrates:
28
g
|
Protein:
38
g
|
Fat:
15
g
|
Saturated Fat:
5
g
|
Cholesterol:
94
mg
|
Sodium:
1147
mg
|
Potassium:
1063
mg
|
Fiber:
4
g
|
Sugar:
13
g
|
Vitamin A:
3369
IU
|
Vitamin C:
11
mg
|
Calcium:
64
mg
|
Iron:
3
mg