This air fryer salmon comes together in less than 10 minutes. Easy, hassle free way of cooking the fish, which gives you enough time to make a delicious lemon dill sauce!
Serve with our Chipotle Mayo Roasted Potato Wedges or equally easy Coconut Rice.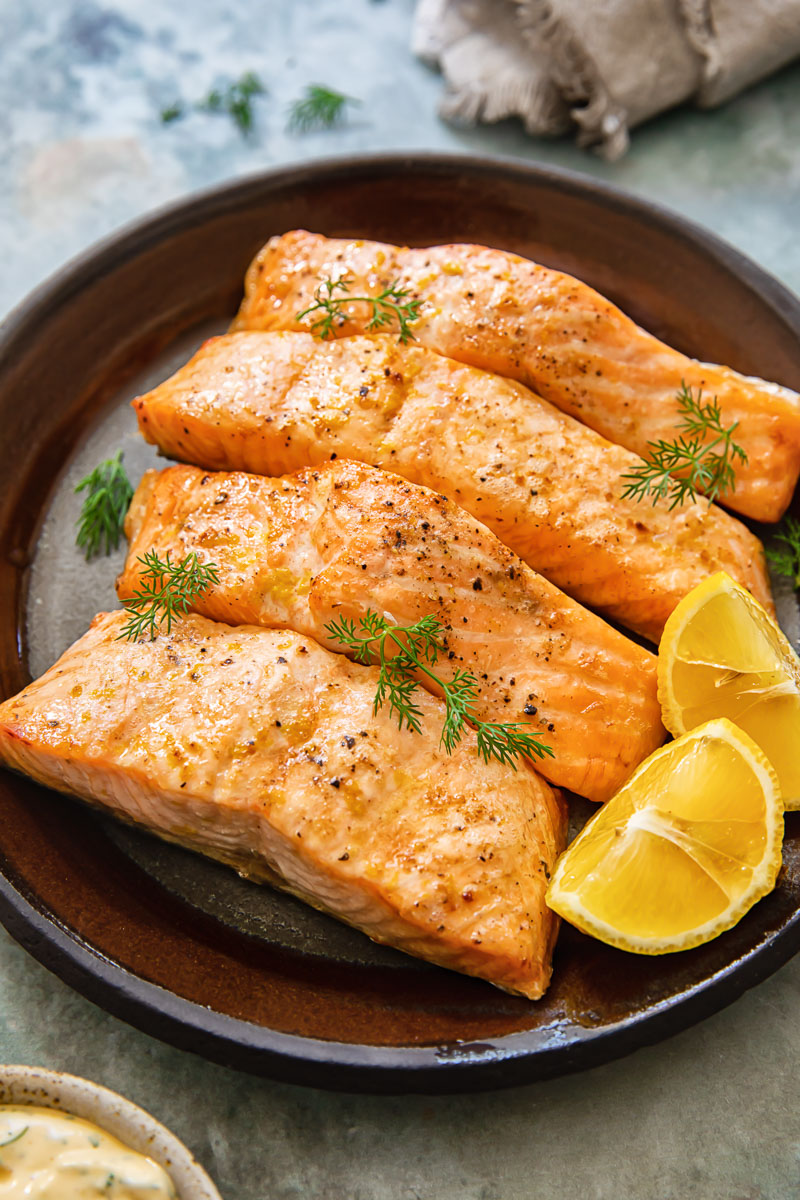 I have discovered that my air fryer is excellent at cooking salmon fillet accidentally. My daughter needed a quick way of preparing salmon before school for lunches. I told her to stick it in the air fryer for convenience but the end result blew me away!
After 8 minutes salmon comes out as if it was pan-fried in oil with the crispy exterior and juicy, perfectly cooked flesh. I was immediately sold!
Why would I slave over a hot stove when my air fryer can do it just as well and using virtually no oil?! Another bonus, air fryer does it faster!
Sauce for Salmon
Over the years I have shared many sauce recipes to serve with this beautiful fish. The most recent one is homemade basil pesto. Don't be daunted by it. If you have a blender or a food processor, it takes less than 5 minutes.
The most popular ones according to you are mustard cream sauce and teriyaki sauce. My personal favourite is lemon caper sauce but the easiest and the quickest is this lemon dill sauce I am sharing today.
It is bright and lovely and can be mixed in a matter of minutes! 3 minutes to be exact. I used mayonnaise as a base here but you can use creme fraiche or yogurt.
I highly recommend using a fresh lemon over bottled lemon juice because lemon zest is a must in this sauce. It lifts and gives the sauce an incredible taste and fragrance.
Fresh dill is another non-negotiable to me. Mostly because I find that fresh and dried dill have very different flavours. Dried dill is quite heady and is leaning towards anise in flavour, which I find too heavy for a sauce.
Finally, I love a touch of Dijon mustard but you can use any mustard you love. I think honey mustard will also be delicious here.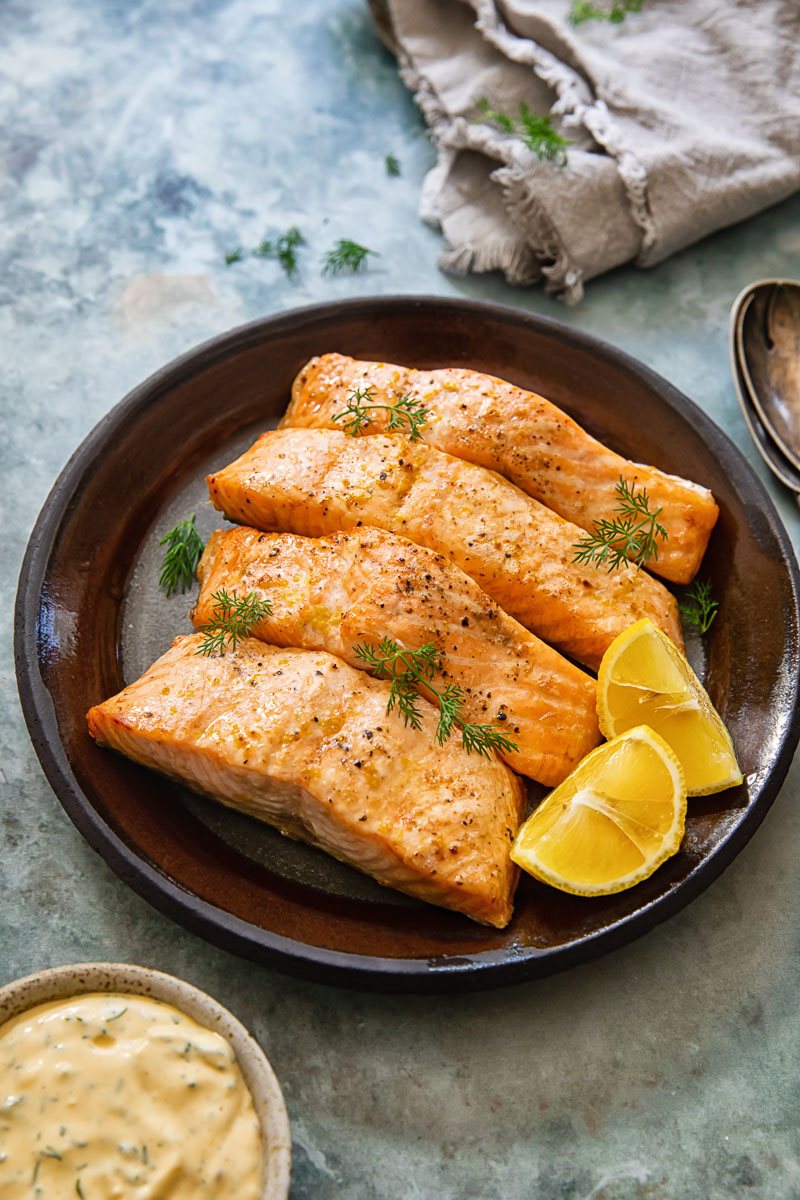 Recipe Tips and Notes
I season my salmon fillets very simply with salt, pepper and lemon zest. Yes, lemon zest again! Zest is what actually gives it that telltale lemony flavour. Lemon juice will not do it.
You can use your favourite seasoning. This recipe is more about the method rather than an actual recipe.
I never take skin off unless I plan to mix my salmon into pasta. It's very easy to peel it off after it's cooked, so why fuss over it.
If you love that charred finish on your salmon, you will need to marinate it or glaze it first.
This recipe cooks salmon at high heat and for a short period of time. Do not be tempted to cook it longer. Nothing worse than dry fish! If you are really doubting whether it is done, check the temperature for a peace of mind. It should be 110F-125F or 45C-50C.
Favourite Air Fryer Recipes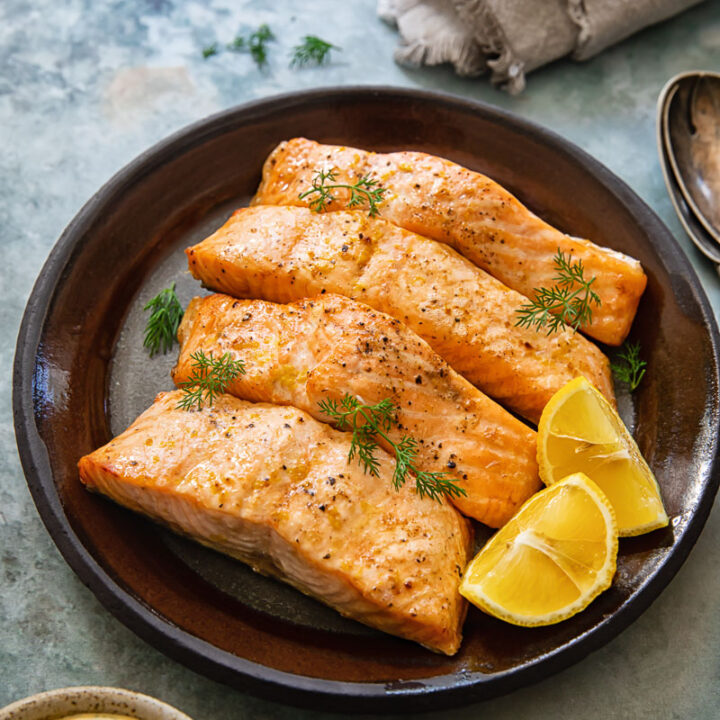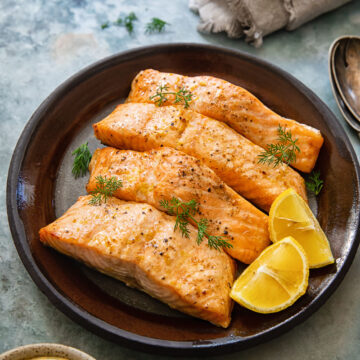 Air Fryer Salmon with Lemon Dill Sauce
This air fryer salmon is an easy, hassle free way of cooking the fish, which comes together in less than 10 minutes.
Ingredients
4X120g/4 oz

salmon fillets

salt and pepper

1

lemon, juice and zest

cooking spray

125g/1/2 cup

mayonnaise

can use low fat

1

tsp

Dijon mustard

1

tbsp

chopped dill
Instructions
Preheat the air fryer to 400F/200C. While it's preheating, season the salmon with salt and pepper and sprinkle the zest of half a lemon all over.

Once the air fryer is preheated, arrange the salmon in the basket of the air fryer and spray it with a cooking spray. (If you choose to use oil instead of the spray, brush the salmon with 1 tsp of olive oil, then season with salt, pepper and lemon zest.) Cook for 8 minutes.

While the salmon is cooking, in a small bowl, mix the mayonnaise with the zest and juice of ½ lemon, mustard and chopped dill to make the sauce.
Nutrition
Calories:
253
kcal
Carbohydrates:
5
g
Protein:
24
g
Fat:
15
g
Saturated Fat:
2
g
Polyunsaturated Fat:
7
g
Monounsaturated Fat:
4
g
Trans Fat:
1
g
Cholesterol:
71
mg
Sodium:
1488
mg
Potassium:
638
mg
Fiber:
1
g
Sugar:
2
g
Vitamin A:
84
IU
Vitamin C:
14
mg
Calcium:
25
mg
Iron:
1
mg