Improve your risotto game by adding smoked salmon for a big and bold flavour. Creamy and cheesy goodness, that is so easy to make at home!
Serve this comfort food dish with our Roasted Asparagus for a beautiful and quick dinner.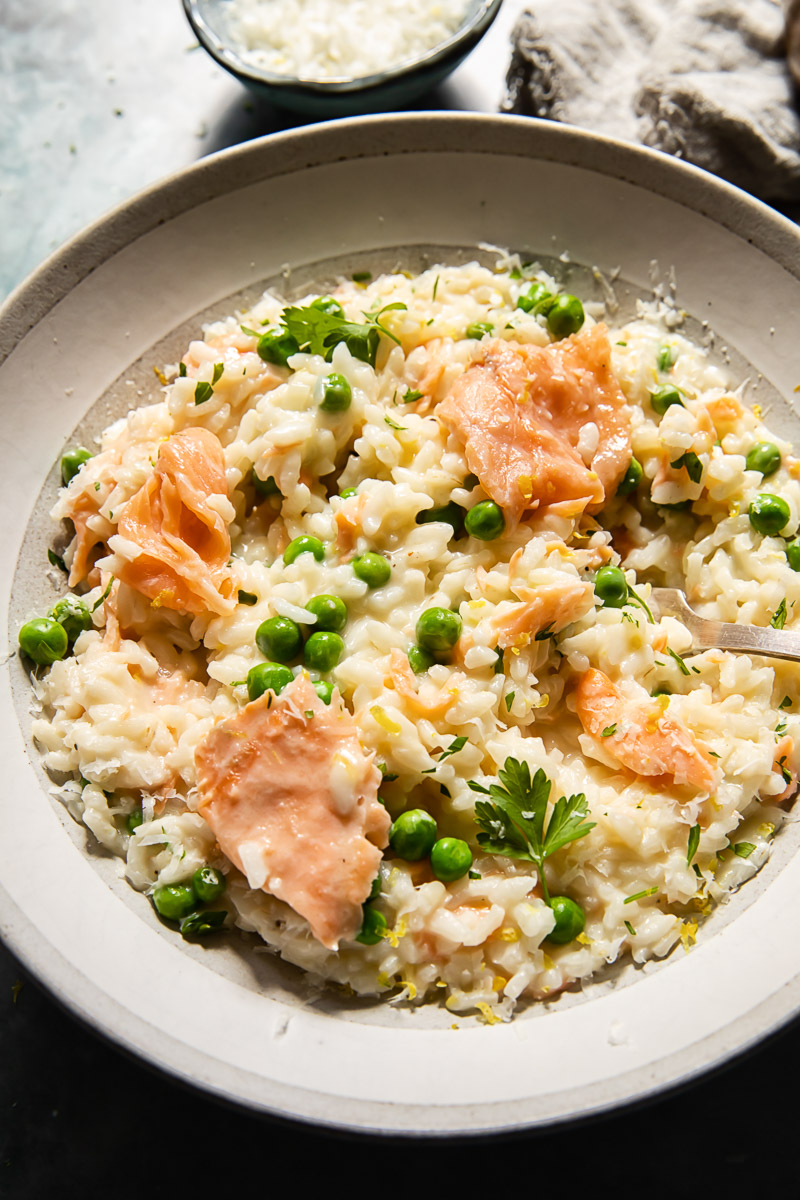 Just like pasta dishes, I am quite certain there is no way to exhaust flavours, which could be added to a basic risotto, making it a very versatile, not to mention a delicious dinner option.
The recipe I am sharing today is also a quick one. Flavoured with smoked salmon, this risotto automatically gets promoted to an elegant dish category while being extremely simple.
Smoked salmon can do so much more than to top a bagel! I love using it as an immediate flavour booster in dishes like this creamy pasta. And since it comes ready to eat, all you need to do is warm it through.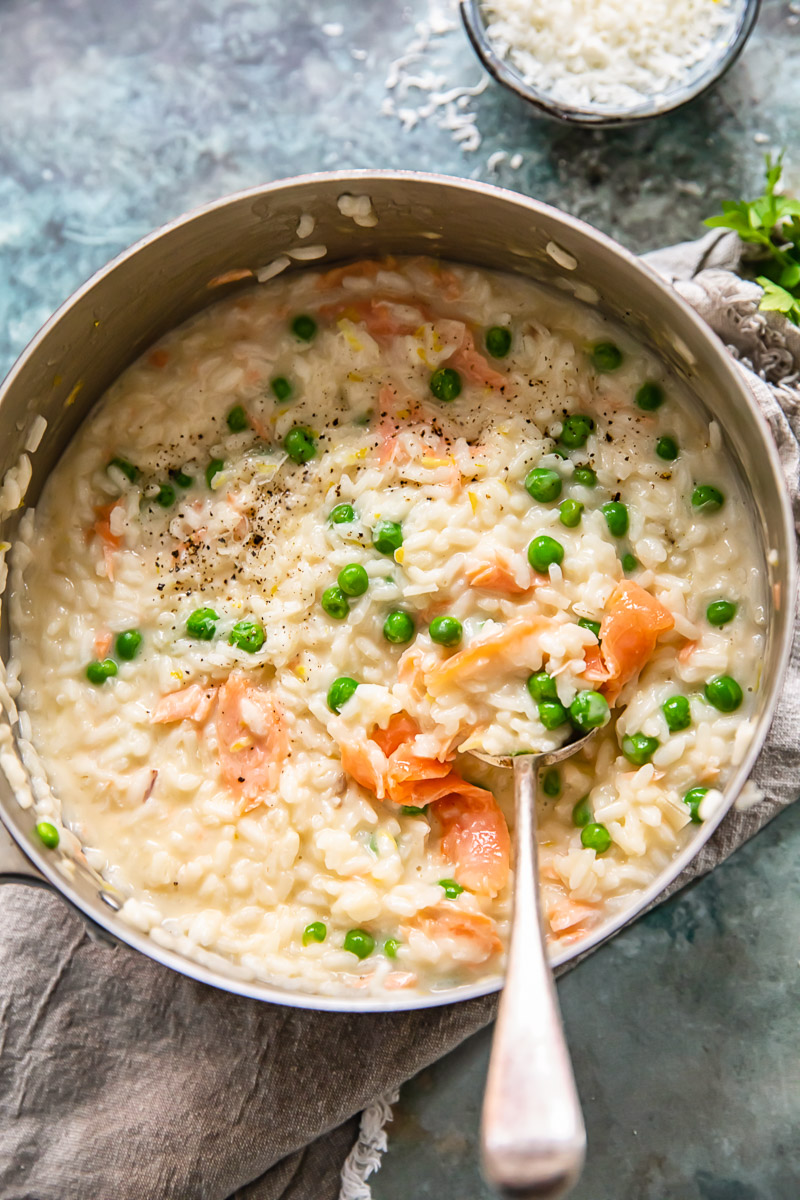 Seafood Risotto
Traditionally Italian risotto recipes are vegetarian with the exception of seafood risotto. This particular recipe is not an authentic one but my own creation. All I did was combine my favourite things to bring it into being.
It is also not customary to add cheese to fish and seafood in Italian cooking. I broke that rule as well and I have no regrets. Parmesan cheese adds such a beautiful savoury note to this luscious concoction.
I also threw in some green peas, which literally burst with freshness in your mouth. They provide a nice balance to the creamy texture as does a touch of lemon zest.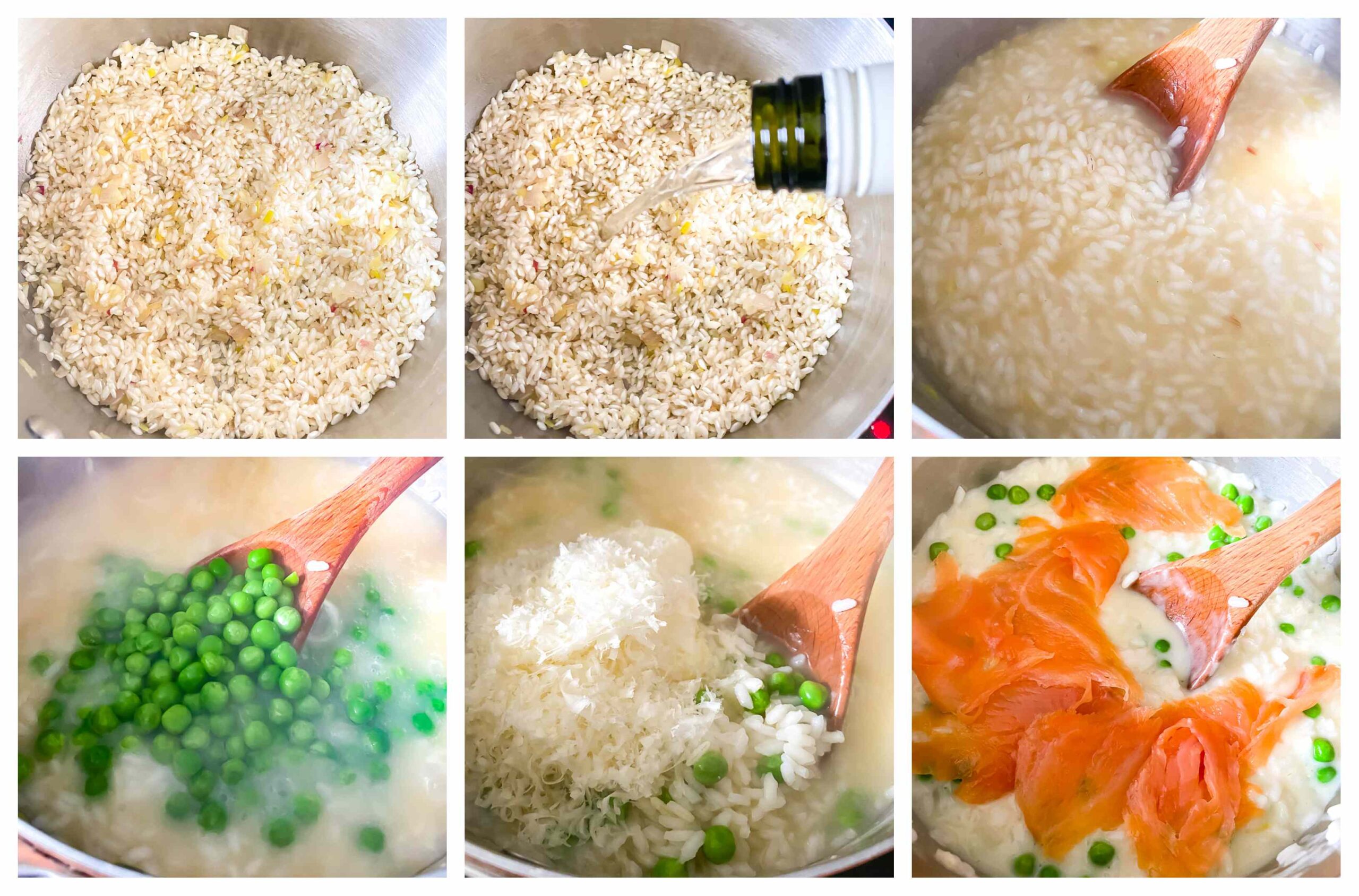 Recipe Tips and Notes
To achieve the famous creamy texture, you will need to use starchy rice like Arborio or Carnaroli. Sometimes, it will be simply labeled as risotto rice. You can watch me making a risotto here for more detailed tips and instructions.
I love using a bit of dry white wine to bring acidity to this rice dish. If I don't have a bottle of white wine open, I often go for Vermouth, which keeps much longer than regular wine.
The best vessel for cooking a risotto is a large saucepan. It keeps the moisture in, which makes it easier to achieve that desirable creamy texture.
Stir in the smoked salmon at the very end as it only needs a couple of minutes to warm through. This way there is less risk of tearing it from too much stirring.
For more detailed tips on how to make a perfect risotto, take a look at this article.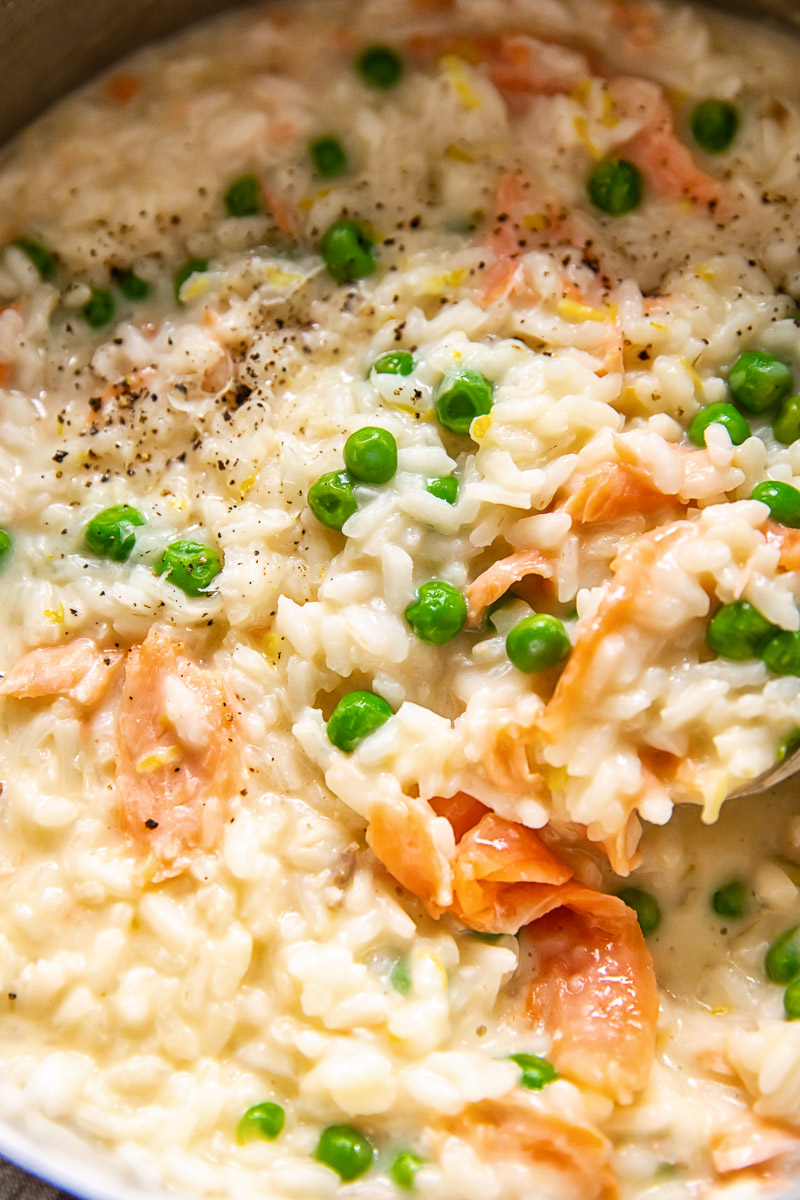 Favourite Risotto Recipes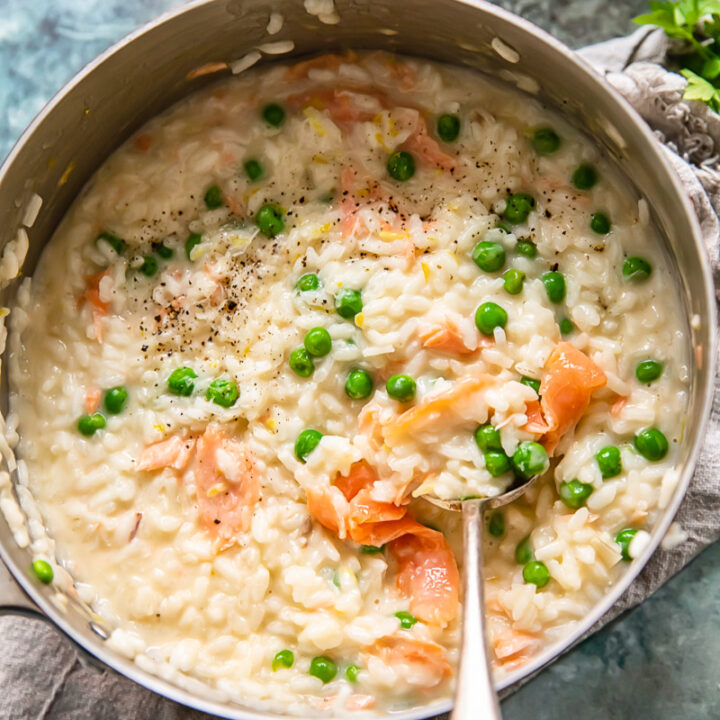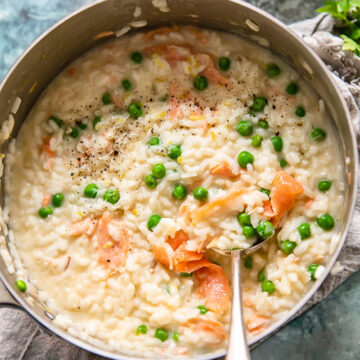 Salmon Risotto
Improve your risotto game by adding smoked salmon for a big and bold flavour. Creamy and cheesy goodness, that is so easy to make at home!
Ingredients
1

tbsp

olive oil

½

onion

or 1 shallot

300g/1 ½ cups

risotto rice such as Arborio

125ml/1/2 cup

dry white wine

such as Cabernet Sauvignon

1 litre/4 cups

fish or chicken stock

100g/1/2 cup

green peas

could be frozen

70g/1/4 cup

creme fraiche

or sour cream

50g/1/2 cup

Parmesan cheese

150g/5 oz

smoked salmon

salt to taste

1

tsp

lemon zest

for garnish

1

tbsp

parsley

for garnish
Instructions
In a large and deep pan, heat the olive oil and sauté the onion or shallot for 5-7 minutes over low heat until translucent. Add the Arborio rice and stir fry for 1 minute until the rice is fully coated in oil, add the dry white wine and let it bubble away for 2-3 minutes until the wine is reduced in volume.

Then add ¼ of the stock, stir and let it simmer for a few minutes over medium heat. The stock should be just above the rice when you first add it. Once you see the stock going down, add a bit more and stir. Repeat until all stock is gone and the rice is cooked but still slightly chewy. Just before you add the last ladle of the stock, add the green peas (could be frozen) and let them cook with the rice for about 5-7 minutes. Give everything a quick stir every time you add more stock.

Once the rice is cooked and the risotto is nice and creamy, stir in crème fraiche and grated Parmesan cheese. Keep stirring until the cheese is melted, then taste it and season with salt. Finally stir in bite-sized slices of salmon and let them go opaque. Then cover with a lid and let it stand for 5 minutes, then sprinkle the zest of ½ lemon over. Serve with more grated Parmesan, chopped parsley and black pepper.
Nutrition
Calories:
319
kcal
Carbohydrates:
44
g
Protein:
12
g
Fat:
8
g
Saturated Fat:
3
g
Polyunsaturated Fat:
1
g
Monounsaturated Fat:
3
g
Cholesterol:
18
mg
Sodium:
724
mg
Potassium:
177
mg
Fiber:
3
g
Sugar:
2
g
Vitamin A:
344
IU
Vitamin C:
9
mg
Calcium:
124
mg
Iron:
3
mg