Salmon, topped with creamy mixture of mascarpone and minced kale, then wrapped in flaky puff pastry and baked till golden. Delicious Salmon en croute recipe for two!
For more salmon recipes, check out our Baked Salmon in Rose Cream Sauce or Salmon Teriyaki with Bok Choi.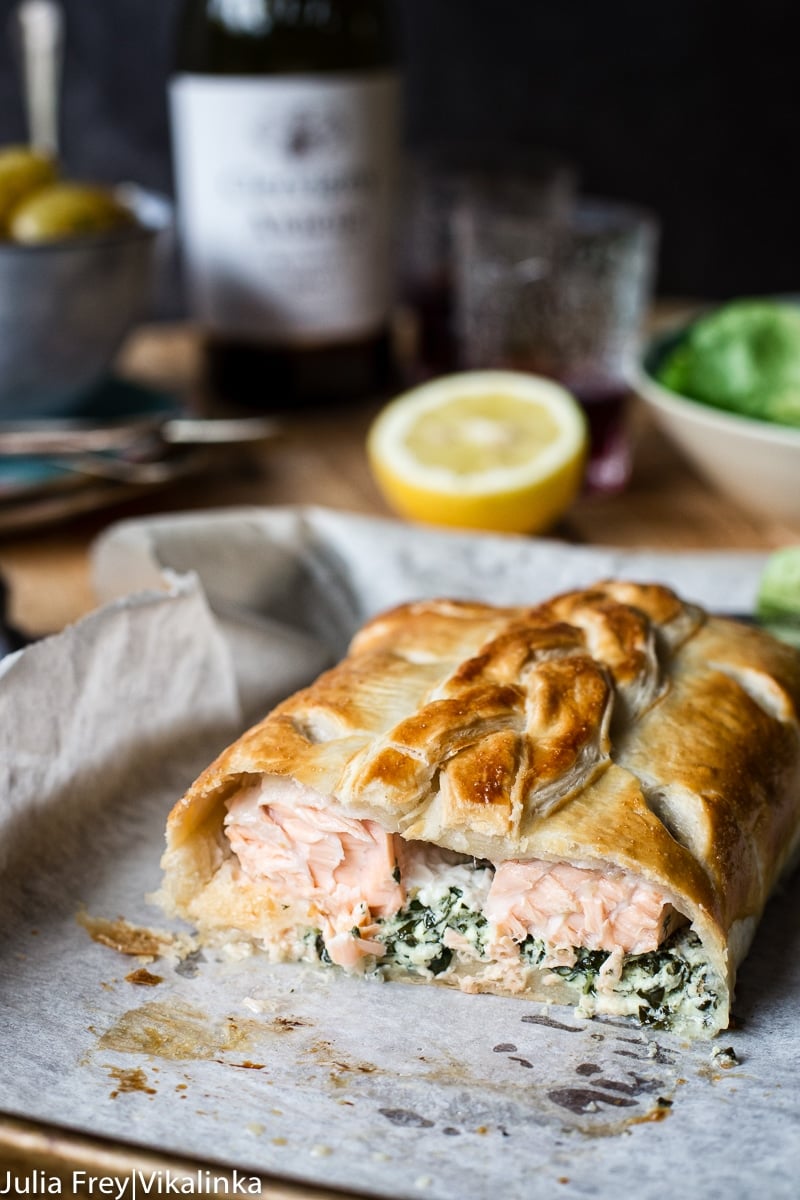 So Valentine's Day is coming up…Do you celebrate? And if you do, are you a going-out or a stay-in type of a couple?
We definitely celebrate, and through the years we've done it at home much more than out. When we were young, childless and still in college we couldn't afford it on the account of being perpetually broke, then kids came along and made going out nearly impossible for a number of reasons I won't bore you with.
Now, as we are on the brink of teenage years, we are starting to taste the freedom once again and it feels great but still quite unfamiliar.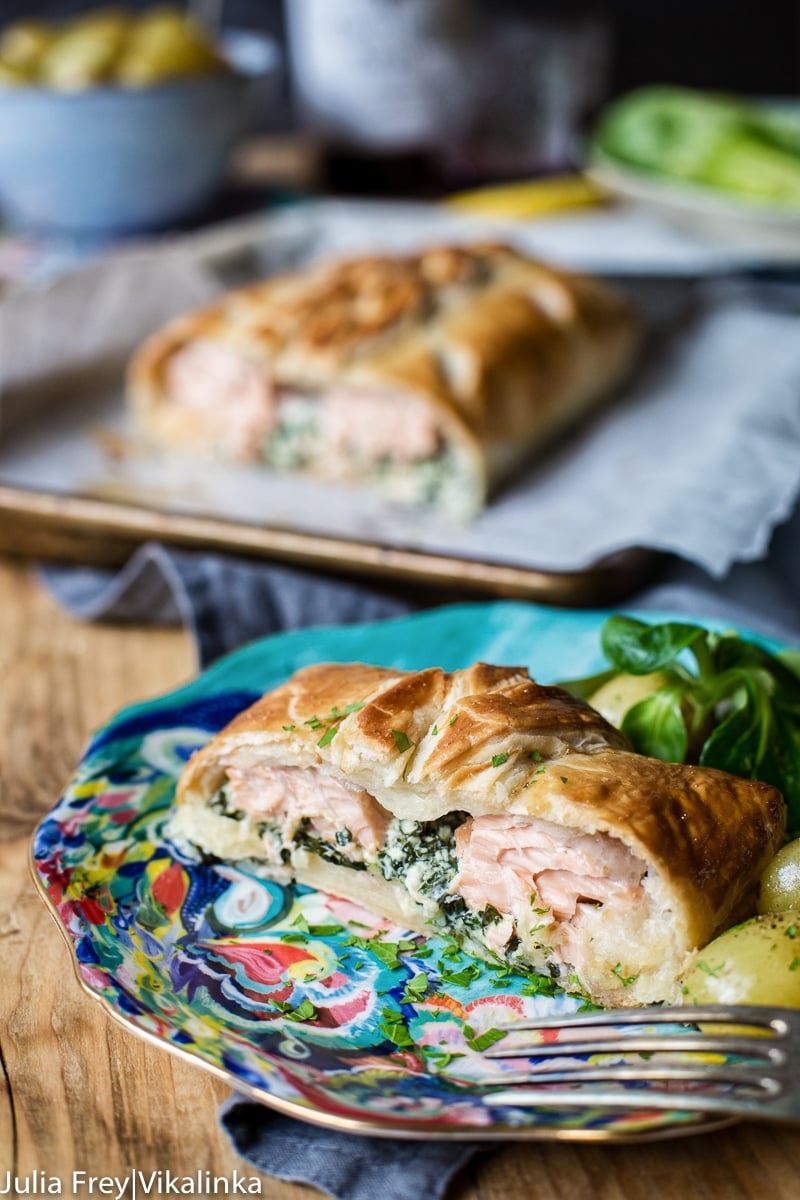 So this year we decided to send kids upstairs with strict orders not to come down, throw a white tablecloth on our dinner table along with some candles, pop a bottle of Champagne and transform our house into a little French bistro.
I got it all planned out and I've got the perfect recipe!
It's too bad Brad is still in India and doesn't return until the day after the V Day but who says we can't celebrate a few days later!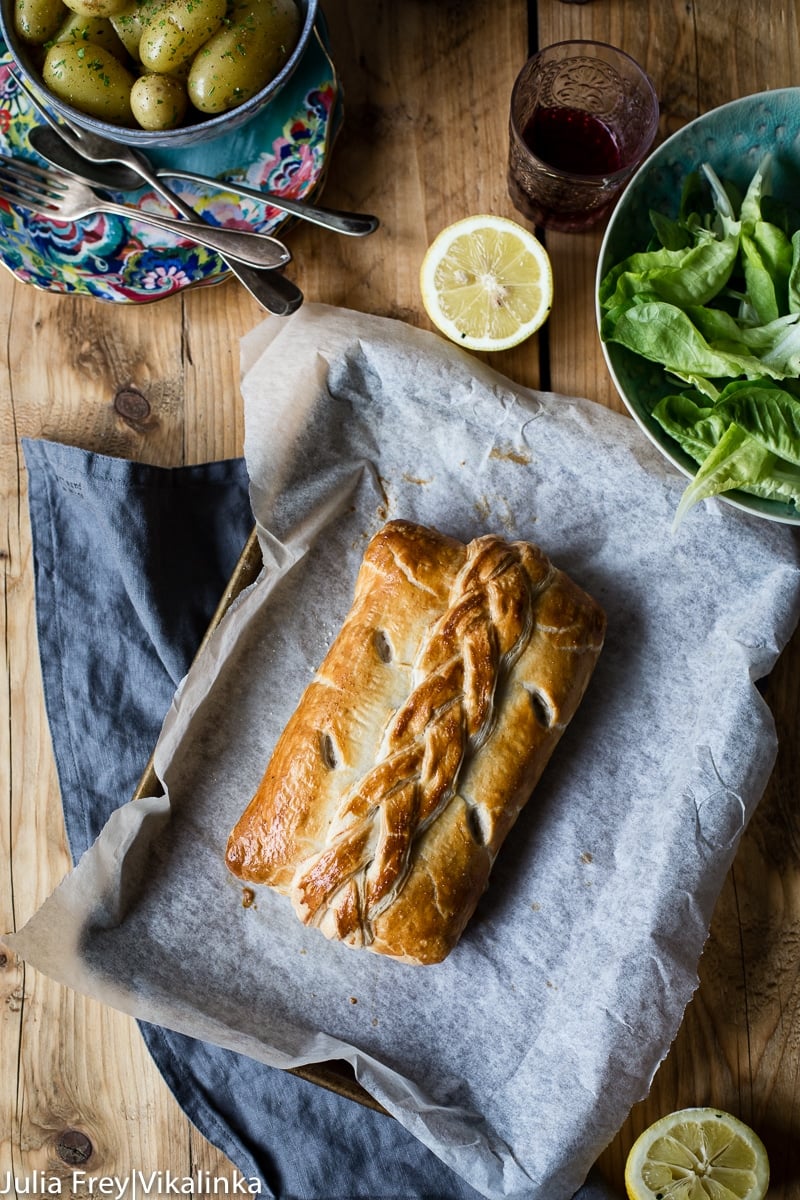 This recipe for Salmon en Croute aka Salmon Wellington is one of those that's been written down in my little planner for ever, so forgive my giddiness as I am really excited to finally being able to share it with you!
What makes salmon en croute a perfect dinner party option?
Once you make it, you will understand all the exclamation points! So easy, so delicious and SOOOO impressive!!! One of the best things about this salmon en croute is that it can be assembled up to 12 hours in advance!
Do you see what I am getting at?
You can prepare it the night before and keep it in the fridge, then just pop it in the oven for half hour and your restaurant quality dinner is ready while you can actually relax and enjoy your time together like you would if you were out!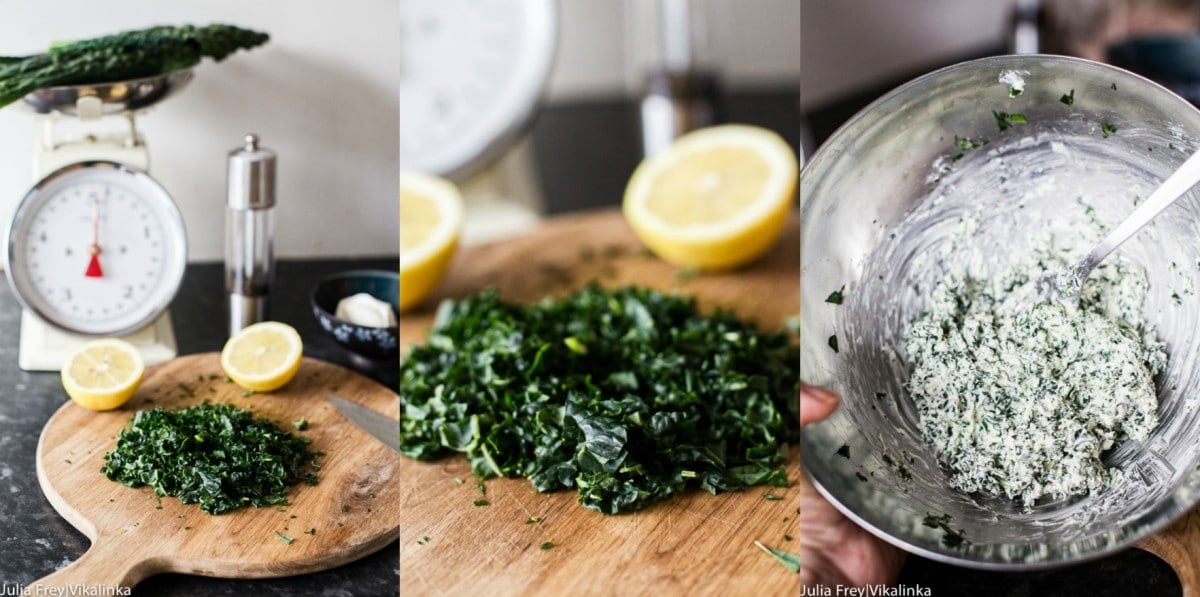 Is Salmon Wellington difficult to make?
Another great point is that this salmon en croute recipe has a pretty short ingredient list. Surprised?
Don't be, classic French cuisine heavily relies on quality ingredients for its delicious taste! What I particularly love about cooking salmon in pastry is that it keeps all the juices in, which makes your salmon especially flavourful.
The classic recipe calls for a mixture of watercress and creme fraiche while I went for a finely minced kale and mascarpone with some lemon juice, salt and pepper but cream cheese would work just as well here.
I like serving salmon en croute with buttery herbed baby potatoes that cook at the same time as salmon.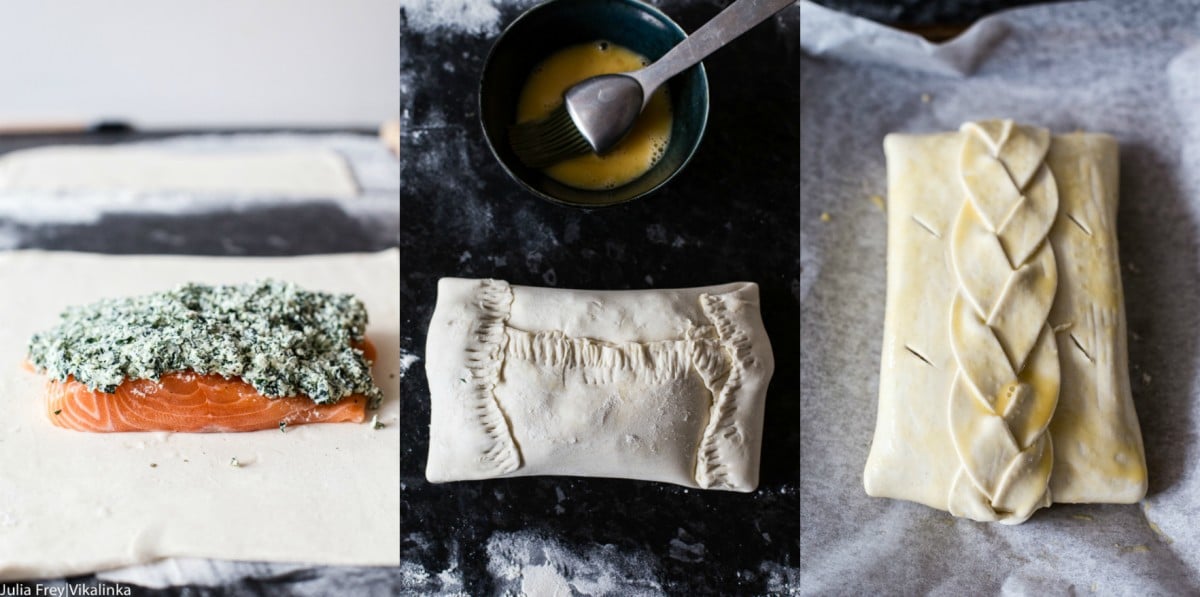 I also decorated it with a little braid I made from pastry scraps but it's not at all necessary.
Just making little slits and a bit of egg wash would make your salmon en croute gorgeous…puff pastry has this magical ability to look beautiful no matter what. I wish I did too!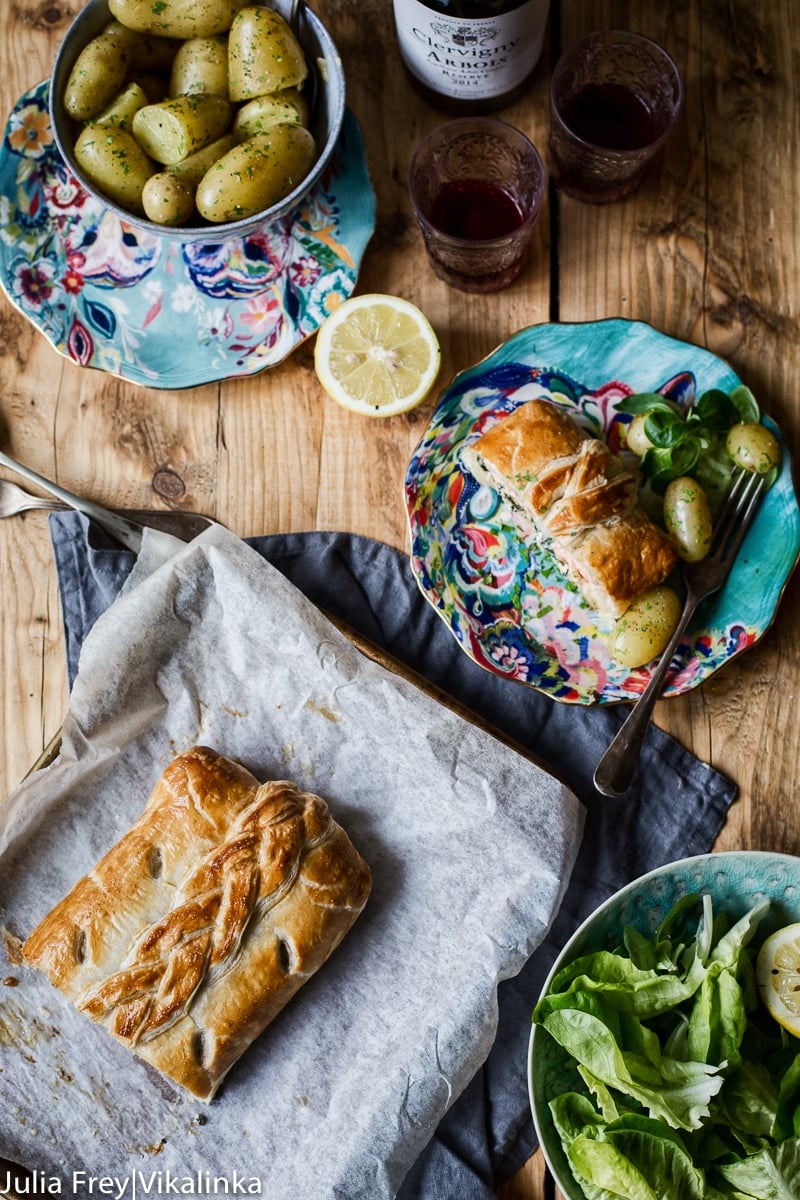 More delicious recipes for special occasions: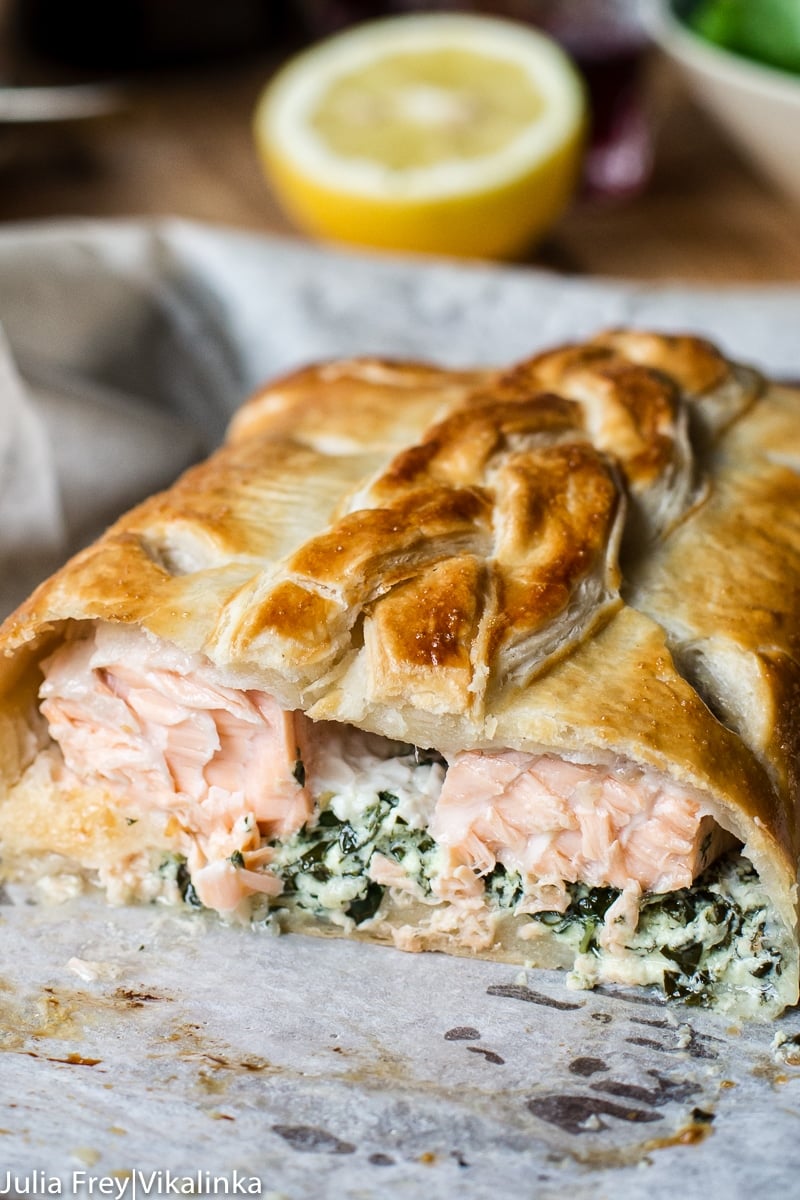 Ingredients
45

g/1 cup black kale/cavolo nero

very finely chopped

60

g/2 oz mascarpone or cream cheese

½

lemon

juice only

salt and pepper to taste

200

g/7 oz puff pastry

flour for dusting and rolling

300

g/ 10 oz salmon

skinless and boneless

1

egg

beaten
Instructions
Preheat the oven to 200C/400F.

Chop the kale (thick ribs removed) very finely and mix with softened mascarpone or cream cheese, add lemon juice, salt and pepper. The mixture should resemble a thick paste.

Roll out the puff pastry on a lightly floured surface into a rectangle appox ⅛" thick. Place the salmon pieces in the middle of the pastry rectangle, salt, pepper and spread the kale mixture directly on them.

Brush the edges with beaten egg, fold the sides and pinch them together securely to resemble an envelope. I used a fork to make sure all juices stay in.

Flip the salmon filled pastry over and place it on parchment paper lined baking sheet and brush it with the egg wash all over.

Optional: Make decorations out leftover pastry and place on top, brush with egg wash.

Make 3-4 little slits for ventilation.

Cook in the preheated oven for 30 minutes until pastry is puffed up and golden.

Let it sit for 5 minutes before serving.
And if this is not enough I've got a gorgeous seasonal cocktail for you to keep it within the French theme. Here is Blood Orange French 75. Enjoy and Happy Valentine's/Galentine's Day!