Juicy and full of flavour rib eye steak is undoubtedly the king of steaks when cooked properly. Drizzle Sicilian Salmoriglio sauce aka lemon herb sauce all over yours for a taste of summer!
Serve this gorgeous steak with Pesto Potato Salad at your next BBQ!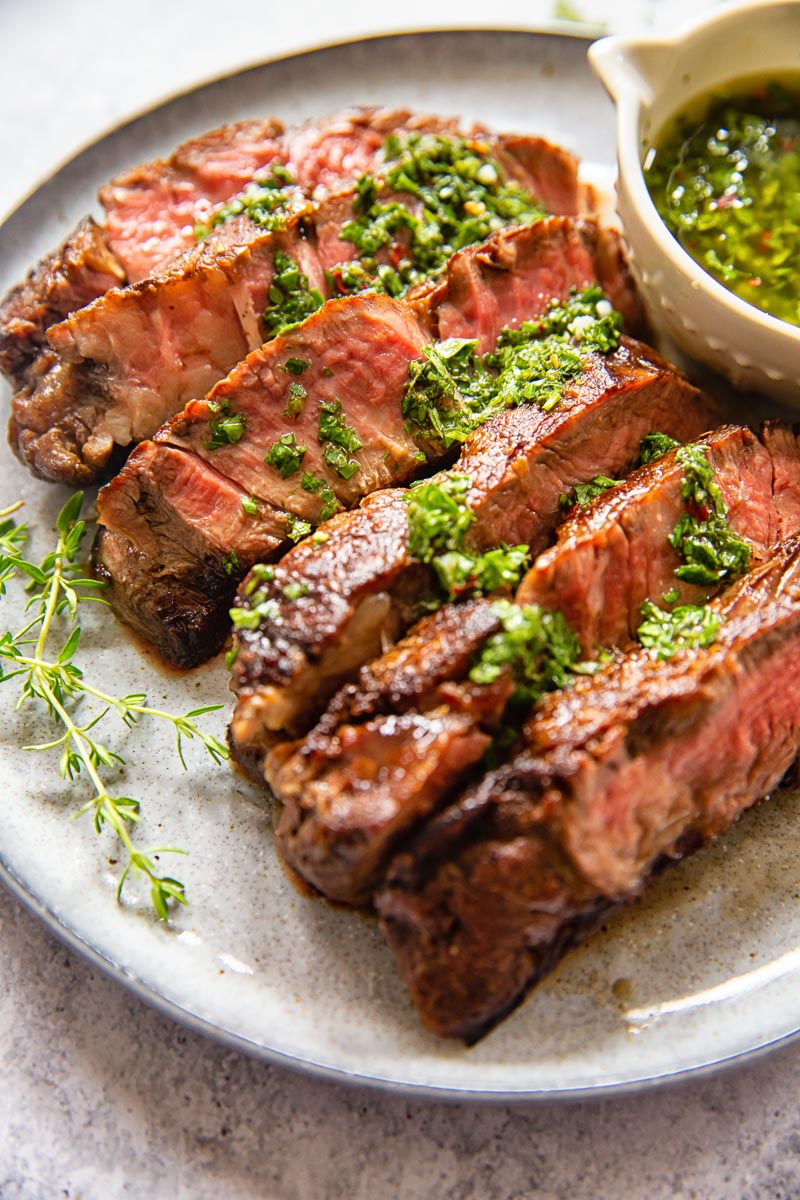 Best Cut of Steak
When it comes to steaks people's opinions vary greatly on the cut, on the method of cooking but most of all on the degree of doneness. Many articles have been written on the best ways to cook them, which often elevate the process to great heights.
Cooking steak is often being presented as the greatest mystery, which requires amazing skills.
The truth is, while you can ruin a good steak by overcooking it, the biggest portion of success lies in the meat quality. And the cut.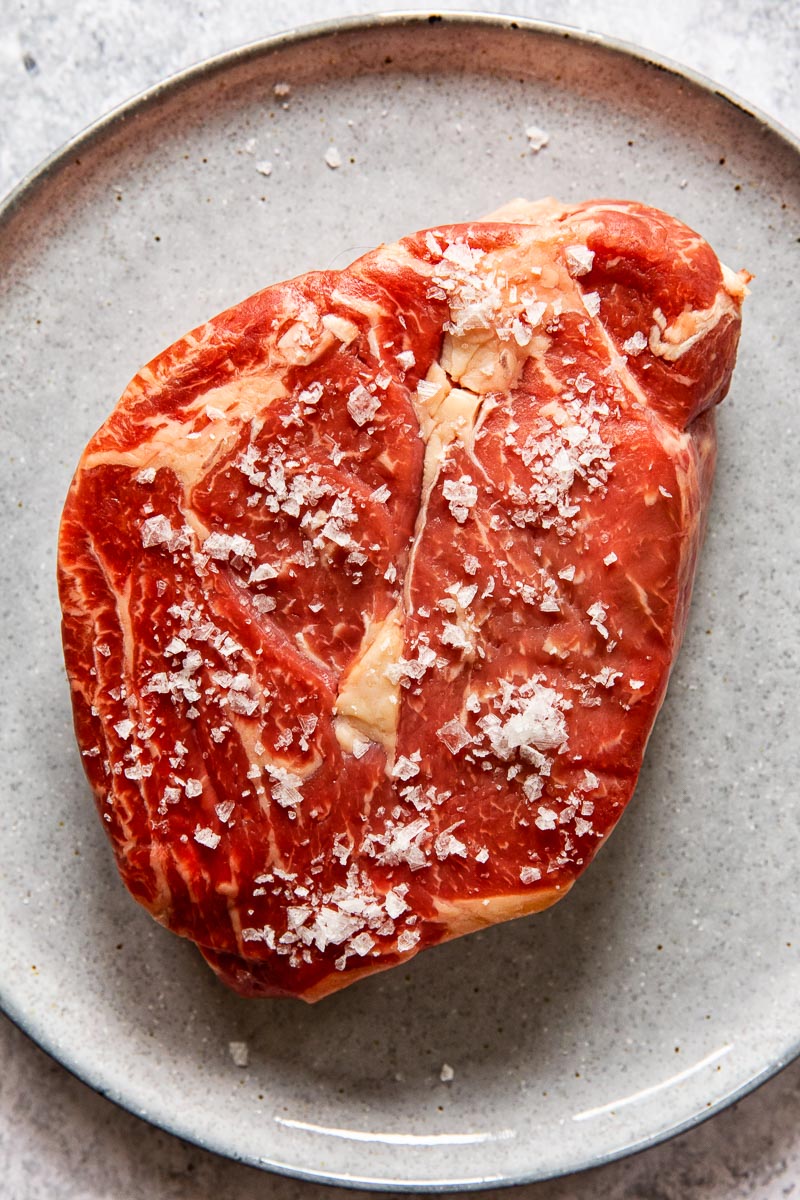 There are many cuts of steak and many of them deliver delicious albeit slightly different results. If you are after lean meat, go for sirloin steak. If you are after great texture and tenderness, fillet is your choice.
Rib-Eye Steak
However if you are after flavour, you can't go wrong with rib eye! Named after a roundish fat deposit in the center of the cut, resembling an eye, this steak delivers mind blowing result!
Tender, juicy and packed with flavour, thanks to fat marbling that runs through the entire steak, this cut of meat will never disappoint. This cut could come boneless or with a rib bone attached.
Best way to cook it
There are two main ways. You can grill your steak or you can pan fry it. They each have their pros and cons.
While grilling imparts an alluring smell of smoke to the steak, it's restricted by season, weather dependant and often simply not available to us urbanites.
Truth is you can cook your steak on a frying pan with absolutely outstanding results! Once again it's all about the meat quality and only a little bit about the cooking.
Grilling vs Pan Frying
Let's get to the method. There are certain things that apply whether you are grilling or pan frying your steak.
Take steak out of refrigerator at least 30 minutes before cooking or 1 hour for extra thick cuts.
Generously season it with salt. You can add pepper if desired but it's not essential.
Here is why those rules matter.
First of all, by bringing your steak to room temperature you are ensuring that it will cook evenly.
Secondly, salt helps to draw out the moisture from the surface, which will sear instead of steam once we get to the cooking part. It's important to dab that extra moisture with paper towel before placing the meat on a pan or a grill.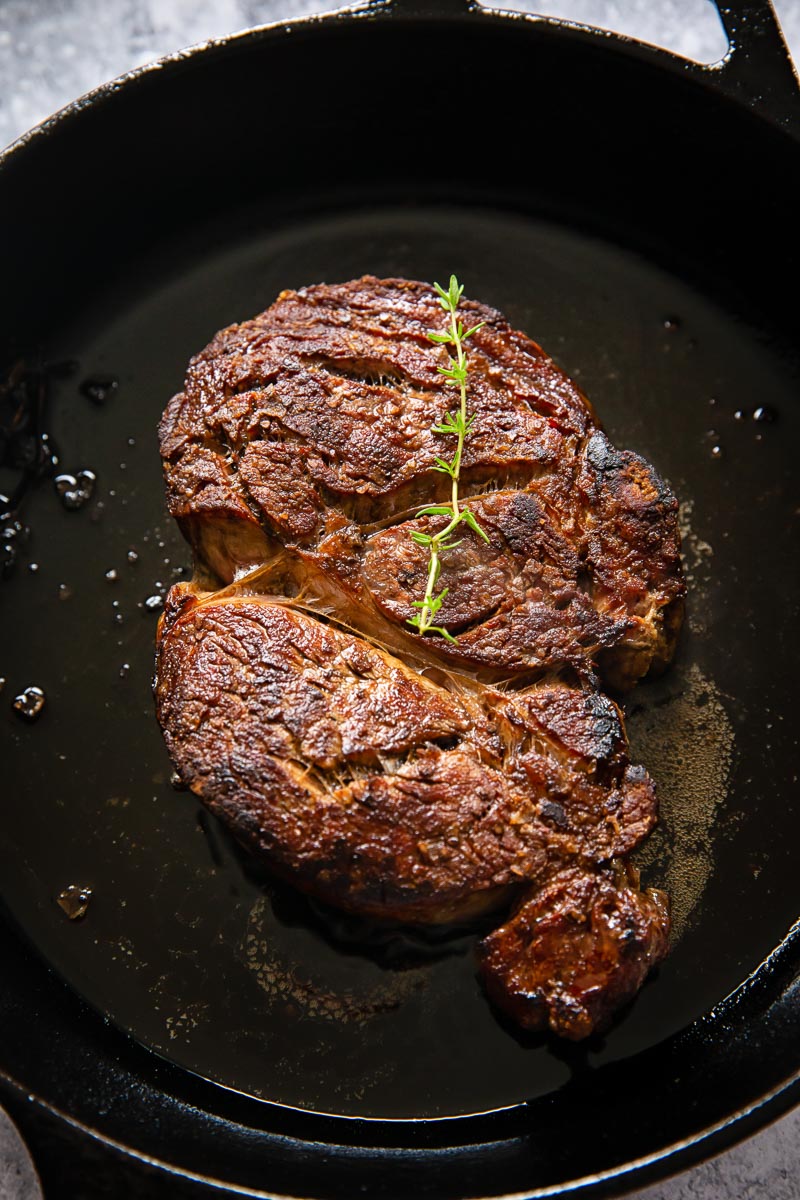 How to Cook Rib Eye in a Frying Pan
Pan frying a ribeye is very easy and delivers consistently delicious results if you follow my simple rules.
Use a cast iron pan if available and preheat it to screaming hot.
Drizzle the pan with 1 tablespoon of olive oil and a sprig of thyme or rosemary. Both add flavour.
Place the steak on the pan and do not touch for 2-2.5 minutes. This will develop a good sear.
Flip on the other side and add 2 tablespoons of butter. Baste your steak with butter.
A ribeye needs to be cooked to a medium rare to a medium to allow the fat to render and flavour the meat. If prefer your steak on a rare side, clear clear of ribeye. Nobody want a mouthful of raw fat!
On average a medium rare ribeye, which is 1.5 inch thick, will take 5-6 minutes to cook. It should register 60C/145F on your meat thermometer. Make sure to sear the fatty sides as well.
Remove from the pan to a plate and let it rest for 5-10 minutes. Then slice and serve.
For another method of cooking ribeye, take a look at the Reverse Sear Ribeye, which has gained huge popularity and diehard fans lately!
What Sauce Goes Well with Steak
There are so many steak sauces to choose from. One of my personal favourites is Creamy Cognac Mushroom Steak Sauce. Garlic Herb Butter is another winner. As much as I love them, I reserve them for colder weather.
In the summer I prefer either Argentinian Chimichurri or Sicilian Lemon and Herb Sauce Salmoriglio. It's actually very similar to the chimichurri but the flavour is more lemon forward.
This sauce is also very versatile and is absolutely delicious with fish and vegetables, the more traditional use of Salmoriglio in its native Sicily.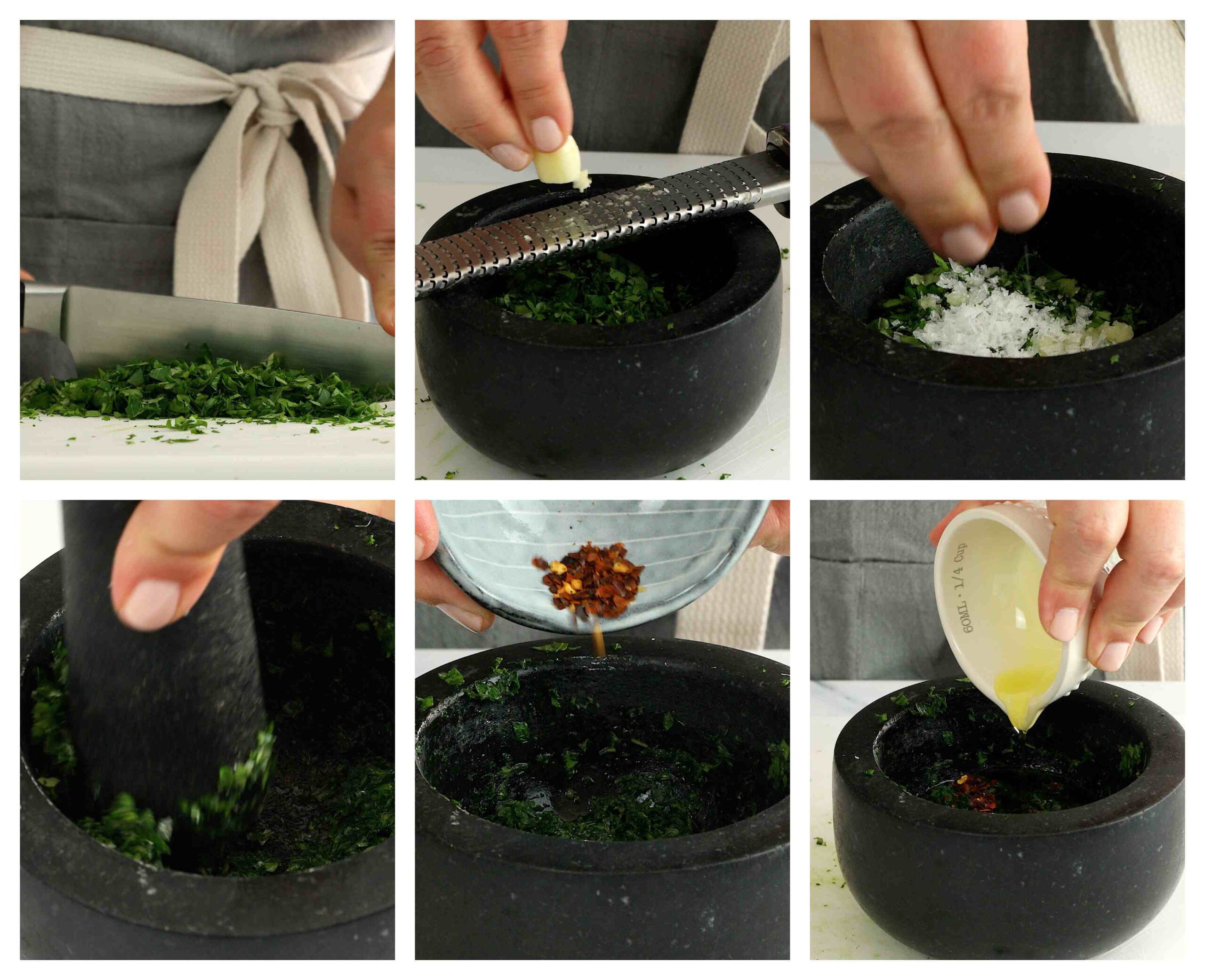 Favourite Sides for Steak Dinner: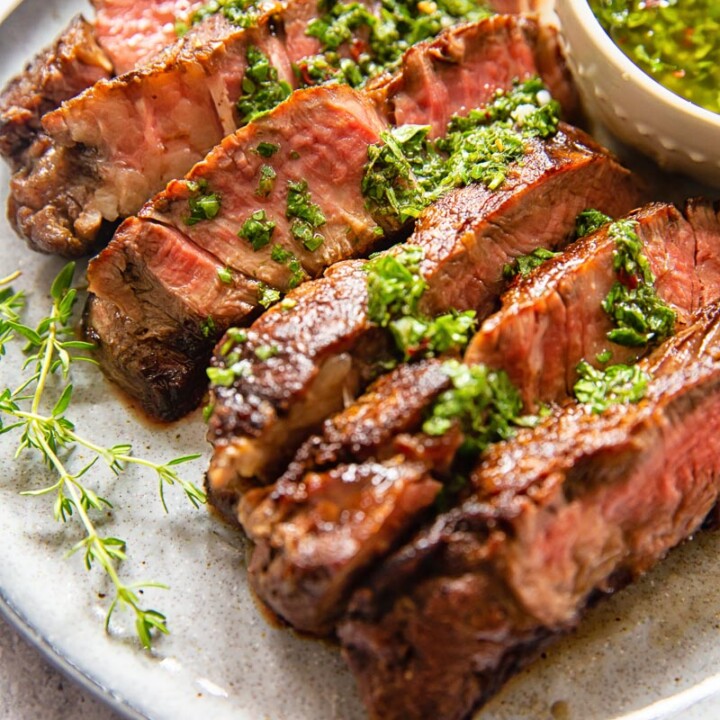 Rib Eye Steak with Sicilian Lemon Herb Sauce
Juicy and full of flavour rib eye steak is undoubtedly the king of steaks when cooked properly. Drizzle Sicilian Salmoriglio sauce aka lemon herb sauce all over yours for a taste of summer!
Ingredients
2X400g/14oz

ribeye steaks

1.5 inch thick

coarse salt

1

tbsp

olive oil

1-2

sprigs

fresh thyme or rosemary

2

tbsp

butter
For the Salmoriglio Sauce
1-2

tbsp

fresh oregano

chopped

4

tbsp

fresh parsley

chopped

1

clove

garlic

grated or pressed

0.5

tsp

coarse salt

½

lemon, juice of

2

tbsp

extra virgin olive oil

⅛

tsp

chilli flakes

optional
Instructions
Take your steak out of a fridge at least 30 minutes before cooking to come to room temperature and season with salt generously. Dab the moisture from the steaks with a paper towel right before cooking them.

Preheat a cast iron pan or another thick bottomed pan to very hot. Drizzle with olive oil and let it heat for a few seconds, then place your steaks on it, then add the fresh thyme or rosemary to the pan. (If your pan is not big enough to cook 2 steaks at the same time without overcrowding. Cook one steak at a time.)

Let your steak cook on one side for 2.5 minutes without touching. Then flip and add butter to the pan. Tilt the pan slightly away from you, scoop the melted butter with a spoon and start basting your steak for approximately 7-10 seconds. Do that a couple more times during the cooking process. Your steaks should be cooked to medium rare after 5-7 minutes depending on the thickness of the meat. The temperature should read 60C/145F when tested with meat thermometer. If your prefer your steaks well done, it should take approximately 10 minutes.

Remove your steaks to a plate and let it rest for 10 minutes. Loosely cover with foil to keep the temperature.

While the steaks are resting, make the sauce by finely chopping the herbs together. Add the chopped herbs, the grated garlic and coarse salt to a mortar and pestle and muddle together a paste. Then add the lemon juice, olive oil and stir to combine. Remove the sauce to a serving bowl and sprinkle with chilli flakes if using. Serve over steak.
Video
Notes
All timings are given based on the 400g(14oz)/1.5 inch thick ribeye steaks. If your steaks are thinner, it will take less time to cook them.
Nutrition
Calories:
568
kcal
Carbohydrates:
2
g
Protein:
41
g
Fat:
45
g
Saturated Fat:
18
g
Cholesterol:
137
mg
Sodium:
449
mg
Potassium:
573
mg
Fiber:
1
g
Sugar:
1
g
Vitamin A:
567
IU
Vitamin C:
9
mg
Calcium:
39
mg
Iron:
4
mg