Learn how to grill the juiciest tomahawk steak at home, that will rival any steakhouse offering! Don't forget to top with our garlicky herb butter for added flavour.
If you don't have access to a grill, take a look at our recipe for Ribeye steak, which is cooked in a pan.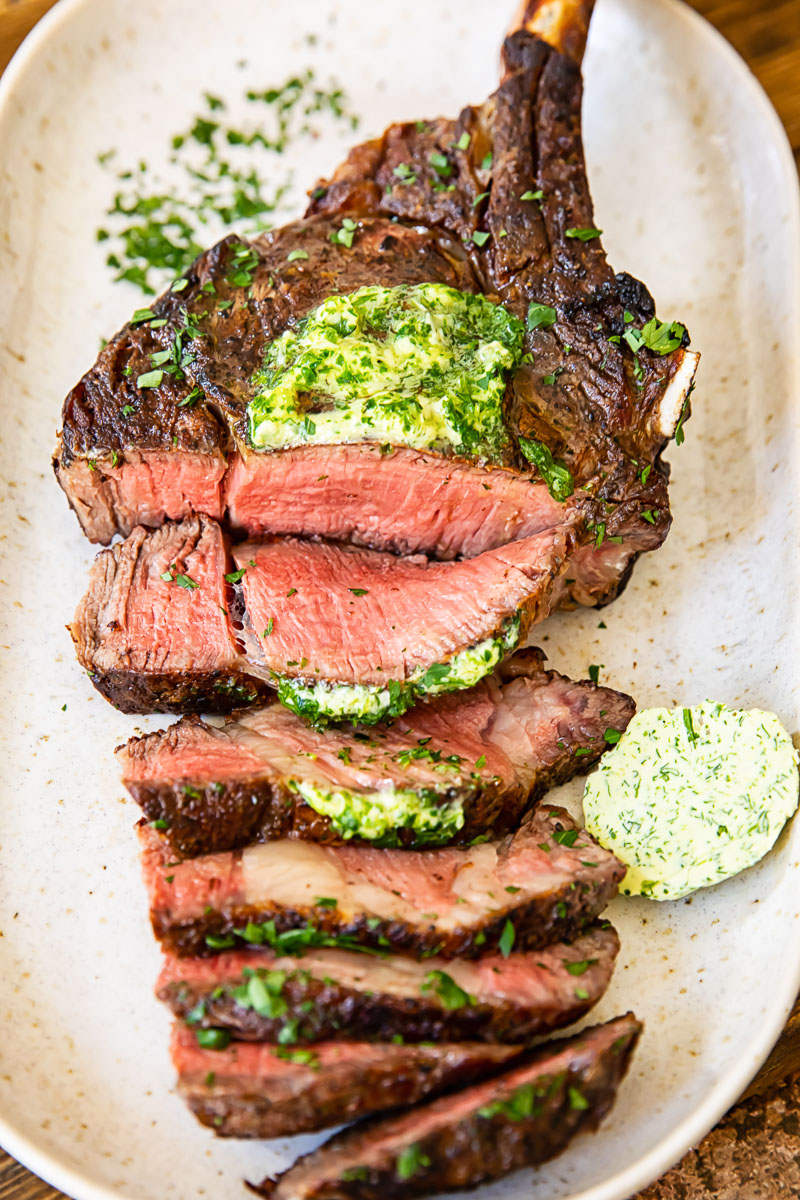 Summer grilling is one of the most exciting events for me. I wait for it all year. And with our temperatures soaring far above the usual this year, outdoor cooking has become our primary way of putting food on the table.
Grilling has got to be one of the tastiest and healthiest way of cooking but like all skills it needs to be honed. It's alright to overcook a couple of burgers while you getting the hang of it. But it would really hurt to ruin an expensive piece of meat like tomahawk steak.
Not to worry, I've done lots of testing, so you don't have to. Here are my best tips.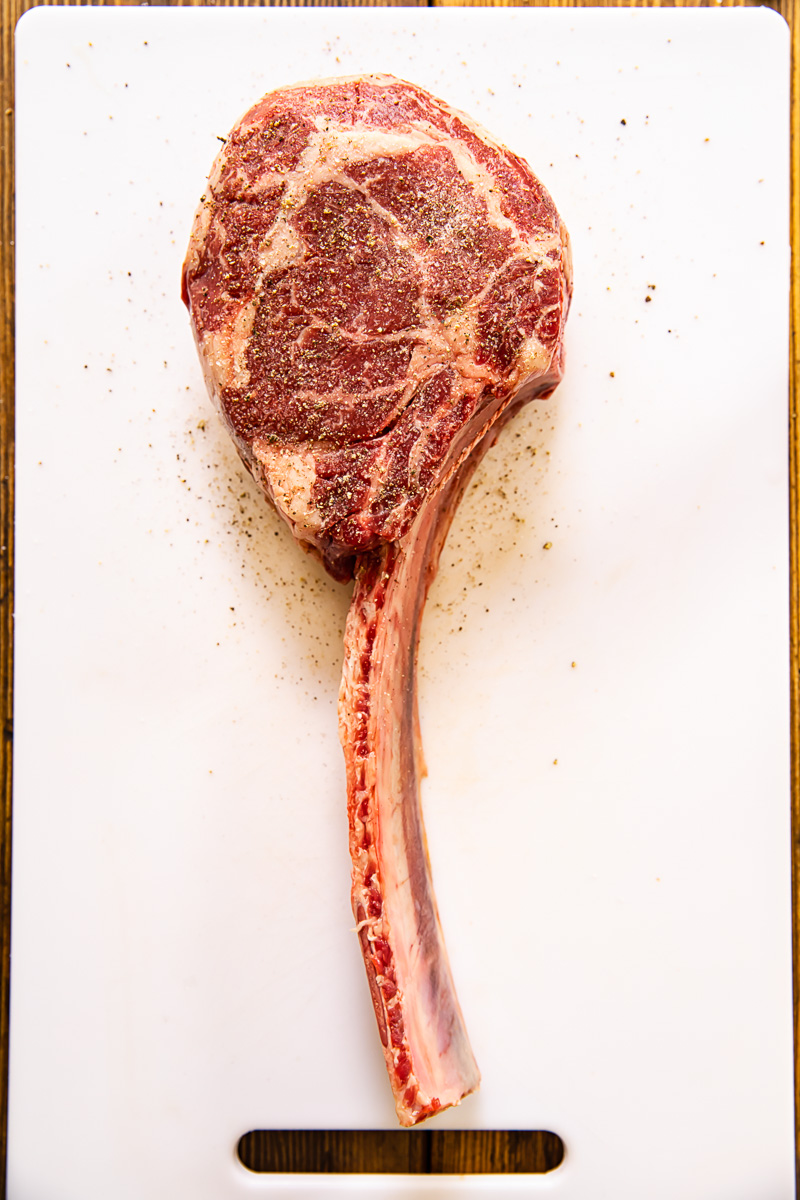 What cut of beef is tomahawk steak?
Despite its intriguing appearance, the tomahawk steak is no different than the famous ribeye but with the rib bone still attached.
It comes from the beef rib and is considered one of the most succulent, and therefore tastiest cuts. Another famous piece of beef, which comes from the same place, is the Prime Rib (aka Rib of Beef), which many people enjoy at Christmas.
Not only does this steak have an impressively long bone attached but it is also at least 2 inches thick. This baby can feed a family!
As impressive as these steaks are, they could also be very intimidating to cook. However, let me remind you that this is a prime cut of meat.
People are often worried about grilling steaks and getting it just right while in reality the quality of meat is what really matters. You can do all the right things to a cheap cut and it will still taste tough.
On the contrary, it's difficult to mess up a ribeye. It's the cut that is inherently tender, juicy and flavourful. All you have to do is to decide what level of doneness is your favourite, buy yourself a meat thermometer and follow my tips below.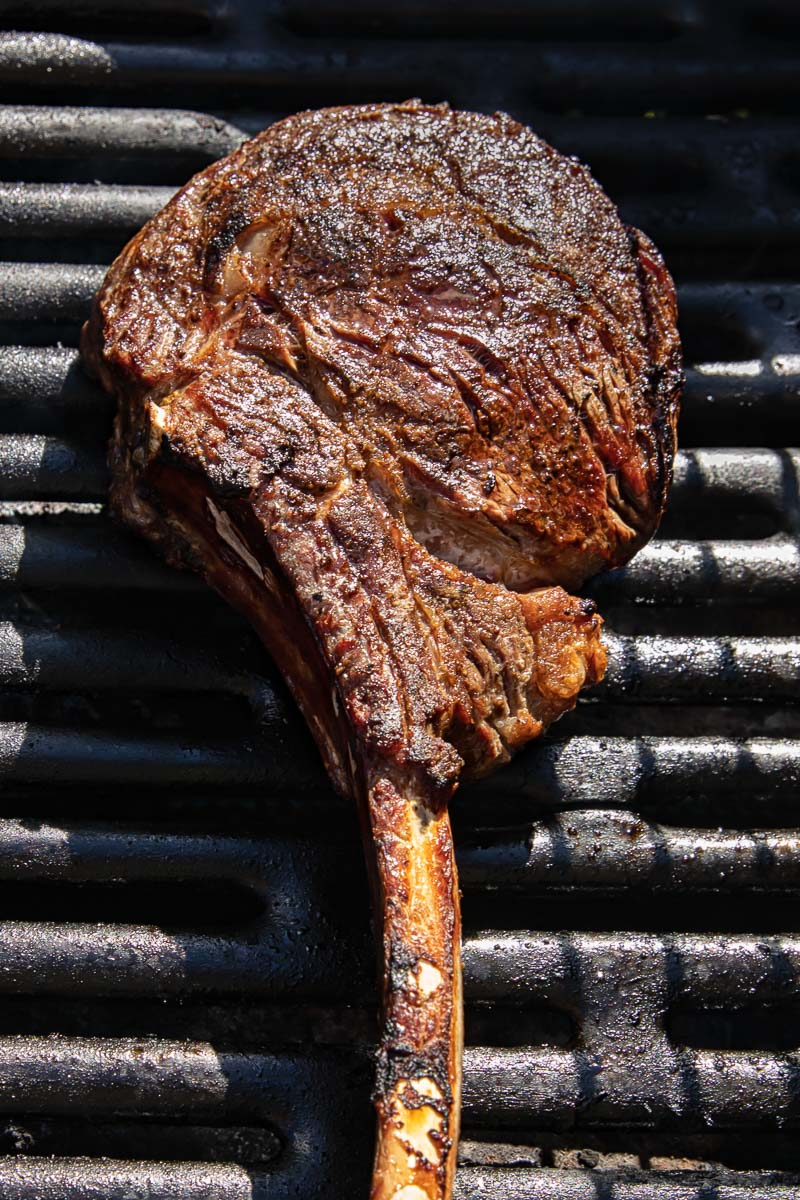 Recipe Tips and Notes
Take the steak out of the fridge an hour before grilling, so it would come to room temperature. This helps with even cooking.
Generously season with salt and pepper. Don't forget to pat the steak with paper towel before grilling as the salt will draw out moisture.
Tomahawk is a very large steak. To grill it perfectly you will need to start grilling it on direct heat to develop nice crust but once that's done, move it to indirect heat. This will cook the interior of the steak without burning the outside.
How long you cook the steak on the indirect heat will depend on the degree of doneness you prefer. I like mine medium rare and it takes 10 minutes for a 35 oz steak.
Getting an instant read meat thermometer is the easiest way to ensure your beef is always perfectly cooked. Why guess when you can know for certain!

The internal temperature of medium cooked steak is 57C/135F and 54/130F for medium rare.

Finally, do rest your steak for 10 minutes before slicing. It will be much juicier if you wait!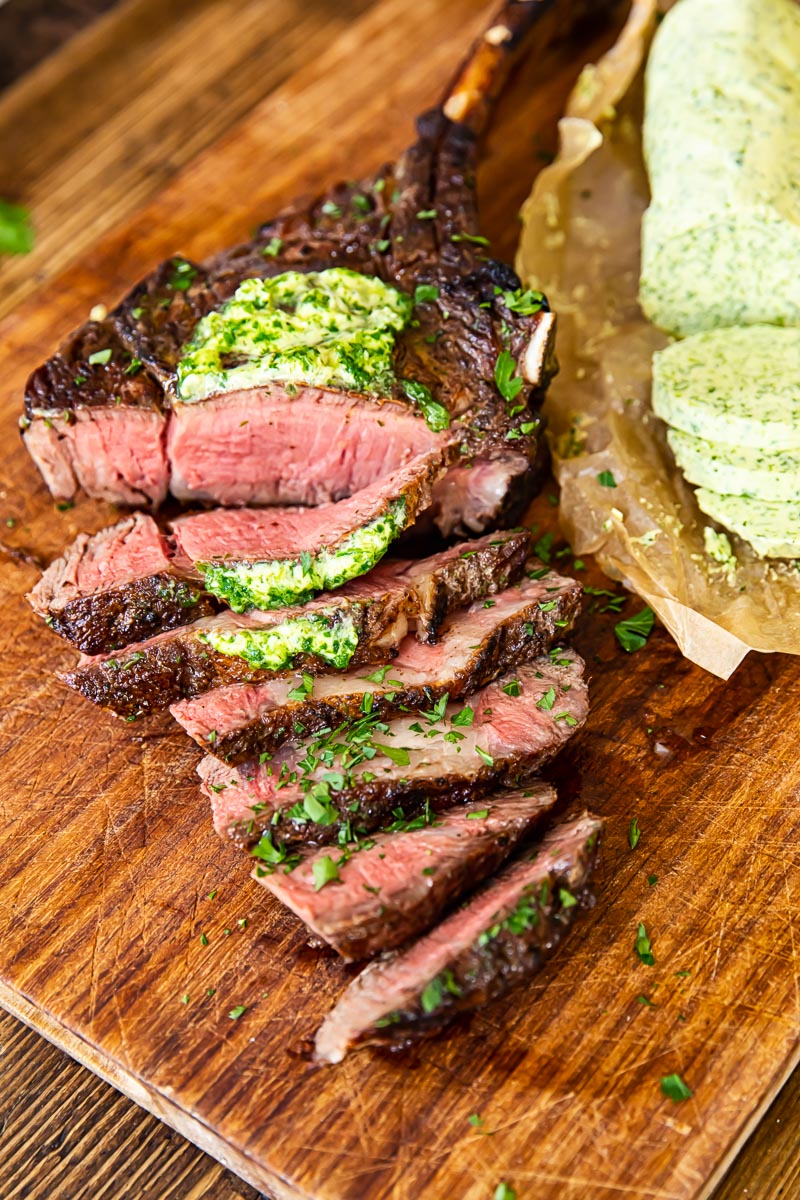 Steak Sauce Options
In my personal opinion it's a travesty to eat a steak with a sauce. That is why I have several recipes on my website. My personal favourite is Bearnaise Sauce. It's classic and it's incredibly delicious!
However, what I am suggesting to serve with my tomahawk steak is herb butter. I like blending good quality butter with a variety of soft herbs like parsley, dill and green onions.
And although green onion is not technically a herb, it add nice touch of heat to this butter. I also like to add a touch of garlic, either fresh or roasted.
Steak Sauce Recipes to Try: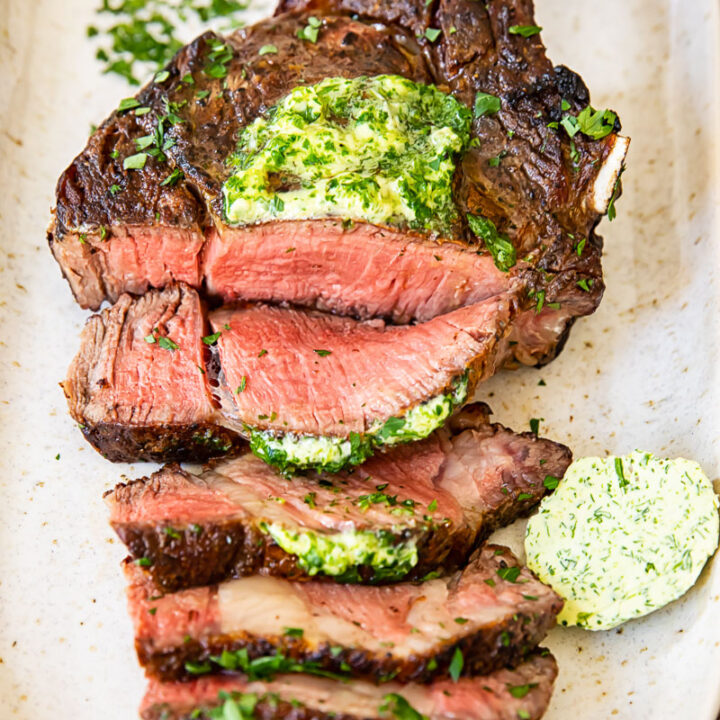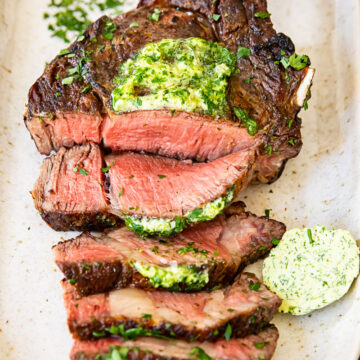 Grilled Tomahawk Steak with Herb Butter
Learn how to grill the juiciest tomahawk steak at home, that will rival any steakhouse offering.
Ingredients
For Herb Butter
250g/8 oz

butter, softened

salted or unsalted

30g/1 oz

fresh herbs (mix of parsley, dill and and green onions)

2

cloves

garlic
For the Steak
1X35 oz

tomahawk steak

salt and pepper
Instructions
Prepare the herb butter by mixing together softened unsalted or salted butter, minced garlic and fresh herbs.This could be done in a bowl with a fork or in a food processor for a finer textured butter.

Scrape the herb butter onto a sheet of parchment or waxed paper, roll it up and twist the ends. Refrigerate till firm.

Take the steak out of the fridge at least one hour before cooking, so it would come to room temperature. Season with coarse salt and pepper. Preheat the grill to 200C/400F.

Dab the moisture off the surface of the steak with paper towel before placing it on the grill. Grill the steak on direct heat, covered for 4-5 minutes on each side until the steak develops a nice crust. Make sure you get the sides as well as it's a very thick steak. You can do a 45 degree turn after a couple of minutes to get nice grill marks. Then move it to indirect heat and cook for approximately 10 minutes until the internal temperature registers 57C/135F for medium and 54/130F for medium rare. Take it off the grill, cover with foil and let it rest for 10 minutes before slicing. Serve with herb butter.
Nutrition
Calories:
621
kcal
Carbohydrates:
1
g
Protein:
50
g
Fat:
47
g
Saturated Fat:
23
g
Polyunsaturated Fat:
2
g
Monounsaturated Fat:
20
g
Trans Fat:
0.5
g
Cholesterol:
182
mg
Sodium:
803
mg
Potassium:
685
mg
Fiber:
0.1
g
Sugar:
0.04
g
Vitamin A:
552
IU
Vitamin C:
3
mg
Calcium:
26
mg
Iron:
4
mg