It's always great to have a few sauce recipes under your sleeve when a grilling season is around the corner. My mushroom steak sauce is quick and seriously delicious!
If you are a mushroom fan, you will love this Mushroom Stroganoff recipe!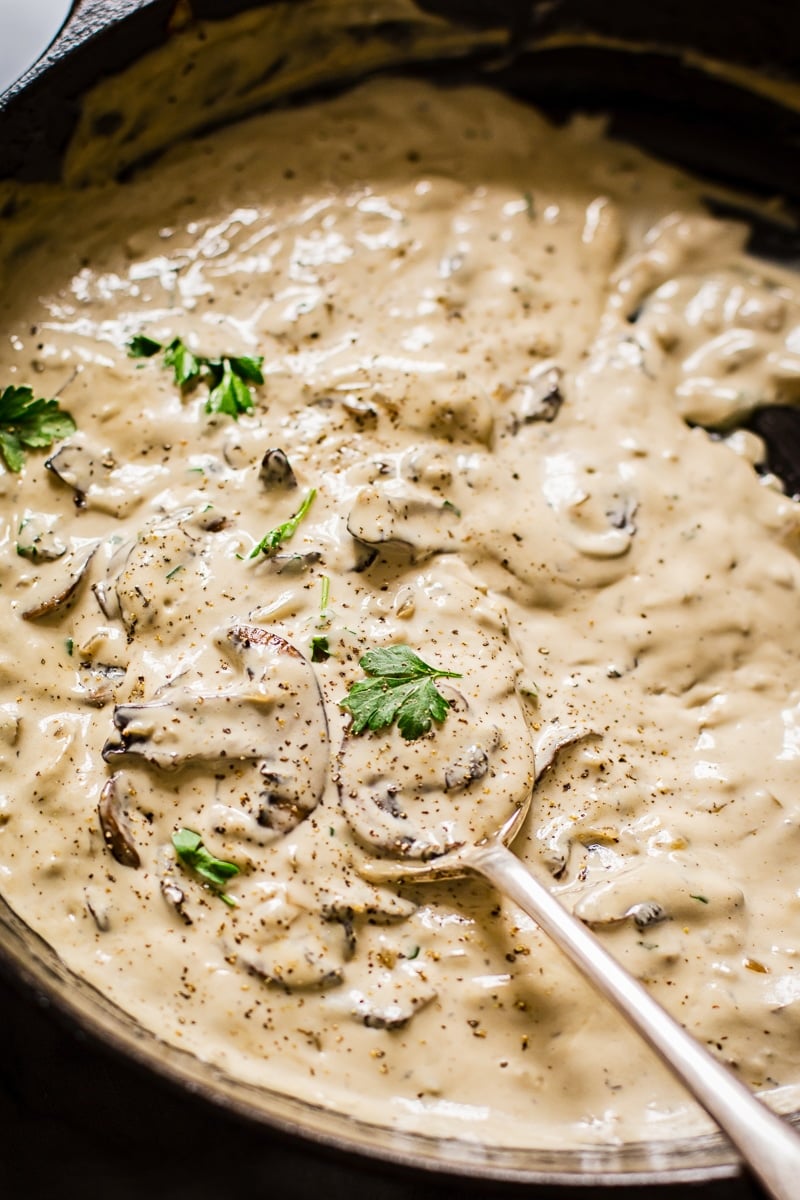 You might think I am mushroom obsessed and you will be right. I have an insane amount of mushroom recipes on this blog and I have no plans of stopping now.
I grew up eating mushrooms and have always been the biggest, the most devoted fan and so has my husband. We are currently working on our kids although they remain unconvinced that "shrooms aren't evil".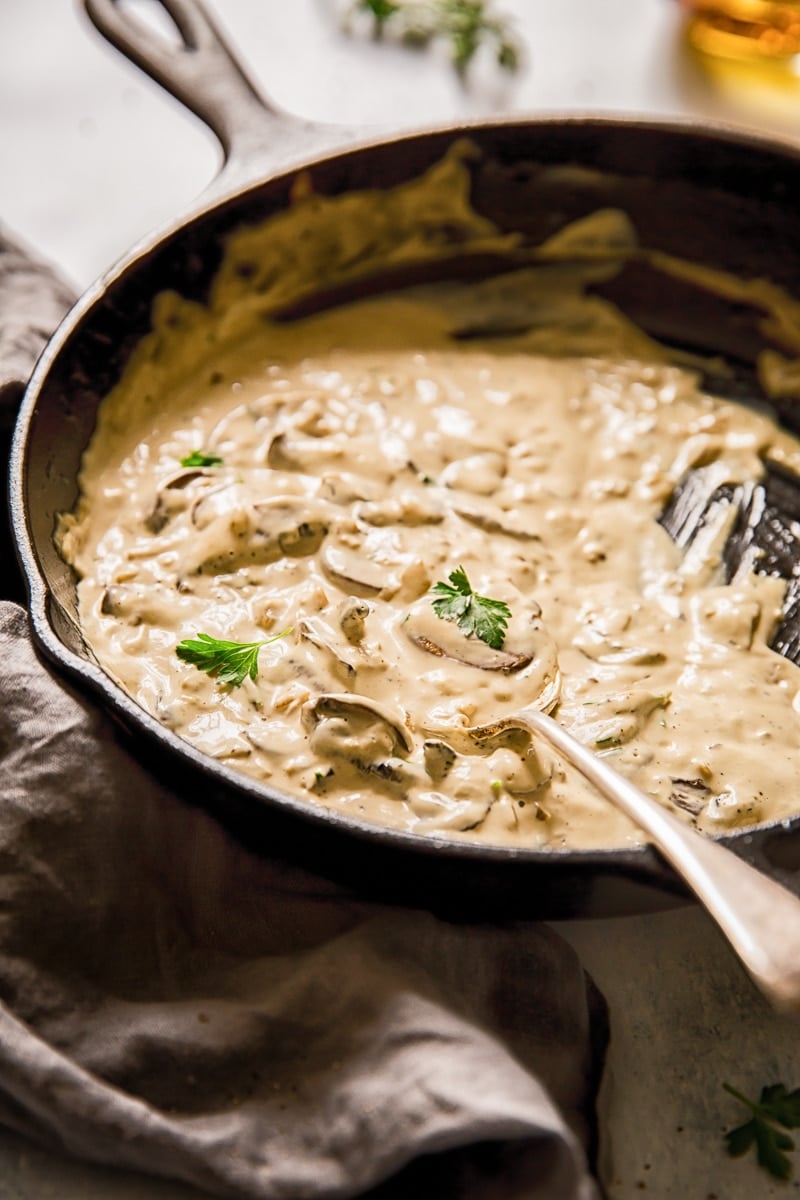 Because of my extensive mushrooms "experience" 😉 I wanted to share one of my favourite sauces. This creamy mushroom sauce goes brilliantly with pretty much anything but especially steak!
The grilling season is upon up and it's a matter of extreme importance to have several sauces for your grilled meats.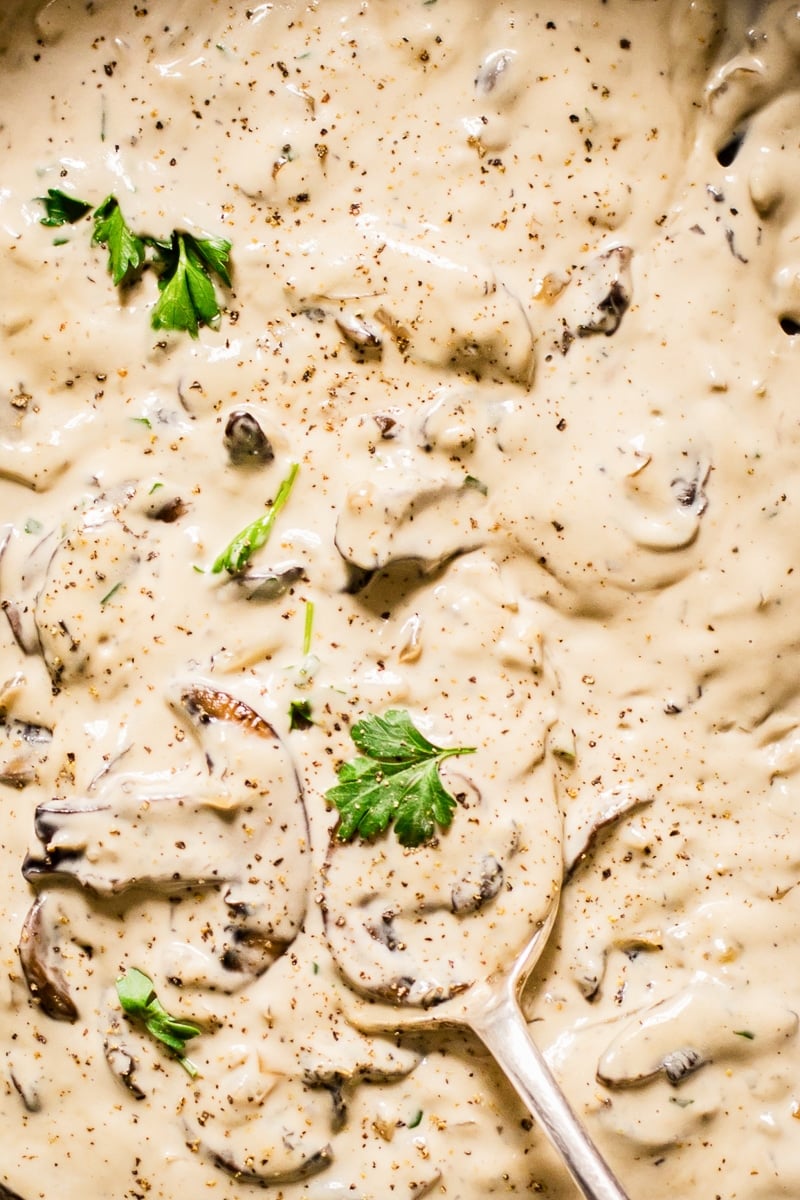 How do you make a mushroom sauce for steak?
This particular mushroom steak sauce is quite luxurious as it's made with cream and a good splash of cognac for extra flavour. You can always use brandy or even whiskey if you don't have cognac available.
I've had just a tiny drop left from Christmas and it went right into this delicious mushroom steak sauce.
You might not think adding a bit of booze makes much of a difference but it truly does. It deepens the flavour, and in this case cognac added a touch of sweetness to the sauce.
No, it will not taste of alcohol and it is not harmful for children considering what minute amount they would ingest.
Now let's talk about mushrooms.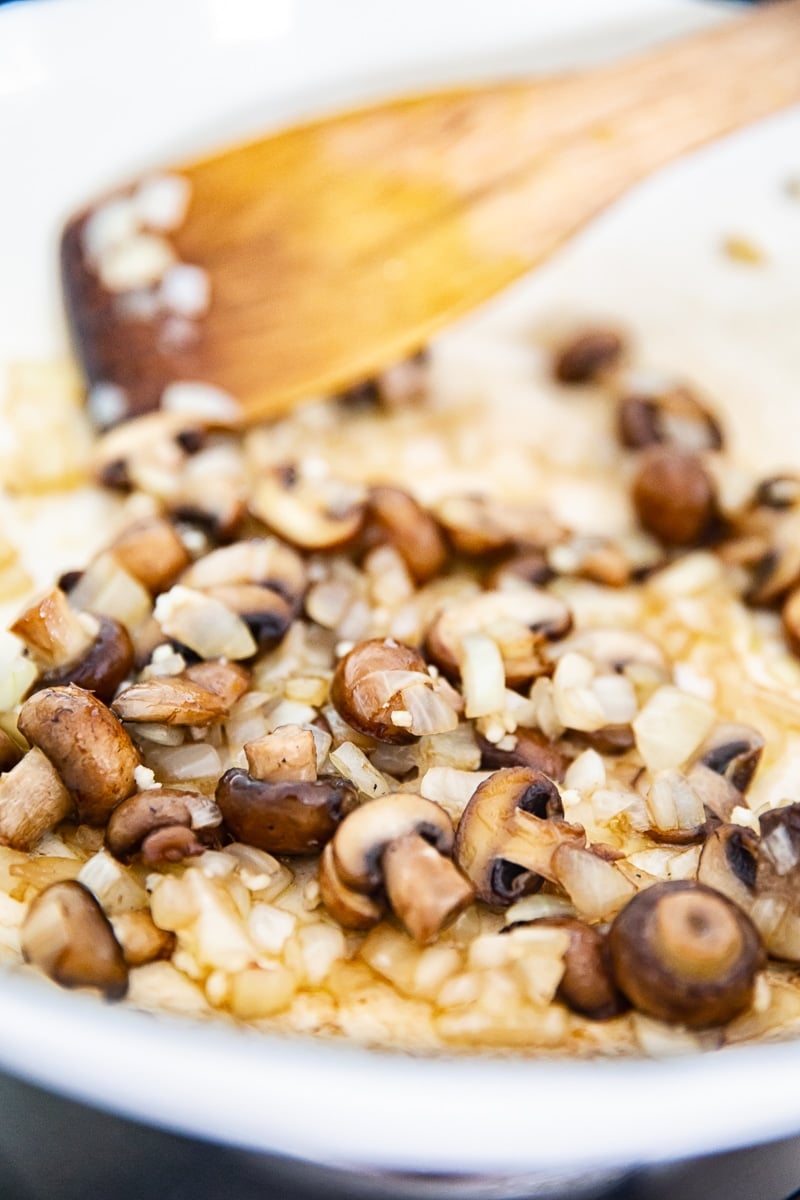 How to get the most flavour out of mushrooms for the steak sauce?
Here are my tips!
Choose mushrooms that have more flavour…chestnut mushrooms, portobello or shiitake.
Mushrooms need to be browned, not simply sautéed. You will want to see some colour on them.
Use butter or extra virgin olive oil for cooking.
Choose a herb you love and add it to your mushrooms for a beautiful flavour pairing.
Don't forget salt and pepper and don't be shy!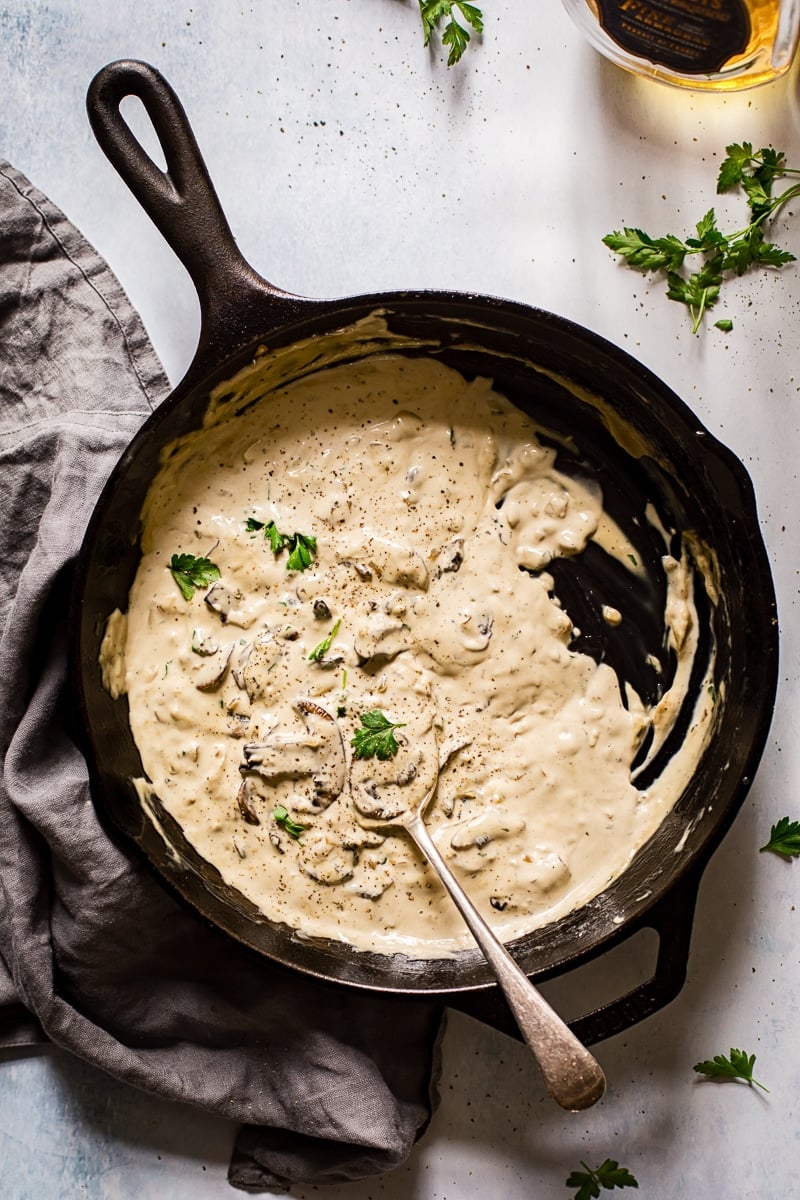 More mushroom recipes: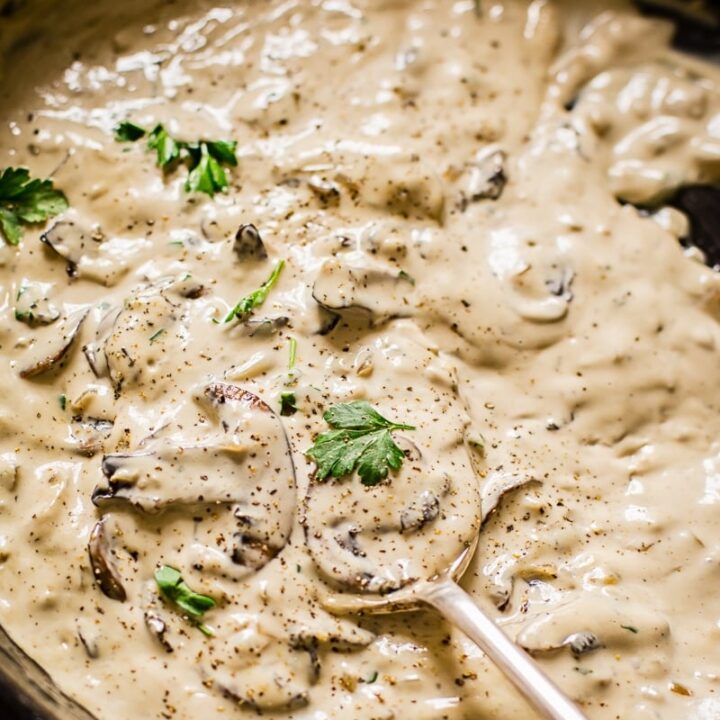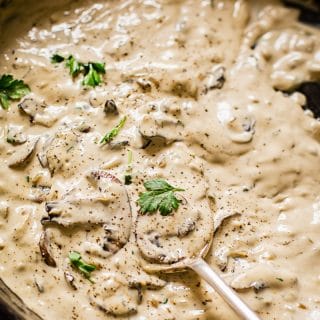 Creamy Cognac Mushroom Steak Sauce
Mushroom sauce with cream and a touch of cognac.
Ingredients
2

tbsp

butter

½

onion

medium

2 cups/ 200g

chestnut mushrooms

1

clove

garlic

2

tbsp

cognac

or brandy

1 cup/250ml

heavy cream/double cream

2

tbsp

creme fraiche

optional

salt

to taste

pepper

to taste

1

tsp

flat leaf parsley

chopped
Instructions
In a small skillet melt the butter and add sliced mushrooms with a pinch of salt, brown over medium heat to get some colour on them. (If mushrooms release too much liquid and are steaming instead of browning, turn up the heat.)

Once mushrooms are browned turned the heat to low and add finely chopped onions, (add 1 tbsp of butter if the skillet is too dry) and cook the onions for 10 minutes until they are limp and translucent, stir once in a while to prevent burning. (Don't rush this step, it's important that the onions are fully cooked.) Then add minced garlic and stir fry for 30 seconds.

Pour in cognac or brandy and let it bubble for 1-2 minutes, then add cream, creme fraiche if using, salt, pepper and chopped parsley, stir and let it simmer for a few minutes. Taste and adjust seasoning if needed.

Serve with steak, chicken, pork chops or roasted vegetables.
Nutrition
Calories:
120
kcal
Carbohydrates:
3
g
Protein:
1
g
Fat:
9
g
Saturated Fat:
6
g
Cholesterol:
28
mg
Sodium:
61
mg
Potassium:
181
mg
Sugar:
1
g
Vitamin A:
325
IU
Vitamin C:
1.2
mg
Calcium:
21
mg
Iron:
0.1
mg