It's always great to have a few sauce recipes under your sleeve when a grilling season is around the corner. My mushroom steak sauce made with a splash of cognac is quick and seriously delicious!
If you are a mushroom fan, you will love this Mushroom Stroganoff recipe!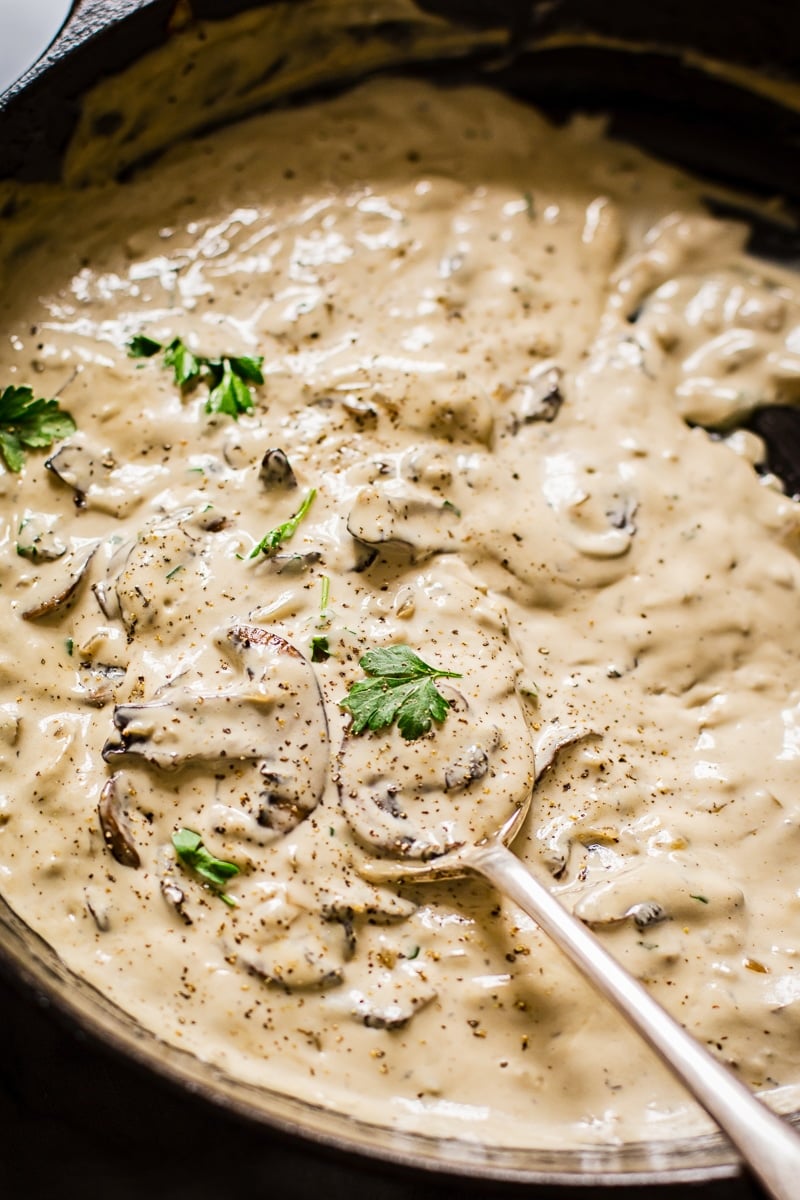 You might think I am mushroom obsessed and you will be right. I have an insane amount of mushroom recipes on this blog and I have no plans of stopping now.
I grew up eating mushrooms and have always been the biggest, the most devoted fan. Although they are easy to underestimate, they bring a satisfying earthiness to all sorts of recipes in a deliciously subtle way.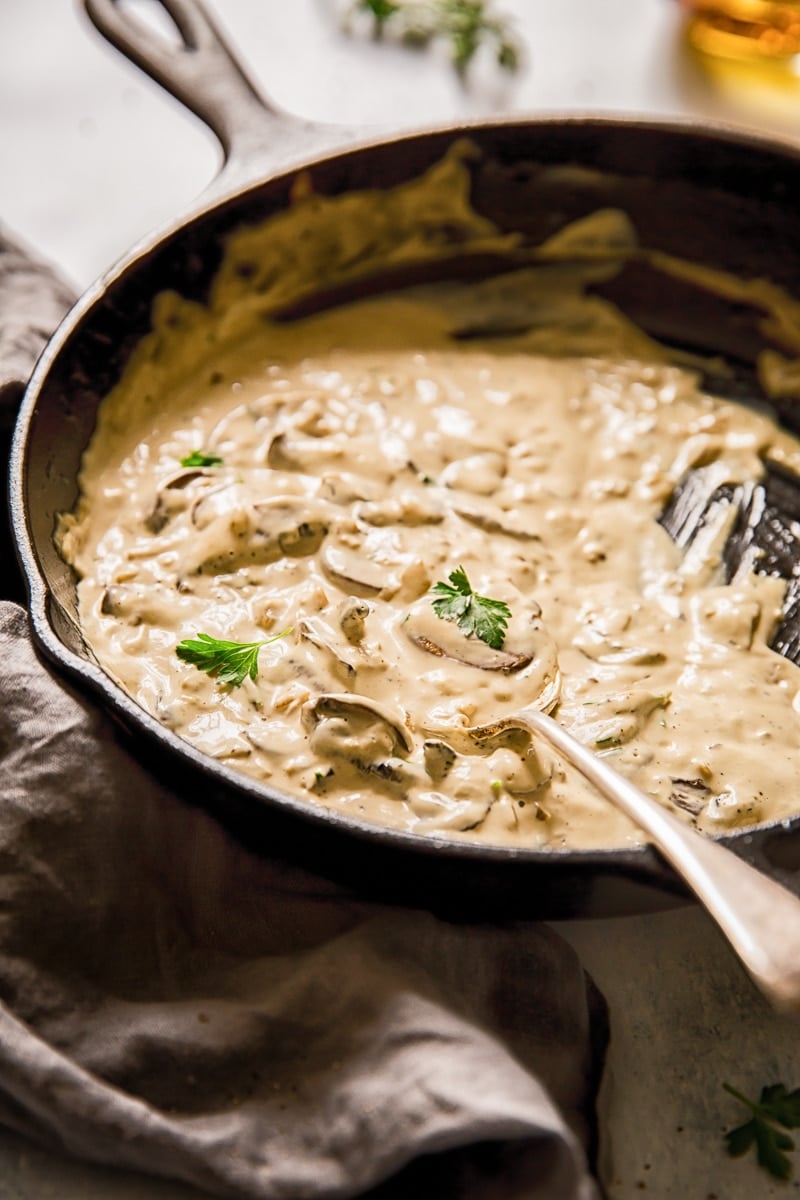 Because of my extensive mushrooms "experience" 😉 I wanted to share one of my favourite sauces. This creamy mushroom sauce goes brilliantly with pretty much anything but especially steak!
The grilling season is upon us and it's a matter of extreme importance to have several sauces for your grilled meats. This is one of the best, creamy and savoury in a way that brings out the best in red meat.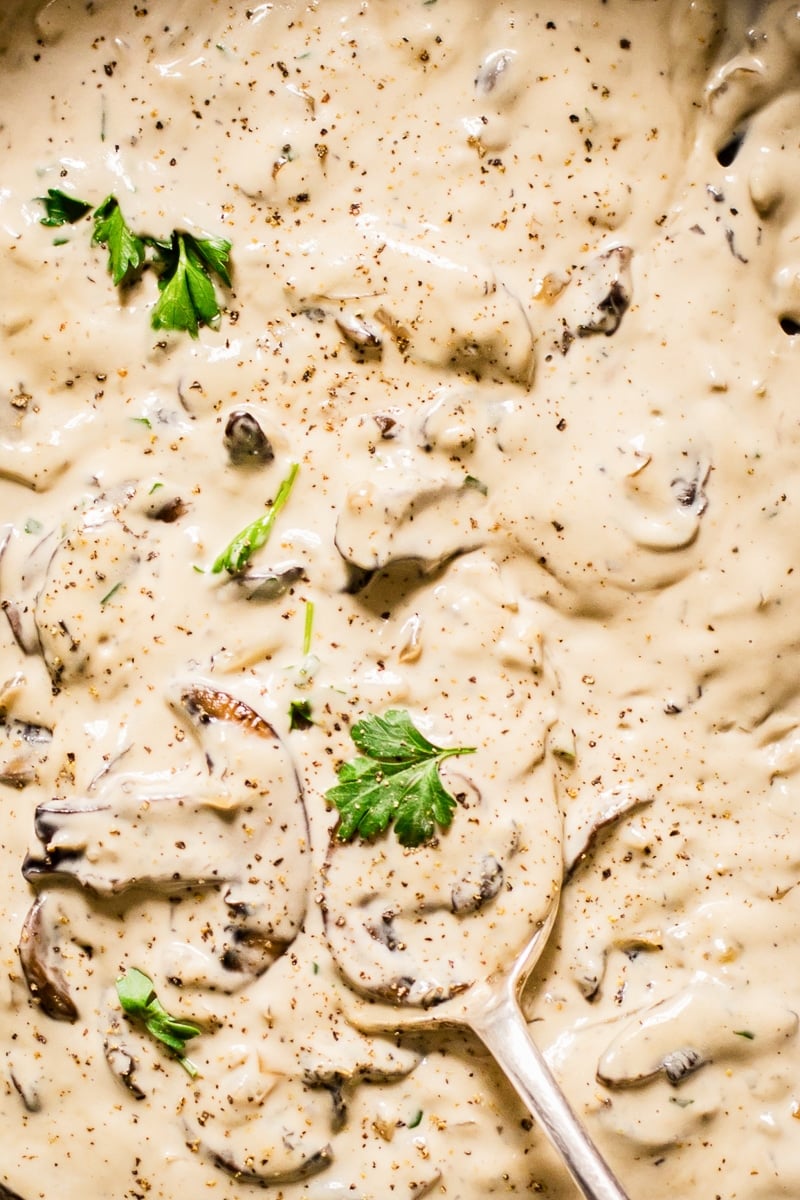 Mushroom sauce for steak
This particular mushroom steak sauce is quite luxurious as it's made with cream and a good splash of cognac for extra flavour. You can always use brandy or even whiskey if you don't have cognac available.
I've had just a tiny drop left from Christmas and it went right into this delicious mushroom steak sauce. You might not think adding a bit of booze makes much of a difference but it truly does.
It deepens the flavour, and in this case cognac added a touch of sweetness to the sauce. And no, it will not taste of alcohol and it is not harmful for children considering what minute amount they would ingest.
Now let's talk about mushrooms.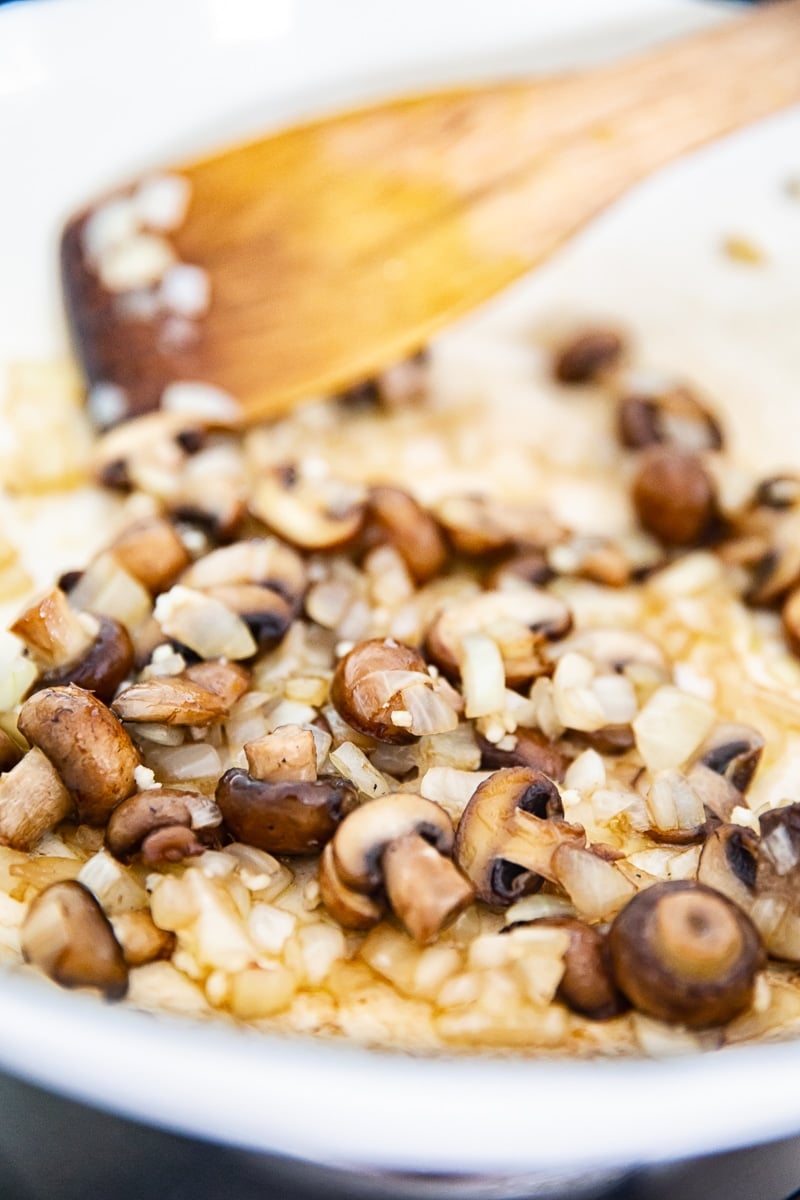 Flavour from mushrooms
Mushrooms are very easy to cook. They add add a lot of flavour to almost any dish and are very forgiving of mistakes made along the way. But that doesn't mean that we can't make them even better!
So how do you get the most flavour out of mushrooms? Here are my tips!
Choose mushrooms that have more flavour, such as chestnut mushrooms, portobello or shiitake. Regular button mushrooms are cheap and plentiful, but while they can be used in a recipe like this, they just aren't as flavourful.
Mushrooms need to be browned, not simply sautéed. You will want to see some colour on them. Do this by turning the heat up and waiting until they are almost done cooking to add salt. Salt causes moisture to be released from the mushrooms, so adding it too early will stop the from browning properly.
Use butter or extra virgin olive oil for cooking. Mushrooms absorb fat very well and quickly, so make sure there is enough in the pan to prevent burning.
Choose a herb you love and add it to your mushrooms for a beautiful flavour pairing.
Don't forget salt and pepper and don't be shy (noting what I said above about waiting till near the end to add salt)!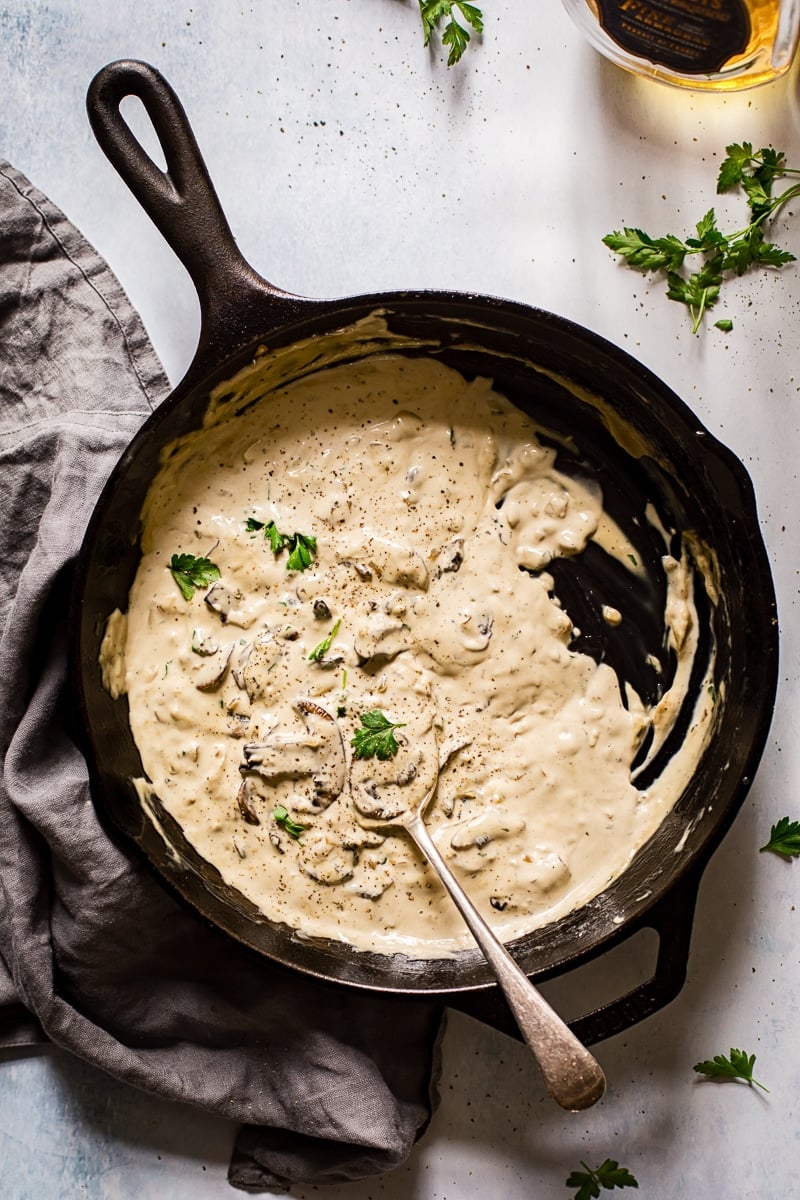 Serving suggestions
As you will have noticed already, this sauce was created with steak in mind. I had it over a steak straight from the barbecue and immediately fell in love!
But it's perfectly versatile and will love almost any red meat you can throw at it. I've served it with roast beef, prime rib, pork tenderloin and pork chops with great success.
It's also unbelievably delicious when poured over potatoes, especially roasted or fried potatoes, or almost any roasted vegetable. Perhaps something to try for your next roast dinner?
Substitutions
Cognac is an especially tasty variety of brandy, and other types will work just fine. If you really can't find brandy, it is possible to use sherry, madeira or even whiskey.
Creme fraiche has a light tang that is perfect for this sauce but it can be substituted with sour cream or the same amount of heavy cream and 1 tbsp of fresh lemon juice.
Shallots will work just as well as onions in this recipe.
Storage and leftovers
I don't recommend freezing recipes made with ingredients like creme fraiche because it has a tendency to separate when frozen.
It does store well in the fridge when kept in an airtight container for up to 5-7 days. The sauce can be reheated in a microwave or over gentle heat in a saucepan.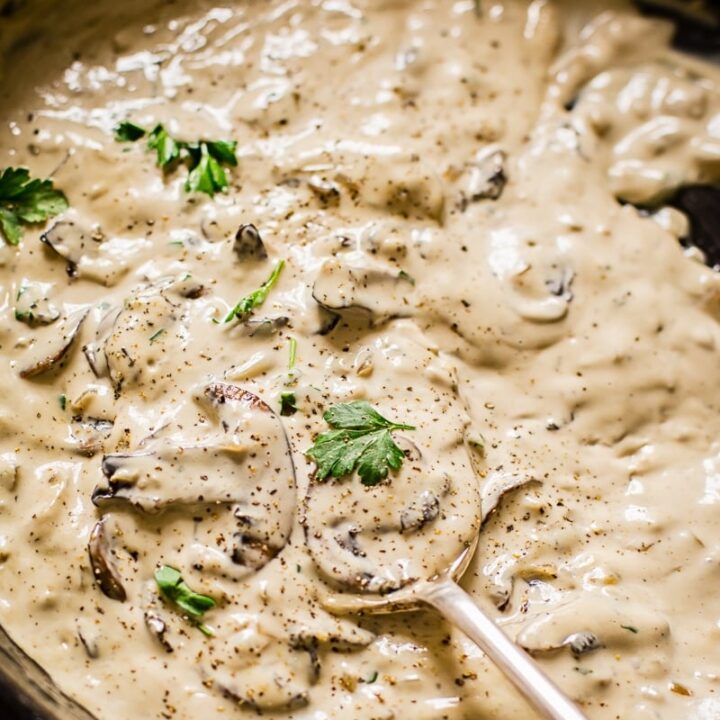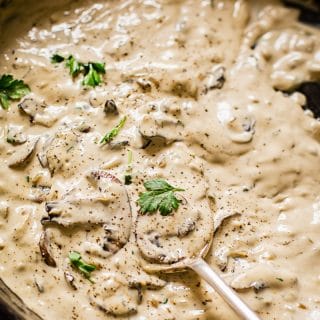 Creamy Cognac Mushroom Steak Sauce
Mushroom sauce with cream and a touch of cognac.
Ingredients
2

tbsp

butter

½

onion

medium

2 cups/ 200g

chestnut mushrooms

1

clove

garlic

2

tbsp

cognac

or brandy

1 cup/250ml

heavy cream/double cream

2

tbsp

creme fraiche

optional

salt

to taste

pepper

to taste

1

tsp

flat leaf parsley

chopped
Instructions
In a small skillet melt the butter and add sliced mushrooms, brown over medium heat to get some colour on them. (If mushrooms release too much liquid and are steaming instead of browning, turn up the heat.) Add a pinch of salt and pepper once they are nearly browned.

Once mushrooms are browned turned the heat to low and add finely chopped onions, (add 1 tbsp of butter if the skillet is too dry) and cook the onions for 10 minutes until they are limp and translucent, stir once in a while to prevent burning. (Don't rush this step, it's important that the onions are fully cooked.) Then add minced garlic and stir fry for 30 seconds.

Pour in cognac or brandy and let it bubble for 1-2 minutes, then add cream, creme fraiche if using, salt, pepper and chopped parsley, stir and let it simmer for a few minutes. Taste and adjust seasoning if needed.

Serve with steak, chicken, pork chops or roasted vegetables.
Nutrition
Calories:
120
kcal
Carbohydrates:
3
g
Protein:
1
g
Fat:
9
g
Saturated Fat:
6
g
Cholesterol:
28
mg
Sodium:
61
mg
Potassium:
181
mg
Sugar:
1
g
Vitamin A:
325
IU
Vitamin C:
1.2
mg
Calcium:
21
mg
Iron:
0.1
mg