A clever blend of chestnut mushrooms and earthy dried mushrooms gives this soup a complex and delicious flavour. A small dash of cream adds a silky smooth texture that will delight and satisfy the pickiest of mushroom soup lovers.
Also check out this Chicken and Dumpling Soup if you are a soup fan!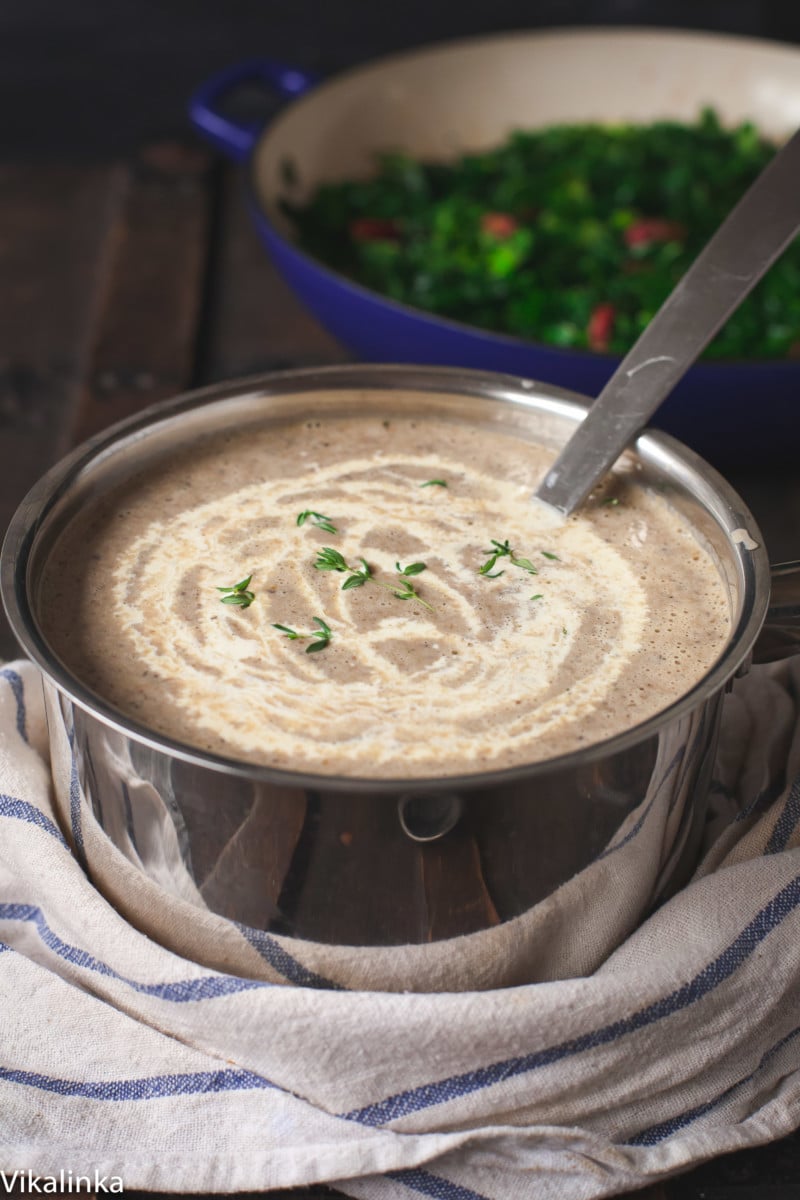 I grew up eating mushroom soups as my mom is the biggest mushroom fan I know. We always went mushroom picking as a family when I was younger, so I am used to wild mushroom flavours.
The soup my mom made was quite a bit chunkier and I remember struggling the the texture of cooked mushrooms as a young child. She didn't add cream to the soup but always served it with a dollop of sour cream on top. For my version I blend the soup for a silky smooth texture and add just a small amount of cream.
How do you make creamy mushroom soup?
There is no need to buy canned cream of mushroom soup as making it at home is simple with the end result being much tastier, healthier and quite a bit cheaper.
Mushrooms have their own distinct flavour but they also absorb all the flavours around them due to their spongy nature. If you add all the right herbs and seasoning to your mushrooms, you will be left with a restaurant quality soup.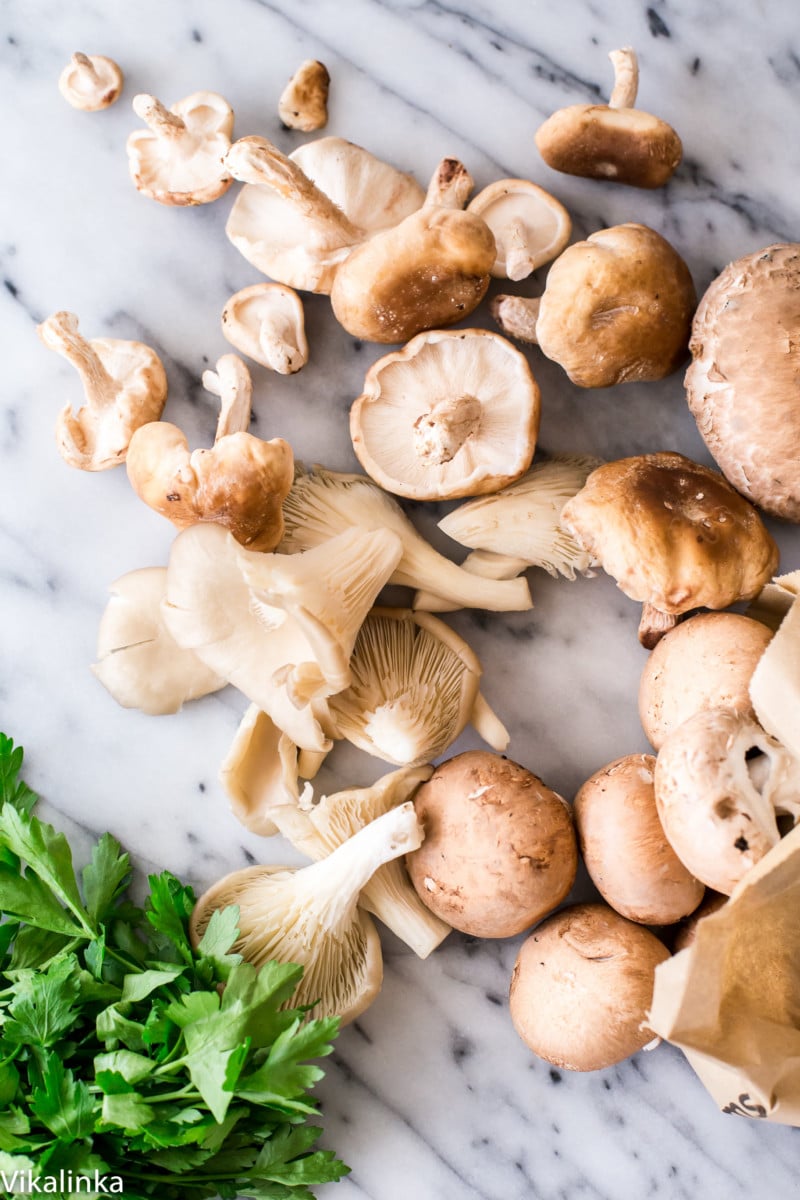 What mushrooms should I use in a soup?
The key to a flavourful soup lies in the mushrooms used. You can of course buy white button mushrooms, then add thyme, parsley or herbs of your choice and end up with a very tasty soup.
But if you want to up the flavour, try a different variety like portobello mushrooms, crimini mushrooms or porcini. The latter ones are harder to find fresh, unless you are into mushroom picking. However, dried porcini mushrooms are available in most supermarkets.
They don't look like much and they smell a bit too strong but don't let those things deter you from using them. Once reconstituted in hot water, they will give you the most delicious, deep flavoured broth, that will become the foundation of your soup.
Serving Suggestions
Mushroom soup is lovely on its own with a slice of good crusty bread but it could also be used in a variety of dishes. It could be used as a delicious sauce for:
pasta
chicken, pork chops, steak
as a base for the famous green bean casserole
for various rice and pasta bakes
The possibilities are endless!
Can I freeze homemade cream of mushroom soup?
Absolutely! My suggestion would be to double the recipe and freeze the leftovers in an airtight container for up to 2 months. Then defrost and use as is or in various recipes mentioned above.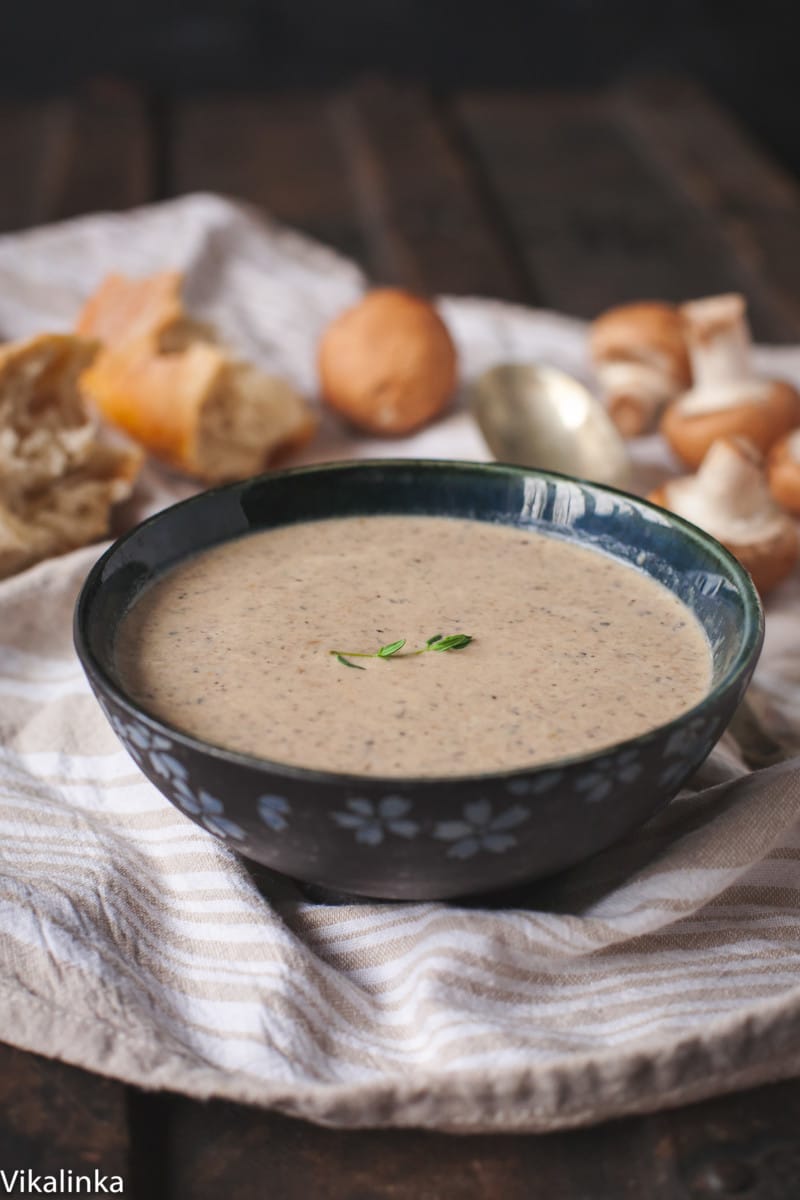 More soup recipes: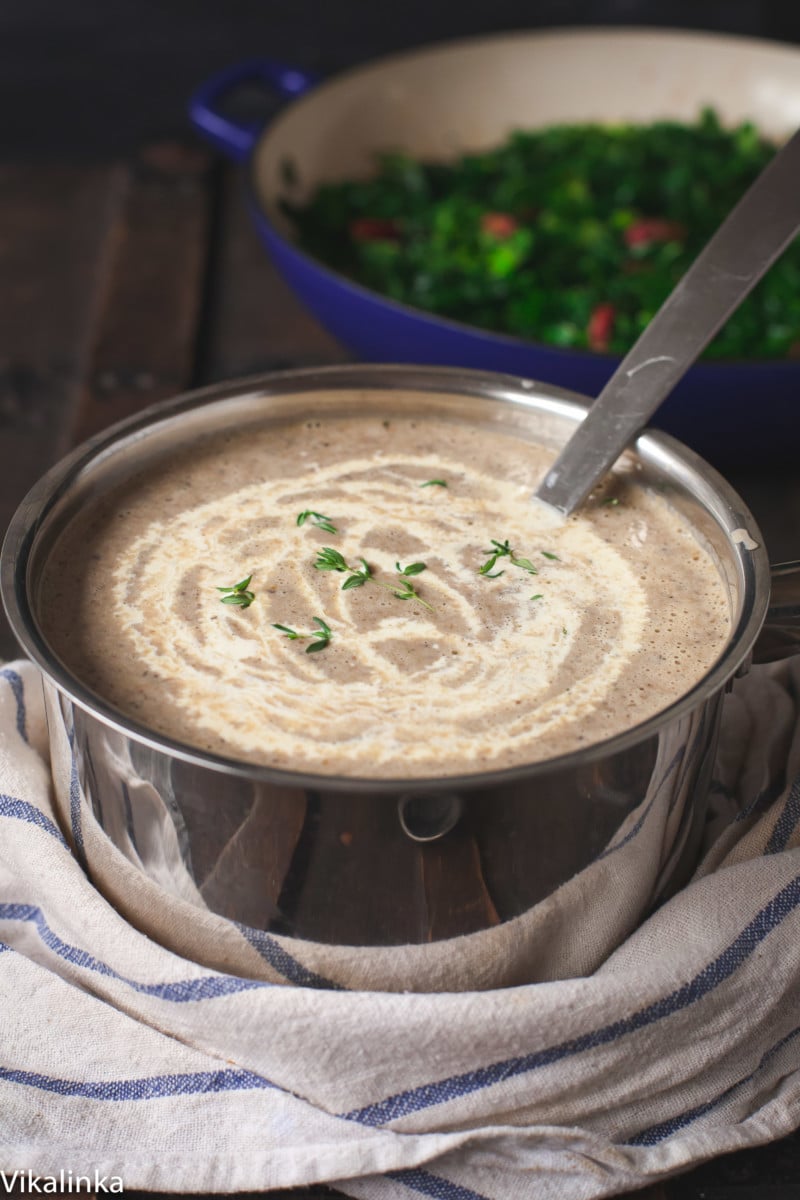 Ingredients
15g/1/2cup

dried porcini mushrooms

250ml/1cup

boiling water

1

tbsp

olive oil

3

shallots, chopped or 1 onion

1

tbsp

flour, heaped

500g/6cups

crimini mushrooms or mushrooms of your choice

1.5litres/6cups

vegetable or chicken stock

4-6

sprigs

fresh thyme, leaves only or ½ tsp dried thyme

125ml/1/2cup

double cream/heavy cream

salt to taste
Instructions
Soak dried porcini mushrooms in a cup of boiling water for 10 minutes. Drain and reserve the water porcini mushrooms were soaking in for later use. Filter the water through a fine sieve to catch the debris.

In a large saucepan cook chopped shallots in 1 tbsp of olive oil over low heat for 5 minutes. Add flour and mix well, then add fresh thyme leaves, chopped fresh mushrooms and reconstituted porcini mushrooms with a pinch of salt. Cook while stirring for 10 minutes, then add the stock and ½ cup of the reserved water from porcini mushrooms. Bring to a boil and cook for 10 more minutes, then stir in cream.

Process in a food processor or a blender in batches when the soup is slightly cooled. Then return to the pot and reheat it, taste and add salt if needed.
Nutrition Facts
Cream of Mushroom Soup
Amount Per Serving
Calories 215
Calories from Fat 144
% Daily Value*
Fat 16g25%
Cholesterol 41mg14%
Sodium 1315mg57%
Potassium 879mg25%
Carbohydrates 15g5%
Protein 8g16%
Vitamin A 485IU10%
Vitamin C 31mg38%
Calcium 56mg6%
Iron 2mg11%
* Percent Daily Values are based on a 2000 calorie diet.