This restorative beef and cabbage soup aka Russian Shchi will give you the energy you need in the dead of winter!
For another delicious beef soup take a look at my Beef Barley Soup or browse through my soup category for a huge variety of soups.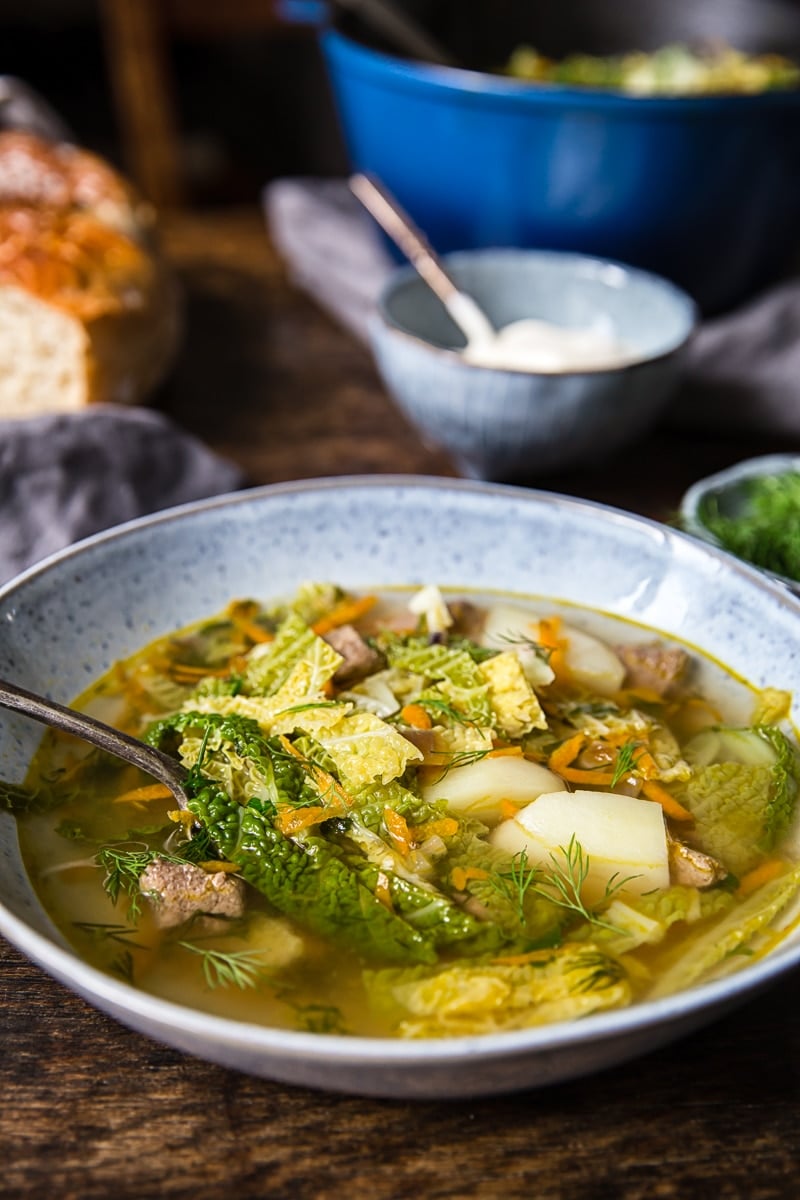 This beef and cabbage soup combines the healthy and the comforting in one delicious and a very pretty bowl!
Russian Cabbage Soup
Russian Shchi is a close cousin to the Ukrainian borscht and just as iconic in its country of origin. They have a very similar ingredient list apart from the beets.
As you can guess by the name white cabbage is always the main ingredient. Most recipes will include onion, carrots, potatoes, which are simmered in a beef based stock until tender but still have a bite to them. Some cooks add a touch of tomato paste, so their soups will look more yellow in colour.
I used savoy cabbage instead of the white cabbage in my version as they are pretty interchangeable. Sometimes fermented cabbage aka sauerkraut is used in the winter. That recipe variation is called Sour Shchi.
Most people enjoy their shchi with a dollop of sour cream, which they add to an individual bowl. Never to the whole pot.
Growing up in a soup loving home I always thought soup was the easiest and simplest thing to make in the kitchen. No wonder soups are an absolute staple in Russia. They are always very thick and hearty and packed with vegetables.
The tradition states that a spoon should be able to stand in your soup pot to determine how successful it is! Joking aside, a proper Russian soup is meant to be thick and nourishing.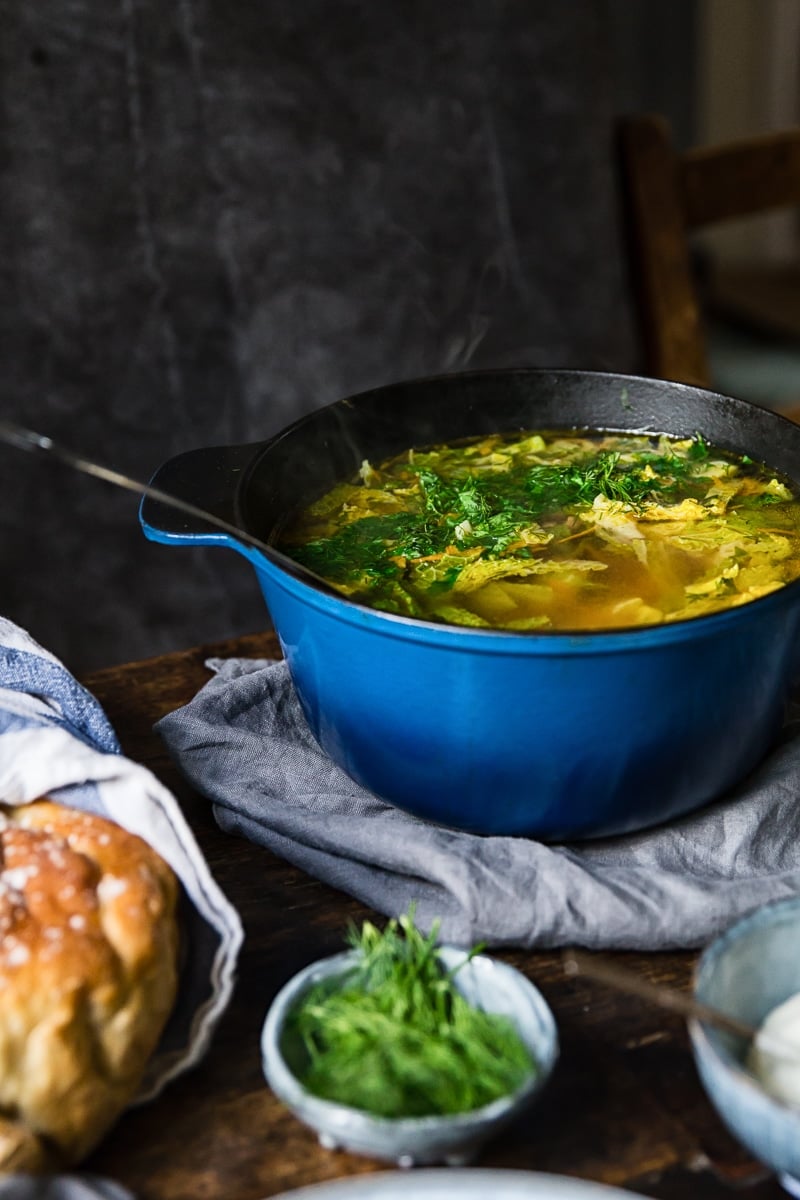 The recipe for this beef and cabbage soup comes from my mother. Just the smell alone takes me back to my childhood.
I've been getting a lot of requests to give tips on how to impart more flavour to soup. It makes sense, no one wants to end up with something watery and bland. I think I can help!!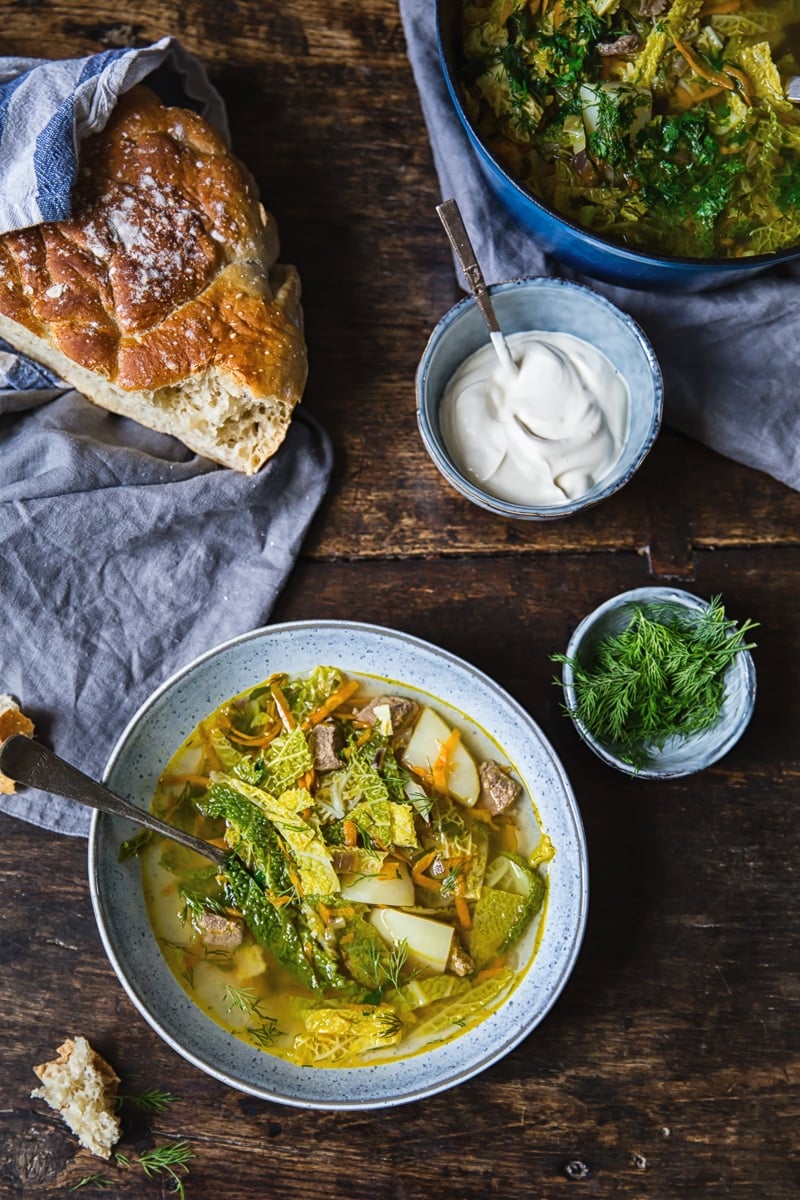 Recipe Tips
1. Flavourful Broth
In my humble opinion the success of any soup rests in the stock or broth, whatever you want to call it.
My mother always started all her soups by making a rich, meat-based broth in a pressure cooker and I do exactly that. I use my Instant Pot for the stock.
Don't worry if you don't have a pressure cooker, you can easily do it on a stove top but it will take triple the time. Pressure cooker is great when you are short on time!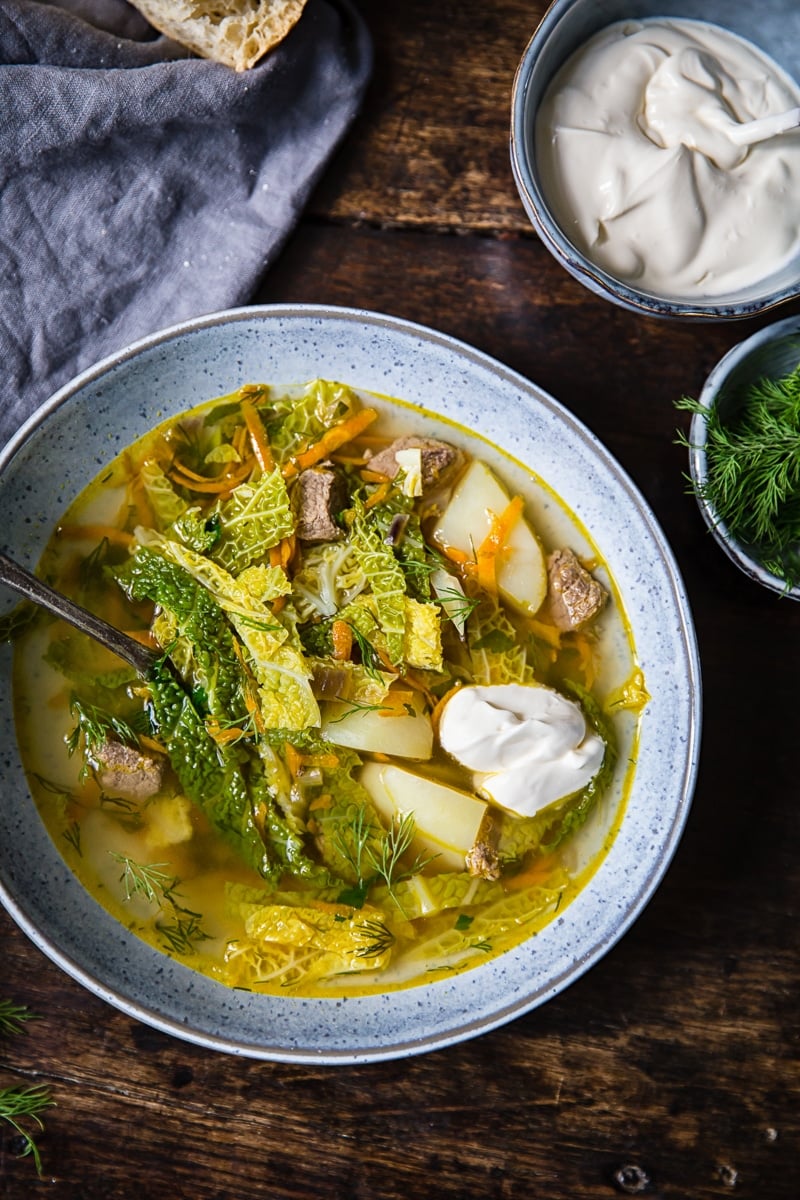 2. Mirepoix, soffritto or zazharka
Another flavour trick that I always use is sauteing carrots and onions in a little bit of butter . Then I add them to the soup at the very end. Italians call it "soffritto", the French call it "mirepoix" and my mum and many other Russian mums call it "zazharka".
Feel free to add celery as well but it is not very Russian and I am not a huge fan, so I don't. If you add your onions and carrots raw to the broth, they will only taste so good. But sauteing them in butter adds a whole lot of flavour.
3. Fresh Herbs
And lastly, adding fresh herbs like flat leaf parsley and dill once a soup is cooked take it to another level of delicious. The level at which even children eat soup!!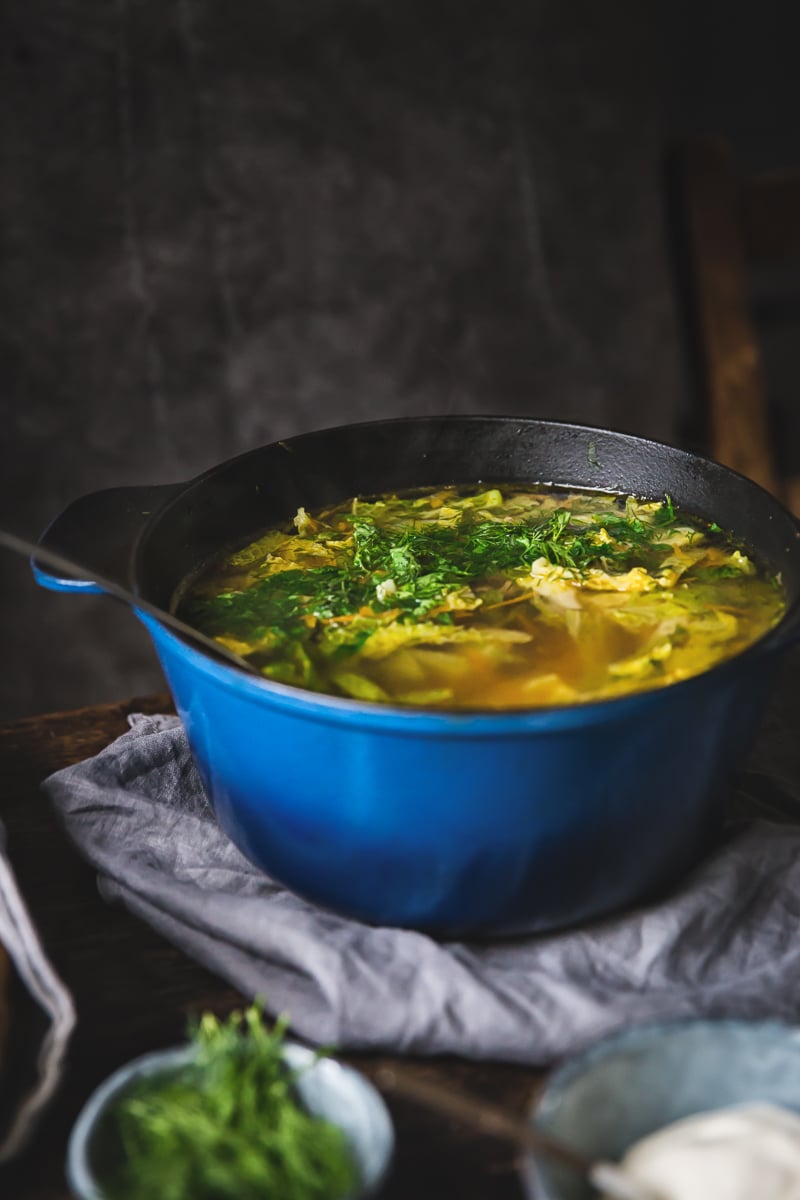 Broth Based Soup Recipes:
This recipe was originally published in 01/2018. Updated and republished in 02/2021.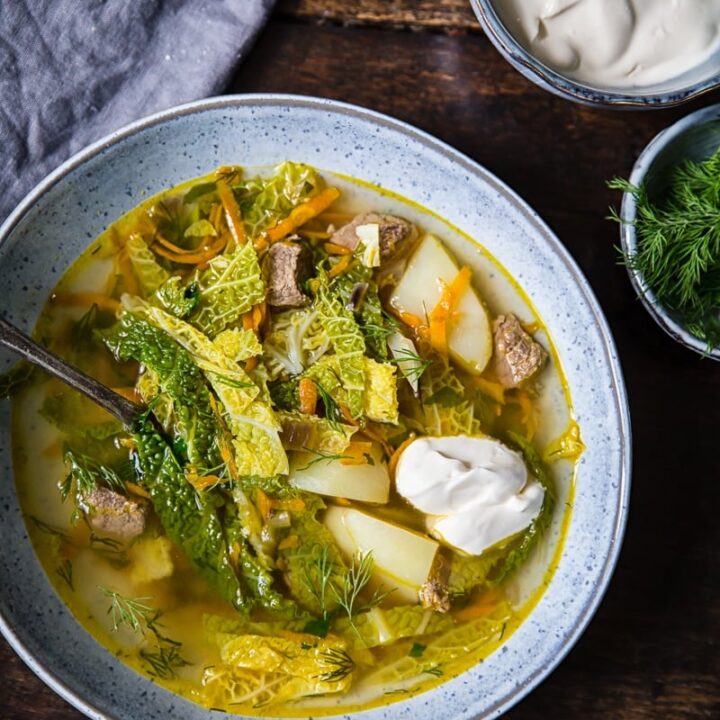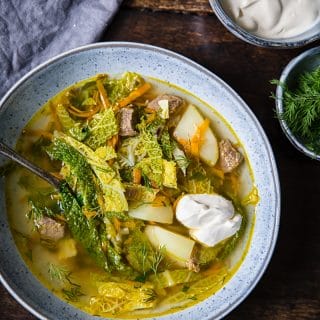 Restorative Beef and Cabbage Soup (Shchi)
Traditional Russian beef and cabbage soup known as Shchi.
Ingredients
For the broth
1

onion

cut in half

1

carrot

cut in 3-4 pieces

1

bay leaf

3-4

whole peppercorns

a pinch of salt

2

litres/8 cups water

1

lb

stewing beef
For the beef and cabbage soup
2

medium potatoes

peeled and cut into large chunks

⅓ (2 cups)

small savoy or white cabbage

sliced/ approximately 2 cups

2

carrots

shredded

1

onion

chopped

1

tbsp

butter

2

tbsp

of each chopped parsley and dill

salt and pepper to taste

sour cream for serving
Instructions
If using a pressure cooker, combine all the ingredients for the broth and cook for 30 minutes in manual mode. Increase the time to 1 ½ hours if using a stove top method.

At the end of the cooking time remove the beef with a slotted spoon and set aside. Strain the broth through a fine sieve for a clear broth. Discard the vegetables and spices.

In a soup pot combine the broth, beef and potatoes and bring to a boil.

Meanwhile saute the shredded carrots and onions with butter over low heat until tender and the onions translucent, approximately for 10 minutes.

After the soup boils, add the cabbage and the sauteed carrots and onions, cook for 5 minutes longer and turn it off. (It's very important not to overcook the vegetables!)

Add chopped fresh parsley and dill and salt and pepper to taste.

Serve with a dollop of sour cream or creme fraiche.
Nutrition
Calories:
219
kcal
Carbohydrates:
14
g
Protein:
11
g
Fat:
13
g
Saturated Fat:
5
g
Trans Fat:
1
g
Cholesterol:
44
mg
Sodium:
371
mg
Potassium:
540
mg
Fiber:
2
g
Sugar:
3
g
Vitamin A:
3888
IU
Vitamin C:
14
mg
Calcium:
37
mg
Iron:
2
mg