Wholesome, nourishing and extremely simple to make, this beef barley soup should become a part of your monthly menu rotation. Serve this soup with our hearty homemade Rye Bread.
If you are a big soup fan, take a look at our Beef and Cabbage Soup Shchi.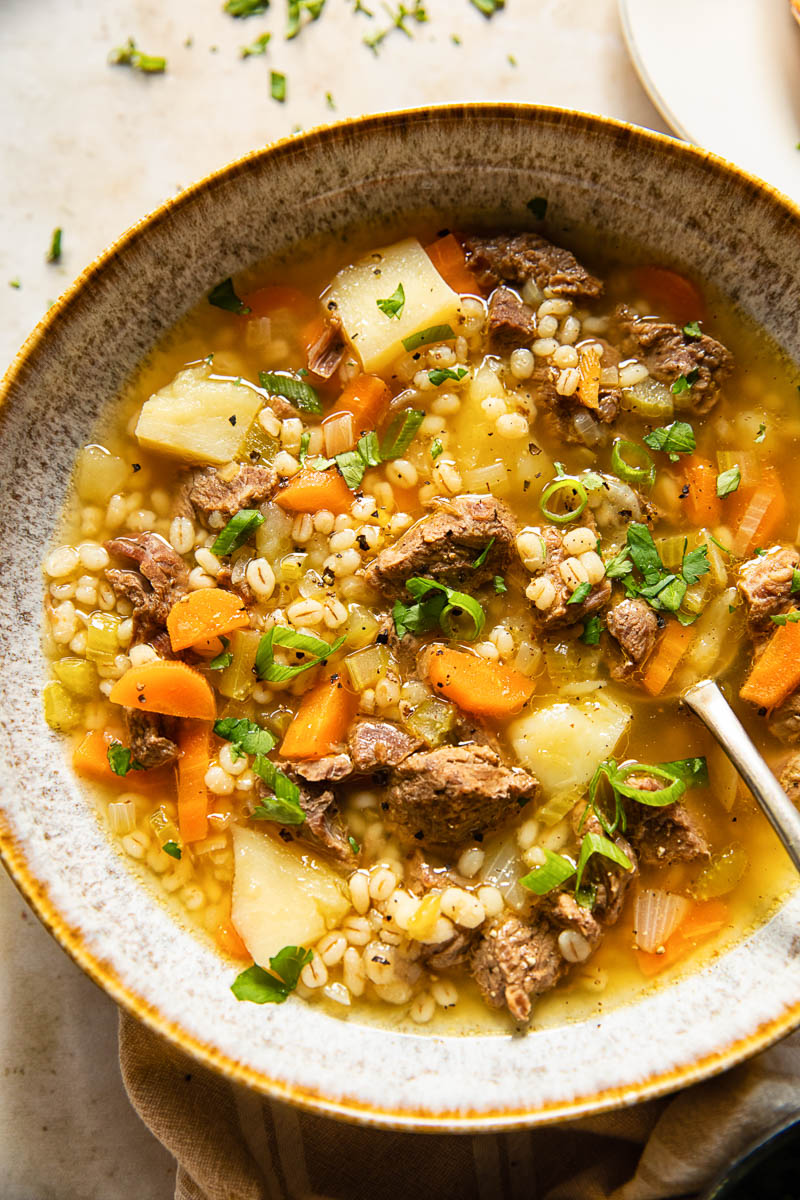 If you are a soup lover, I have no doubt you know what the most important thing is when it comes to soup making. Stock. That's right soup stock is the foundation of every soup and needs to be done right.
Thankfully, stocks are very easy to make at home. And if you are not the type, go ahead and buy it. Just make sure it's of great quality.
Second after the stock come the ingredients themselves. You can be as creative as you like with them but let me share with you one of the classic. Beef and barley soup.
Simple, clean lines with oodles of flavour on top of being wholesome and filling. Perfect cold weather food.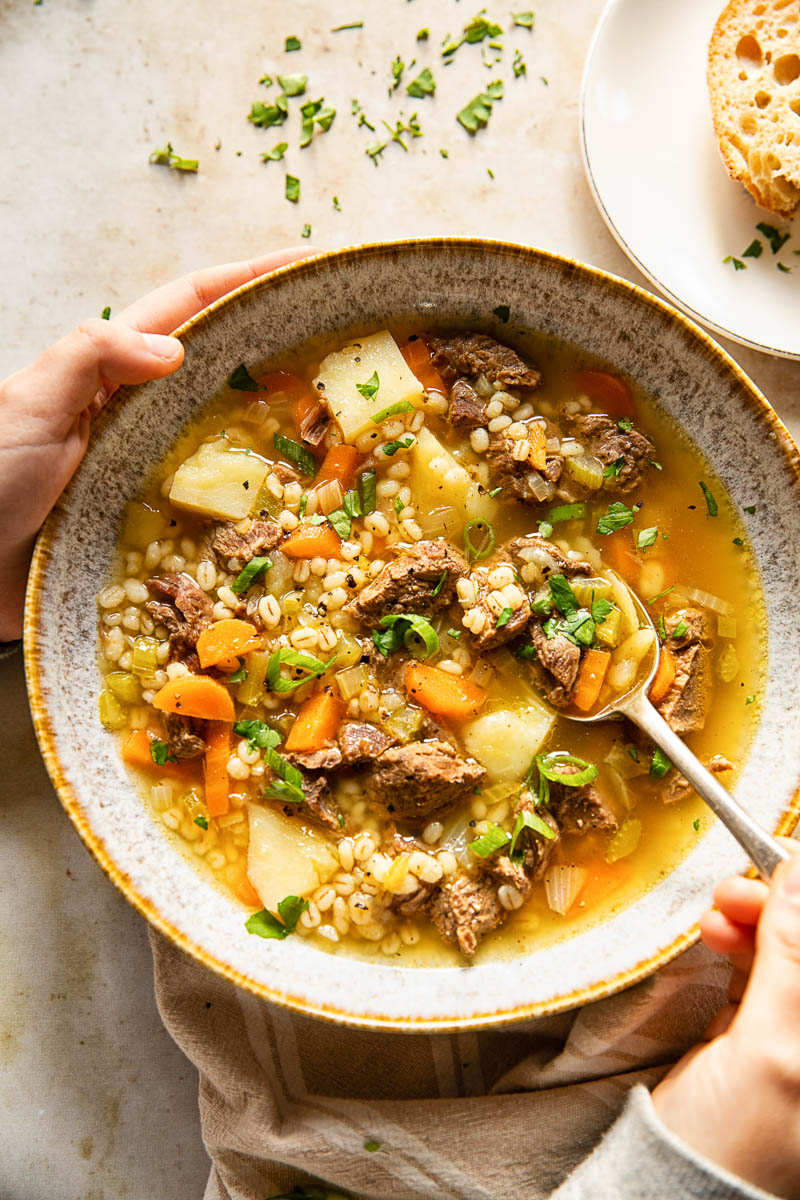 Recipe Tips
As I mentioned above, one of the best things you can do to improve the overall taste is to make your own stock. And I love using my Instant Pot for that. So much quicker! Just 30 minutes on high pressure and you've got the most delicious broth.
What makes stock rich in flavour and extra delicious is bones. Unfortunately they are not as easy to buy in supermarkets. My advice is save and freeze the bones from your roasts like I did with my Prime Rib or take a trip to your local butcher.
However, if you don't have the time or desire for that, store bought stock is also fine. I really mean it. I use prepared stock quite often.
Beef and barley are obviously the key ingredients here but don't forget about the ones supporting them. Onions, carrots and celery.
Without the famous trio of vegetables our soup would never stand a chance. The same goes for the aromatics like bay leaves, peppercorns and a clove of garlic.
I also like to add 1 or 2 potatoes as they make a thicker, more satisfying soup. That being said, potatoes are optional.
How to Make It
Soups are known to be easy to prepare and that's one of the reasons we all love them. This beef and barley soup is no exception.
Once your stock is ready, the rest is a breeze. It takes about 25 minutes for the soup to come together.
To the stock with the cooked beef, add the barley and cubed potatoes and cook for 20 minutes until the barley is soft but holds its shape.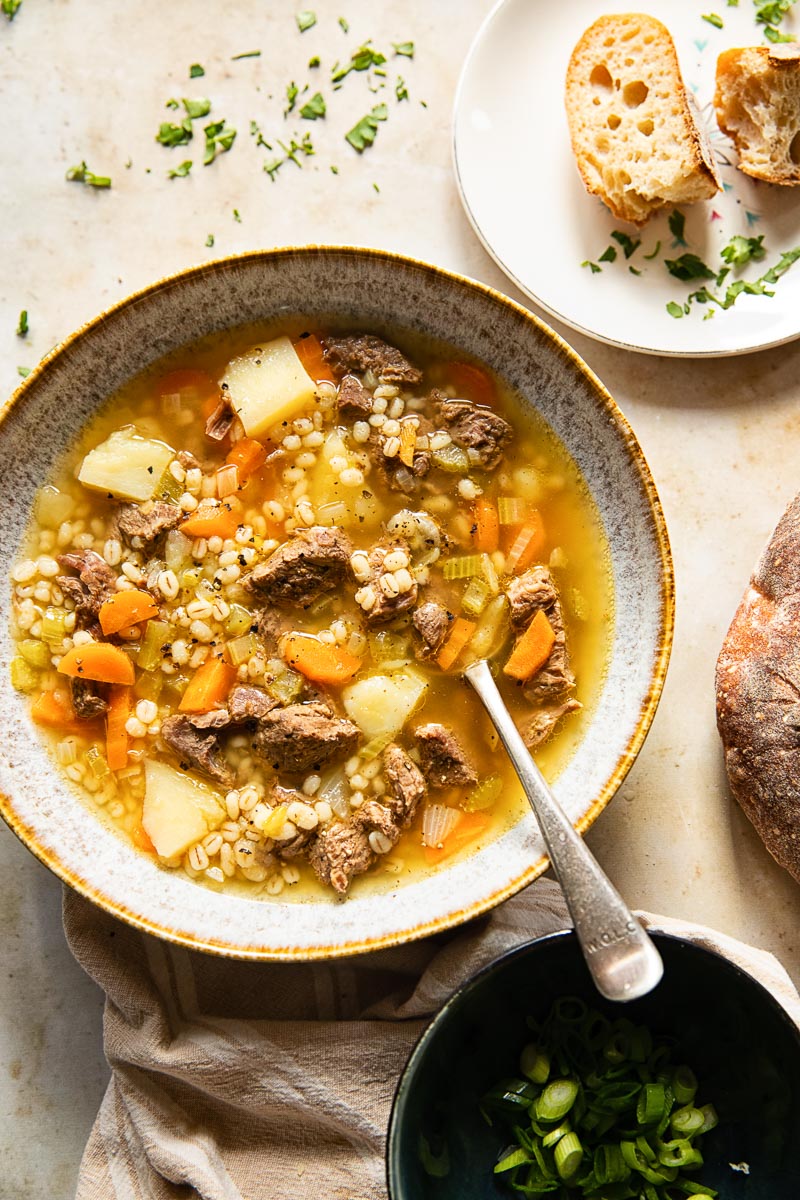 I like to saute my carrots, onions and celery separately in a tablespoon of butter. That step adds so much flavour. It also prevents the vegetable from becoming too soft if they were to cook in the soup from the beginning.
I also add a clove of garlic to the mix at the end and saute for half a minute longer.
Don't forget to garnish your soup with fresh parsley and green onions before serving. They add a zesty bite and a touch of summer freshness to this cozy soup.
More Favourite Soup Recipes For Every Taste: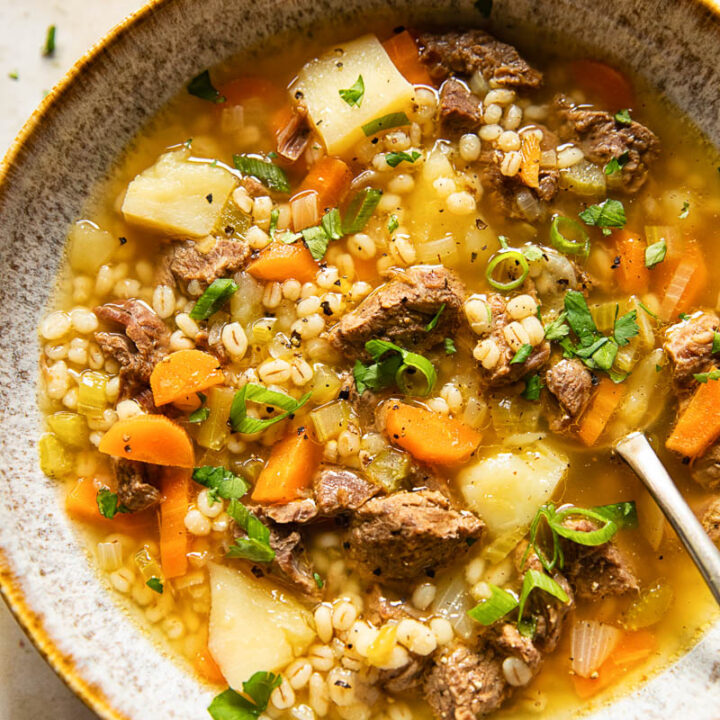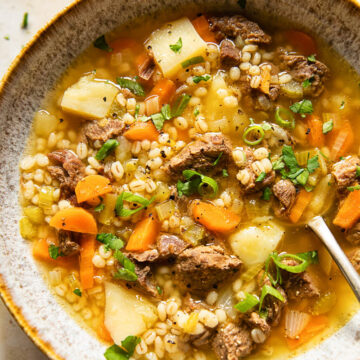 Beef Barley Soup
Wholesome, nourishing and extremely simple to make, this beef barley soup should become a part of your monthly menu rotation.
Ingredients
For the stock
1-2

beef bones (ribs if available)

1.5 lbs

cubed beef such as stewing beef

½

onion

1

carrot

2

celery stalks

2

bay leaves

4-5

peppercorns

salt

a pinch

1.5 litre/10 cups

water
For the soup
100g/1/2 cup

pearl barley

2

potatoes

medium, cubed

1

tbsp

butter

1-2

carrots

½

onion

chopped

2

celery stalks

1

clove

garlic

salt to taste

2

tbsp

fresh herbs like parsley or dill

to garnish

2

green onion, sliced

to garnish
Instructions
To make the stock combine the ingredients and cook over low heat for 1 hour-1.5 hours skimming the foam, which will rise to the surface once in a while. Alternatively, this could be done in Instant Pot, which will cut down the cooking time to 30 minutes on high pressure plus 20-23 for the Instant Pot to come to pressure. Alternatively, skip the first step and use already prepared beef or chicken broth. (See recipe notes at the bottom for instructions.)

Once the stock is done remove the beef with a slotted spoon and set aside. Strain the broth through a fine sieve for a clear broth. Discard the vegetables and spices.

Set the pot with the stock and cooked beef over medium heat and add the pearl barley and potatoes, cook for 20 minutes until tender.

Meanwhile chop the other half of the onion, slice carrot and celery and sauté in butter until tender and the onions are slightly caramelized. Stir into the soup for the last 5 minutes of cooking, check for seasoning and add more salt if needed, then serve the soup topped with fresh parsley or dill and green onions.
Notes
The recipe timing is given without the stock making.
Add 1.5 hours if making your own stock.
If not making your own stock, use 1.5 litres/1.5 Q of prepared beef stock and cook the beef in it for 20 minutes before adding barley and potatoes.
Nutrition
Calories:
359
kcal
Carbohydrates:
16
g
Protein:
22
g
Fat:
23
g
Saturated Fat:
9
g
Cholesterol:
81
mg
Sodium:
484
mg
Potassium:
444
mg
Fiber:
3
g
Sugar:
1
g
Vitamin A:
1808
IU
Vitamin C:
3
mg
Calcium:
39
mg
Iron:
3
mg