This easy guide to the perfect prime rib roast, complete with a honey mustard rub, and a video to help you along the way will set you up for success this holiday season! Serve this spectacular roast with our Creamy Mushroom Marsala Sauce and Rosemary Potatoes au Gratin.
I hope you choose this recipe to crown your holiday table. Don't forget to explore our Christmas recipe collection, which features an array of options from main and side dishes to party bites and desserts.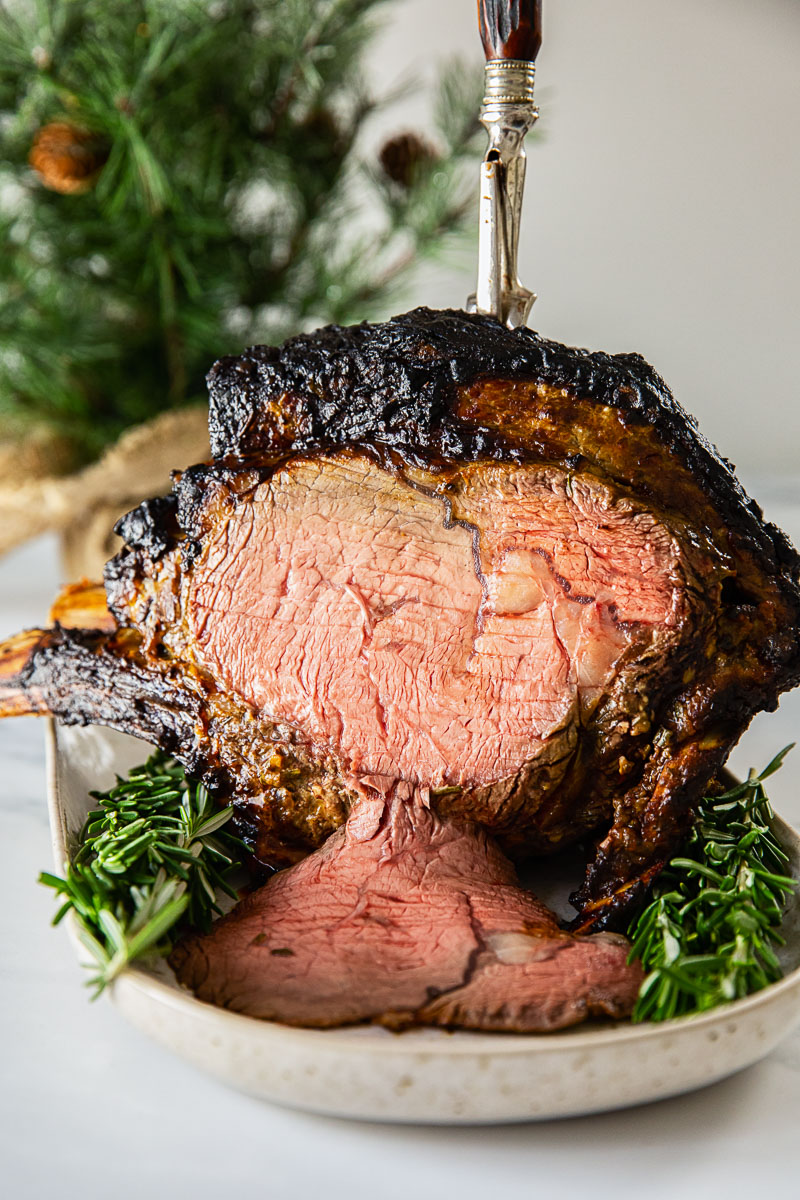 It's no secret I love a good roast dinner as evidenced by a number of recipes on this website. Roast pork and roast chicken are what we often enjoy on Sundays. For Christmas we usually go for the king of roasts, Prime Rib. And I couldn't be more excited to finally share this recipe.
What is Prime Rib?
This exceptional cut of beef goes by a few names, Prime Rib being one of them. Another one is Standing Rib Roast or a Rib of Beef, as it is known in the UK. This cut comes from the primal rib and of the very high quality. The quality is reflected in the price, and that is why we reserve it for very special occasions like Christmas or New Year's Eve.
The beef comes with the bones attached but the number of bones varies. The beef I am using today for my recipe has two bones and weighs 4.5 lbs. It will easily feed 6 people.
If you bought a piece of beef which has got only one bone attached, it's a ribeye steak; also incredibly delicious but won't feed a crowd.
Honey Mustard Rub
Beef, as delicious as prime rib, can still benefit from minor flavour enhancement. And this is where our rub comes in. All we have to do is to mix up honey, Dijon mustard, garlic, rosemary, olive oil and sea salt to compliment the natural flavour!
When making meat rubs it's important to remember to include ingredients like honey, mustard or maple syrup. Not only do they bring loads or flavour, they also help herbs and spices stick to the surface of the meat.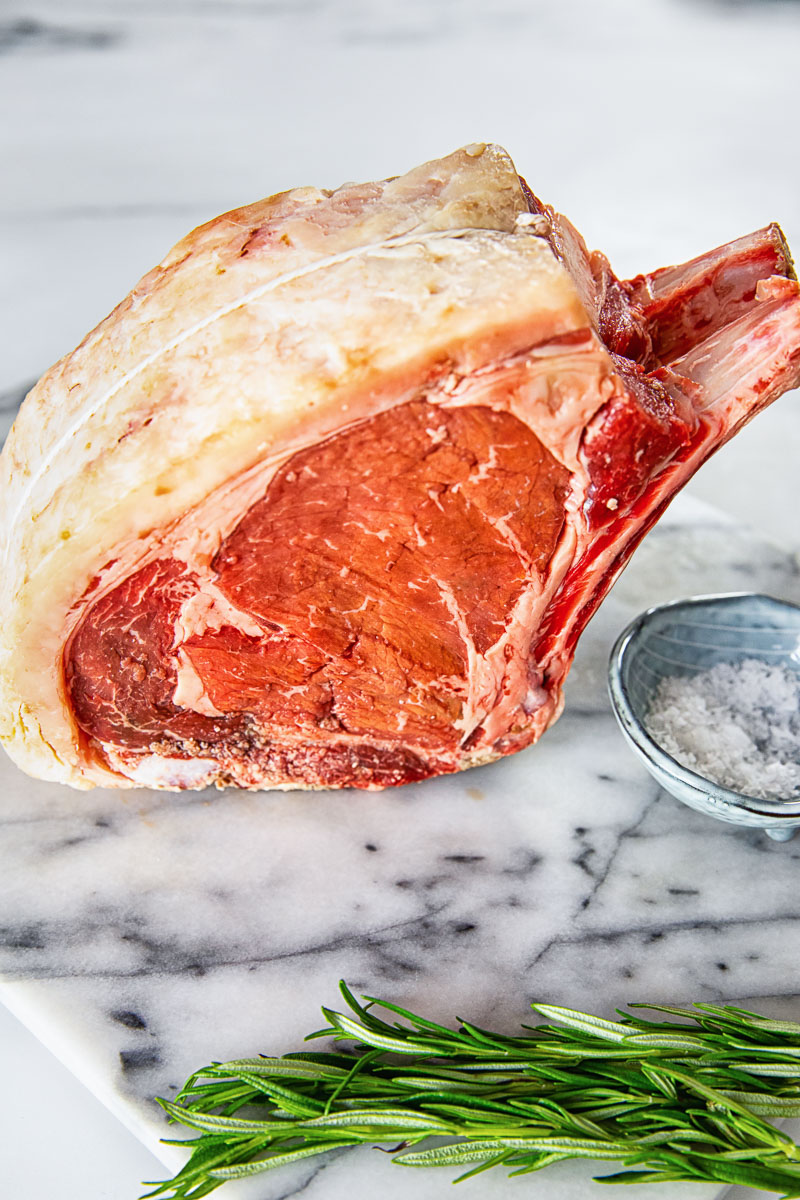 Cooking Method
Cooking a rib of beef could be quite intimidating for two reasons. The price tag and the pressure of the holidays. Good news is prime rib is very easy to cook. The meat quality is what is responsible for tender and juicy bites.
First of all, take the meat out of the fridge 45 minutes to 1 hour prior to cooking. Starting to cook the beef at room temperature will allow for the entire piece to cook more evenly.
Secondly, preheat the oven to 450F/230C. The best way to cook prime rib is to roast it at high temperature, which allows the surface to develop a lovely crust. However, after 25 minutes we lower the temperature to 350F/180C and finish it off until the meat thermometer registers 55C/130F.
Bones are very good conductors of heat, so a roast with the bones attached will cook faster than boneless. The biggest job in cooking the prime rib is NOT to overcook it.
Using an instant read meat thermometer is a must for best results. Prime rib has the best texture when it's roasted to a medium doneness, and looks slightly pink inside when cut.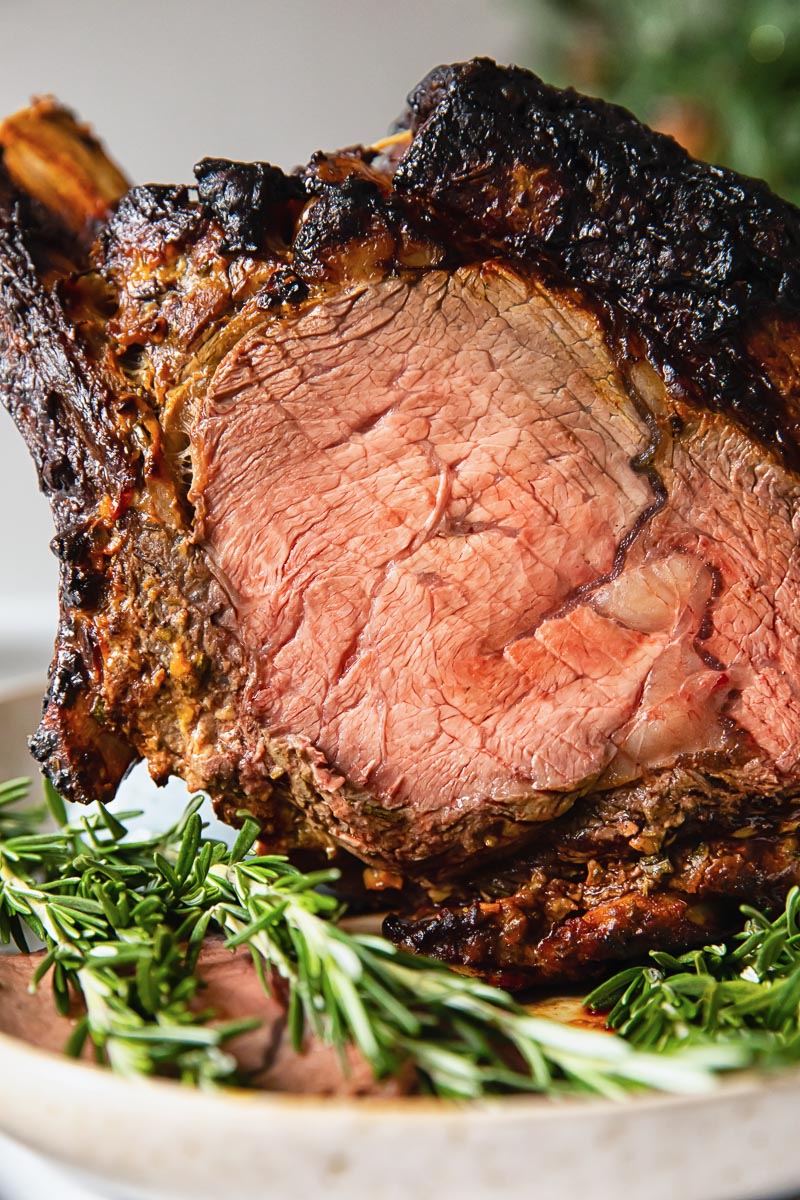 Rib of Beef Oven Temperature and Cooking Time
As I mentioned earlier, we start roasting the beef at very high temperature of 450F/230C but after 25 minutes we reduce it to 350F/180C.
Below is the timing chart for various degrees of doneness:
for medium rare roast for 15 minute per pound. Internal temperature 55C/135F
for medium roast for 20 minutes per pound. Internal temperature 60C/140F
for well done roast for 25 minutes per pound. Internal temperature 65C/150F
After the meat has been taken out of the oven it needs to rest for 30 minutes. Resting meat is important as it allows the juices, which came up to the surface of the roast in the hot oven, to rush back inside the joint.
Cover the prime rib roast loosely with aluminium foil and let it sit for half an hour. The internal temperature will rise further 5 degrees. This will ensure you have a juicy and flavourful piece of beef.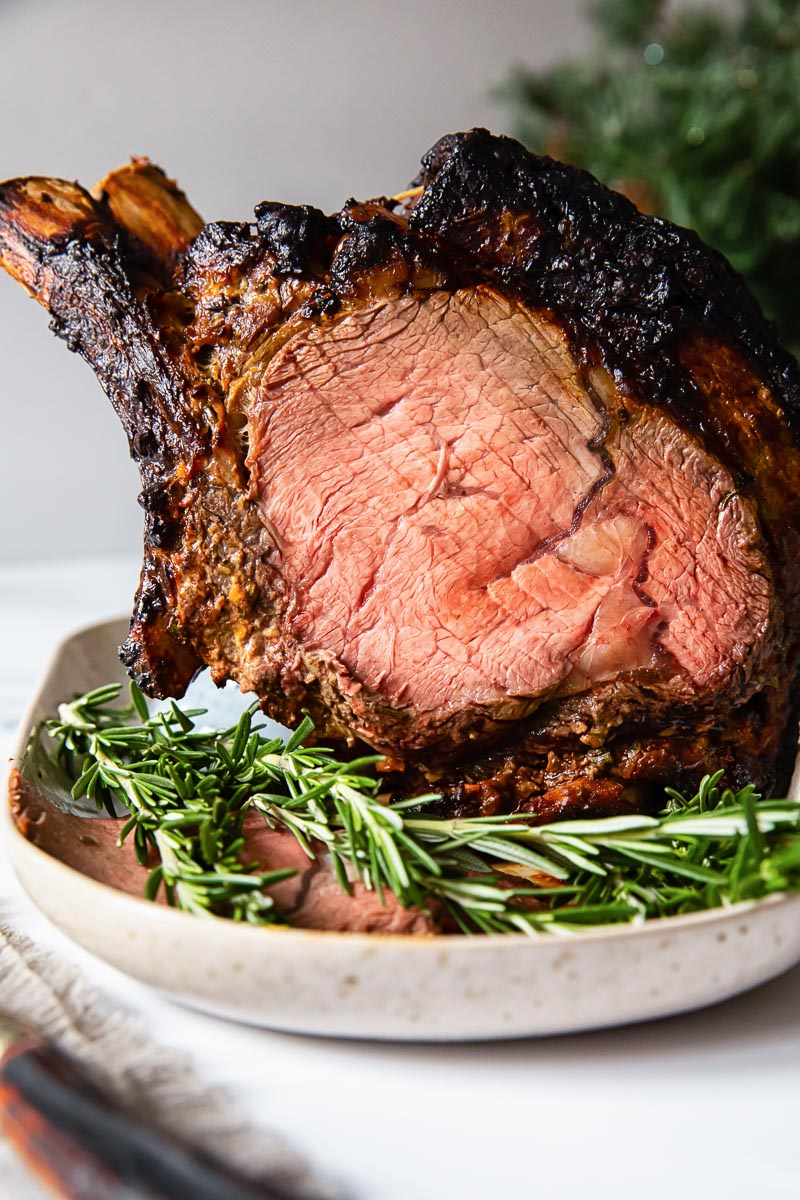 Serving Suggestions
Don't forget to to make a flavourful sauce or gravy to go alongside your beef. One of our favourites is Bearnaise Sauce, which could be a little tricky. If you feel like you wanted something simpler, make our easy gravy recipe.
A simple side dish like our herb and garlic mashed potatoes will be a perfect pairing for this spectacular beef roast. Or make our mashed potato casserole stuffed with mushrooms and caramelised onions, which could be prepared a day ahead. If you feel like adding another showstopper, give our Hasselback Potatoes a try!
With a couple of rich dishes like the ones above I always try to bring balance by serving a light and zingy winter salad of red cabbage, kale and pomegranate.
More Holiday Main Dishes: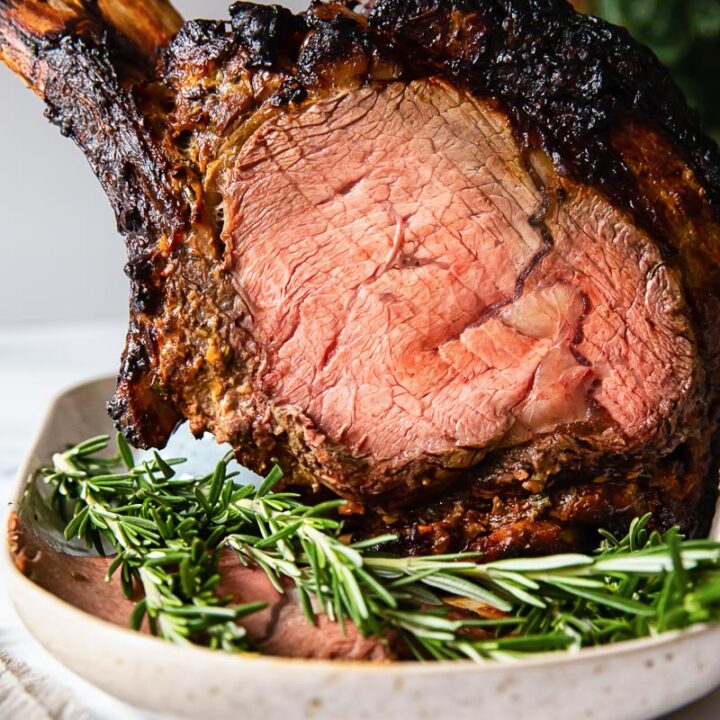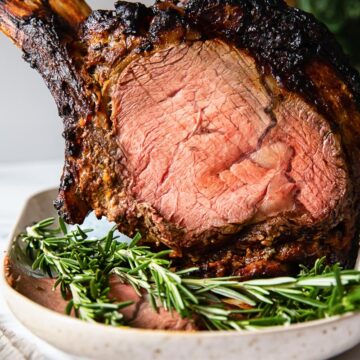 Honey Mustard Crusted Prime Rib Roast
This easy guide to the perfect prime rib roast complete with a honey mustard rub and a video to help you along the way will set you up for success this holiday season!
Ingredients
2kg/4.5 lbs

Prime rib/rib of beef
For the Honey Mustard Rub
1

tbsp

coarse salt

3

cloves

garlic

minced

4-5

sprigs

rosemary

2

tbsp

Dijon mustard

2

tbsp

honey

2

tbsp

olive oil
Instructions
Take the beef out of the refrigerator. In a small bowl combine the minced garlic, chopped rosemary, coarse salt, honey, Dijon mustard and olive oil. Rub it all over the prime rib and let it sit at room temperature for 45 minutes to 1 hour to allow the meat to come to room temperature for more even cooking. Preheat the oven to 450F/230C.

Place the prime rib in a roasting pan fat side up. Roast in the preheated oven for 25 minutes. Reduce the temperature to 350F/180C and continue roasting for 40 minutes longer for the size of the beef specified in this recipe. Add 15 minutes for each additional pound of beef. (See the timing chart in the main body of the article.) The internal temperature of the meat should read 130F/55C for medium rare.

Take out of the oven and loosely cover with aluminium foil. Let the meat rest for 30 minutes before carving.
Video
Nutrition
Calories:
632
kcal
Carbohydrates:
7
g
Protein:
26
g
Fat:
55
g
Saturated Fat:
22
g
Cholesterol:
114
mg
Sodium:
1304
mg
Potassium:
430
mg
Fiber:
1
g
Sugar:
6
g
Vitamin C:
1
mg
Calcium:
20
mg
Iron:
3
mg