These crispy hasselback potatoes flavoured with smoked paprika and garlic are absolutely the best things to dunk in that flavour-packed gremolata sauce!
Serve with our Honey Mustard Crusted Prime Rib Roast.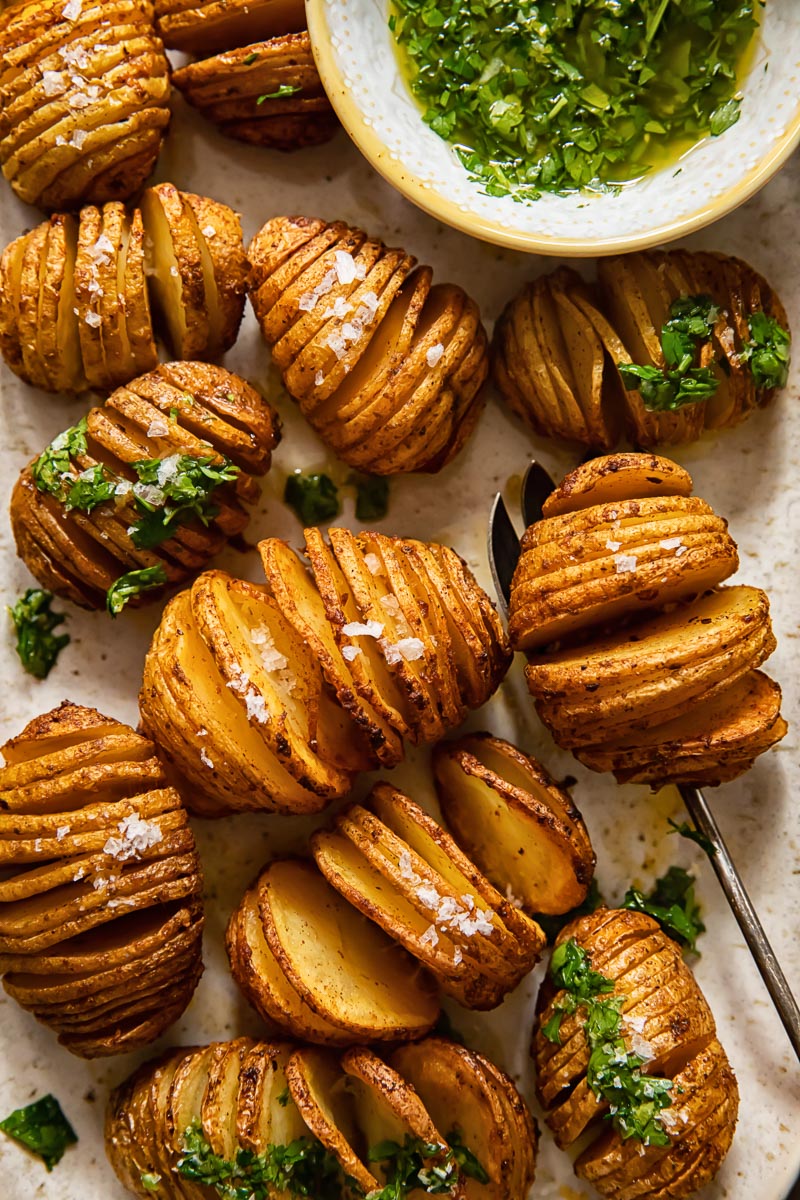 These little beauties might take a little time but in return they will reward you with the most delightful potatoes for your special occasion dinner.
Sure they require some extra care and attention to detail but don't let it deter from giving hasselback potatoes a try. They might not be an everyday side dish but they certainly deserve a spot on your holiday table.
If you are like me, a creature of habit and tradition, you probably already have your usual potato dish chosen for a special dinner over the holidays. But please hear me out. It's good for us to change things up once in a while and try something new.
These hasselback potatoes are IT. Trust me.
What's in a name?
These delicious roasted potatoes carry an unusual name. They are called hasselback, as inspired by the Swedish restaurant Hasselbacken in Stockholm, where they were invented.
These little roasties took the world by storm due to their crispy goodness and exceptional good looks. They are a bit fiddly to make but you owe it to yourself to find out if they are worth the all the fuss!
How to Flavour Them
As we know potatoes can be very bland if left unseasoned. These potatoes, no matter how pretty, are no different.
I dunked each potato in the mix of the olive oil, grated garlic, salt and smoked paprika hoping for a flavour bomb. Alas, I felt like they still needed a bit of help in the flavour department, so I added a perfect sauce for dipping.
Gremolata
The sauce is an Italian born flavour maker. A clever mix of chopped parsley, lemon zest, garlic and olive oil delivers what my hasselback potatoes needed. A little kick or a punch of flavour if you wish.
In other words gremolata takes them to a level of sublime. It will also look incredibly pretty on your table.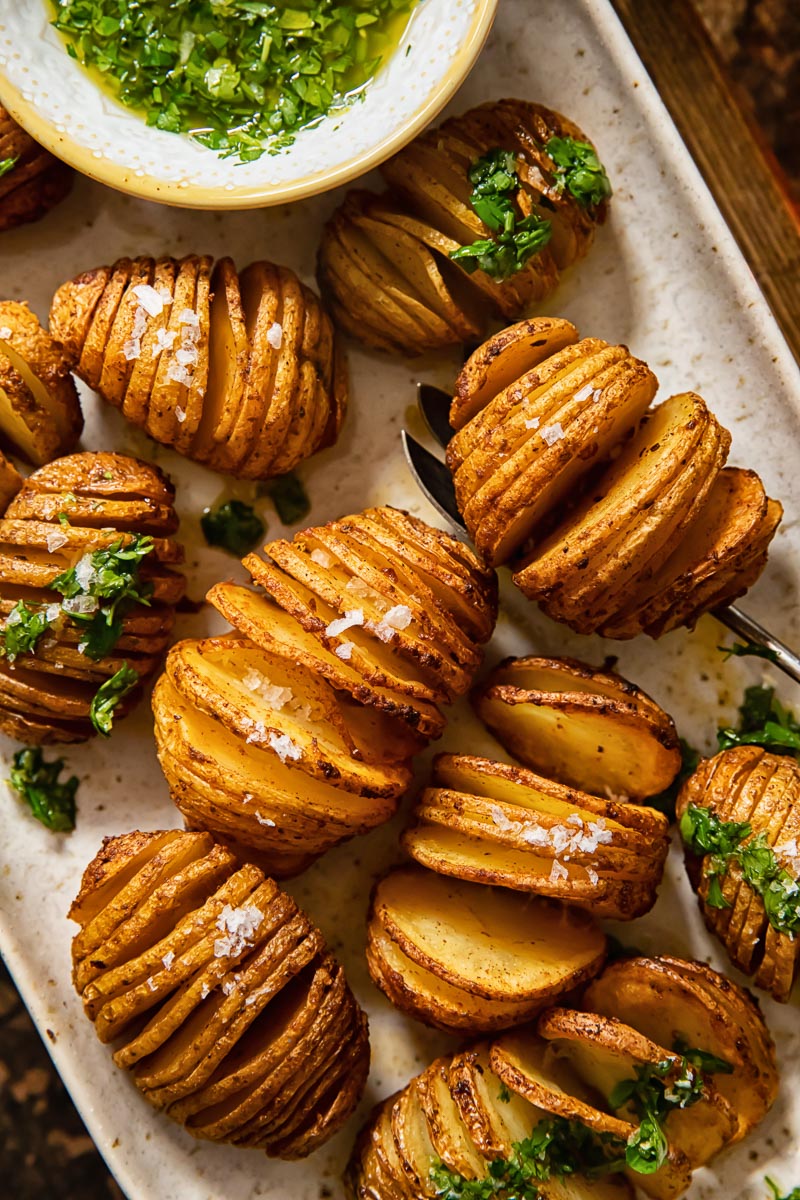 Recipe Tips and Notes
If you choose smaller potatoes, you will have a better chance of ending up with the hasselback potatoes as they were intended to be. Crispy on the outside and cooked all the way through.
I prefer not peeling the potatoes. Less work, more taste and texture.
The most difficult task by far is slicing them just so. The cuts should be deep enough, so the potato will have a chance to open up and crisp up. But not so deep as to cut all the way through the potato. I've struggled with the balance a little but eventually found my stride, and so will you.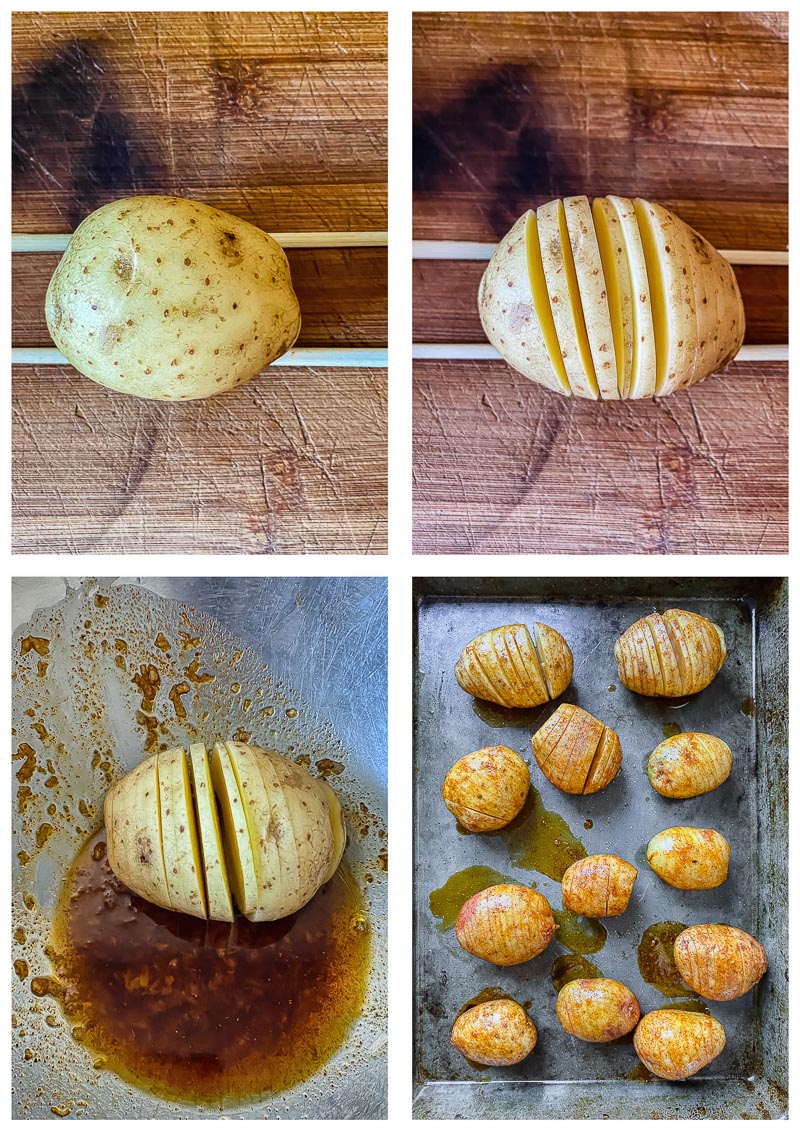 You can place your potato on two chopsticks to help you not cutting all the way through as your knife will hit the chopsticks and stop. Others suggest placing your potato inside a large wooden spoon for the same reason. I cut mine into ¼ inch slices.
Potatoes are starchy, so the slices will stick together as soon as they are cut. To minimise that, rinse each potato in cold water after slicing. Then dry with paper towels.
I found dunking each potato in the oil mix was the easiest way. However, it's not easy to get the oil between the slices and it really needs to go there to achieve the desired result. Take your potatoes out of the oven after 3o minutes of baking and brush them with the oil mixture one more time taking care to get in between the slices.
These potatoes take 1 hour to 1 hour 10 minutes or even longer if they are larger. Be patient and you will be rewarded in the end.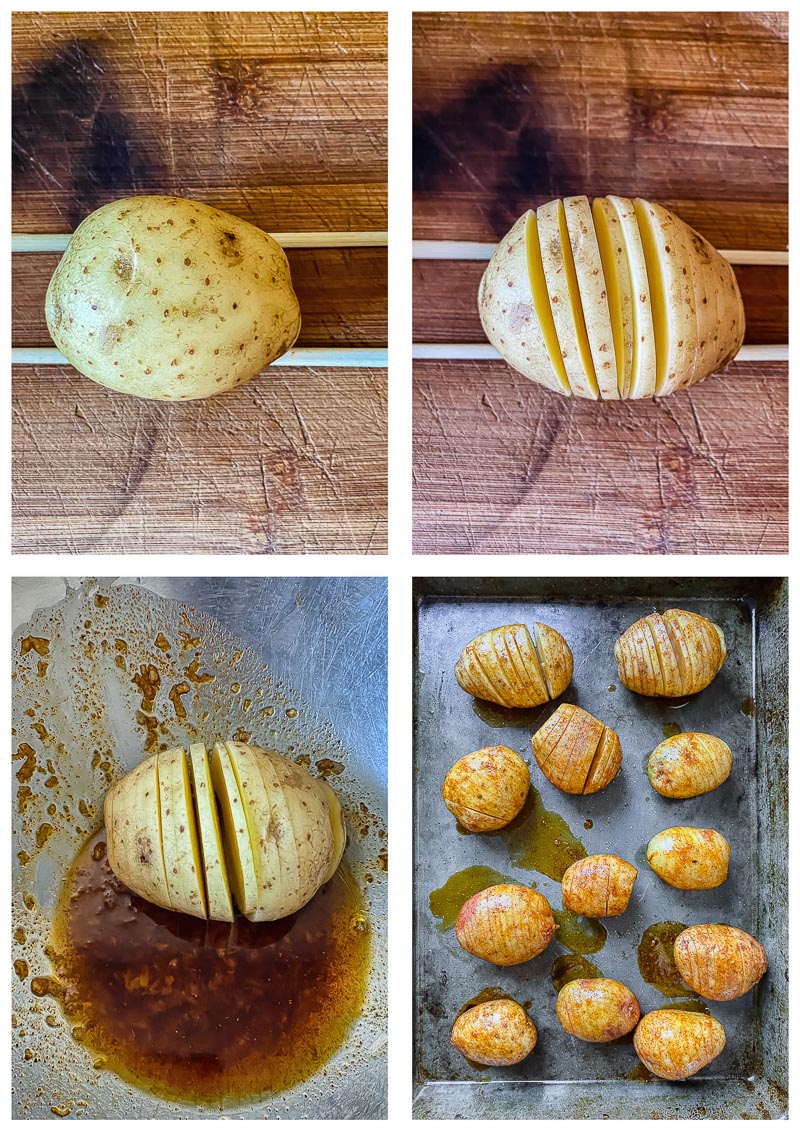 Serving Suggestions
These potatoes are absolutely incredible with almost any type of meat or fish! Our favourite pairings are Ribeye Steak, Pork Loin Roast or Baked Side of Salmon
If you are still unconvinced whether these potatoes are worth a shot, try our other potato dishes below.
Favourite Potato Dishes to Try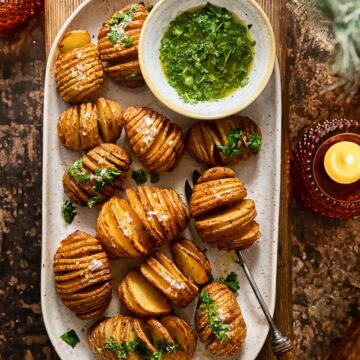 Hasselback Potatoes with Gremolata
These crispy hasselback potatoes flavoured with smoked paprika and garlic are absolutely the best things to dunk in that flavour packed gremolata sauce!
Print
Pin
Rate
Ingredients
2

lbs

small to medium potatoes

4

tbsp

olive oil

1

tsp

smoked paprika

2

cloves

garlic

grated or pressed

1

tsp

salt
For the Gremolata
10g/1/2 cup

fresh chopped parsley

½

lemon, zest only

1

tbsp

lemon juice

1

clove

garlic

grated or pressed

4

tbsp

extra virgin olive oil

salt to taste
Instructions
Preheat the oven to 400F/200C. Cut slits into each potato to look like an accordion, each cut should be deep enough for the potato to open up but not all the way through, so it stays together. Take your time doing that as it is the most challenging task of the recipe by far. (See tips in the post.)

Rinse each potato in cold water afterwards to get rid of the extra starch between slices, otherwise they stick together. Dry with paper towel.

In a large bowl combine the olive oil, smoked paprika, grated garlic or garlic powder and salt. Dunk each potato into the mix and place on a shallow roasting pan. You will have the oil mixture leftover after all potatoes are coated, reserve it for later.

Roast in the preheated oven for 30 minutes, then take out of the oven and brush the oil mixture on the potatoes making sure it's getting inside the slits. This part is very important for the success of the recipe. Roast for 20-30 minutes longer until crispy on the outside and cooked all the way through. Larger potatoes might take longer.

Mix the chopped parsley, lemon zest and juice with grated garlic, the olive oil and salt and serve with the hasselbacks on the side.
Nutrition
Calories:
276
kcal
|
Carbohydrates:
25
g
|
Protein:
3
g
|
Fat:
19
g
|
Saturated Fat:
3
g
|
Polyunsaturated Fat:
2
g
|
Monounsaturated Fat:
14
g
|
Sodium:
806
mg
|
Potassium:
732
mg
|
Fiber:
3
g
|
Sugar:
2
g
|
Vitamin A:
596
IU
|
Vitamin C:
21
mg
|
Calcium:
26
mg
|
Iron:
2
mg