These perfectly spiced roasted baby potatoes boast golden and crispy skin with a fluffy exterior! Better yet, no need to have them in the oven for hours to achieve that. Read on to find out about my quick roasting tips and tricks!
Wondering about what to pair these aromatic roast potatoes aka Aloo Chat with? Why not serve them with my Chicken Korma?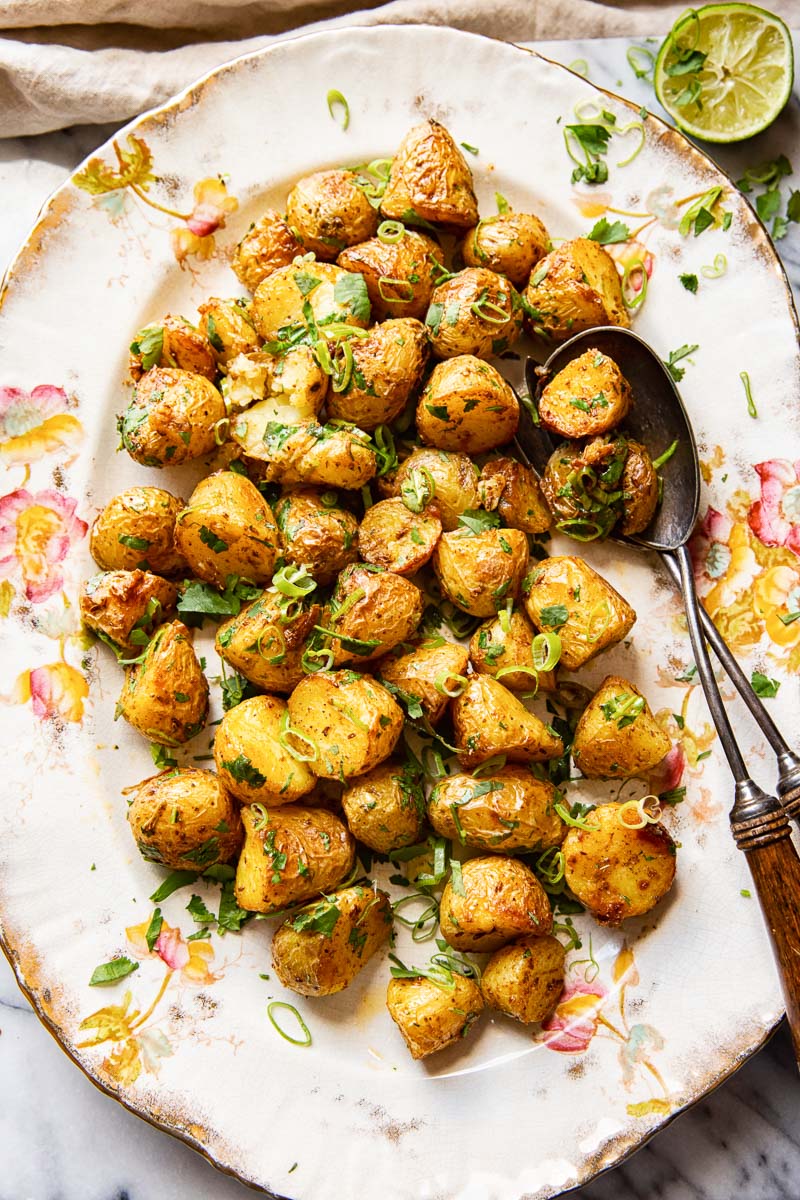 Roasted potatoes are a treat that everyone enjoys but they do take time. Another downfall of roast potatoes is how much fat is needed in order to get them crispy on the outside.
I think I found a way to make delicious roasted potatoes in 30-35 minutes without using a lot of fat! The spice blend I am coating these little beauties with is also one of a kind. Delicious, aromatic and a little spicy!
In addition to the dried spices the potatoes are flavoured with fresh cilantro, sliced green onions and a spritz of lime juice!
No boring potatoes here!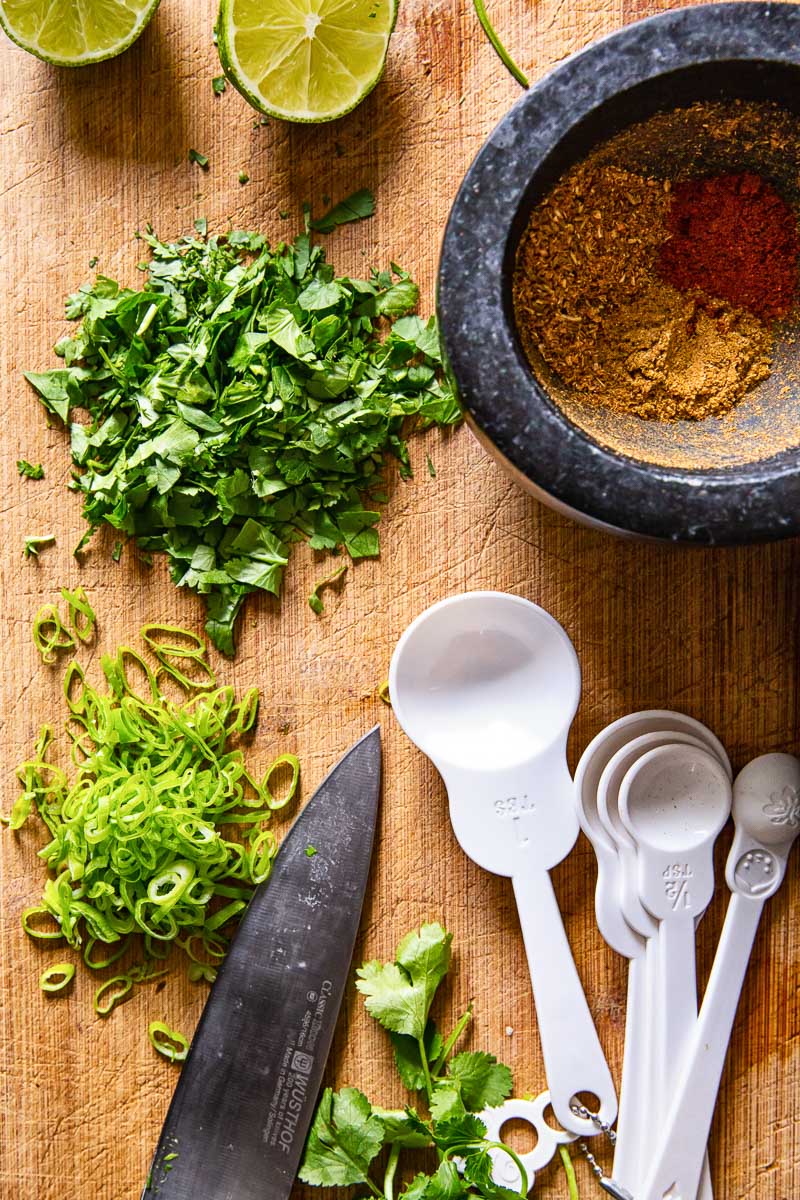 What are baby potatoes?
Baby potatoes are those cute, little potatoes you see in supermarkets . They are the same as new potatoes. Baby potatoes have thin skin and do not need peeling, which is a huge bonus when it comes to time saving.
Eating potatoes with their skin on also has some benefits as potato skins add more fibre and vitamins to our diets.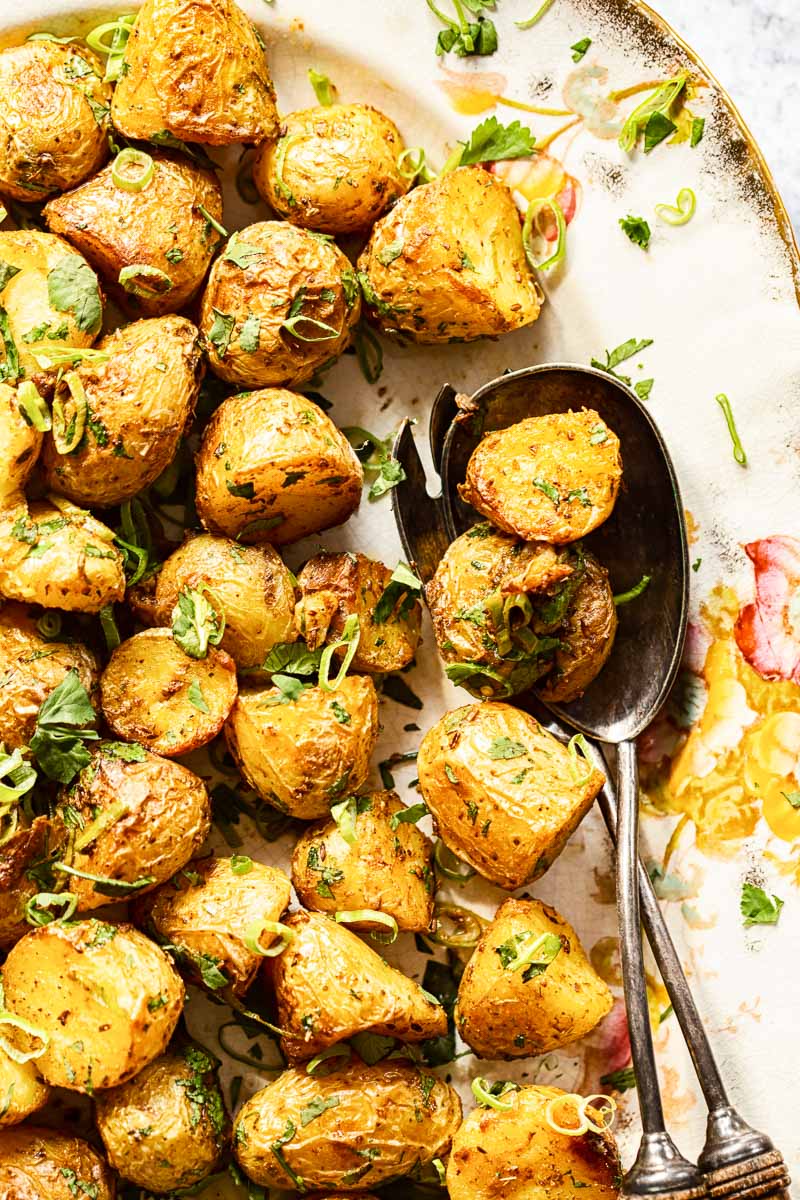 What is the best way to roast them?
The best and the quickest way to roast baby potatoes is to boil them first. Then brush them with oil and cook them under a broiler/grill (in the UK) until crispy.
Admittedly, this method doesn't deliver the same crispy skin as the traditional method does but it is a much quicker and healthier way to enjoy your spuds!
After boiling them break them in half with a spoon to create rough edges. This will ensure a crispier exterior. Then quickly broil/grill them until golden.
Alternatively you can crush these baby potatoes. Firmly press on a potato with a potato masher to flatten it, then proceed with the recipe.
Can I use regular sized potatoes?
Yes you can! Just quarter them after boiling and proceed with the recipe.
What spices go well with oven roasted potatoes?
The spice mix I am using on my roasted baby potatoes today is inspired by Indian Aloo Chat aka favourite Indian street food snack! However, I've simplified the mix. So you don't have to go to Indian stores to source chat masala, a vital ingredient for that dish.
I wanted you to enjoy these perfectly spiced roasted baby potatoes using just a few spices that are easy to find in most supermarkets.
Cumin seeds, fennel seeds and coriander seeds are first toasted and then crushed in a mortar or a spice grinder. If you are unable to find seeds, using up to date ground spices are fine.
Spices lose their aromatic qualities after a certain amount of time. So make sure yours are still fragrant before using them!
Then garam masala and chilli powder is added to the mix. The entire mixture is impossibly aromatic. You won't be able to stop smelling it!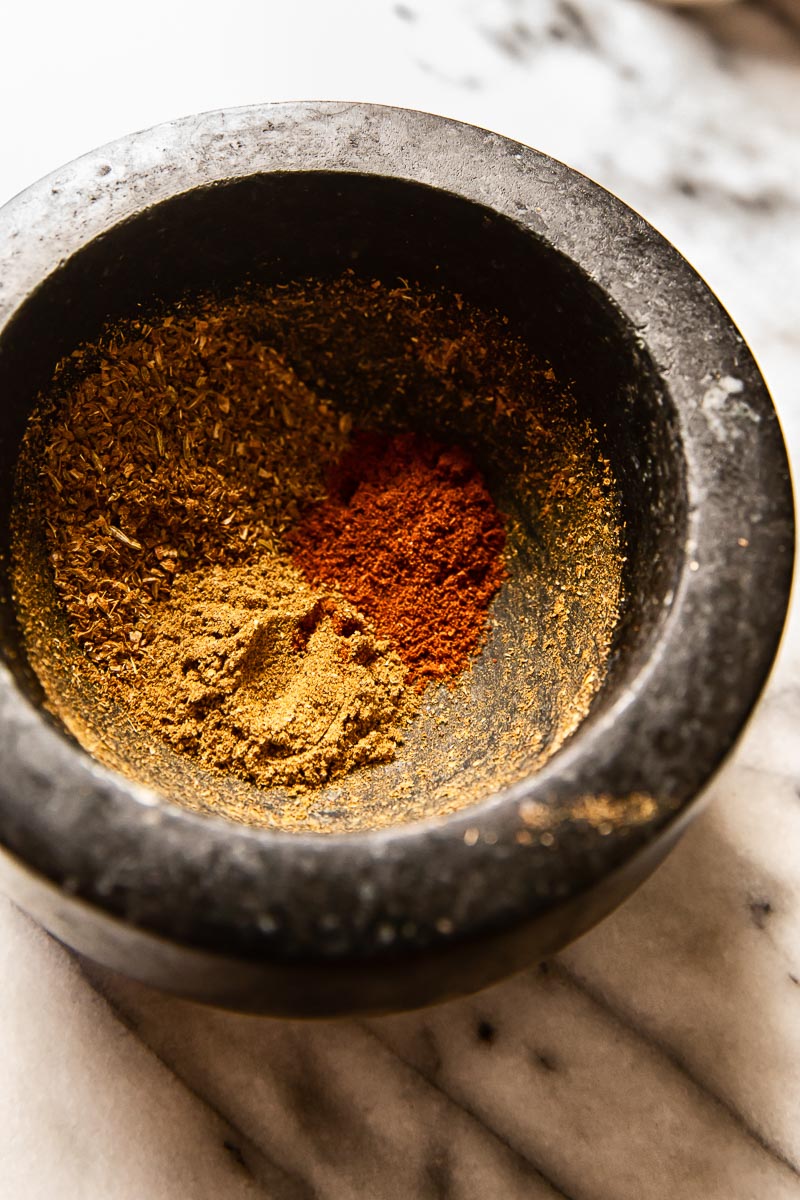 Are these potatoes spicy?
These potatoes can be as hot as you want them to be! To adjust the spiciness simply add or reduce the amount of chilli powder used.
The potatoes that come out as a result of this particular recipe are not hot but they do have a light hint of spice.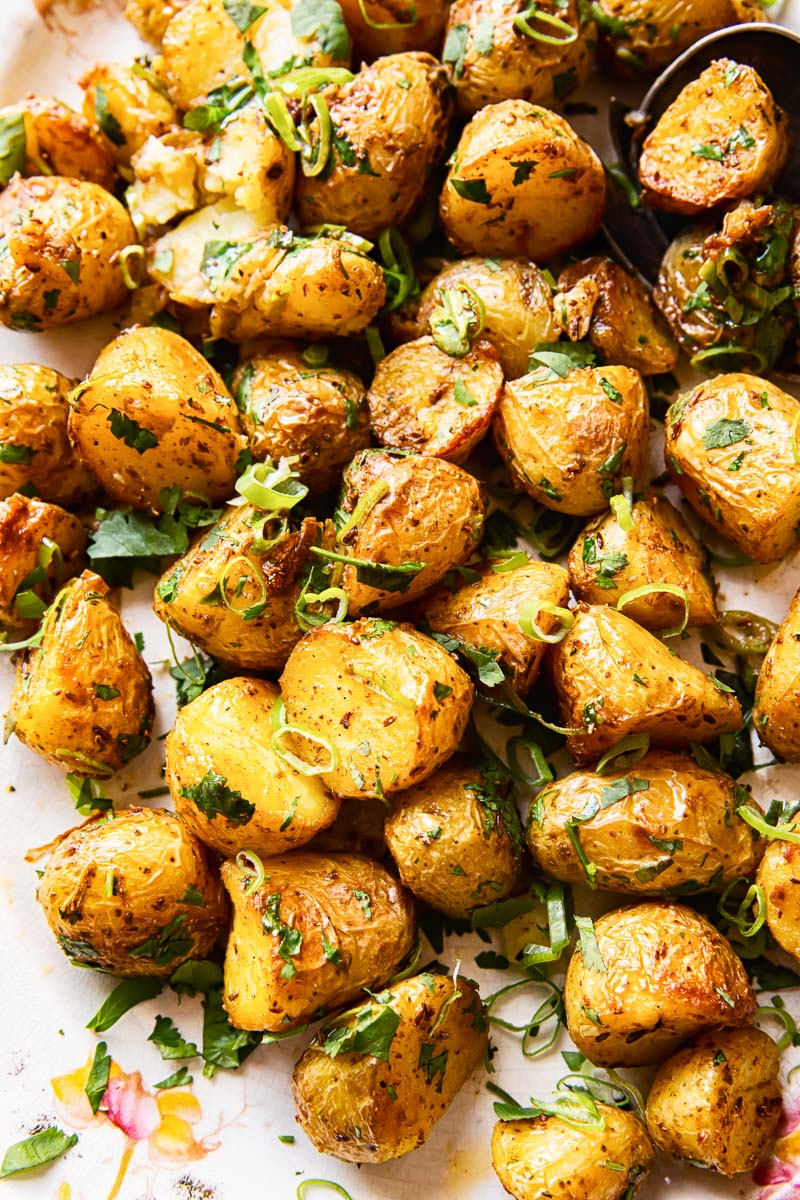 More favourite potato recipes to try: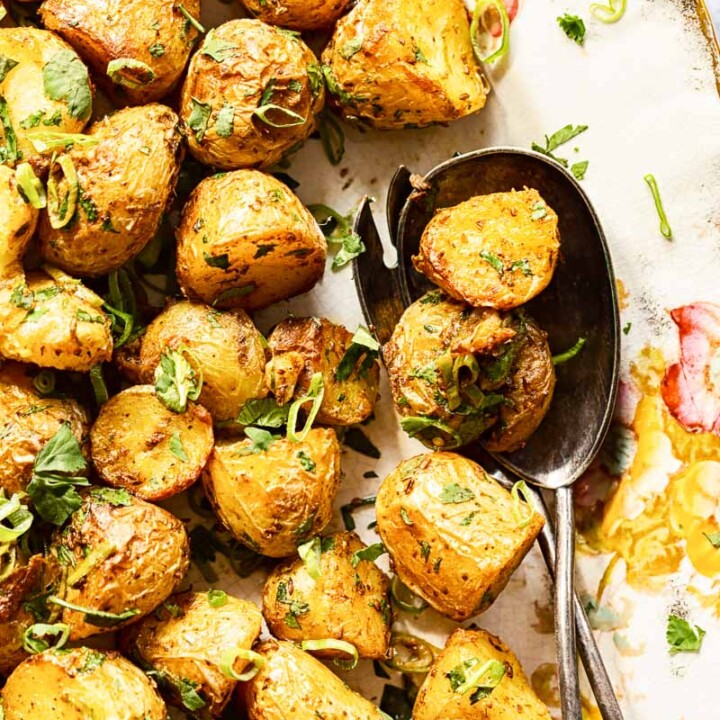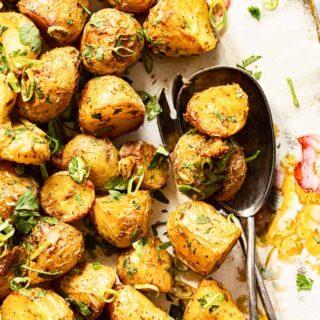 Perfectly Spiced Roasted Baby Potatoes
These perfectly spiced roasted baby potatoes boast golden and crispy skin with a fluffy exterior!
Ingredients
2lbs

baby potatoes

0.5

tsp

of each cumin seeds, fennel seeds, coriander seeds

1

tbsp

vegetable oil

1

tbsp

butter

0.5-1

tsp

chilli powder

0.5

tsp

garam masala

1

lime, juice only

2

tbsp

green onions, sliced

2

tbsp

chopped cilantro/coriander
Instructions
Boil the unpeeled potatoes until soft for about 12-15 minutes depending on the size.

Meanwhile toast the seeds in a dry pan for 1 minute over medium heat, crush in mortar or spice grinder until fine. Mix with chilli powder and garam masala.

Drain the potatoes and steam dry them, then cut each in half with a large spoon to create rough edges, which will create crispier potato. Toss with 1 tbsp of vegetable oil and season with salt.

Broil/grill for 10 minutes on each side. 20 minutes combined.

Combine melted butter with the spice mixture and the juice of 1 lime and pour over potatoes. Add more salt if needed. Put back in the oven and broil for 3-5 minutes until golden and crispy. Then sprinkle with green onion and cilantro, toss to combine.
Nutrition
Calories:
238
kcal
Carbohydrates:
42
g
Protein:
5
g
Fat:
7
g
Saturated Fat:
5
g
Cholesterol:
8
mg
Sodium:
46
mg
Potassium:
972
mg
Fiber:
6
g
Sugar:
2
g
Vitamin A:
232
IU
Vitamin C:
50
mg
Calcium:
33
mg
Iron:
2
mg