Juicy and flavourful Blackcurrant Compote Glazed Ham made even more delicious by the glaze. This recipe is straightforward and easy and won't trip you up when you are cooking a holiday meal.
For more holiday centerpiece recipes, check out my Roast Leg of Lamb, Rosemary and Thyme Roast Chicken or Pork Roast.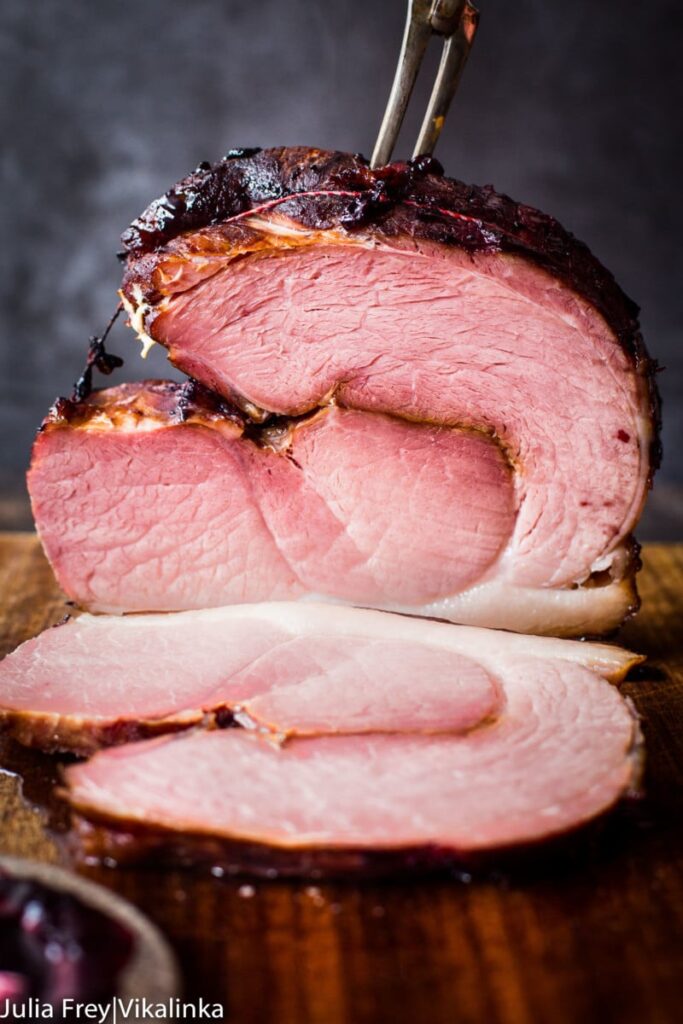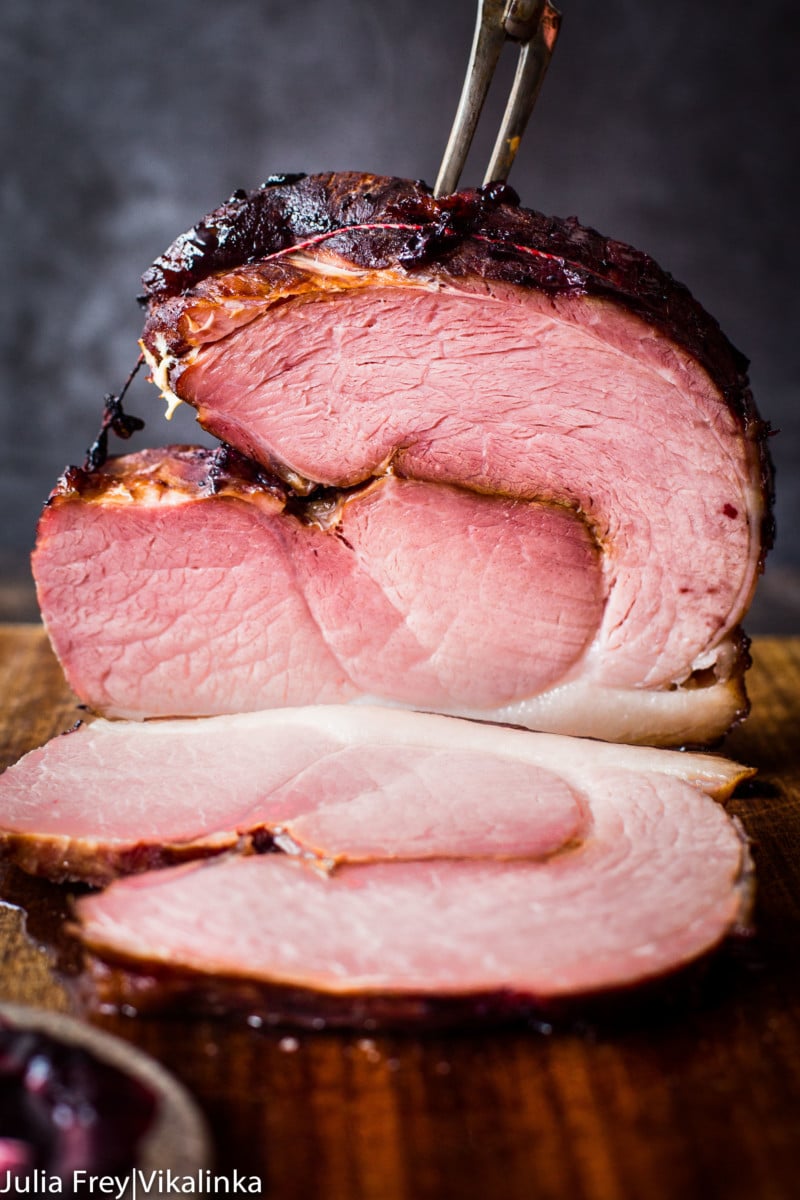 Roasts usually have a reputation of labour intensive meals, which involve hours in the kitchen, achy back and feet and a pile of dirty dishes at the end. No wonder we reserve them for special occasions.
I completely agree, however roasting gammon doesn't fall in the same category. It couldn't be simpler and it's hard to find people who don't like ham!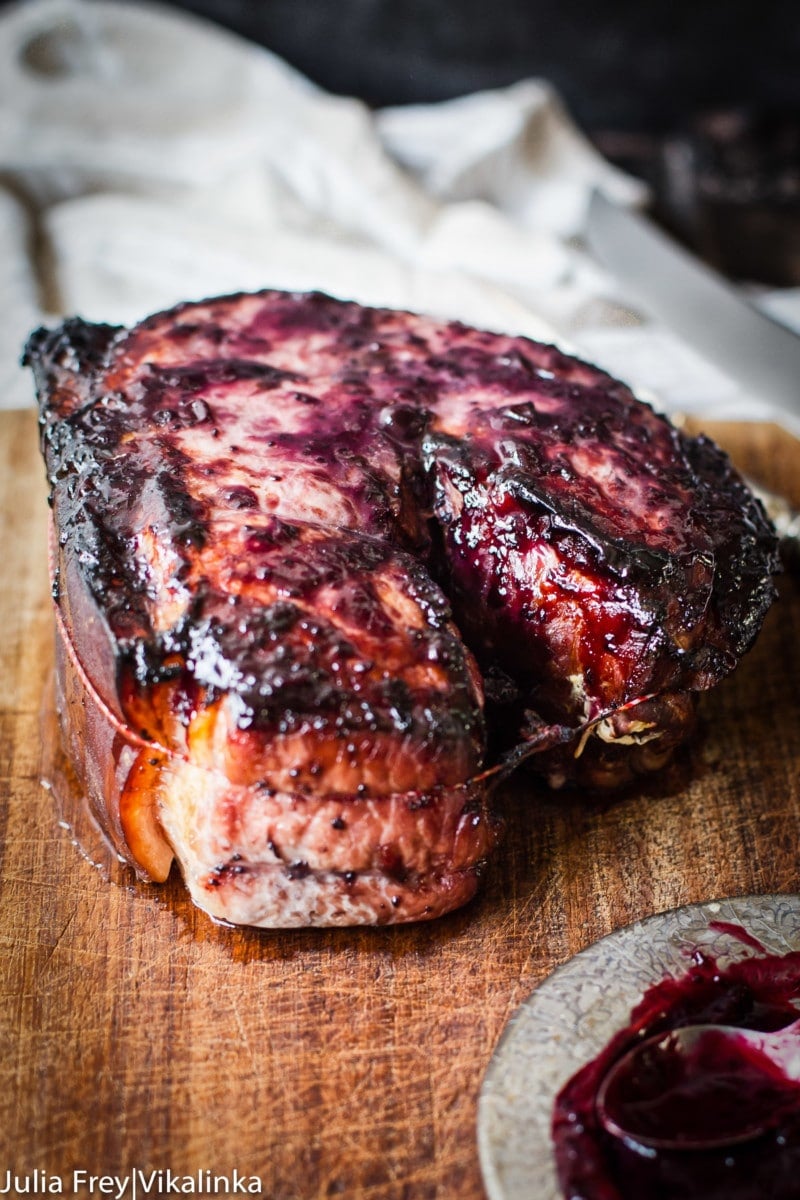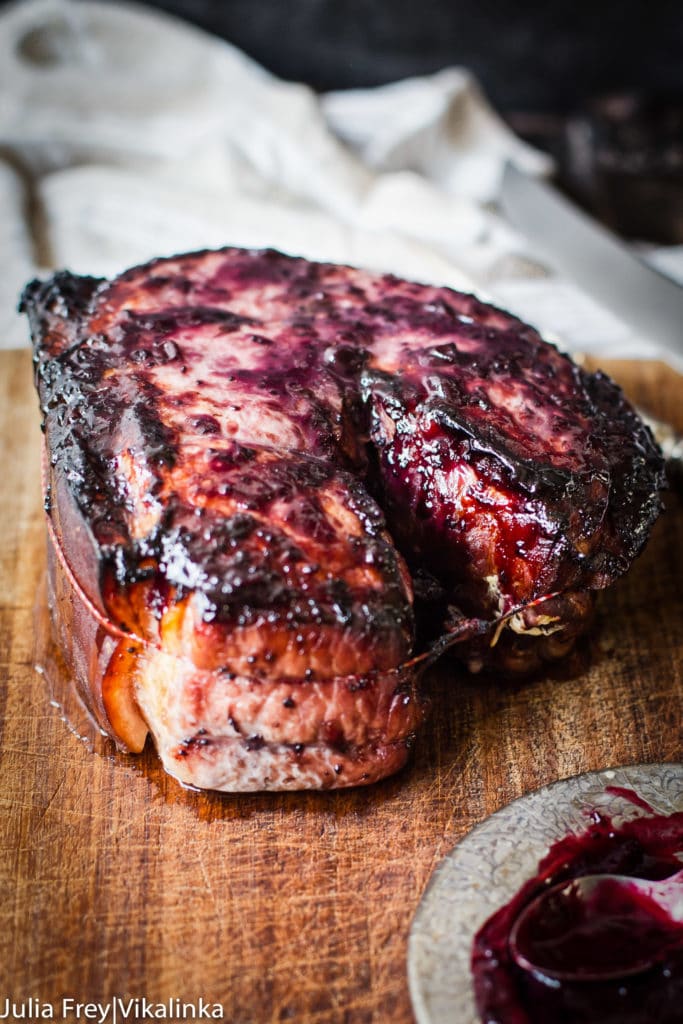 What is the difference between ham and gammon?
A quick clarification for my North American readers' sake. Raw and cured ham from the hind legs of a pig is referred to as 'gammon' in the UK.
Gammon needs to be cooked while ham is usually sold pre-cooked and only needs glazing and being warmed in the oven.
Generally, 'gammon' as a term is used more commonly than 'ham" by the Brits and my children, who are turning out pretty English.
One of the reasons ham is so easy to prepare is because it's already been cured and packs a beautiful smoky flavour, so you don't need many ingredients and much effort to pull off a delicious dinner.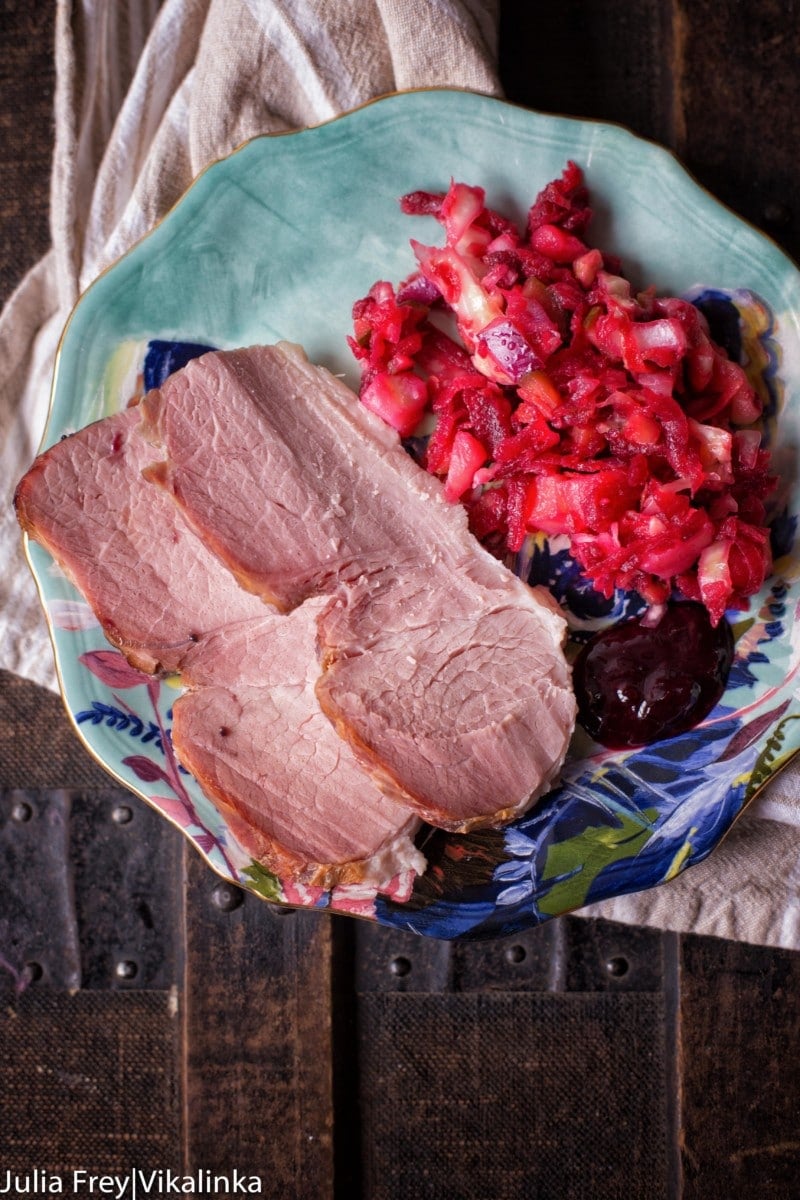 What dishes pair well with ham?
Roast ham and mashed potatoes are my absolute favourite dinner combination. So delicious but could be a bit heavy, especially now that beautiful weather is finally here.
To serve a lighter and more vitamin-packed dinner I paired my roast ham with a delicious beet and sauerkraut salad.
Traditionally ham is served with a zesty mustard and a sweet and sour pickle to compliment the meat. I stayed true to the tradition but brought in my own twist with this salad!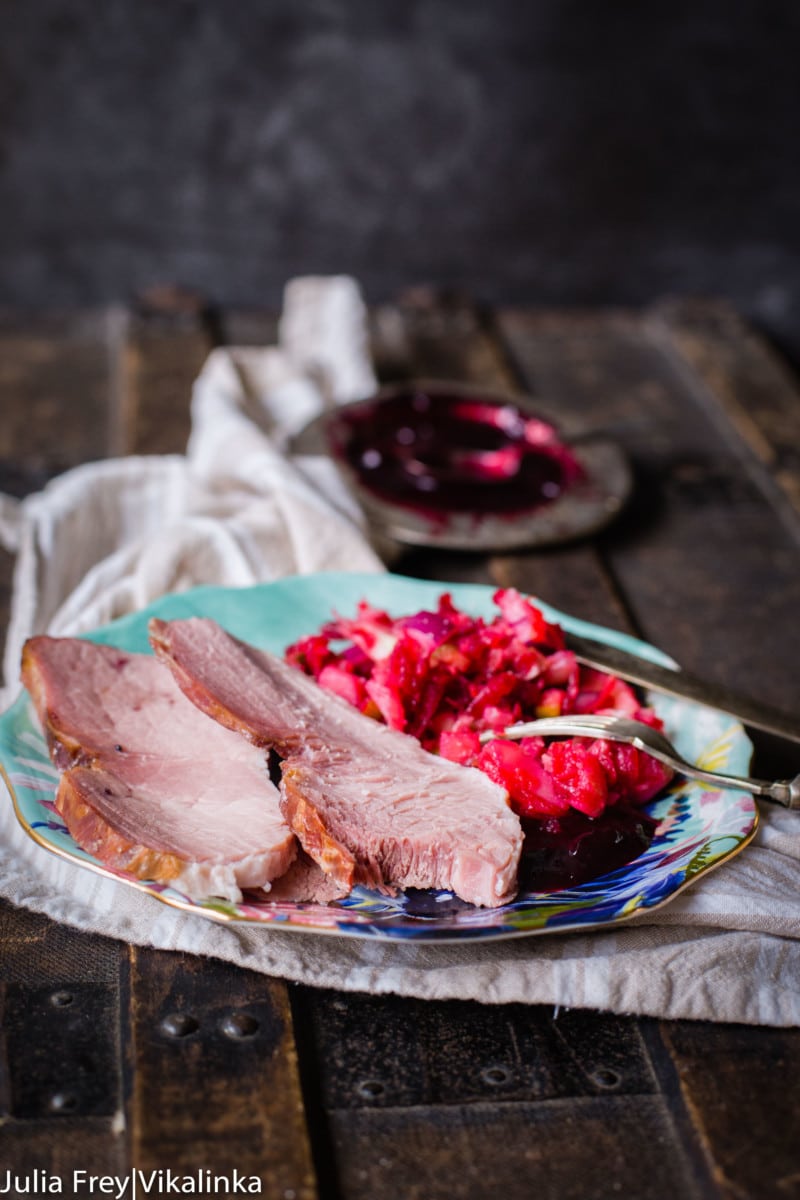 My ham is glazed with a sweet and tart blackcurrant compote, which to me is the most delicious fruit preserve that exists in the world! I pretty much always have a jar in the fridge. It's so versatile and could be used for sweet and savoury dishes like these Sweet and Sour Pork Chops.
Just the smell alone immediately takes me back to my family home, where my granny would preserve buckets of black currants she grew herself.
The compote gives the ham a beautiful sweet and slightly sticky coating as well as a gorgeous flavour of the summer!
If you are not a fan of blackcurrant preserves, feel free to substitute for other fruit preserves. Choose one that i slightly tart like red currant, cranberry or bitter orange preserves.
Side dishes for glazed ham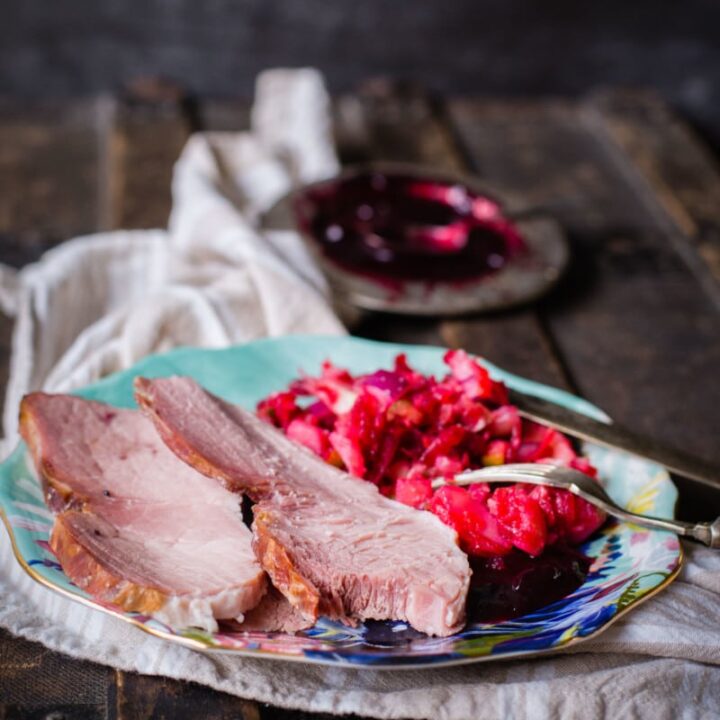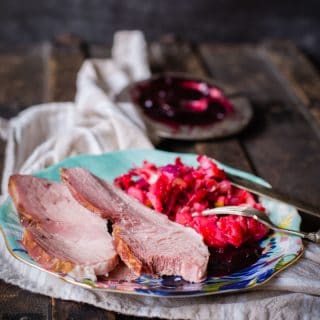 Blackcurrant Compote Glazed Ham
Juicy and flavourful ham made even more delicious by the blackcurrant glaze.
Ingredients
3

lbs

smoked gammon joint

2

bay leaves

1

medium onion or 3 small shallots

quartered

1

tsp

black peppercorns

125

ml/1/2 cup blackcurrant compote/preserves

extra blackcurrant compote for serving

optional
Instructions
Preheat the oven to 180C/350F. Place a smoked gammon joint in a roasting pan. To the pan add bay leaves, peppercorns and quartered onion, then add water, it should come halfway up the walls of a roasting pan. Cover with a double layer of tin foil and cook for 30 minutes.

Take out of the oven, uncover and glaze the gammon joint with a blackcurrant compote using a pastry brush, cook for additional 10 minutes or until the internal temperature of ham registers at 68C/150F.

Let it rest for 20 minutes, then slice and serve.
Nutrition
Calories:
339
kcal
Carbohydrates:
17
g
Protein:
50
g
Fat:
7
g
Saturated Fat:
2
g
Polyunsaturated Fat:
1
g
Monounsaturated Fat:
3
g
Trans Fat:
1
g
Cholesterol:
141
mg
Sodium:
180
mg
Potassium:
867
mg
Fiber:
1
g
Sugar:
11
g
Vitamin A:
22
IU
Vitamin C:
3
mg
Calcium:
39
mg
Iron:
2
mg