These sweet and sour pork chops are first marinated in plum sauce, soy sauce, honey and gin for extra flavour and tenderness. Then seared in a hot pan and simmered in sweet and sour sauce with olives and figs. This recipe is a fun and new take on sweet and sour pork that has been meshed with classic sauces of European cuisine.
If you are a fan of pork recipes cooked in Asian style, take a look at my zesty and flavourful Pulled Pork Sandwiches with Carrot, Zucchini and Radish Slaw.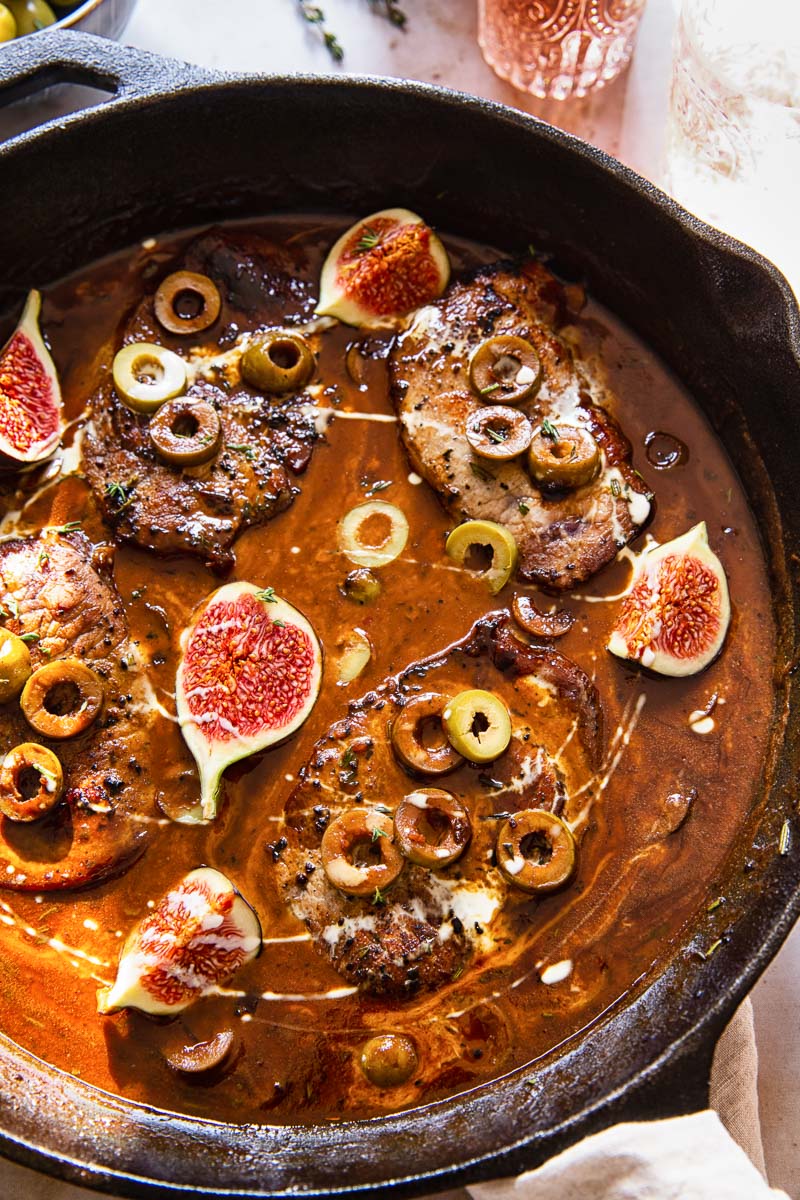 It's fun to reinvent recipes and I feel like this particular one for pork chops in sweet and sour sauce has been a great success!
This recipe carries the classic flavours of Chinese sweet and sour pork but is served in a tangy sauce enriched with a bit of cream similar to French sauces. I've also added salty green olives and fresh figs to the mix. My whole family went crazy for this pork loin steak recipe.
Sweet and sour pork marinade
Pork chops are definitely the type of meat that benefits from marinating for two reasons. Tenderising and flavour. It's easy enough to mix up the marinade the night before and let it do its magic overnight.
The end result is so satisfying! Simply mix together plum sauce, soy sauce, honey, gin or rice wine, herb and garlic seasoning for the sweet and sour marinade and pour it over pork chops. Let it marinate in the refrigerator for at least 8 hours.
There are a couple of ingredients in the marinade that could easily be substituted with similar results. All we are looking for is sweet and sour flavours.
For example, I have used blackcurrant preserves instead of plum sauce on several occasions. You can also skip the gin and use either dry sherry, rice wine or rice vinegar. We are using them to add acidity (the sour note) to the pork. Alcohol or vinegar also tenderize the meat.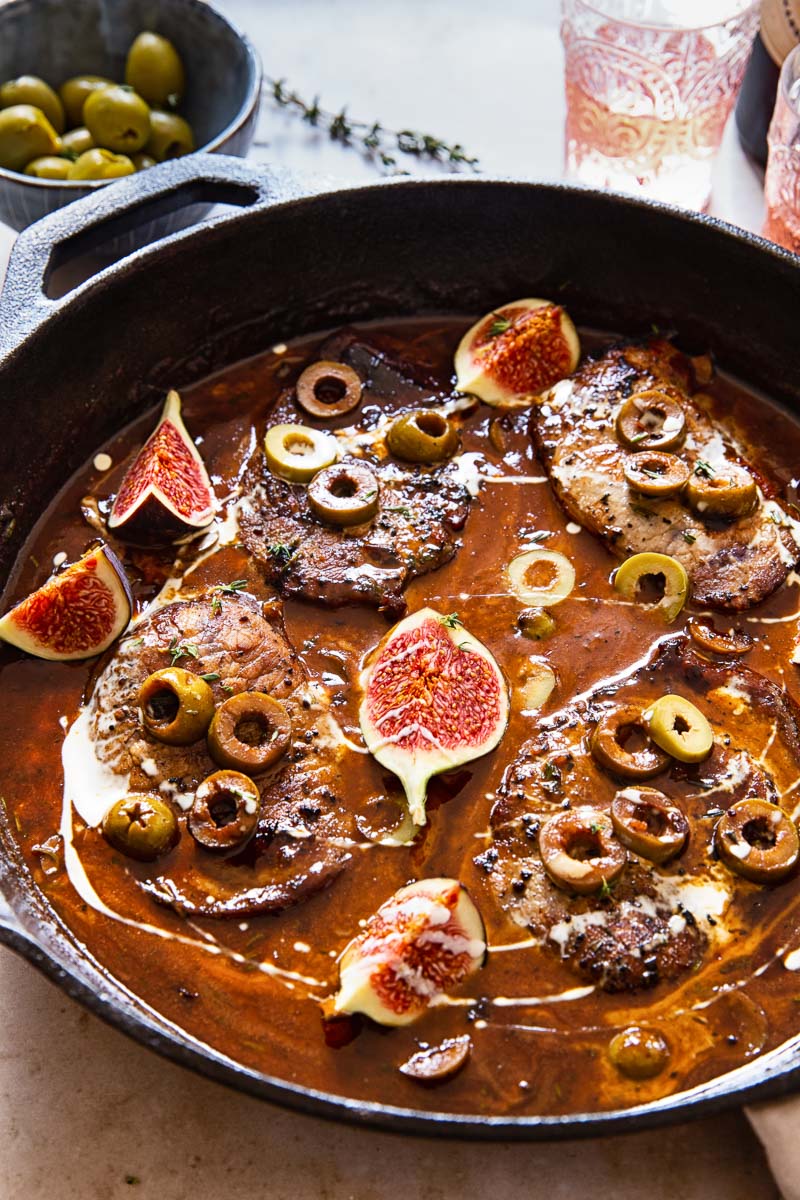 Sweet and sour sauce for pork
The sauce for the pork chops relies on the same sweet and sour flavours that we use the marinade to reinforce them. I've also added extra garlic, Dijon mustard and some thyme to bring in the Euro influence as well as heavy cream for a thich, luscious sauce.
The sugar in plum sauce and honey gives this sauce a syrup like consistency, so no flour or cornstarch are necessary for thickening it.
What goes well with this pork chop recipe?
Plain rice is absolutely the best pairing for these pork chops. Since sweet and sour flavours are so intense and complex we wouldn't want to introduce anymore flavours or they will compete instead of complementing each other.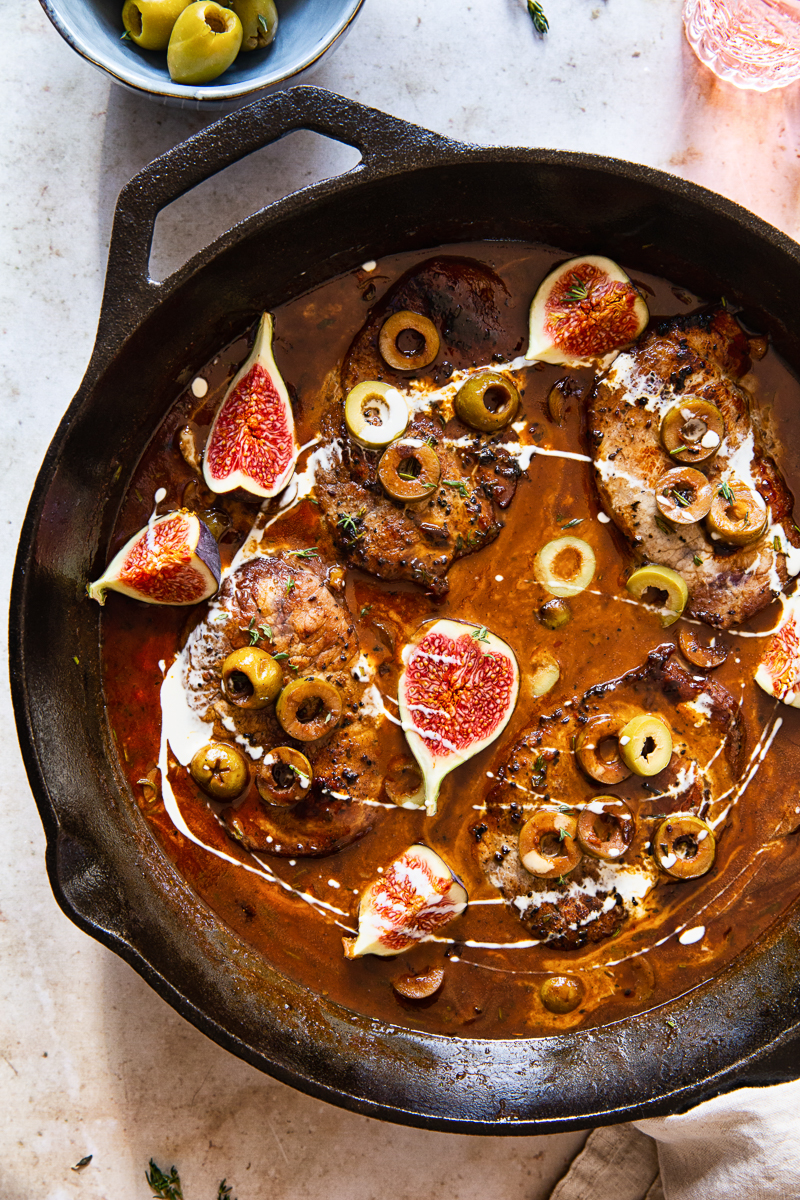 Our favourite pork recipes: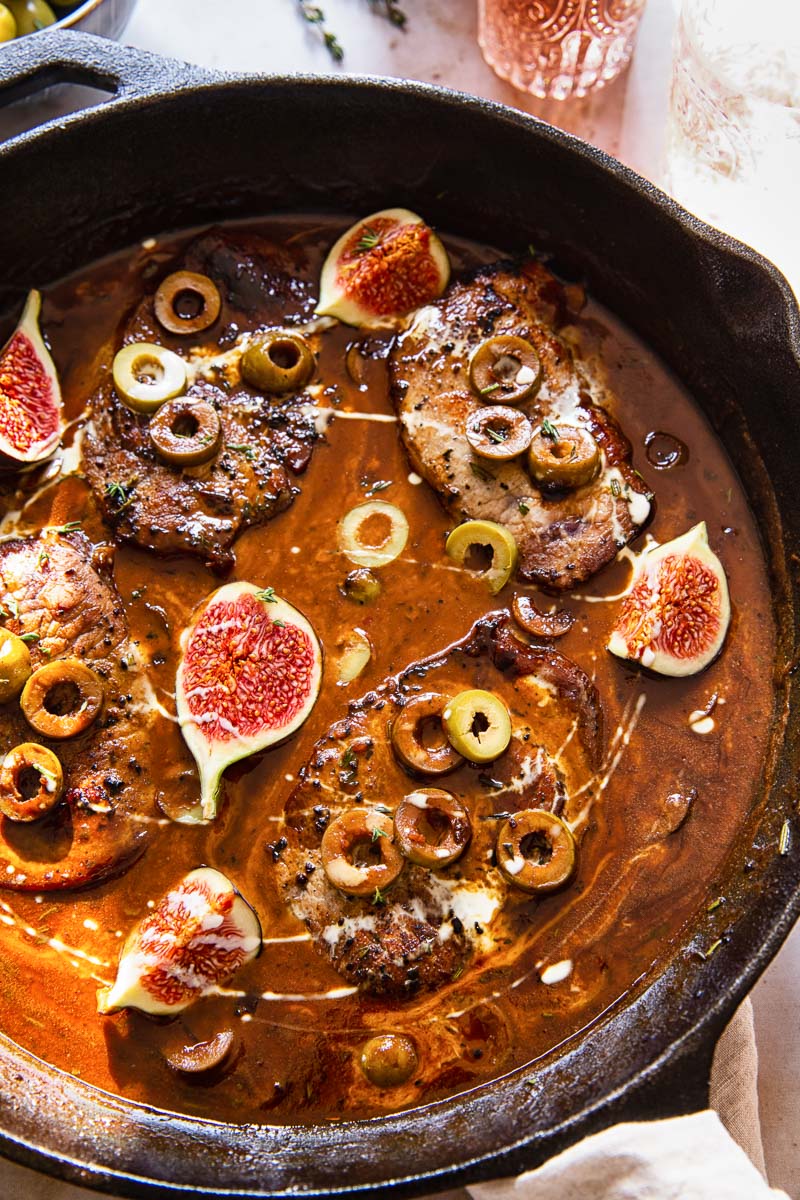 Ingredients
For the sweet and sour pork marinade
80ml1/3cup

plum sauce or blackcurrant preserves

4 tbsp

soy sauce

3 tbsp

honey

2

tsp

herb and garlic seasoning (combined)

80ml/1/3cup

gin or rice wine

4

pork chops/pork loin steaks
For the sweet and sour pork sauce
2

tbsp

butter

3

cloves

garlic, pressed

1

tsp

fresh thyme leaves or 1/2 tsp dried

1

tsp

dijon mustard

125ml/1/2cup

double cream/heavy cream

45g/1/4 cup

green olives, sliced

2-3

fresh figs, quartered

salt to taste
Instructions
For the sweet and sour pork marinade
In a small bowl mix together the plum sauce, soy sauce, honey, herb and garlic seasoning and gin or rice wine, pour over the pork chops and marinade overnight in a refrigerator in an airtight container or a ziplock bag.
For the sweet and sour pork chops in sauce
Take the pork chops out of the marinade and pat them dry with a paper towel. Reserve the marinade for later. Sear the pork chops in butter over medium/high heat for approximately 2 minutes on each side. Remove to a plate.

Reduce the heat to low and add the garlic and saute for half a minute, then add the reserved marinade, thyme leaves, Dijon mustard and bring the sauce to a boil. Add the pork chops back to the pan together with sliced green olives and let them simmer in the sauce over low heat until the sauce reduces and becomes thick and syrupy for approximately 15 minutes. Take the pan off the heat and stir in cream, then add the fresh figs to the sauce and serve.
Notes
Rice wine or dry sherry could be used in place of gin.
Use 2 tbsp apple cider vinegar or rice vinegar plus apple juice if you want to avoid alcohol.
Blackcurrant preserves could be used instead of plum sauce
Nutrition Facts
Sweet and Sour Pork Chops
Amount Per Serving
Calories 511.82
Calories from Fat 212
% Daily Value*
Fat 23.59g36%
Cholesterol 146.3mg49%
Sodium 1388.19mg60%
Potassium 730.05mg21%
Carbohydrates 31.17g10%
Protein 33.57g67%
Vitamin A 768.64IU15%
Vitamin C 2mg2%
Calcium 87.18mg9%
Iron 2.55mg14%
* Percent Daily Values are based on a 2000 calorie diet.