Throw everything in the pot, then come home to the most delicious slow cooker Cuban Pork aka Lechon Asado. The recipe for the best marinade and beans included. Low effort, maximum satisfaction.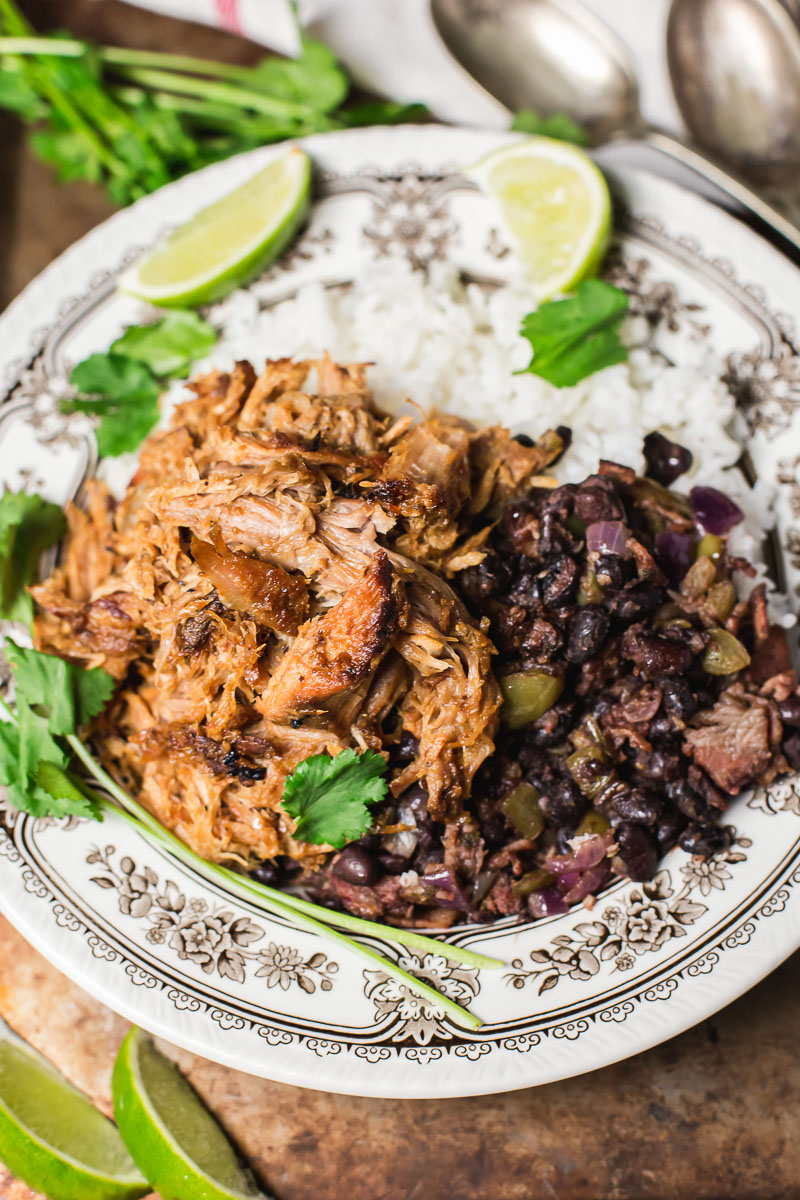 This recipe is an attempt to recreate a delicious Cuban roast pork from our local restaurant. Tender, melt in your mouth pork with rice and black beans, which served topped with fried plantains is one of our guilty pleasures.
It's the type of a meal that feels like you've come home. Even if you've never eaten it before, it's easy to fall in love with. It's the best of comfort food!
This recipe is adapted for the slow cooker from Three Guys from Miami and their recipe for Lechon Asado or Roast Pork Cuban style.
Lechon Asado
Cuban roast pork we came to love packs an incredible flavour. And don't even get me started on the texture!
For the most part it is tender and juicy pork. But once in a while you'd come across a slightly crispy bit by being too close to the edge of a roasting pan. Finding a few of those on your plate feels like winning a lottery!
The Recipe Method
Although traditionally roasted in an oven or even grilled in a covered grill, I was set to use a slow cooker. It's easy, convenient, and it makes delicious food accessible to everyone!
I wasn't willing to compromise on the crispy bits, so was I ever happy to see that the pork came out beautifully. And the texture was spot on.
One of the things you can do to re-create the crispy bits is to spread your pork on a baking sheet and put it under a broiler/grill in the UK for a minute or so. Watch your meat carefully, so it doesn't burn!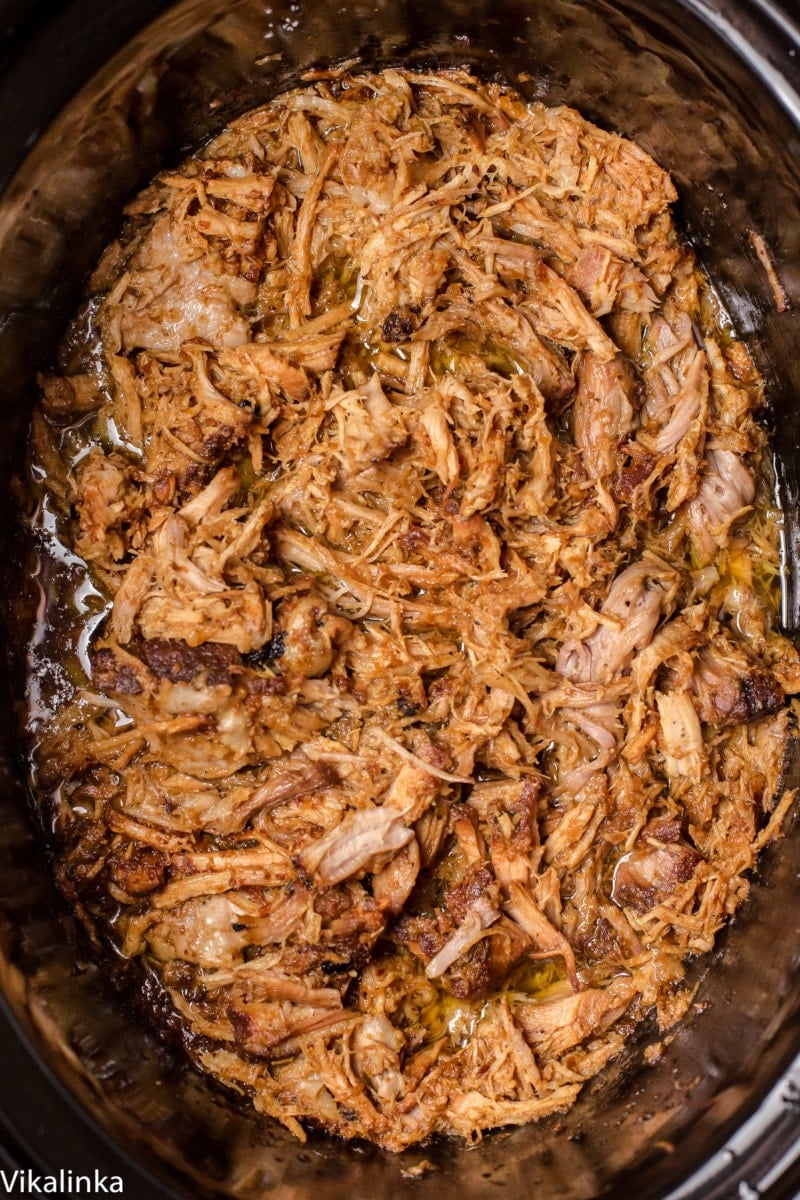 The Marinade
Without a doubt, the most important part of this recipe is the marinade. A mixture of citrus, onions, garlic, oregano, black peppercorns and olive oil gives the pork its incredible flavour and tenderises it!
I leave to marinate in my fridge overnight for the flavour to fully develop. The following morning, simply add the pork with the marinade to your slow cooker and leave slow cooking till dinner.
Hassle free cooking at its best!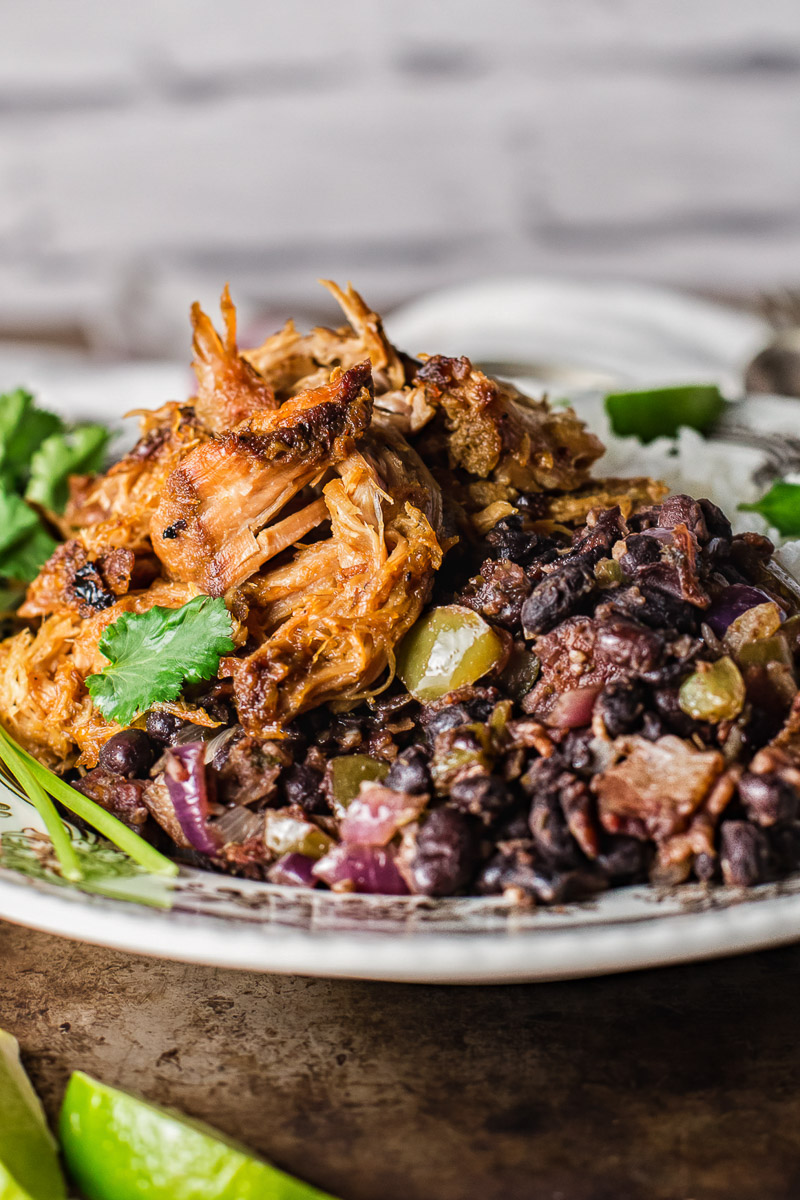 Serving Suggestions
Cuban pork is usually served with rice and beans. I've also included the recipe for the beans below. It's a simple, very inexpensive and an utterly delicious side dish to your pork.
If you can track down plantains, slice and fry those up and add to your pork and beans!
A great way to use your leftovers is to make the famous Cuban sandwich.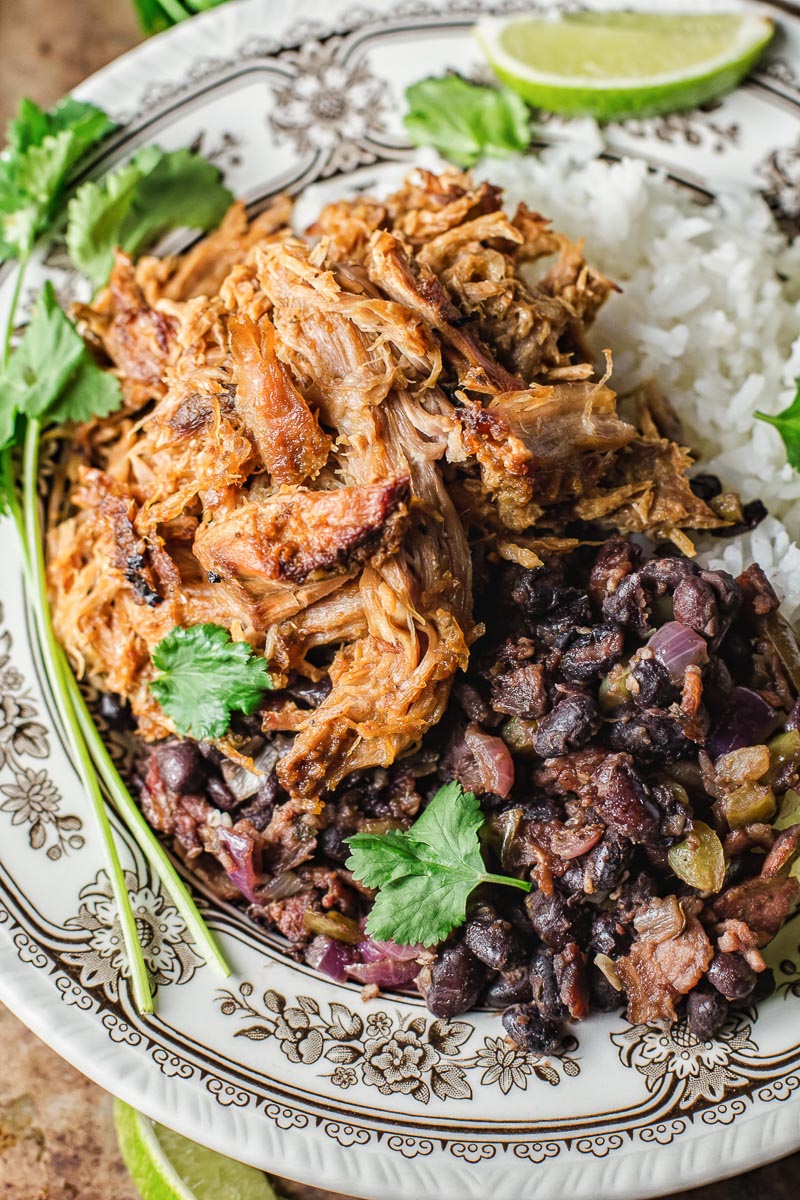 Can I freeze this Cuban Pork?
This Slow Cooker Cuban Pork recipe produces quite a large amount of meat and the good news is it freezes beautifully! It will keep well in your freezer for up to 1 month.
More Favourite Pork Recipes To Try :
This recipe was originally published in 11/2015. Updated and republished in 01/2021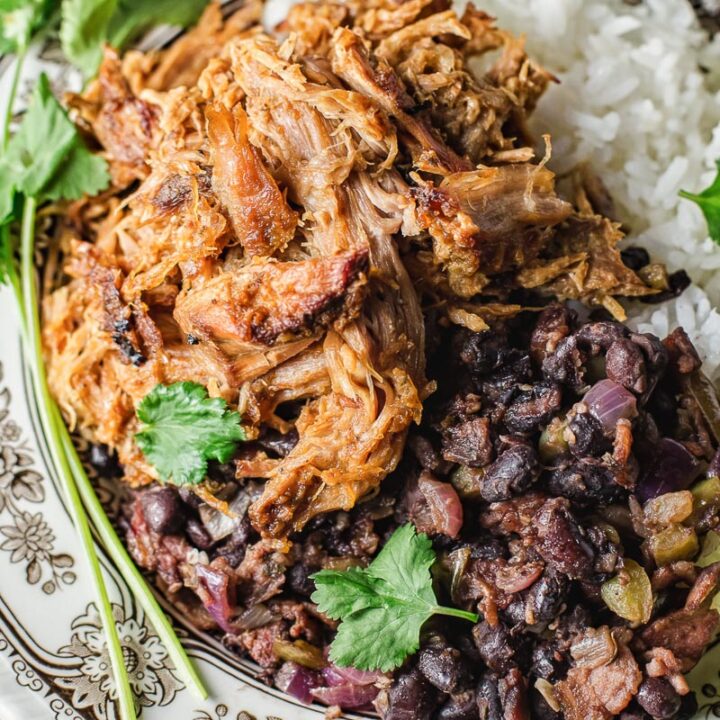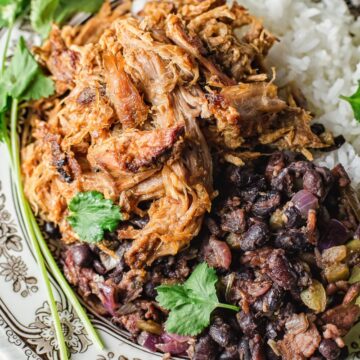 Slow Cooker Cuban Pork
This slow cooked pork literally melts in your mouth and couldn't be easier to make! A crowd pleaser for sure.
Ingredients
For the Slow Cooker Cuban Pork
4-5

lbs

pork shoulder or leg joint

20

cloves

of garlic

2

tsp

sea salt

1

tsp

black peppercorns

1 cup/250ml

freshly squeezed orange juice

½ cup/125ml

freshly squeezed lemon juice

2

medium onions

1

tsp

oregano

½ cup/125ml

olive oil
For the Cuban Black Beans
1

tbsp

olive oil

6-8 slices(100g)

bacon

chopped

1

green pepper

chopped

1

onion

chopped

4

cloves

of garlic

1

bay leaf

¼

tsp

cumin

½

tsp

oregano

1

tbsp

red wine vinegar

800g(28oz)

canned black beans

salt to taste

85ml/1/3

cup

chicken stock
Instructions
For the Slow Cooker Cuban Pork
In a food processor or a blender combine garlic, salt, smashed peppercorns, orange and lemon juice, onions and oregano. Process until smooth.

Heat ½ cup of olive oil in a saucepan, the oil should be hot but not deep frying temperature hot.

Take it off the heat and stir in the contents of the food processor and keep stirring to avoid burning.

Pour the mixture of the pork and let it marinate overnight.

In the morning put the pork together with the marinade in a slow cook and cook on low for 8 hours.

At the end of cooking time pull pork with two forks and mix it well with the juices.
For the Cuban Black Beans
In a large pan cook chopped bacon with a tablespoon of olive oil. If your bacon is very fatty omit oil.

Add chopped onion and green pepper and cook over low hear for 7-10 minutes until tender.

Add garlic, bay leaf, cumin and oregano and stir fry for 1-2 minutes.

Then add red wine vinegar, black beans, salt to taste and stock, bring to a boil, then reduce heat and cook on low for 15 minutes.

Serve pork and beans with long grain rice.
Nutrition
Calories:
901
kcal
Carbohydrates:
79
g
Protein:
67
g
Fat:
33
g
Saturated Fat:
9
g
Trans Fat:
1
g
Cholesterol:
120
mg
Sodium:
3414
mg
Potassium:
2469
mg
Fiber:
6
g
Sugar:
30
g
Vitamin A:
150
IU
Vitamin C:
32
mg
Calcium:
115
mg
Iron:
6
mg