Throw everything in the pot, then come home to the most delicious slow cooker Cuban Pork. Low effort, maximum satisfaction!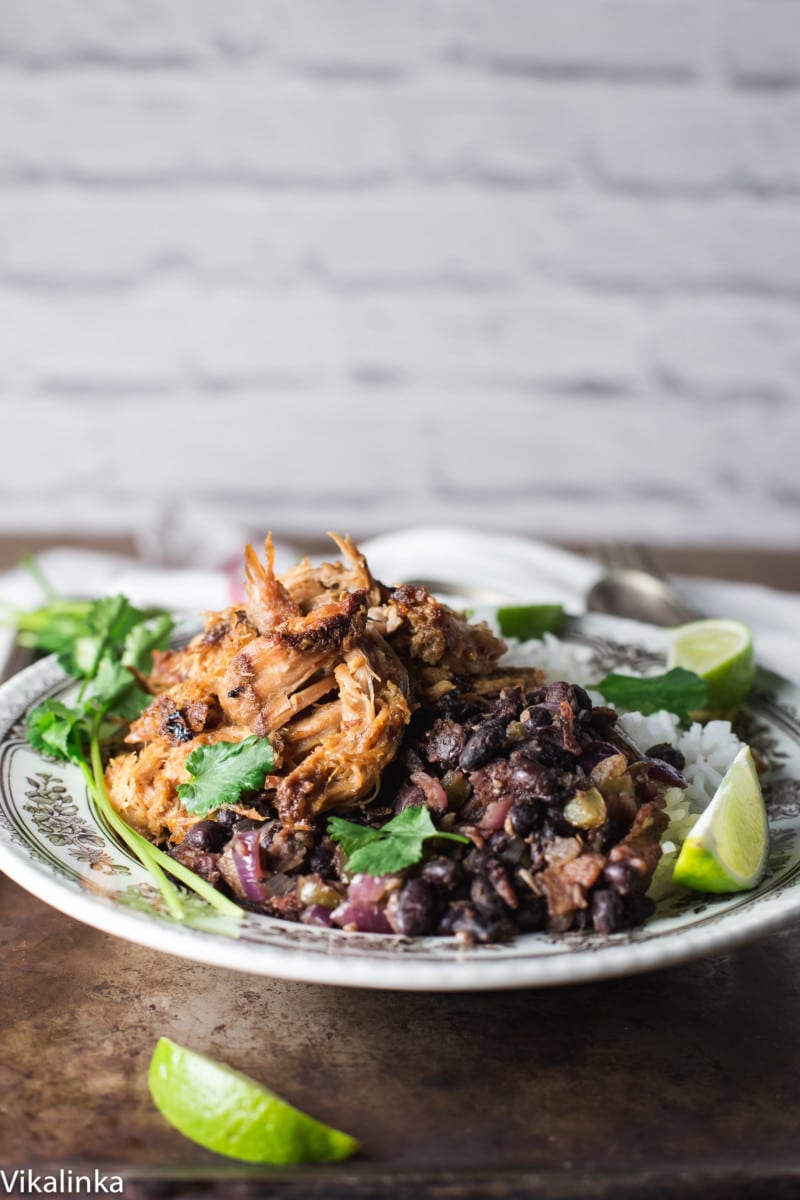 This Cuban Pork recipe was a long time coming. I mean at least 3 years in the making and I am so pleased with the results right now I could dance!
When Brad got a new job 3-4 years ago he was warned at the interview that people in his office needed to take out another mortgage just to finance their lunches. You see the office's unfortunate or fortunate location is on a street that houses an incredible food market.
I often get texts from Brad around 11 am when tantalising smells are becoming too much that he is losing his willpower and his brought-from-home lunch is looking sad. I tried to encourage him to stay strong but we both know it's no use.
One of the main offenders in that food lineup is a Cuban restaurant. Neither Brad nor I had Cuban food before he discovered their melt-in-your-mouth pork with rice and black beans, topped with fried plantains. But since we did we became obsessed with it and with recreating it at home.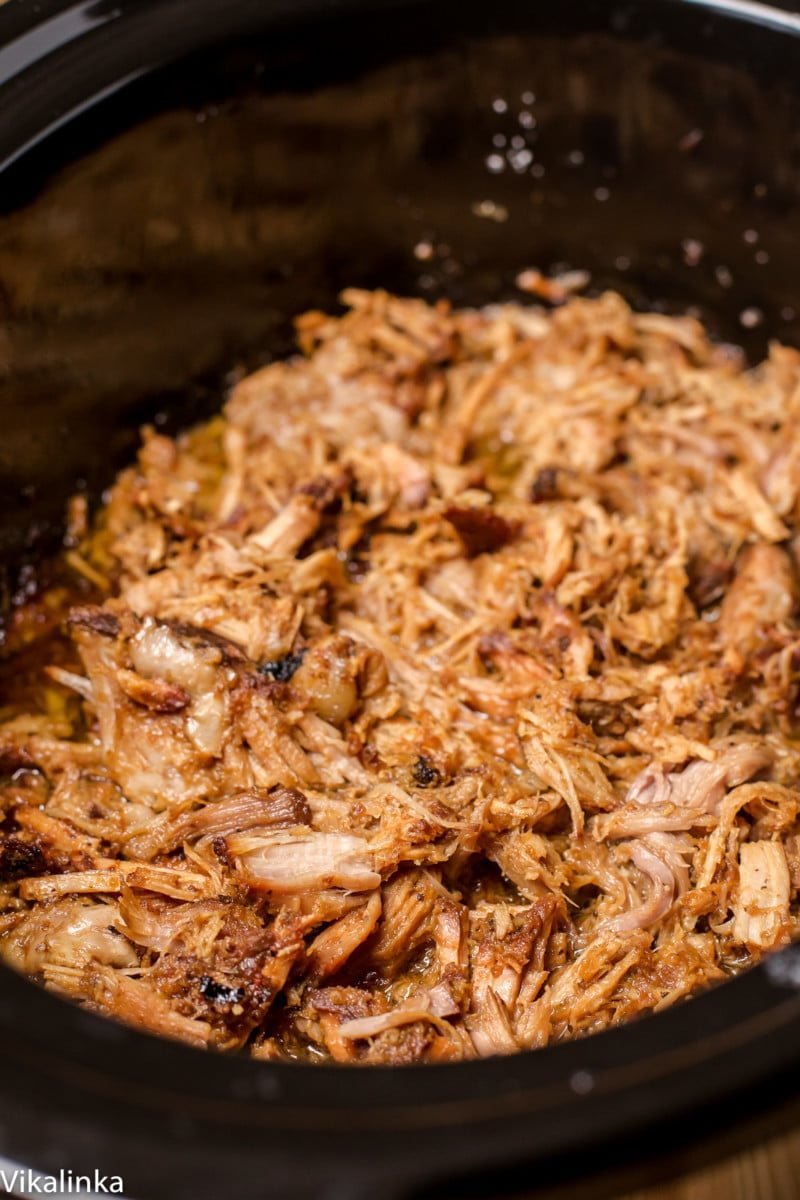 I admit to taking a trip all the way to central London just to have lunch with him on the street on more than one occasions.
Some days he brought it home for me if I had a particularly tough day at work to cheer me up. Yes, we are those people, we eat our feelings!
Long story short one thing was certain, we needed an easier and cheaper access to that wonderfulness.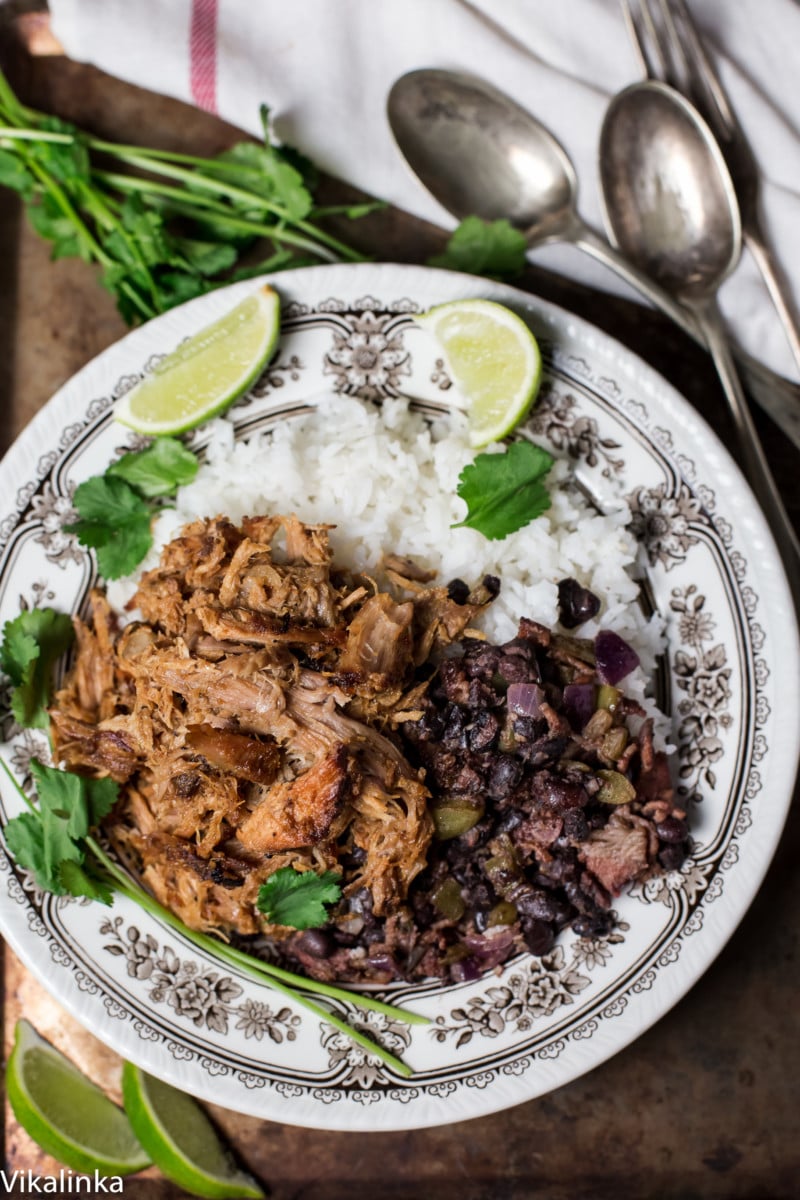 I searched the web looking for the right recipe. I looked at hundreds of them but none looked like pork at Cubana. I almost gave up and then I stumbled upon Three Guys from Miami and their recipe for Lechon Asado or Roast Pork Cuban style.
It seemed legit, the guys were celebrities in the their area for delivering delicious and authentic Cuban food and the site itself was heavily endorsed by the Saveur magazine. I felt more hopeful I was on the right path, however the recipe was so simple and so short on ingredients I was once again doubting.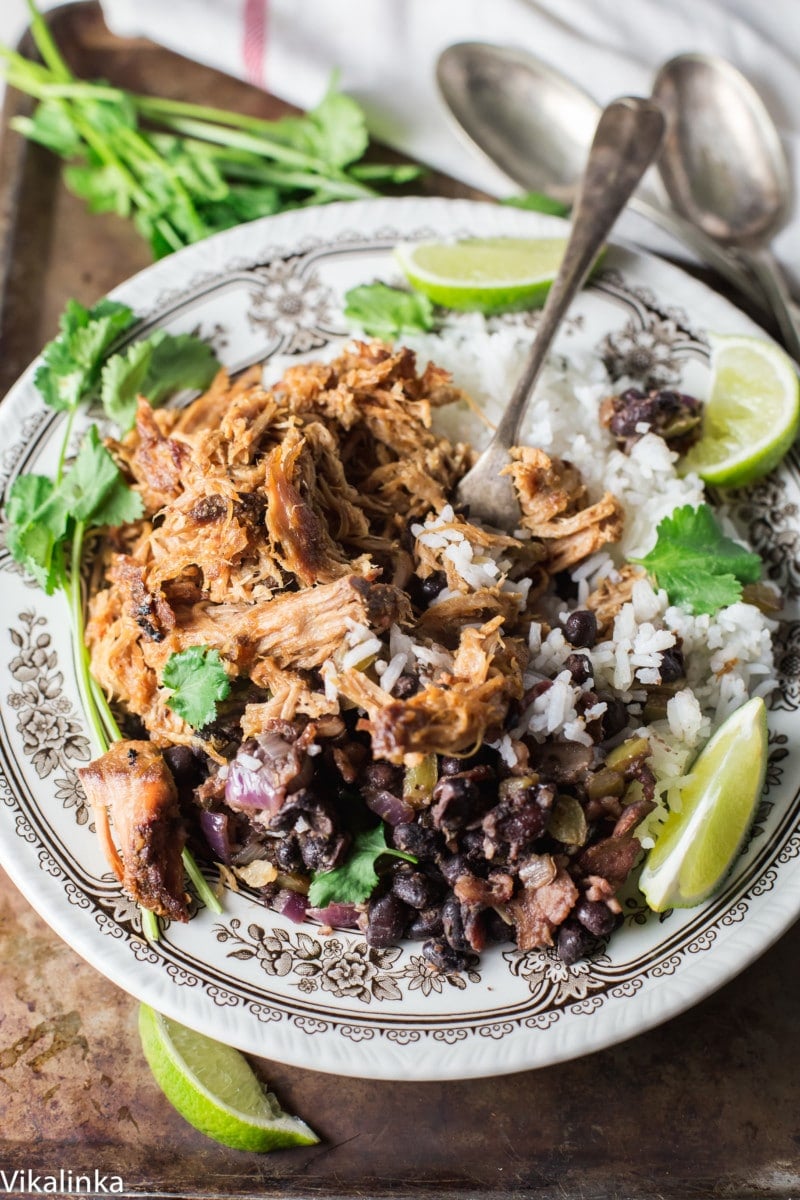 After all, the pork I came to love packed an incredible flavour and don't even get me started on the texture!
For the main part it was tender and juicy pork. But once in a while you'd come across a slightly crispy bit by being too close to the pot and having a few of those in your takeaway container felt like winning a lottery!
I am getting so hungry just thinking about it but luckily I've still got some leftovers.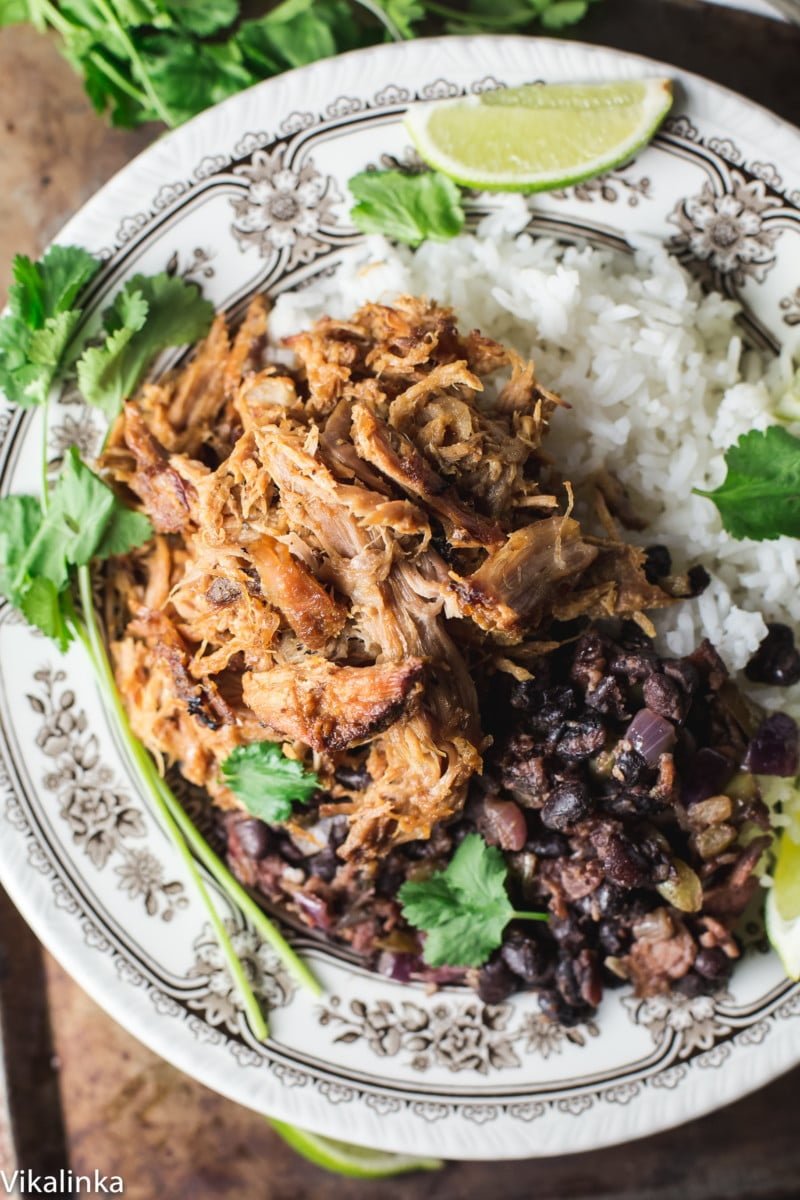 I was set to adapt their recipe for a slow cooker that was kindly provided by VonShef for me but wasn't willing to compromise on the crispy bits, so was I ever happy to see that the pork came out beautifully and the texture was spot on.
Now the big question. Did we manage to recreate the flavour? Overall, yes but this recipe is slightly more citrusy according to Brad, the main Cuban food eater, who also happened to make this recipe. And that is the beauty of a slow cooker-it makes delicious food accessible to everyone!
Can I freeze this Cuban Pork?
This Slow Cooker Cuban Pork recipe produces quite a large amount of meat and the good news is it freezes beautifully!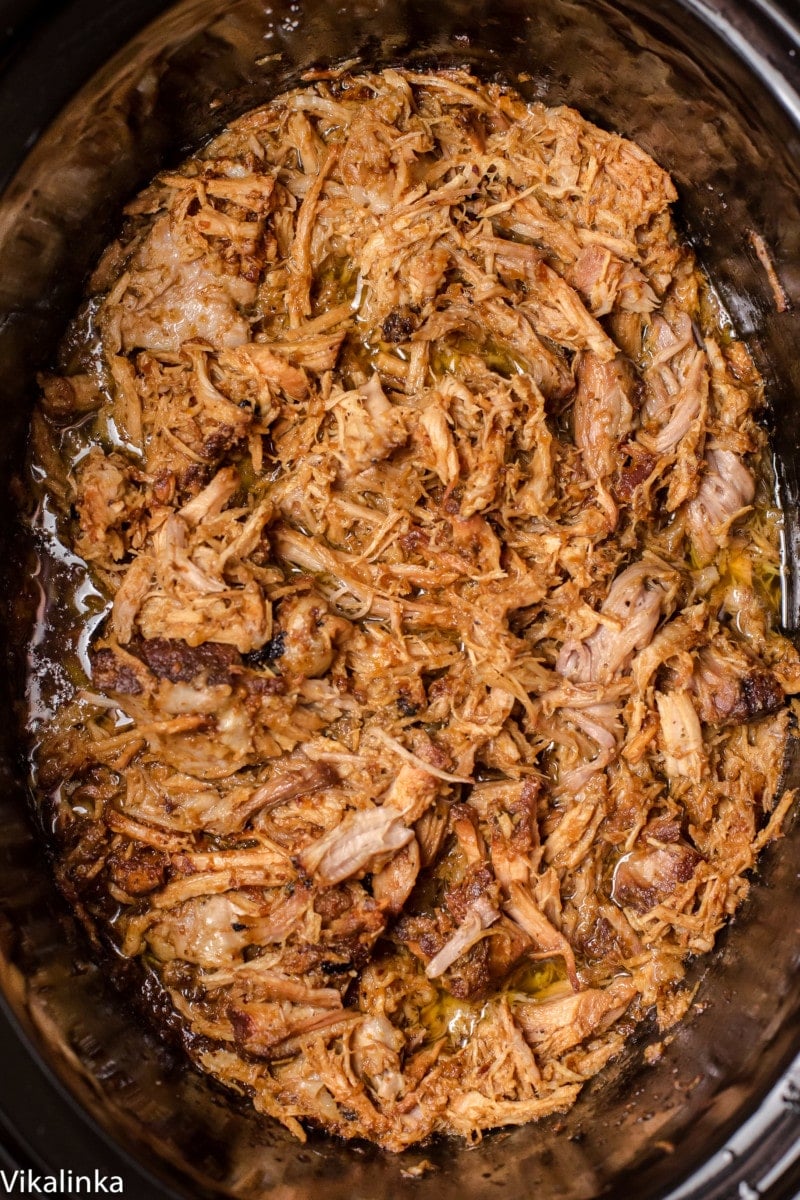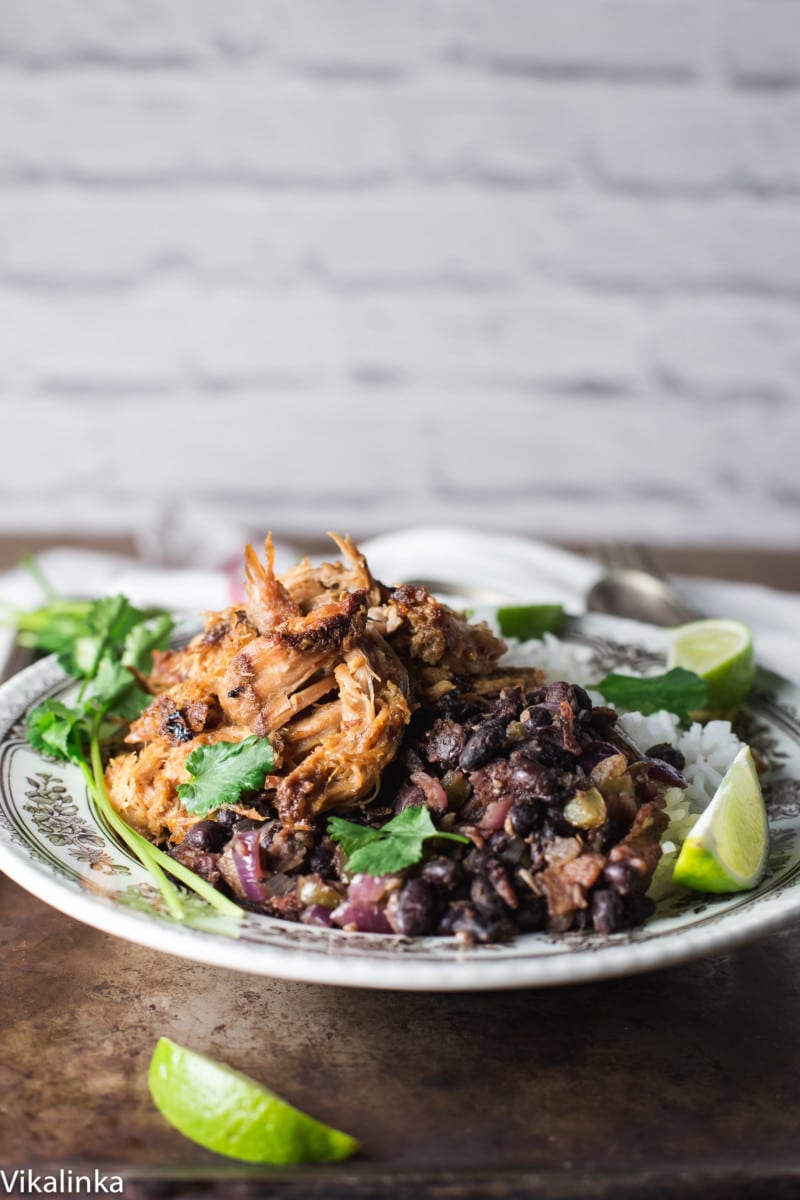 Ingredients
For the Slow Cooker Cuban Pork
4-5

lbs

pork roast

preferably shoulder or leg joint

20

cloves

of garlic

2

tsp

sea salt

1

tsp

black peppercorns

1 cup

250 ml freshly squeezed orange juice

1/2 cup/125

ml

freshly squeezed lemon juice

2

medium onions

1

tsp

oregano

1/2

cup/125 ml olive oil
For the Cuban Black Beans
1

tbsp

olive oil

120

g

bacon

chopped

1

green pepper

chopped

1

onion

chopped

4

cloves

of garlic

1

bay leaf

1/4

tsp

cumin

1/2

tsp

oregano

1

tbsp

red wine vinegar

2

X400g/14oz cans of black beans

salt

1/3

cup

stock
Instructions
For the Slow Cooker Cuban Pork
In a food processor or a blender combine garlic, salt, smashed peppercorns, orange and lemon juice, onions and oregano. Process until smooth.

Heat 1/2 cup of olive oil in a saucepan, the oil should be hot but not deep frying temperature hot.

Take it off the heat and stir in the contents of the food processor and keep stirring to avoid burning.

Pour the mixture of the pork and let it marinate overnight.

In the morning put the pork together with the marinade in a slow cook and cook on low for 8 hours.

At the end of cooking time pull pork with two forks and mix it well with the juices.
For the Cuban Black Beans
In a large pan cook chopped bacon with a tablespoon of olive oil. If your bacon is very fatty omit oil.

Add chopped onion and green pepper and cook over low hear for 7-10 minutes until tender.

Add garlic, bay leaf, cumin and oregano and stir fry for 1-2 minutes.

Then add red wine vinegar, black beans, salt to taste and stock, bring to a boil, then reduce heat and cook on low for 15 minutes.

Serve pork and beans with long grain rice.