Why not walk on the wild side and serve your traditional pork roast with exotic persimmon sauce?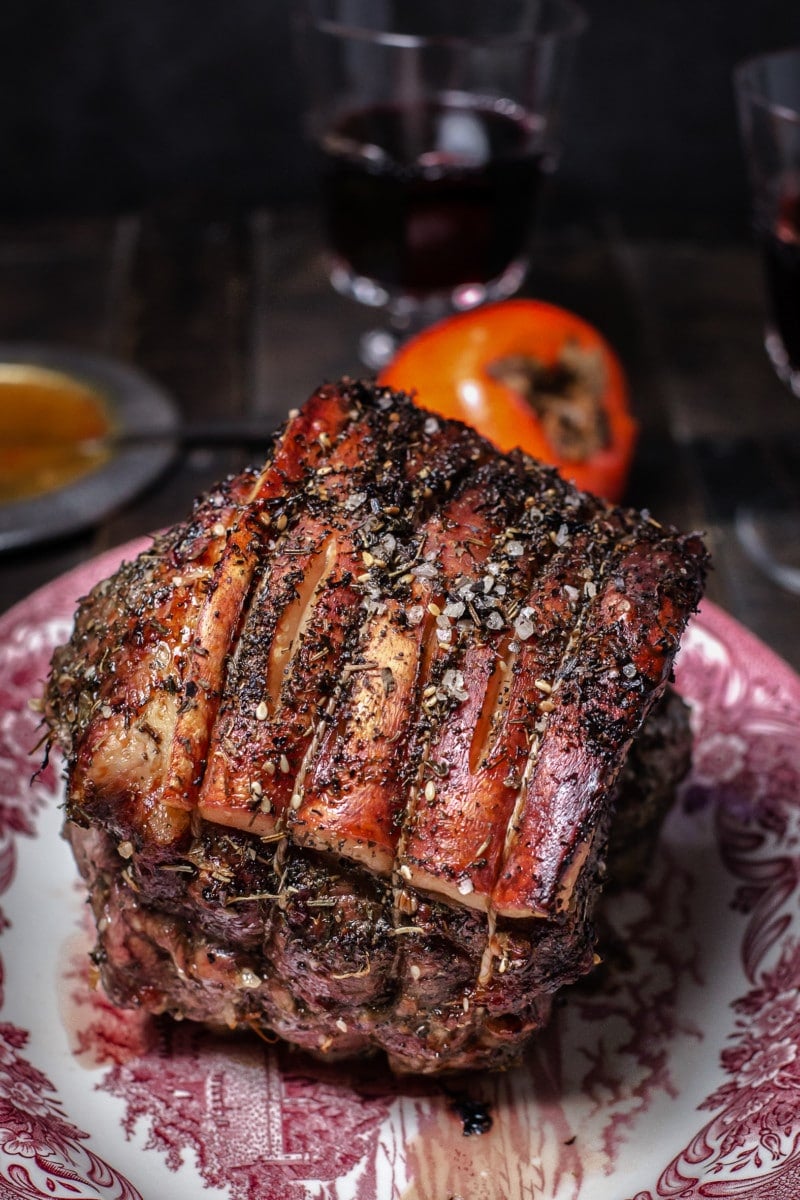 When it comes to a Christmas dinner planning I feel both giddy with excitement and torn into a million of different directions. Forget choosing what trimmings to cook, I can't even zero in on my main hero!
Turkey, duck, goose, beef, pork…seriously at this point in time they are all still contenders for the main part, however one thing is sure; whatever type of meat I choose it will be most certainly roasted.
Roasting is my favourite method of cooking and pork roasts happen to be the easiest, most forgiving meat I've come across. I love what oven cooking at high temperatures can achieve.
Meat tender and juicy on the inside with crispy crackling on the outside.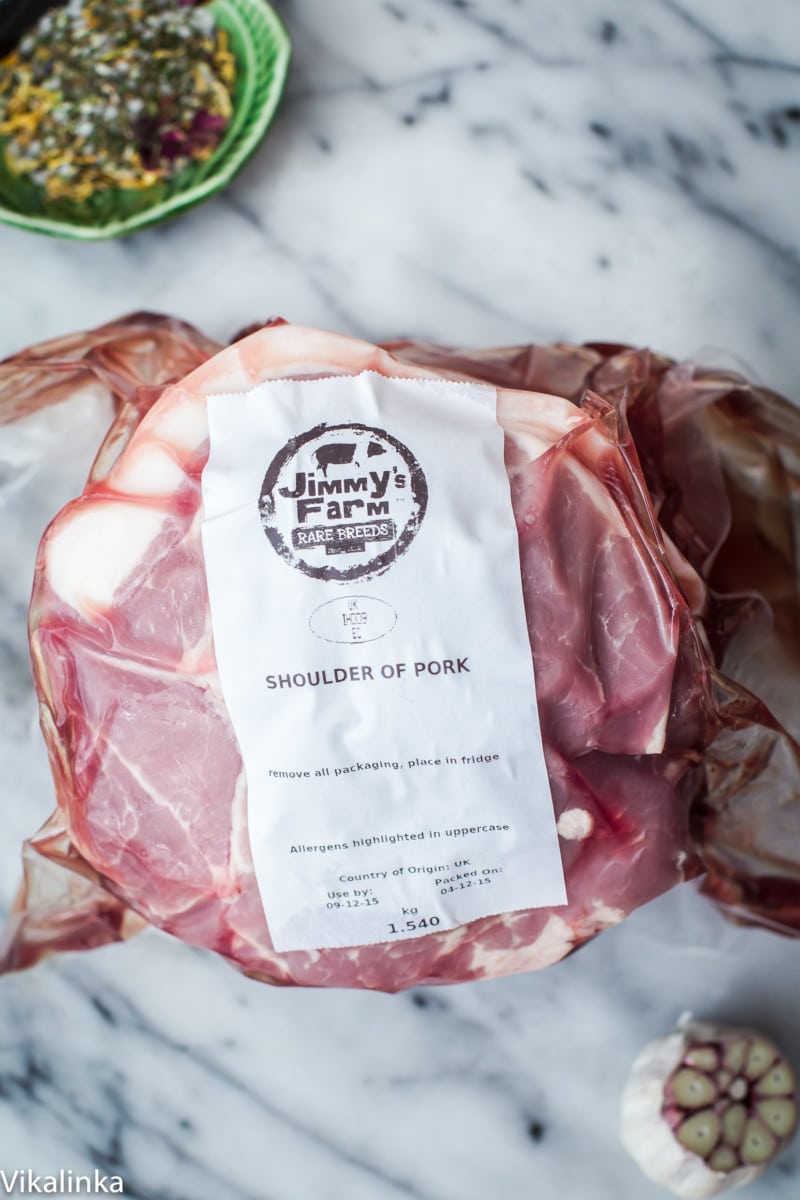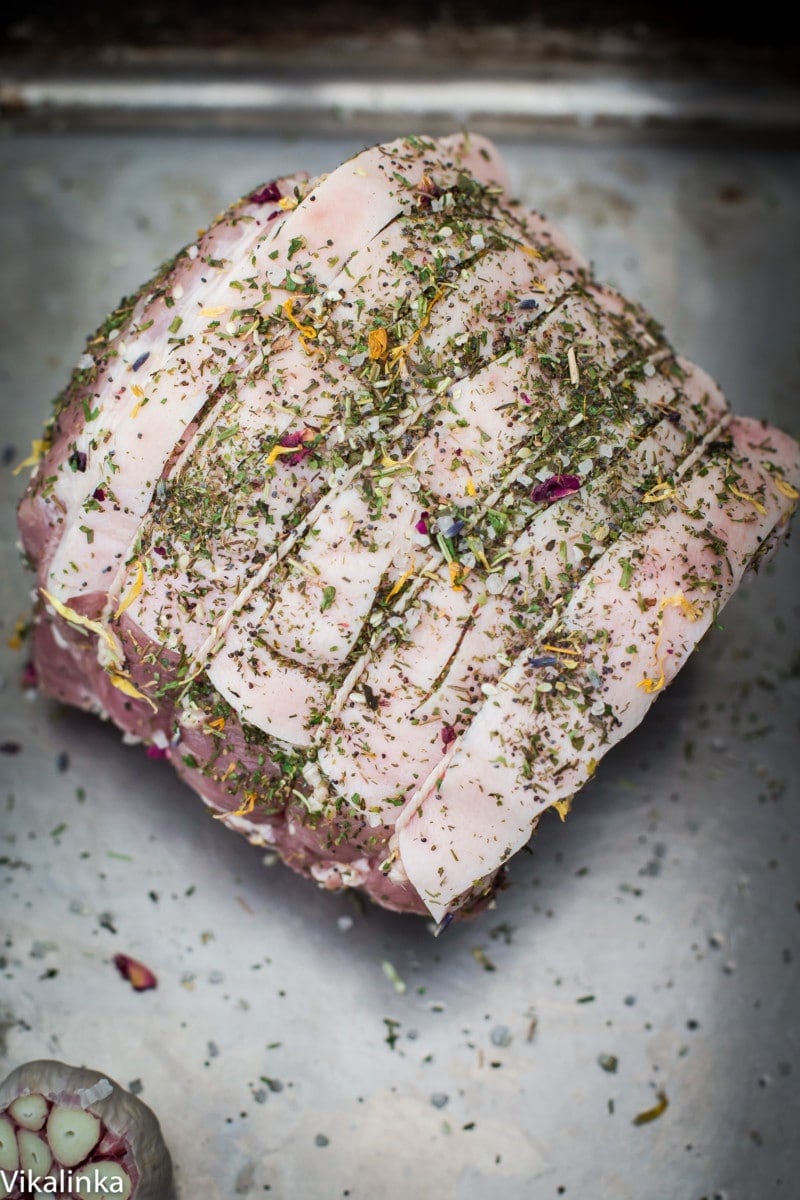 How to make the best tasting pork roast
I don't often splurge on such high quality meat, not because I don't value it but mostly because I am always conscious of the costs, so I was beyond thrilled to roast that hog and go easy on add-ons for the pork flavour to truly shine.
All I did was rolled the pork shoulder in a herb, flower and seed mix my friend brought me from Scotland. I also took inspiration from a plum sauce, often served with pork roasts in England, and created my own seasonal persimmon sauce.
How do you make persimmon sauce?
Just make sure your persimmons are very ripe or the sauce will be ruined. Underripe persimmons taste chalky and have a bitter tinge to them but when you happen to be patient enough and cut into a perfectly right persimmon, there is no fruit comparable in fragrance and sweetness. No wonder in some countries it is known as the honey fruit.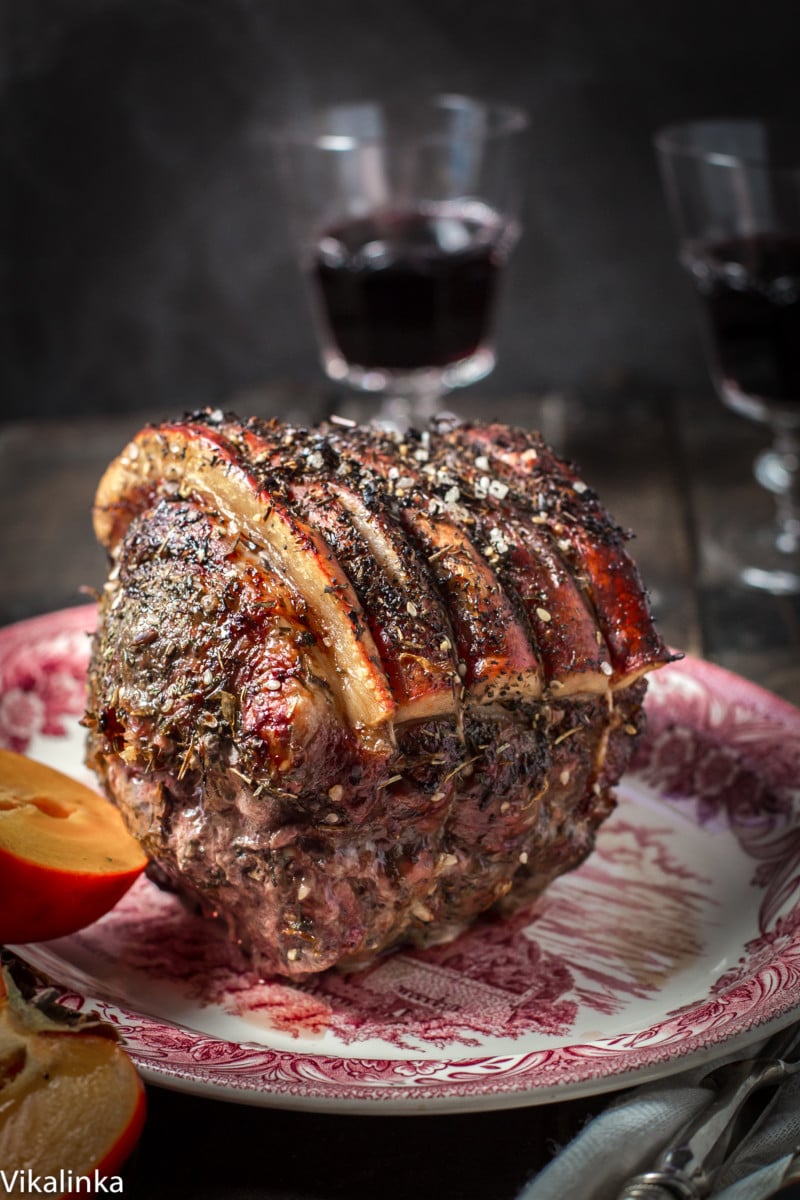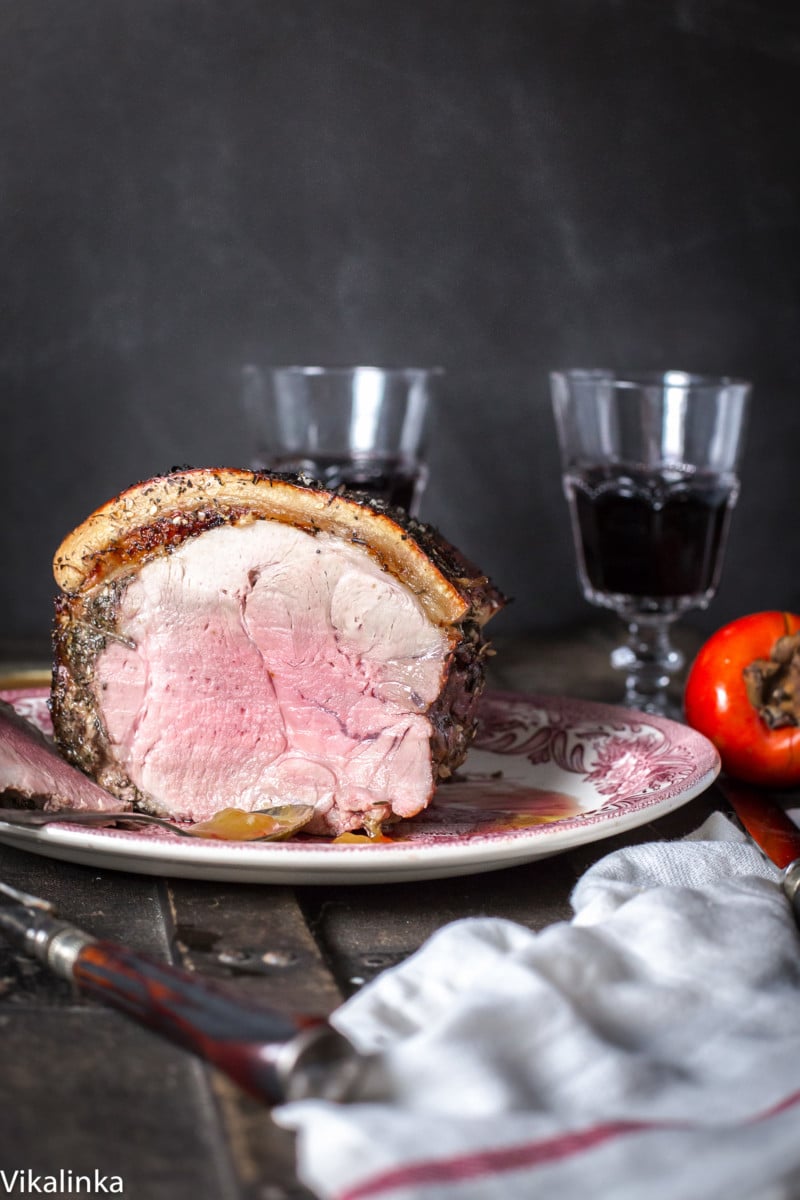 When I finally pulled out my pork roast out of the oven I was not disappointed. It turned out so tender, juicy and flavourful!!
One of the tricks to avoid dry pork roasts is using an instant meat thermometer, so you don't overcook it since oven temperatures and the size of roasts vary.
And while it's great to rely on a particular recipe for cooking times you should also check the internal temperature, which should read around 145F/70C for pork. I am so glad it officially got lowered from 160F because it often resulted in dry pork roast and who wants that!!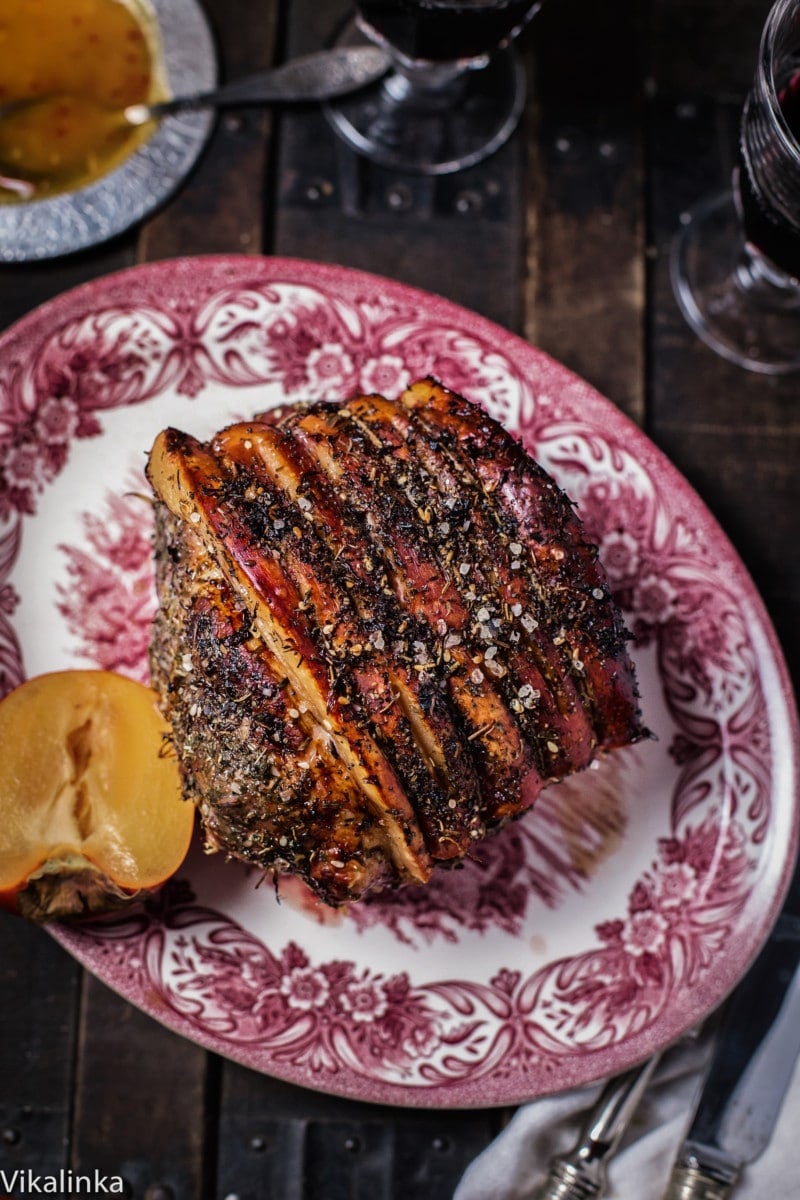 I really hope you get to try this delicious recipe over the holidays, and while you are at it pair this pork roast with these delicious rosemary potatoes au gratin!!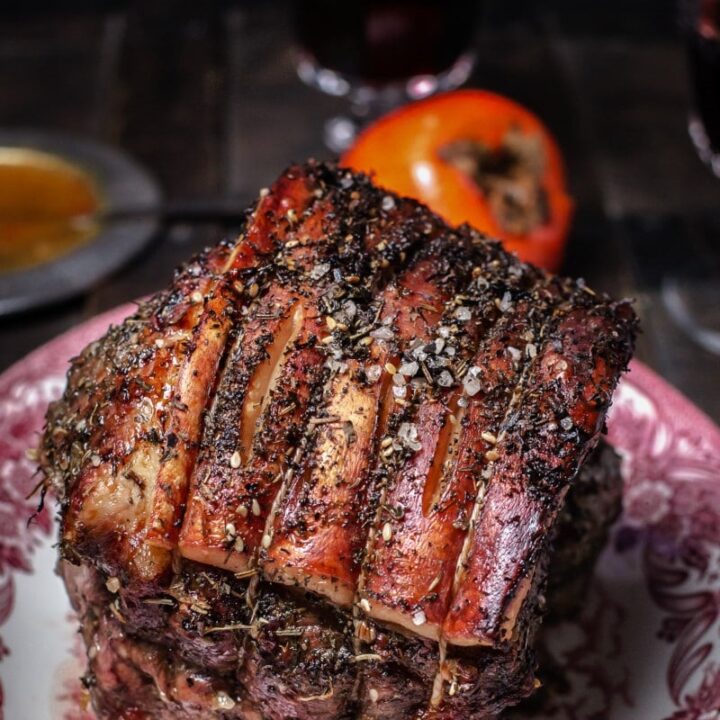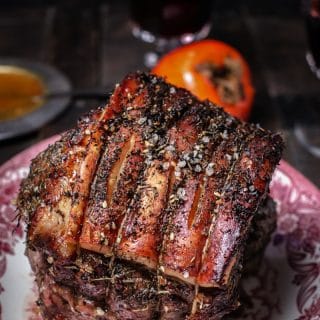 Pork Roast with Warm Persimmon Sauce
Perfectly roasted pork shoulder with crackling.
Ingredients
For the pork roast
1.5

kg/3 lbs pork shoulder roast

2

tbsp

herb mix of your choice (rosemary, thyme, garlic, etc.)

1

tbsp

sea salt
For the warm persimmon sauce
3

very ripe persimmons

50

g/1/4 cup sugar

125

ml/ ½ cup water

¼

tsp

chilli flakes

optional
Instructions
Preheat the oven to the highest temperature. Take your pork out of the fridge 30 minutes before cooking. Remove all packaging and score the skin with a sharp knife.

Rub your favourite herb and sea salt mix all over, making sure it goes inside the slits in the skin, put in a roasting tray and inside the oven.

Immediately turn the temperature down to 450F/220C. Roast for 1.5 hours until the internal temperature of the pork reads 145F/65C.

While the pork is in the oven prepare the sauce by combining water, sugar and peeled and chopped persimmons in a small saucepan, bring to a boil and let it simmer over low heat for 10 minutes until it thickens. Add chilli flakes for some heat if desired.

When the pork roast is done, cut the crackling off and slice it separately with a very sharp knife.

Serve sliced pork with warm persimmon sauce.