Tender and juicy boneless pork chops braised in apple cider with onions, garlic, thyme and a splash of cream and topped with apple slices. Comfort food for your autumnal table. Serve these chops in creamy sauce over my Sweet Potato and Swede Mash. Delicious!
For more ways to cook pork, take a look at my recipe for Pork Loin Steaks in Creamy Shallot and Mushroom Sauce.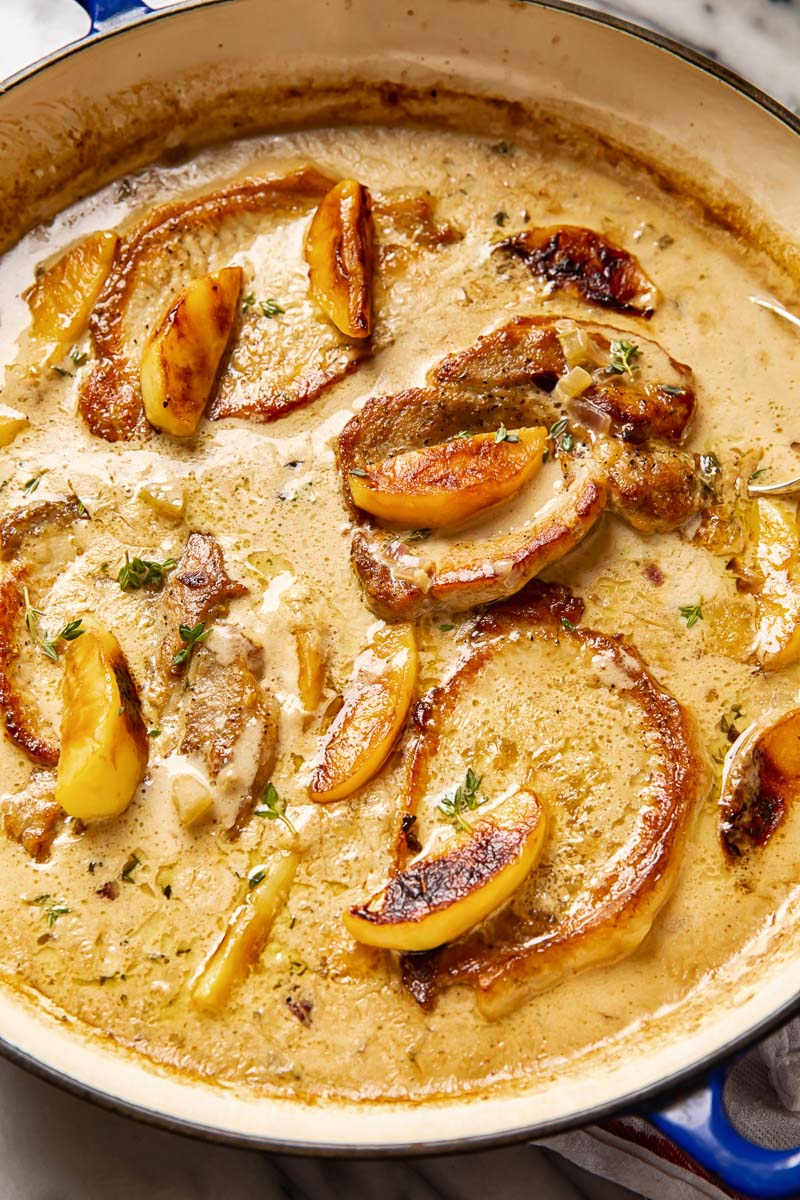 I don't share pork recipes often enough and it's a real shame because we certainly enjoy them at home. Pork has a reputation of being fatty, and therefore unhealthy.
However, it couldn't be further from the truth. There are plenty of lean and delicious choices when it comes to pork.
What pork chops should I buy?
Everyone has their preferences and I have mine. There are many pork chop cuts and some of them are fattier than others. I have to admit that I tend to buy leaner cuts.
When pork chops are braised in sauces, the last thing one wants to see or eat is a layer of fat attached to it. This is one of the reasons I favour boneless loin chops.
Boneless loin chops or as they are also known pork loin steaks are the cut I buy most often. It's lean, delicious and relatively inexpensive.
Shoulder chops are my second choice. They are very affordable and are quite flavourful, however they can have a fair bit of gristle. Braising shoulder chops in order to tenderise them is the way to go!
Rib chop is also an excellent option when it comes to grilling but not so much for braising.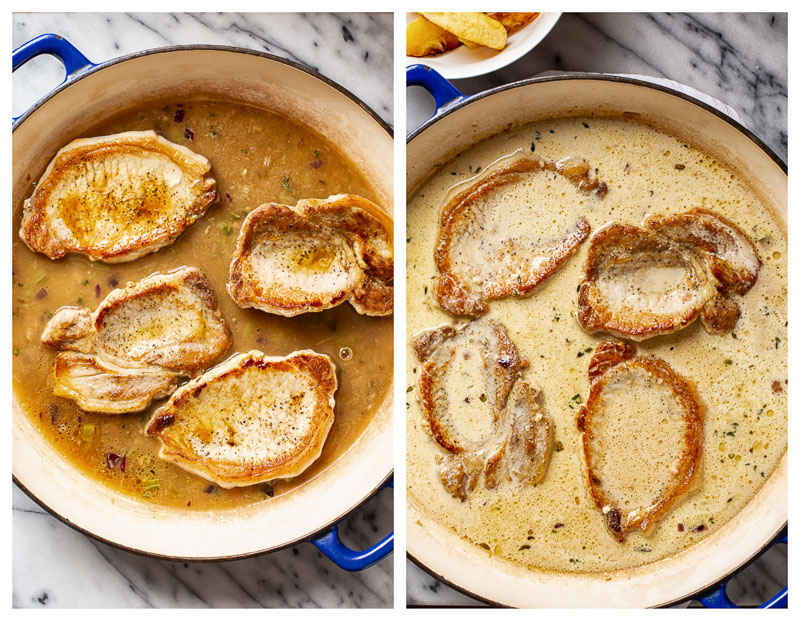 How to cook boneless pork chops without drying them out
As great as pork chops are they can be disappointing when they come out as dry as a bone.
Here are the reasons why that happens and solutions to prevent it
Pork chop meat is quite lean and often thinly cut, so it only requires a short cooking time. The reason for your dry pork chop is mostly likely overcooking.
So what can I do to avoid a dry pork chop?
Quickly sear them for flavour but don't keep them in a pan too long. Prolonged direct heat makes them tougher.
Oven bake them in liquid until tender.
Braising pork chops in a sauce doesn't not only tenderise them but also imparts much flavour. Sauces are my favourite trick when it comes to creating flavourful food!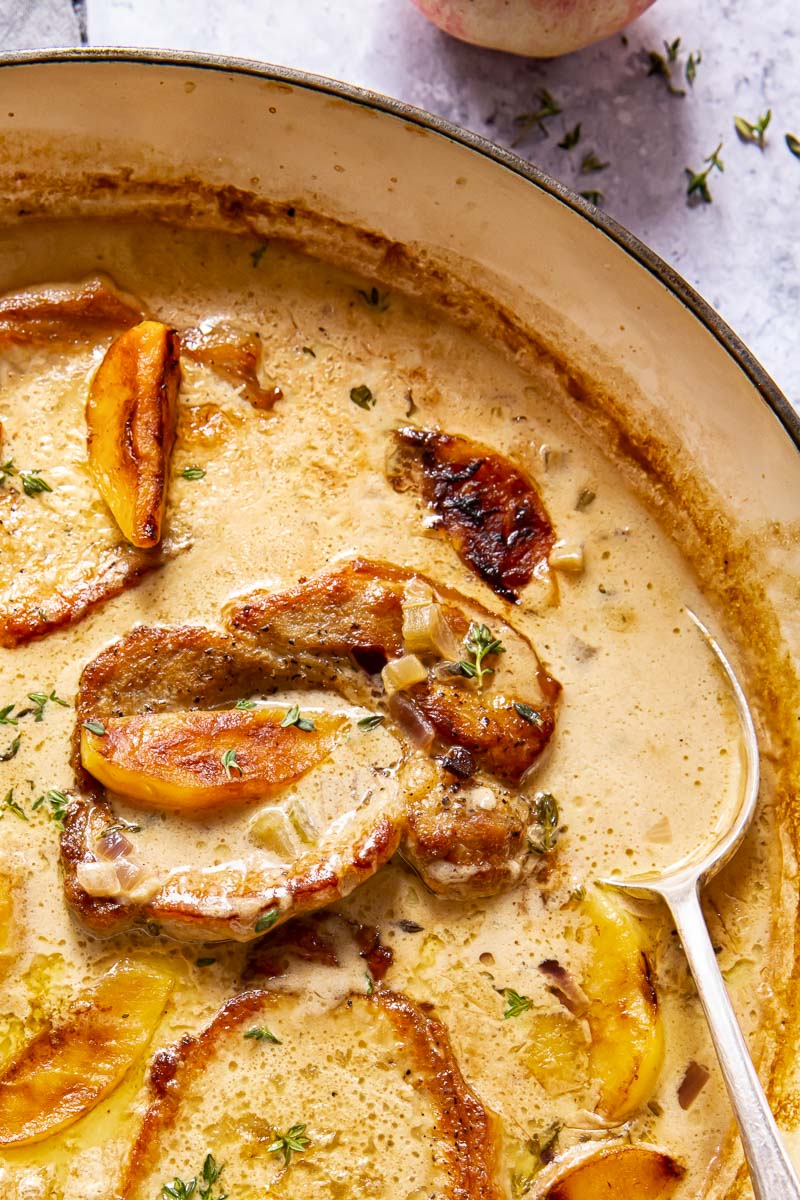 What sauce goes with pork chops?
The sauce recipe I am sharing today is inspired by the French province of Normandy.
The sauce itself is very simple but incredibly savoury and satisfying. The secret ingredient that makes it absolutely irresistible is dry apple cider, something Normandy is known and famous for.
Here is how to make it:
Saute chopped onion and celery in a bit of oil, add some minced garlic and fresh or dried thyme. Deglaze the pan with a splash of brandy and let it reduce until you see nearly no liquid. Brandy adds such a fragrant and sweet touch to this delicious sauce. Don't skip it if you can help it!
Thicken it with flour and then pour in your dry apple cider and yes, it is an alcoholic cider we are after. If you prefer to go alcohol free, replace with non alcoholic cider plus 2 tablespoons of apple cider vinegar.
Let it bubble away with pork chops in the pan, then add cream and simmer a bit longer.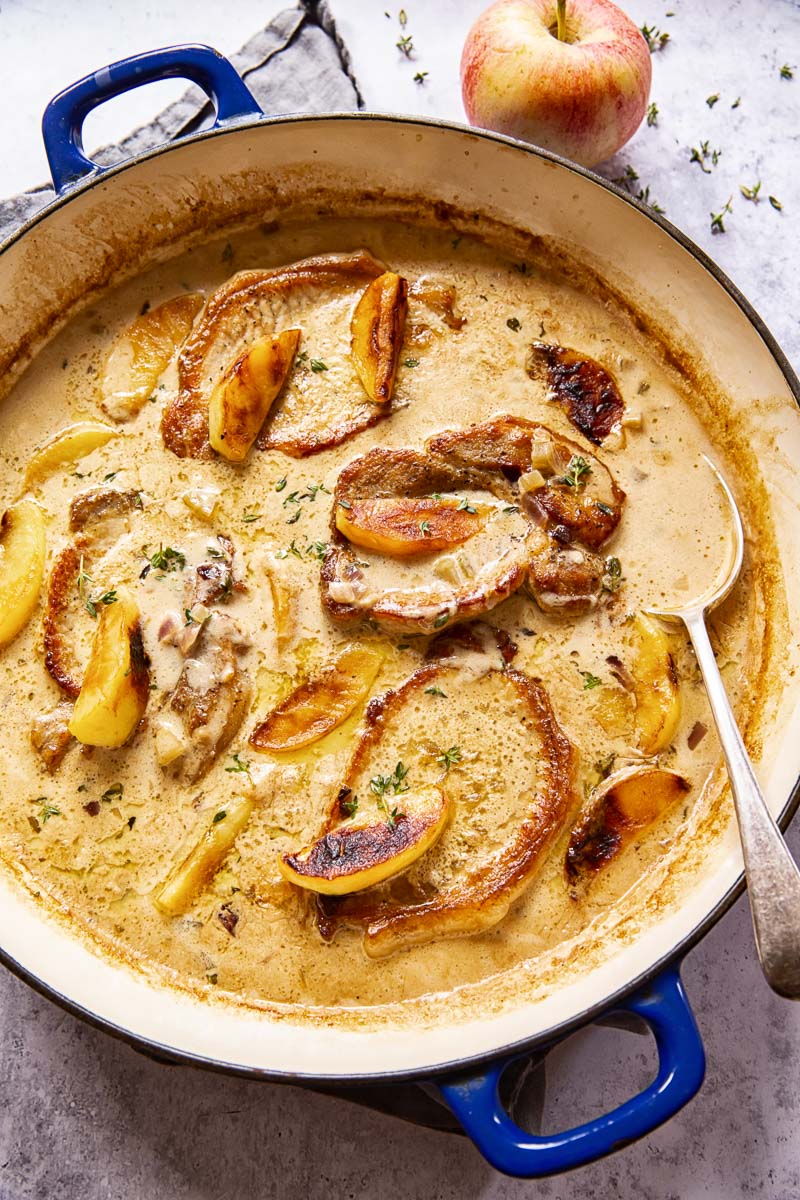 What side dish goes well with Pork Chops?
I serve these boneless pork chops in creamy sauce over plain rice. The apple cider sauce is so delicious, it does a great job at flavouring the rice. I can't think of a side dish this recipe wouldn't work with, to be honest.
Here are a few suggestions
rice
boiled, roast or mashed potatoes
wild rice
bulgur
couscous
More pork recipes: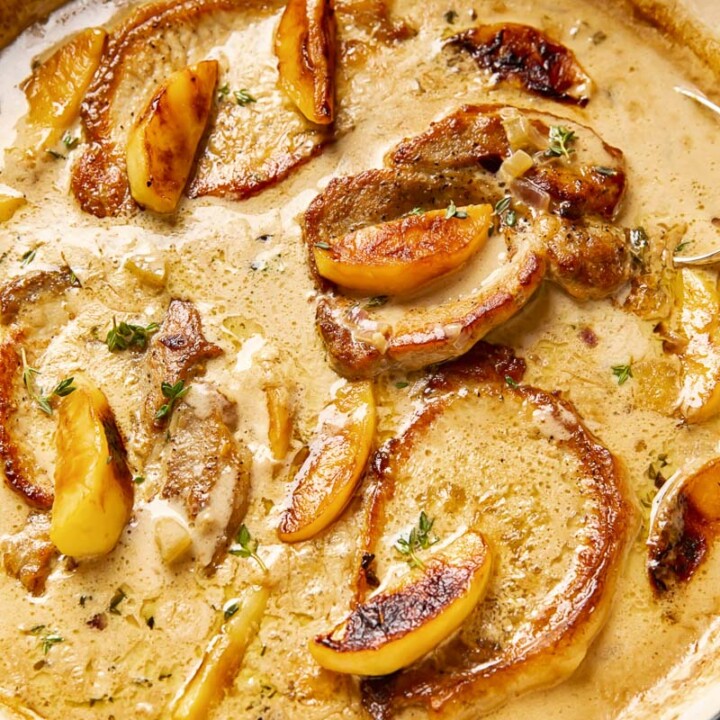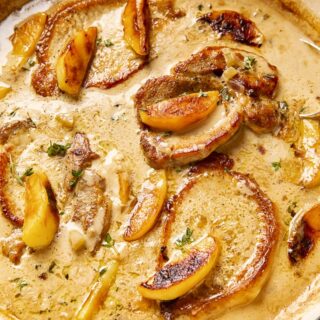 Boneless Pork Chops with Apples and Cider
Tender and juicy boneless pork chops braised in apple cider with onions, garlic, thyme and a splash of cream and topped with apple slices.
Ingredients
2

tbsp

olive oil

4

thick cut boneless pork loin chops or shoulder chops

salt and pepper to taste

1

onion, chopped

1

celery rib, diced

2

cloves

garlic

4-5

sprigs of thyme, leaves only or 1 tsp dried thyme

2

tbsp

brandy

2

tsbp

flour

250ml/1 cup

hard apple cider or non- alcoholic cider plus 2 tbsp. apple cider vinegar

125ml/1/2 cup

chicken stock

1

tbsp

butter

2

apples, peeled and cut into 8 wedges each

125ml/1/2 cup

double cream/heavy cream
Instructions
Preheat the oven to 180C/350F. Heat the oil in large deep pan and sear the seasoned with salt and pepper pork chops over high heat for no longer than 2 minutes on each side. They should be nicely browned but not be cooked all the way through. Remove to a plate and set aside.

Turn the heat to low, then add the chopped onion and celery, saute until tender for about 5-7 minutes, then add the minced garlic and thyme leaves and cook for a minute longer. Then deglaze the pan with 2 tbsp of brandy, let it simmer and reduce until there is barely any liquid left. Add the flour and stir to incorporate the flour into the fat and liquid to create a paste, then add the apple cider and chicken stock.

Return the pork chops to the pan, add a pinch of salt and bring the sauce to a boil, then cover with a lid and cook in the preheated oven for 25 minutes. While the pork chops are in the oven, peel, core and cut the apples into 8 wedges each. Fry them in butter until lightly browned but watch carefully as they burn quickly.

Then take the pan out of the oven and add the cream to the sauce, cook uncovered for 20 minutes longer or until the pork chops are tender. Add the fried apple slices to the pan, add more salt if needed and serve.
Nutrition
Calories:
486
kcal
Carbohydrates:
25
g
Protein:
32
g
Fat:
27
g
Saturated Fat:
12
g
Cholesterol:
140
mg
Sodium:
153
mg
Potassium:
775
mg
Fiber:
3
g
Sugar:
17
g
Vitamin A:
645
IU
Vitamin C:
9
mg
Calcium:
51
mg
Iron:
1
mg