This spring pea and arugula salad is chock full of goodies; thin slices of crunchy radish, cucumber, avocado, wedges of boiled eggs in a creamy dill dressing, topped with feta cheese. So delicious and flavourful!
If you are a fan of big salads, that are good enough to serve as a meal, take a look at our Salmon Cobb Salad with Lemon Dill Dressing.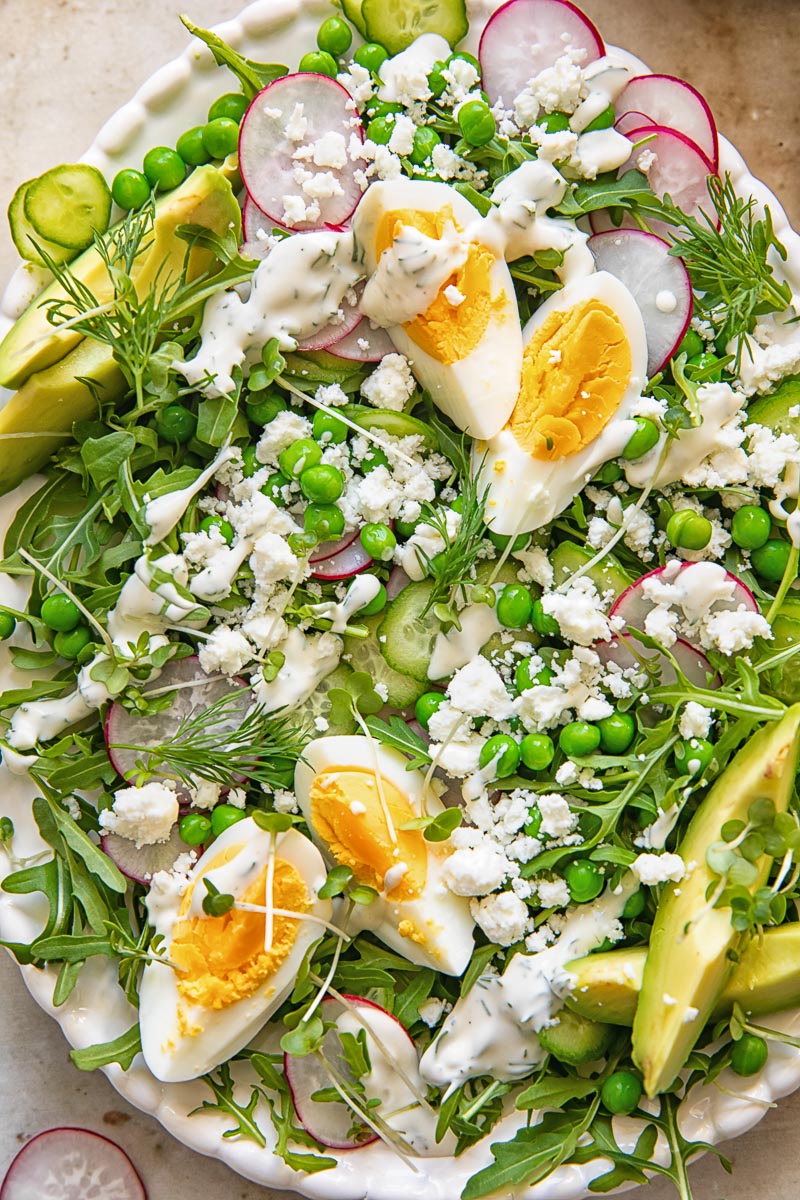 Let me tell you something. I have a tumultuous love-hate relationship with salads. Surely I am not the only one!
I know they are good for me but they just don't excite me in the same way something warm and gooey like a grilled cheese sandwich does. But then spring comes and I welcome salads into my life with open arms.
So much green goodness out there, I couldn't be happier. It lasts for a bit and then salads are once again dead to me. I want to stay faithful to them forever but it's tough.
What makes a huge difference though is adding vegetables to salad greens that I truly enjoy. It's not about lettuce for me. Crunchy radishes, cucumbers, creamy avocado and of course, bursting with sweetness spring peas!
Green Pea Salad
So many ingredients are negotiable in the salad I am sharing today but not peas! They are the star of the show. I don't know about you but I adore peas. Fresh or frozen, I love them all.
Fun fact. Did you know that frozen peas are the only vegetable, which quality doesn't get compromised when frozen? This make it not only delicious and nutritious but also very affordable and accessible all year round.
Just pour cold water over your frozen peas and let them thaw this way, which will happen quickly. They will taste just as fresh and sweet as they day they were picked, their wonderful texture will also stay intact.
Whether you are using your peas in a pasta, risotto, curry or adding them to a chicken dish as something green, they will surely perk up anything, they are thrown into. And that is exactly what they are doing to this vibrant spring salad.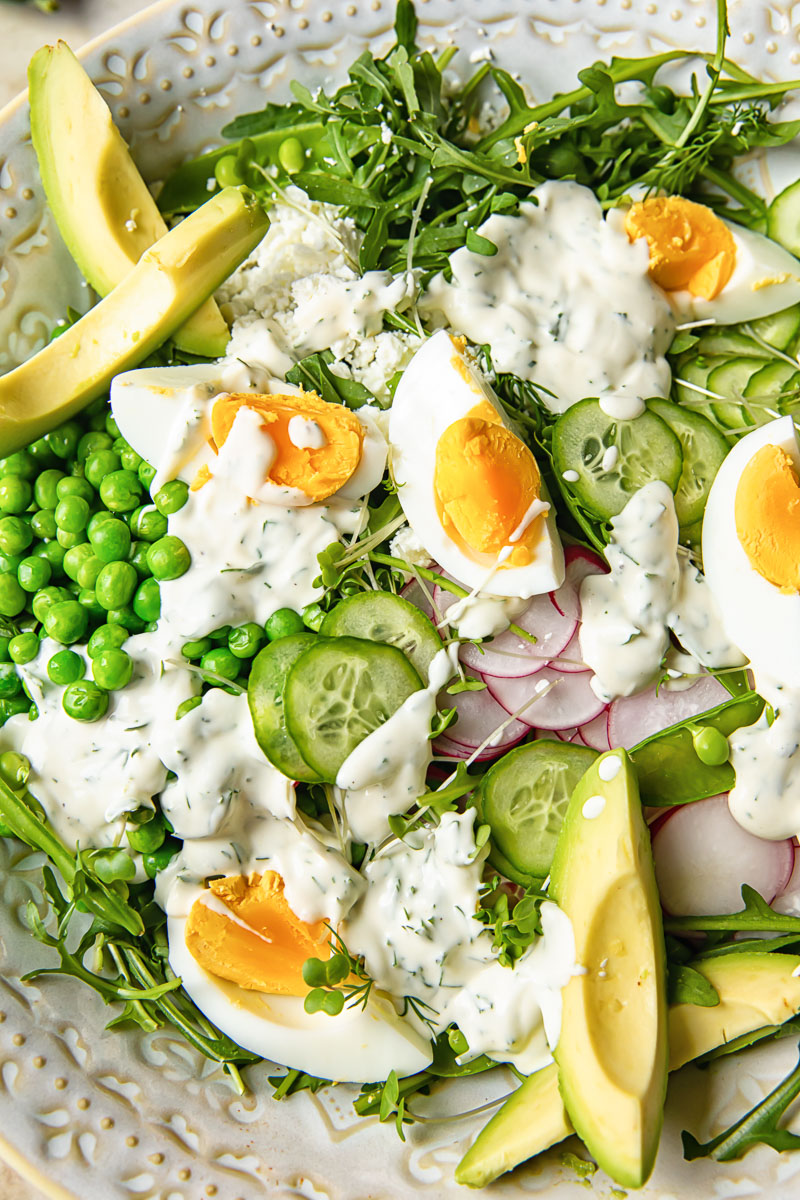 Creamy Dill Dressing
Another key to a great tasting salad is a flavourful dressing and today I am going to let you in on a fabulous dressing recipe secret.
As an adult with well-developed taste buds I've come to love vinaigrettes and appreciate their health benefits. But in my opinion nothing can compare to creamy dressings. That's when my Eastern European upbringing on butter and sour cream chimes in.
Some people find the flavour of dill too strong but I adore it. For me it is just right. So for my dressing I mix plain yogurt and mayonnaise together with a healthy dose of fresh chopped dill.
I also add a splash of white wine vinegar and a teaspoon of Dijon mustard for balance. To me this is a milder take on the famous Ranch dressing, which I happen to dislike.
The salad and dressing I am sharing with you today is reminiscent of flavours of summer garden salads I grew up eating. The shape and form vary slightly from traditional Russian salads but the main flavours are all there!
Sweet peas and crunchy radishes brought together by a creamy dill dressing and crumbled fresh farmer's cheese. Those are the true flavours of Russian summers spent in the country!
I've used arugula, although sorrel would be a more authentic pairing, which has proven to be impossible to find outside of Eastern Europe. Do you still have Easter eggs kicking around? Add them in for extra protein and sustenance.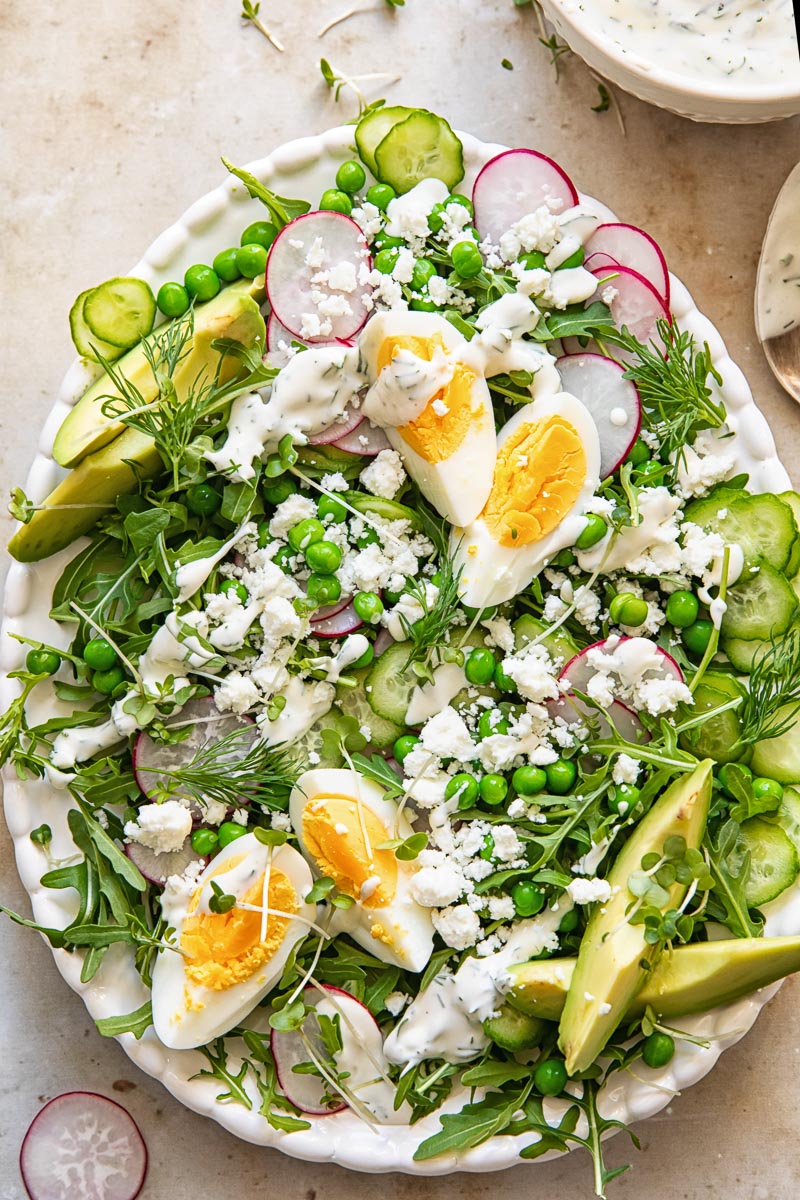 Recipe Tips and Notes
If peppery arugula is not your thing, feel free to substitute with any greens you love. Lettuce, baby spinach or watercress will taste equally delicious in this pea salad.
I wanted to keep my green pea salad vegetarian but substantial enough it could serves as a meal. Boiled eggs and avocados help with making it extra nourishing and satisfying. If meat-free meals are not your priority, go ahead a sprinkle this salad with chopped bacon.
You will notice that both radish and cucumber slices are paper thin. I use my trusty mandoline to achieve that. Always use a guard when working with a mandoline slicer for safety!
The dressing recipe makes much more than what you will need for the salad. I store mine in a mason jar in the fridge for up to a week. The dressing could also be used as a sandwich spread.
For those of you too sensitive to the taste and smell of vinegar, substitute with the same amount of lemon juice in the dressing recipe.
I like to finish off my salads with a light sprinkling of micro herbs for an added texture and visual interest but that is entirely optional.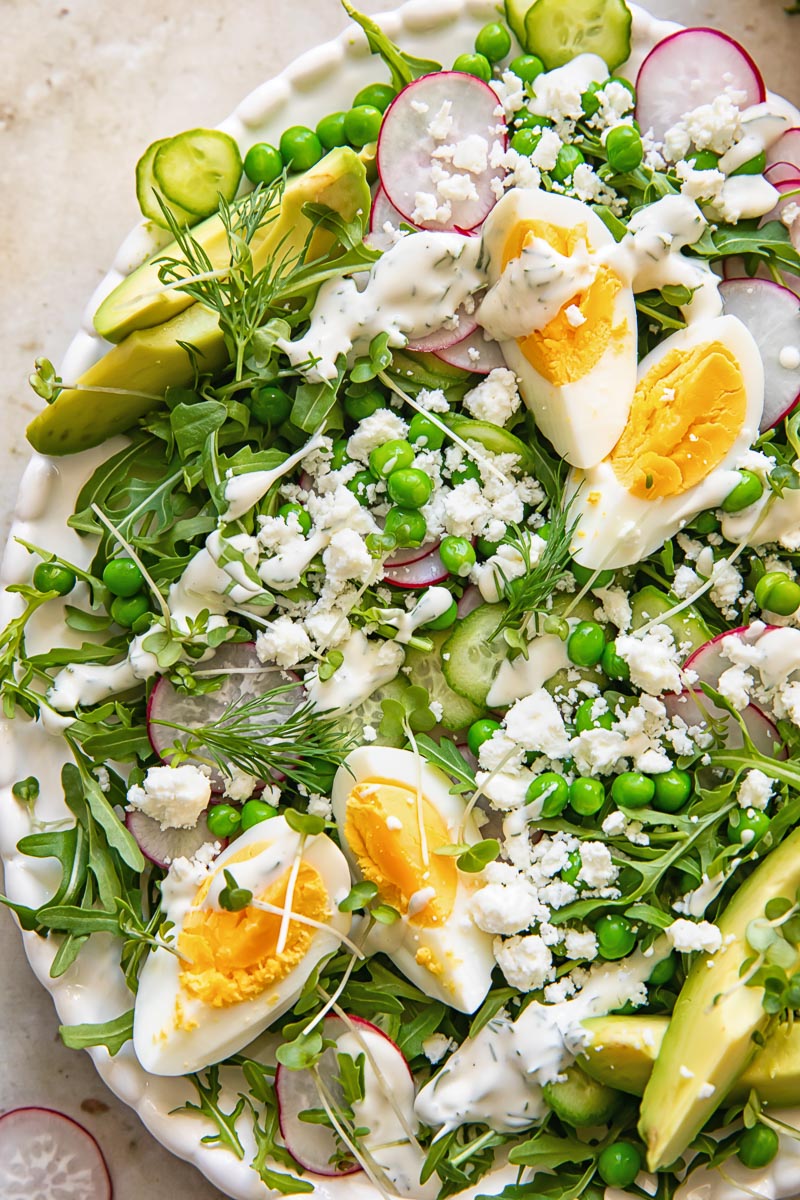 More Fresh Salad Recipes: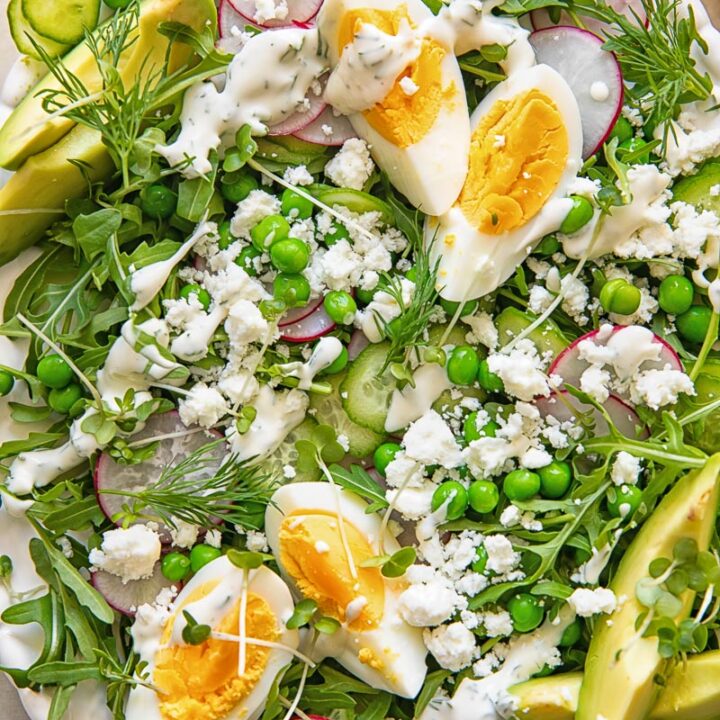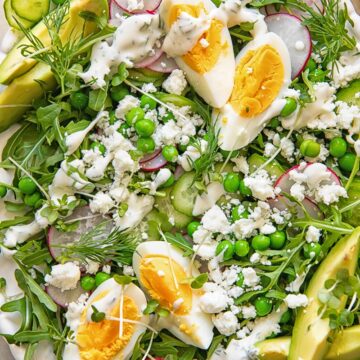 Spring Pea and Arugula Salad with Creamy Dill Dressing
This spring pea and arugula salad will be a welcome addition to your salad arsenal! So easy and flavourful.
Ingredients
For the salad
2

eggs

boiled

160g/1 cup

green peas

fresh or frozen

4-5

radishes

thinly sliced

20g/1 cup

arugula (rocket)

2

tbsp

feta

or fresh farmer's cheese

2

Persian cucumbers

sliced

1

avocado

cut into wedges
For the creamy dill dressing
150ml/2/3 cup

plain yogurt

or sour cream

75ml/1/3 cup

mayonnaise

I use low fat

1

tsp

white wine vinegar

1

tsp

dijon mustard

1

tbsp

fresh dill

chopped

2

tbsp

water

to thin it out

salt to taste
Instructions
Defrost green peas if using frozen. (Do not heat them in order to preserve freshness. I pour cold water over the peas and let them thaw this way.) Boil eggs and cool.

Combine peas, arugula, sliced radishes and cucumbers in a medium bowl.

In a mason jar combine the plain yogurt, mayonnaise, white wine vinegar, mustard, chopped dill, a pinch of salt and water, screw the lid on and shake vigorously until combined. You might want to add more water to a desired consistency. Alternatively, you can mix all dressing ingredients in a small bowl using a whisk.

Use 2-3 tbsp of Creamy Dill Dressing to dress your salad and reserve the rest for later use.

Sprinkle with feta and top with boiled eggs and avocado, cut into wedges. Serve immediately.
Video
Nutrition
Calories:
379
kcal
Carbohydrates:
26
g
Protein:
16
g
Fat:
25
g
Saturated Fat:
7
g
Polyunsaturated Fat:
4
g
Monounsaturated Fat:
13
g
Trans Fat:
0.02
g
Cholesterol:
183
mg
Sodium:
1528
mg
Potassium:
966
mg
Fiber:
12
g
Sugar:
8
g
Vitamin A:
1632
IU
Vitamin C:
48
mg
Calcium:
211
mg
Iron:
3
mg