This creamy and cheesy pasta with pancetta and peas could be yours in 20 minutes! One of our family favourites, it's a simple but flavourful pasta that's perfect for weekday dinners.
For a pancetta pasta with tomato basil sauce, take a look at our Tagliatelle with Pancetta and Mozzarella.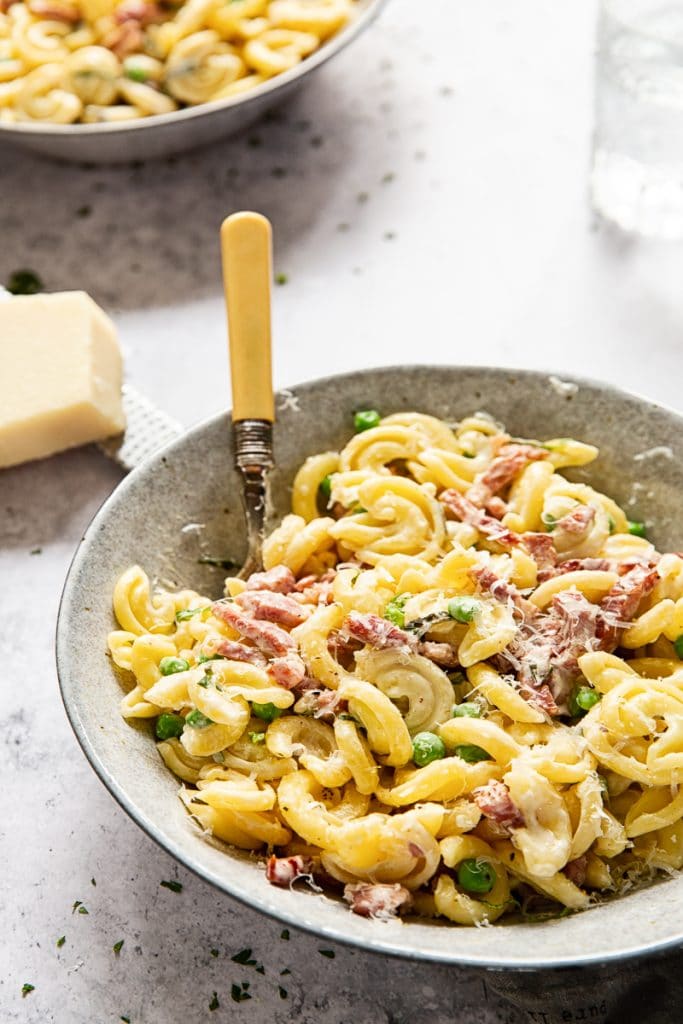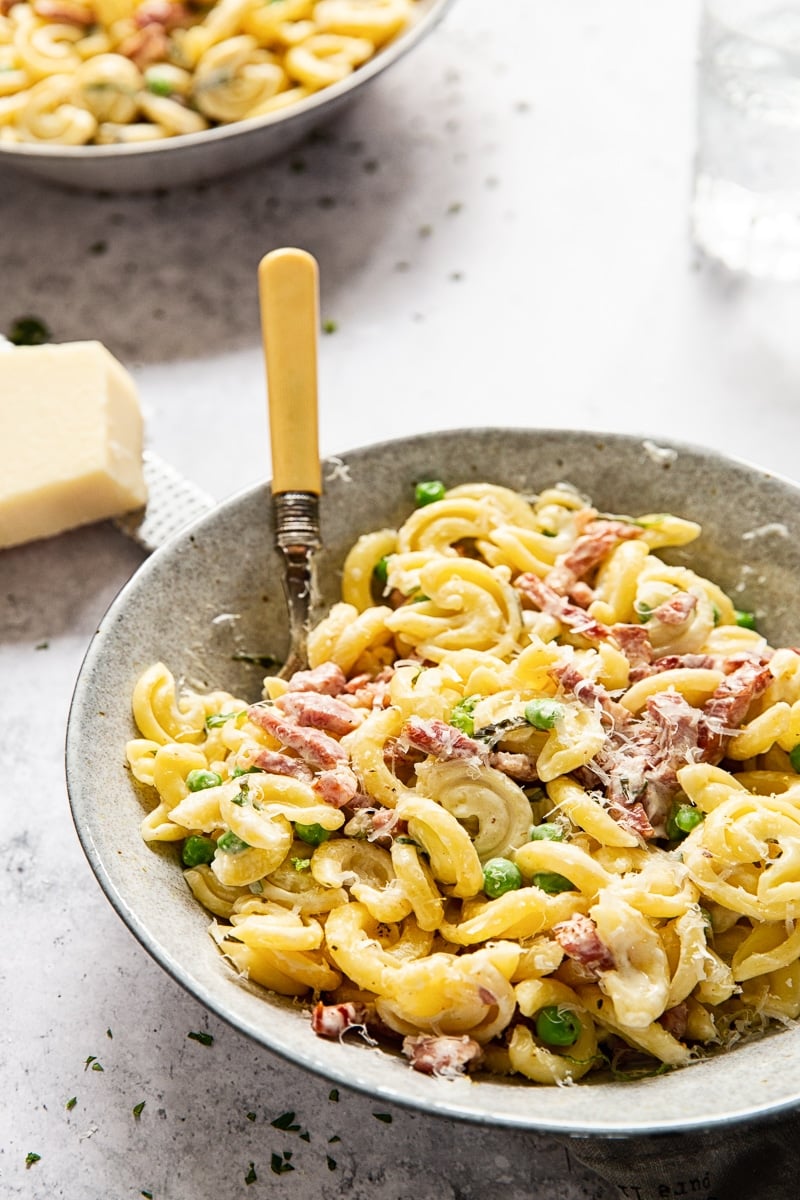 One of the most popular recipes I've ever put out is for a basic pasta cream sauce. The recipe that is the foundation of all sorts of creamy pasta dishes.
The benefit of mastering a basic sauce like that one is that it means you can add many delicious things to that recipe to make it more interesting. And that is the basis for this creamy pasta.
I've used the creamy, cheesy sauce as a base and added a perfect combination of other ingredients. Together they add fresh and smokey flavours that link up to make this a recipe you'll want on rotation!
Pancetta pasta
As I've hinted, this is one of my favourite pasta recipes and one that my kids took to from an early age. I bring you creamy pasta with pancetta, peas and mint. That's right I said mint.
Mint is a herb that is used quite a bit in pastas in Italy but doesn't show up much elsewhere. It lifts the rich, creamy and cheesy sauce and brightens this pasta with pancetta dish in the way basil and oregano just can't do.
Any time I serve this creamy pasta to my guests, I am guaranteed to hear how much they were surprised and delighted by the addition of mint…and PANCETTA.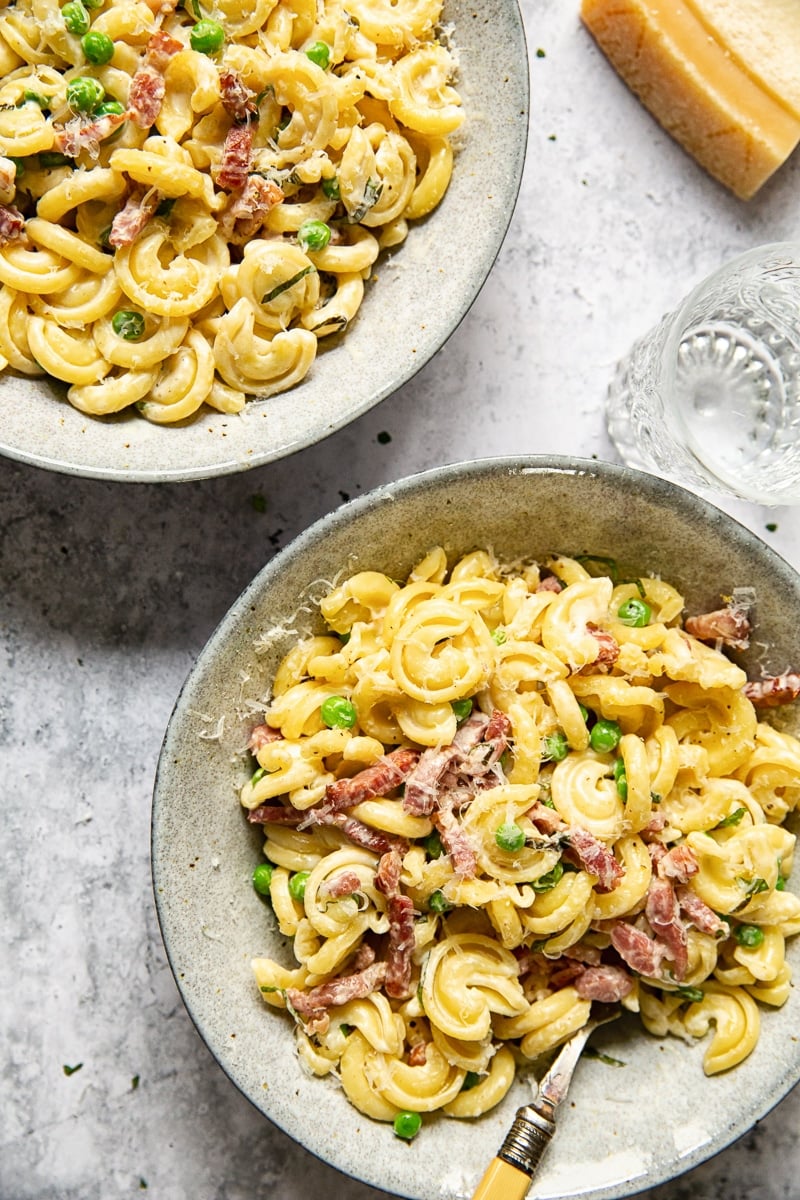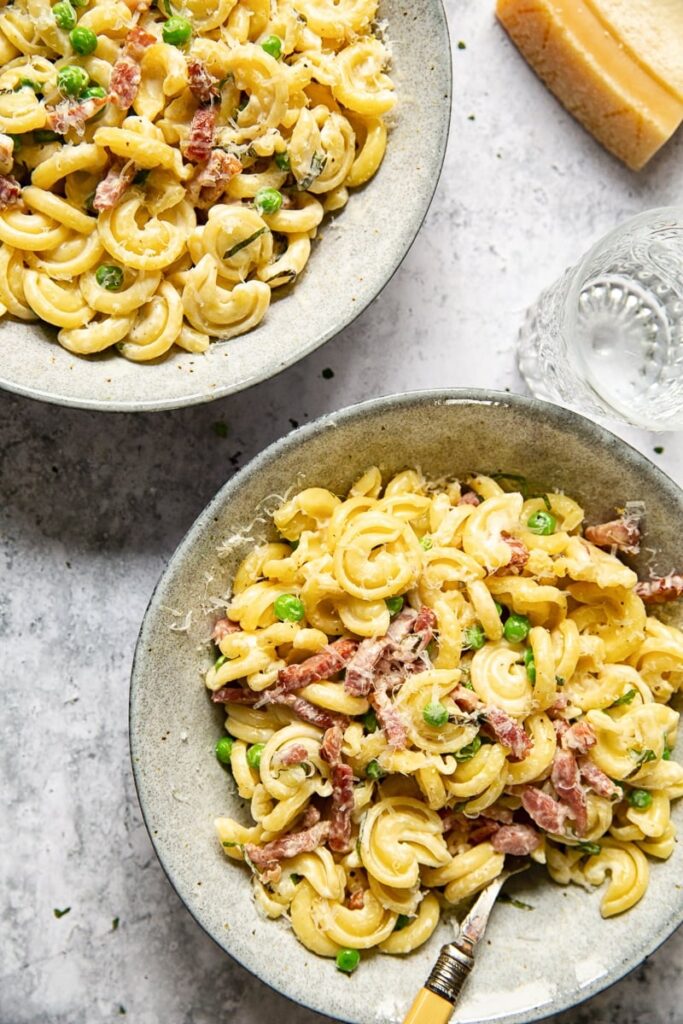 What is pancetta?
Here is the short answer. Pancetta is Italian bacon. The long answer is pancetta is made slightly differently than bacon. Both are made from pork belly. And while bacon is smoked, pancetta is cured with salt.
You can easily substitute pancetta with bacon but make sure you go for high quality, meaty, thickly sliced bacon.
I didn't end up with a lot of fat from pancetta. So if you do use bacon, discard excess fat to prevent your pasta from becoming too greasy.
Ingredients
As with many Italian dishes, this pasta recipe is not overloaded with ingredients. Italians really love it simple! So the key players here are…
short pasta
pancetta or bacon
peas
fresh mint
This pasta is quite mild and could be accused of lacking flavour. However, if prepared properly, it is a complete knockout! Trust me.
One of my secret weapons for upping a flavour a little is to throw in a clove of garlic into the pan with pancetta. I don't slice it or mince it because I don't want a full on garlic flavour in my pasta with pancetta but I want it to be slightly perfumed with it.
When the pancetta is cooked I simply discard the garlic clove and move on to the next step of the recipe.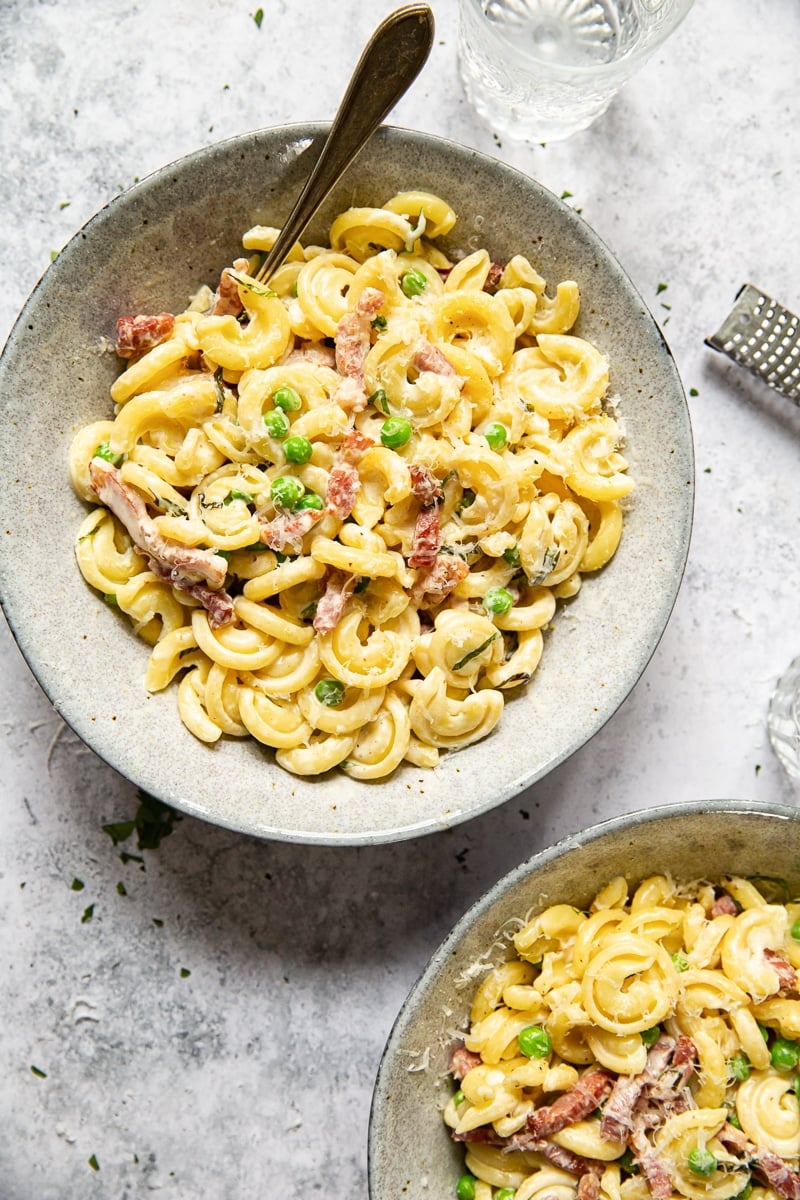 Recipe tips and notes
Always cook pasta in salted water. It's a crucial moment for the pasta to absorb flavour. If you salt it later, it will only go on the surface of the pasta while cooking it in salty water ensures it's seasoned all the way through.
And always taste and season your pasta with salt and pepper before you serve it. In my opinion, salt is a key player when it comes to pasta!
Cook the pasta al dente, which means it should be eaten slightly firm. I usually put a timer on for a minute less than the package recommends so I don't accidentally overcook. Al dente pasta also takes more time to digest, so keeps hunger away for longer.
Pancetta is similar to bacon in many ways, but made with a different process that does not involve smoking. It has a flavour that is similar to bacon, but has a richer and fuller. That said, feel free to use bacon if it is easier for you to come by.
Save a portion of pasta water before draining. Pasta water holds some of the starch and salt and is valuable for loosening the sauce if it is too thick.
For more information on how to deliver restaurant quality meals, visit our Pasta Recipe Category for helpful and useful tips and tricks.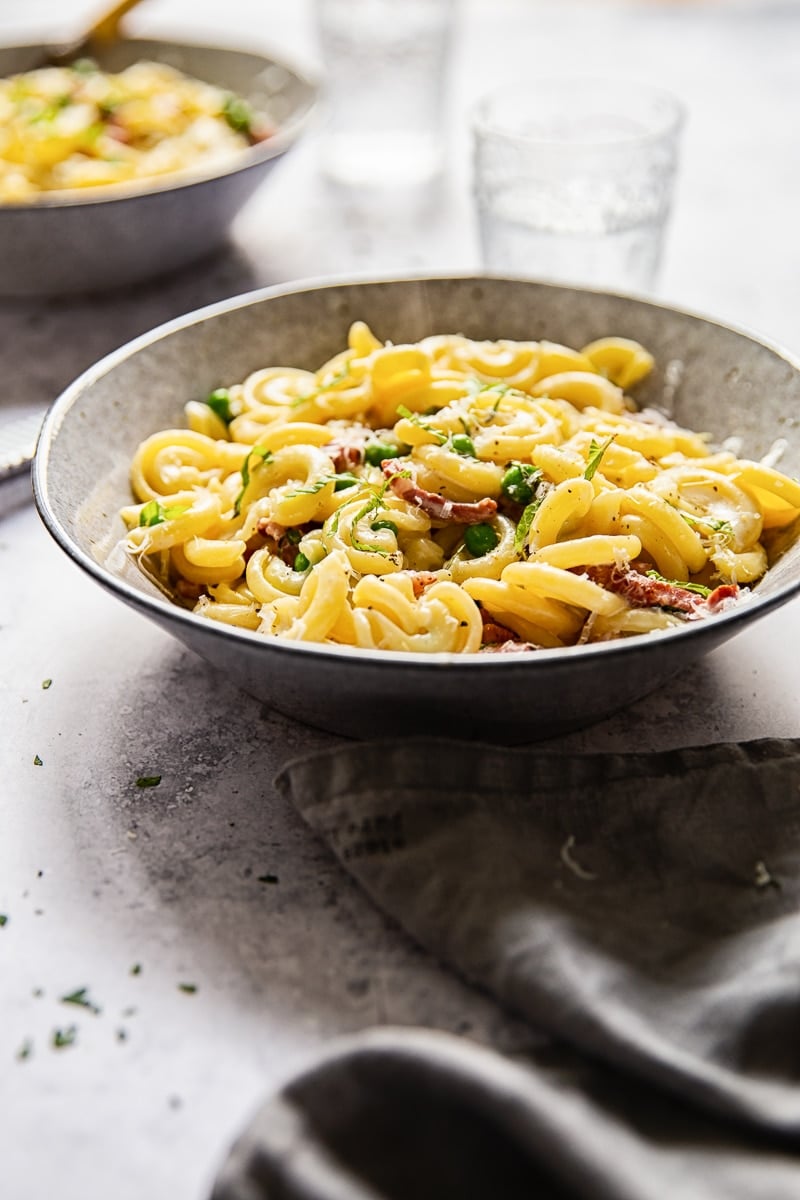 Storage and leftovers
If you have any leftovers, keep them in the fridge for up to three days. I don't find that pasta responds well to freezing.
To reheat, use a microwave. The time will depended on the microwave you are using, but in most cases it will take 2-2.5 minutes.
More creamy pasta recipes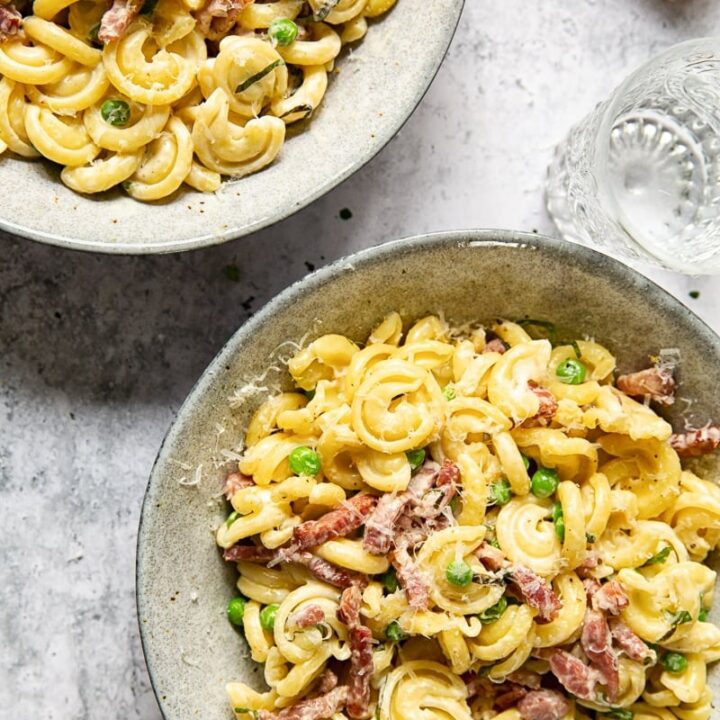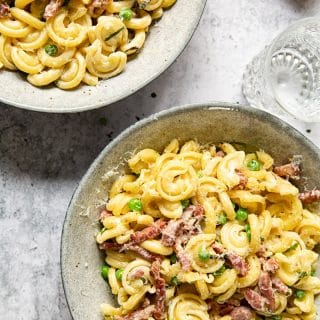 Creamy Pasta with Pancetta and Peas
A delicious and quick recipe for creamy pasta with pancetta and peas that is ready in under 20 minutes!
Ingredients
125g/4oz

pancetta

or good quality bacon

1

clove

garlic

1

lbs

short pasta

salt

350ml/1 ½ cups

double/heavy cream

50g/1/2cup

Parmesan cheese

freshly grated

1 tbsp

fresh mint

chopped

80g/1/2 cup

peas

frozen or fresh

pepper
Instructions
Set the pasta cooking in a large pot of salted water according to package directions.

Meanwhile cook the pancetta in a frying pan with one whole clove of garlic until the pancetta renders fat, then discard the garlic. (Drain excess fat if using fatty bacon or pancetta.)

Add half the mint, cream and Parmesan cheese and heat the cream gently over low heat until the cheese is melted, add the frozen peas and cook for 1 minute longer. Add salt to taste and take it off the heat.

Drain the cooked pasta while reserving ½ cup of pasta water. Add the pasta to the pan with the sauce, add the other half of the mint. Toss the pasta in the sauce until well coated, add a splash of reserved water if the sauce is too dry. Add more salt and pepper to taste.
Nutrition
Calories:
613
kcal
Carbohydrates:
61
g
Protein:
17
g
Fat:
33
g
Saturated Fat:
18
g
Cholesterol:
99
mg
Sodium:
687
mg
Potassium:
294
mg
Fiber:
3
g
Sugar:
3
g
Vitamin A:
1036
IU
Vitamin C:
6
mg
Calcium:
156
mg
Iron:
1
mg