This Italian Tagliatelle with Pancetta, Basil and Mozzarella in a simple tomato sauce is a quick and delicious dish that will save you on a busy weeknight! Serve this pasta dish with our delicious Tuscan Panzanella Salad.
If you are after a creamy pancetta pasta, take a look at our Creamy Pasta with Pancetta and Peas.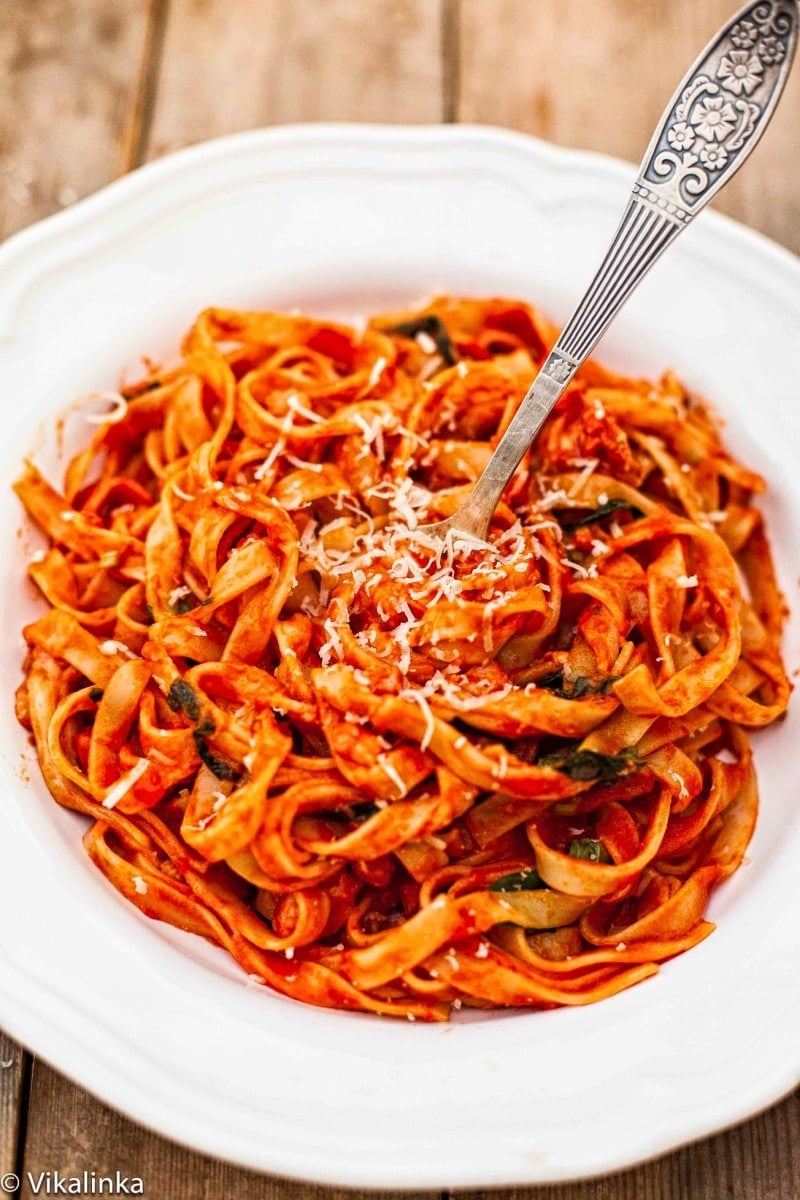 One can never have too many simple pasta recipes, right?
This truly amazing dish takes a whole 20 minutes to make! The sauce is flavourful yet simple. Anyone can master it in no time. If you want to know a bit more about what makes the best sauce, take a look at my recipe for Tomato Basil Spaghetti Sauce, where I go into more details.
I learned how to make this little number while watching a friend cook it in front of me in Italy.
Italian cooking philosophy is quality of the ingredients over the complexity of the cooking process. This tagliatelle recipe demonstrates it so well. Just a few beautiful ingredients produce stellar results!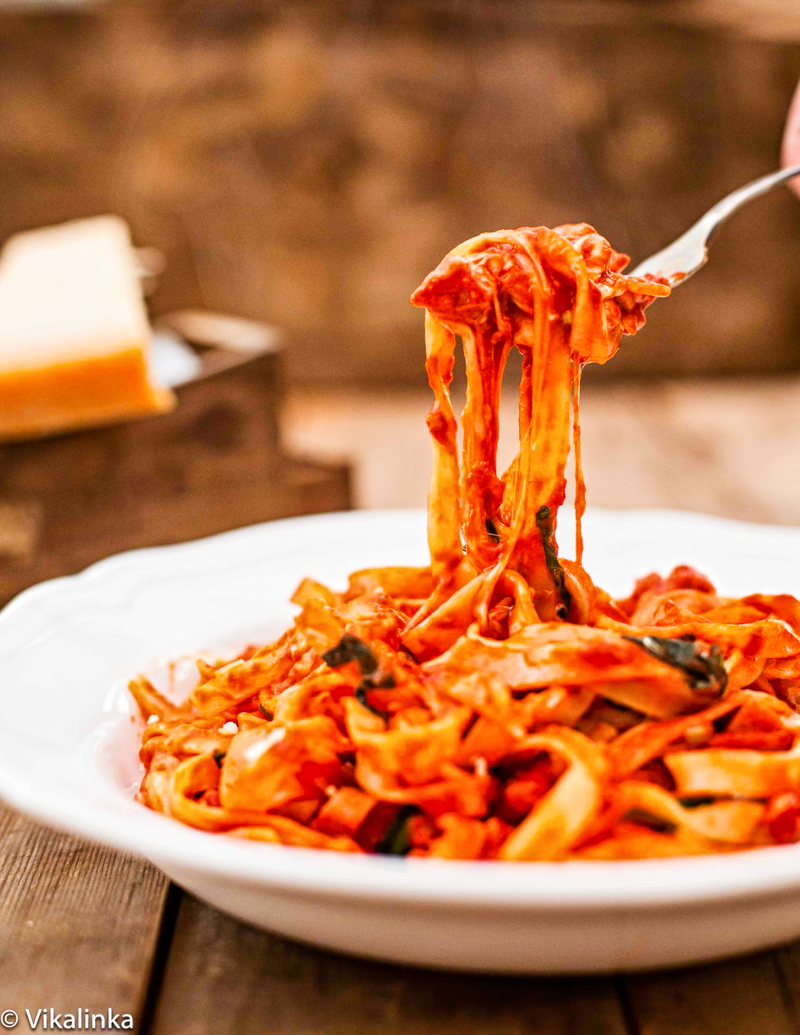 What is tagliatelle?
If you are wondering what sort of pasta tagliatelle is, you'd be happy to know it's the same pasta, which you might know by the name fettuccine.
Tagliatelle pasta comes bundled in little nests while fettuccine is straight. Two different names come from two different regions of Italy but are virtually the same thing. They certainly can be used in each other's place in recipes. Here is an example of a creamy tagliatelle pasta recipe, which happens to be one of my favourites.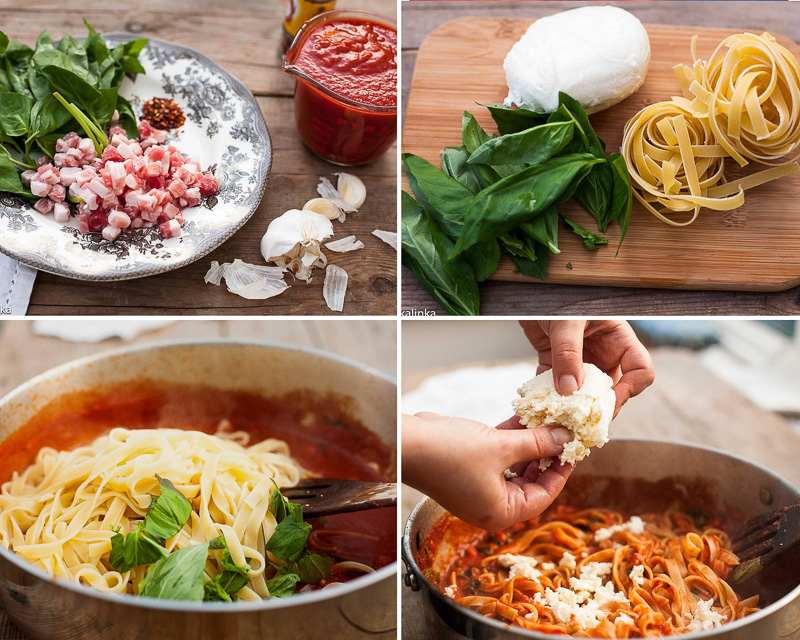 Pancetta Pasta with Tomato Sauce Tips
As I've already mentioned this recipe is extremely speedy and the ingredient list is quite short.
Don't get hung up on the fact that I am using pancetta if you can't find it. Use thickly cut decent quality bacon instead.
Look for pasta produced in Italy or the brand that says 100% durum semolina or 100% durum wheat. That will make a world of difference.
Use real Parmesan cheese, which you have to grate yourself. It costs a bit more but you get good value for your money because the flavour is incredible. And you will need much less to be satisfied.
Mix your pasta and sauce as soon as it's cooked. Pasta in Italy is ALWAYS served mixed with a sauce rather than being scooped on top of plain pasta at the table. Something magical happens when you combine hot pasta with hot sauce as the flavour coats the pasta and gets absorbed by it, so don't wait until it's at the table. Do it the Italian way!
Do not overcook pasta. I know every recipe says it but non-Italians horribly overcook their pasta, it really should be cooked al dente. So when you bite into it, it should not taste like noodles from your grandma's Chicken Noodle Soup but have a bit of firmness to it.
Finally, it deserves mentioning that Italian food has a bad rep for being unhealthy. Unfortunately, it's only the case for Italian cuisine outside of Italy. This recipe only uses 100 g/ ½ cup of pancetta and 125 g/ ½ cup of mozzarella for the ENTIRE recipe that can feed 4-6 people!! Not too bad at all!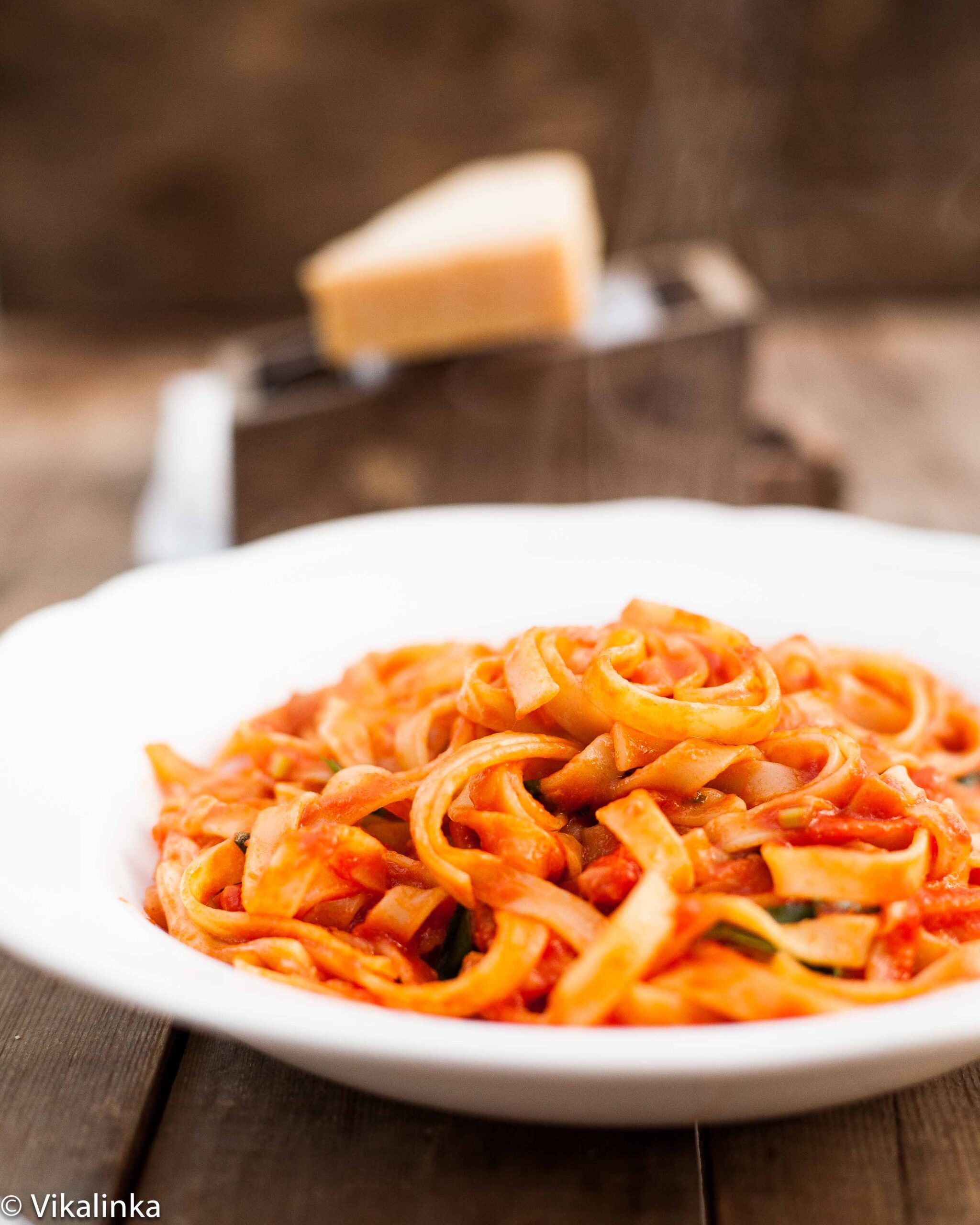 What to serve with this pasta
For a quick midweek meal all this pasta dish needs is a side salad like my Caprese Salad , and maybe some bread. If you do serve good quality bread, don't forget to add some olive oil and balsamic vinegar for dipping. Garlic bread will be amazing too!
For the nights when you have spare time and feel more ambitious, add my Bruschetta recipe to start your dinner and roasted Parmesan broccoli to serve on the side.
More Simple Pasta Recipes to Try: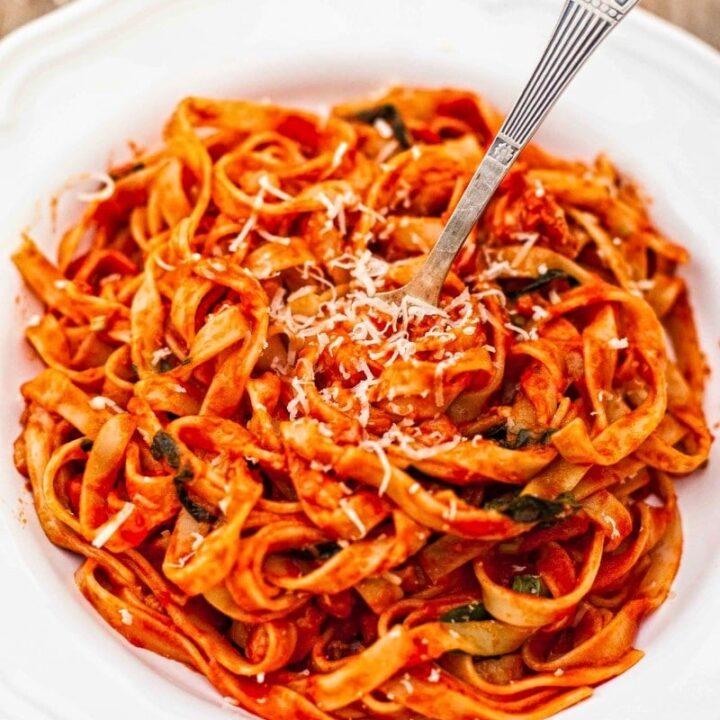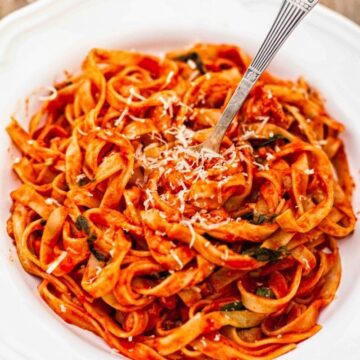 Tagliatelle with Pancetta, Basil and Mozzarella
Pasta with tomato basil saul and fresh mozzarella.
Ingredients
1 lbs

tagliatelle or fettuccine

1

tbsp

olive oil

5-6

leaves

fresh basil

or 1 tsp dried basil

2

cloves

garlic

minced

100g/1/2 cup

pancetta

cubed (or unsmoked bacon, cubed not sliced)

¼

tsp

red chilli flakes

optional

500ml/2 cups

Italian Passata

or canned crushed tomatoes

salt and pepper to taste

125g/4 oz

fresh mozzarella

Parmesan cheese for serving
Instructions
Set a large pot filled with water and bring it to a boil. When it boils put a good pinch of salt and pasta, cook 1 minute less than your package suggests, it can vary between 7-10 minutes. Remember when you combine it with sauce it will continue cooking.

While you pasta is cooking, heat 1 tbsp. of olive oil in a large pan over medium heat and cook your pancetta until there is virtually no visible fat, add garlic and a pinch of chilli flakes if using and cook for 1 minute, then add half of your basil and tomatoes, bring to a boil, then turn the heat down and let it simmer until pasta is cooked.

When your pasta is cooked al dente, drain it while reserving a cup of water you cooked your pasta in. Put your pasta into the sauce along with the remaining basil leaves. I don't slice basil leaves, I just tear them as I like bigger pieces.

Then simply tear your fresh mozzarella ball with your hands directly into the pan with pasta.

Gently stir fresh mozzarella into your pasta over low heat, add a splash of reserved water if your sauce is getting a bit dry. Take off the heat as soon as mozzarella melts and turns stringy, it will only take a couple of minutes.

Serve immediately topped with a bit of freshly grated Parmesan.
Nutrition
Calories:
476
kcal
Carbohydrates:
62
g
Protein:
19
g
Fat:
17
g
Saturated Fat:
6
g
Trans Fat:
1
g
Cholesterol:
91
mg
Sodium:
669
mg
Potassium:
606
mg
Fiber:
4
g
Sugar:
6
g
Vitamin A:
666
IU
Vitamin C:
9
mg
Calcium:
151
mg
Iron:
3
mg