Sun-dried tomato pasta tossed with plenty of garlic, chilli flakes, parsley and good quality olive oil plus plump and juicy chicken breasts deliver a quick and satisfying one pan dinner.
Serve this tasty pasta number with my Basil Pesto Caprese Salad or Tuscan Panzanella Salad for a fun Italian inspired meal.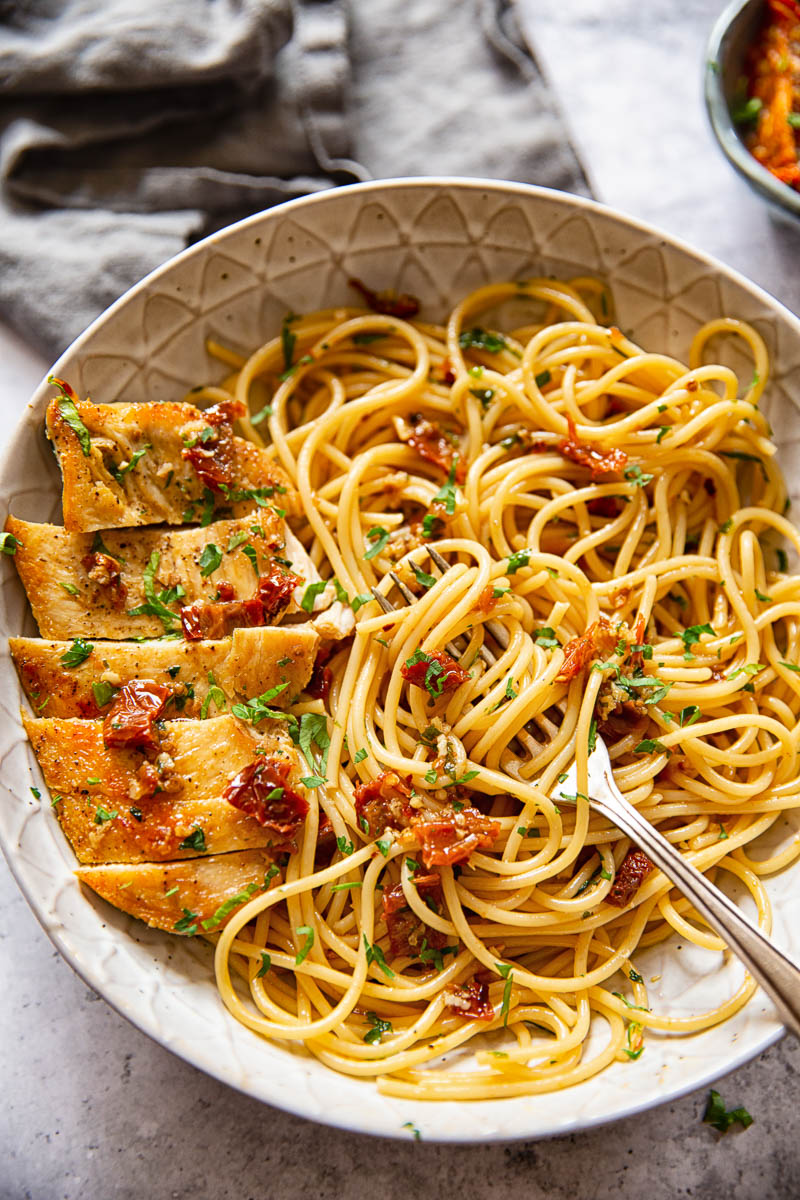 Sun-dried tomatoes have had their heyday in the early 90s but have fallen out of favour since then. Not in my kitchen!
Drying tomatoes concentrates the taste by removing water, and what a punchy flavour it is! Just a handful of sun-dried tomatoes can add an lively intensity to a whole range of dishes.
Adding them to humble pasta and chicken is a great way to add incredible flavour to simple ingredients. Let me show you how to use sun-dried tomatoes to transform humble spaghetti into a restaurant-worthy dish!
How to use sun-dried tomatoes
Adding them to pasta dishes is one of my favourite ways of using sun-dried tomatoes. This 5 Minute Ravioli Sauce uses sun-dried tomato pesto and is consistently in the top 5 popular recipes on Vikalinka.
Another favourite is roasted Parmesan broccoli with garlic and sun-dried tomatoes. Everyone will fall in love with this flavourful vegetable dish.
The recipe for this sun-dried tomato pasta was related to me in very loose terms by an older Italian lady on a trip to Italy. She gave it to me along with a jar of the best sun-dried tomatoes I've ever tasted.
I've tweaked it a little bit by adding chicken in order to make it into a more practical one pan dinner that my family loves. But at it's heart is a traditional Sicilian recipe that is too good not to share!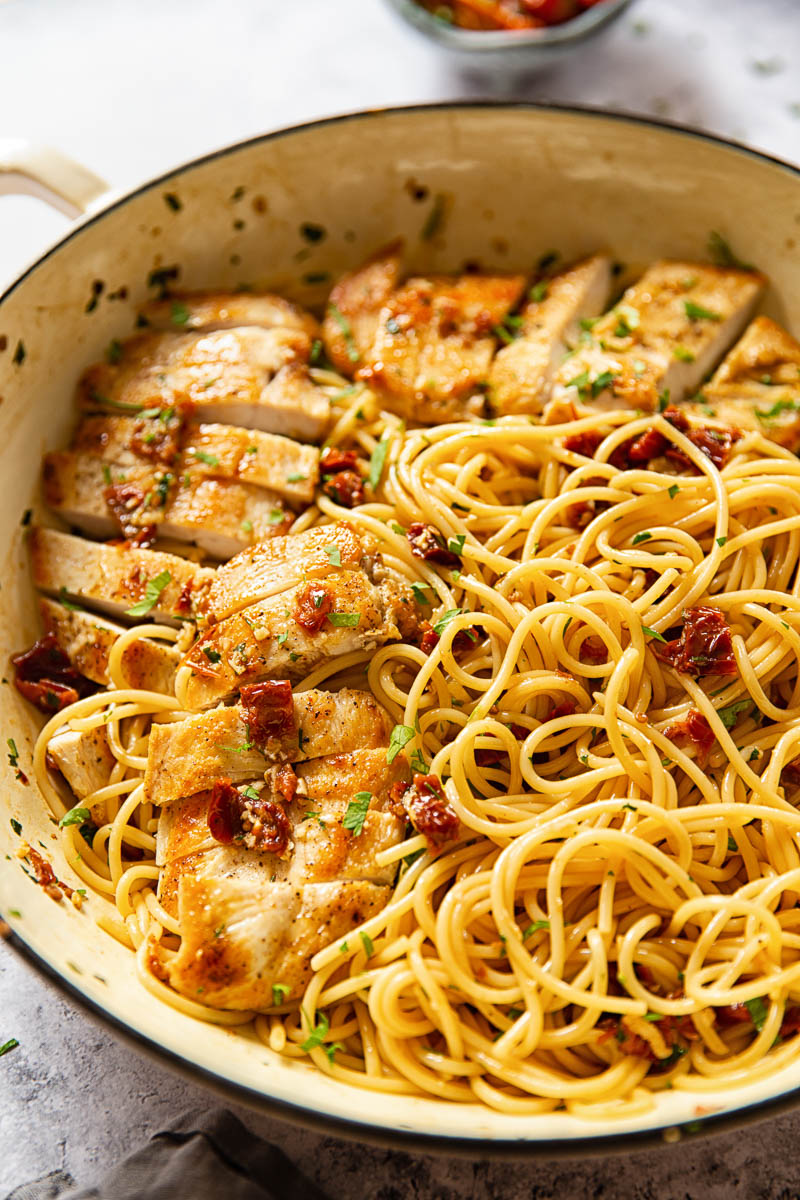 Ingredients
The ingredient list is blissfully short. All you need to make this authentic Sicilian spaghetti recipe is found below.
spaghetti or any other pasta
chicken breasts
good quality olive oil
good quality sun-dried tomatoes
garlic
chilli flakes
parsley
If I am completely honest with you, this recipe for sun-dried tomato spaghetti doesn't need chicken breast added to it. It's flavourful and satisfying even when served meatless.
It is how it would be enjoyed in Italy as Italians eat in courses. Chicken is never added to the pasta but enjoyed as a separate course followed directly after the pasta course. But if your family loves chicken, do follow this recipe.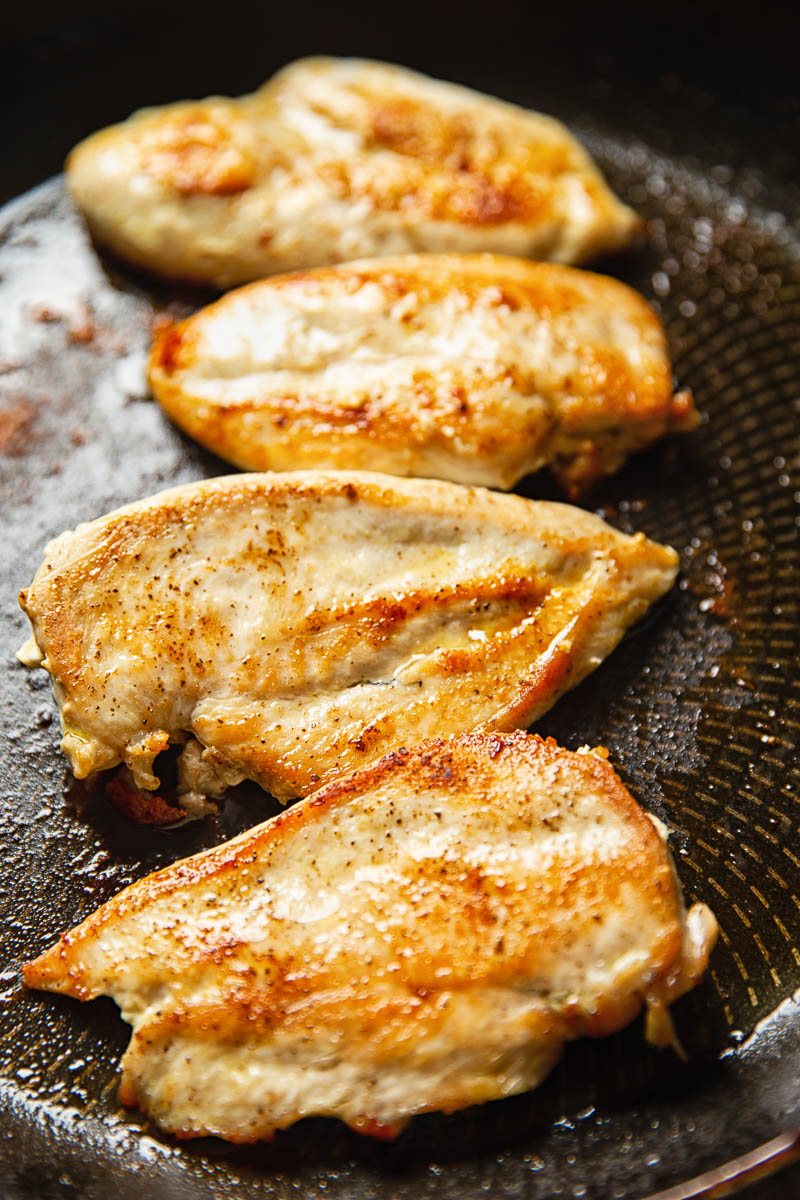 Oil packed sun-dried tomatoes vs. dry packed
You can use either kind in this recipe. What you use is a matter of preference and accessibility. Whatever you do, use the best quality you can find as the flavour of this dish heavily relies on this ingredient.
If you use sun-dried tomatoes packed in oil, reduce or completely omit the olive oil in step 3 of the recipe to avoid your pasta becoming too oily and therefore, heavy. I often use only 1 tsp of the oil the sun-dried tomatoes are packed in as it only intensifies flavour.
If you are using dry packed sun-dried tomatoes, proceed with the recipe as written. I personally prefer my sun-dried tomato dry packed. This way I can control the amount of oil. That being said, I recommend looking at your dried packed tomatoes closely.
If they are too dry, they might need to be submerged in hot water for 5 minutes before cooking. If they have the texture of prunes, they are good to go as they are. No reconstituting is necessary for this pasta recipe.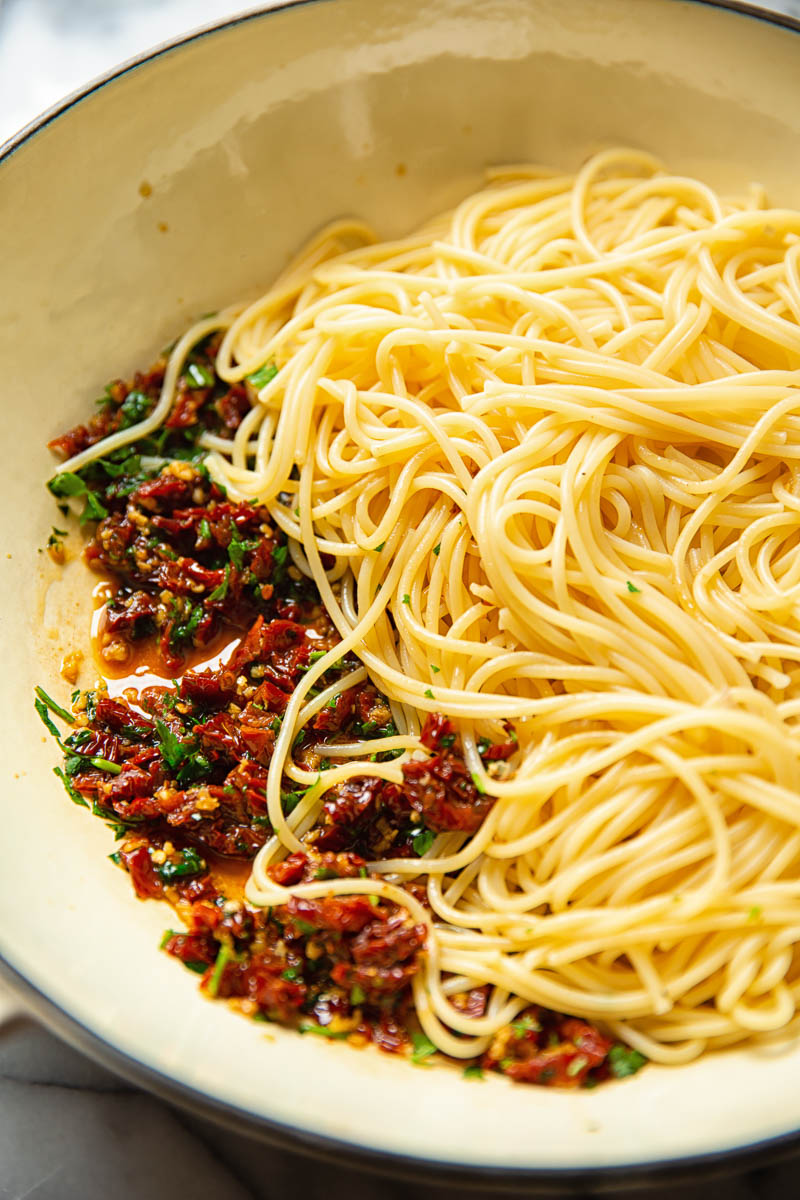 Sun-dried tomato sauce
The genius of this dish is how simple the sauce is. Because it takes only a couple of minutes to prepare, it's a good idea to start the chicken beforehand.
Do this by slicking two chicken breasts lengthwise, season with salt and pepper, and pan fry on both sides until they are golden. They can be set aside until the sauce and pasta are ready.
With that out of the way, the sauce can be prepared. Briefly cook the chopped sun-dried tomatoes in olive oil with sliced garlic, chilli flakes and fresh flat leaf parsley until fragrant but be careful.
Both sun-dried tomatoes and garlic burn fast, so use low heat and pay close attention. Then add cooked spaghetti with some pasta water and toss with salt. Top with sliced chicken breasts. Done!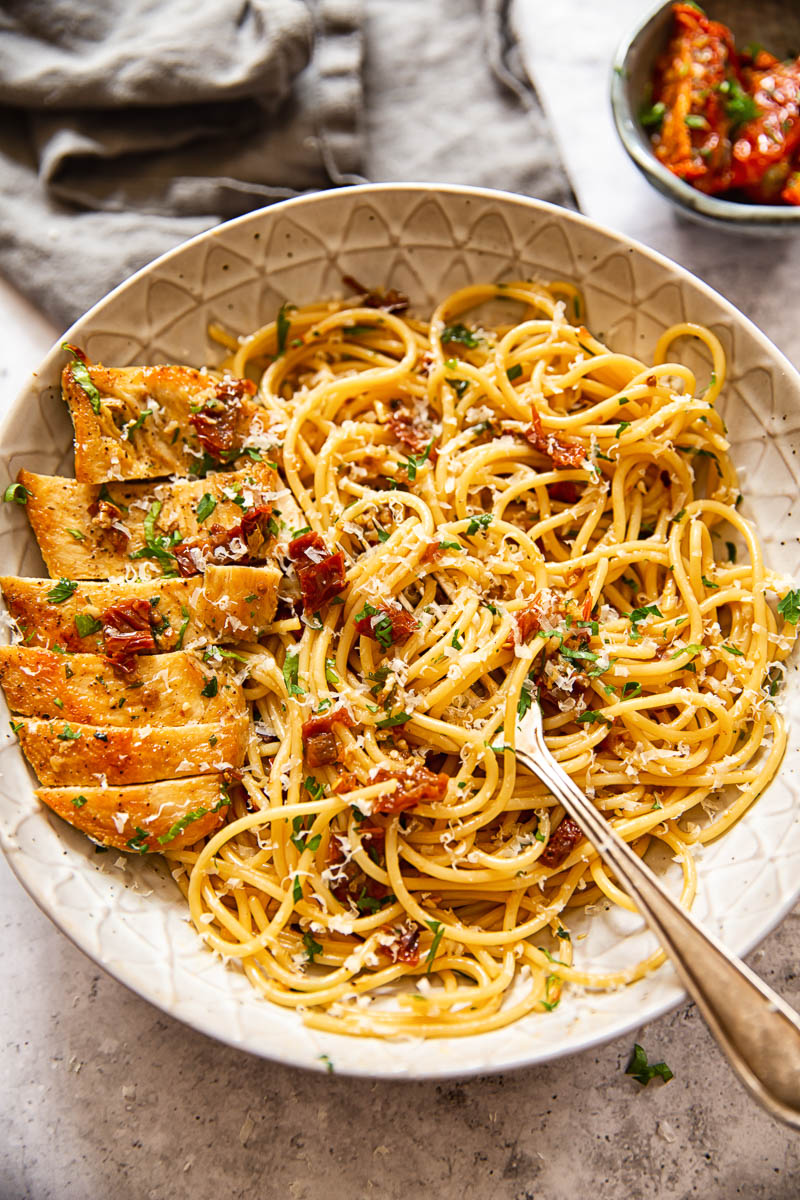 Tips for the best tasting pasta
Generously salt the water in which you cook pasta. This gives the salt time to evenly season each piece of pasta as it cooks, which is much harder if adding salt later in the process.
Cook pasta al dente, which means it is slightly chewy. I always cook 1 minute less than recommended on a package.
Save some starchy pasta water to create sauce. The salt and starch left in pasta water is valuable in making luxuriously creamy pasta sauces. I remove some pasta water with a mug or measuring cup before draining to use for the sauce.
Season your pasta with more salt if the dish tastes bland. Always add salt first before you reach for any other seasoning. Taste and see the difference. Salt brings out flavour.
Serve your pasta with a good sprinkling of freshly grated Parmesan Cheese. Or Grana Padano. It's cheaper but just as good!
Storage and leftovers
Any leftovers from this pasta dish can be kept in the fridge for up to three days. Store them in an airtight container. I wouldn't recommend freezing as it will do the pasta no favours.
Refrigerated leftovers can be reheated in a microwave. The time it will take will depend on your microwave, but a normal plateful will usually take 2-2.5 minutes.
More Italian pasta recipes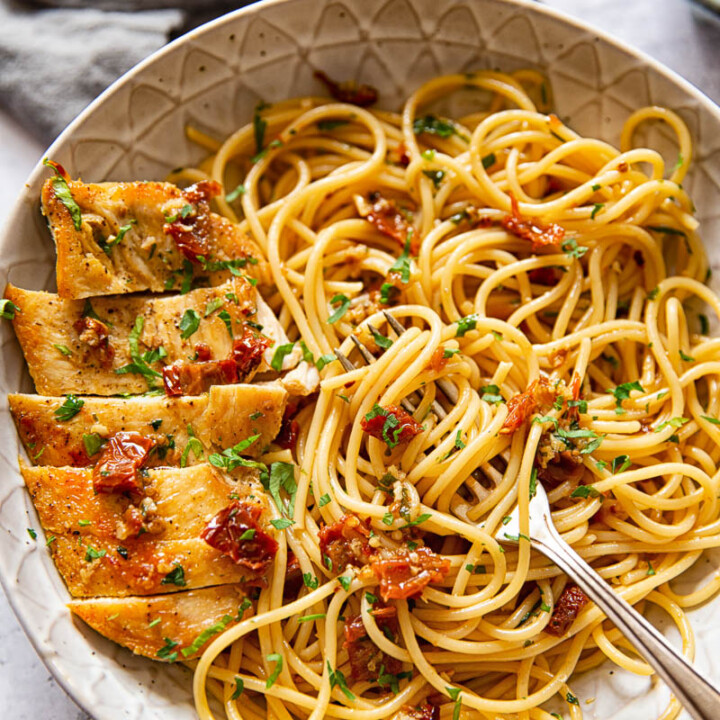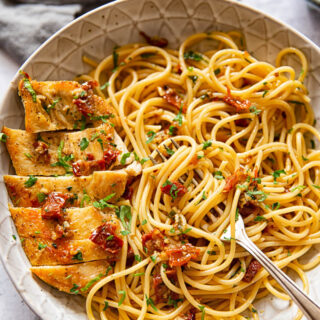 Sun-Dried Tomato Pasta with Chicken
Sun-dried tomato pasta tossed with plenty of garlic, chilli flakes, parsley and olive oil plus juicy chicken breasts deliver a quick one pan dinner.
Ingredients
2

skinless, boneless chicken breasts

2

tbsp

olive oil, divided

500

g

/1lbs spaghetti

3

cloves

garlic, sliced

1-2

tsp

red chilli flakes

4

tbsp

sun-dried tomatoes, chopped

I used dried packed variety

2

tbsp

flat leaf parsley, chopped

Salt to taste
Instructions
Cook the spaghetti in a large pot of salted boiling water according to package instructions.

Meanwhile, cut each chicken breasts lengthwise to create four thin cutlets. Season with salt and pepper. Pan fry in 1 tbsp of olive oil for 5 minutes on each side over medium heat until golden on the outside and cooked all the way through. Remove to a separate plate and keep warm.

To the same pan add another tablespoon of olive oil and sauté sliced garlic and sun-dried tomatoes with red chilli flakes over low heat for 1 minute, then add ½ cup of pasta water (scoop it directly from the pot with spaghetti). and bring the sauce to a simmer, then add parsley, stir and immediately take off the heat.

Drain the cooked spaghetti. Add the spaghetti to the pan with sun-dried tomatoes, and toss until pasta is coated with the sauce. Taste and season with salt. Slice the chicken breasts and add to the sun-dried tomato pasta. Serve sprinkled with freshly grated Parmesan cheese.
Notes
Omit adding olive oil in step 3 if using oil-packed sun-dried tomatoes.
Nutrition
Calories:
565
kcal
Carbohydrates:
89
g
Protein:
28
g
Fat:
10
g
Saturated Fat:
2
g
Cholesterol:
36
mg
Sodium:
94
mg
Potassium:
663
mg
Fiber:
4
g
Sugar:
5
g
Vitamin A:
370
IU
Vitamin C:
5.9
mg
Calcium:
39
mg
Iron:
2.3
mg