This easy spaghetti puttanesca recipe made with sweet, plump tomatoes, garlic, briny black olives and a hint of anchovies should definitely be on your regular rotation for quick, no fussy dinners!
For another speedy Italian pasta sauce, take a look at my Simple Pasta Cream Sauce.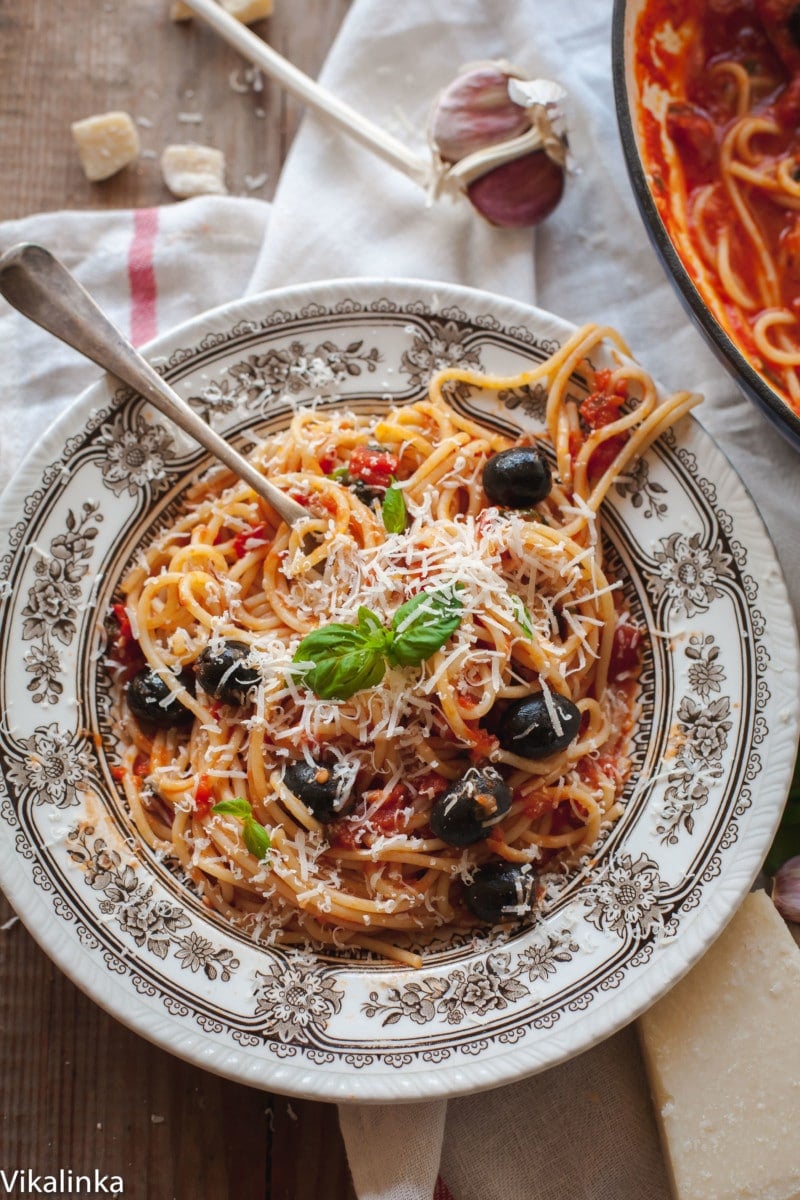 It looks as if I am on a mission to overwhelm you with pasta dishes. I know I have been sharing a lot of them lately but as I've mentioned numerous times my life is so busy right now with school, work and family that pastas have been my saving grace every night when dinner comes round.
And the one I am cooking for you today has been at our table at least once a week lately. Spaghetti Puttanesca is one of those classic dishes that everyone knows but is not as loved as Spaghetti Bolognese, Carbonara or Ragu and I think I know why…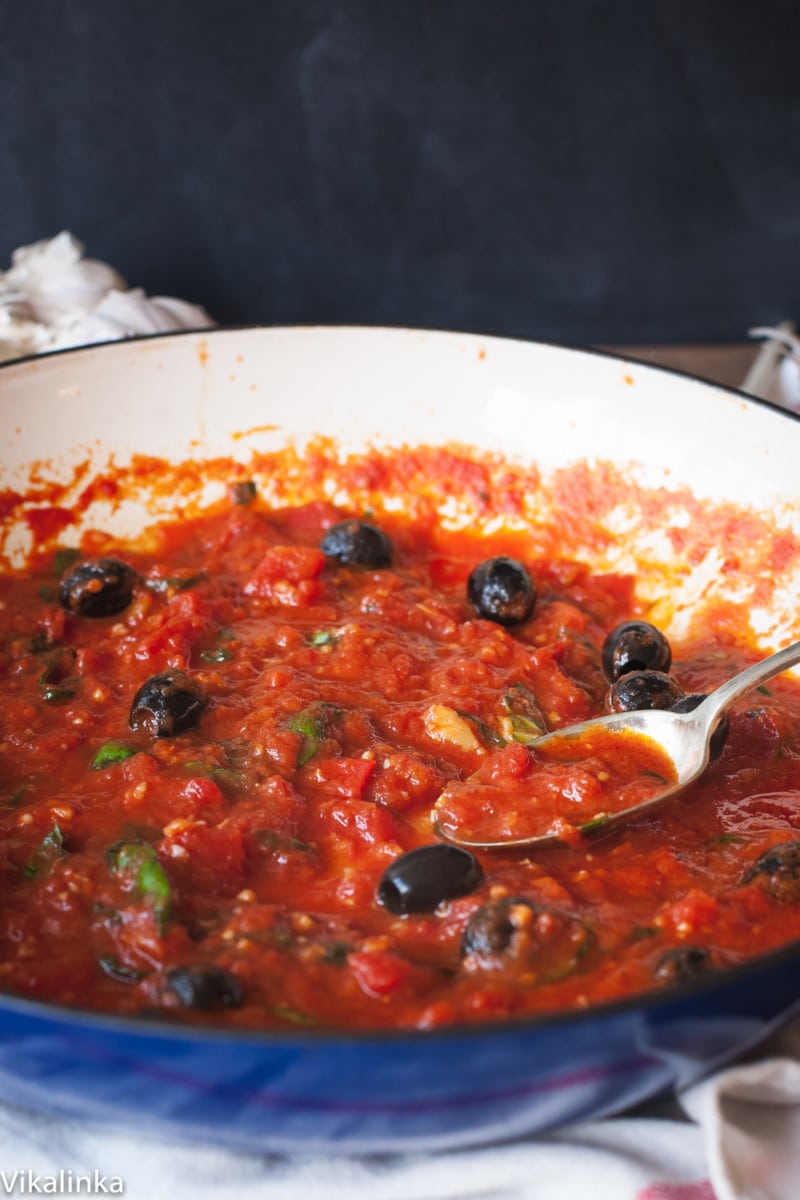 People are avoiding it because of anchovies…yep you heard me right. This pasta sauce has fish in it and that is exactly what make it GLORIOUS. Anchovies make it stand apart from every other tomato sauce out there!
If you are shaking your head already and think this recipe is not for you…please, please read on because there is a wonderful surprise waiting for you if you give it a go. I was one of those people on a fence for years.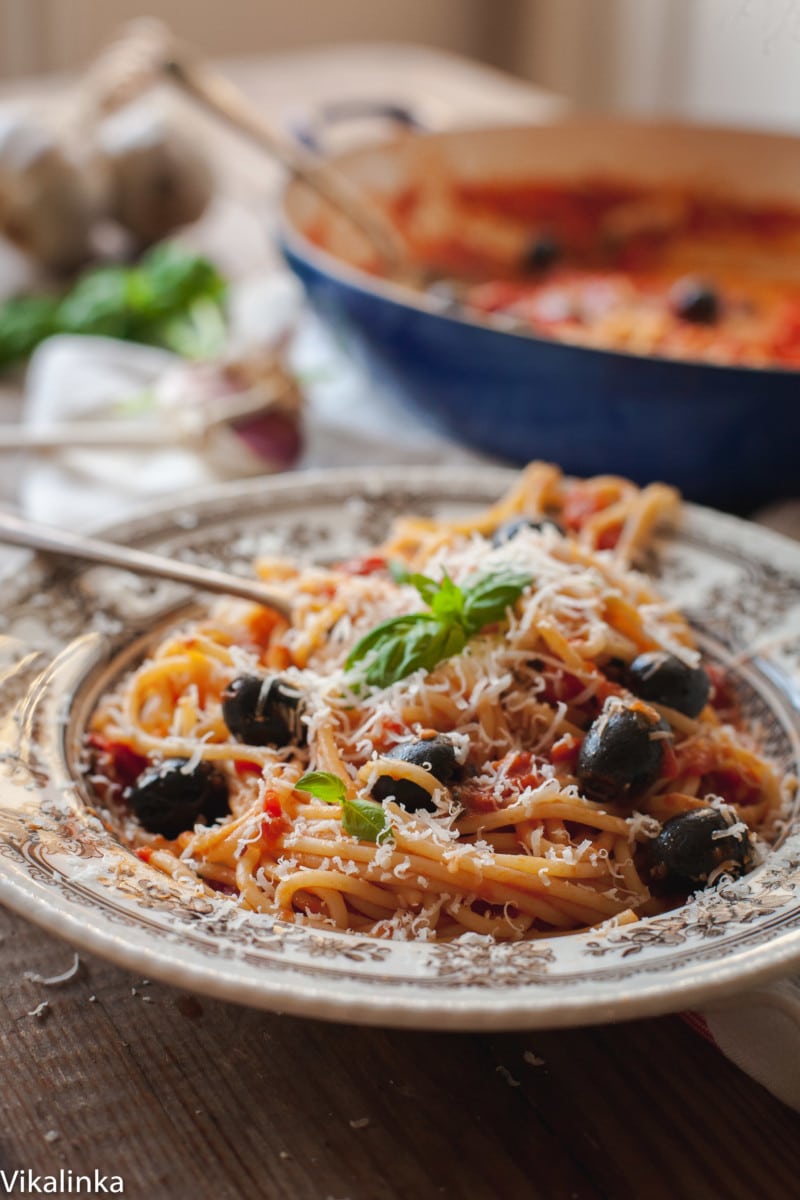 Recipe Secret Ingredient
I just couldn't imagine how anchovies do the trick but they've got magic powers once they are sauteed in olive oil with garlic, and then immersed into tomatoes and basil.
They literally just melt into the sauce and deliver such a flavour punch like the best, most awesome stock cube you could imagine!
Is it a kid friendly dish?
My kids claim they can't stand fish because it's "stinky". Yet when I start making Puttanesca both of them come running to the kitchen.
And the next bit is the most hilarious of all…they say, "Mmmm, smells delicious!" This quick recipe is at the top of their list.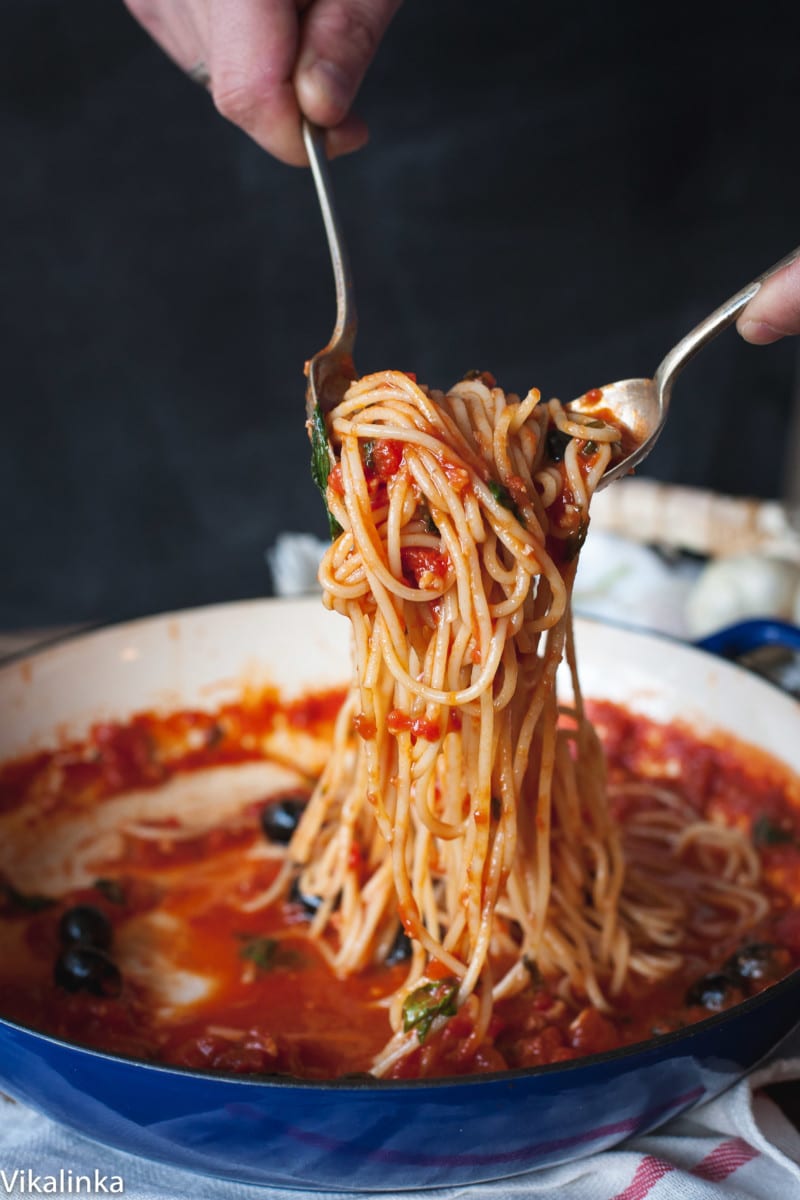 Best Tomatoes for the Puttanesca Sauce
Now, let's talk tomatoes. If you are blessed enough to live in the UK or Europe go ahead and purchase pretty much any tinned tomatoes available.
For the North American folks things are a bit less straightforward. I always used to say "buy canned tomatoes" but on my recent trip to Canada I realised I've been out of touch with reality.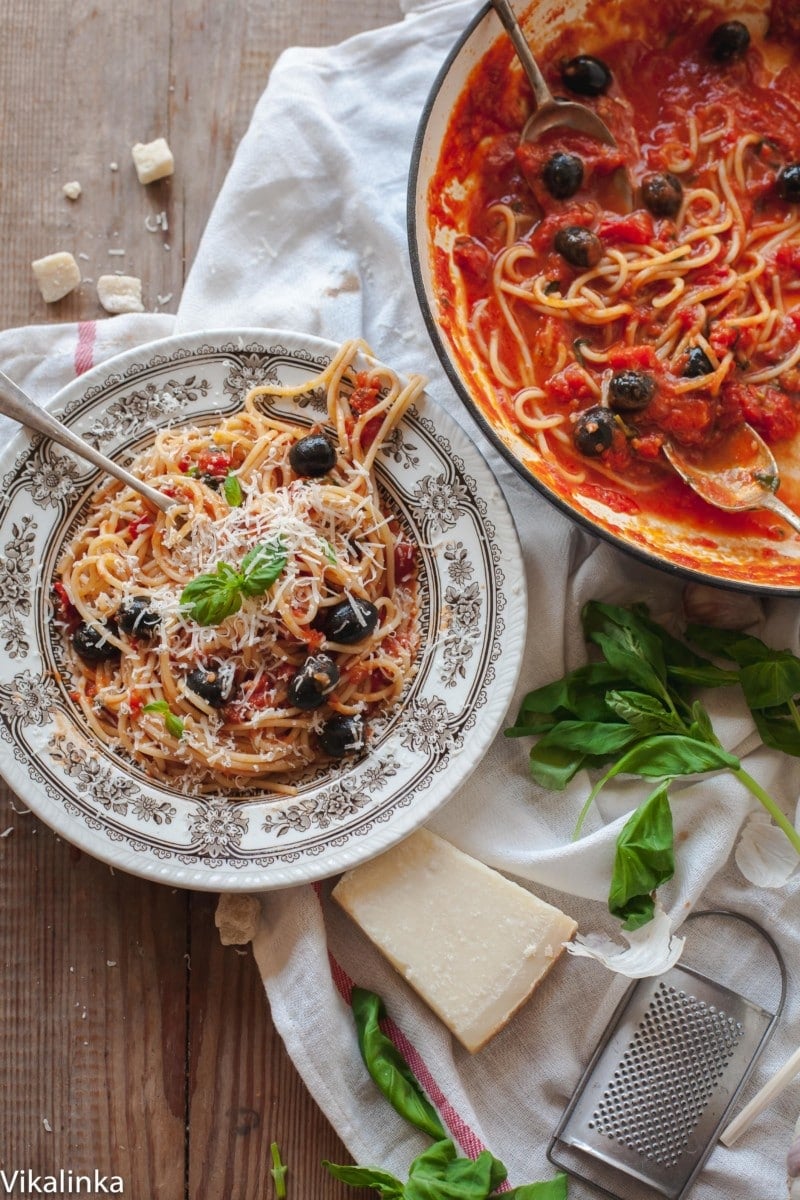 Canned tomatoes in Canada and the US are just not the same. Not ripe enough, not red enough, they don't just soften and turn into a silky smooth sauce like tomatoes grown in Italy do.
To get the best results I recommend buying crushed tomatoes or the best quality canned tomatoes you can find. The truth is in the tomatoes. They make the sauce.
I wrote more about it in the article on how to make Homemade Tomato Basil Spaghetti Sauce.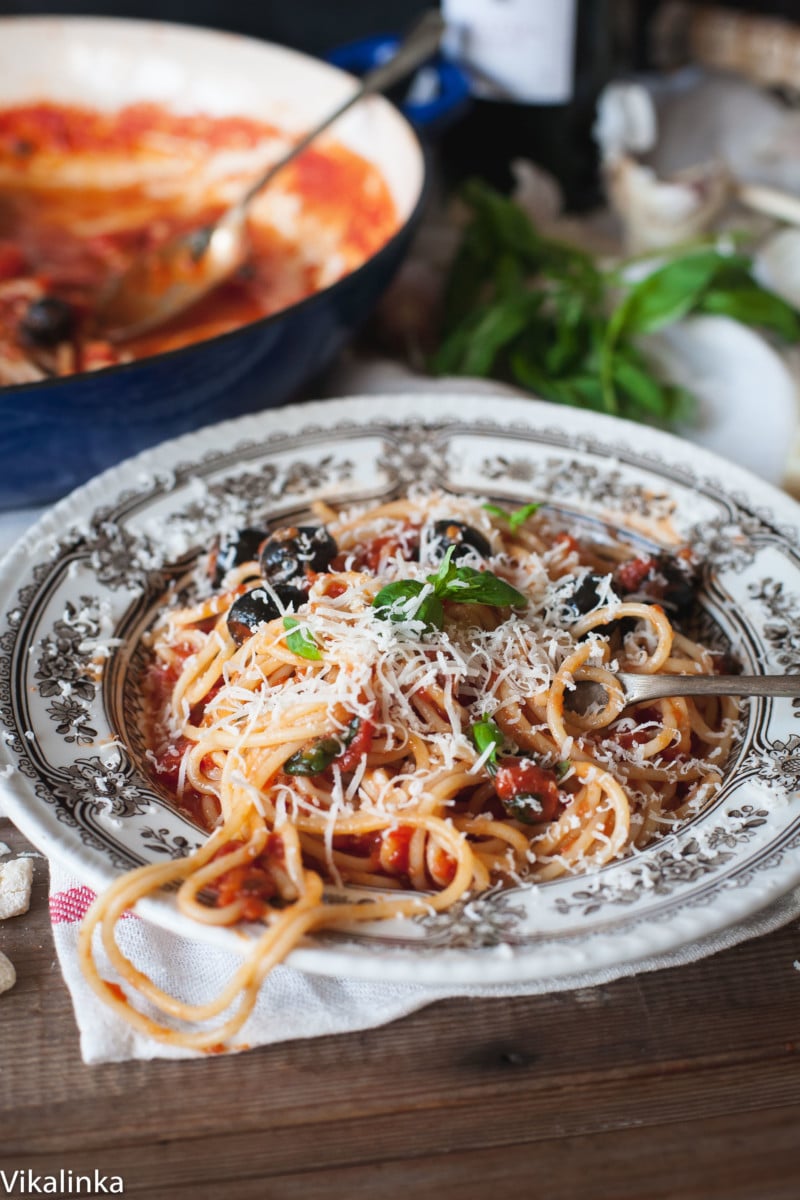 Oh I almost forgot to mention. Puttanesca sauce takes 10 minutes to make, which gives you just enough time to boil your spaghetti. And maybe throw a loaf of garlic bread in the oven because you know…delicious.
You can have a true Italian dinner on the table in 15 minutes flat. Now is that fabulous news or what?!
If you are looking for a delicious side dish to go with your Spaghetti, this Basil Pesto Caprese Salad or Tuscan Panzanella Salad.
Originally published in 03/2015. Updated in 02/2019.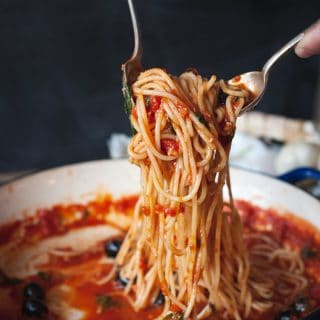 Spaghetti Puttanesca
This easy spaghetti puttanesca recipe made with sweet, plump tomatoes, garlic, briny black olives and a hint of anchovies should definitely be on your regular rotation for quick, no fussy dinners.
Ingredients
1

lbs

spaghetti

2

tbsp

olive oil

4-6,

anchovies fillets packed in oil

chopped

3-4

garlic cloves

minced

a handful of fresh basil leaves

chopped

400

gr/14 oz tinned tomatoes or crushed tomatoes for US and Canada

⅓

cup

black olives

pitted

freshly grated Parmesan cheese
Instructions
Set a large pot filled with water on the stove and bring to a boil, add salt and spaghetti. Set the timer according to package directions.

Meanwhile, sauté chopped anchovies in olive oil over low heat while stirring and breaking them up with the wooden spoon for 1-2 minutes, they will start to turn into a paste, add garlic and continue stirring for 1 minute.

Add tomatoes, chopped basil and olives, turn the heat up and bring the sauce to a boil, lower the heat to low and simmer for 6-7 more minutes.

Stir occasionally and try to break up big tomatoes chunks with the wooden spoon.

Drain spaghetti and add to the pan with the sauce. Toss gently and serve with fresh grated parmesan cheese.
Nutrition
Calories:
539
kcal
Carbohydrates:
93
g
Protein:
17
g
Fat:
11
g
Saturated Fat:
2
g
Cholesterol:
2
mg
Sodium:
319
mg
Potassium:
570
mg
Fiber:
6
g
Sugar:
8
g
Vitamin A:
259
IU
Vitamin C:
10
mg
Calcium:
74
mg
Iron:
3
mg