Make the best bolognese sauce by slowly simmering beef with a bit of seasoning, plump tomatoes, celery, carrots, garlic and onions. Hours in your slow cooker produce amazing flavour with minimum effort. Learn all secrets below!
If you love pasta, try my quick and meatless Tomato Basil Spaghetti Sauce.
I had pretty ambitious plans for this month but due to circumstances out of my control I am stuck at home and most of my time is spent in the kitchen.
Nothing seemed as satisfying as rich and robust beef bolognese sauce over spaghetti or tagliatelle. It's one of those cozy dinners you always want to have at the end of a long day.
Somehow it gives you comfort to know that no matter what storm is raging outside, there is always comfort found at home.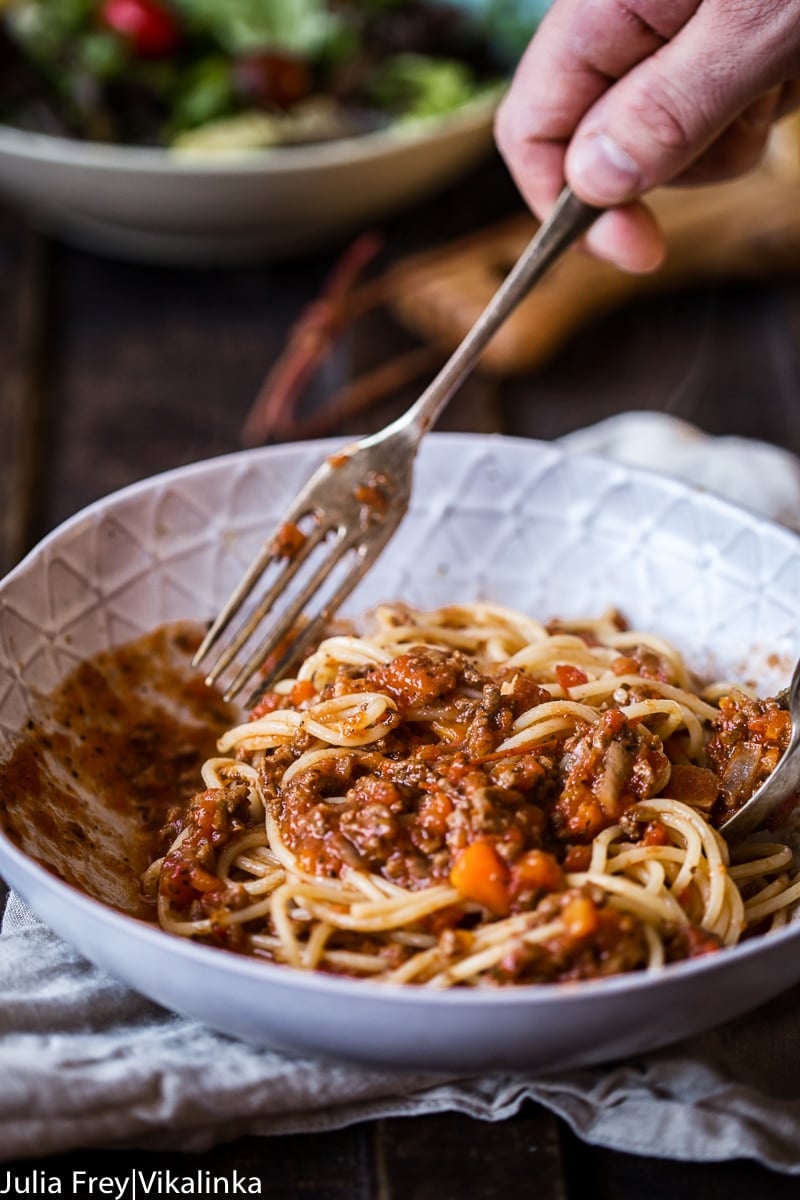 How to make authentic bolognese sauce
My usual and easy way of cooking beef bolognese sauce is low and slow in my trusty cast iron pot. The magic trick to making the best beef bolognese is patience.
Just when you think it's done and want to take it off the heat, keep it on for another hour or two. Through many trials I learned, what makes beef bolognese sauce is time. And tomatoes of the best quality!
So when you go shopping for your ingredients, do choose best canned tomatoes you can find. You will be surprised how sweet and flavourful beef bolognese sauce will taste made with perfectly ripe tomatoes!
However if you are not lucky enough to find ripe canned tomatoes, adding 1 tablespoon of sugar to your sauce also helps.
What are the ingredients?
The usual suspects in almost every beef bolognese sauce are beef, tomatoes, basil, oregano as well as diced onions, carrots, celery and some garlic.
I also add just a small amount of smoked pancetta or bacon for flavour, and that little addition makes a world of difference, as was once pointed out by my father-in-law!
I usually start by frying the pancetta, and then add all diced vegetables and saute everything for a few minutes. I always believed that step was crucial for the flavour development until a couple of days ago.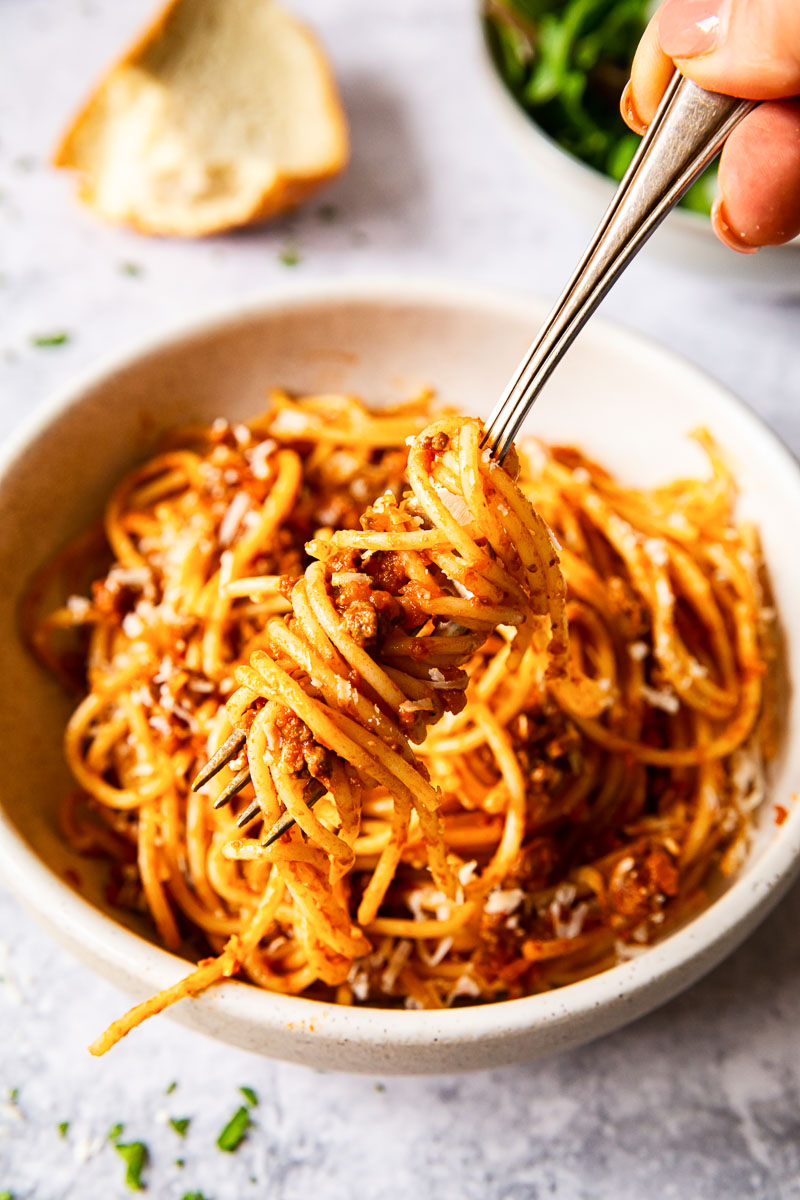 How to make slow cooker spaghetti sauce
When I set out to develop a slow cooker bolognese sauce recipe, I naturally wanted to simplify the process. What is the point of a slow cooker if you cook everything in the pan first?!?
So I took the risk and added all the vegetable raw. The only things I pre-cooked were bacon and beef. I was curious if that method would yield the same flavour.
Well as soon as my son finished his first helping, he said, "I don't know why but this beef bolognese sauce tastes better than what you usually make". Woah! The magic of a slow cooker!!
Alternatively, you can make this sauce in your Instant Pot, which speeds up the process significantly. It will be ready in one hour instead of 8!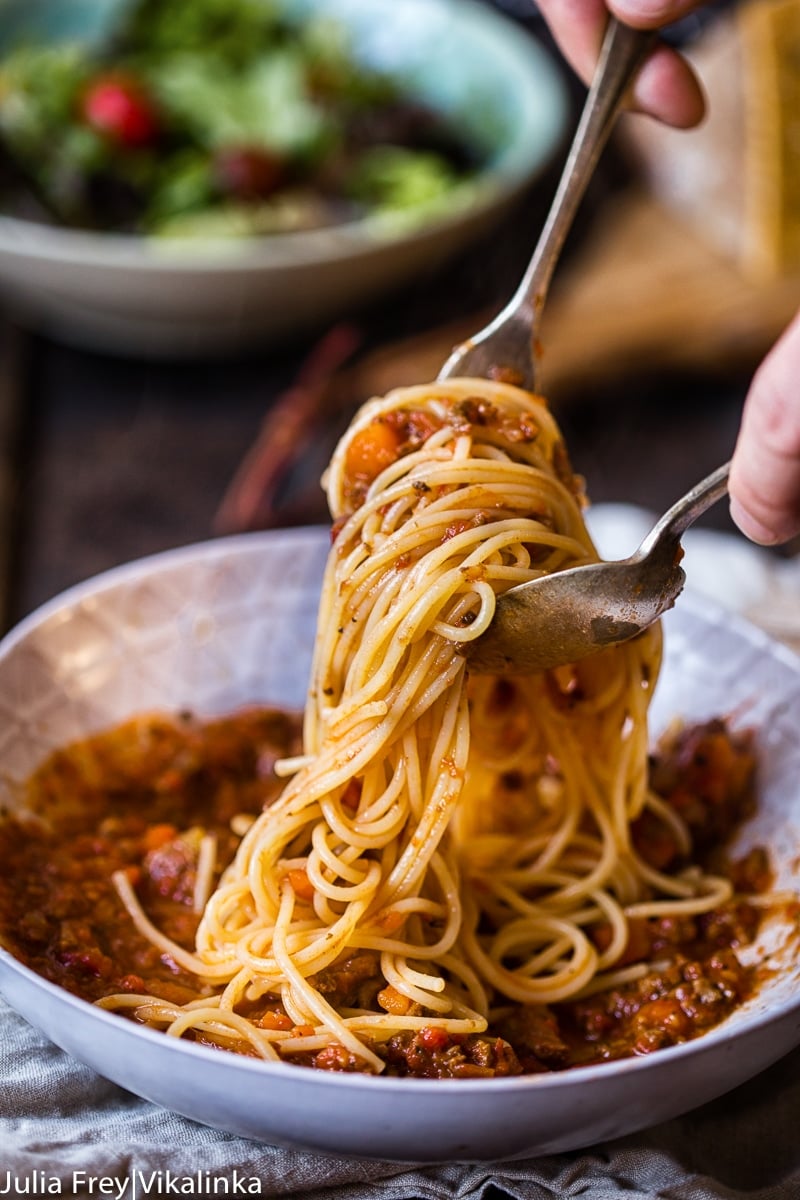 Right, let's get to it! Below you will see the stages of cooking this wonderful beef bolognese sauce.
In the second row of photos you can see what the sauce will look like at the beginning, 5 hours later and 8 hours later.
A pretty significant transformation is you ask me. While no thickeners and minimal human effort have been used! All natural ingredients, healthy and delicious!
This slow cooker bolognese sauce recipe produces A LOT OF sauce. I usually divide it and freeze a half of it for later. This delicious sauce could be used in my three cheese lasagna recipe.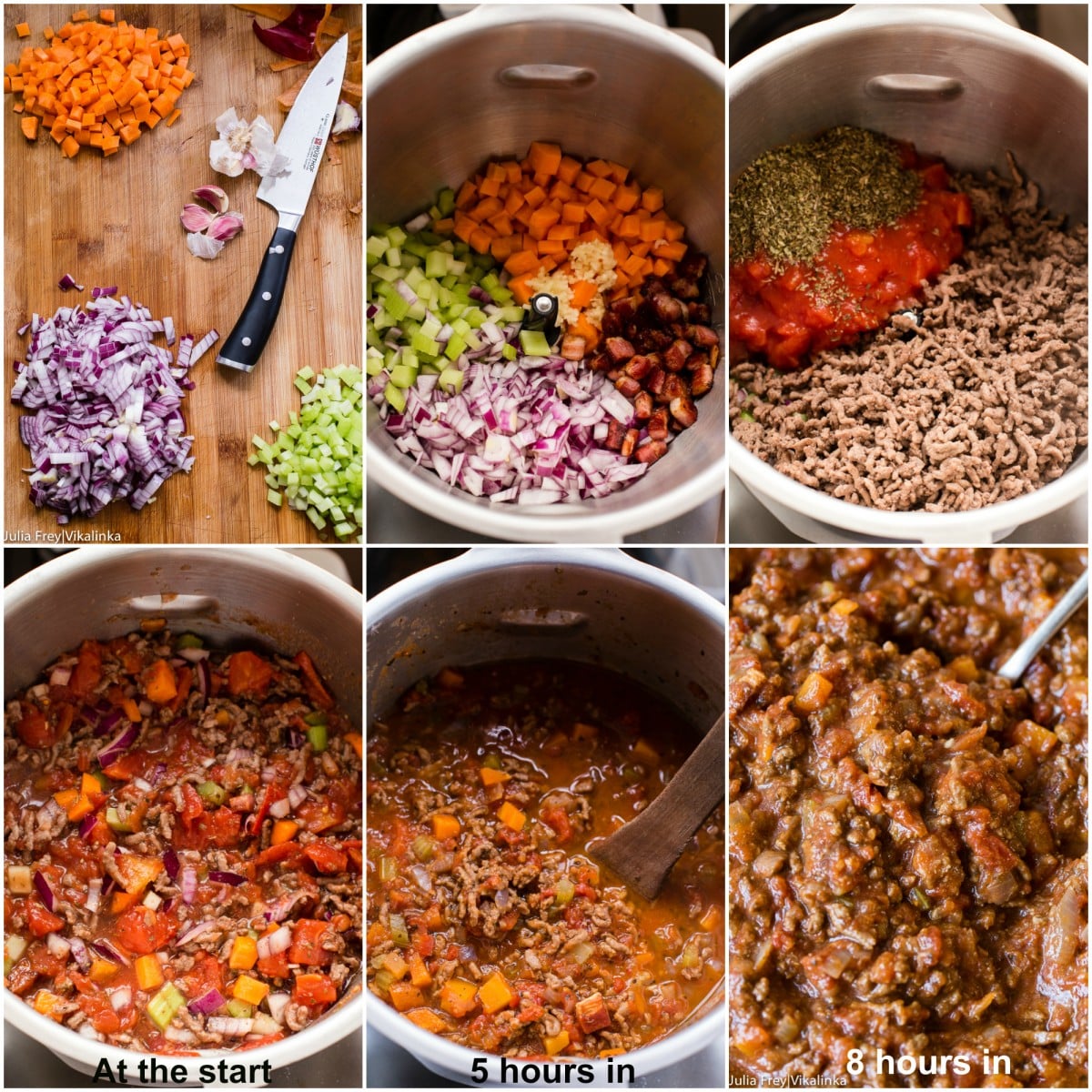 How to make a smooth sauce
If you prefer a less chunky sauce, I would recommend adding all the vegetables to a food processor first and pulsing them for a few seconds.
With this method you will have the same flavour, quicker and a smoother sauce. I often do that to speed up the process and eliminate all the dicing!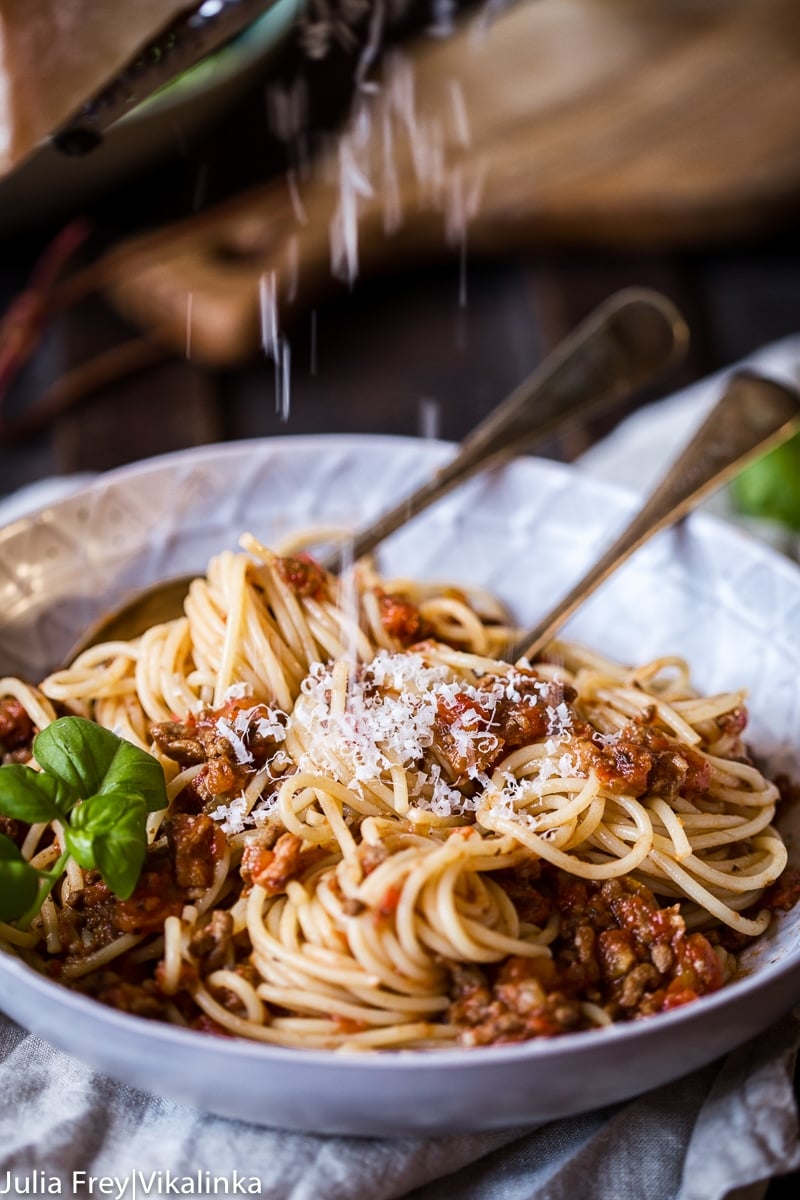 More pasta sauce recipes:
Originally published in 02/2017. Updated with new images and instructions and republished in 03/2020.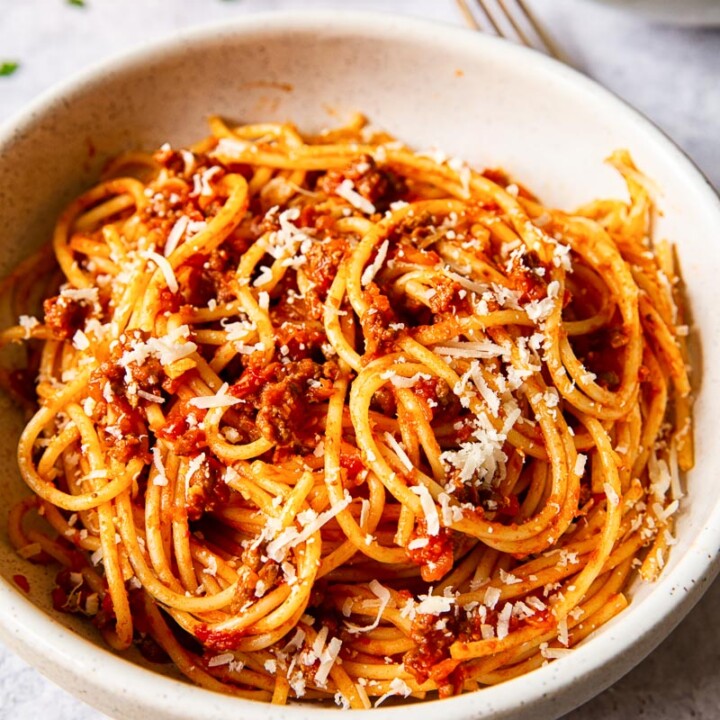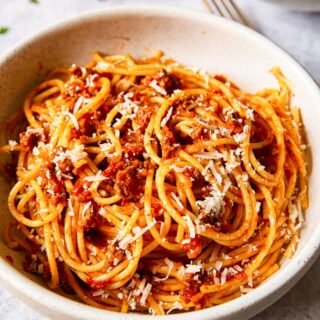 Slow Cooker Bolognese Sauce
Make the best bolognese sauce by slowly simmering beef with a bit of seasoning, plump tomatoes, celery, carrots, garlic and onions. Hours in your slow cooker produce amazing flavour with minimum effort.
Ingredients
3

strips of bacon/50g bacon or pancetta, chopped

optional

1

large onion

diced

2

medium carrots

diced

2

celery stalks

diced

3

garlic cloves

minced

400g/14oz

canned chopped tomatoes

500ml/2 cups

tomato passata/crushed tomatoes

2

tsp

dried basil

2

tsp

dried oregano

2

tsp

salt

1

lbs

extra-lean ground beef
Instructions
In a frying pan cook cubed pancetta or bacon until crispy. Remove to a plate.

In the same frying pan brown ground beef over medium heat with salt and pepper until cooked all the way through.

To the slow cooker add diced onion, carrot, celery, minced garlic, bacon, canned tomatoes, basil and oregano, 1 tsp salt and cooked ground beef. Stir to combine.

Cook on low for 8 hours. At the end of cooking time taste and add more salt if necessary.

Serve with pasta and parmesan cheese.
*Note: This sauce will get thicker the next day.
Notes
You can also make this sauce in your Instant Pot. Follow the recipe as written but use the Saute function on your Instant Pot for browing the bacon and beef. After step 3 Pressure Cook on High for 30 minutes. Then quick release pressure.
Nutrition
Calories:
155
kcal
Carbohydrates:
11
g
Protein:
16
g
Fat:
5
g
Saturated Fat:
2
g
Cholesterol:
41
mg
Sodium:
878
mg
Potassium:
627
mg
Fiber:
3
g
Sugar:
6
g
Vitamin A:
2808
IU
Vitamin C:
12
mg
Calcium:
63
mg
Iron:
3
mg