This rustic beef and eggplant lasagna filled with beef ragu, vegetables and topped with three types of cheeses is a real triumph! Serve with our Caprese Salad.
Or take a look at our Seafood Lasagna for something unique!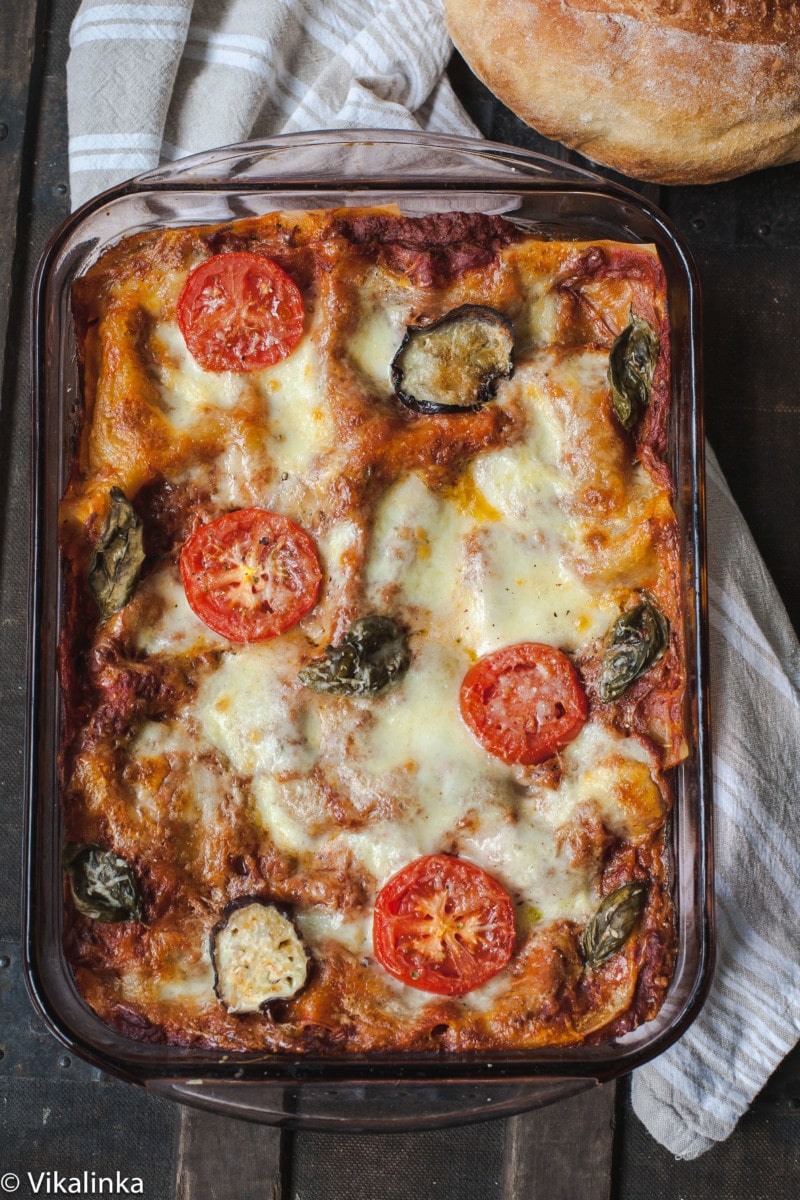 I don't know at what point lasagna became too commonplace, too normal, too ordinary, but it did. But tasting proper Italian lasagna changed my mind about the rustic simplicity of this dish.
My tastebuds when through an awakening on our first trip to Italy. Among many revelations, I had a taste of lasagna that changed how I look at the dish forever! It was leaner, more flavourful and with a better balance of ingredients that I knew was possible.
When made the Italian way, lasagna can be pretty special because a lot of attention is paid to the ingredients used. The taste you get out of a dish is the direct result of what you put in!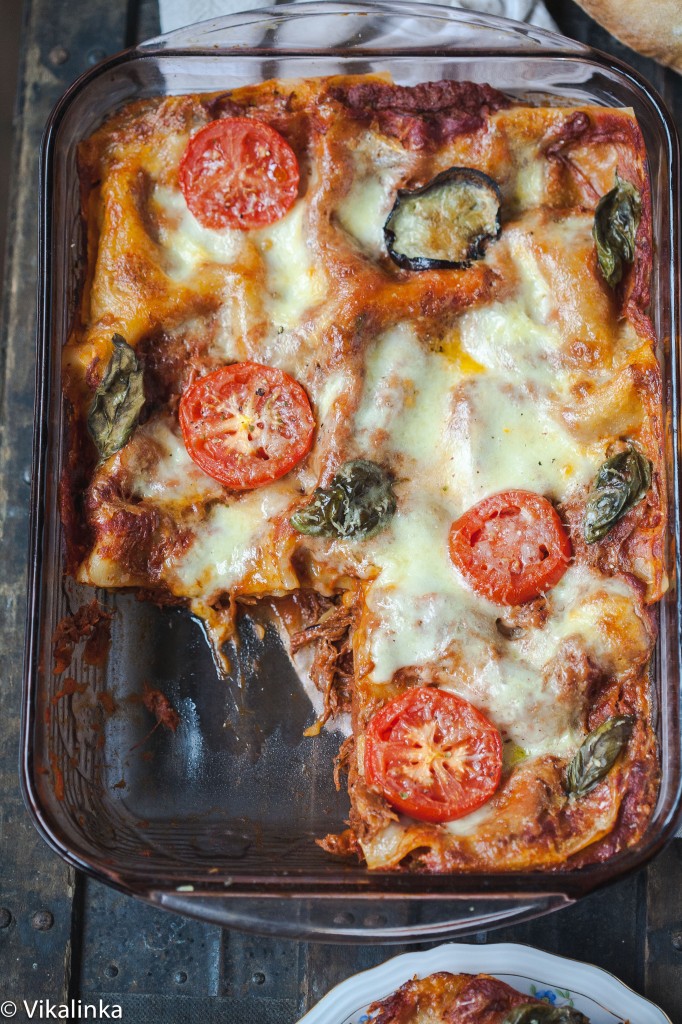 This beef ragu, three cheese, eggplant lasagna benefits from ingredients that can stand on their own but work so well when baked together. And when the beef ragu is made in advance, getting this stunning lasagna ready for dinner is a snap!
Beef ragu and eggplant lasagna
A little while I ago I made Italian Beef Ragu, the kind you'd get in the best restaurants. To make that ragu I cooked a large roast doused in red wine with garlic, thyme, rosemary and plum tomatoes in a slow cooker for 12 hours.
The result by far exceed my expectations. Luckily, we had plenty of leftovers which I froze. I knew even then I wanted to put that meat in a lasagna and see what happened.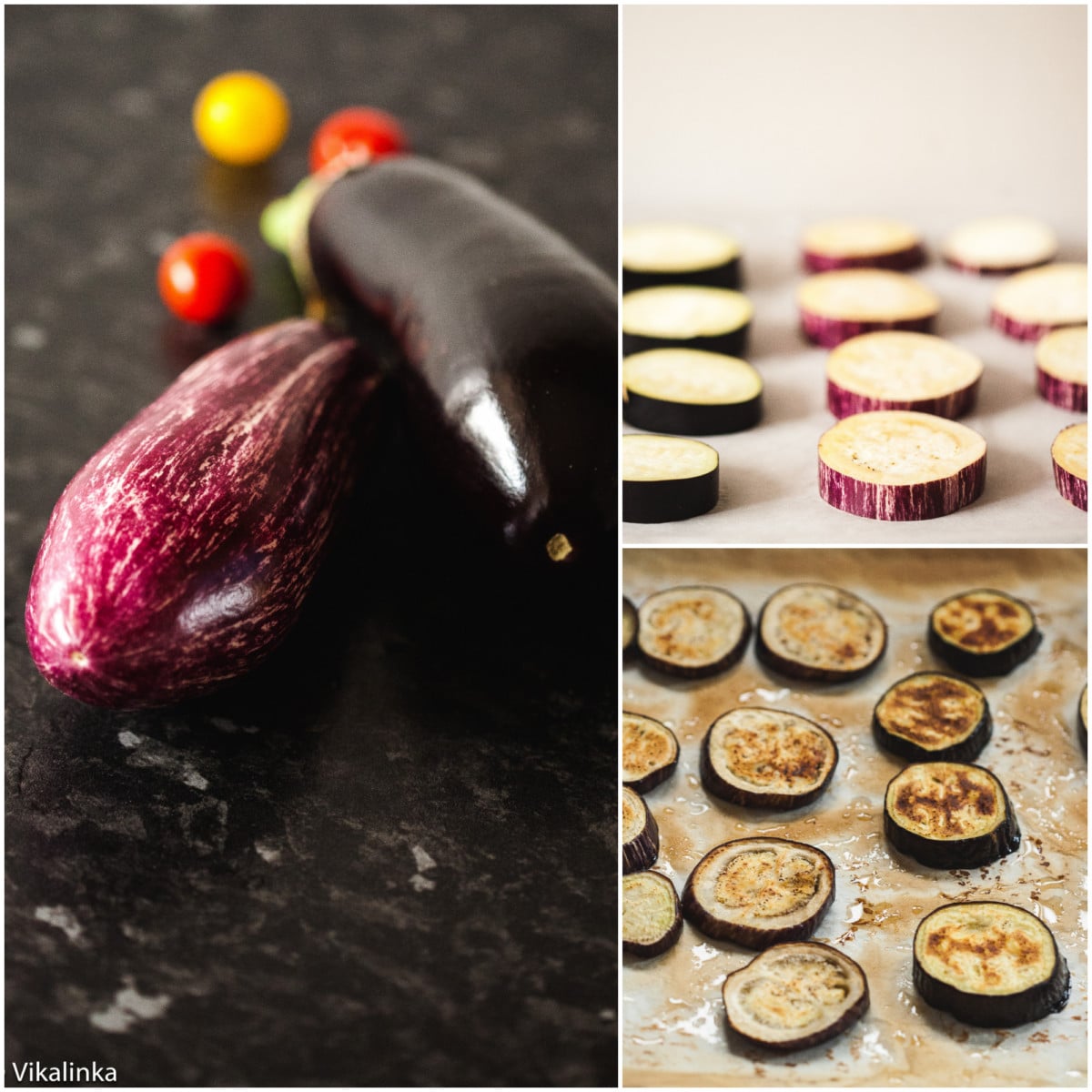 I used some eggplant I had on hand by broiling broiled it with a light sprinkling of olive oil and layered those tasty slices into my eggplant lasagna. Although worried that I was taking quite a few liberties with the original recipe, it turns out the end result was closer to the original recipe than what we know as lasagna now.
I read up on the origins of lasagna and found out it's one of the older pasta dishes of Italy. The first written recipe came from Bologna, made with beef ragu and a variety of vegetables!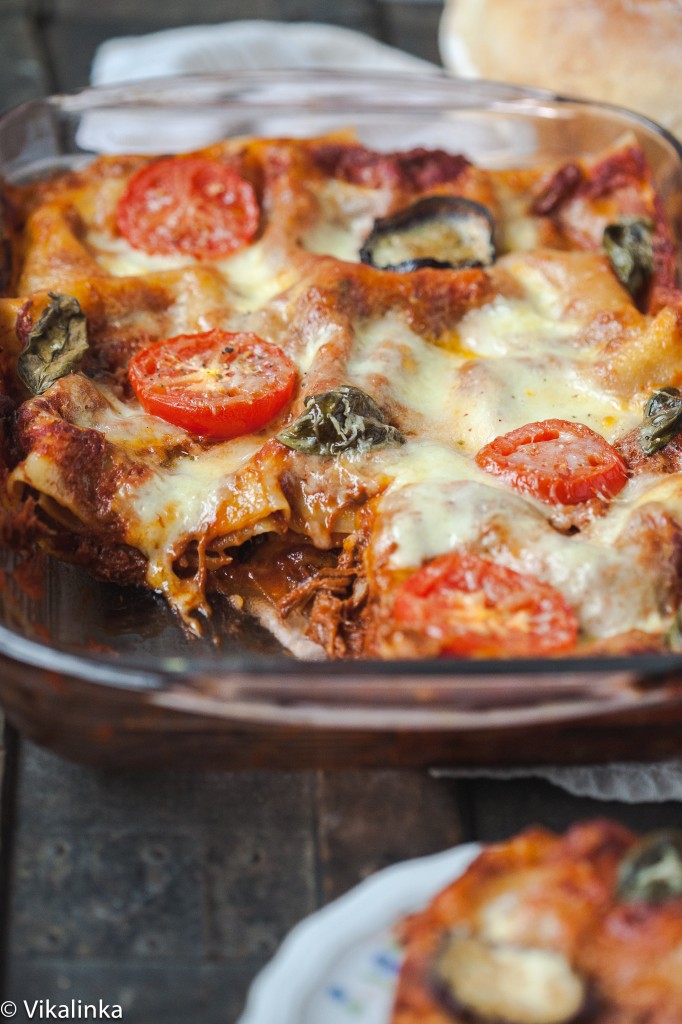 It's not really surprising that centuries ago they weren't using ground beef. Instead they used a sauce cooked over a long period of time to tenderise cheaper cuts of meat.
Suddenly mine didn't seem so odd. Italian cuisine is very regional and lasagna recipes also vary depending on what part of Italy they come from.In other regions, the pasta sheets are layered with ricotta and parmesan.
This lasagna was now beginning to look like more "back to the roots" lasagna, so I decided to give it a more personal twist. I had a few cheeses to choose from that were leftovers from a recent adventure in pizza making, so I decided to include them in the recipe as well.
That's how Three Cheese Lasagna was born, namely-Parmesan, Fresh Mozzarella and Smoked Gouda. The last one in particular added so much flavour!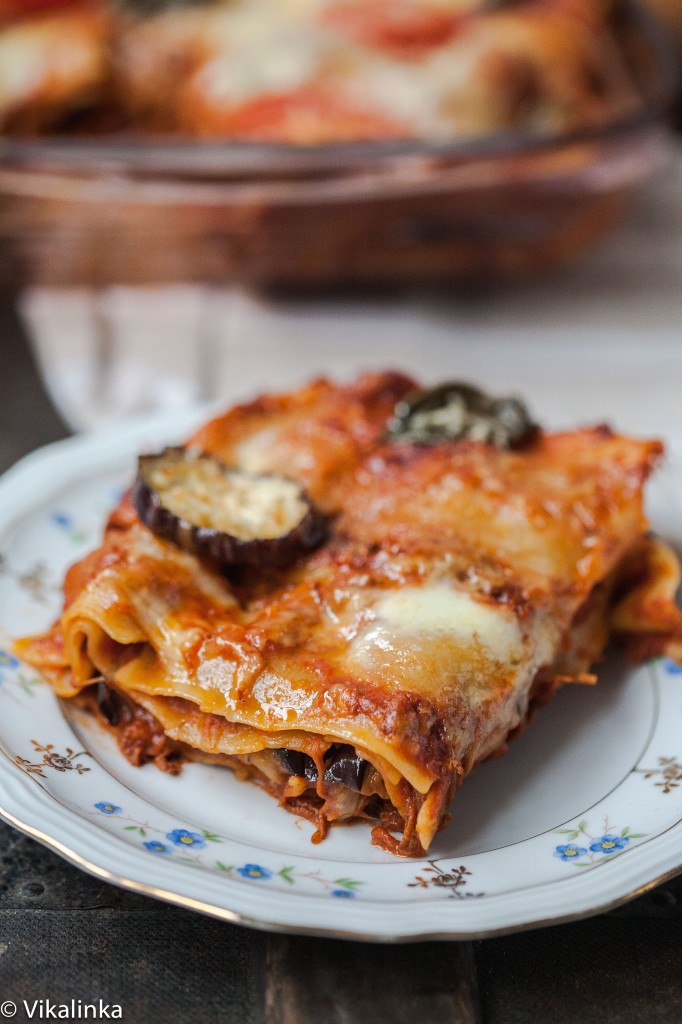 Beef ragu
You are probably thinking that you don't have leftover Beef Ragu in the freezer. So how would you be able to make this delicious lasagna?
The good news is that the Ragu recipe is cooked in a crockpot. The ingredients could be easily loaded in the morning to let the machine do its magic. I've also got you covered if you would rather go for a quicker meat sauce!
The sauce will be ready for you when it's time to assemble the lasagna an hour before dinner. This sort of preparation will make your job in the kitchen much quicker and simpler.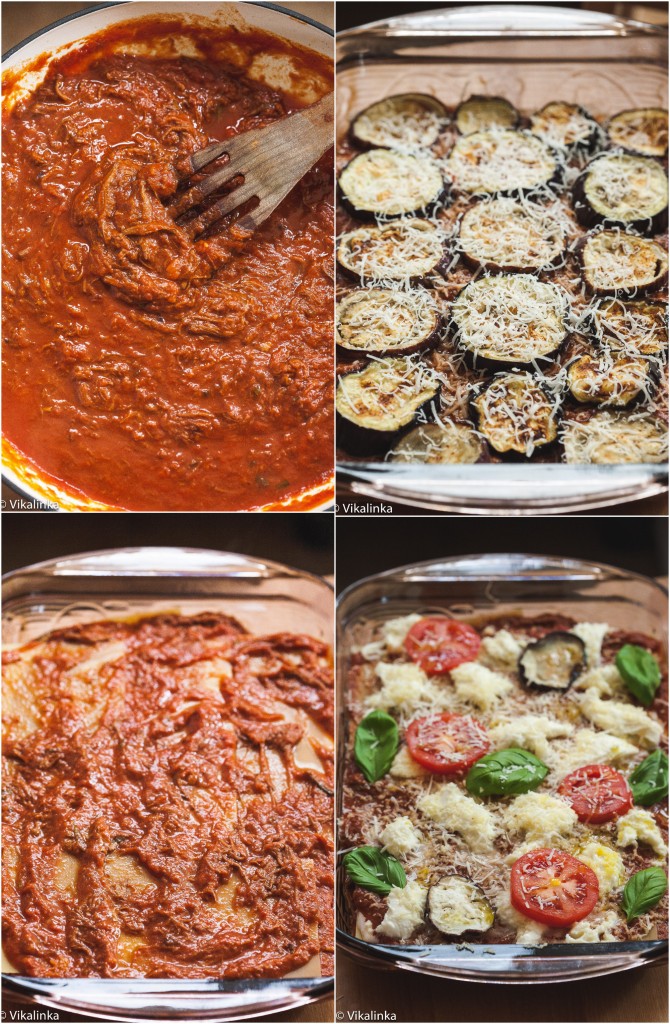 Three cheeses
Two of the three types of cheese I used for this recipe are classic additions to most lasagna dishes. Parmesan is used for the sharpness of the flavour, which cuts through the richness of the meet and other cheese perfectly. Grating your own parmesan is the way to go for a recipe like this!
Mozzarella is perfect for lasagna because of how well it melts. Although I used fresh mozzarella, shredded will work for this recipe as well.
For the third cheese, I used a semisoft smoked cheese that I love. The smokiness brings something unique to a dish like this and adds to the homey comfort of such a rustic dish. If smoked cheese is hard to come by or just not your favourite, then feel free to substitute for almost any cheese that will melt when cooked.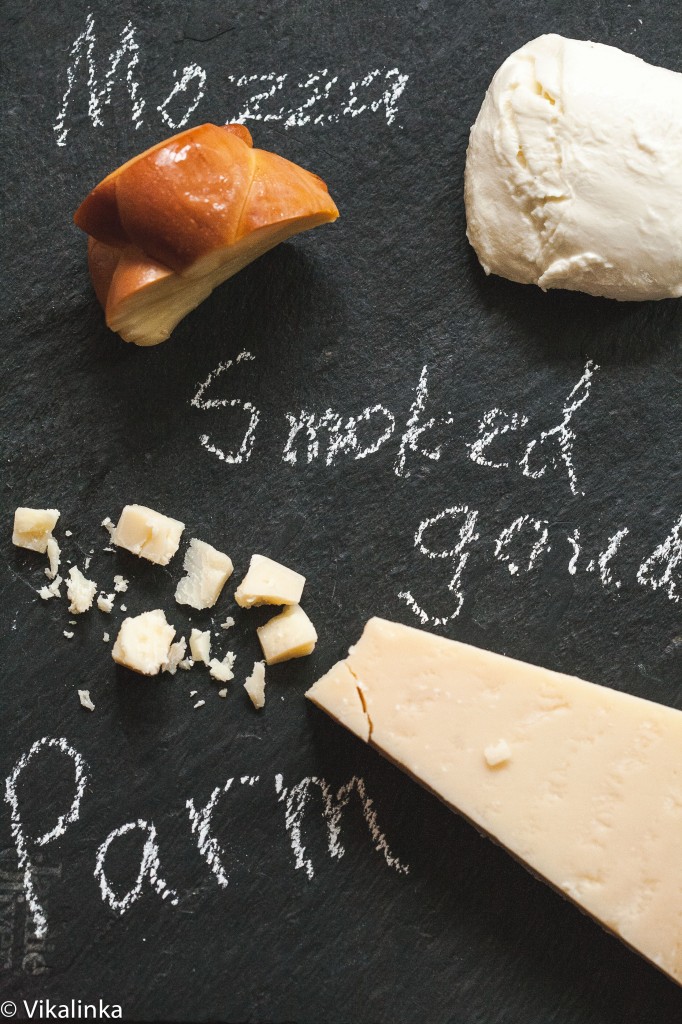 More Favourite Baked Pasta Recipes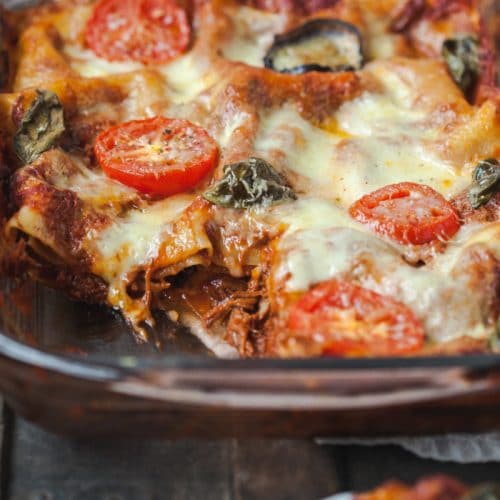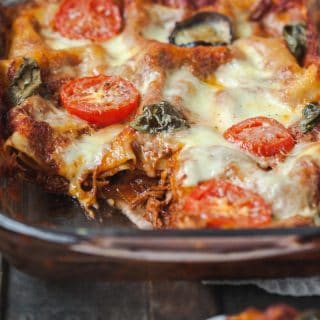 Rustic Three Cheese Lasagna
Beef ragu lasagna with three cheeses, roasted eggplant and zucchini.
Print
Pin
Rate
Ingredients
2

eggplants

sliced thickly

2

tbsp

olive oil

750ml

ml

/3 cups beef ragu recipe

500

ml

/2cups tomato passata/ crushed tomatoes

Salt to taste

9

lasagna sheets

use more or less depending on the size of them enough for 3 layers

¼

cup

Parmesan cheese

freshly grated

220g

g

/1 cup fresh mozzarella ball

torn

50g

g

/1/2 cup smoked gouda or other smoked cheese

1

tomato

sliced

4-5

basil leaves
Instructions
Turn your oven on to a broiler/grill setting and set the rack 6″ away from the top.

Slice the eggplants ½" thick, arrange on a baking sheets and lightly brush with olive oil or spray with a low calorie spray. Broil for 5-6 minutes on one side, turn the slices over brush with olive oil and broil for 4 minutes longer. Set aside.

Turn the oven temperature to 350F/180C.

Mix your Beef Ragu with tomato passata or crushed tomatoes in a medium bowl, season with more salt if needed. Take a ladleful of the sauce and spread on the bottom of a baking dish in a thin layer.

Then lay your lasagna sheets in one layer, cover with more sauce and grated parmesan, then eggplant layer, reserving 3-4 slices for the top and parmesan, another pasta layer and sauce, finishing with the third layer of lasagna sheets and the sauce.

Cover the top with torn mozzarella ball, grated smoked gouda, sliced tomatoes, reserved eggplant slices and basil leaves. Sprinkle remaining parmesan on top.

Cover with tin foil and bake for 30 minutes, uncover and bake for 15-20 minutes longer till cheese is bubbly and golden. Let it stand for 15 minutes before cutting in squares.
Nutrition
Calories:
744
kcal
|
Carbohydrates:
50
g
|
Protein:
42
g
|
Fat:
42
g
|
Saturated Fat:
17
g
|
Polyunsaturated Fat:
2
g
|
Monounsaturated Fat:
18
g
|
Trans Fat:
2
g
|
Cholesterol:
130
mg
|
Sodium:
866
mg
|
Potassium:
1238
mg
|
Fiber:
8
g
|
Sugar:
12
g
|
Vitamin A:
972
IU
|
Vitamin C:
15
mg
|
Calcium:
356
mg
|
Iron:
5
mg