This seafood lasagna is pure luxury! Layers of fresh lasagna sheets interspersed with creamy layers of bechamel sauce and a seafood mix of crab, shrimp, scallops and calamari. Then topped with fresh mozzarella cheese.
Serve this luxurious lasagna with our Roasted Parmesan Broccoli with Sun-Dried Tomatoes, Garlic and Chilli. A little bit of greens and a touch of spice will bring a nice balance to this creamy dish.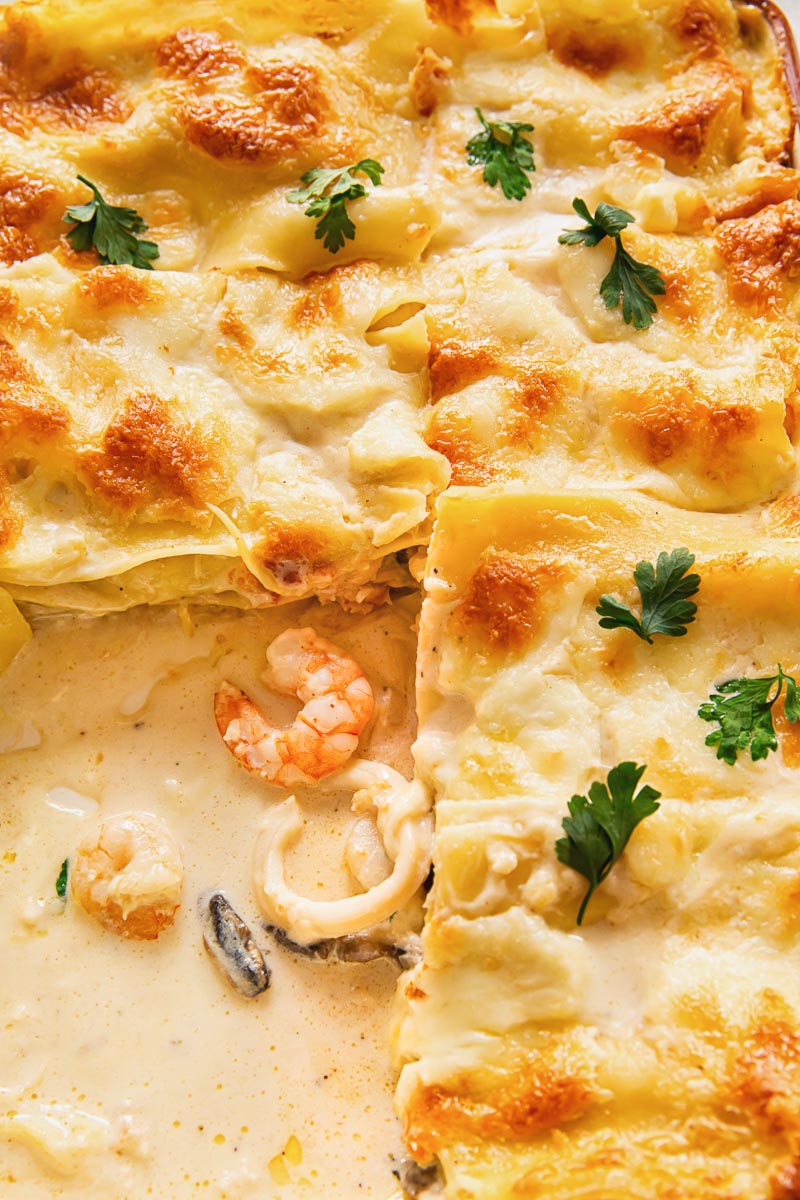 Seafood Lasagna
Is this for real? Yes, indeed!
Nothing brings more smiles to my family's faces than when I announce that a lasagna is for dinner. I don't know what it is but people go crazy for lasagna, or lasagne as it is spelled in the UK, where we live.
I have to admit the seafood lasagna, I am sharing today, is a step away from the traditional lasagna bolognese. No beef, no tomato sauce in view.
There are three things they do have in common though. The first one is a rich and silky bechamel sauce. It is sometimes called 'white sauce'. But instead of just finishing the lasagna with it we use it throughout.
Then the cheese! We use fresh mozzarella to top our creamy dish and bake it till golden and bubbly.
Finally, it is that delicious taste and the feeling of bliss right after dinner!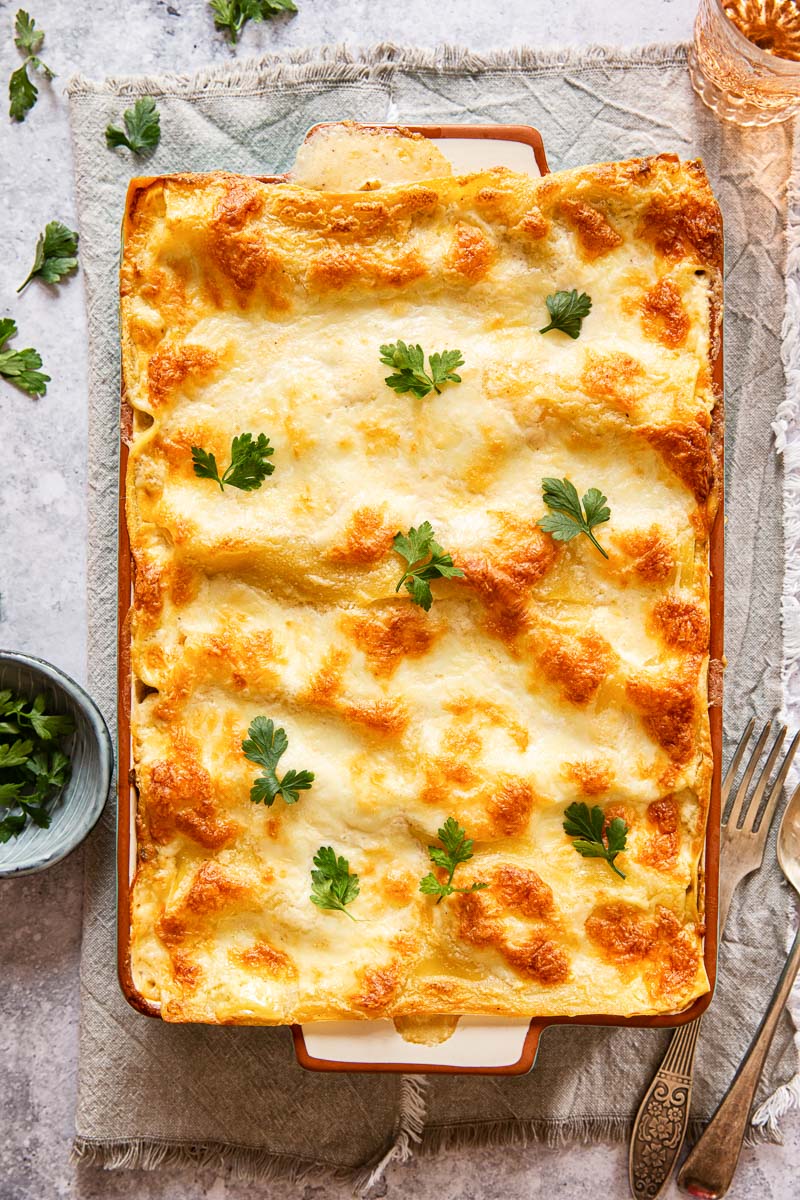 Seafood pasta is quite traditional for the Italian cuisine but this lasagna is not. The recipe is NOT authentic Italian but rather inspired by the flavours.
While this seafood lasagna might not be 100% Italian but it is 100% delicious, and therefore is worth making!
How to Make It
Just like any lasagna this one consists of lasagna sheets. But instead of meaty red sauce, it is layered with a seafood mix and bechamel sauce. I used a combination of crab, shrimp, scallops and calamari. However, adding lobster or even chunks of fish like salmon or halibut would make this creamy lasagna even more luxurious.
There is a secret layer, which is hiding in the middle, and it is made of creamy leeks and mushrooms. That layer is so delicious and in my opinion, is necessary to break up all that seafood and introduce some veg!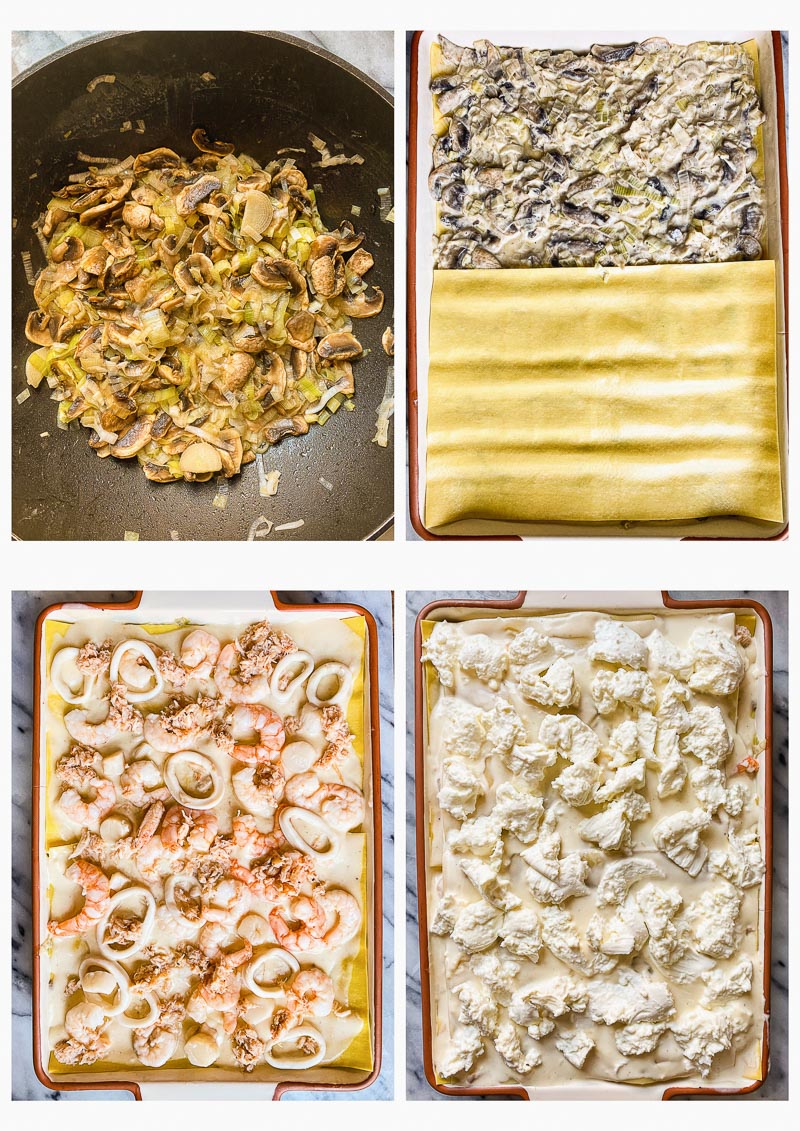 Julia's Tips for success
Since the seafood doesn't benefit from a lengthy cooking process, I tried to reduce its time in the oven by using fresh lasagna sheets instead of dried. You can purchase them or make your own. Here is our favourite fresh lasagna sheets recipe.
If you can't find fresh pasta sheets, I would recommend pre-cooking your dried lasagna sheets. Just 5 minutes of cooking after the water has boiled would do the trick!
Make sure you prepare the bechamel sauce in the same pan where you cooked your seafood, so it will get some seafood flavour from it!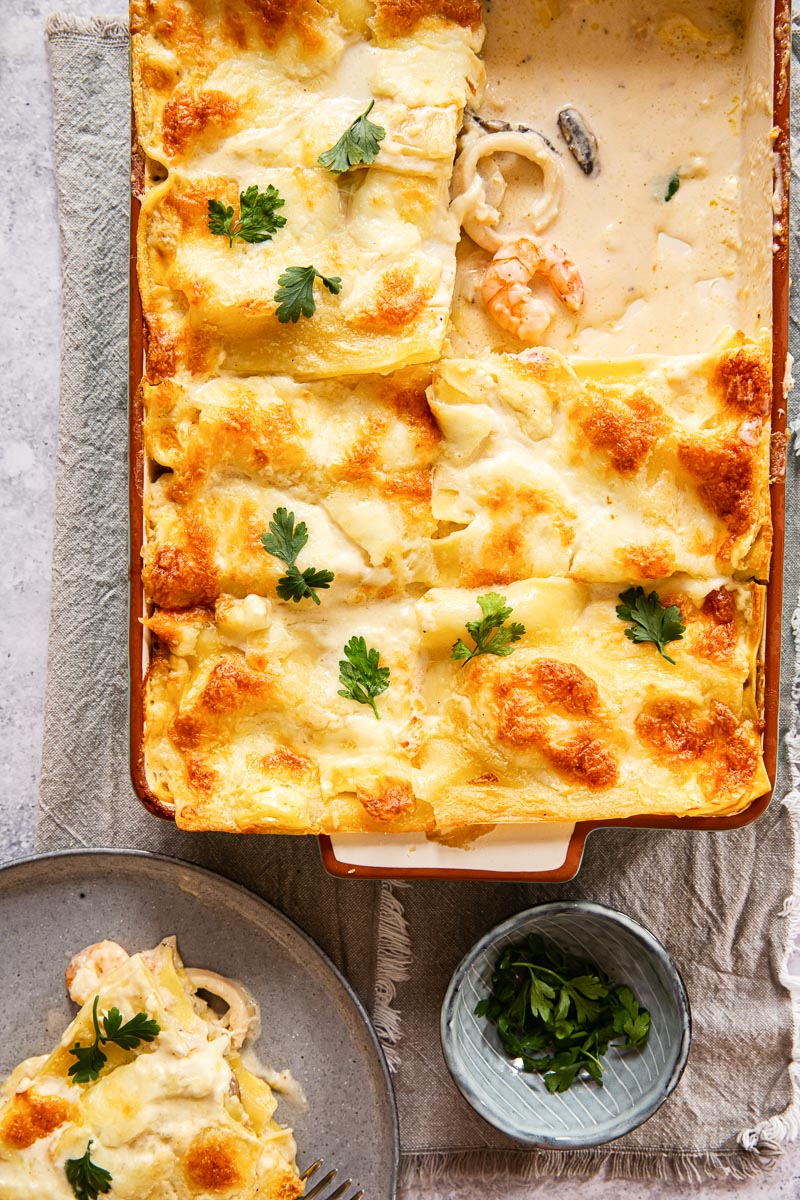 Also divide the bechamel sauce evenly among the layers and don't be tempted to increase the amounts.
You don't need to drown the pasta sheets in it. Just a shallow coating will do, otherwise you are risking your lasagna to be too wet and too rich.
Finally, do not cut into lasagna straight from the oven. Let it settle for good 10 minutes. This way you will have neat stacks!
Enjoy!!
More Seafood Pasta Recipes To Try:
This recipe was originally published in 11/2014. Updated with a new recipe, photos and video and republished in 10/2020.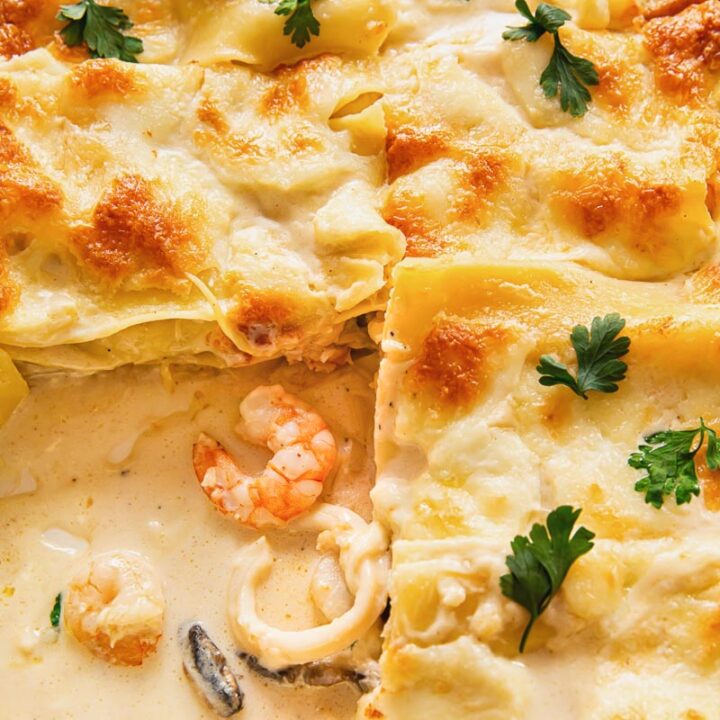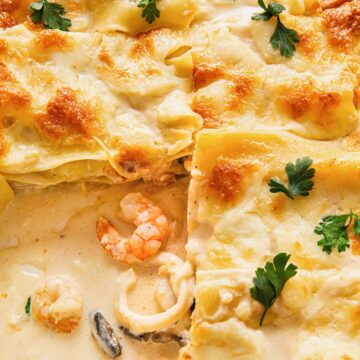 Seafood Lasagna with Crab, Shrimp, Scallops and Calamari
This seafood lasagna is pure luxury! Layers of fresh lasagna sheets interspersed with creamy layers of bechamel sauce and a seafood mix of crab, shrimp, scallops and calamari. Then topped with fresh mozzarella cheese.
Ingredients
1.5 lbs

seafood mix

crab, shrimp, scallops and calamari or lobster and fish

2

tbsp

butter

1

clove

garlic

100ml/1/3 cup

dry white wine
For the Bechamel Sauce
3

tbsp

butter

3

tbsp

flour

625 ml/2.5 cups

whole milk or at least 2%

¼ tsp

ground nutmeg

1

bay leaf

salt and pepper to taste
For the Leek and Mushroom Layer
1

tbsp

butter

2

leeks

sliced

1

clove

garlic

minced

200g/2 cups

mushrooms

sliced

125ml/1/2 cup

double/heavy cream

1

tbsp

chopped parsley

salt and pepper to taste

250g/8 oz

fresh mozzarella

shredded by hands into chunks

10

fresh lasagna sheets or enough for 5 layers of lasagna

approximately 320 g/11 oz
Instructions
Prepare the Filling
Preheat the oven to 180C/350F. Saute minced garlic in butter for 30 seconds over medium heat, then add the seafood mix and a pinch of salt and cook while stirring for 2-3 minutes, add the wine and let it reduce for approximately 5 minutes, stir once in a while. Remove the seafood to a plate and set aside till later.

To the same pan add the butter and let it melt, then add the flour and mix well, continue cooking the mixture over medium heat while stirring for 2-3 minutes, then add the milk, one bay leaf and ¼ tsp of grated nutmeg, bring to a boil, then let it simmer until the sauce thickens and coats a spoon, season with salt and pepper to taste. (Don't forget to stir to avoid burning!) Set aside till needed.

In another pan cook the sliced leeks, minced garlic and mushrooms in butter with salt for approximately 7-10 minutes until the leeks are tender and mushrooms are cooked all the way through. Stir in double/heavy cream and 1 tablespoon of chopped parsley. Let the mixture cool slightly.
Assemble the Lasagna
Cover the bottom of a 9X13 inch rectangular baking dish with a thin layer of the bechamel sauce. The sauce should just barely cover the bottom, place the fresh lasagna sheets, add half of the seafood mixture and about a third of the remaining sauce.

Another layer of the fresh (or pre-cooked) lasagna sheets and cover with the leek and mushroom mixture. One more layer of the lasagna sheets followed by the second half of the seafood mix and a third of the bechamel sauce. Finish with the final layer of the lasagna sheets, the rest of the bechamel sauce, then scatter the torn fresh mozzarella cheese all over. Cover with aluminium foil (Tip: spray it with a cooking spray or brush with oil to avoid sticking to cheese) and bake in the preheated oven for 20 minutes. Then uncover and bake for 10-15 minutes until the cheese is bubbly and golden in places. Let the cooked lasagna rest for 10 minutes before cutting it.
Notes
I used 10 fresh lasagna sheets, 2 sheets per layer to fit into a 9X13 inch pan. However the sizes may vary depending on the product you use. You need enough lasagna sheets for 5 layers.
Pre-cook your lasagna sheets if using dried pasta.
If any part of your seafood mix comes pre-cooked, do not cook it again. Simply mix in with the rest of the seafood in the assembling stage.
Nutrition
Calories:
732
kcal
Carbohydrates:
54
g
Protein:
46
g
Fat:
35
g
Saturated Fat:
20
g
Cholesterol:
439
mg
Sodium:
1324
mg
Potassium:
572
mg
Fiber:
1
g
Sugar:
8
g
Vitamin A:
1695
IU
Vitamin C:
10
mg
Calcium:
536
mg
Iron:
6
mg