For fish-lovers (and fish-tolerators) is there anything more warming, filling and comforting in the depths of winter than a bubbling classic fish pie? A rich mix of chunky fish, creamy sauce and cheesy, fluffy mash is just the thing on a cold night.
Balance it out by serving with our crunchy lemon garlic green beans with parmesan cheese as a side dish.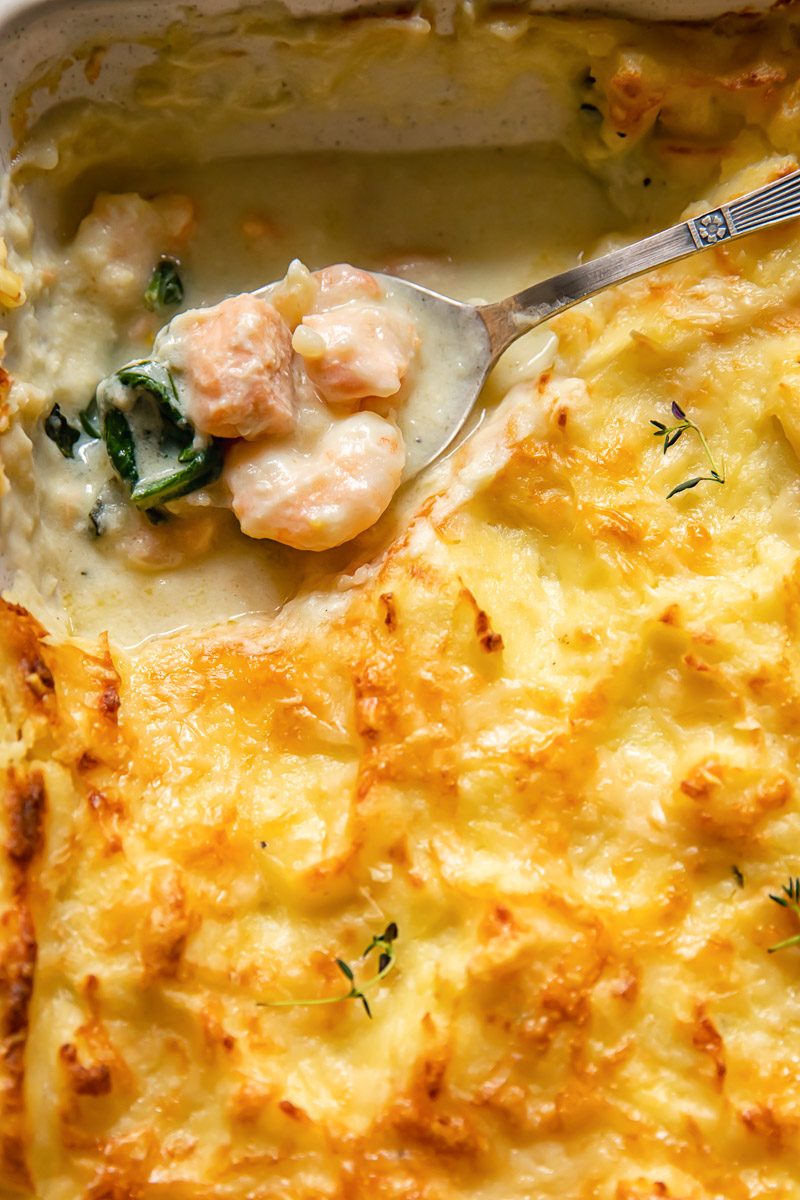 Even though I love spending time in my kitchen, especially when the evenings are long and dark, it's crucial to have a quick and easy fish pie recipe to hand. It's not as tricky as you might think! Delicious, nutritious and satisfying, everyone at the table will enjoy it and be asking for more.
Aside from the fish, you are likely have most of the ingredients in already so it can be a great way to use up the last few potatoes, greens and milk in your stores. Some supermarkets also sell a 'fish pie mix', making this dish as affordable as it is tasty.
Personally, I like to choose the fish I know my family loves. That's part of the beauty of this recipe; you can tailor it to your own taste.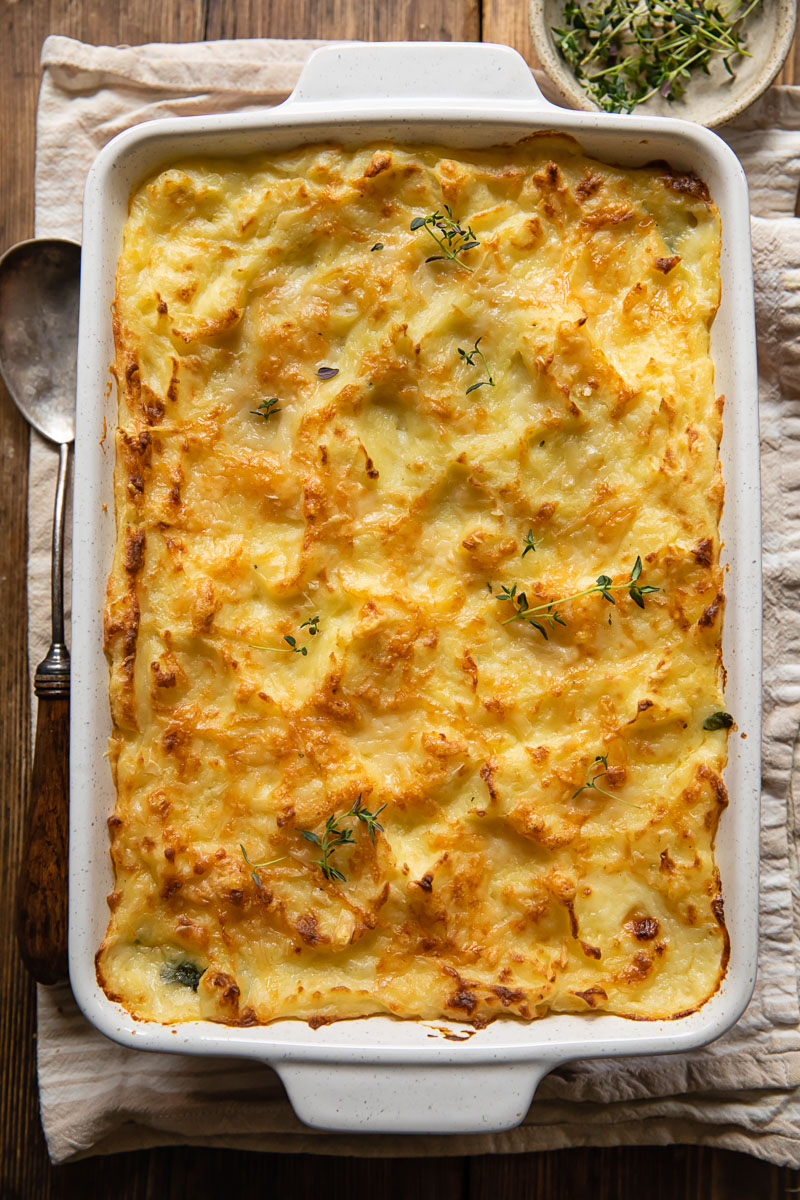 What is fish pie?
Much like its famous cousin, Shepherd's pie, fish pie is a traditionally British pie topped with mashed potato. Traditionalists will also emphasise the potato topping, not pastry. They might also insist on using smoked fish and boiled eggs. But as you'll see in my recipe, rules are made to be broken!
While the fundamentals of a recipe need to be followed, this dish is about enjoyment and comfort. Make it your own by selecting the ingredients your family will eat. Don't like eggs? Leave them out. Not a fan of spinach? Try kale or even peas. Not into mash? Well, give pastry a go and let us know how you get on!
Which fish to use
We like salmon, smoked haddock and cod in my house. My recipe uses prawns, as they are considered traditional, but you could easily substitute them for another firm fish (pollock or hake are readily available alternatives).
If you find smoked haddock too strong a flavour, go for unsmoked, or substitute for more cod or salmon, for example. Or pick up a fish pie mix, this means you can avoid buying large quantities of fish that might not get used.
I recommend using fresh fish too. Frozen and then defrosted fish can make your sauce watery!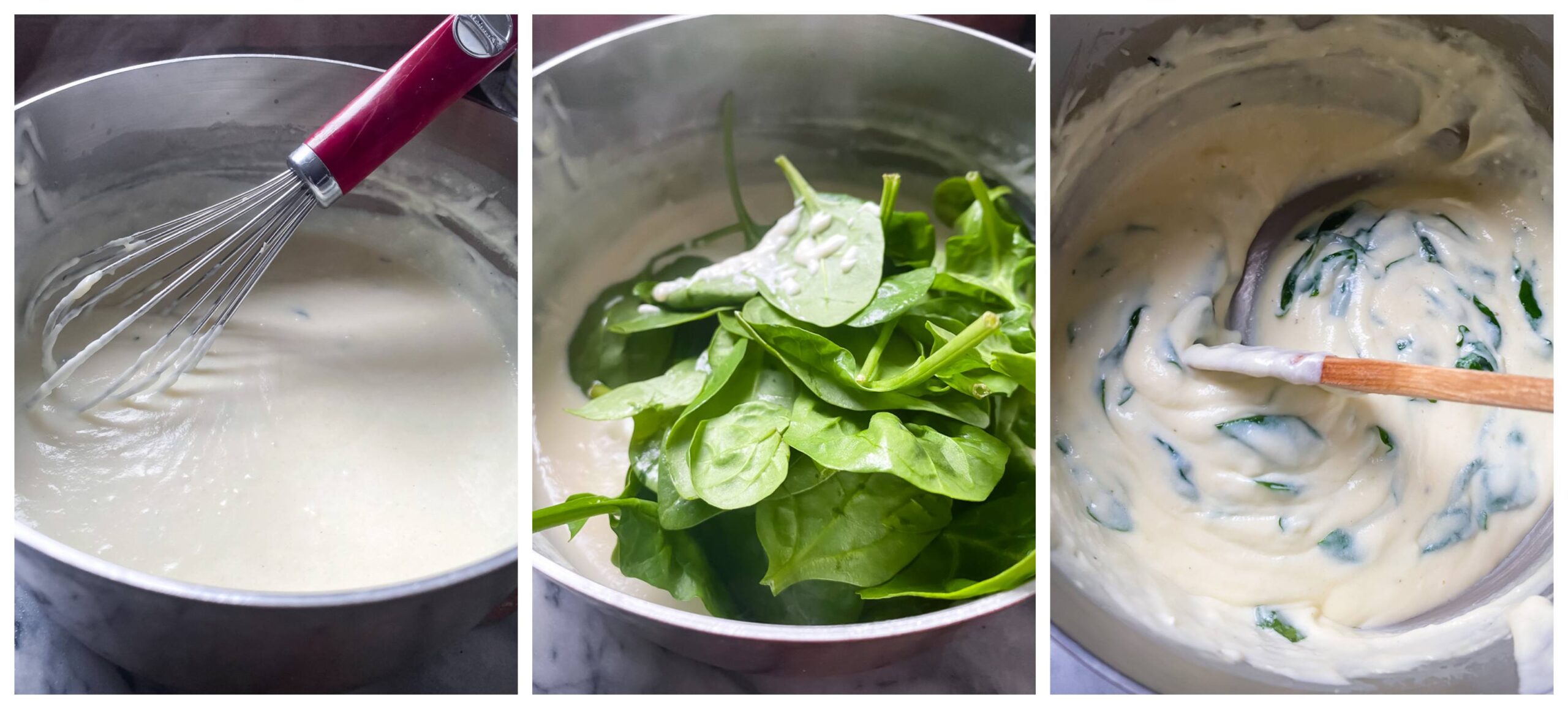 How long does it take?
The first time might seem like a daunting task, but if you break the recipe down into component parts; preparing the potato topping, making the sauce, assembling the pie, and the oven time, it's quick and easy.
If you are really pushed for time, the first 2 stages can be prepared a day ahead. Then assemble the pie when you are ready to cook it. I recommend cooking it the next day for it to still be at its absolute best.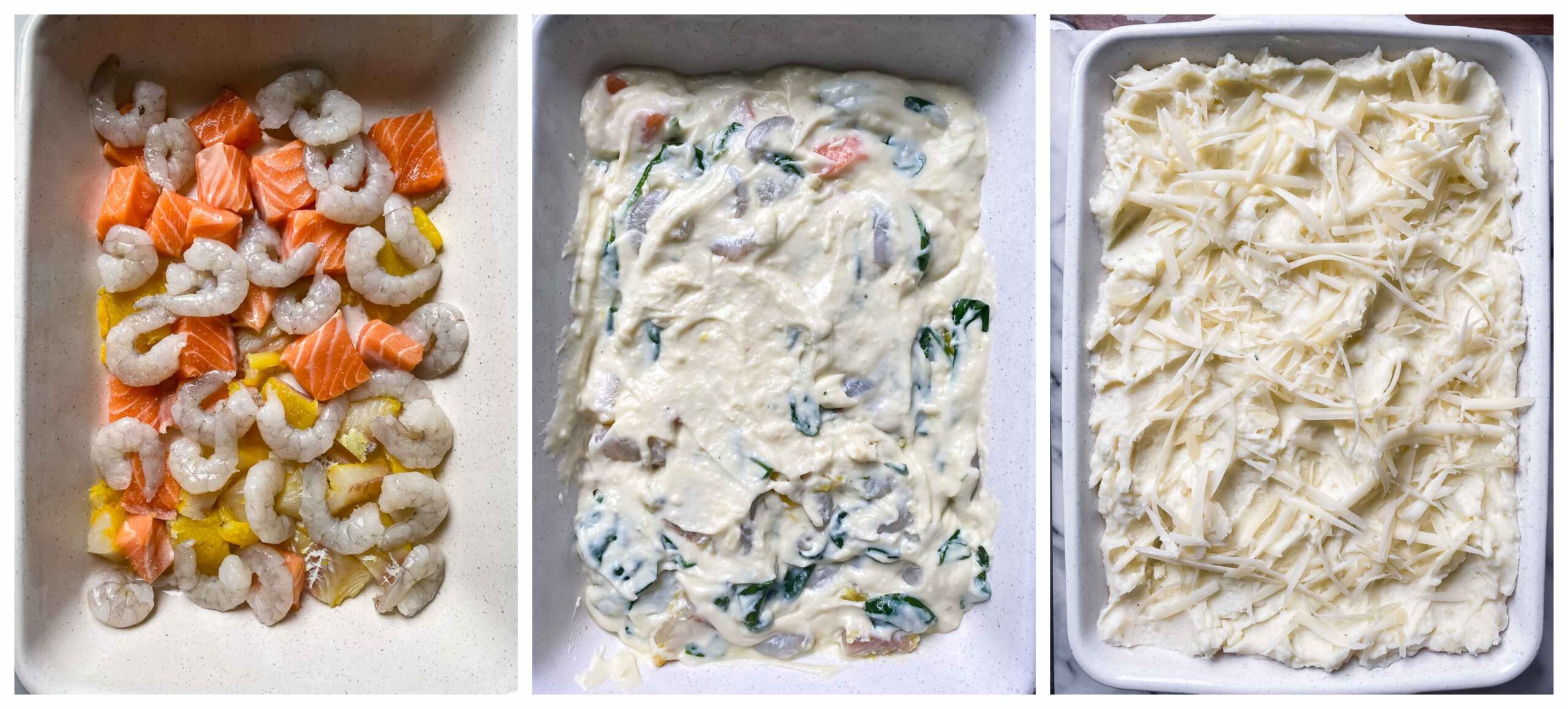 Storage and Leftovers
In my opinion, it's definitely a dish worth working on a devouring straight from the oven. It's an instant reward! But if you're planning on freezing your pie, make sure to leave out the boiled eggs and peas from your recipe. Cover the cooked and then cooled pie with clingfilm and a layer of foil and freeze for up to 3 months. Defrost the pie thoroughly before cooking it the second time around.
Leftovers will keep 2 to 3 days in the fridge, but I'm betting there won't be a scrap left! No-one can resist picking those crispy, potatoey bits from around the edges of the dish either.
Recipe Tips and Notes
Use potatoes that are best mashing such as floury/starchy potatoes. Maris Piper in the UK or Yukon Gold in the US.
I prefer using fresh fish as frozen and defrosted fish tends to release water while cooking and makes the sauce too watery.

In this recipe I use Gruyère cheese but any sharp cheese such as a mature cheddar could be used.

Avoid using Mozzarella as it's too mild to stand up to the bold fish flavour, especially if you use smoked haddock.

While prawns are a classic addition to the fish pie, I personally prefer using fish mix only. Salmon, smoked haddock and cod are my favourite mix.

Lastly, spinach could be omitted or substituted with kale.
Favourite British Recipes to Try: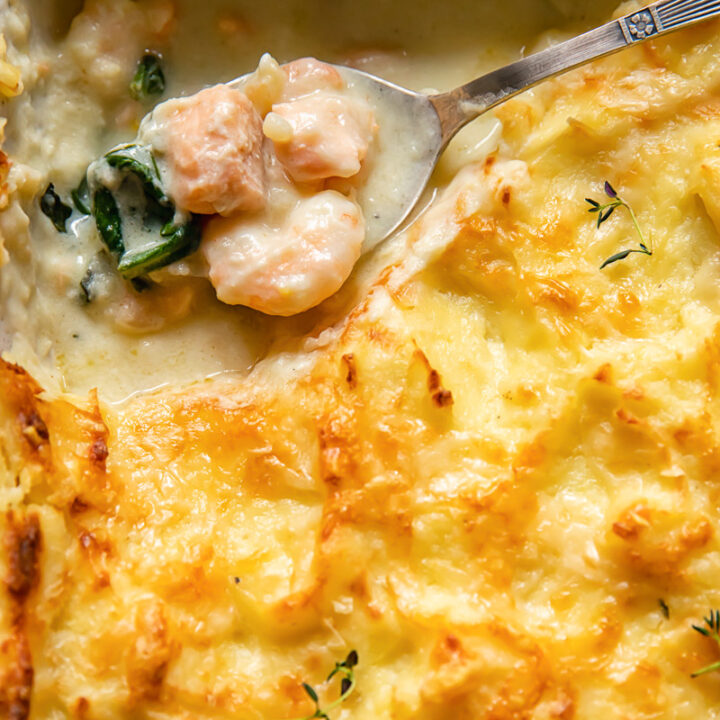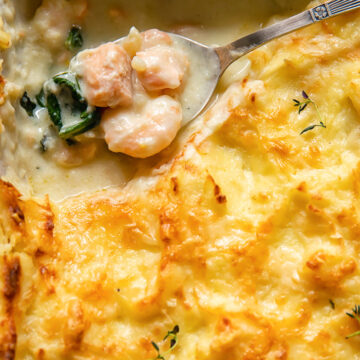 Easy Fish Pie
A rich mix of chunky fish, creamy sauce and cheesy, fluffy mash make this fish pie just the thing on a cold night.
Ingredients
For the mash
2 lbs

potatoes for mashing

Maris Piper (UK) or Yukon Gold (US)

125ml/1/2 cup

whole milk

100g/1/2 cup

unsalted butter

salt to taste
For the sauce
3

tbsp

butter

4

tbsp

flour

600ml/2 ½ cups

whole milk

1

bay leaf

1

sprig

thyme (leaves only)

optional

½

tsp

Dijon mustard

100g/3.5 oz

Gruyere cheese, divided

or mature cheddar

salt and pepper to taste

50g/2 oz

spinach
Fish Mix
225g/1/2 lbs

prawns/large shrimp

150g/ 5 oz

smoked haddock

500g

salmon
Instructions
Make the potato mash. Boil the peeled and quartered potatoes in salted water until very tender. Drain the potatoes and steam dry them to get rid of the excess of water. Return them to the pot and add hot milk, start mashing with a potato masher until mostly smooth, then add butter and keep mashing until light and fluffy and lump free. Season with salt and pepper to taste and set aside till needed.

To a saucepan add 3 tbsp butter and let it melt, then add the flour and mix well, continue cooking the mixture over medium heat while stirring for 1-2 minutes, then add the milk, one bay leaf, thyme if using and bring to a boil. Let it simmer until the sauce thickens and coats a spoon. Stir in ½ tsp Dijon mustard and half the cheese, allow the cheese to melt, remove the bay leaf and take off the heat. Then add the spinach, salt and pepper to taste.

Preheat the oven to 400F/200C. In a large baking dish scatter bite-sized fish and prawns, sprinkle with salt and pour the creamy sauce over the fish mix. Then top with the mashed potatoes and spread evenly. Make swirls with the bottom of a spoon for a crispier top, then scatter the other half of the cheese on top. Bake in the preheated oven for 10 minutes. Then turn the temperature down to 350F/180C and cook for 20 minutes longer. Allow to stand for 10-15 minutes before serving for the pie to cool slightly. The sauce will thicken as it cools.
Nutrition
Calories:
624
kcal
Carbohydrates:
37
g
Protein:
41
g
Fat:
35
g
Saturated Fat:
19
g
Polyunsaturated Fat:
3
g
Monounsaturated Fat:
9
g
Trans Fat:
1
g
Cholesterol:
197
mg
Sodium:
1448
mg
Potassium:
1451
mg
Fiber:
4
g
Sugar:
7
g
Vitamin A:
1866
IU
Vitamin C:
32
mg
Calcium:
398
mg
Iron:
3
mg