Cornish pasty filled with tender and juicy steak bites, sweet potato and butternut squash. These little hand pies are much easier to prepare than you might think.
For another classic British favourite, give our Caramelised Onion Sausage Rolls a try.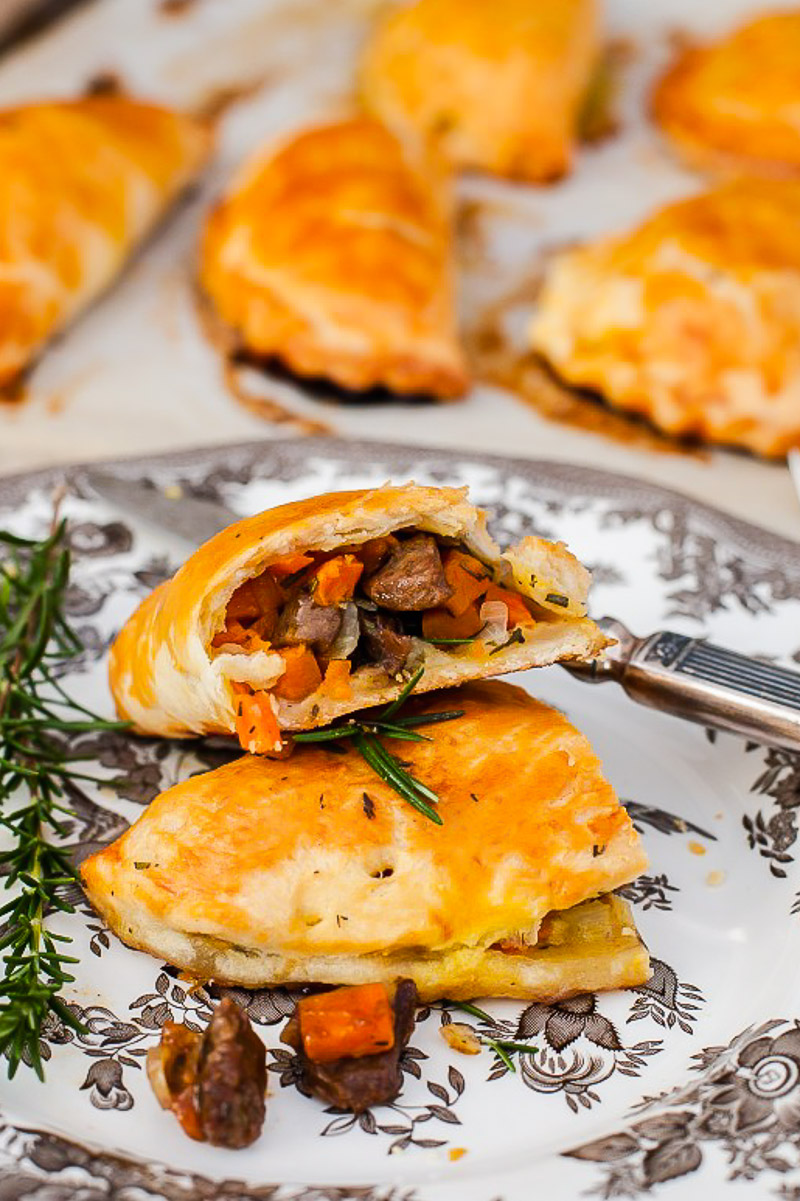 Discovering new food that becomes a favourite is something we love doing . Cornish pasties are our most loved discovery since we've moved to London.
What is Cornish Pasty?
For those of you, who don't know what they are, Cornish pasties are savoury hand pies filled with steak and potatoes. They originate from Cornwall and are often associated with miner's food because they were so convenient to bring along for lunch. No cutlery required!
They are as traditional to England as Yorkshire pudding, toad in a hole and spotted dick. Yes, all real food! Cornish pasty is absolutely THE BEST street food you can ever imagine.
They are incredibly delicious and satisfying especially in cold and wet English weather and you can just grab one on the go! No wonder nearly all train stations sell them.
Recipe Tips
They might see far too fiddly to make at home but fear not I've got a shortcut!
Pre-made pastry with which any task can be done in a flash. I make my own pie pastry on special occasions but most of the time I just buy some ready made at my local grocery store.
Traditionally, Cornish pasties are filled with steak and regular potatoes plus seasoning. I wanted to put my own spin and use vegetables in season. So I filled mine with sweet potatoes, butternut squash and carrots.
You do not need to pre-cook your filling. It goes in raw.
To ensure your filling cooks evenly, cut all vegetables into an even and small dice. This is by far the lengthiest part of the process.
Cut circles out of the pie pastry using anything round. I used a pot lid. It should be at least 6 inches in diameter for a traditional sized pasty.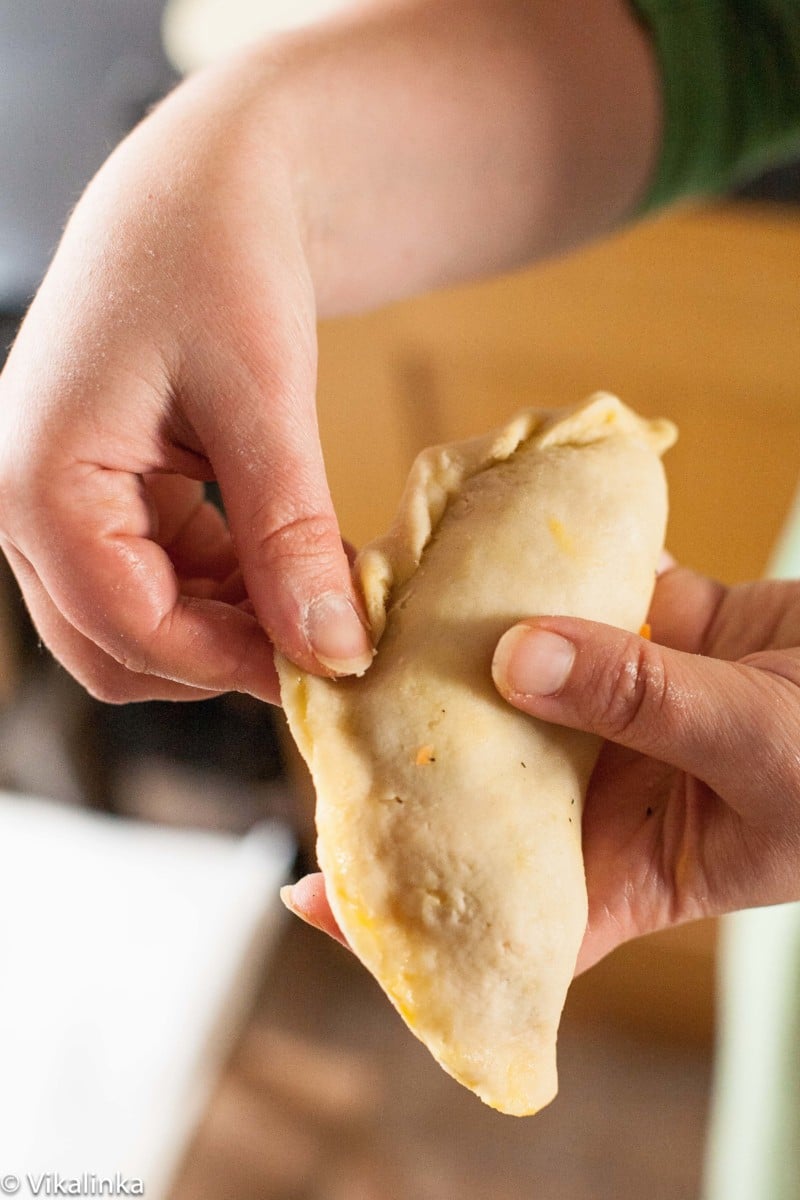 Use egg wash to seal the the pastry by pressing the edges firmly, then crimping them.
Don't worry if you are not quite sure how I've done it, using a fork for sealing is also very common. It also holds the filling in more securely!
Don't forget to brush the pasties with an egg wash before baking for a beautiful golden colour.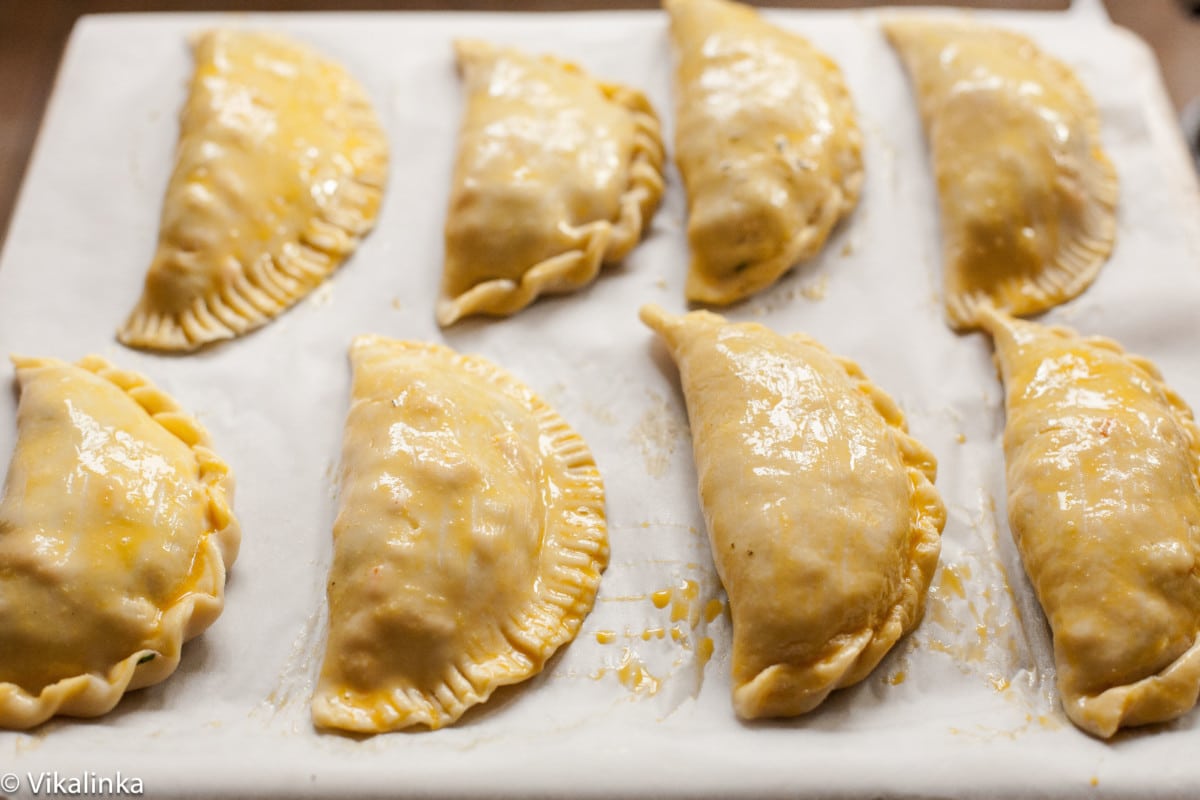 As I mentioned earlier this version is not 100 % traditional. However if you go to a pasty shop, you will see all kinds of fillings nowadays.
Curry flavoured pasties, Cheese and Onion, Chicken etc. The possibilities are endless!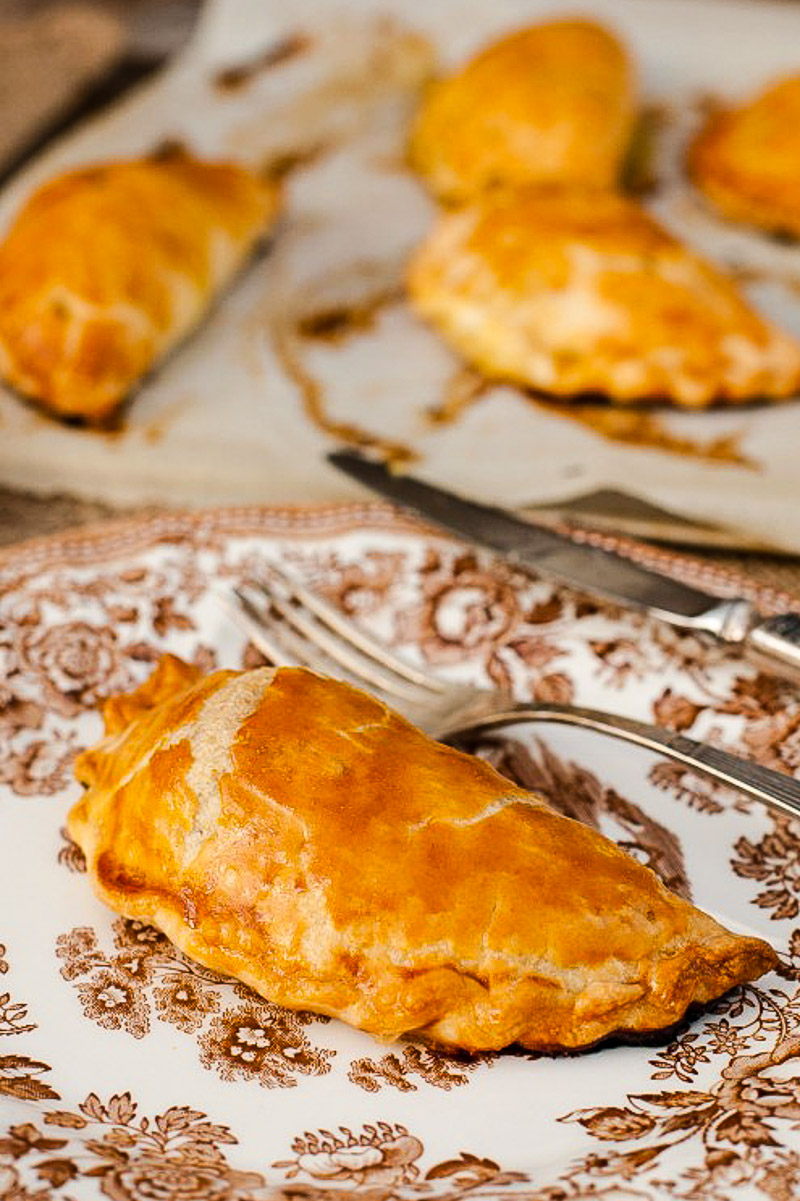 More Savoury Pie Recipes to Try: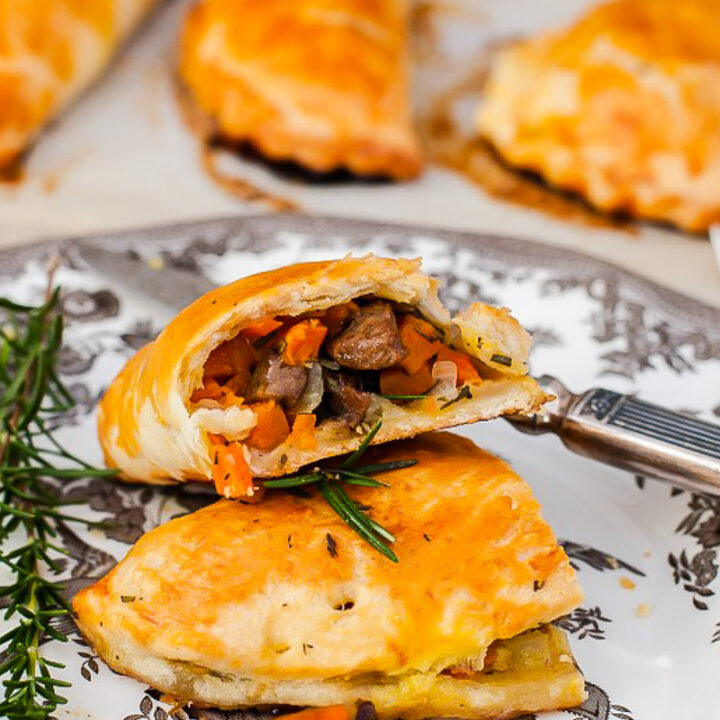 Cornish Pasty with Steak and Sweet Potato
Traditional Cornish Pasties with Steak, Sweet Potato and Butternut Squash
Ingredients
350g/3/4 lbs

skirt steak

1

onion

chopped

1

small sweet potato

diced

1

carrot

diced

200g/1/2 lbs

butternut squash

diced

1

tsp

salt and pepper

2

sprigs

fresh rosemary or thyme or 1 tsp dried

2

tsbp

olive oil

1

egg

beaten

500g/1 lbs

pie crust or your own

pre-made
Instructions
Preheat the oven to 400F/200C.

Get your ingredients out and dice everything in a ⅓" dice, empty your diced vegetables, steak and rosemary into a bowl, combine with a pinch of salt and pepper and a splash of olive oil.

On a floured surface roll out your pre-made pastry into ⅛" thick sheet. Then cut out rounds approximately 6" in diameter or slightly bigger. You can use anything round for this task (I used a pot lid).

Scoop about 2 tbsp of the filling and put it on your pastry round, just slightly off center. Brush the edges with an egg wash.

Then fold one side over to make a semi-circle and crimp the edges with a fork or pinch the edges together using your two fingers and a thumb and twist the edges attractively.

Brush them with eggwash all over and bake in the oven for 30-35 minutes until golden.
Nutrition
Calories:
407
kcal
Carbohydrates:
41
g
Protein:
15
g
Fat:
20
g
Saturated Fat:
7
g
Trans Fat:
1
g
Cholesterol:
48
mg
Sodium:
605
mg
Potassium:
424
mg
Fiber:
3
g
Sugar:
3
g
Vitamin A:
7974
IU
Vitamin C:
7
mg
Calcium:
44
mg
Iron:
3
mg
This recipe was adapted from Jamie Oliver