These caramelised onion sausage rolls are always the most welcome addition to a lunchbox because no one needs boring lunches!

For a different twist on this British classic, try Chorizo Sausage Rolls!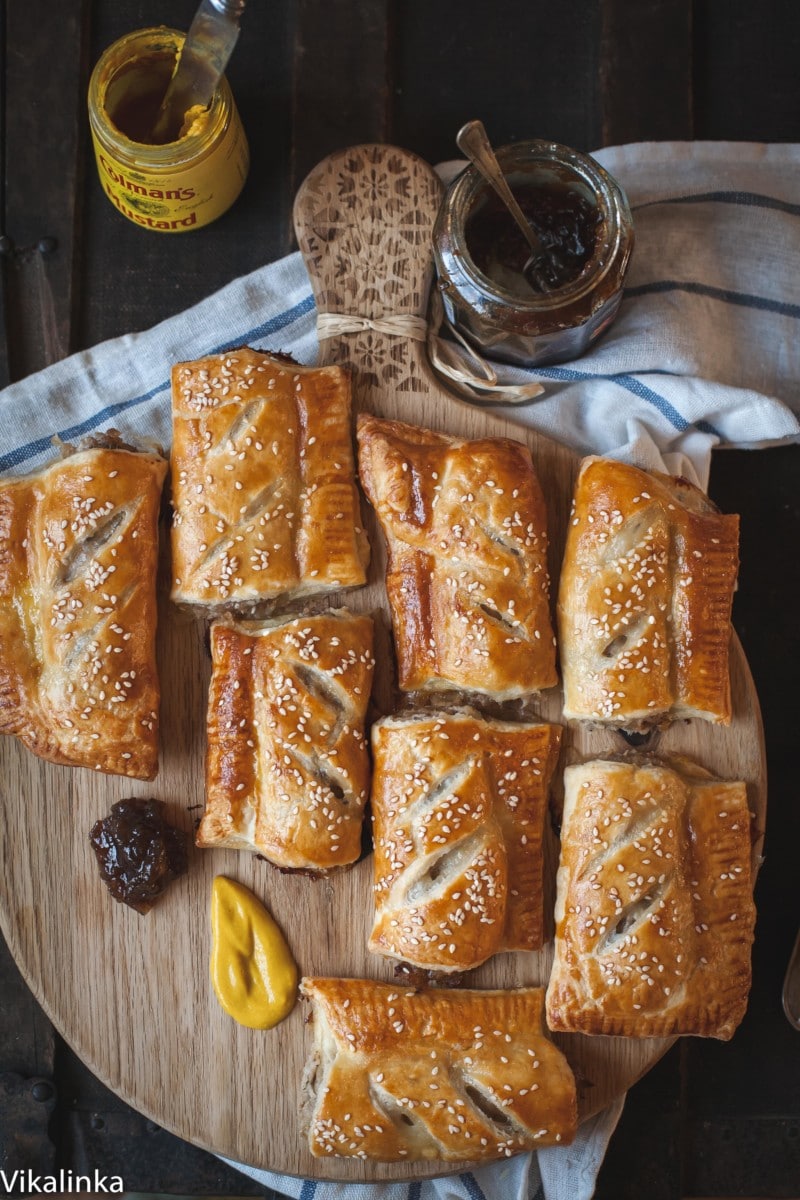 I am absolutely delighted to introduce you to your new best friend. Or perhaps reacquaint you with someone you once knew and loved but somehow lost touch with.
Sausage rolls are classic British cuisine, with flaky puff pastry wrapped around delicious sausage. They are everywhere you look in England and for a few very good reasons.
They are delicious, inexpensive and incredibly versatile.
Like many humble, traditional dishes, sausage rolls have sometimes been given a bad name by mediocre supermarket versions. But they have gone through a renaissance, with truly fantastic versions available if you know the right pub or bakery.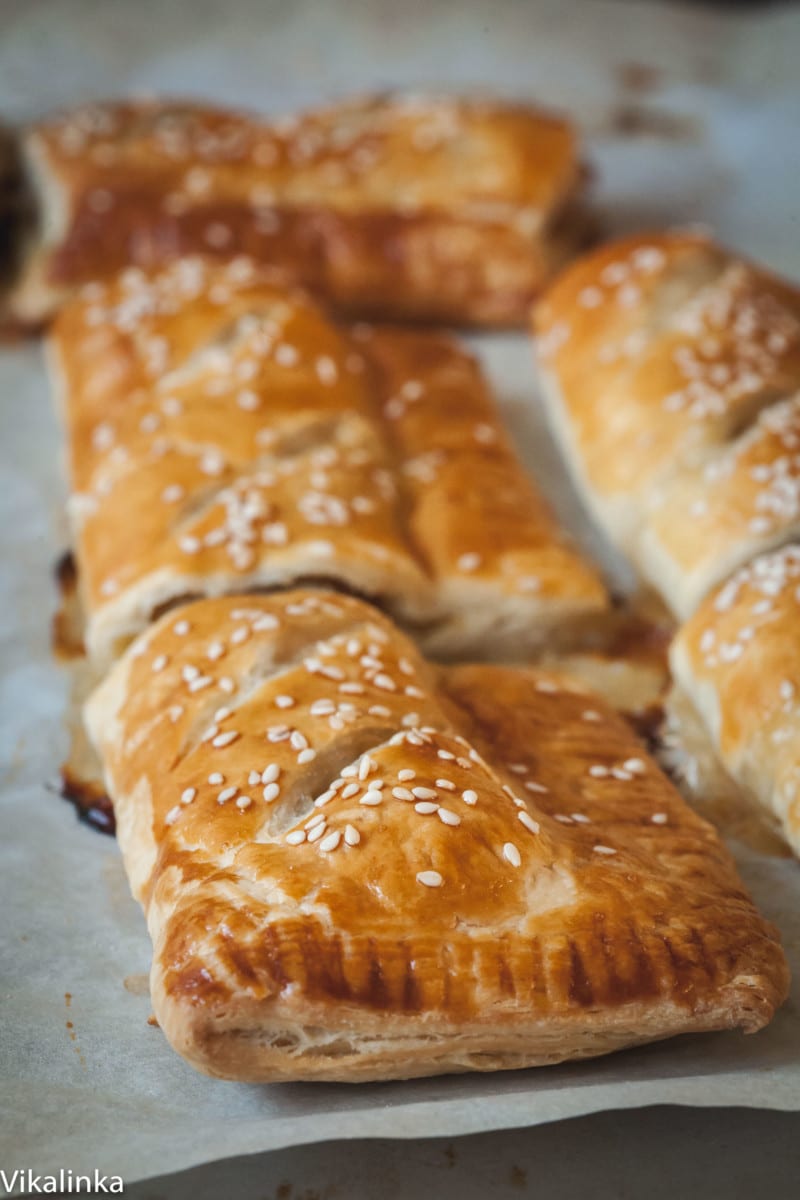 How do you eat them?
They could be eaten for lunch paired with a simple green salad, a midday snack or a substantial starter to any meal. But the best way to enjoy them is at your local pub with a pint of dark ale.
Traditionally they are eaten with English mustard, Branston pickle or Brown sauce…don't even ask.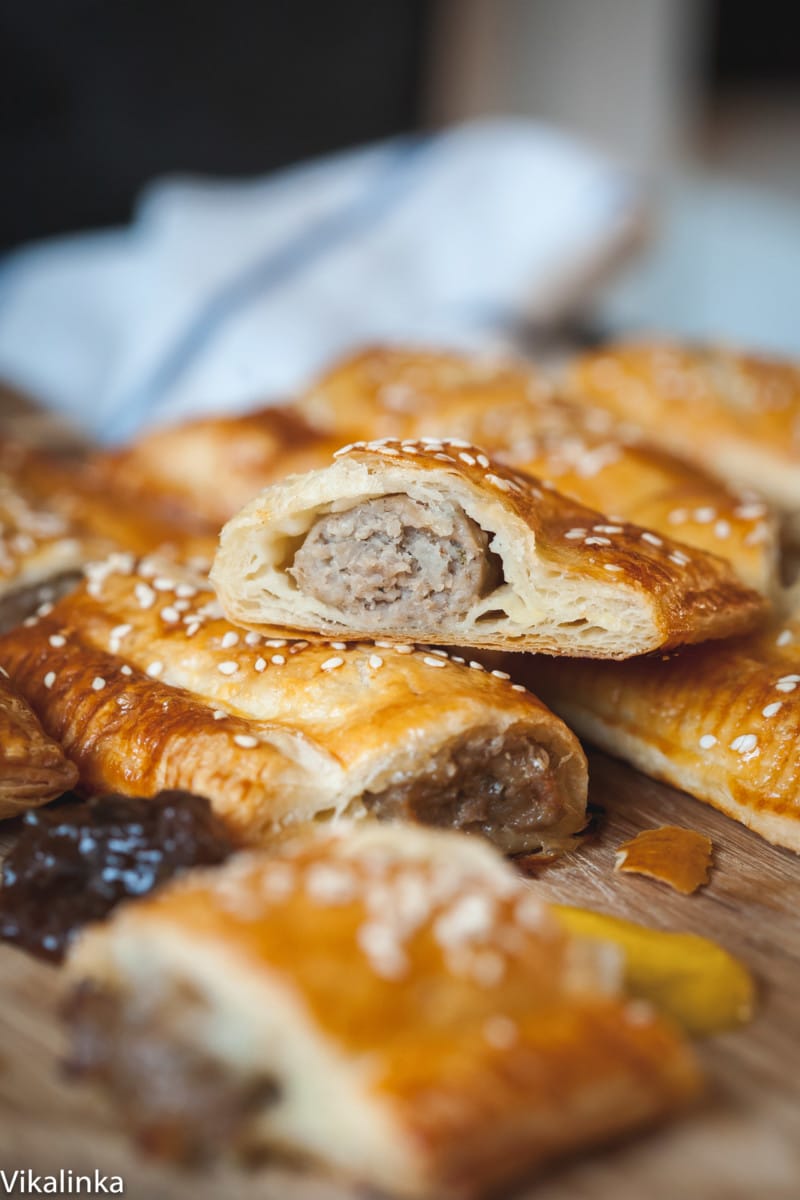 I won't pretend that every sausage roll you pick up anywhere in England will be delicious. When they sit too long the pastry loses its flakiness. And a cheap flavourless sausage will create a bland roll.
A proper sausage roll will have a good quality sausage wrapped in the flakiest and lightest puff pastry. When you bite into it the pastry will explode into thousand pieces in order to reveal the juicy centre.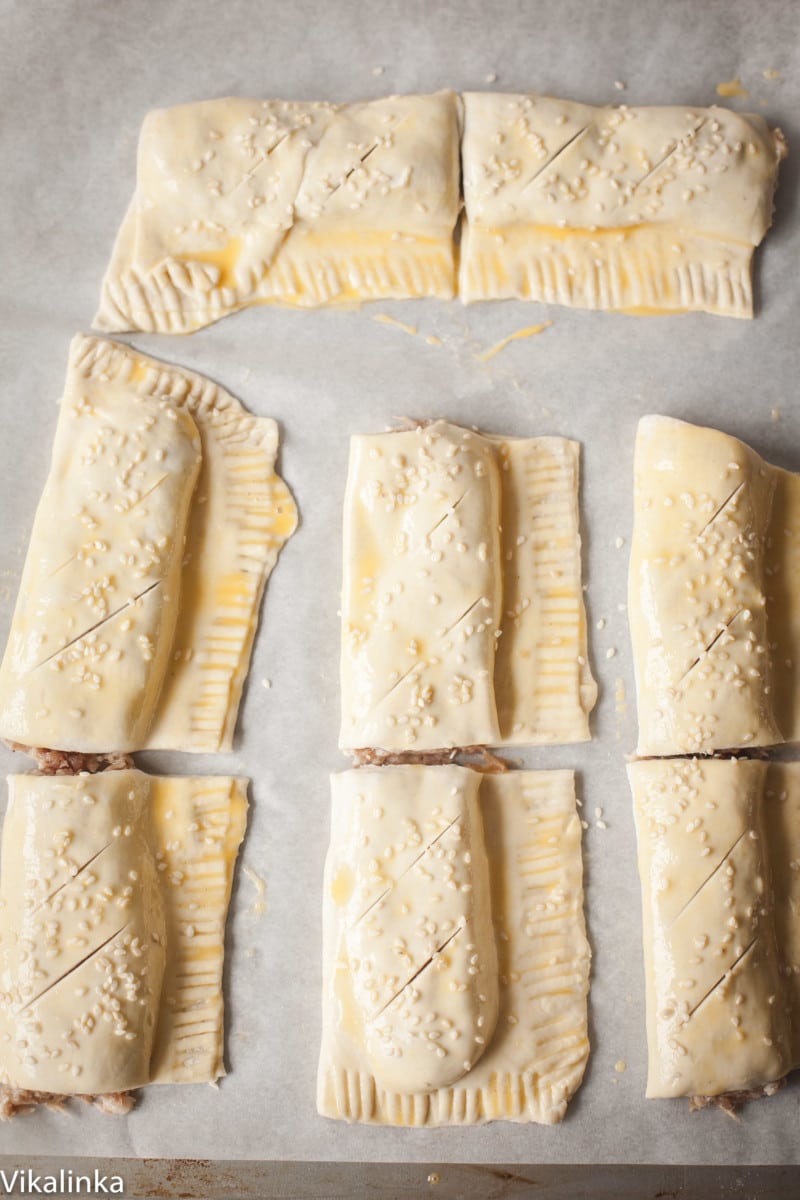 I have my favourite spots in London for picking up quality sausage rolls but nothing can beat one that's homemade and fresh from the oven. They are so quick to make and only require TWO INGREDIENTS- pre-made puff pastry and sausages.
You can use any sausage you like and get loads of different flavours. This time I used caramelised onion sausages, while last Christmas I made these miniature chorizo sausage rolls to serve with drinks and they were a huge hit!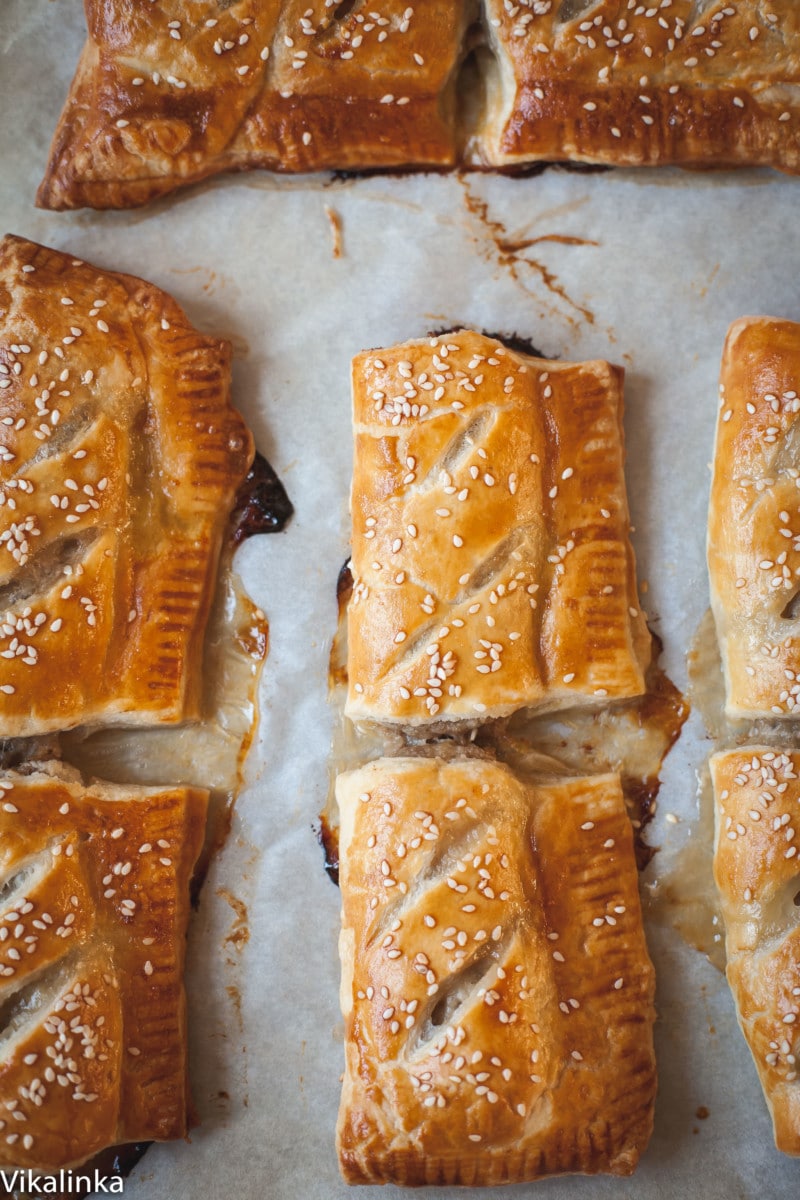 Recipe tips and tricks
Ensure that the puff pastry is well sealed before adding to the oven. The steam from the sausages will force the puff pastry to expand while baking, which can force open the edge if not sealed properly. Go over the edge with a fork in unsure, as I did.
For a flavour variation, try adding chutney alongside the sausage before rolling up the puff pastry.
Different sausages will change the flavour profile. I like the extra pepper in Cumberland sausages, but almost any type will work well. Sausages made with chopped rather than minced meat will provide a chunkier texture.
This recipe can easily be made vegetarian by using meat free sausages. There is no need to change the method.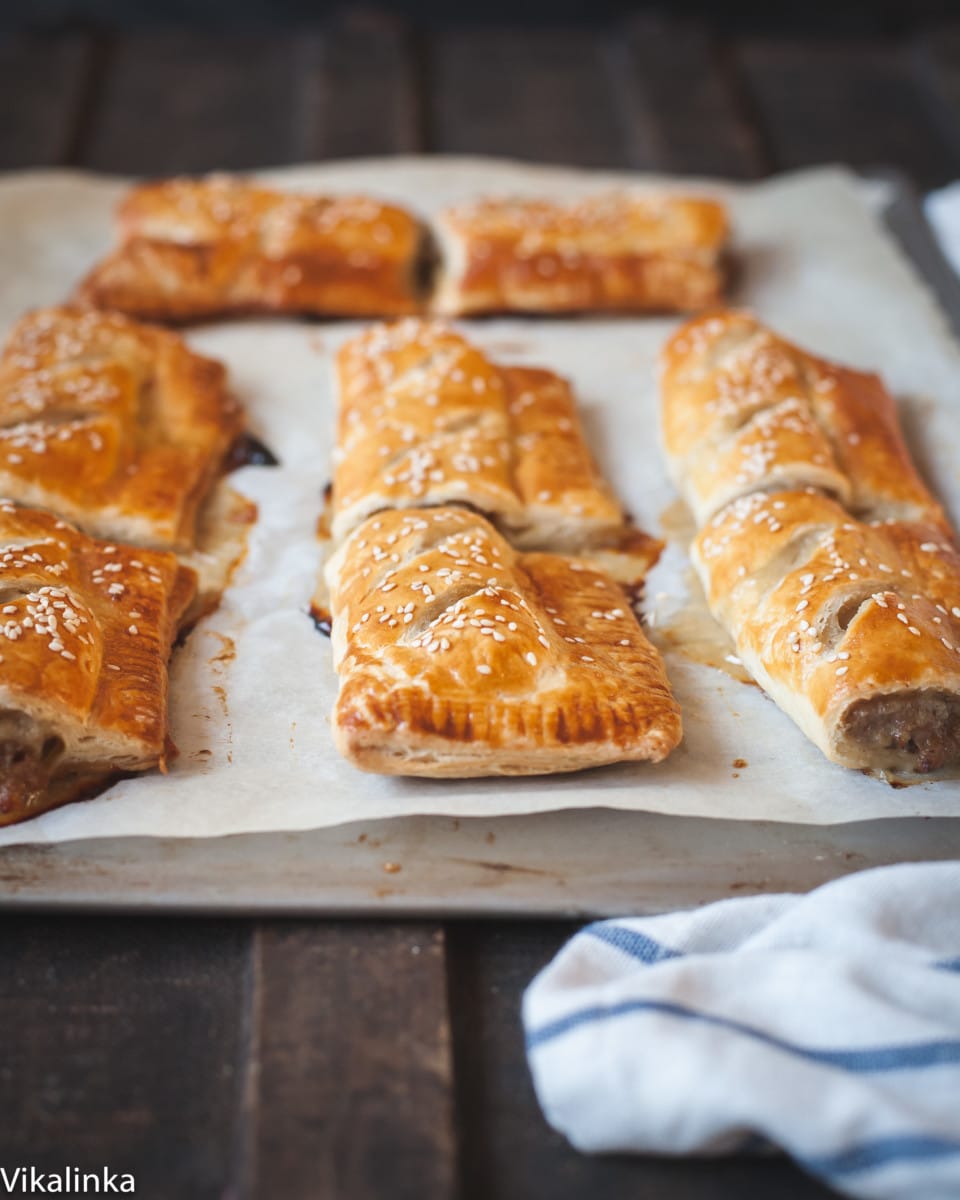 More classic British recipes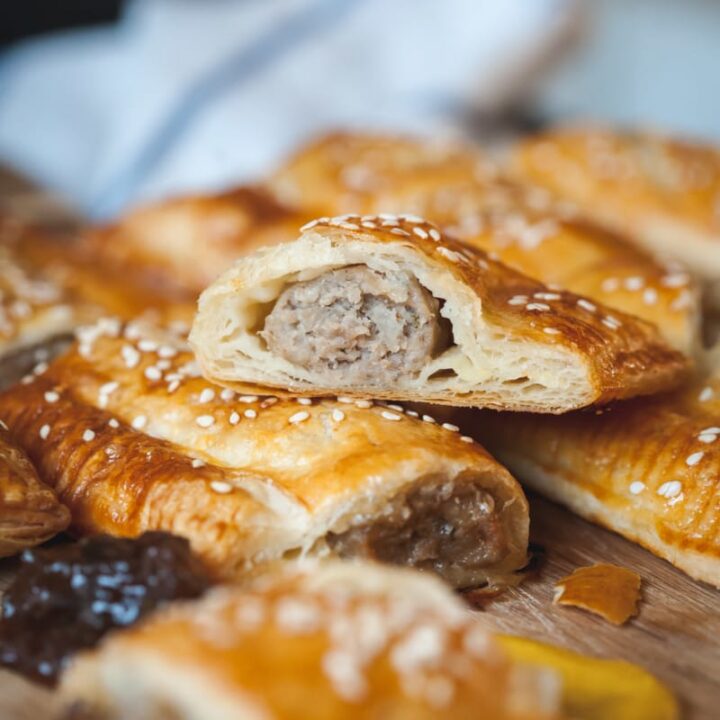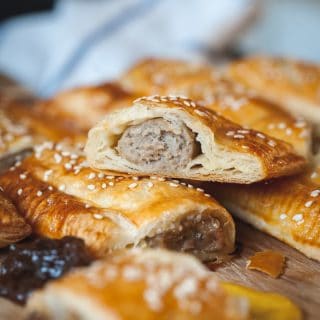 Caramelised Onion Sausage Rolls
Sausage wrapped in puff pastry and baked.
Ingredients
500g/18 oz

puff pastry

pre-made

400g/14 oz

sausages

6 sausages

1

egg

beaten

1

tbsp

sesame seeds
Instructions
Preheat the oven to 420F/220C.

On a floured surface roll out the puff pastry block into a ⅛″ thick rectangle. Divide into 2 cutting in half lengthwise. You will have to long strips.

Score the sausages with a sharp knife and remove the casing. Arrange 3 sausages on each strip closer to one side, spread the sausage meat if necessary to fit the length of the pastry.

Brush one side of the pastry with beaten egg and fold it over to cover the sausage. Seal the edges with a fork and brush with an egg wash all over. Slash with a sharp knife, so steam can escape while baking. Sprinkle with sesame seeds or poppy seeds.

Transfer 2 long sausage rolls to a baking sheet, then cut each into 3 smaller ones. Bake for 25 minutes.
Nutrition
Calories:
672
kcal
Carbohydrates:
37
g
Protein:
17
g
Fat:
50
g
Saturated Fat:
14
g
Cholesterol:
75
mg
Sodium:
641
mg
Potassium:
226
mg
Fiber:
1
g
Vitamin A:
90
IU
Vitamin C:
0.5
mg
Calcium:
18
mg
Iron:
3
mg