Victoria Sponge Cake is a classic for a reason. Luscious cream filling, layered with blackberry compote, then sandwiched between two buttery sponge cakes and finished off with a dusting of icing sugar. Simple and elegant.
If you are a baking enthusiast, you will also love my Naked Cake with Crushed Strawberries.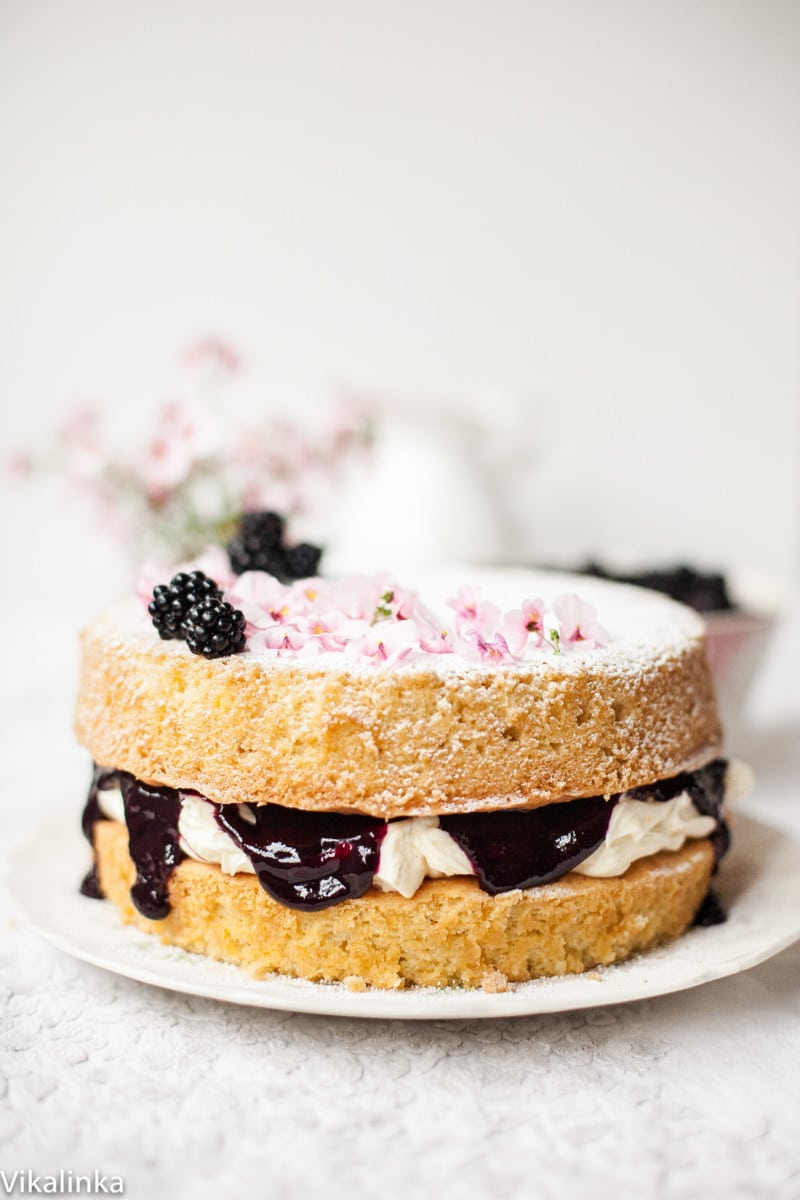 The classic recipe for Victoria sponge is well known and features two sponges holding either buttercream or whipped cream and strawberry jam.
Today I am sharing my personal twist on the classic by filling my sponges with mascarpone cream and homemade blackberry compote.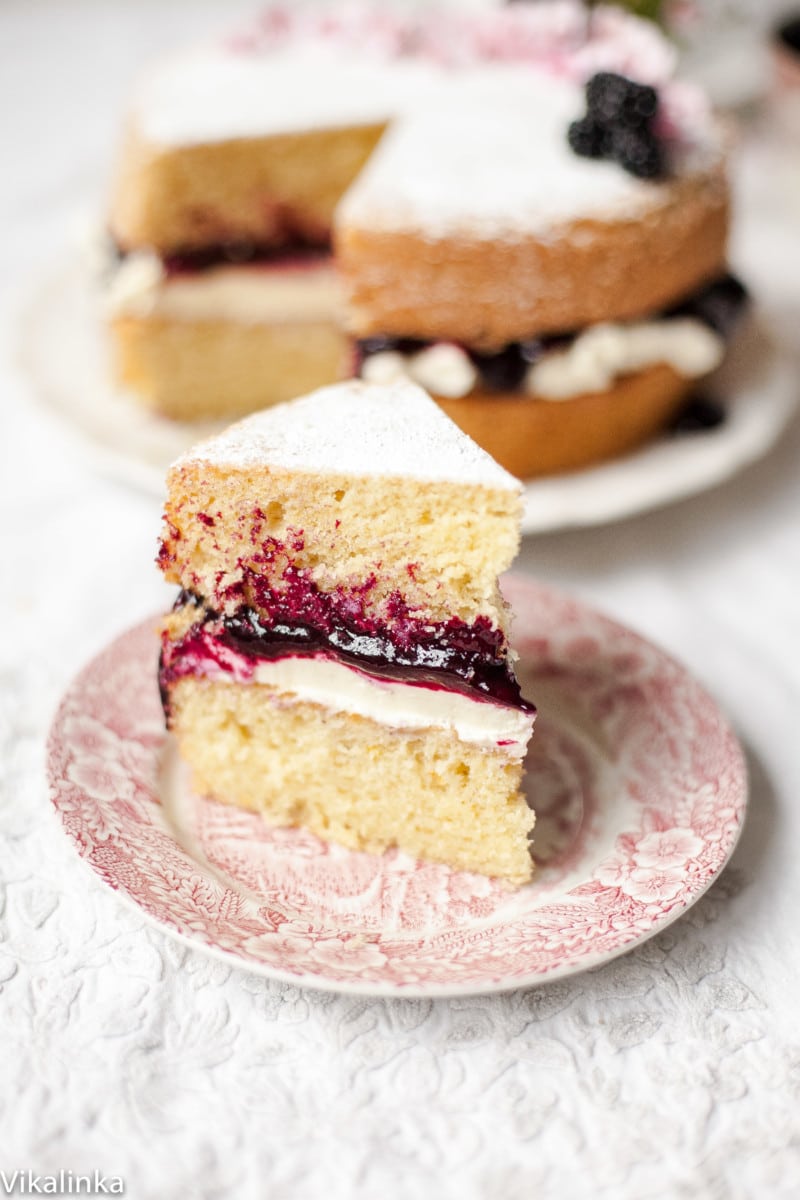 The inspiration to replace strawberry jam with blackberries came from one successful day of berry picking with the kids.
We filled our containers with wild blackberries in no time, then got home and indulged in some afternoon tea and Victoria sponge cake.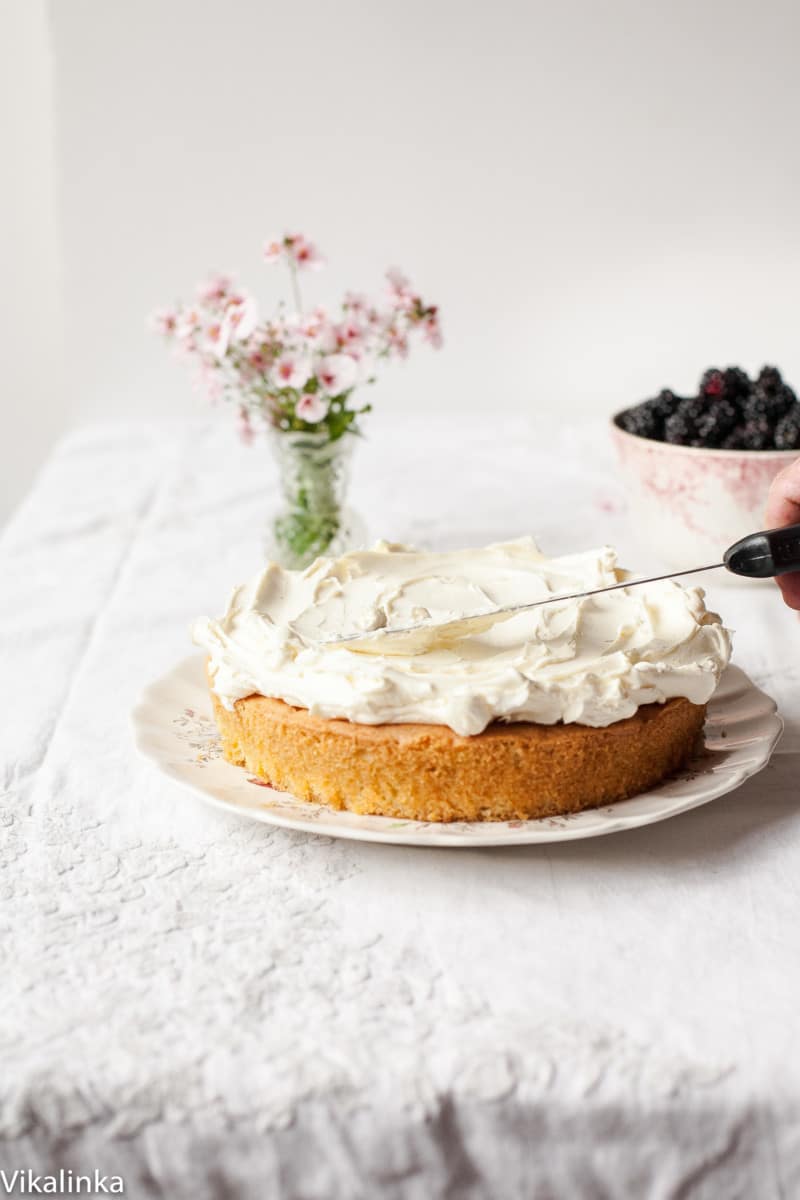 What is Victoria sponge cake?
Named after queen Victoria, who was a fan of an afternoon tea and cake, there is no cake more British than Victoria sponge, or as it is also known as Victoria sandwich. It is sold in every tea room, coffee shop and cafe but sadly they are no match for a homemade version.
The genius of Victoria sponge is in its simplicity. Two fluffy sponges sandwiched together with a bit of cream and strawberry jam. Simple yet glorious.
Now make it mascarpone cream and homemade blackberry compote and you will want to eat this cake for the rest of your life, nothing else needed.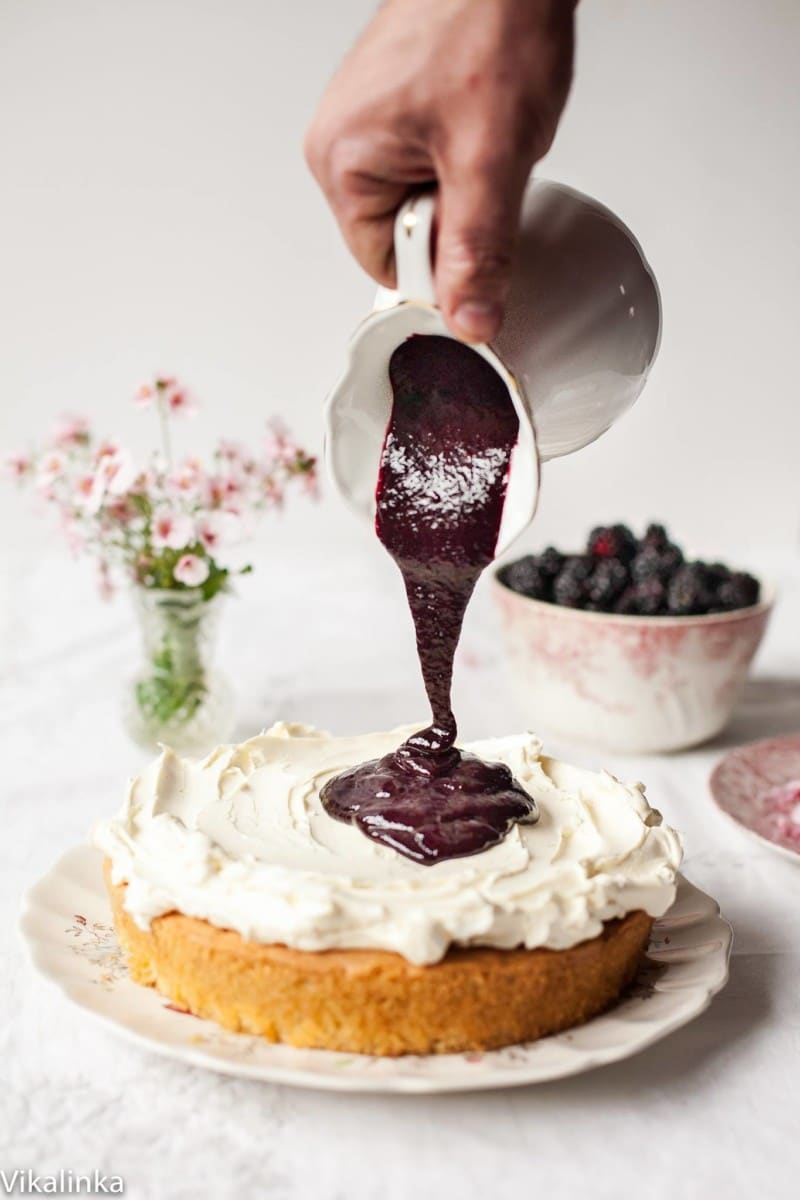 What is a classic sponge cake recipe?
The classic British sponge is extremely simple to make but you do need to know a few tricks to get it right. The cake batter is a combination of half a pound of butter, sugar, eggs and flour.
The Brits use self-rising flour and don't add any rising agents. I really dislike self-rising flour and always adapt my recipes for a regular Canadian flour (yes, I buy only Canadian flour in the UK) but any all-purpose flour will work.
How to make it
The secret to get Victoria sponge incredibly soft and delicate is in the mixing. You start off by creaming softened butter with fine caster sugar until very light.
Then add eggs one by one, beating well after each addition. Then flour, baking soda and powder and flavouring.
You want your sugar to completely dissolve by the time your batter is done. To check you can rub a little amount between your fingers to make sure it's all smooth.
The consistency of your batter should be the same as buttercream. That's how you know you made good sponge batter.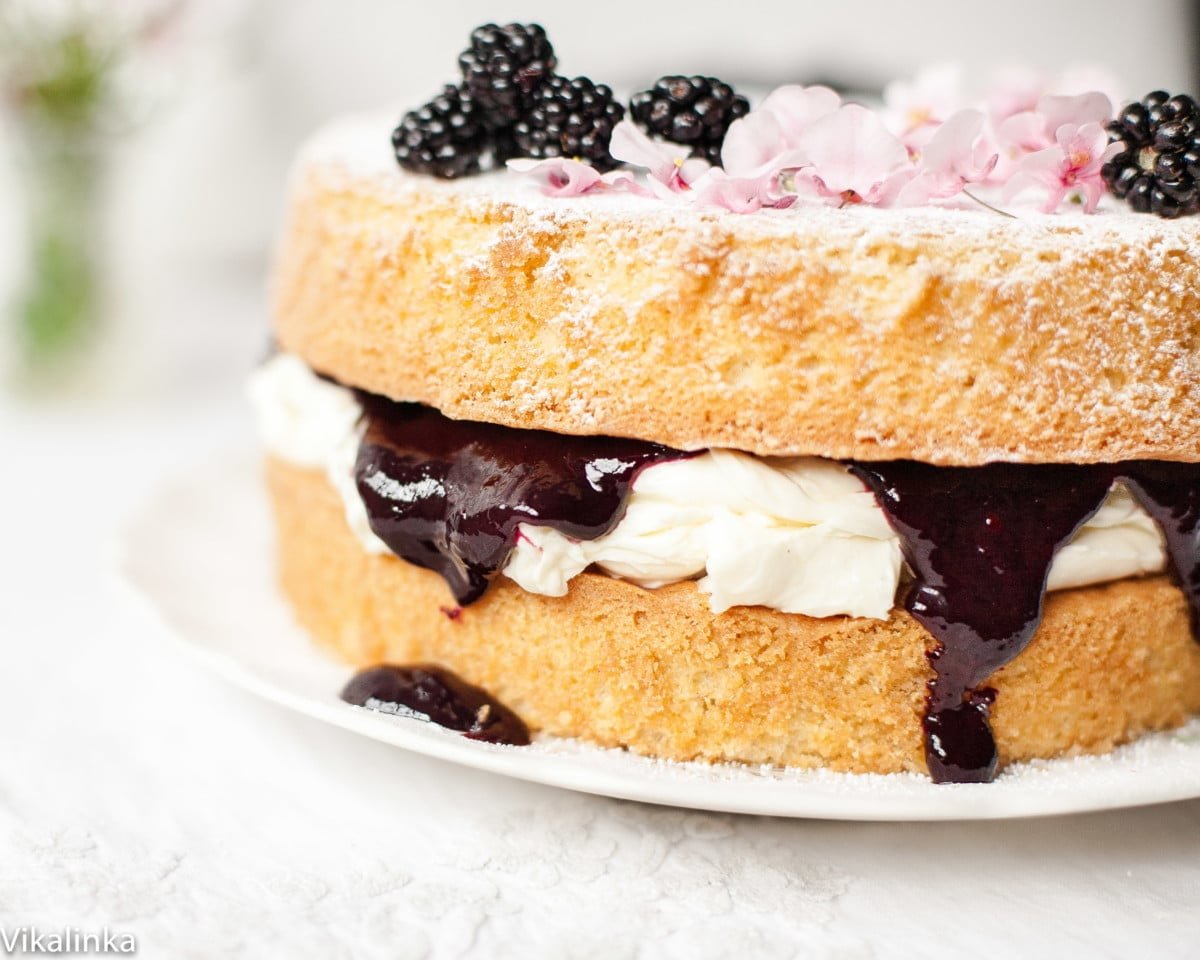 How long will the cake last?
As with all cakes, the sponge cake is the best on the day it's baked. That is when it's the freshest.
However, it will keep well for a couple of days when stored in a refrigerator to prevent the cream filling from spoiling.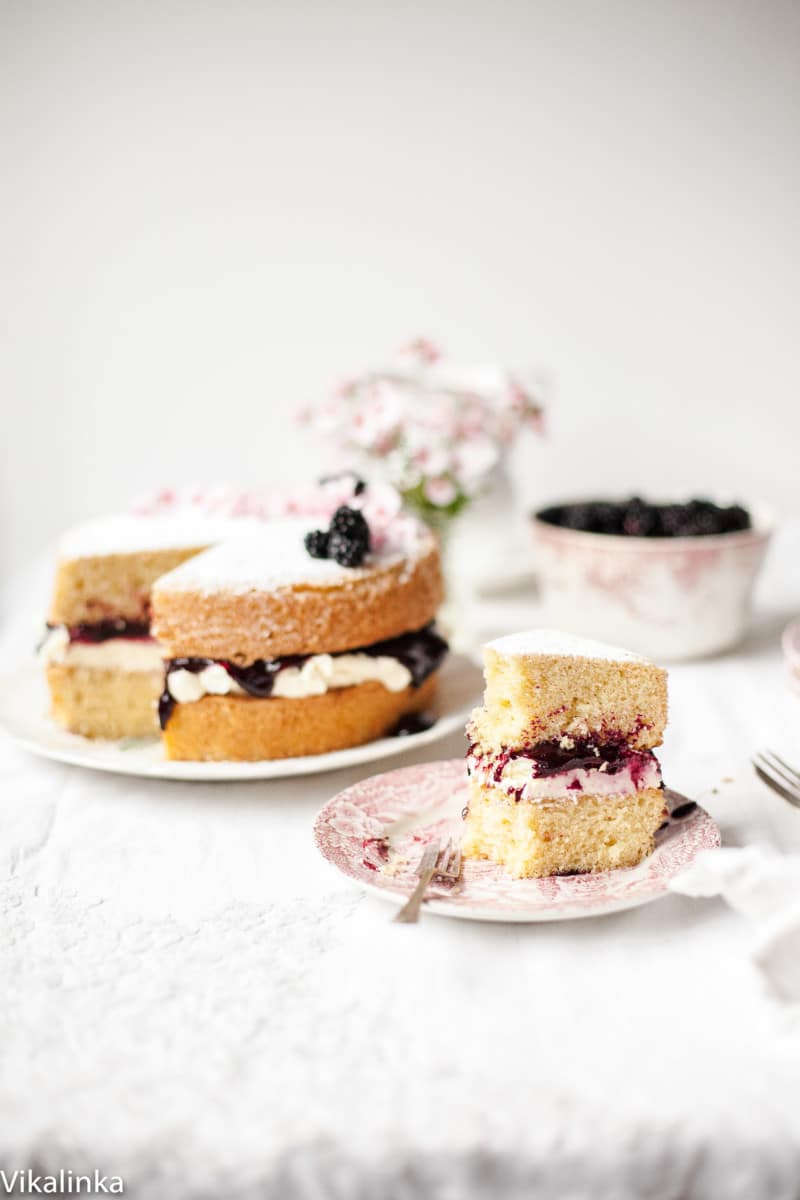 More Sponge Cake Recipes: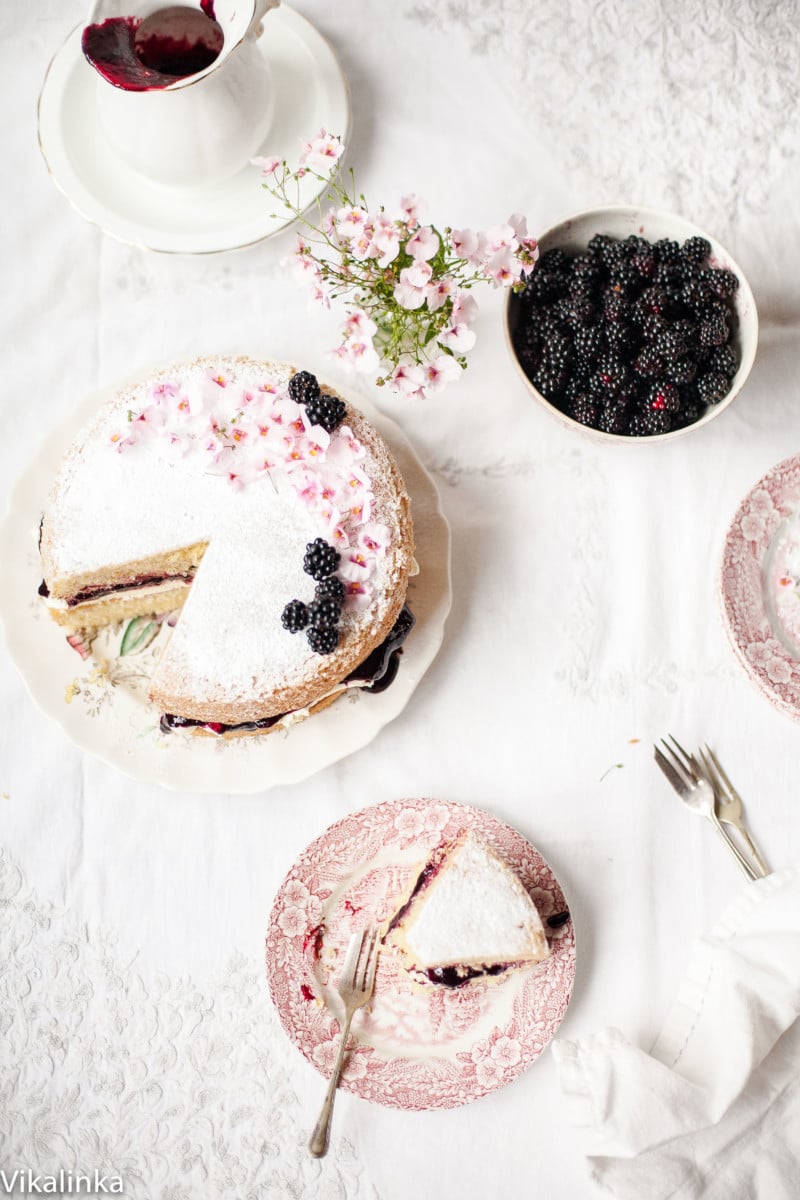 Recipe originally published in 08/2015, updated and republished in 07/2019
~Julia xx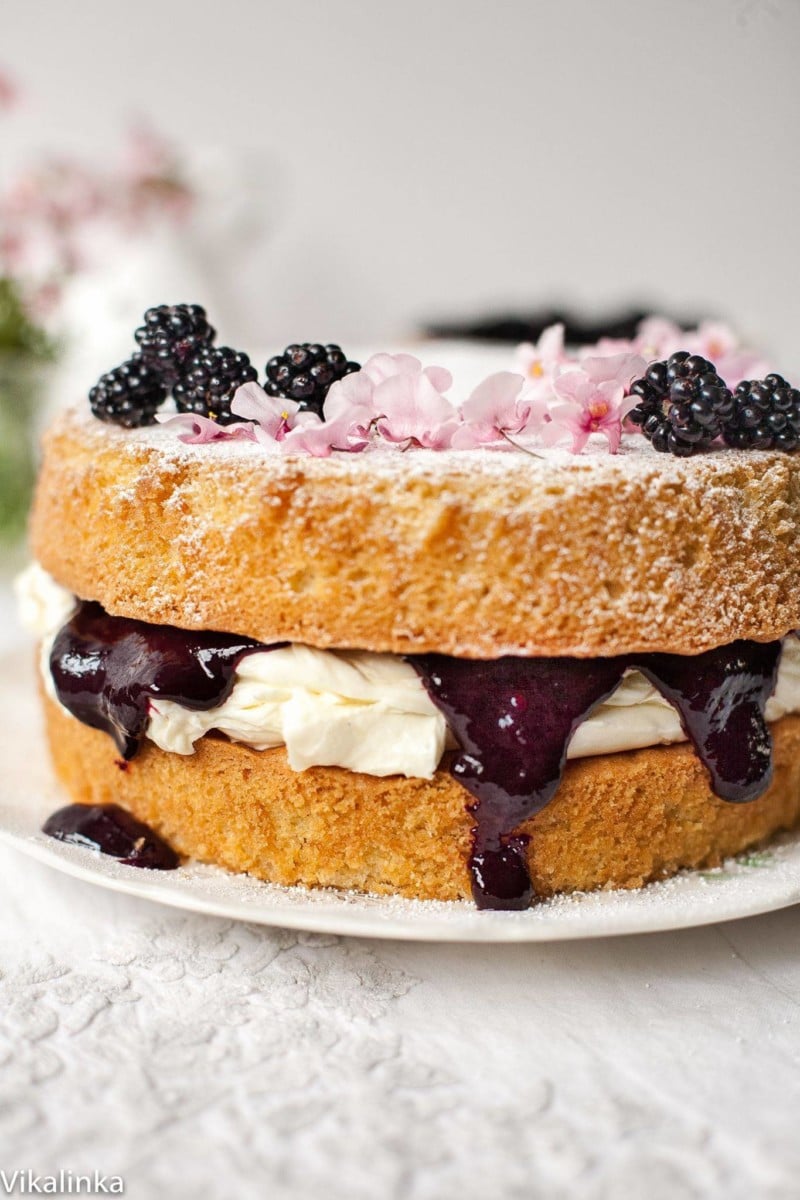 Ingredients
For the blackberry compote
150g/1 ½

cup

blackberries

100g/1/2

cup

sugar

2

tbs

water
For the cake
250

g/ 1 cup butter

softened and unsalted

250

g/1 ⅓ cup caster sugar

4

eggs

large

1

tsp

vanilla bean paste or extract

250

g/1 ¾ cup flour

2 ½

tsp

baking powder

½

tsp

baking soda

½

tsp

salt

zest of 1 lemon
For the mascarpone cream
250

ml/ 1 cup mascarpone

chilled

¼

cup

icing sugar

175

ml/ ¾ cup double/heavy cream

1

tsp

vanilla bean paste
Instructions
For the blackberry compote
In a small saucepan combine blackberries, sugar and water and cook over low heat for 15 minutes until the syrup coats a spoon.

Remove from the heat and process in a food processor or a blender until smooth.

Push through a fine sieve to get rid of the seeds and set aside.
For the cake
Preheat the oven to 180C/350 C, grease two 8"/20cm round cake pans and line with parchment paper, set aside.

In the bowl of a stand mixer cream softened butter with sugar until light and fluffy.

Start adding eggs one by one, whipping until well combined after each addition for about a minute.

Add vanilla bean paste and lemon zest.

Combine sifted flour, baking soda and powder and salt in a separate bowl.

Add dry ingredients to the wet ingredients, mix well, stopping the mixer and scraping sides and the bottom of the bowl.

Divide the batter between two pans. Weigh them to get exactly the same cake in size.

Bake in the oven for 30-35 minutes or until cake tester comes out clean.

Remove from the oven and set on a wire rack to cool for 20 minutes, then remove from the pan and cool completely.
For the mascarpone cream
Whip chilled mascarpone with icing sugar and vanilla bean paste for 1-2 minutes until well combined.

Then add double/whipping cream and whip for 2 more minutes until stiff.
Cake assembly
To assemble the cake spread mascarpone cream on the bottom layer of the cake.

Pour blackberry compote on top and gently spread with a offset spatula.

Top with another cake layer and dust with some icing sugar for the traditional look.
Notes
US readers: To prevent mascarpone cream from separating. Whip the heavy cream before combining the two.
Nutrition Facts
Victoria Sponge Cake with Blackberry Compote
Amount Per Serving
Calories 756
Calories from Fat 450
% Daily Value*
Fat 50g77%
Cholesterol 143mg48%
Sodium 578mg25%
Potassium 286mg8%
Carbohydrates 69g23%
Protein 9g18%
Vitamin A 2042IU41%
Vitamin C 5mg6%
Calcium 158mg16%
Iron 2mg11%
* Percent Daily Values are based on a 2000 calorie diet.