This gorgeous Rose Rhubarb Layer Cake is what you need to celebrate a special occasion! Vanilla sponge layer cake filled with rhubarb curd and covered with mascarpone frosting.
For a simple everyday cake, take a look at my Rhubarb Cake Sharlotka.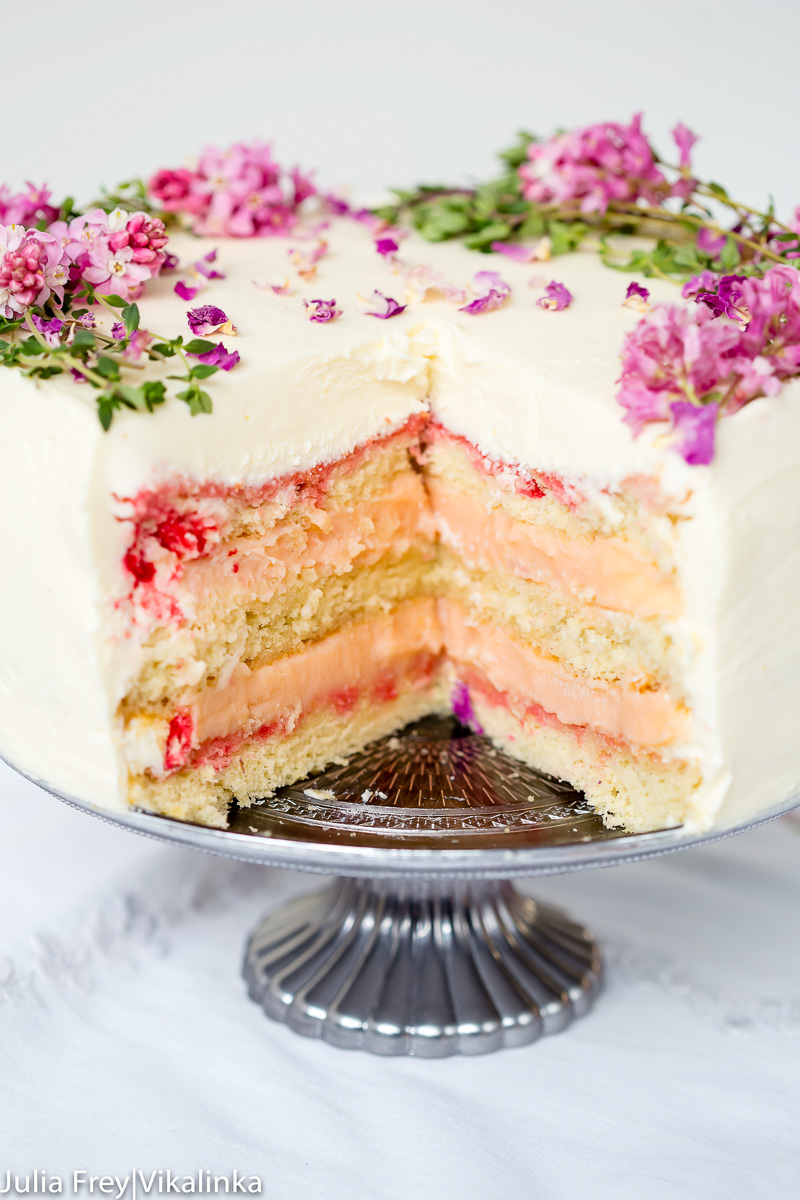 I don't bake grand layer cakes often but when I do my heart and soul go into them. I imagine myself in a top bakery where everything is possible. Where I can have my dream cake. Then I build my cake…in my mind.
You would think that after that process I'd be set but you would be wrong. Even on the baking day I change my mind again and then again and then again…I change it at least 500 times.
In this instance I changed what type of sponge I wanted, what type of icing I wanted and decorations but one thing remained constant. Rhubarb Curd. I knew from the start the cake would revolve around it. I knew I wanted to make a rhubarb layer cake.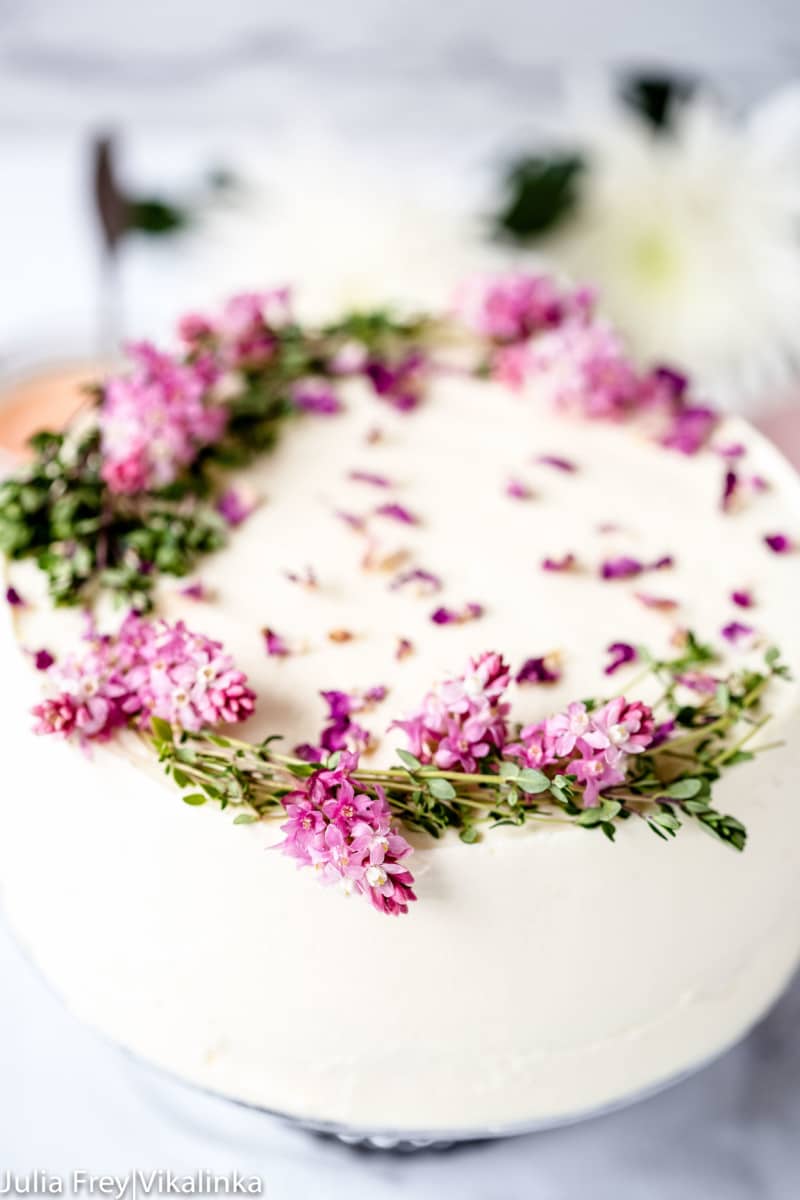 Let me tell you no one was disappointed, most importantly I wasn't disappointed. The cake we had for Easter was lighter than a cloud, vanilla bean flavoured sponge, layered with sweet and slightly tart rhubarb curd and encased in luscious rose water mascarpone cream.
As much as I love a good chocolate cake delicate vanilla and fruit cakes have a special place in my heart. This one is so light and springy!!
Don't be intimidated by the lengthy recipe card and time spent in the kitchen. I tried to be as detailed as possible, which made it long! Also, this cake is WORTH IT!
Rhubarb Layer Cake Recipe Notes and Tips
Prepare the rhubarb curd at least one day before baking the cake. It needs time to chill and set in a fridge. The curd is thickened with cornstarch. A firmer than usual consistency is necessary for the curd to stand up to the cake layers.
Follow instructions for the cake sponge carefully. This particular sponge recipe is very delicate and very light, similar to Angel's Food cake but it uses whole eggs instead of just egg whites. The height of the sponge is 100% reliant on the eggs and how well they are whipped. For detailed instructions, read this article and watch the video.
Soak the sponge layers with the syrup to add more moisture and flavour during the assembling of the cake.
Finally, mascarpone tends to separate if over-whipped. Both mascarpone and the heavy cream need to be straight out of a fridge. Use the instructions as written if using double cream. If using whipping cream, whip the cream first until soft peaks form, then fold it into slightly whipped mascarpone. This extra step prevents the icing from separating and especially relevant to the US and Canadian readers due to the dairy products variation.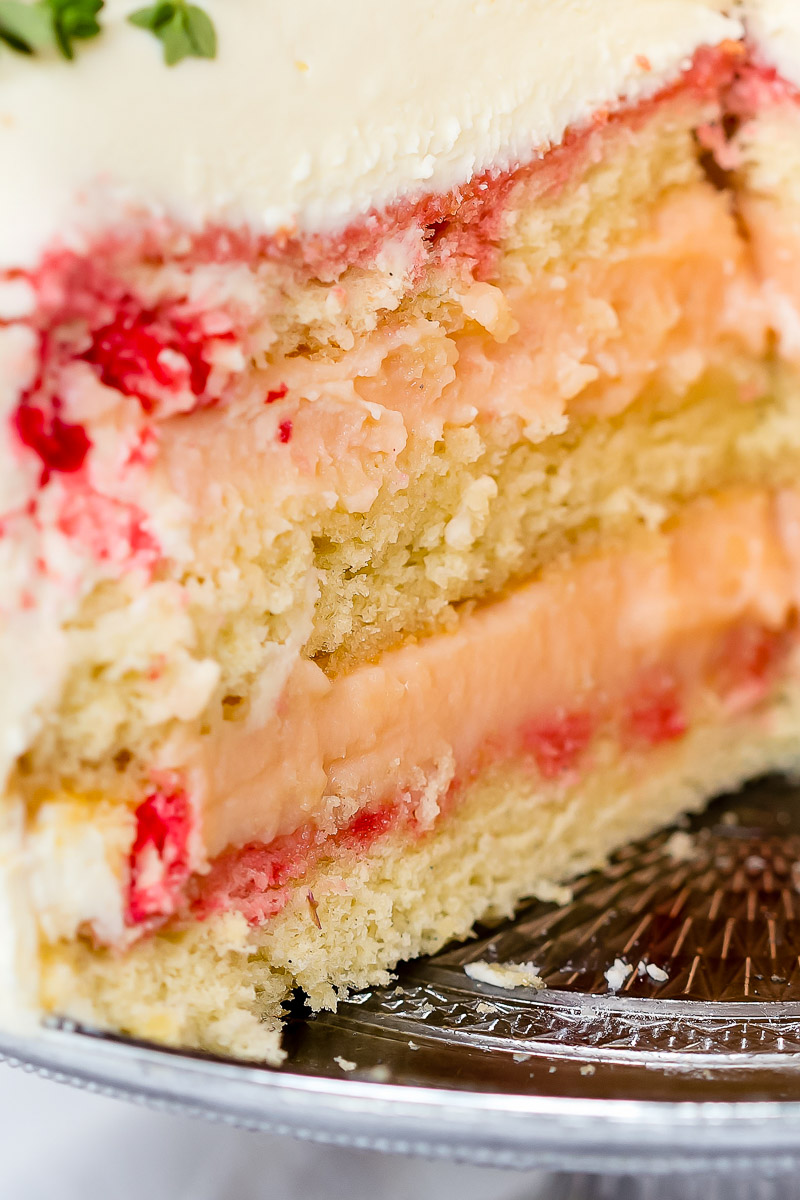 If you make this Rhubarb Layer Cake, I would love to see your photos! Tag @vikalinka when you share them on Instagram!
Are you following me on Instagram? If not, let's be friends!
More Layer Cake Recipes to Try: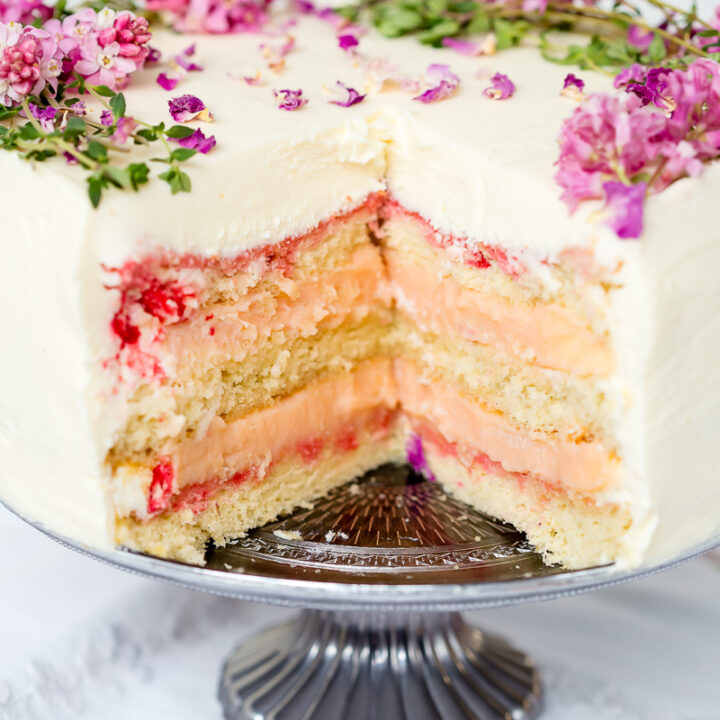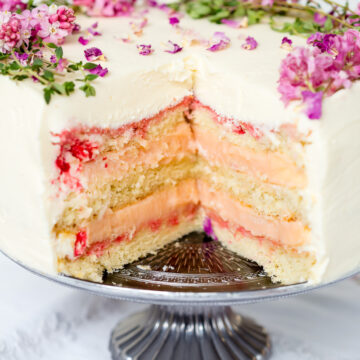 Rose Rhubarb Layer Cake
Three layer sponge cake filled with rhubarb curd and frosted with mascarpone cream.
Ingredients
For the Rhubarb Curd
400g(4 long stalks)

rhubarb

3

eggs

large

170g/3/4 cup

unsalted butter

cubed

3

tsp

cornflour/corn starch

150g/3/4 cup

caster sugar/ granulated sugar

a drop of pink colouring

optional
For the Cake
5

eggs

room temperature, large

200g/1 cup

white granulated sugar

1

vanilla bean

seeds scraped out

140g/1 cup

all purpose/plain flour
For the Syrup (for soaking the sponge layers)
4

tbsp

elderflower liqueur

4

tbsp

simple syrup

a solution of water and sugar in equal parts

2

drops

rose water
For the Mascarpone Cream
500g/2 cups

mascarpone

chilled from fridge

250ml/1 cup

double/whipping cream

100g/1/2 cup

icing sugar

2

tsp

vanilla

2-3

drops

rose water

or less depending on the strength of rose water
For decoration
lemon thyme sprigs

organic pink flowers

dried rose petals
Instructions
For the Rhubarb Curd
*Prepare the rhubarb curd at least a day before assembling the cake. Wash and cut rhubarb stalks in 2" sections, put them in the bowl of a food processor and process until then turn into a pulp. Push it through a fine sieve with a spoon to extract all the juice, then discard the pulp. You should get about 300 ml/ 1¼ cup of rhubarb juice.

In a food processor or blender mix eggs, sugar and cornflour/corn starch until you have a homogenous mixture with no lumps remaining. Alternatively you can do this step by hand using a bowl and a whisk.

In a saucepan combine 1 cup of rhubarb juice, egg, sugar and corn starch mixture and cubed butter, set the pan over low heat and star cooking it while stirring with a whisk the entire time until butter melts and the curd thickens. Do not turn the heat up to speed up the process or the eggs will turn into scrambled eggs and the curd go lumpy!

Take off the heat when the curd is the consistency of thick sour cream. You may push it through a fine sieve again to ensure there are no lumps and the curd is silky smooth. Add the remaining rhubarb juice to increase the tart flavour of the rhubarb and a drop of pink food colouring if desired as the curd loses its colour when cooks!

Chill in the fridge for at least 3 hours or overnight. The rhubarb curd will thicken when chilled.
For the Cake
Preheat the oven to 350F/180C.

Grease 3 8" cake pans and line them with parchment paper. (Don't be tempted to skip this stage, the sponge is very delicate, so it's important to use parchment paper for easy removal.)

Crack 5 eggs at room temperature to a bowl of a stand mixer and add sugar and vanilla been seeds, beat at high speed for 5 minutes until the mixture is pale and triples in volume.

Fold in flour through a sifter in 3 additions blending it in gently after each addition. Your goal is to keep the volume of the egg mixture so be very careful in this step of the process.

Divide your cake batter among 3 pans, I weigh mine to make sure they are exactly the same and bake for 25-30 minutes until cake tester or tooth pick comes out clean and the cakes have risen to the top of the pan. (I baked 2 layers and then 1 later).

Cool for 10 minutes and then run a knife around the edges of your pans to release the cakes and flip them over on a wire rack to cool completely.

(After your cakes have cooled you can individually wrap them in plastic wrap for later use. You can bake you sponge layers up to 2 days ahead.)
For the Syrup
In a measuring cup mix together simple syrup, elderflower liqueur for beautiful floral notes and 2-3 drops of rose water, the amount of which largely depends on the strength of it. Each brand is different, so it's important to taste and smell to determine the desired amount. Add with caution as it can smell like a perfume instead of a dessert if too much rose water is used.
For the Mascarpone Cream
In a bowl of a stand mixer whip well-chilled mascarpone for no longer than 30 seconds with a balloon attachment until light, add heavy/double cream, icing sugar, vanilla and rose water and whip for 1-2 minutes longer until it looks like thick whipped cream. If your mascarpone cream is too thick and hard to spread add a splash of heavy/double cream and whip for just a few seconds longer to loosen it.
Assemble the cake
Load ⅓ of mascarpone cream in a large piping bag with a plain round tip.

Pipe a border around the first drizzled with syrup layer, this will prevent rhubarb curd filling from spilling out, fill the space inside the border with rhubarb curd.

Top with the next layer and repeat the actions. Place the third layer on top and cover the entire cake with a thin layer of mascarpone cream also known as crumb coating. Place in the refrigerator for 30 minutes. When the crumb coat is firm frost the cake with the rest of the mascarpone cream.

Decorate the top with lemon thyme, small organic pink flowers and rose petals.
Nutrition
Calories:
898
kcal
Carbohydrates:
71
g
Protein:
13
g
Fat:
62
g
Saturated Fat:
37
g
Trans Fat:
1
g
Cholesterol:
315
mg
Sodium:
118
mg
Potassium:
115
mg
Fiber:
1
g
Sugar:
54
g
Vitamin A:
2103
IU
Vitamin C:
1
mg
Calcium:
142
mg
Iron:
2
mg