Four chocolate layers filled with vanilla bean and brandy mousse, studded with Morello cherries and ganache drizzled over. Everyone needs their version of Black Forest Cake. Here is mine and I hope it will becomes yours as well!
If you are a chocoholic like me, take a look at my Honeycomb Crunch Chocolate Cake.
I've been holding back on blogging this cake for far too long. You see, when most of you were celebrating Thanksgiving last Thursday we were celebrating my husband Brad's birthday.
And he requested his favourite cake.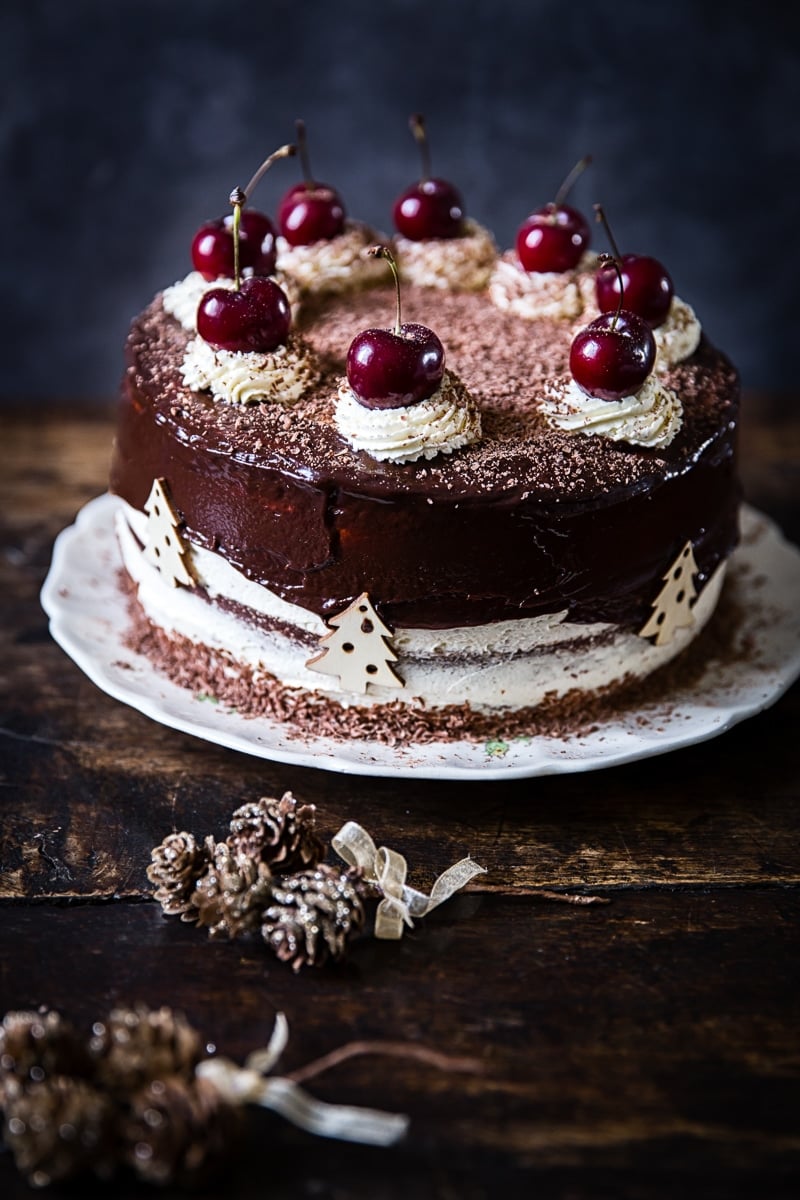 Black Forest Cake is Brad's favourite but I have never made it for him. Unfortunately for him, I never cared for it much and mostly for good reasons-the artificial taste of chocolate layers and the electric red of maraschino cherries never appealed to my European taste.
Some call it snobbism, I call it "I didn't grow up in North America syndrome". 🙂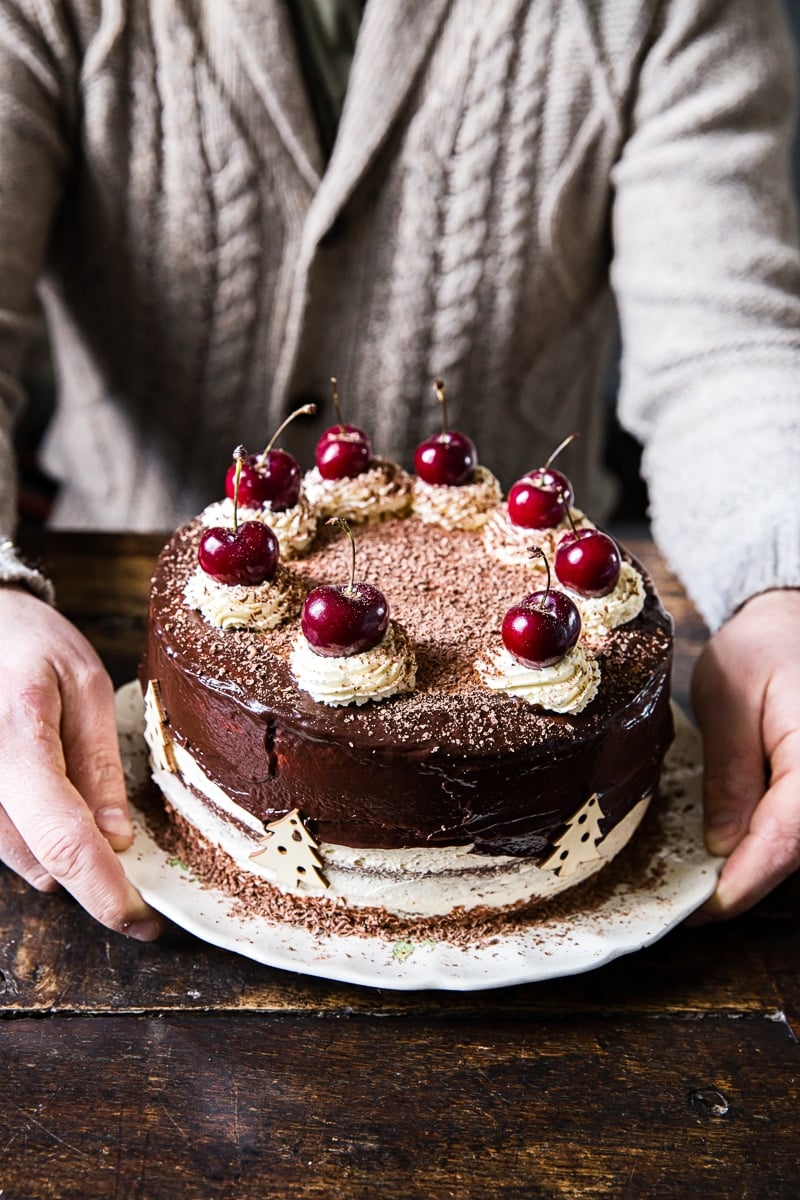 However, the cake is actually German and I know I LOVE German cakes. Love love love them.
This version of Black Forest is plenty traditional. It's dark. It's boozy. It's Black Forest.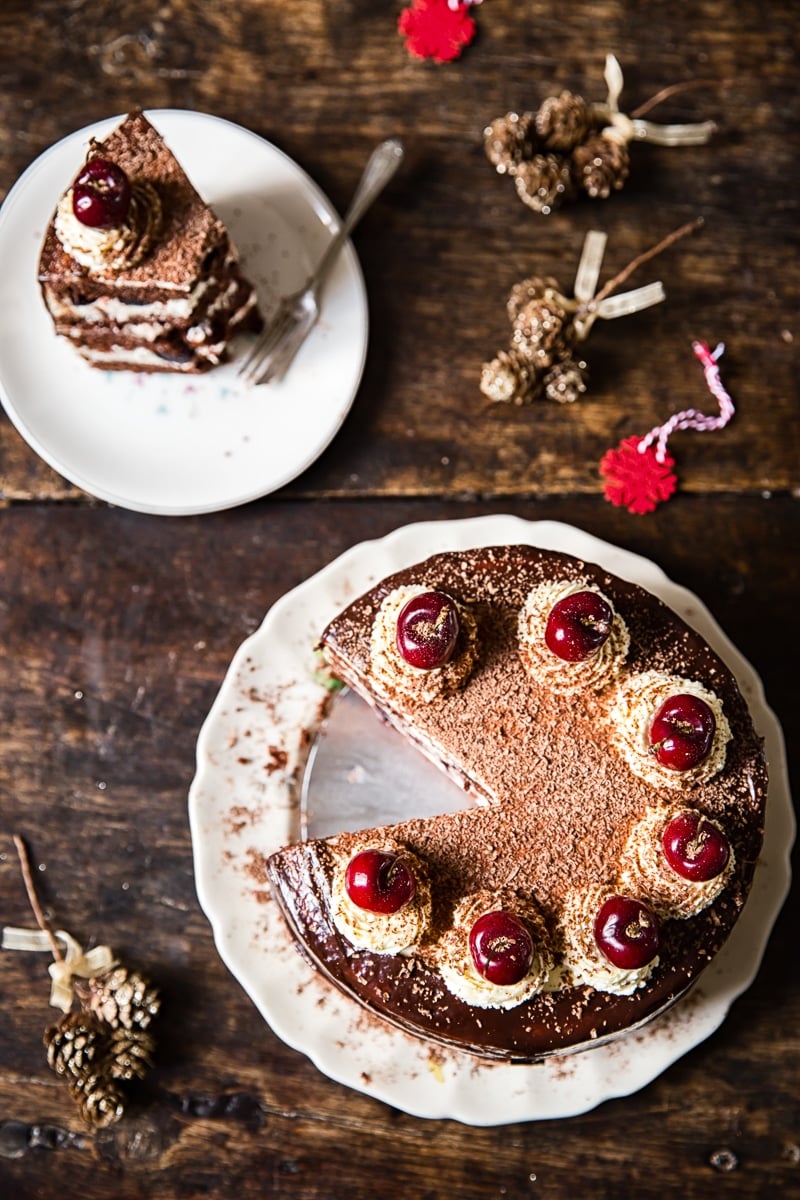 What ingredients are in Black Forest Cake?
Four chocolate layers filled with vanilla bean and brandy mousse, studded with Morello cherries and ganache drizzled over in a Jackson Pollock manner.
I am also happy to tell you that the cake is incredible easy to make. This is how you do it.
How to make this cake at home
Lucky for us this famous cake is not difficult to make at home. All you have to do is to bake chocolate sponge layers. Then fill them with vanilla and brandy flavoured whipped cream, interspersed with delicious cherries.
The photo guide belows will show you exactly how I did it.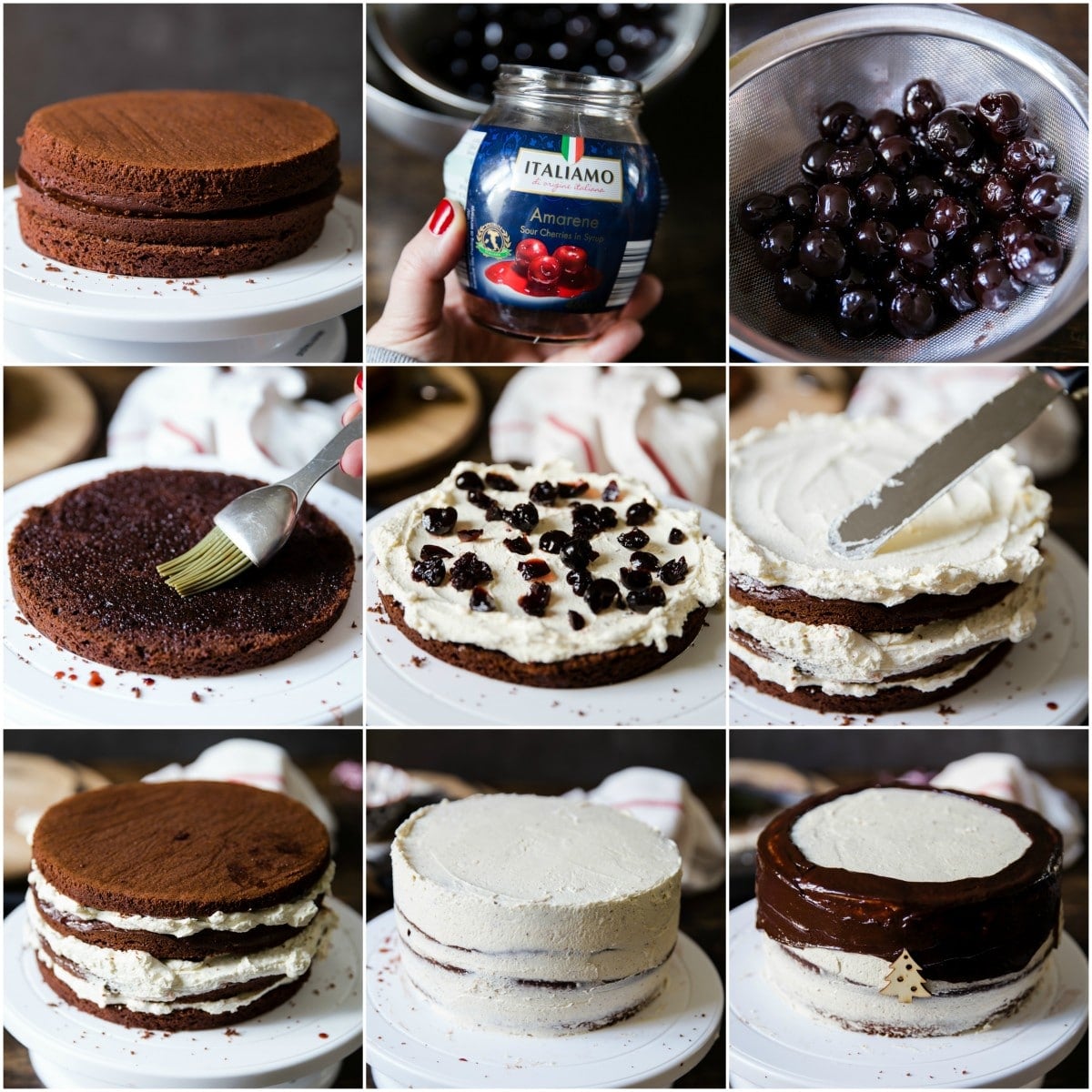 How do I decorate Black Forest Cake?
I am not entirely sure why but I always thought of Black Forest Cake as a Christmas cake. When I told my husband about it he was really surprised. But I guess it's because we tend to eat it around Christmas since his birthday is at the end of November.
I also think the Black Forest itself and all the woodland creatures make me think of Christmas, so I decorated it along those lines.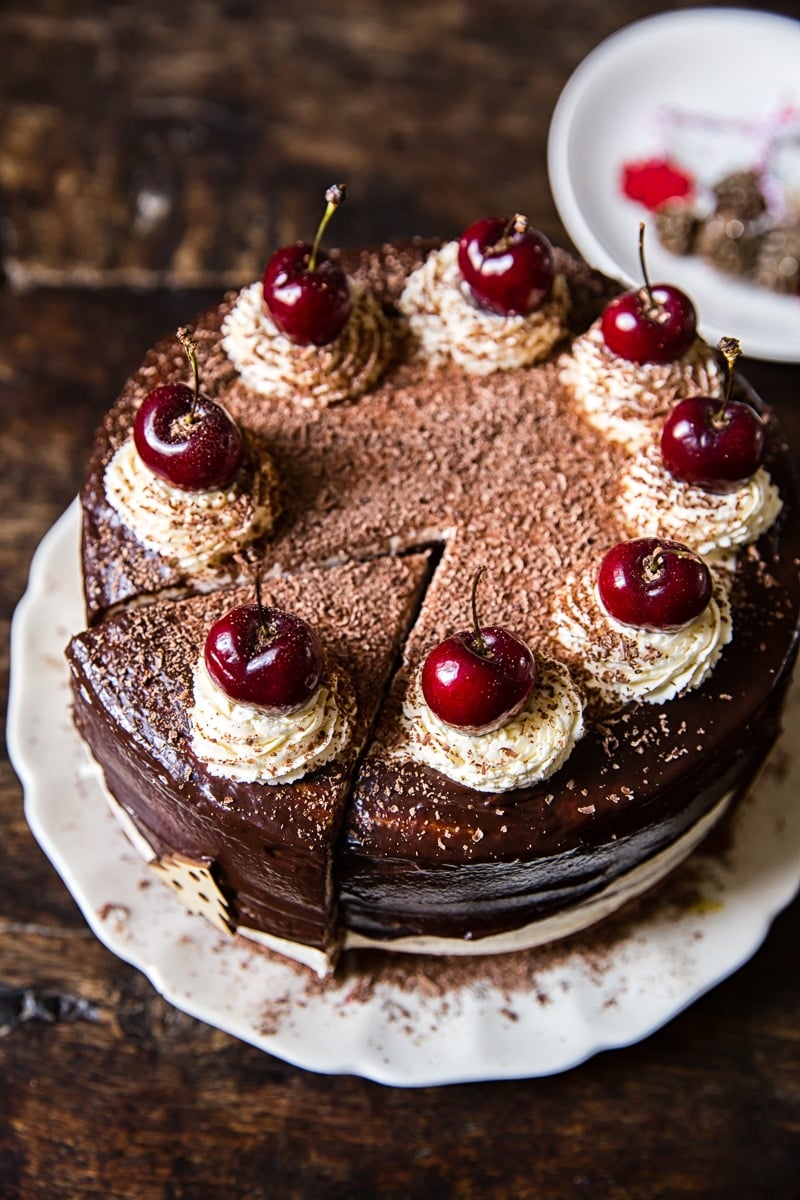 Tips for making this cake extra delicious
So what sets this Black Forest Cake recipe apart from all the others is amarena cherries aka the best thing that happened to Morello Cherries! Amerena cherries (you can see them in the collage above) are demi-glacé cherries in a delicious syrup made with the sour cherry variety!
I learned about them from my Italian friend Angela and every time I see them I buy a jar, so I would never go without.
I brushed chocolate cake layers with a combination of Amarena cherry syrup and a splash of brandy. The result is nothing short of divine!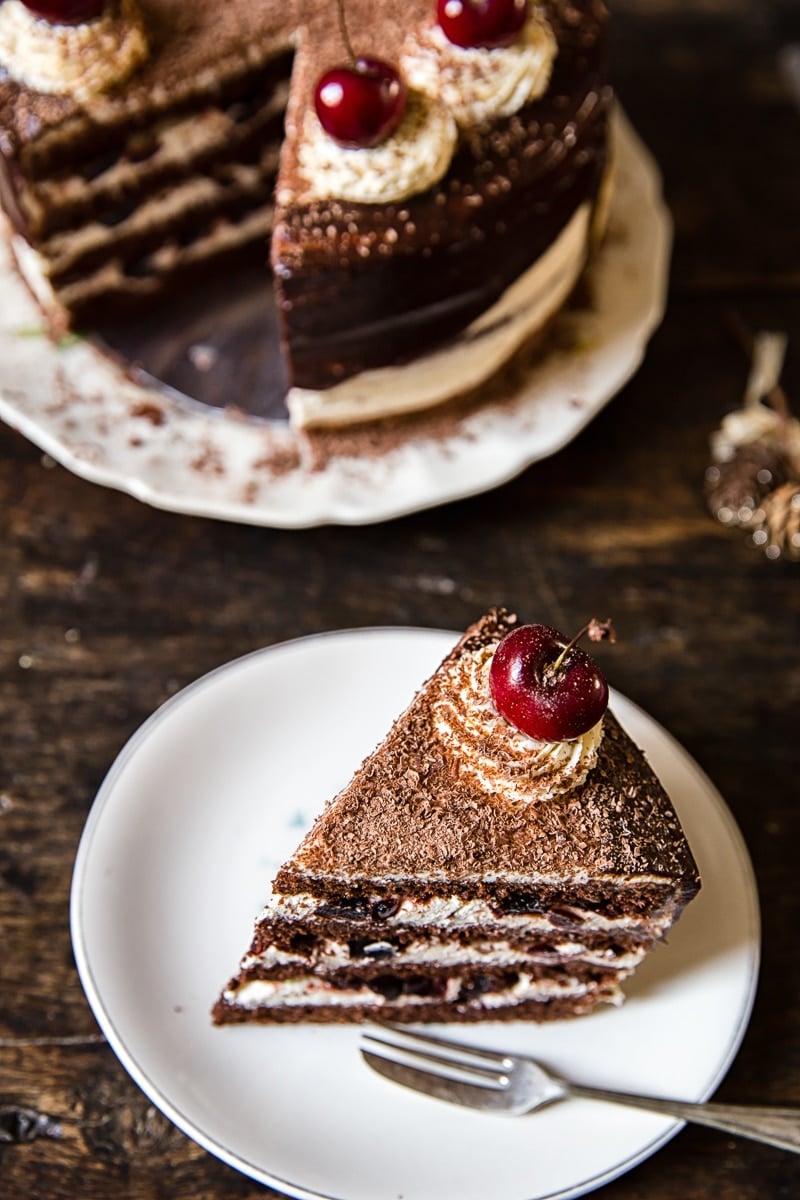 More chocolate cake recipes:
Ingredients
For the Cake
Flour- 1 3/4 cups/220g

Sugar- 1 1/2 cups/300g

Cocoa- 3/4 cup/90g

Baking powder- 1 1/2 tsp.

Baking soda- 1 1/2 tsp.

Salt- 1 tsp.

Eggs- 2 large

Milk- 1 cup/250ml

Vegetable oil- 1/2 cup/125ml

Vanilla- 2 tsp.
For the filling
Whipping cream/double cream- 2.5 cups/600ml

Sugar- 1/2 cup/100g

Brandy- 2 tbsp.

Vanilla bean-1

Gelatine- 3 tsp.

Water- 3 tbsp.

Cherries from Amarena cherry conserve

chopped-1 cup

1/4

cup/70ml cherry syrup

2

tbsp

brandy
For Chocolate Ganache
Whipping Cream- 1/2 cup/125 ml

Dark Chocolate

chopped- 125 gr

8

fresh cherries
Instructions
Preheat oven to 350F/180C

In a large mixing bowl combine sifted flour and cocoa, sugar, baking powder and baking soda and salt.

Add eggs, milk, oil and vanilla and beat on medium speed for 2 minutes.

Pour into two 8" pans.

Bake at 350F/180C for 30 minutes.

Remove the cakes from the oven and let cool on a wire rack.

In a 1-cup glass measuring cup combine cold water and gelatin. Let stand for 2 minutes. Place measuring cup in a microwave and heat for 15 seconds until gelatine is completely dissolved.

Run a sharp knife along the length of a vanilla bean, open it and with a blade of a knife scrape out the seeds.

In a large mixing bowl beat whipping cream, sugar, vanilla bean seeds and brandy with an electric mixer on medium speed while gradually drizzling gelatin mixture over cream mixture. Continue beating cream mixture until stiff peaks form. (Adding gelatine to the filling gives it more stability.)

Cut each cake layer in two. You will have 4 layers.

Brush the cake layers with the mixture of cherry syrup and brandy.

Fill the cake with the vanilla cream filling and chopped morello cherries. Leave 1/4 of the whipped cream for the sides and the top.

Cover the sides and the top of the cake with the whipping cream.
To make the ganache
Heat 1/2 cup of whipping cream in a saucepan and take off the heat just when it's about to come to a boil.

Pour over chopped chocolate. Let it sit for a minute, then stir.

Drizzle chocolate ganache over the edge of the cake. Pipe rosettes and decorate with fresh cherries. Sprinkle grated chocolate on top of the cake.

Chill in the fridge for the mousse filling and chocolate ganache to set. Keep refrigerated.