Your guests will not be able to resist this Christmas chocolate cake filled with cranberry compote and frosted with whipped chocolate ganache! This cake is a showstopper!
For another easy but gorgeous Christmas dessert take a look at my White Christmas Truffle Cake.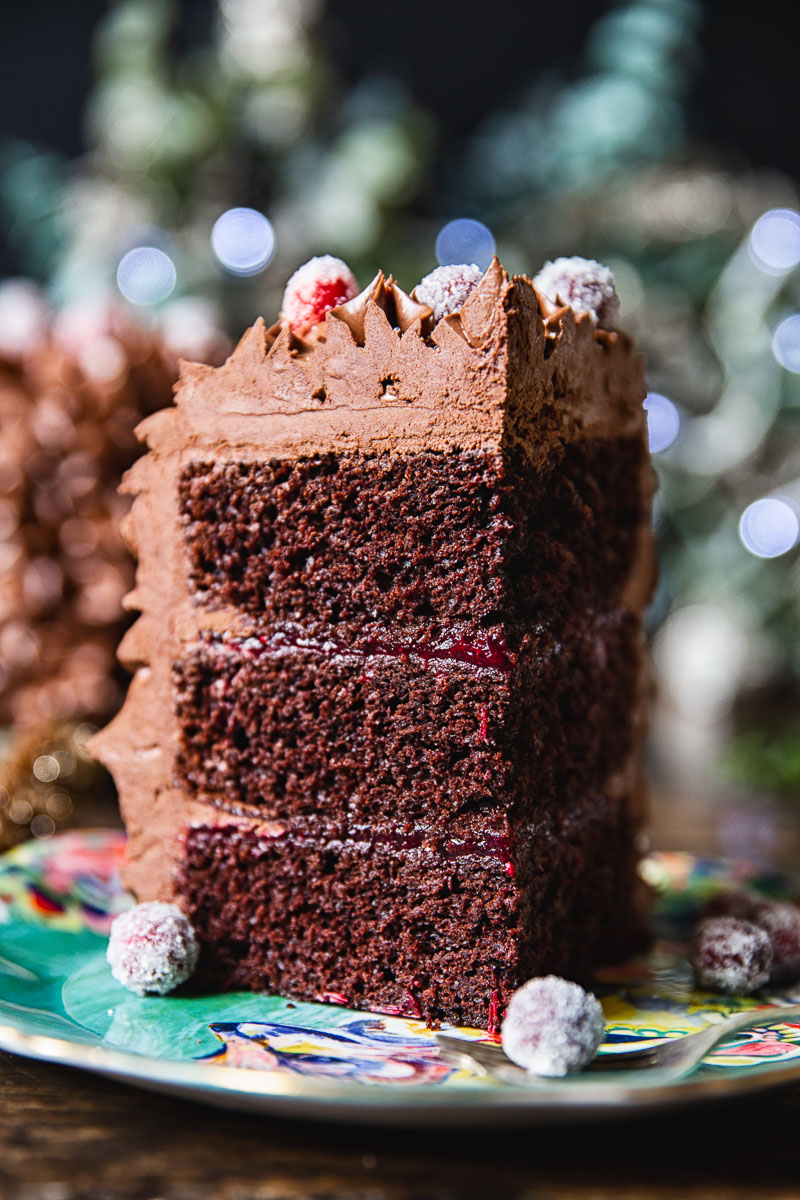 I'll always love a big, beautiful cake when the holidays come around. It's the perfect time to bring out the best, most luxurious baking we can and to decorate to the gills!
There's not much that can beat a rich, moist chocolate cake and I love to use Christmas as an excuse to indulge my chocolate cravings. I hope you find this cake as delicious and festive as I do!
Why you'll love it
This chocolate layer cake filled with cranberry and port compote is absolutely irresistible. Rich chocolate cake layers gently wrapped in whipped chocolate ganache, then decorated with sparkling cranberries.
It sounds somewhat complex but only on paper or should I say on screen…because in reality it's astonishingly simple!
First let's start with the chocolate cake itself.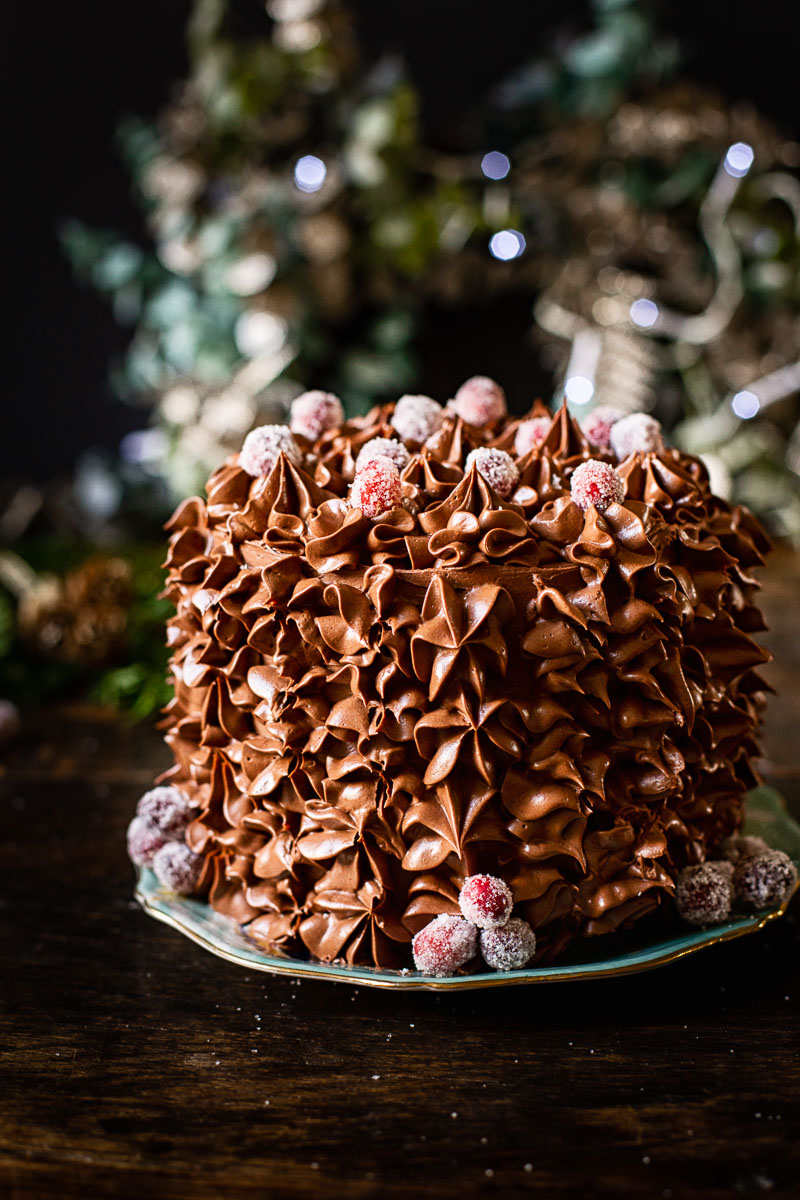 How do I make a moist chocolate cake?
The recipe I use for the majority of my chocolate cake is the one I am sharing today. It's the simplest of recipes that delivers the best results.
What makes this chocolate cake so simple is that it's all made in one bowl. And what makes it so moist is vegetable oil and whole milk. Simple.
Just make sure you follow the recipe, bake it at the recommended temperature and don't over-bake it. Keeping cake in the oven longer than needed dries it out!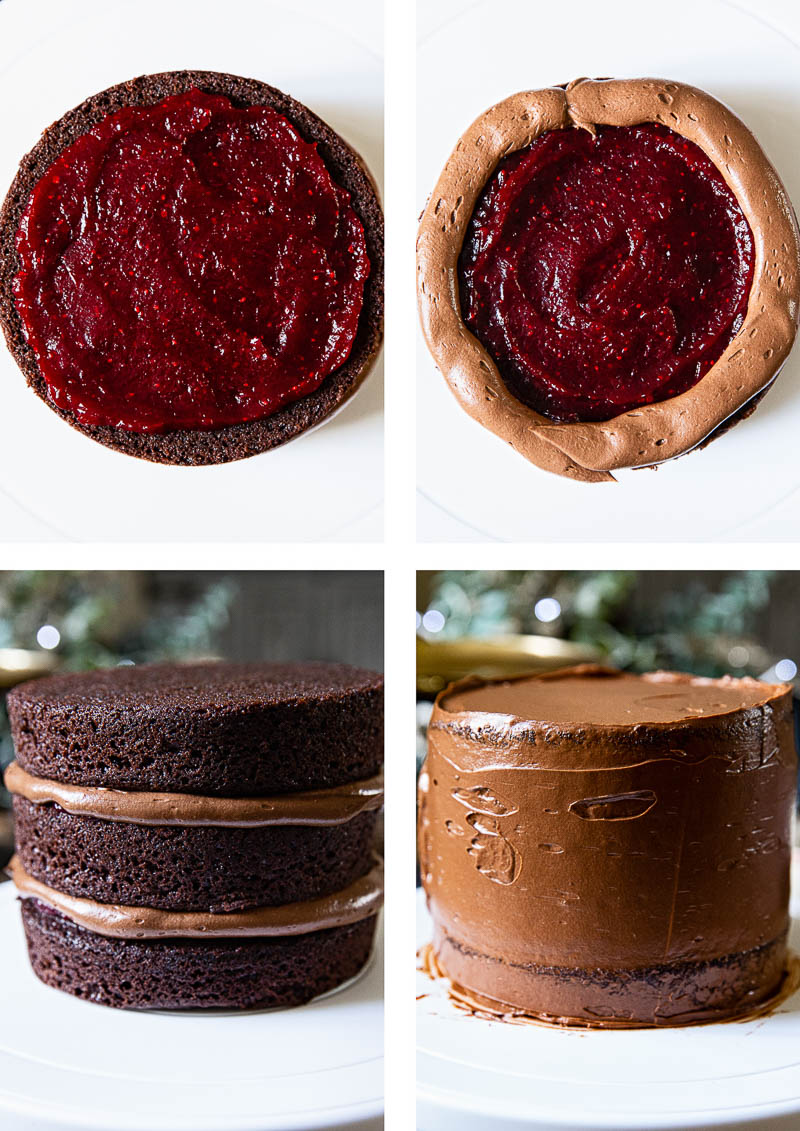 It's important to master a basic chocolate recipe as you can use it in a variety of ways. Remember that a good chocolate cake is simply a blank canvas for so much more.
You can change up the fillings and the icing and come up with so many different cakes. Your friends and family will not stop praising you for your creativity!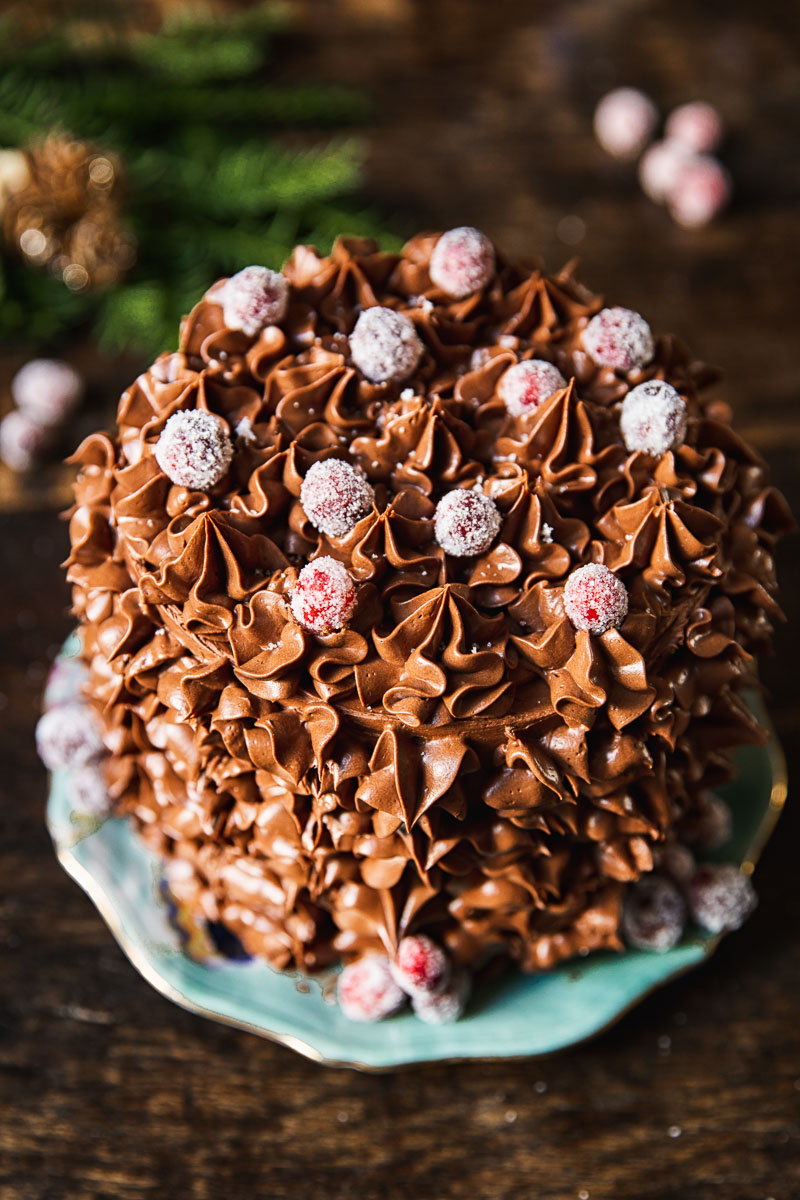 Easy cake decorating ideas
For those of you who are comfortable with a piping bag, use it to your advantage as it always gives a cake an air of sophistication and professionalism.
If you don't like using a piping bag, there are hundreds of ideas for decoration that will make your cake look gorgeous! Here are a few ideas from my own recipes: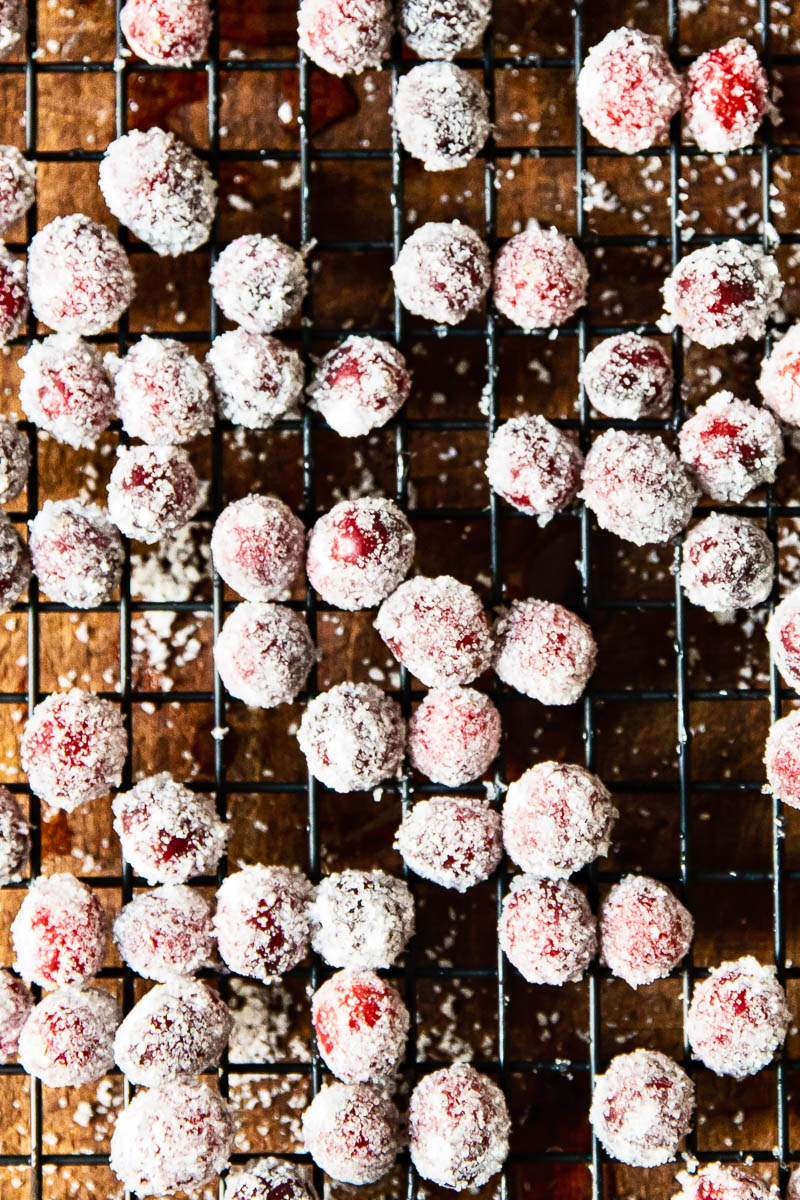 For my Christmas Chocolate Cake I used sugared cranberries to add a festive touch. They are so easy and quick to make and they look gorgeous!
You can use leftover sugared cranberries to decorate your festive cocktails or as candy. My kids loved them!
Top tip
A main reason why baking cake sponges fails is because the oven temperature is not what it should be. Ovens are not perfectly accurate, and can in some cases be wildly off with temperature. This does not make for good baking conditions!
I always recommend that an oven thermometer is used to make sure that you are baking at the right temperature. Take a look before the cake pans are put in the oven to make sure the temperature is what you expect it to be!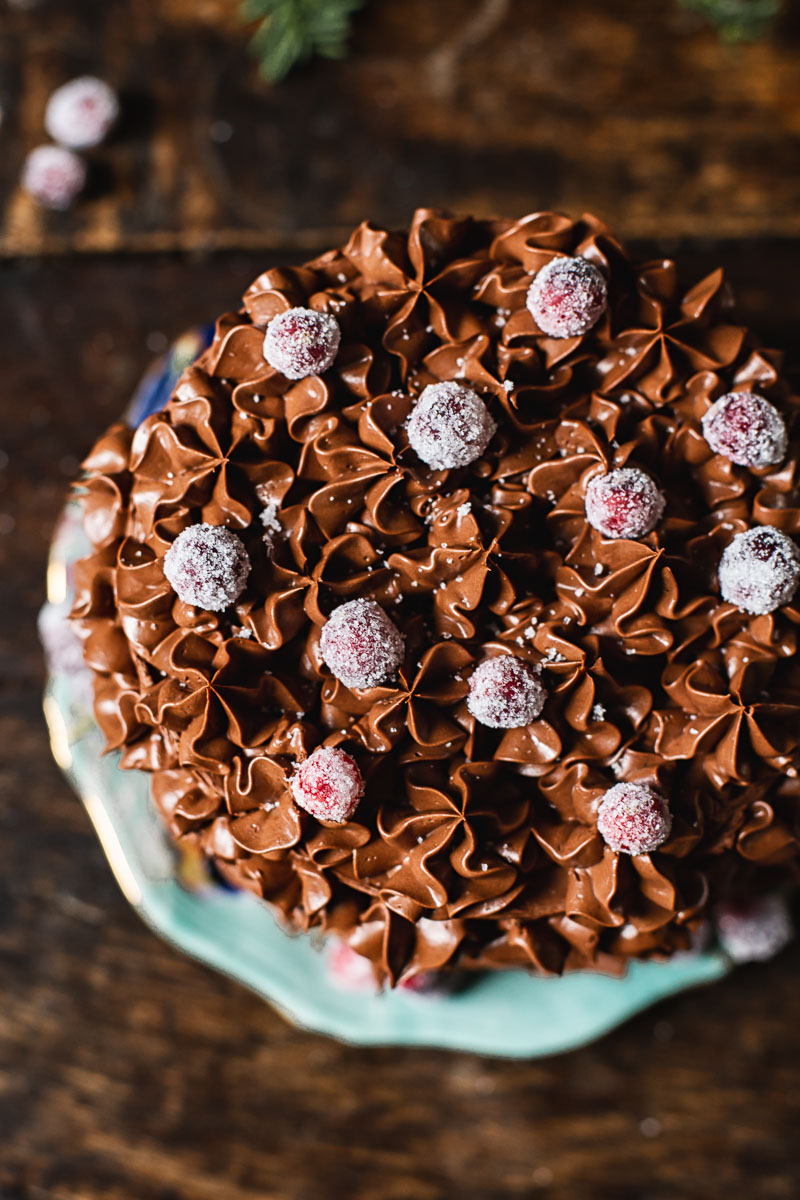 More stunning chocolate cake recipes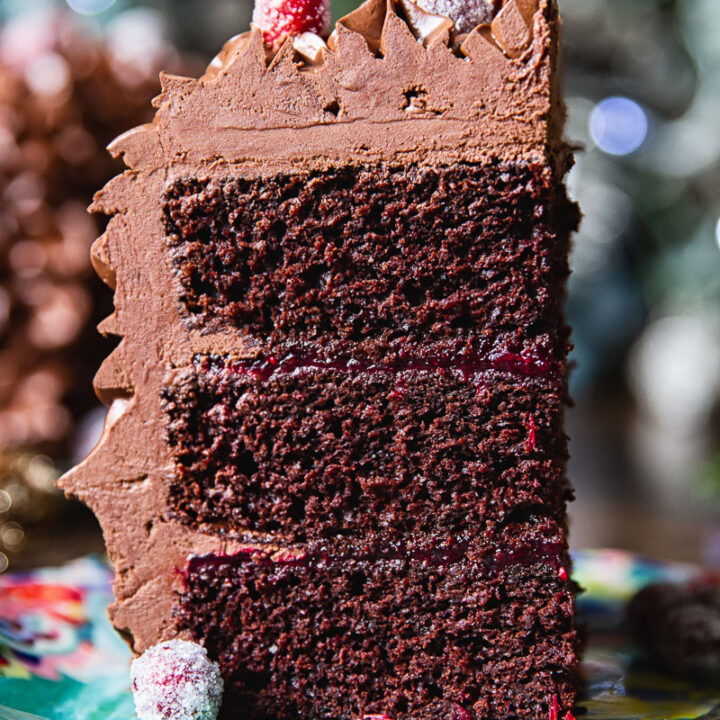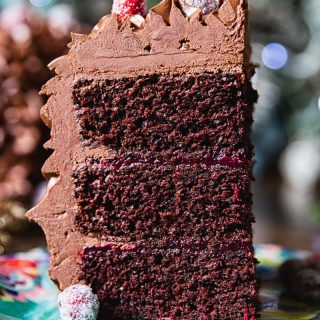 Christmas Chocolate Cake with Cranberries
This Christmas Chocolate Cake is a showstopper. Filled with cranberry compote and frosted with whipped chocolate ganache, it is irresistible!
Ingredients
For the sugared cranberries
½

cup

cup/50 g fresh cranberries

¼

cup

/70 ml water

½

cup

/ 50 g granulated sugar

divided
For the cake
1 ¾

cup

/220 g all purpose flour

¾

cup

/90 g cocoa powder

2

cups

/400 g granulated sugar

1 ½

tsp

baking powder

1 ½

tsp

baking soda

1

tsp

salt

2

eggs

large

1

cup

/250 ml whole milk

½

cup

/125 ml vegetable oil

2

tsp

vanilla
For the cranberry compote
2 ½

cups

/300g cranberries

fresh or frozen

½

cup

/100g granulated sugar

2

tbsp

water

4

tbsp

Port
For the whipped ganache
16

oz

/500g good quality dark chocolate

chopped

2 cups

cups

+tbsp/500ml heavy cream/double cream
Instructions
For the sugared cranberries
Combine half the sugar and water in a small saucepan and heat until the sugar is dissolved. Take off the heat and add the cranberries, shake the pan gently until the cranberries are well coated in the syrup. Remove from the pan with a slotted spoon and lay them out on a wire rack to dry for one hour. Then toss them with the remaining sugar.
For the cake
Preheat your oven to 350 F/180 C, butter and line 3 8″/20cm cake pans with parchment paper or spray with a cake release spray.

Mix together flour, sugar, cocoa, baking powder, baking soda and salt in a large bowl until combined. In a separate bowl mix eggs, milk, oil and vanilla. Add the wet ingredients to the dry ones and beat with an electric mixer until well incorporated.

Divide evenly among 3 pans and bake in the preheated oven for 25 minutes until a toothpick comes out clean. Bake 2 layers together and then the third one later if your oven isn't big enough to fit three cake pans.

Cool in the pans for 10 minutes, then remove cakes from the pans and cool completely on a wire rack.
For the cranberry compote
In a small saucepan combine the cranberries, sugar, water and port and cook on low heat until the mixture thickens and coats a spoon for about 10 minutes. Cool slightly and process in a food processor or blender until smooth. Set aside until needed. Alternatively, you can leave the cranberry compote chunky if you wish.
For the whipped ganache
Heat the heavy cream in a small saucepan but take it off the heat right before it boils and pour over chopped dark chocolate. Let it sit for 1-2 minutes then stir with a whisk until well blended.

Let the ganache cool, then whip with an electric mixer until it's the consistency of a buttercream and paler in colour. (The ganache will not whip when it's still warm. It needs to be slightly chilled to whip properly.)
To assemble the cake
Pipe a border of the whipped ganache around each cake layer and fill with the cranberry compote as shown in photos, stack on top of each other and cover the top and the sides with a thin layer of the whipped ganache. Let it chill for 15 minutes. Then cover with more ganache or pipe rosettes all over and decorate with sugared cranberries. Store the assembled cake in the refrigerator but take it out 30 minutes before serving to allow the cake and the ganache come to a room temperature for fuller flavour and desired consistency.
Notes
I recommend using the whipped ganache soon after it was whipped as it tends to harden, which will make it impossible to use a piping bag.
I used Wilton 1M closed star tip to decorate.
Nutrition
Calories:
900
kcal
Carbohydrates:
108
g
Protein:
11
g
Fat:
51
g
Saturated Fat:
25
g
Polyunsaturated Fat:
8
g
Monounsaturated Fat:
13
g
Trans Fat:
0.1
g
Cholesterol:
91
mg
Sodium:
445
mg
Potassium:
647
mg
Fiber:
9
g
Sugar:
75
g
Vitamin A:
822
IU
Vitamin C:
4
mg
Calcium:
141
mg
Iron:
8
mg