This Frostbitten raspberry cake is the cake for any celebration in any season!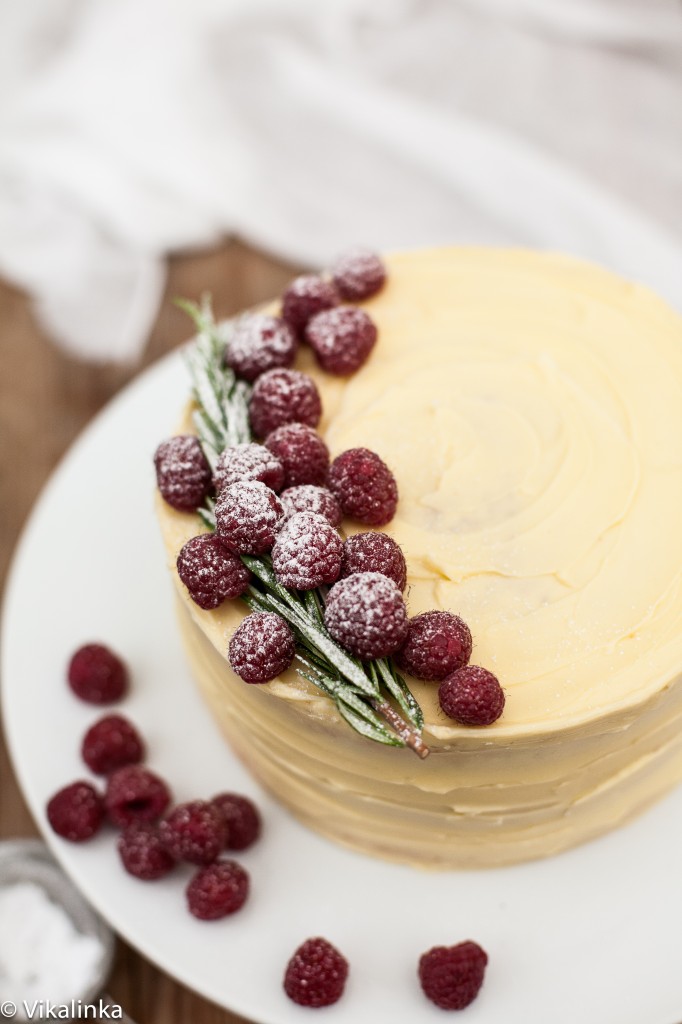 What is Frostbitten Raspberry Cake?
I love all cakes I bake but some more than others. This raspberry cake is off the scale magnificent! I can't even begin to describe the greatness of this vanilla sponge cake filled with mascarpone and raspberry compote and frosted with white chocolate buttercream. It's glorious.
After I took the first bite I was not at all resentful that I'd spent a good portion of Christmas Eve fussing over this raspberry cake to get it done in time for my birthday on Christmas.
I have to apologise for the lack of process pictures as this cake was made in the evening with no light available to take any decent pictures. I did make up for it in taking loads of the "final result" photos.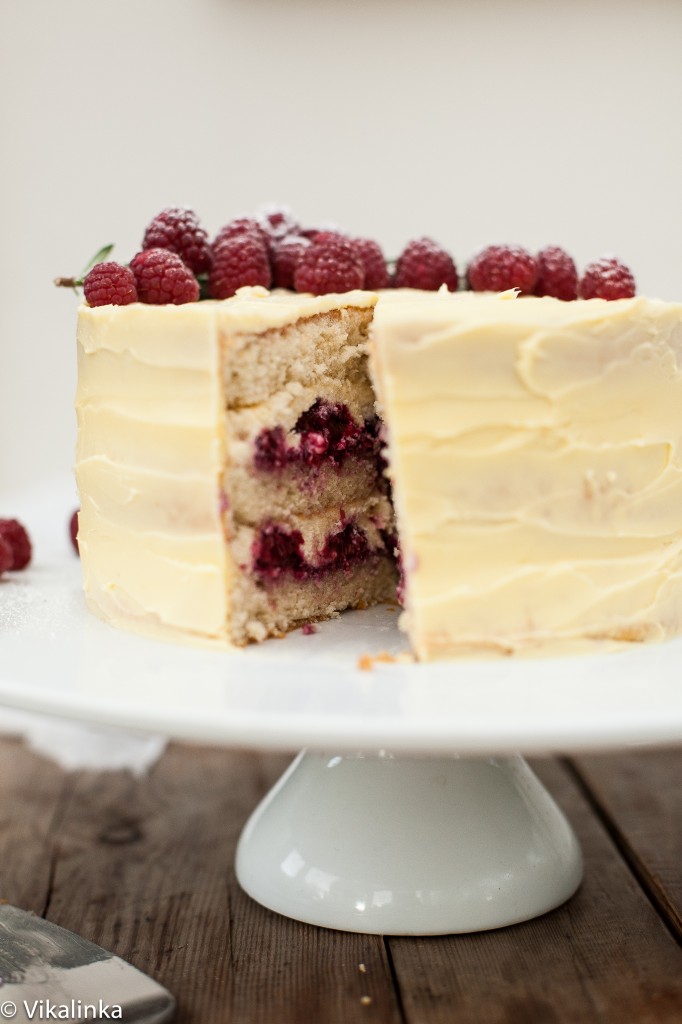 I like baking my own birthday cakes, partially because I am picky and won't eat just any cake and it's difficult to get a good cake on Christmas Day, and also because it's just fun for me. Last year I baked Meringue Mascarpone Cake and LOVED it!
I agonised over what cake to bake this Christmas birthday for ages. I have hundreds of cakes pinned on Pinterest that are patiently waiting to appear on my table so zeroing in on "the one" is nearly impossible!
Making the decision was difficult, so even when I had all my ingredients out I was unsure on the details!
In the end I had to draw on my Russian roots and the cake I made was reminiscent of the ones I ate as a child baked by my dad.
That's right, he was the cake maker in the family-an engineer by day and a baker and photographer by night, especially on holidays and special occasions. I guess this hobby does come from somewhere!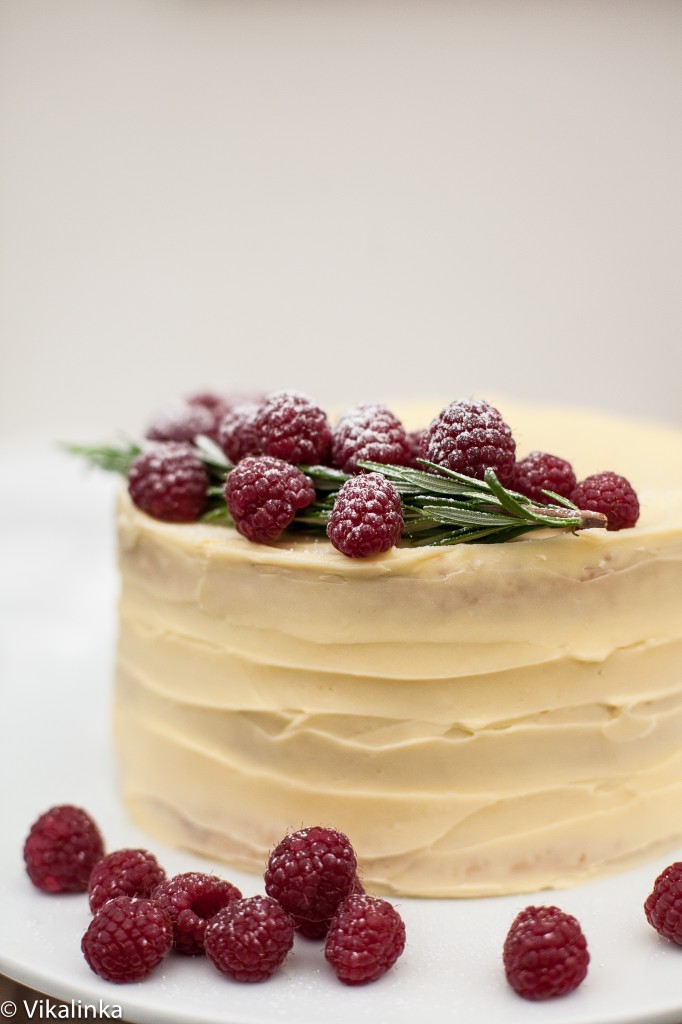 The recipe for this raspberry cake is a mix of things: the sponge is Russian "biskvit"- my dad's recipe, the raspberry mascarpone filling was inspired by Sweetapolita.
And finally the white chocolate buttercream frosting was my own invention/experiment that tasted very similar to my dad's frosting.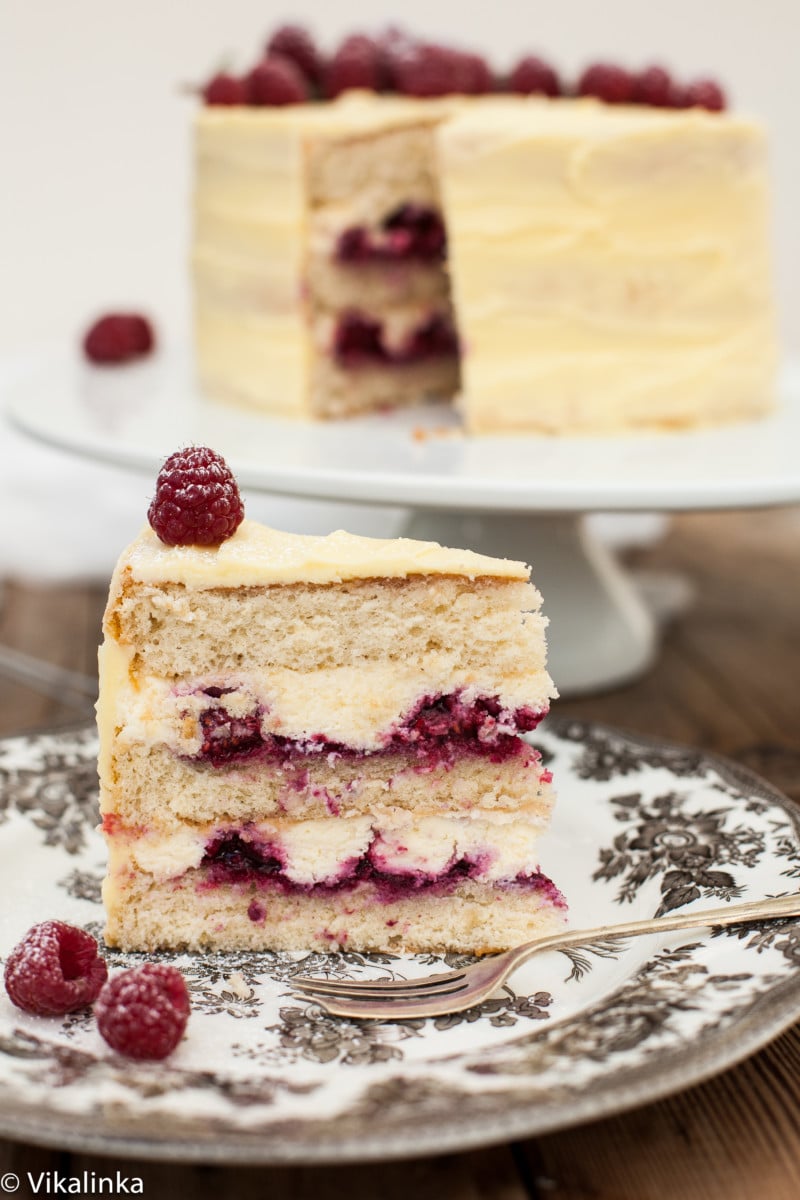 My children declared it "THE BEST RASPBERRY CAKE EVER" and I agreed. Make it for your New Year's celebration and see for yourself.
It looks so wintery!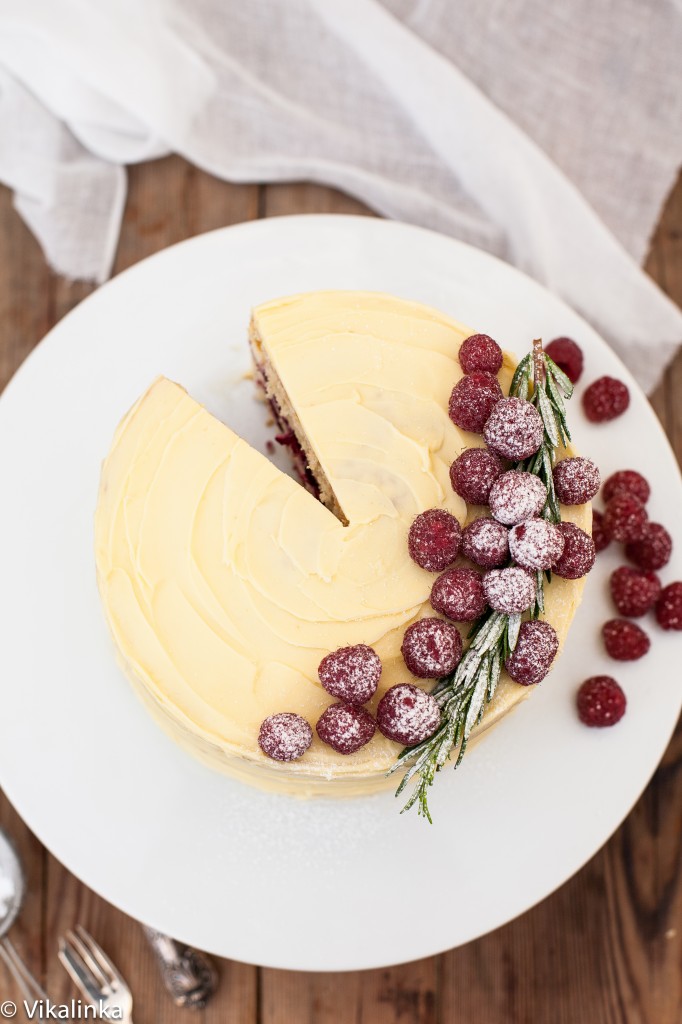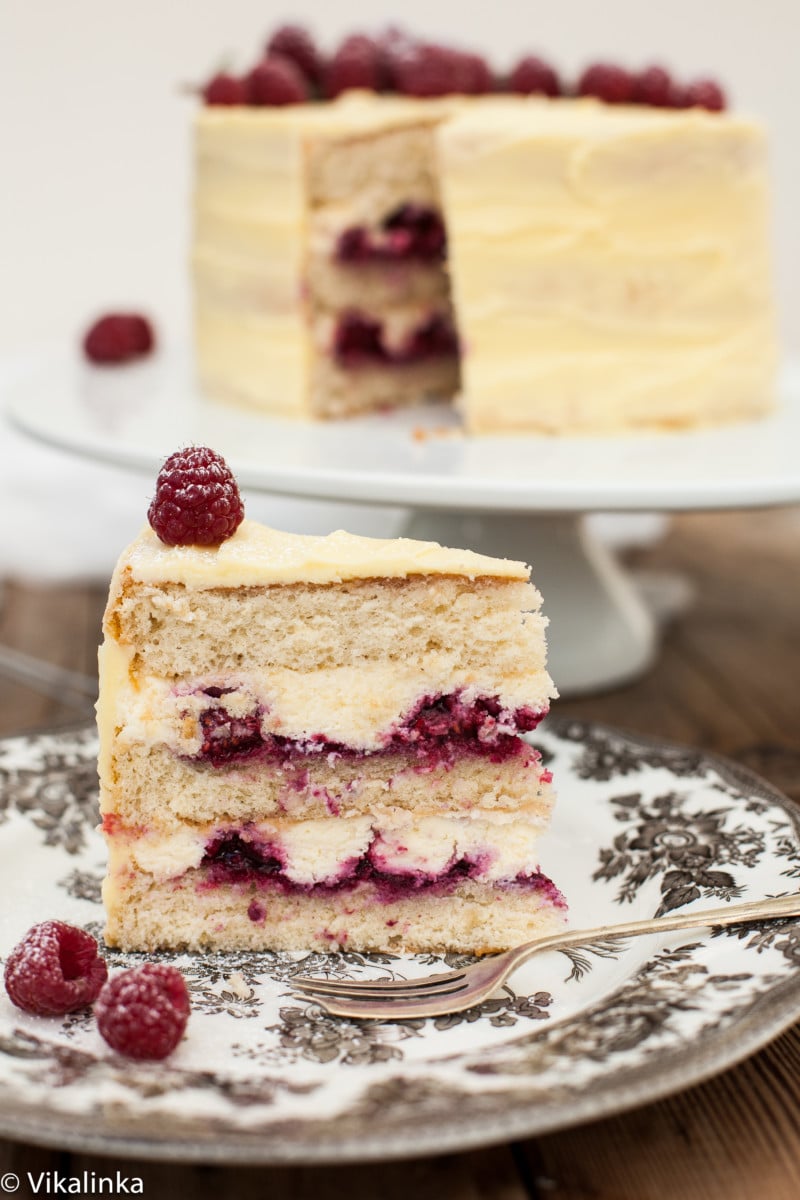 Ingredients
For the Cake
Eggs

room temperature- 5 large

Sugar- 1 cup

Vanilla- 2 tsp.

Flour- 1 cup
For the Syrup (for soaking the sponge layers)
Raspberry liqueur- ¼ cup

Simple syrup-¼ cup
For the Mascarpone Cream
Mascarpone- 250 gr/ 1 cup

Whipping Cream- 250 ml/ 1 cup

Icing Sugar- ¼ cup

Gelatine- 2 tsp.

Water- 2 tbsp.

Vanilla - 2 tsp.
For the Raspberry Compote
Raspberries

fresh or frozen (I used frozen)-1 ½ cups

Sugar- ½ cup

Water-2 tbsp.

Fresh Raspberries- 1 cup
For the White Chocolate Buttercream
White Chocolate

chopped (not chocolate chips)- 5 oz/150 gr

Whipping/Double Cream- ¼ cup

Unsalted Butter

softened- 4 tbsp.
For decoration
Rosemary sprig-1

Raspberries- ¼ cup

Icing sugar for dusting
Instructions
For the Cake
Preheat the oven to 350F/180C.

Grease 3 8" cake pans and line them with parchment paper. (Russian sponge is very delicate so it's important to use parchment paper for easy removal.)

Crack 5 eggs at room temperature to a bowl of a stand mixer and add sugar and vanilla, beat at high speed for 5 minutes until the mixture is pale and triples in volume.

Fold in flour through a sifter in 5-6 additions blending it in gently after each addition. Your goal is to keep the volume of the egg mixture so be very careful in this step of the process.

Divide your cake batter among 3 pans and bake for 25-30 minutes until cake tester or tooth pick comes out clean and the cakes have risen to the top of the pan. (I baked 2 layers and then 1 later).

Cool for 10 minutes and then run a knife around the edges of your pans to release the cakes and flip them over on a wire rack to cool completely.

(After your cakes have cooled you can individually wrap them in plastic wrap for later use. You can bake you sponge layers a day ahead.)
For Raspberry Compote
Combine 1 ½ cups of raspberries and sugar with water in a small saucepan and cook on low heat until thick and mixture coats the back of a spoon. It will take about 15 minutes.

Remove from heat and process in a food processor or a blender until smooth.

Push through a fine sieve to get rid of the seeds.

Combine the compote with fresh raspberries and set aside.
For the Mascarpone Cream
Mix gelatine with water in a small bowl. Let it sit for 5 minutes until it goes spongy.

Heat the gelatine mixture in a microwave for 10 seconds until runny and smooth.

Combine mascarpone, whipping cream, sugar and vanilla in a bowl of a stand mixer.

Start whipping on medium speed until combined.

With the motor of a stand mixer still running drizzle your gelatine mixture over the cream and whip for 2-3 minutes until well combined.
For the Syrup
Combine raspberry liqueur with simple syrup (water and sugar mixed in equal parts).

Drizzle over the cake layers. (Russian sponge really benefits from being drizzled with a flavoured syrup since there is no fat mixed into the batter and it can taste on the dry side without the syrup.)
How to assemble the cake
Load your mascarpone cream in a large piping bag with a plain round tip.

Pipe a border around the first drizzled with syrup layer, it will keep your raspberry compote from leaking out of the sides.

Fill with half of your raspberry compote. ( It won't cover the entire layer, the berries will be spread sparsely.)

Then pipe in the mascarpone cream in the empty spaces and smooth it out with a spatula. You shouldn't have any gaps.

Top with another layer and repeat the process.

Finish with the third layer.
For the White Chocolate Buttercream
Heat ¼ cream in a saucepan until it just simmers but not boiling.

Take off the heat and pour over chopped white chocolate in a medium sized bowl.

Let it sit for a couple of minutes and then stir until chocolate is melted into the cream.

Cool for 10 minutes and then start whipping in a stand mixer or with a hand mixer. (Hand mixer works better here because of the small amount).

Mix for 10 minutes until light and fluffy, then start adding softened butter by a tablespoon, mix well until entirely incorporated into the frosting after each addition. (You will have enough frosting for a thin layer around the cake. If you like more frosting on your cake simply double the recipe but it will make a very sweet cake.)

Spread ½ of the buttercream over the cake and let it chill in the fridge for 20 minutes.

Coat your chilled cake with the other half of the frosting and decorate with rosemary and raspberries.