This Cranberry Christmas Cake consists of citrus flavoured sponge studded with fresh cranberries and iced with fluffy cream cheese frosting with a light flavour of orange. Easy to follow instructions and the right tools will set you up for success in the kitchen this Christmas season.
For another cranberry dessert, check out my Christmas Chocolate Cake with Cranberries for a chocolate lover in your family.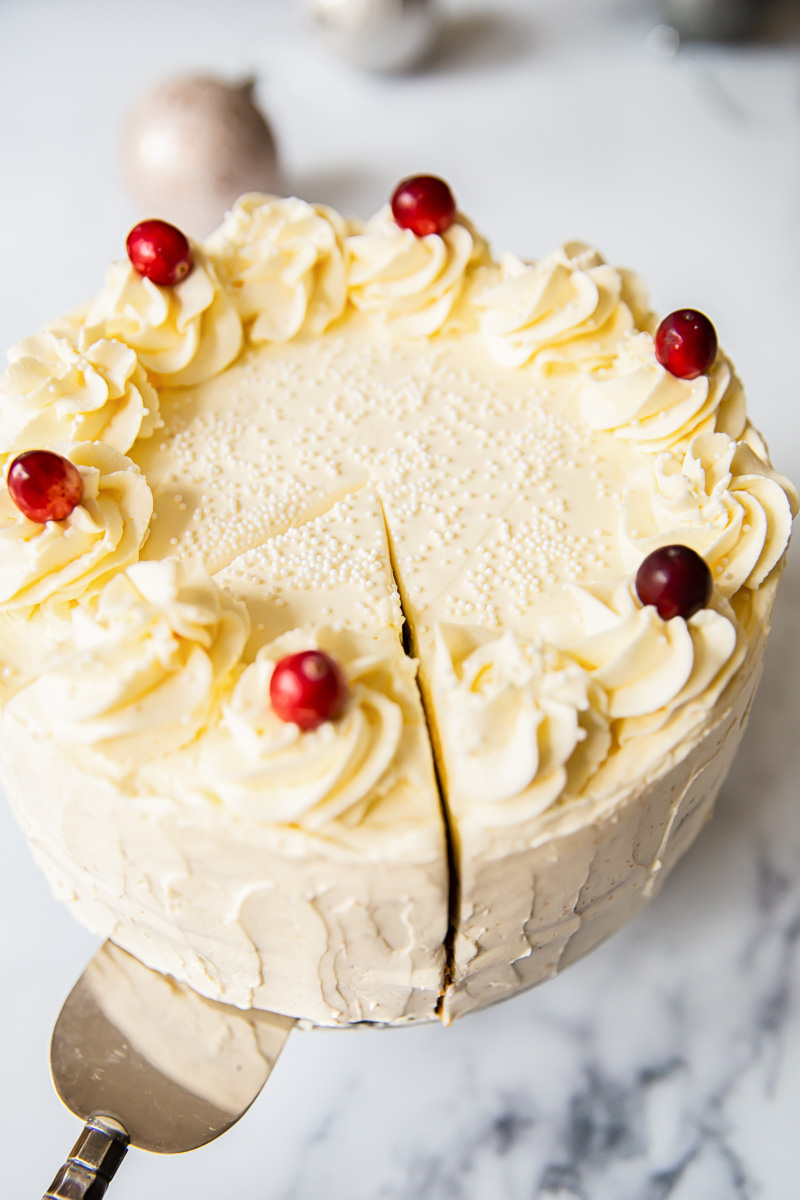 (This post is brought to you by Breville. Thank you for supporting Vikalinka kitchen!)
It's always incredibly fun to open a Christmas baking season with a cake that looks like a snowflake itself! It doesn't hurt when it tastes light, flavourful and delightfully sweet with each mouthful.
My cranberry cake covered with orange flavoured cream cheese frosting is all that and more. The recipe for this cake is very familiar. It consists of a classic British sponge with a handful of fresh cranberries folded in for a fresh and tangy pop in each bite. Cranberries provide a much needed balance for the sweetness of cream cheese icing the cake is wrapped in.
The sponge itself is so delicate and fluffy we found it a bit challenging to slice it cleanly. The texture was so light!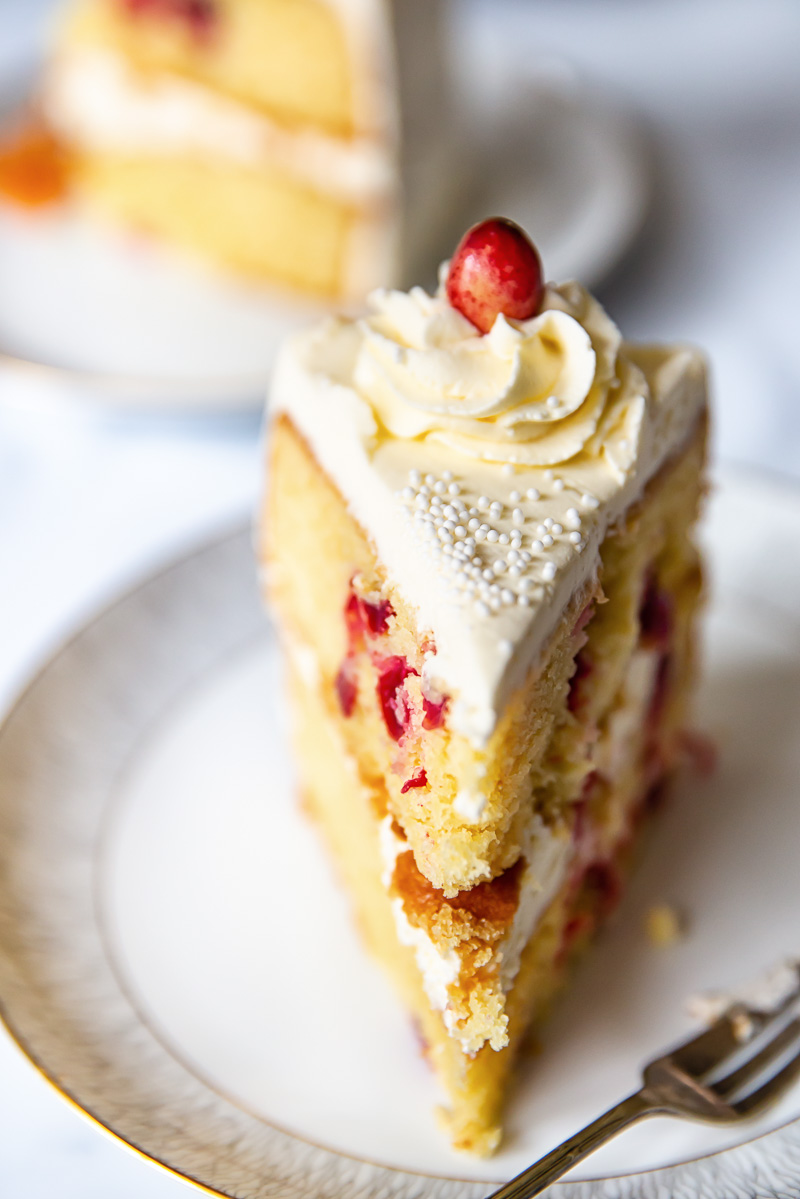 How to make a perfect sponge cake
I don't know about you but I always get slightly nervous before I whip up batter for a proper sponge. It feels like every batch is different and has a mind of its own. I always follow my recipes with precision as I know too well that baking is a science. There is little room for improvisation.
Proportions have to be maintained. Mixing, whipping and folding techniques must be executed perfectly each time. Yet mistakes happen, and each sponge is slightly different. It is life but it sure helps when we have proper tools that help us and make us kitchen heroes in our family's eyes! Who is with me?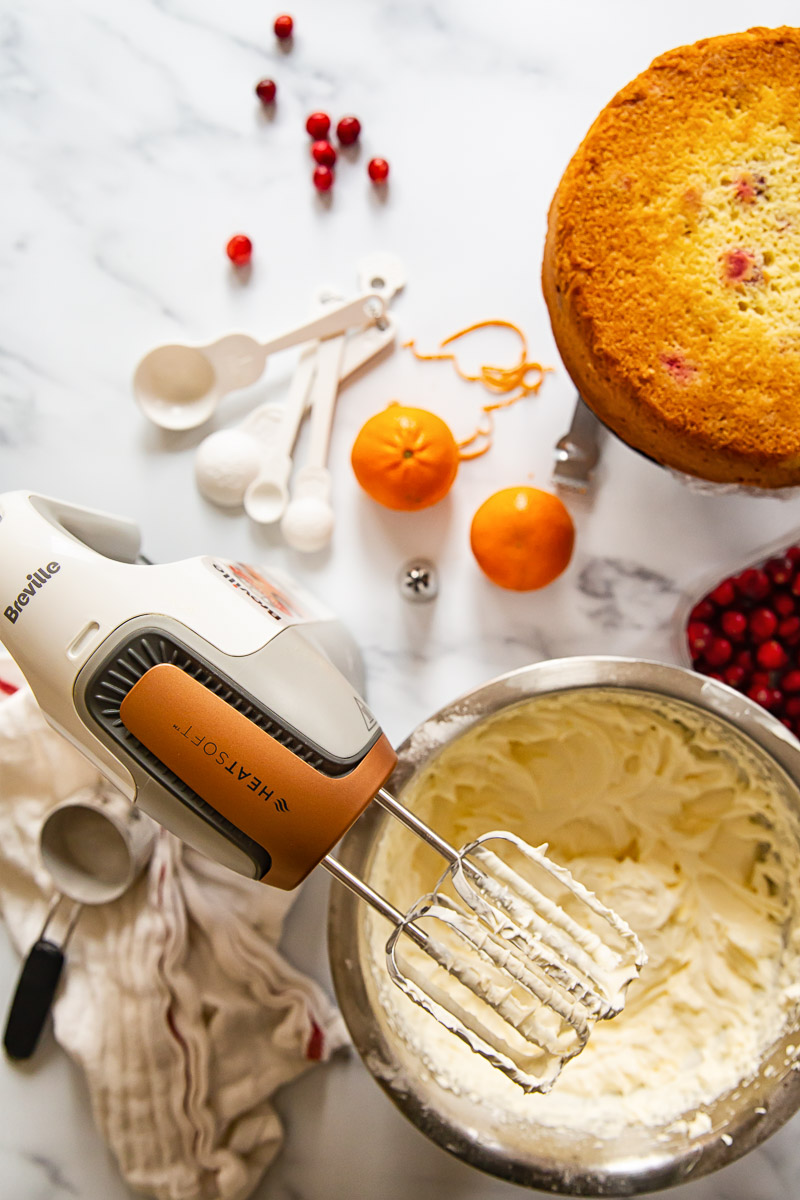 To make this cranberry cake I used the new Breville HeatSoft™ Hand Mixer. It looks pretty ordinary at first glance, however there is one handy feature that makes it quite special. There is a button you can push that activates a fan that blows soft heat and allows for the butter to be creamed within seconds!
No need to take your butter out to soften hours beforehand. This feature is for all spontaneous bakers out there! I have to admit I was sceptical at first as it seemed a bit gimmicky to me. But it worked so well and produced such great results, I quickly became a convert. In short.
Key Points about Breville HeatSoft™ Hand Mixer
Warms up and creams butter 12 times faster for fluffier cakes! Yay!
Powerful motor inside with 7 speed settings
Comes with a clear plastic storage, so no more loose attachments all over the kitchen drawers.
It is slightly on a heavier side as it houses a very powerful mixer.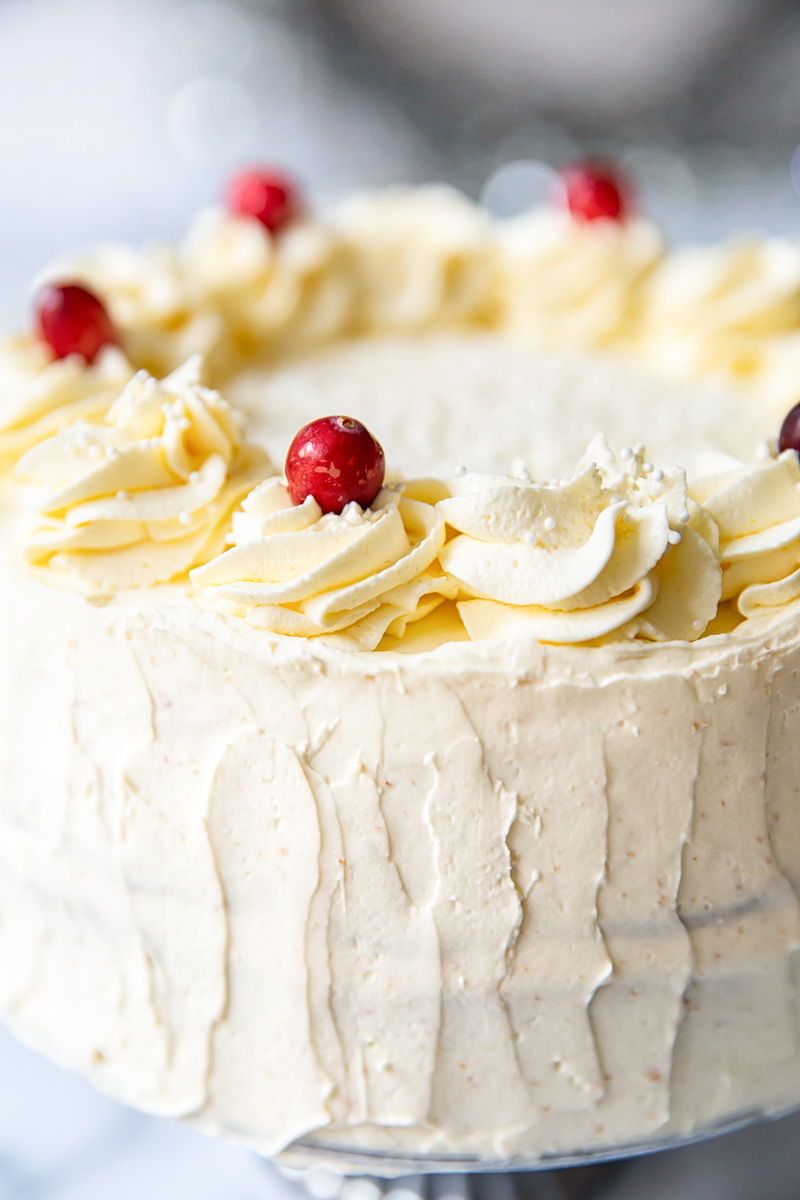 Recipe Tips and Notes
The sponge recipe I come back to over and over again is classic. It's the one that is used for Victoria Sponge Cake. What is so unique about this recipe is that it uses equal amounts of butter, flour and sugar. 250g of each to be exact.
The key to making the fluffiest sponge cake is in the mixing. The batter should be so light that it almost has the consistency of sour cream. You shouldn't be able to feel sugar granules in the prepared batter, so use caster sugar aka superfine sugar for best results.
I also advise adding eggs one at a time then thoroughly whipping them into the batter. The beating incorporates air into the batter, which in turn creates a very soft and light sponge. That is why using an electric hand mixer is very helpful and quite important for success.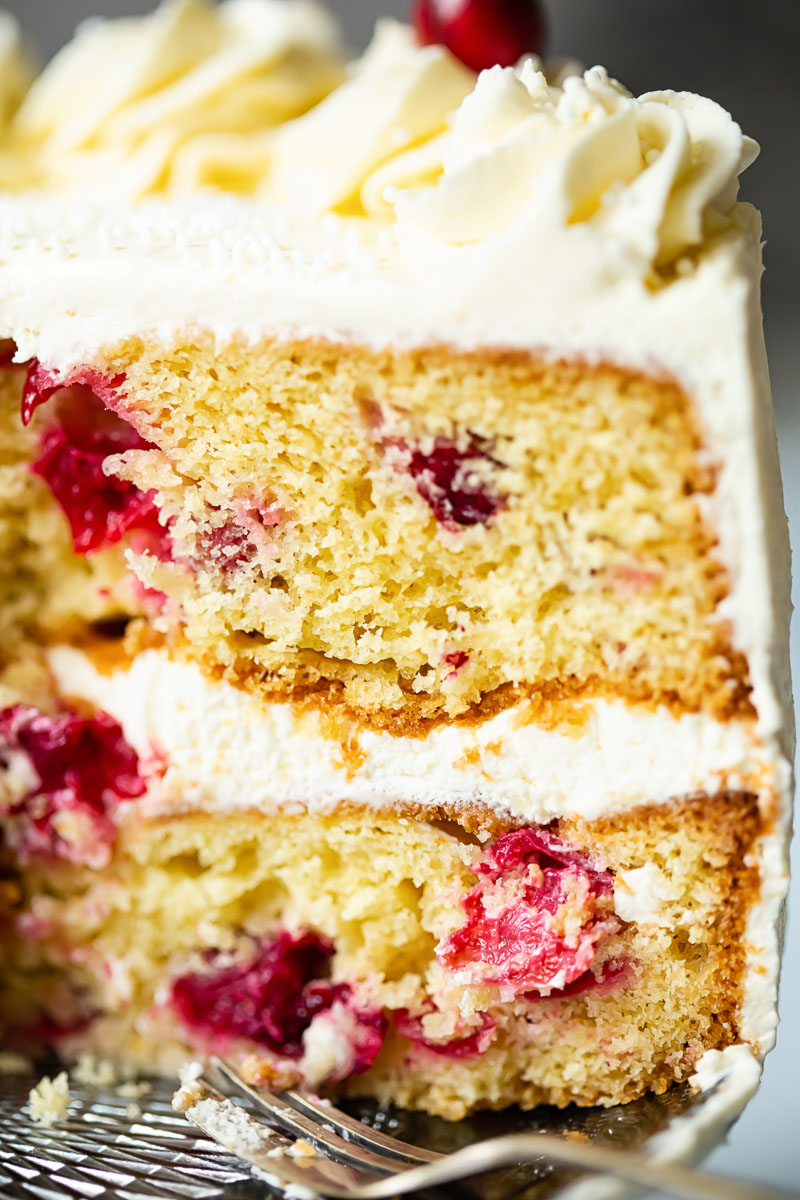 No butter cream cheese frosting
This cream cheese frosting is a favourite with my children. It's not too sweet and not too heavy since it's basically a combination of cream cheese, double cream (whipping cream with at least 36% fat content in the US), icing sugar and flavourings of your choice.
For this cranberry cake I flavoured my frosting with the juice of one clementine and 1 tablespoon of Cointreau, orange flavoured liqueur.
The method for this frosting is dead simple. Simply combine all ingredients in a bowl and whip until stiff. In the US whipping cream is lower in fat than here in the UK, so I would recommend whipping the cream cheese with icing sugar lightly and whipping cream separately. Then fold the whipping cream into the cream cheese. This will prevent cream cheese from splitting.
Can I use frozen cranberries for this cake?
Yes you can. No need to defrost them first.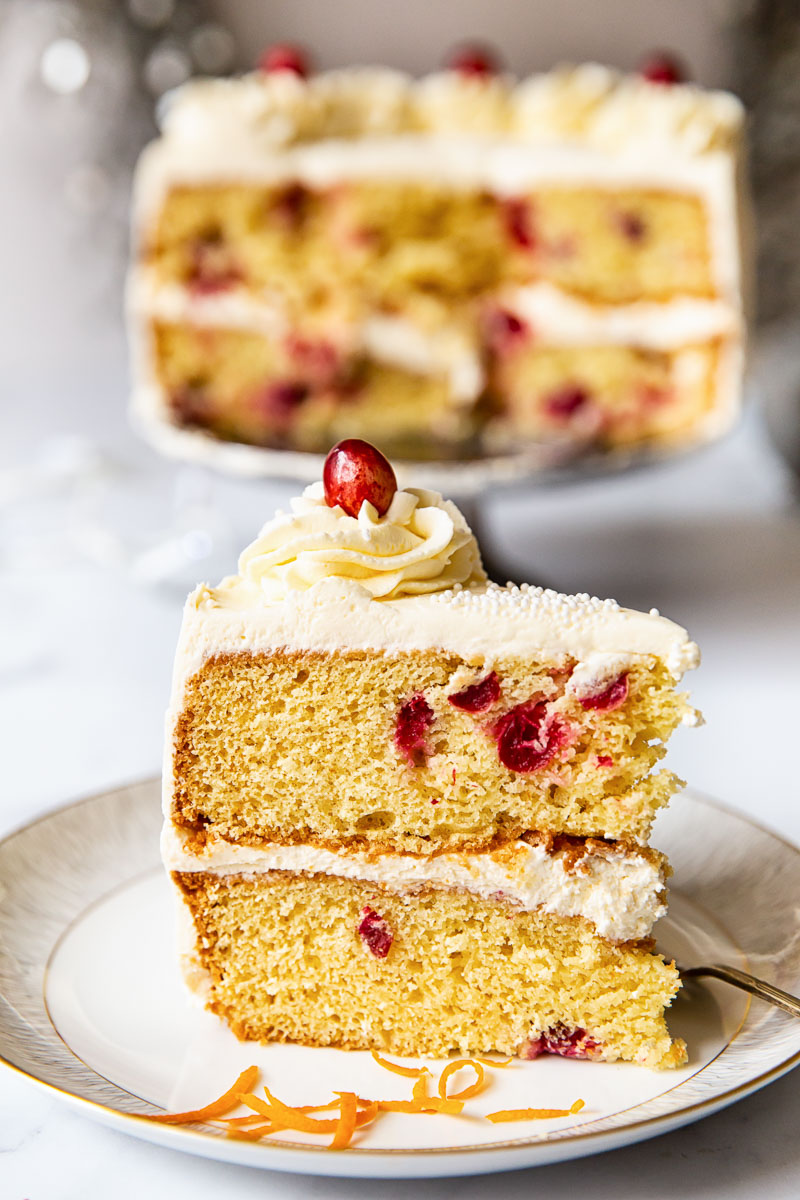 More Christmas Cake recipes to try: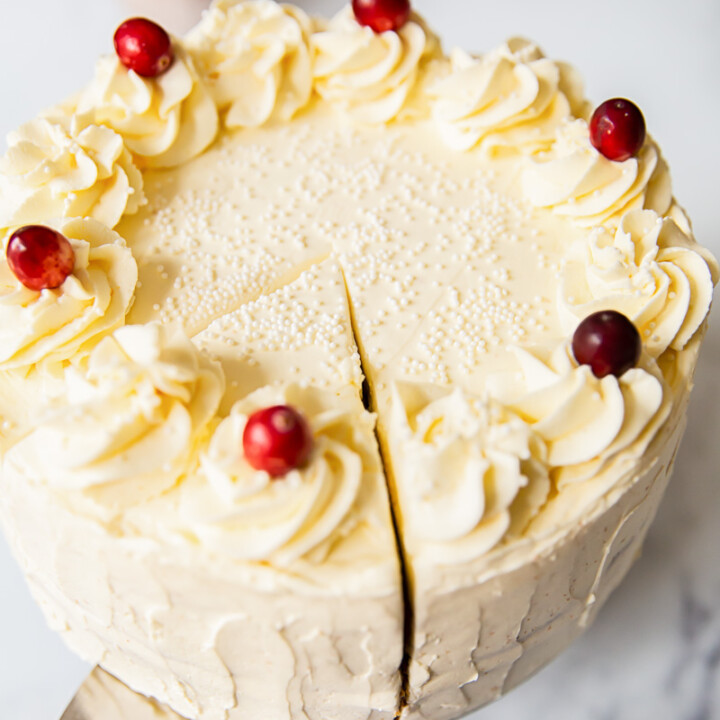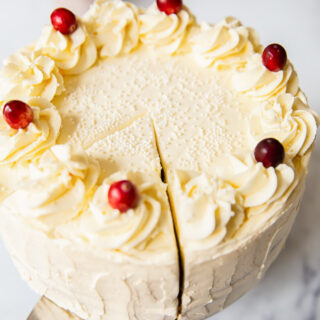 Cranberry Christmas Cake with Orange Cream Cheese Frosting
This Cranberry Christmas Cake consists of citrus flavoured sponge studded with fresh cranberries and iced with fluffy cream cheese frosting with a light flavour of orange.
Ingredients
For the cranberry cake
250g/1cup

butter, unsalted

250g/1 ⅓cup

caster sugar/superfine sugar

4

eggs, large

1

tsp

vanilla

zest of 1 clementine or mandarin orange

250g/1 ¾cup

all purpose flour

2 ½

tsp

baking powder

½

tsp

bicarbonate of soda/baking soda

½

tsp

salt

100g/1cup

fresh cranberries plus a handful for decorating
Orange Cream Cheese Frosting
400g/2cups

cream cheese, full fat

300 ml/1 ¼ cup

double cream/whipping cream 36% fat

65g/1/2 cup

icing sugar/powdered sugar

1

tbsp

fresh orange juice

1

tbsp

orange flavoured liqueur such as Cointreau or Grand Marnier
Instructions
For the cranberry cake
Preheat the oven to 180C/350F. Butter two 8 inch baking pans and set aside or spray them with a cake release spray.

In a large mixing bowl cream softened butter with sugar until light and fluffy with an electric hand mixer. (I used Breville HeatSoft™ Hand Mixer) Start adding eggs one by one, beating them until well combined after each addition for about a minute. Add vanilla and orange zest.

Combine sifted flour, baking soda and baking powder and salt in a separate bowl. Add dry ingredients to the wet ingredients, mix well, stopping the mixer and scraping sides and the bottom of the bowl, then fold in fresh cranberries. Divide the batter between two pans. Weigh them to get exactly the same size cakes.

Bake in the preheated oven for 30-35 minutes or until cake tester comes out clean. Remove from the oven and set on a wire rack to cool for 20 minutes, then remove from the pan and cool completely.
For the orange cream cheese frosting
In a mixing bowl combine the full fat cream cheese, double/whipping cream, icing sugar, orange juice and Cointreau and whip with an electric mixer until stiff. This will take between 3-4 minutes.

For the US readers: Whip room temperature cream cheese with powdered sugar, orange juice and Cointreau until light and fluffy. Whip the whipping cream separately. Fold the whipping cream into the cream cheese mixture until well combined.
To assemble the cake
Set one sponge on a cake stand and spread ¼ of the cream cheese frosting on it, then top with the second layer. Cover the top and sides with cream cheese frosting using an offset spatula. Reserving ½ cup of the frosting to pipe rosettes on top if desired. Or finish the cake with pretty swirls using the back of a spoon. Top with sprinkles and fresh cranberries.
Notes
You can bake the sponges one day in advance. Cool them, then wrap in cling film until ready to assemble the cake. Store the assembled cake in a refrigerator and take out 20 minutes before serving. Refrigerate leftovers.
Nutrition
Calories:
670
kcal
Carbohydrates:
56
g
Protein:
8
g
Fat:
47
g
Saturated Fat:
28
g
Cholesterol:
204
mg
Sodium:
516
mg
Potassium:
244
mg
Fiber:
1
g
Sugar:
34
g
Vitamin A:
1704
IU
Vitamin C:
2
mg
Calcium:
122
mg
Iron:
2
mg