This Raffaello Cheesecake is a perfect piece of indulgence we all need once in a while!
If you are in the mood for a no-bake cheesecake, take a look at our Blood Orange No Bake Cheesecake. So easy and delicious!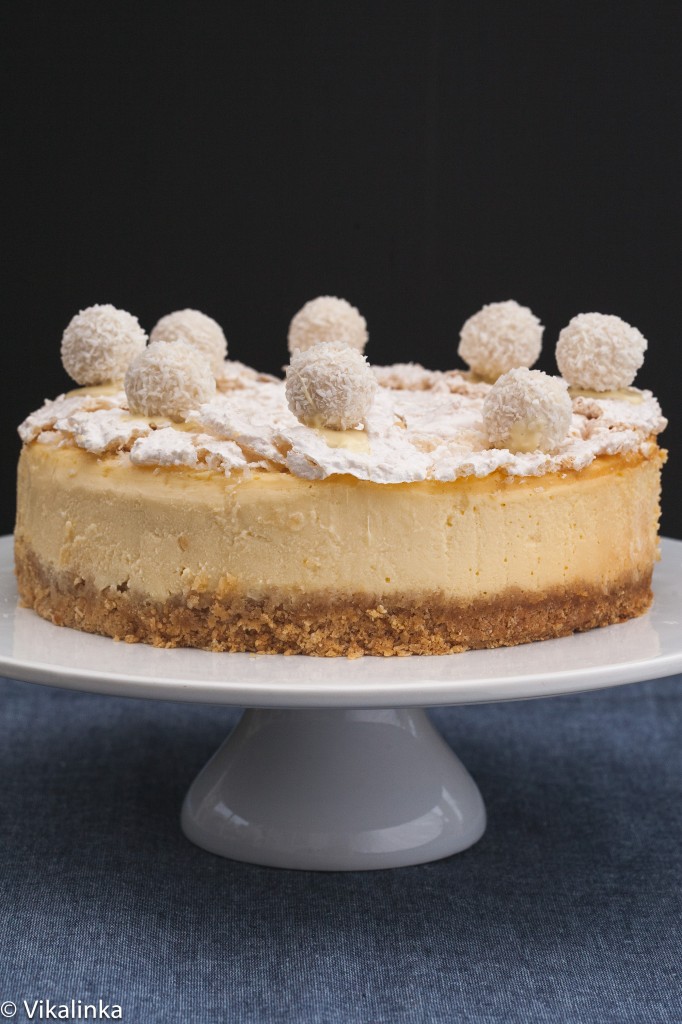 I've been obsessing over this Raffaello cheesecake ever since I first saw it on this wonderful Polish blog. I was debating with myself whether to make it or not since I haven't come up with the recipe (although I wish I did!).
However, I just couldn't stop thinking about this coconut and almond infused cheesecake that sits atop of a coconut wafer crust and crowned with delicately crunchy coconut meringue.
In other words, this cheesecake tastes exactly like my favourite Italian chocolates: Raffaello by Ferrero.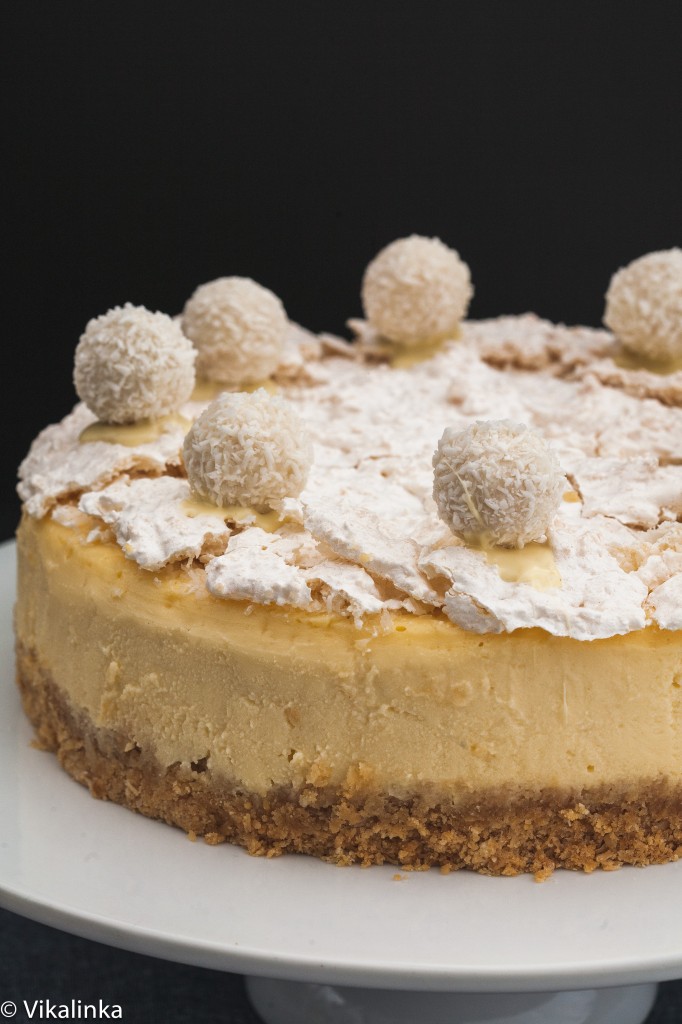 And since we are going to be in swimsuits on a sunny Italian beach in 4 weeks this cheesecake is my glorious farewell to all things sweet, fatty and cheesy, at least for a while.
Diet starts tomorrow, no seriously I mean it. So if you are in the same boat and are looking for some delicious and healthy meals, do come back!
I figured Easter would be my last chance to indulge so I went for it. No regrets, whatsoever! This Raffaello cheesecake is the boss of all cheesecakes.
The filling is half cream cheese (I used full fat tvorog aka farmer's cheese) and half mascarpone plus plethora of eggs and coconut cream.
Even as I am describing this epitome of a cheesecake I just want to start singing for joy but I will spare your ears. Besides, my singing won't convince you of the glorious nature of this cheesecake, but hopefully this photo will.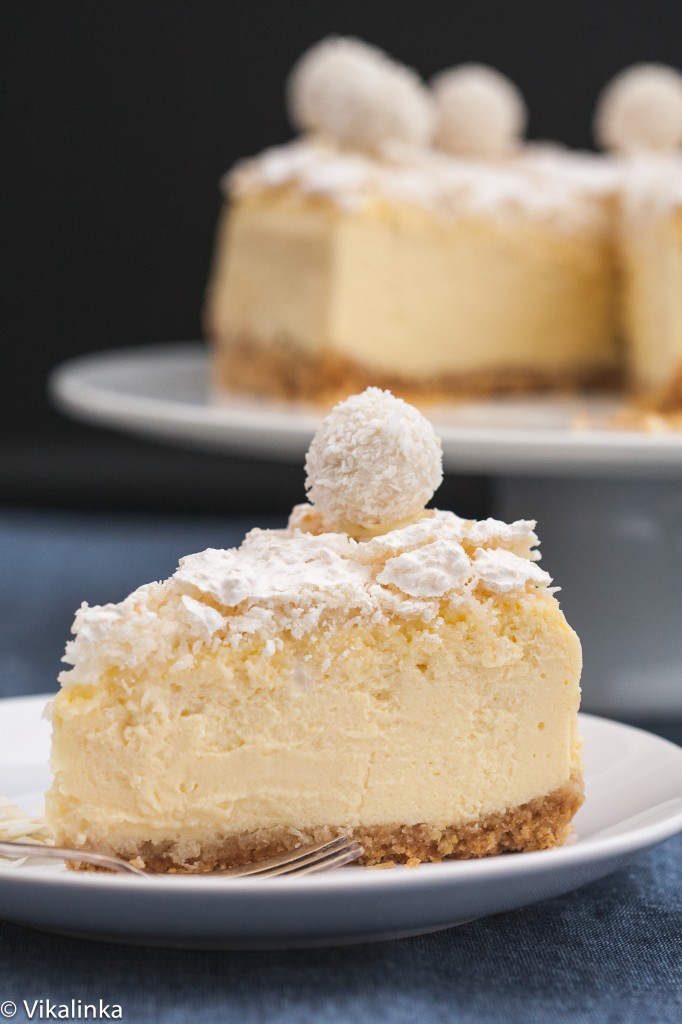 In other words, I am trying to say that if you love coconut and cheesecake this Raffaello cheesecake is made for you.
It's the lightest and creamiest cheesecake I've ever had with delicate flavours of coconut and almond. The top meringue layer blows it out of the park.
End of story.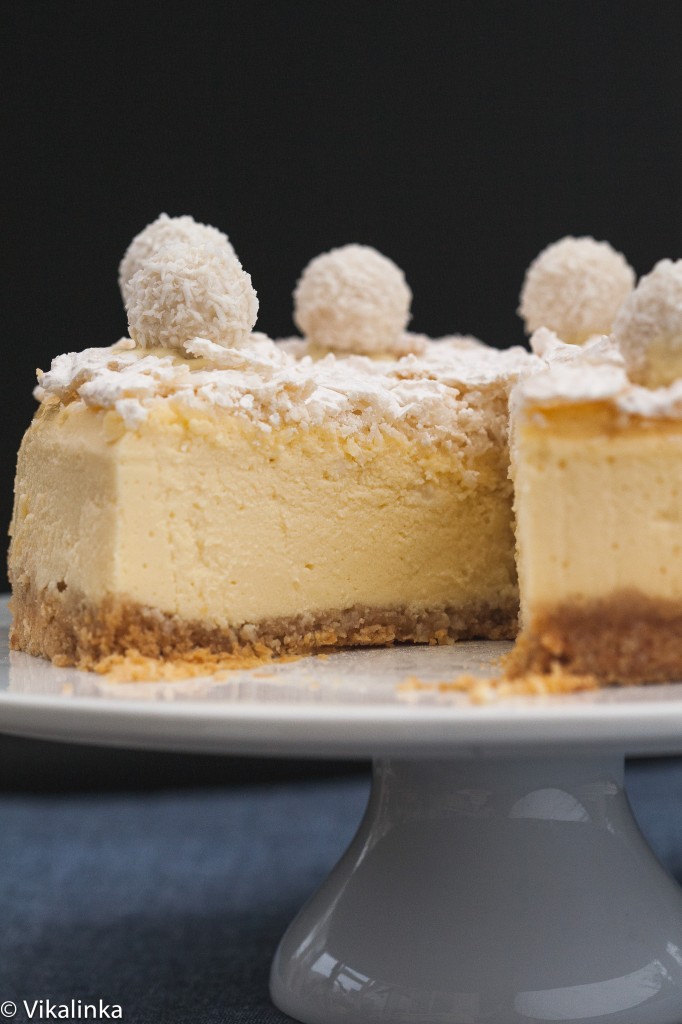 More Favourite Cheesecake Recipes: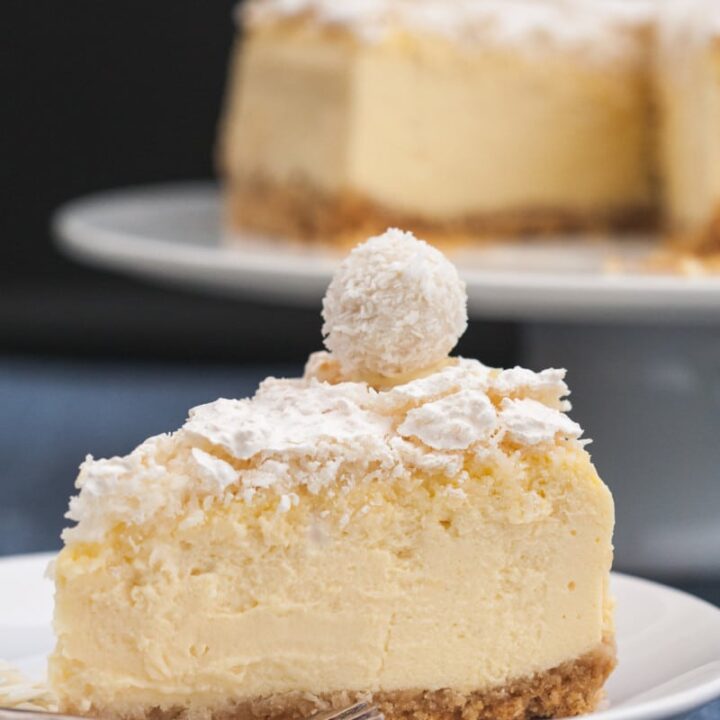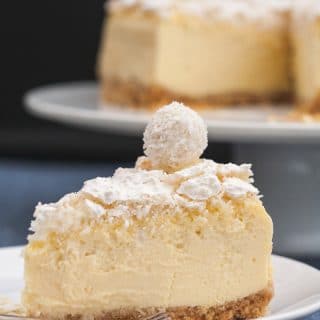 Raffaello Cheesecake
Coconut and almond flavoured cheesecake.
Ingredients
For the base
200g/2 ½ cups

cream filled wafers

crushed

5

tbsp

ground almonds

6

tbsp

desiccated coconut

30g/2 tbsp

butter

melted
For the filling
500

g/16oz

cream cheese or farmer's cheese

500

g/16oz

mascarpone

3

tbsp

corn starch

300g/1 ½ cups

sugar

1

tsp

vanilla

1

tsp

almond flavouring

5

eggs

2

eggs yolks

egg whites reserved for the meringue

400g/1 ¾ cup

coconut milk

if separated use the thick creamy part only, discard water
For the meringue
2

egg whites

at room temperature

100g/1/2 cup

sugar

60g/1 cup

desiccated coconut
For decorating
30g/1/4 cup

melted white chocolate

8

Raffaello chocolates
Instructions
Preheat the oven to 350F/180C

Process wafers in a food processor with ground almonds until they resemble bread crumbs.

In a medium bowl combine the crumbs with melted butter and desiccated coconut and press into a 21cm/8" or 9" springform pan. Set aside.

In a food processor blend farmer's cheese, if using, until smooth and creamy. If you are using cream cheese for the recipe skip this step.

In a food processor combine cream cheese with sugar, cornstarch, vanilla, almond flavouring and mascarpone until well blended.

Add eggs and egg yolks one by one allowing the eggs to be incorporated into the cheese filling after each addition.

Add coconut cream and blend well.

Pour the cheese filling into the prepared base, it will come up to the top of your pan.

Put it in the oven and bake for 15 minutes, then turn the temperature down to 250F/ 120C and bake for 1 hour.

Start preparing your meringue 10 minutes before the time is up.

Beat the egg whites with an electric mixer on high speed until stiff peaks form. Start adding sugar one tablespoon at a time while the motor is running the whole time.

Beat until your meringue is thick and glossy and doesn't feel "gritty" when is rubbed between fingers.

Fold in your coconut with a spatula. *It's very important not to add your coconut until your meringue is completely done, otherwise the fat in coconut will not allow the egg whites to be whipped properly. Try not to overwork the meringue while folding the coconut so it won't deflate.

Open the oven door and slide the cheesecake out, it will still be quite "jiggly". Gently spread the meringue over the top and continue baking for 30 minutes, reduce the temperature to 190F/90C and continue baking for 30 more minutes.

Then open the door of the oven and let the cheesecake cool there gradually.

Then take it out and cool for 1 hour. When it's cool to touch refrigerate it until serving.

Before serving run the knife along the edge of the springform pan to release your cheesecake. If the meringue cracks a bit do not worry, little cracks add to the beauty of it.

Melt white chocolate and drop 8 small dots along the edge of the meringue and set Raffaello chocolates directly on melted chocolate.