These almond raspberry cheesecake bars are the stuff of the dreams. Creamy cheesecake studded with raspberries, encased in buttery crust.
Take a lot at my Rustic Plum Cheesecake for an easy and more relaxed take on traditional cheesecakes! Or try my easy No Bake Cheesecake.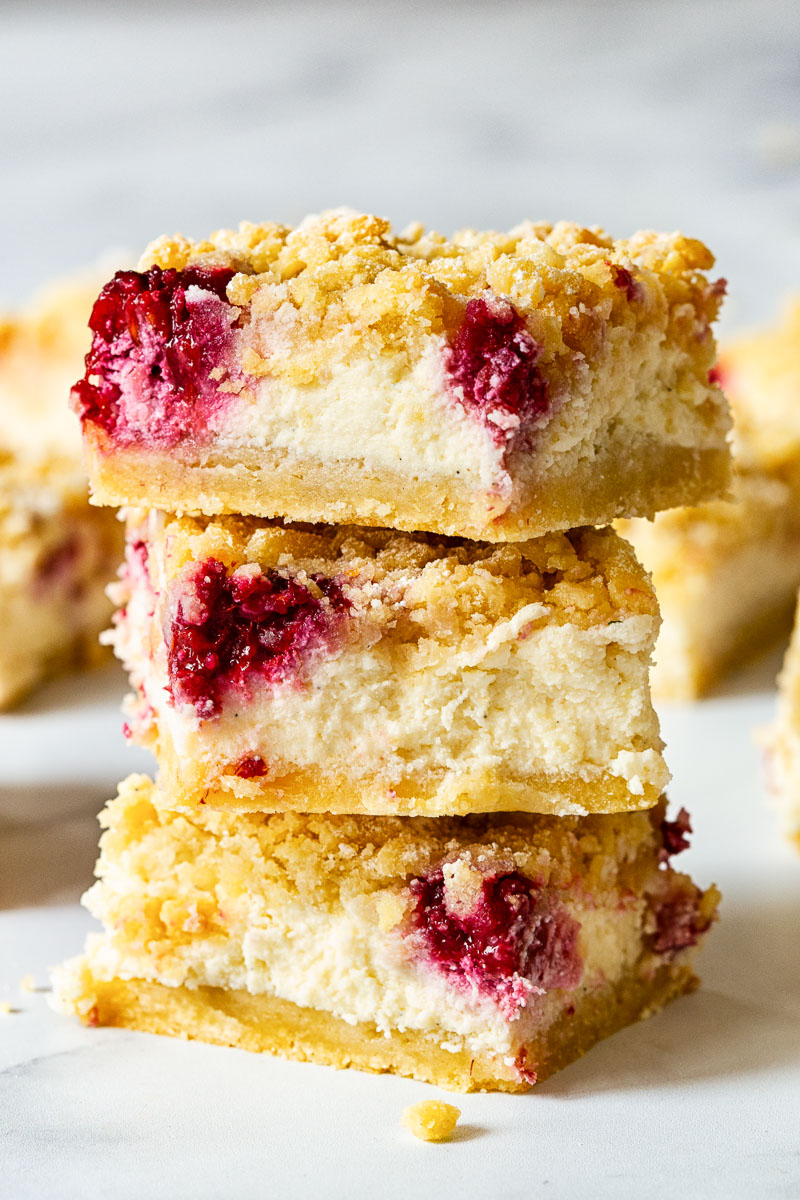 Some days are just made for almond raspberry cheesecake. You know them, right? Not the days when you are sad and just want to stuff your face with ice cream straight from a tub.
No, I am talking about bright, sunshiny days that are made even brighter by this beauty!
Cheesecake Bars
I love this recipe because it absolutely hits the spot when a cheesecake cravings set in but it's so much easier to make than a traditional cheesecake. They are easily cut into small squares making the portion control a breeze!
They are fuss free as you don't have to faff around with water bath. No fear of this cheesecake cracking!
They also bake and cool much quicker. Unlike a traditional cheesecake, which needs to be cooled in the oven to room temperature, then overnight in a fridge, these bars are ready to slice 3 hours after baking!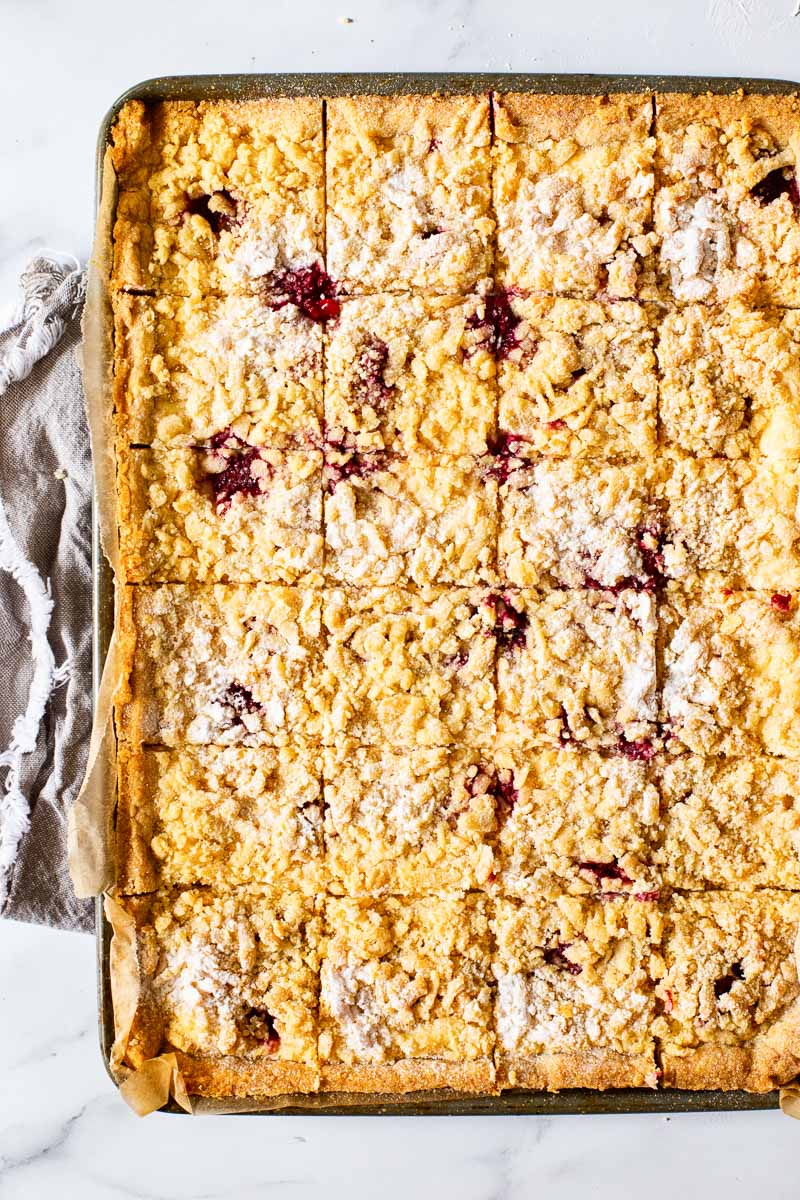 What I also love is that the recipe produces creamy almond raspberry cheesecake bars with very little effort. You get a cheesecake studded with plump and juicy raspberries and sandwiched between almond flavoured buttery crumbs.
The pastry itself is made with one part flour and one part ground almonds. The addition of almonds makes it extra delicious. It also improves the texture.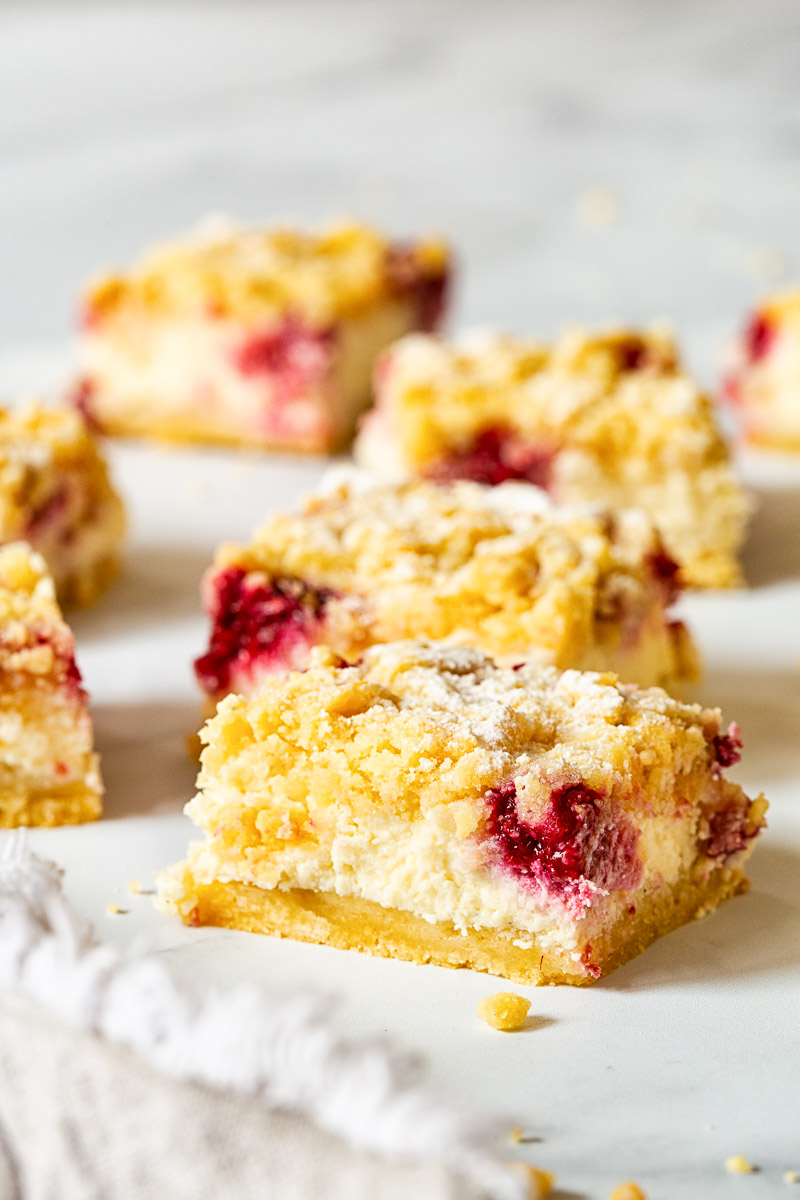 The recipe for these almond raspberry cheesecake bars come from my family. It is called Tertiy Pirog in Russian.
I grew up eating these bars for special occasions and not so special occasions. Basically, whenever my mom felt like a day called for a cheesecake.
How to make them
Start by making the pastry. Unlike the traditional North American cheesecake recipe, where the crust is made from graham cracker crumbs and butter, this recipes uses homemade shortcrust pastry.
Great news is you can easily make this pastry in your food processor. And this takes only 5 minutes! It is also a very versatile and forgiving pastry recipe. You can use it for making tarts and galettes as well.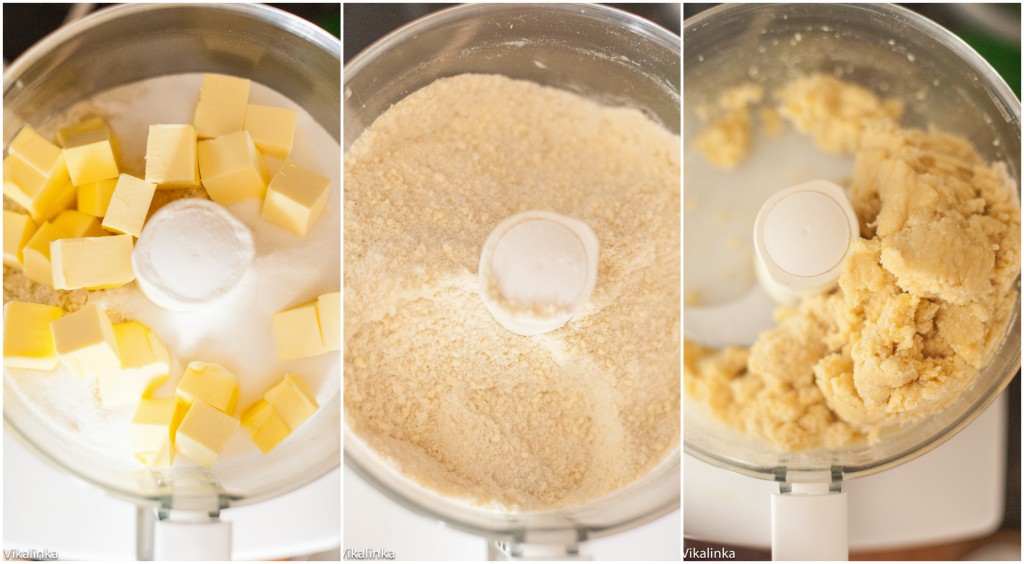 Once you make the pastry it's very important to chill it for at least 20 minutes before you roll it out and fill with the cheese and raspberry filling.
The top crumb layer is the same pastry but it's chilled in the freezer until firm, then grated on a vegetable grater and mixed with more ground almonds.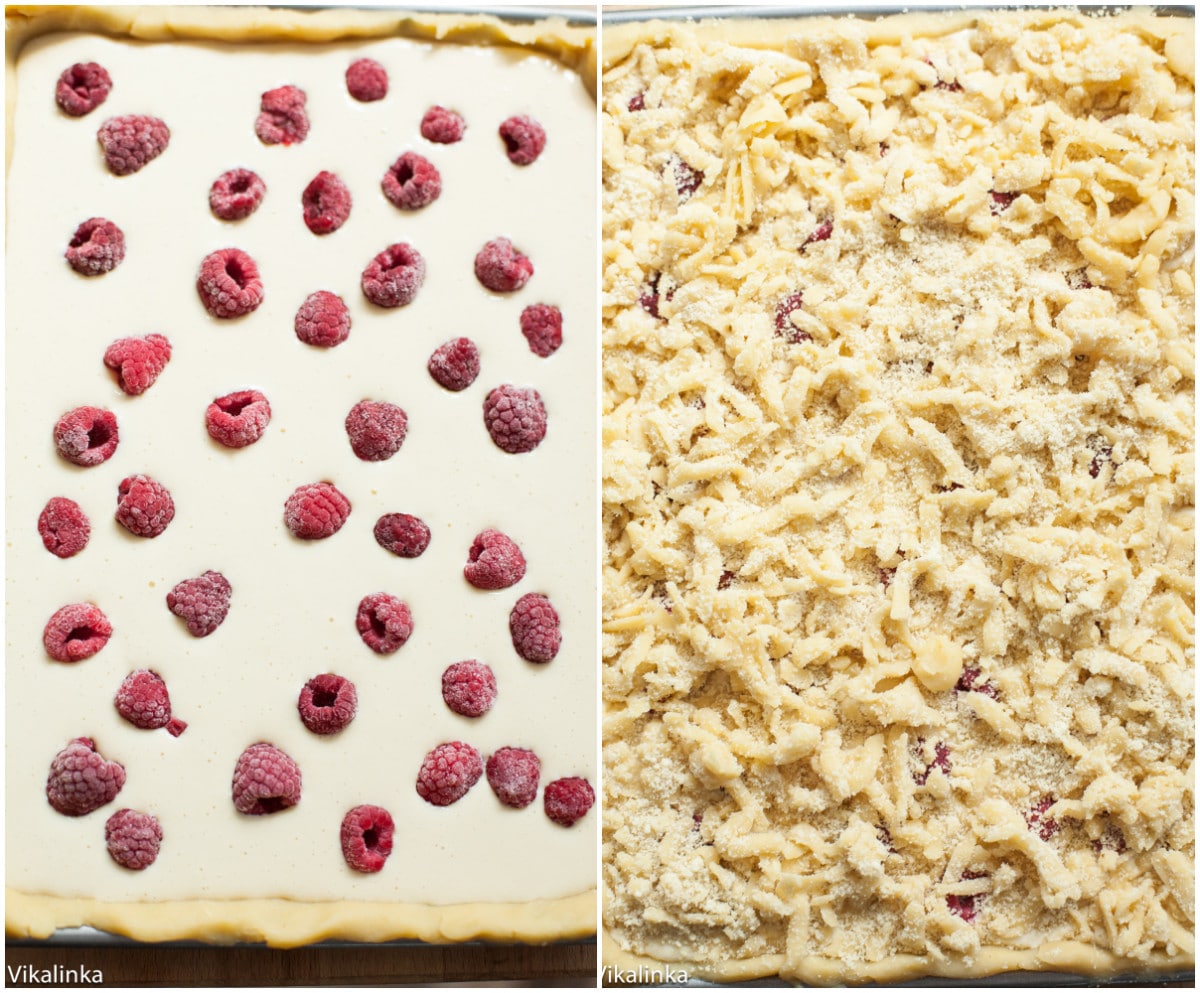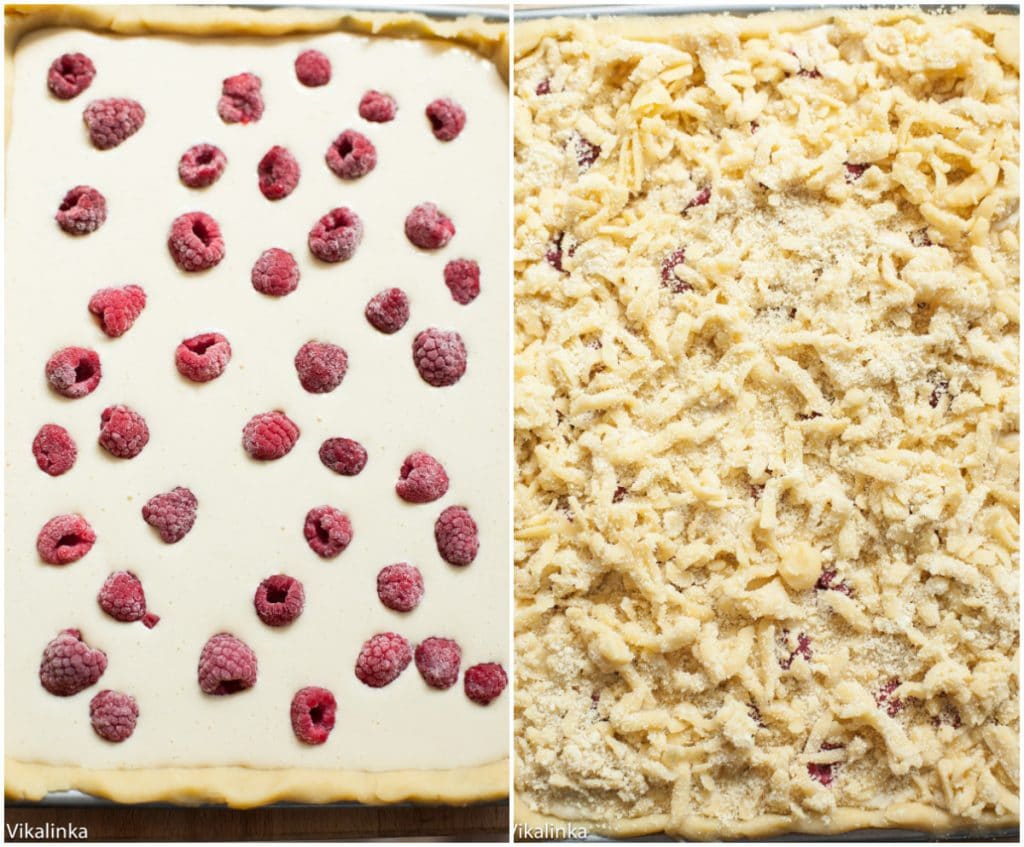 Cheesecake filling
I've used Russian curd cheese Tvorog, also known as farmer's cheese, but traditional full fat cream cheese will also work in this recipe. I just love using that lightly tangy cheese I grew up with and sweet cheese fritters Syrniki is my favourite treat to make with it.
Tvorog, Twarog or farmer's cheese is available in most supermarkets in the UK. I often buy mine in the Polish section at Sainsbury's.
Since farmer's cheese is quite grainy unlike cream cheese, I run the filling through a food processor to make it silky smooth. You can also use a blender or leave it alone and enjoy the texture.
Simply whip with an electric mixer if using cream cheese.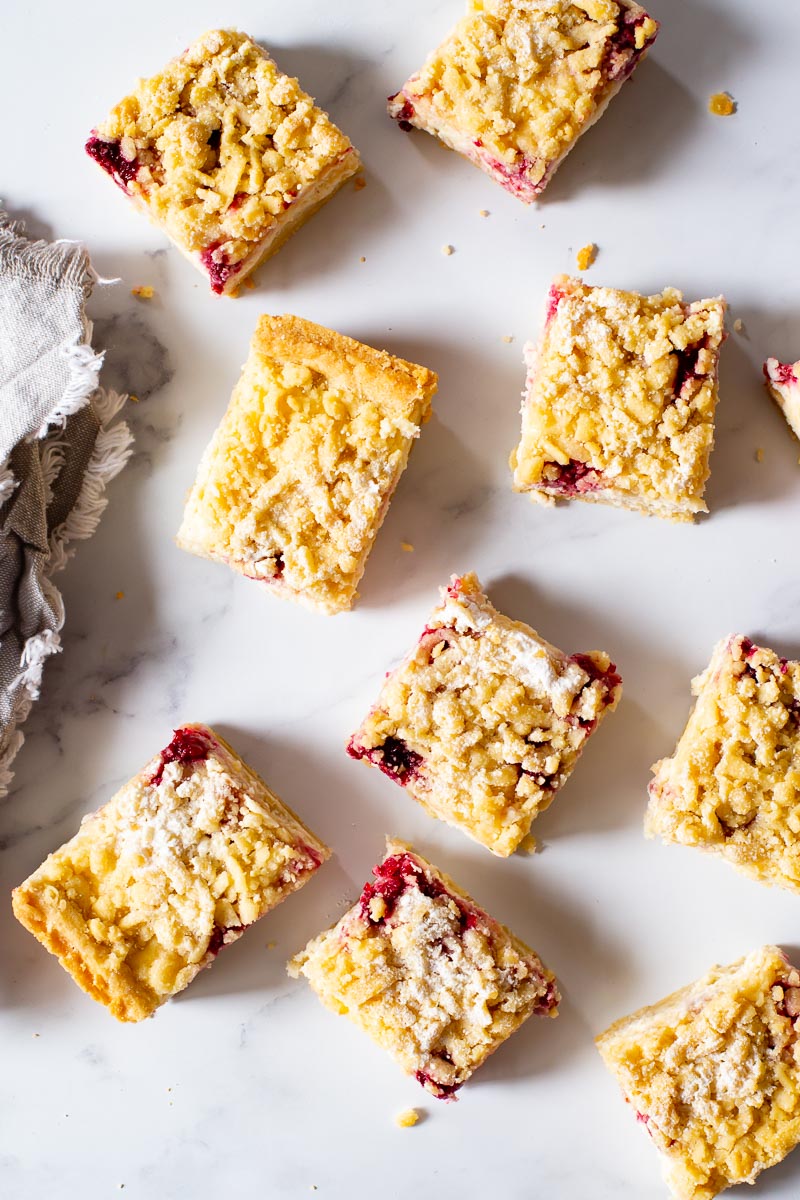 How to store raspberry cheesecake bars
These bars are a part cookie, part cheesecake. However, unlike cookies they have to be refrigerated because of the high dairy content.
I store these in an airtight container in my fridge. This way they will last for 3-4 days but ours are usually gone after 2!
What other fruit can I use?
The recipe calls for fresh or frozen raspberries but blueberries, blackberries or chopped strawberries can be successfully used here.
If you use frozen fruit, do not defrost before adding to the cheese filling. This way the berries will hold their shape when baked and won't bleed into the filling.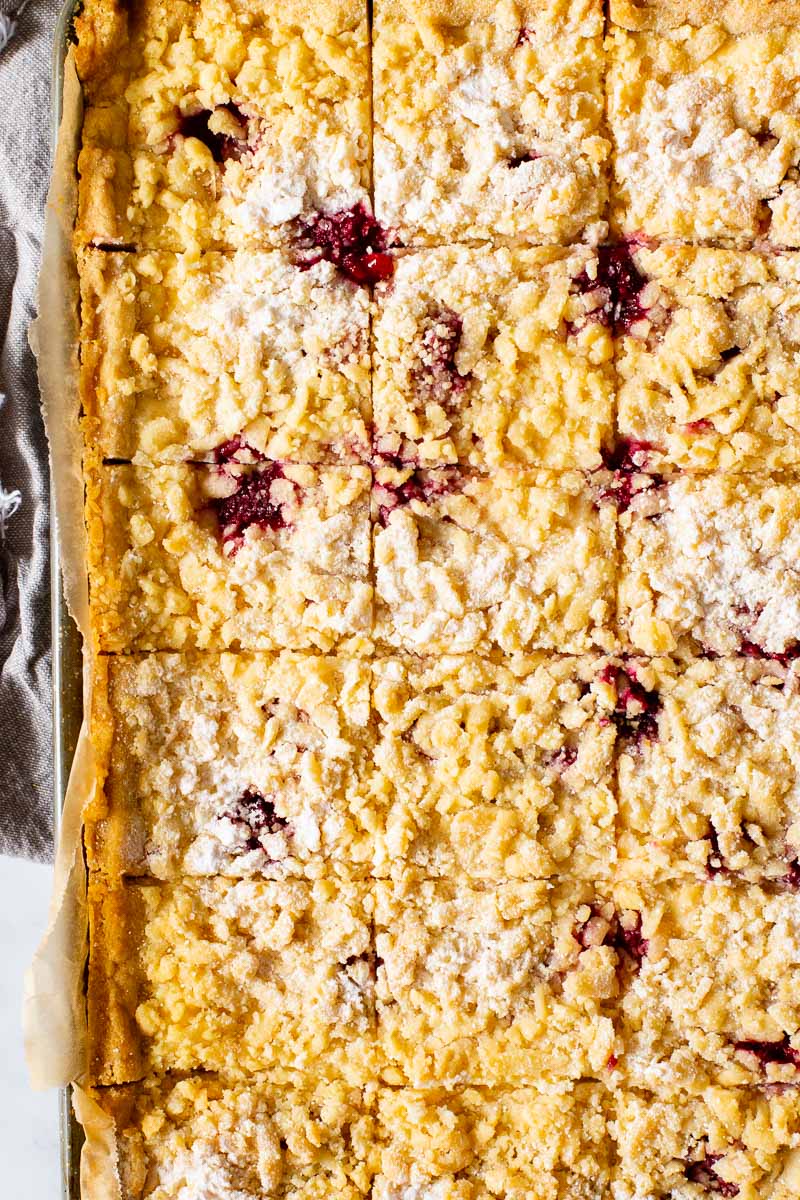 More Cheesecake Recipes to Try:
This recipe was originally published in 03/2013. Updated and republished in 05/2020.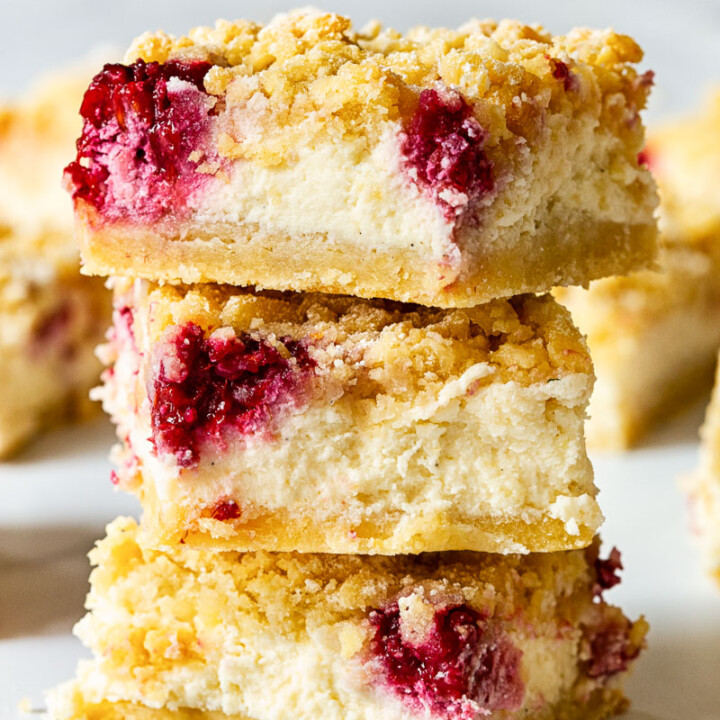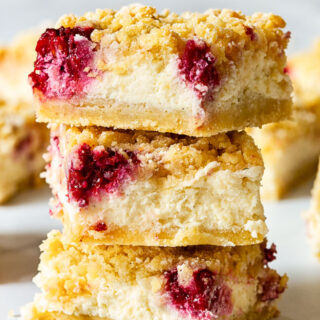 Raspberry Cheesecake Bars
These almond raspberry cheesecake bars are the stuff of the dreams. Creamy cheesecake studded with raspberries, encased in buttery crust.
Print
Pin
Rate
Ingredients
For the pastry
250g/2 ½ cups

flour

200g/1 cup

sugar

60g/1/2 cup

ground almonds

250g/1 cup

cold butter

cubed

1

egg

large

½

tsp

baking powder
For the filling
500g/16oz

cream cheese or farmer's cheese/ Tvorog

2

eggs

200g/1 cup

sugar

2

tsp

vanilla

70g/1/2 cup

raspberries

fresh or frozen
For the topping
30g/1/4 cup

ground almonds
Instructions
In a food processor combine flour, ground almonds, cold butter, sugar and baking powder and pulse until the mixture resembles fine bread crumbs, add the egg and pulse until just combined. (This could also be done in a bowl with a pastry blender.)

Take the pastry out of the food processor, it will be soft. Pinch off ⅓ of the pastry, wrap it in plastic wrap and put it in the freezer. Wrap the rest in plastic wrap as well and put it in the fridge to chill for 30 minutes.

Combine cream cheese or farmer's cheese, eggs, sugar and vanilla in a large bowl using a hand mixer or a food processor if you want your farmer's cheese to be silky smooth.

When the pastry is done chilling take it out of the fridge and roll it out to fit a rectangular 9x13 inch baking dish on a floured surface, making sure it comes up the sides. Don't worry if it tears, you can patch it up, this pastry is very forgiving.

Then put it back in the fridge to chill for 20 minutes longer.

Preheat the oven to 350F/180C

Take it out of the fridge and fill it with the cheese filling, top with raspberries.

Take the frozen part out of the freezer and grate it using a vegetable grater, then toss the crumbs with 30g/1/4 cup of ground almonds.

Scatter all over the cheese filling. Bake in the preheated oven for 40 minutes until golden.

Cool completely for 3 hours or overnight in the fridge before cutting into bars.
Nutrition
Calories:
347
kcal
|
Carbohydrates:
35
g
|
Protein:
5
g
|
Fat:
22
g
|
Saturated Fat:
12
g
|
Cholesterol:
79
mg
|
Sodium:
180
mg
|
Potassium:
81
mg
|
Fiber:
1
g
|
Sugar:
21
g
|
Vitamin A:
684
IU
|
Vitamin C:
1
mg
|
Calcium:
49
mg
|
Iron:
1
mg