These almond raspberry cheesecake bars are the stuff of the dreams. Creamy cheesecake studded with raspberries, encased in buttery crust.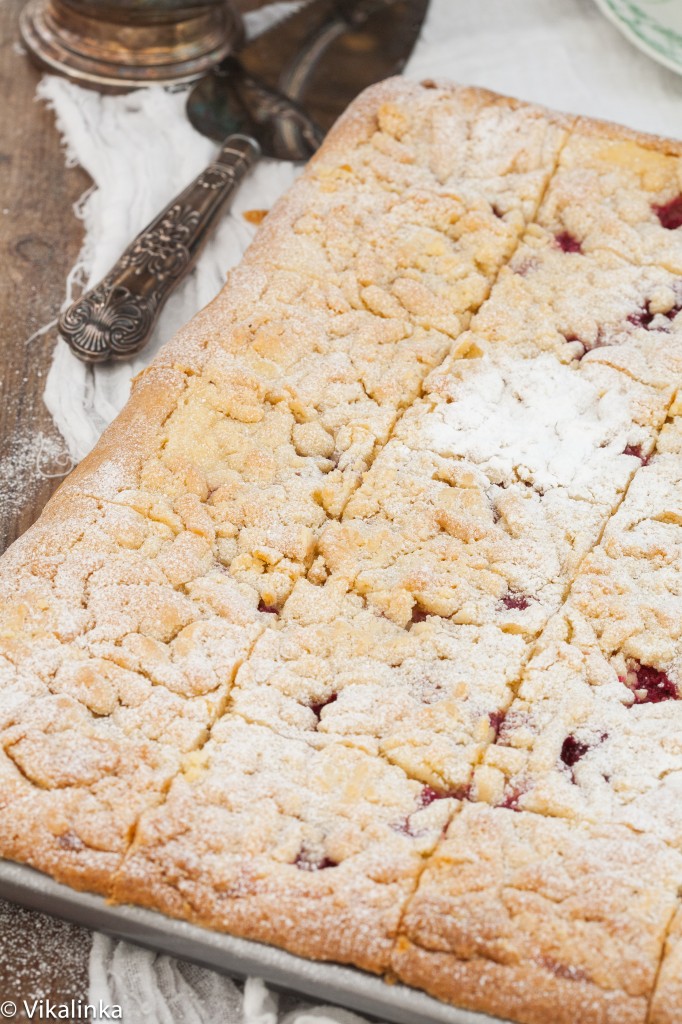 Some days are just made for almond raspberry cheesecake. You know them, right? Not the days when you are sad and just want to stuff your face with ice cream straight from the tub.
No, I am talking about bright, sunshiny days that are made even brighter by this beauty!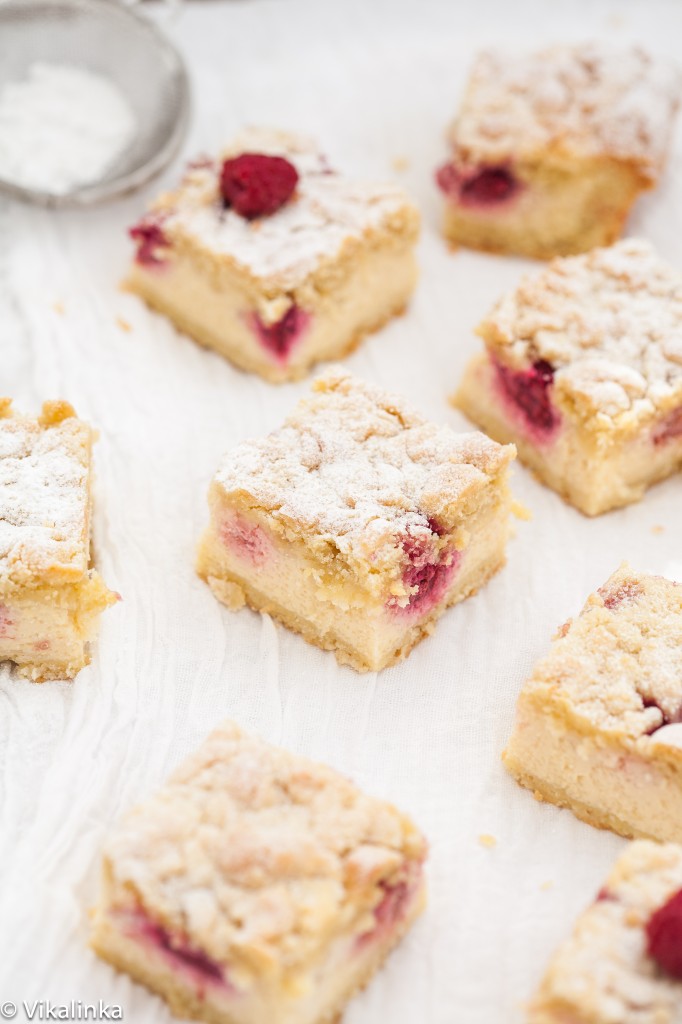 I am writing from a truly happy place right now because these creamy almond raspberry cheesecake bars, studded with plump and juicy raspberries and sandwiched between almond flavoured buttery crumbs are still in my fridge.
Within reach. So close. Put that on a pretty plate and that's happiness, friends.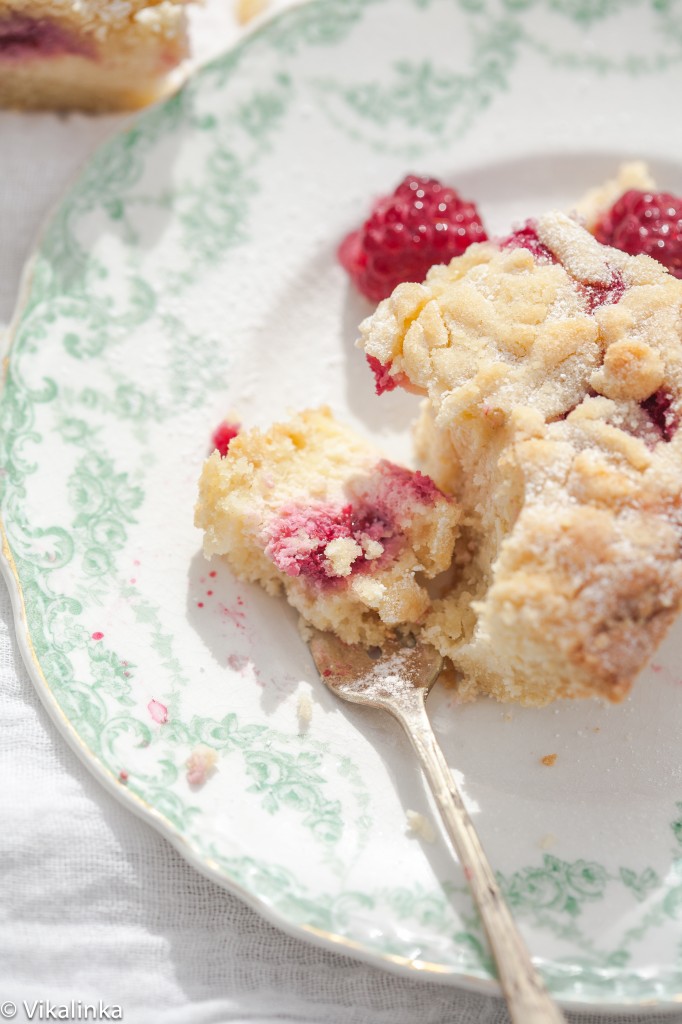 I am sure you can tell how excited I am by the amount of pictures I've taken. I surprised myself. What I am trying to do here is to entice you with these scrumptious treats.
Don't you want the one with a raspberry on top?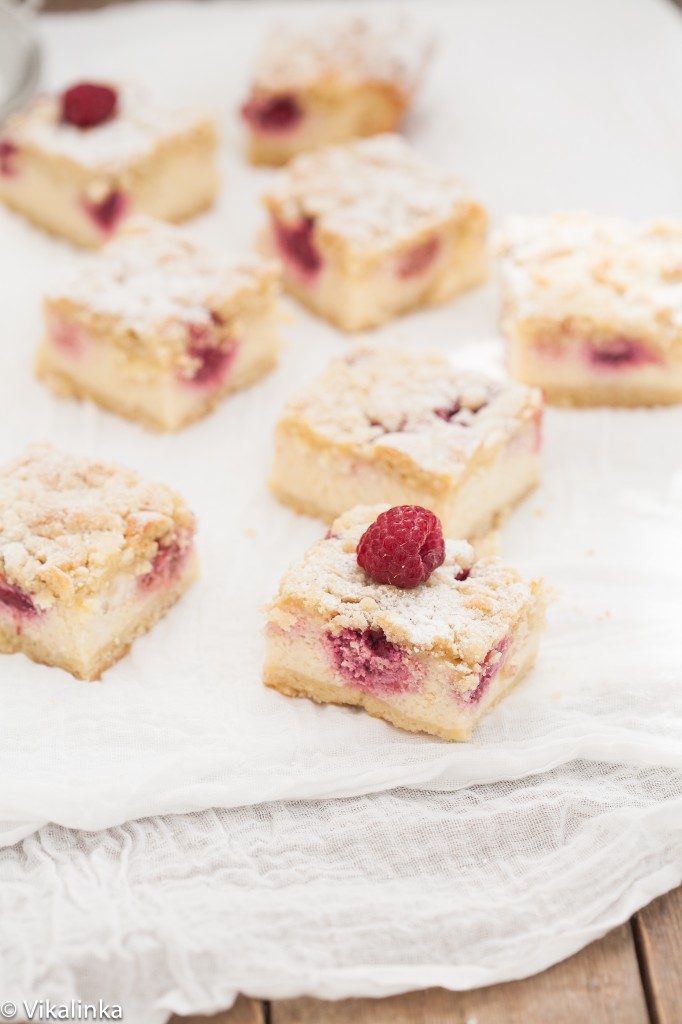 The recipe for these almond raspberry cheesecake bars come from my family. I grew up eating them for special occasions and not so special occasions. Basically, whenever my mom felt like a day called for a cheesecake.
How do you make cheesecake bars?
Start with making the pastry. Unlike the traditional North American recipe where the crust is made from graham cracker crumbs and butter, this recipes uses homemade shortcrust pastry.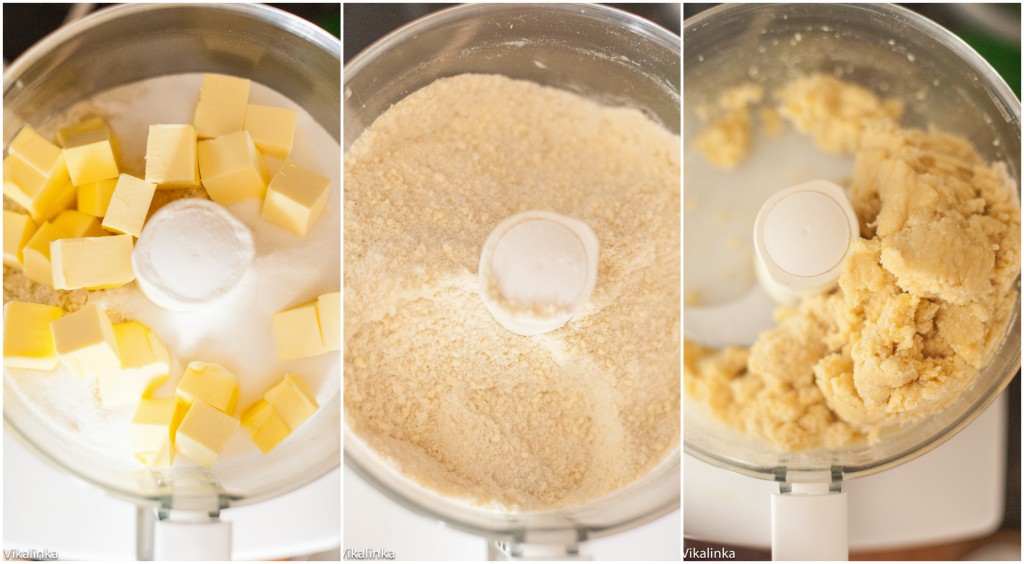 It's very important to chill the pastry before you roll it out and fill with the cheese and raspberry filling.
The top layer is made out of pastry crumbs mixed with ground almonds.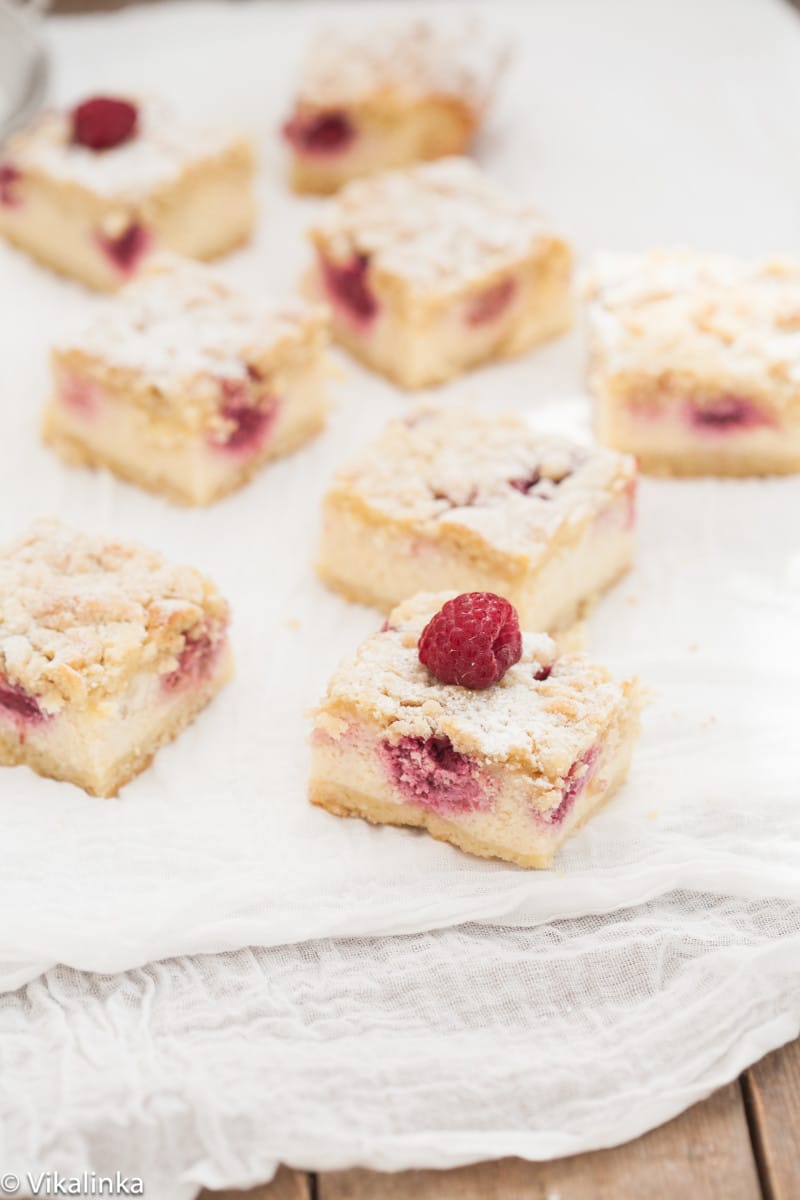 Ingredients
For the pastry
2 1/2

cups- flour

1

cup- sugar

1/2

cup- ground almonds

1

cup/250 gr- cold butter

1-

egg

1/2

tsp- baking powder
For the filling
500

gr/ 16 oz- cream cheese or farmer's cheese Tvorog

2-

eggs

1

cup- sugar

2

tbsp- semolina

2

tsp- vanilla essence

1/2

cup- raspberries

fresh or frozen
Instructions
In a food processor combine flour, ground almonds, cold butter, sugar and baking powder and pulse until the mixture resembles fine bread crumbs, add the egg and pulse until just combined. (This could also be done in a bowl with a pastry blender.)

Take the pastry out of the food processor; it will be soft. Pinch off 1/3 of the pastry, wrap it in plastic wrap and put it in the freezer. Wrap the rest in plastic wrap as well and put it in the fridge to chill for 30 minutes.

Combine cream cheese or farmer's cheese, eggs, sugar, semolina and vanilla in a large bowl using a hand mixer or a food processor if you want your farmer's cheese to be silky smooth.

When the pastry is done chilling take it out of the fridge and roll it out to fit a rectangular 9x13 baking dish on a floured surface, making sure it comes up the sides. Don't worry if it tears, you can patch it up, this pastry is very forgiving.

Then put it back in the fridge to chill for 20 minutes longer.

Preheat the oven to 350F/180C

Take it out of the fridge and fill it with the cheese filling, top with raspberries.

Take the frozen part out of the freezer and grate it with a vegetable grater, then toss the crumbs with 1/4 cup of ground almonds.

Scatter all over the cheese filling.

Bake in the preheated oven for 40 minutes until golden.

Cool completely for 3 hours, ideally overnight in the fridge before cutting into bars.