This no bake cheesecake is a snap to make and blood orange flavour makes it especially alluring and refreshing!
For another no bake cheesecake, take a look at our Strawberry Meringue Cheesecake.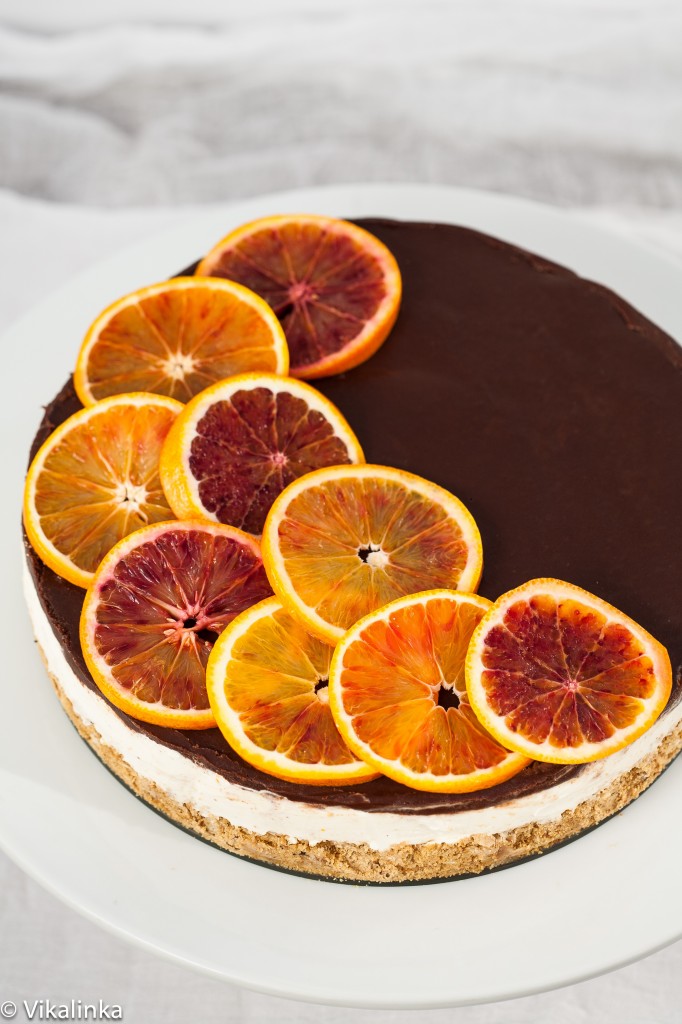 Valentine's Day is almost here and I couldn't be more excited! On Friday for the first time in who knows how many years Brad and I get to go out instead of just staying in.
I know I've written that we made a pact to never go out because of overpacked restaurants, set menus, and all that jazz but a friend of ours made a generous offer to babysit and we live in London aka the most exciting city in the world. We ARE taking her up on it.
Although I won't be making a special dinner this week I still wanted to prepare a delicious dessert to share. The inspiration for this no bake cheesecake came from our time in Canada.
The taste of a cheesecake I am trying to emulate is the one you usually see in a Pyrex dish, topped with cherry pie filling at church potlucks and family gatherings. Don't turn up your nose, the taste is nostalgic and delicious.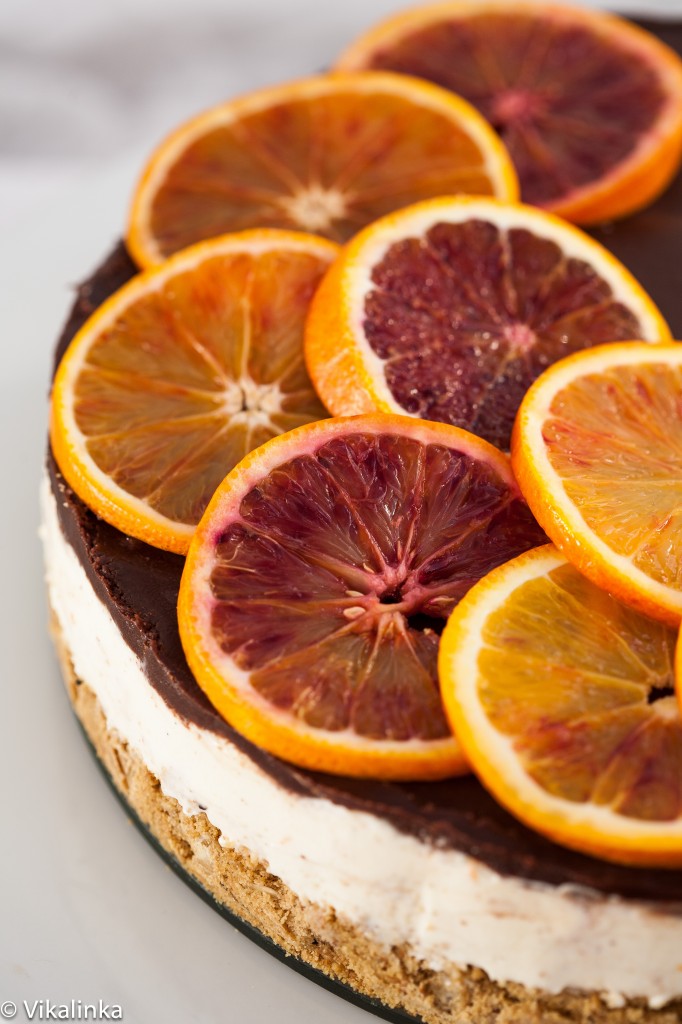 How do you make blood orange cheesecake?
Blood orange juice
Cream cheese
Heavy cream. The highest fat content you can find. This no bake cheesecake needs it to set.
Sugar
A mix of graham crackers/digestive biscuits and oats
Butter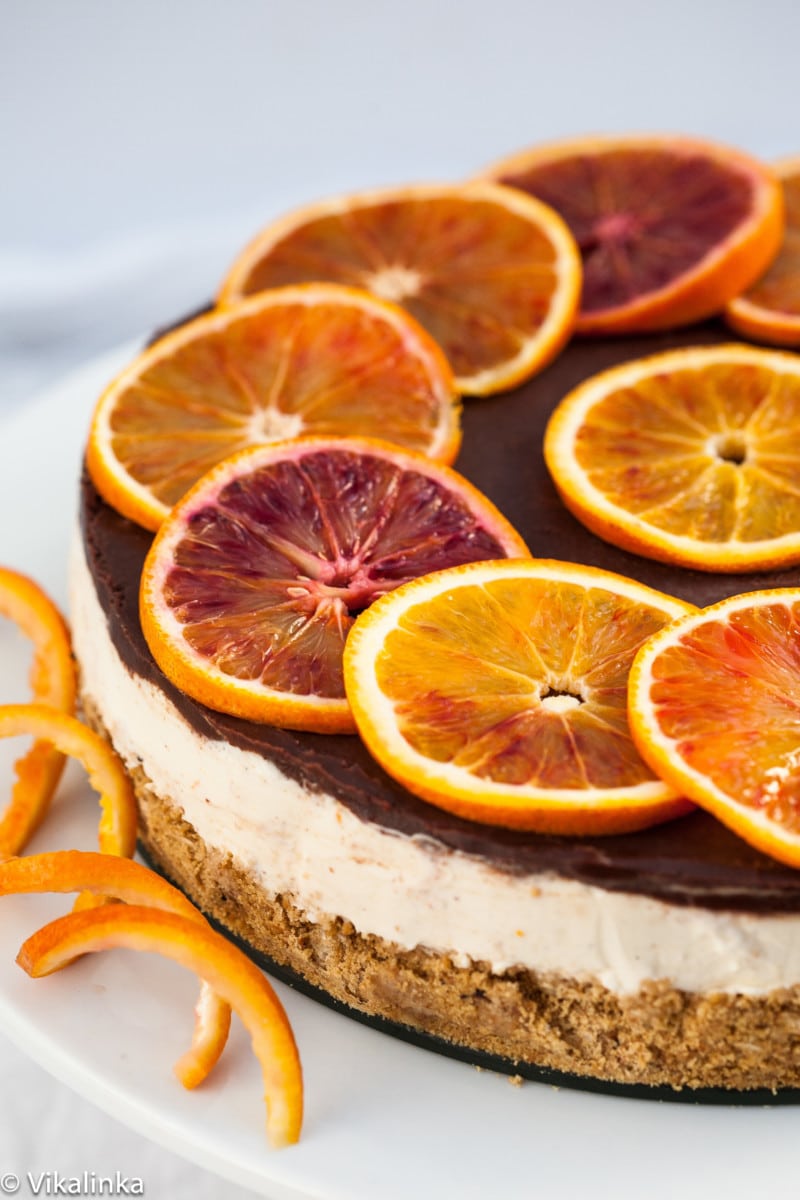 My biggest inspiration for this cheesecake was blood oranges, that happen to be in season right now. Their season is so short that if I don't buy them the first time I see them in shops chances are I will miss them.
Apart from being absolutely striking in appearance, the flavour of blood oranges makes this no bake cheesecake taste simply divine, not that I am the least surprised.
Creamy filling flavoured with vanilla bean, blood oranges and glazed with dark chocolate ganache. What's not to like!!
I also used a combination of toasted oats and digestive biscuits (no graham crackers are available in England) for the base of the cheesecake for an extra crunch.
However, my favourite part of this cheesecake recipe is it's NO BAKE, which means NO FAIL. 🙂
How do you make No Bake Cheesecake?
When you are making a no bake cheesecake all you do is whipping the heavy/double cream and combining it with sweetened and flavoured cream cheese. Then you let it set in the fridge until firm.
The fat in the cream and cream cheese is what makes the cheesecake set, so using low fat cream cheese or low fat content cream is not advisable. To put it plainly, if you do, your cheesecake will not set properly.
More Cheesecake Recipes: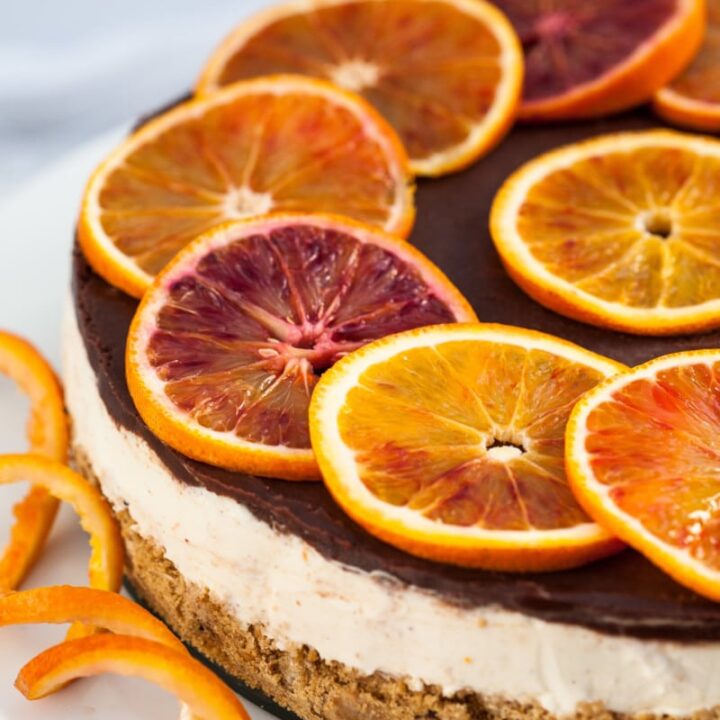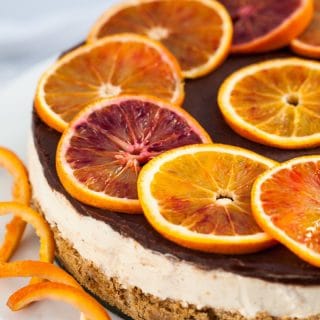 Blood Orange Cheesecake (No bake)
This No Bake Blood Orange Cheesecake is a snap to make since no baking is involved and the blood orange flavour makes it especially alluring and refreshing!
Ingredients
Butter- 80 gr/ 12 tbsp.

Rolled Oats- 1 cup

Graham cracker crumbs/Digestive biscuits

crushed- 2 cups

Vanilla bean- 1

Vanilla essence- 1 tsp.

Cream cheese

I used a combo of 2 parts cream cheese and 1 part mild goat cheese- 3X8oz packages/ 750 gr

Sugar- ¾ cup

Blood orange- 1

Whipping cream/double cream- 1 ¼ cup/ 310ml
For the topping
Dark Chocolate

chopped- 100gr

Whipping cream/double cream- ½ cup/125 ml

Butter- 1 tbsp.

Blood oranges

thinly sliced-2
Instructions
Grease a 9" springform pan with butter.

Toast 1 cup of oats in a frying pan over medium heat till golden brown for 5-7 minutes, careful not to burn.

Add butter and graham cracker crumbs to the pan, stir to combine and turn out in the prepared springform pan.

Press the mixture into the pan with a spoon and leave it to set in the fridge for 1 hour.

Combine cream cheese, sugar, orange zest and juice of ½ an orange.

Scrape vanilla seeds out of the vanilla bean with a blade of a knife and add to the cheese filling along with a teaspoon of vanilla essence. Mix until smooth in a food processor or a stand mixer.

In a separate bowl whip your double cream until soft peaks form.

Fold half of whipped cream into the cheese mixture. Then gently fold in another half and pour it over the crumb base.

Chill in the fridge for 1 hour.

To prepare the topping-heat whipping cream in a small saucepan and take it off the heat right before it comes to a boil.

Pout hot cream over chopped chocolate, let it sit for 1 minute, then whisk the mixture until well blended.

Then blend in butter.

Spread chocolate topping over the cheesecake and put it back in the fridge for another hour.

Before serving run a knife along the edges of your springform to release the cheesecake.

Top with sliced blood oranges.